Ten Fun Ways to Entertain Your Kids at Home
---
Published 08 November 2018 at 15:51
Tickikids Blog Abu Dhabi > Ten Fun Ways to Entertain Your Kids at Home
---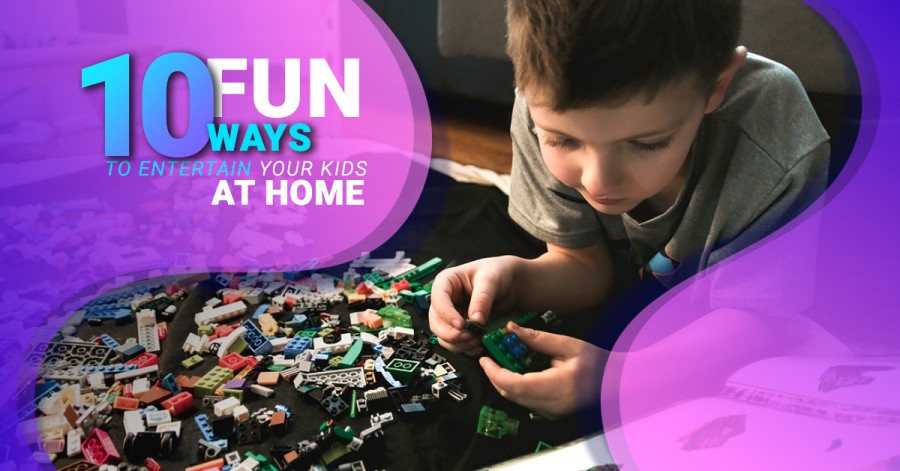 ---
When Abu Dhabi swelters in soaring temperatures and your kids get bored at home, it is very easy for your mind to go completely blank. Are you still on the hunt for the perfect boredom-busting activities for children? Chin up! You are in safe hands now: luckily, TickiKids are experts at presenting a "Plan B", revealing plenty of brilliant things to do with kids without leaving the house. We've put together ten of our favourite video tutorials. This lifesaver will be of interest to all parents who want to have some fun family time in a comfort of their homes, using easily available materials.


Make your own Lava Lamp


Credit: © Video from ScienceBob YouTube channel


It's always good to give children a bit of science, so make the most of a stifling weather to undertake one of the most spectacular experiments like real scientists right at home.
You will need:
a clean 1-litre soda bottle;
regular water;
cooking oil;
food colouring;
fizzing antacid tablets (such as Alka Seltzer).


Create your own Greeting Cards


Credit: © Video from Handmade Cards Ideas YouTube channel


If science experiments are not your child's thing, maybe some craft activities might be more up your street. Whether it is a Birthday Card or a Thank You card, the craft is a tonic in itself and helps flex kids' creative muscles – after all, is there anything more pleasurable than enjoying the process of creating unique personalised cards for your dearest ones.
You will need:
patterned yellow ivory sheet: 45x22 cm;
black sheet: 16.5x21 cm;
black sheet: 12x16 cm;
white sheet: 11x15 cm.


Make an indoor Obstacle Course


Credit: © Video from WhatsUpMoms YouTube channel


Frustratingly, while the heat is too unbearable, it's quite challenging to keep little ones interested inside the house. Never fear: try your hand at this fun obstacle course and your family won't go short of indoor activities.
You will need:
trampoline;
rubber Circles;
doll Stroller.


Salt Dough. Craft Ideas


Credit: © Video from eHowArtsAndCrafts YouTube channel


Feeling crafty? Ever imagined what it might be like to create a keepsake for your family for decades to come? For this, we have an adorable craft idea: salt dough will certainly become a fabulous DIY decoration quick and easy to make with kids at home.
You will need:
mixing container;
1 cup of plain flour;
½ cup of salt;
½ cup of water;
cookie cutters;
acrylic paints;
paint-brush.


Detective Case. Spy Hacks


Credit: © Video from DreamWorksTV YouTube channel


Super sleuth children will put their detective skills to the test to solve a crime. From dusting kit for fingerprints to a black light reader, these crook-catching activities for kids will feed their imagination.
You will need:
For fingerprint dusting kit:
pencil;
container;
nail file;
reel of sticky tape;
makeup brush;
notebook.
For the black light reader:
phone;
reel of sticky tape;
blue and purple sharpies;
highlighter;
bowl of water;
pliers;
For periscope:
empty toothpaste box;
hot glue;
scissors;
CD;
black tape.


Make your own Bath Paints


Credit: © Video from Happy Toy Time YouTube channel


Does your child try to avoid the bath? This special recipe for homemade bath paints is an inventive way to make your little one just keen on bath times. After all, what's better than getting clean and painting with the baby?
You will need:
¼ cup of body wash or shampoo;
¼ cup of cornstarch;
food colouring;
water;
containers;
paint brushes.


Make a Dollhouse in a Shoe Box


Credit: © Video from MyFroggyStuff YouTube channel
This tutorial about a DIY dollhouse is a perfect lifesaver for parents who have daughters. First up, your little princess's creative juices will start flowing when it comes to the handcrafted decors of a room. Secondly, such an activity will help keep your kids entertained for hours.
You will need:
recycling cardboard;
computer paper;
cotton sheet;
felt;
yarn;
pillow fluff;
cracker or pasta boxes;
popsicle sticks;
skinny stick;
acrylic paint;
glue.


Indoor Snowball Fight


Credit: © Video from Yahoo YouTube channel


Dreaming of the best snowball fight ever? Make your own snowballs from dollar store toys and enjoy your family get-togethers all the year round. Cheerful screams guaranteed!
You will need:
soft toy balls;
fake snow;
spray adhesive.


Gardening with kids


Credit: © Video from IFASCDistrict YouTube channel


Escape the heat by gardening with kids at home. Children of all ages love watching how plants grow from tiny seeds just in front of their eyes. It is a perfect way of getting kids involved in the garden. Why not try annual ryegrass or herbs?
You will need:
simple wicker basket;
garbage bag;
garden soil;
annual ryegrass grass seed;
spray bottle.


Cooking pizza following a recipe by Jamie Oliver


Credit: © Video from Jamie Oliver YouTube channel


Watch this video tutorial and have a magical day in a company of legendary English chef Jamie Oliver and his lovely kids cooking cheats pizza that your kids will love to make and eat with you.
You will need:
1 and ½ cups of self-raising flour;
½ cup of water;
pinch of salt;
tablespoon of olive oil;
pan;
tomato sauce;
mozzarella;
parmesan;
prosciutto (optional);
salami;
oregano;
balsamic.


There are still numerous options to do indoor thanks to an array of playgrounds in Abu Dhabi to help keep your children entertained.
We would love to hear all your favourite indoor activities in the comments box below.
By Anna Liashchenko
Based on the article Ten Brilliant Things to Do with Kids on a Rainy Day by Anna Liashchenko in a blog on TickiKids Hong Kong website.
Subscribe to weekly newsletter from "Tickikids"