The Best Playgrounds and Play Areas in Abu Dhabi
---
Published 31 August 2022 at 15:51
Tickikids Blog Abu Dhabi > The Best Playgrounds and Play Areas in Abu Dhabi
---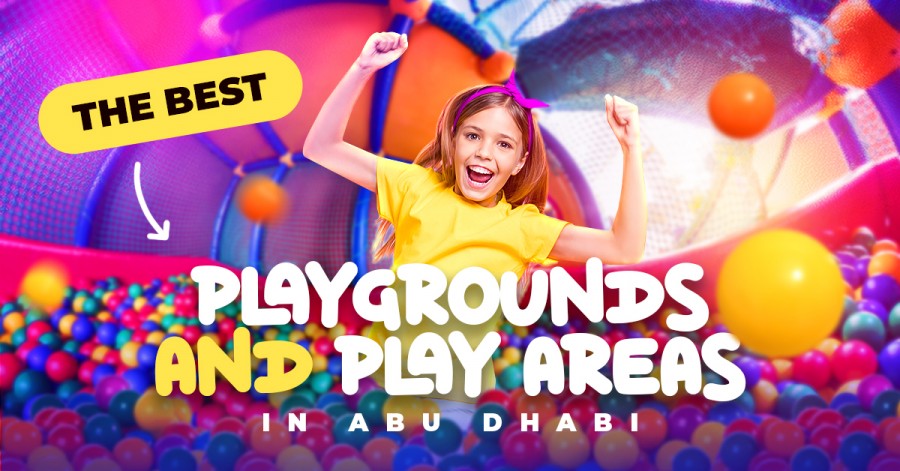 ---
Abu Dhabi is just a treasure trove of places where children and their parents can have a good time. Adventure parks, safe and interesting places for kids, obstacle courses, rides - this is just a small part of what this city has to offer.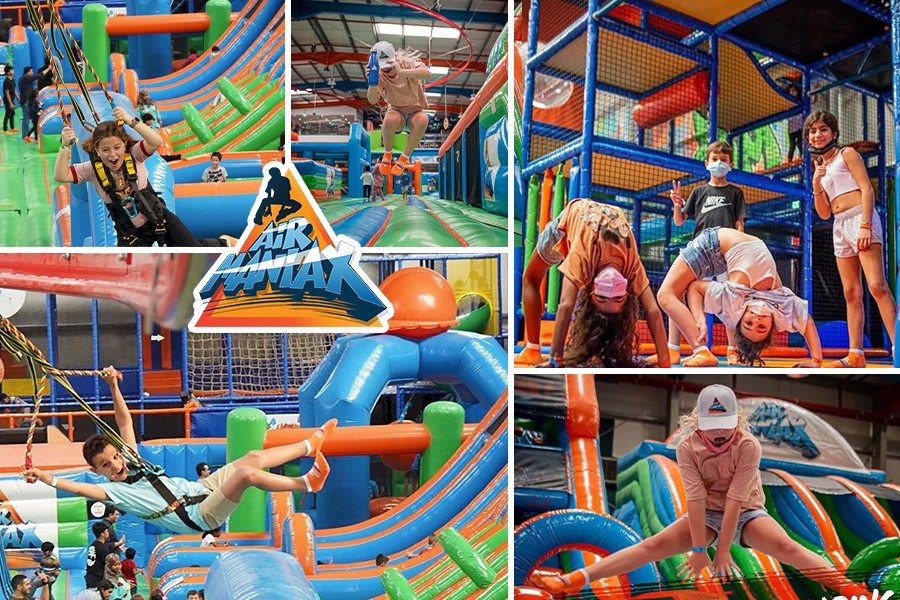 Image Credit: Air Maniax
Air Maniax is the place where kids of all ages can have fun and get excited. There are so many areas that will amuse even the pickiest admirer of adventures and entertainment! And, parents of toddlers will duly appreciate various safe themed areas, and for the children aged 5+ a whole world of attractions opens up here!
Inflatable Area (minimum height 94 cm)
This 15,000-square-foot giant offers some brand new activities and features never seen before in Abu Dhabi. Without a doubt, it is a unique bouncing activity you can get despite age, complexity, and physical ability. So, get your socks on and have fun! 
Warrior Assault (minimum height 94 cm)
Here is the perfect place to test balance, strength, speed, and agility! Various activities encourage kids and adults to challenge the inner warrior and show everything they are capable of!
And, there is a Mini Warrior Assault, designed for kids under 95 cm! Here, they can run, jump, climb, slide and have fun in a safe environment.
Only the legendary Ninja Warriors can conquer this epic set of thoughtfully designed obstacles! They will have to jump, climb, swing, and traverse to prove their right to be called the intangible fighter. This attraction calls to give the best of oneself in strength, endurance, coordination, flexibility, agility, and balance.
Meltdown (minimum height 94 cm)
This is one of the most popular areas at Air Maniax for a reason! A giant cushioned rotating arm is waiting for everyone bold enough to challenge it! Develop savvy strategies or run headlong, jump over, duck under, it is up to you!
And this is only a scratch on the surface of the entertaining universe that Air Maniax has! So, do not waste time and come here as you have to see everything with your own eyes!
Jump time starts every hour, on the hour so please arrive 15 minutes early to book in time and receive the safety briefing.
Age: 2+.
Opening hours: Mon–Thu 10:00–21:00, Fri–Sat 10:00–00:00, Sun 10:00–22:00.
 Fees: 
Mini Aerial Warrior (1 hour): 80 AED;
General Access (1 hour): 85 AED;
Premium Access (1 hour): 120 AED;
Family General Pass (1 hour): 250 AED;
Full Day Pass General Access: 199 AED;
Mini Aerial Warrior (2 hours): 120 AED;
General Access (2 hours): 120 AED;
Premium Access (2 hours): 160 AED;
Non Jumper: 29 AED;
Zip Zag: 25 AED.
Contacts: +971 2 4442938, ask@airmaniax.com.
Socials: Facebook, Instagram, YouTube.
Location: Marina Mall, 1st floor, Al Marina, Abu Dhabi.
Find Out More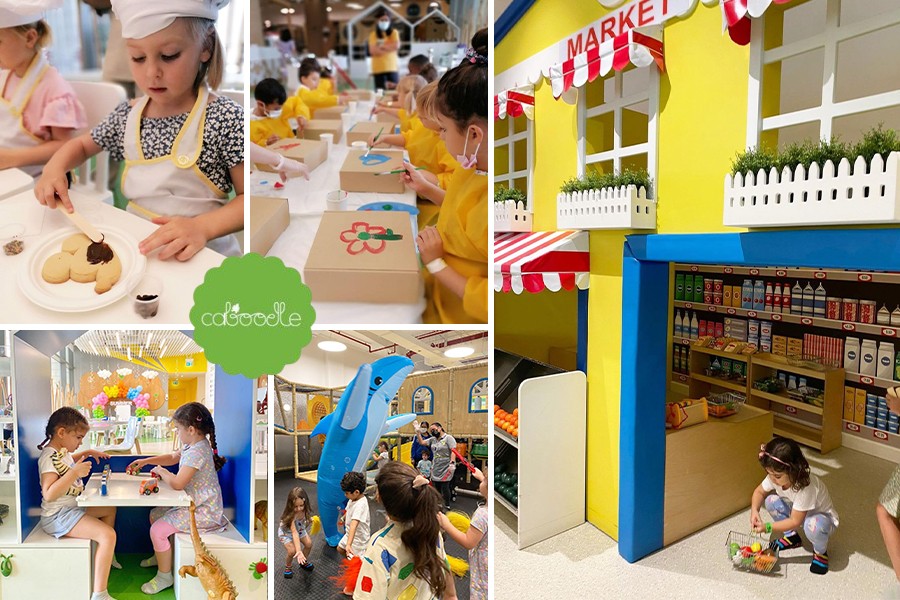 Image Credit: Caboodle
Caboodle is Abu Dhabi's coolest indoor playpark for kids. The versatile play area is custom-designed for children to promote fun, exercise, self-awareness, and confidence. Caboodle provides a safe and clean environment for adults to interact with their kids and other parents. The expansive facilities feature an immersive play structure, offering kids a variety of activities. They will especially love the big ball pit, dress-up and role-playing corner, arts & crafts, and much more. The playground is designed to achieve the ultimate goal of endless fun for kids while ensuring their safety.
Caboodle is fun for adults too! They encourage parents to join their kids in the playground or enjoy a fresh cup of coffee in the cozy café overlooking all the action. Plan exciting birthday parties with one of the party packages or visit their kids' salon for a fresh new look!
Opening hours: Sun-Thurs 10:00–22:00, Fri & Sat 10:00–00:00
Fees: 
12 months and older - 2 hours of play: 99 AED.
Under 12 months 2 hours of play: 70 AED.
1 adult per child: Free (Each additional adult AED 25).
Monthly Membership - Caboodle Club: 699 AED.
Contacts: +971 2 679 8019, WhatsApp +971 55 800 2607, thegalleria@caboodle.ae.
Socials: Twitter, Facebook, Instagram.
Location: The Galleria Al Maryah Island, Abu Dhabi.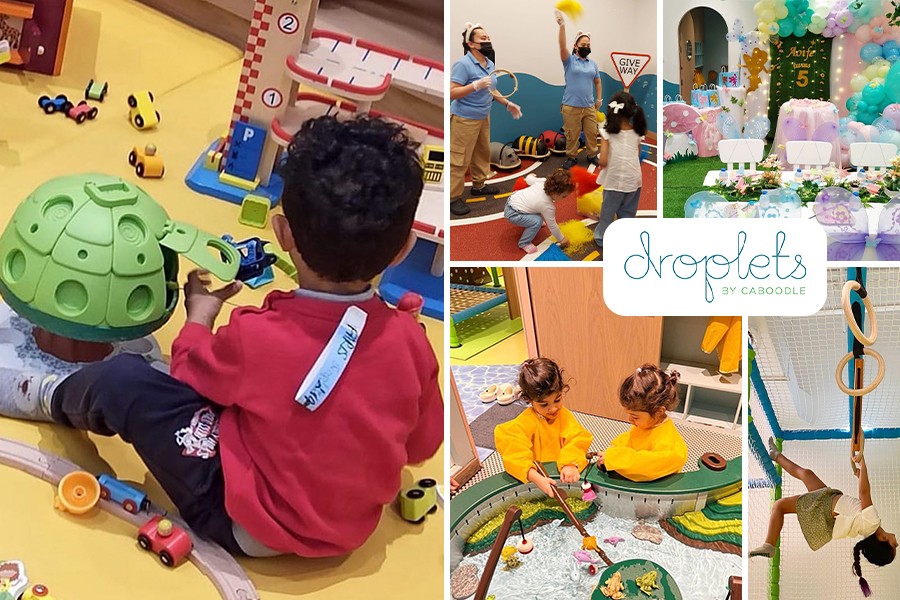 Image Credit: Droplets
Droplets by Caboodle is Abu Dhabi's newest interactive play area for babies and young children, designed to encourage creativity, interaction and imagination while having fun. The "water-inspired" environment enables children to develop independence, confidence, and a positive sense of self and the world around them. Discover dedicated sensory rooms, including the water room, where children can enjoy fishing, catching sea creatures, and more! Or, take a trip to outer space in our UV-lit Glow Room, where kids can draw on wipeable walls, create fun shapes on the lightbox, and watch the bubbly cylinder of fish. There's so much fun in store! Drop 'n Shop babysitting services and birthday party packages are also available.
Opening hours: Sun to Wed: 9am – 9pm, Thurs & Fri: 10am – 11pm. Sat: 10am – 10pm

Fees: 
12 months and above* 1 hour play: AED 59, 2nd hour: AED 35;
12 months and under* 1 hour of play: AED 49, 2nd hour: AED 25;
*One adult admitted per child; each additional adult: AED 20.
Monthly Membership - AED 460:
Daily play area access to Droplets (max. 4 hours per day);
10% discount at Caboodle's play area;
10% discount on retail items;
Contacts: +971 2 5849548, Whatsapp +971 55 8002781, Droplets@caboodle.ae. 
Location: The Galleria, Al Maryah Island, The Luxury Collection, North Wing Court L2
Subscribe to weekly newsletter from "Tickikids"