The 10 Most Exceptional Birthday Party Venues for Your Child in Abu Dhabi
---
Published 08 February 2023 at 12:07
Tickikids Blog Abu Dhabi > The 10 Most Exceptional Birthday Party Venues for Your Child in Abu Dhabi
---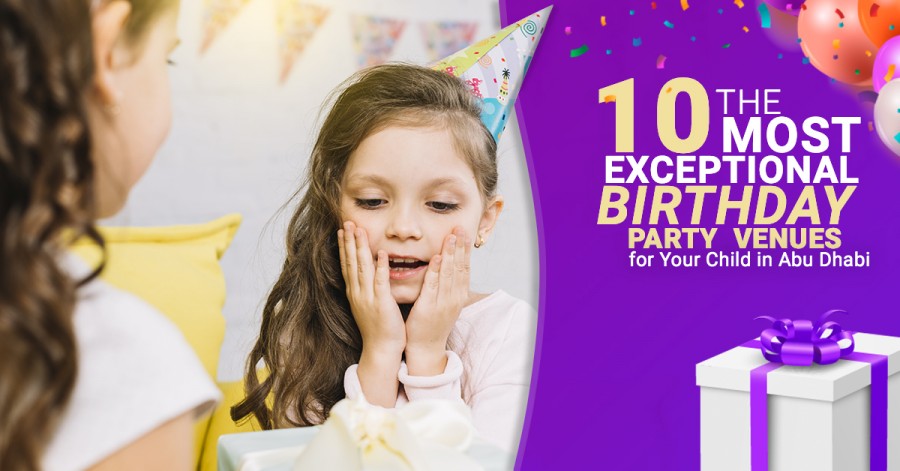 ---
If you want to get the most from your child's birthday party that will forever capture the kid's imagination, TickiKids is here to help. It is never too soon to start planning a birthday bash. Time to get booking one of the birthday party venues for children in Abu Dhabi, as we've rounded up the best of the bunch. You won't be disappointed!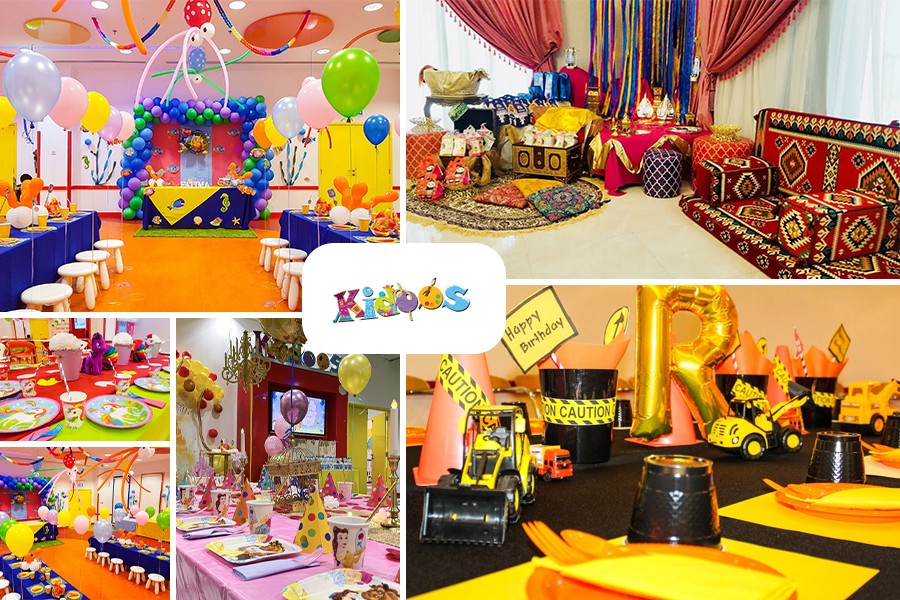 Image credit: Kidoos

Are you looking for a ready-made, exciting and unforgettable kid's party? With a huge selection of thoughtfully designed Pary Packages, Kidoos is your one-stop shop for your next event! Kidoos has packages to suit all requirements, sizes, and budgets:
Simple Fun Package - AED 149 on weekdays, AED 179 on weekends

Glow n Blow Package - AED 199 on weekdays, AED 229 on weekends
Big Fiesta Package - AED 249 on weekdays, AED 279 on weekends
Super Elite - AED 299 on weekdays, AED 329 on weekends
The Kidoos venue provides a spacious, well-equipped party room, a variety of food and drink options, making it easy for you to customize the perfect settings and menu for your party. Kiddos also offers outdoor party hosting with a trained Party Coordinating Team that ensures every aspect is as flawless and memorable as anticipated.
So why wait? Check out the Kidoos website, book your child's next birthday party at Kidoos and experience the ultimate celebration! With unique e-invitations, fascinating decorations, exciting activities, a spacious party room, and exceptional customer service, the Kidoos team guarantees it will be a party your child and their friends will never forget.
Age: 1–16

Locations:
Dalma Mall (Abu Dhabi)
Deerfields Mall (Abu Dhabi)
Wheeplay (Abu Dhabi)
Contact for booking: WhatsApp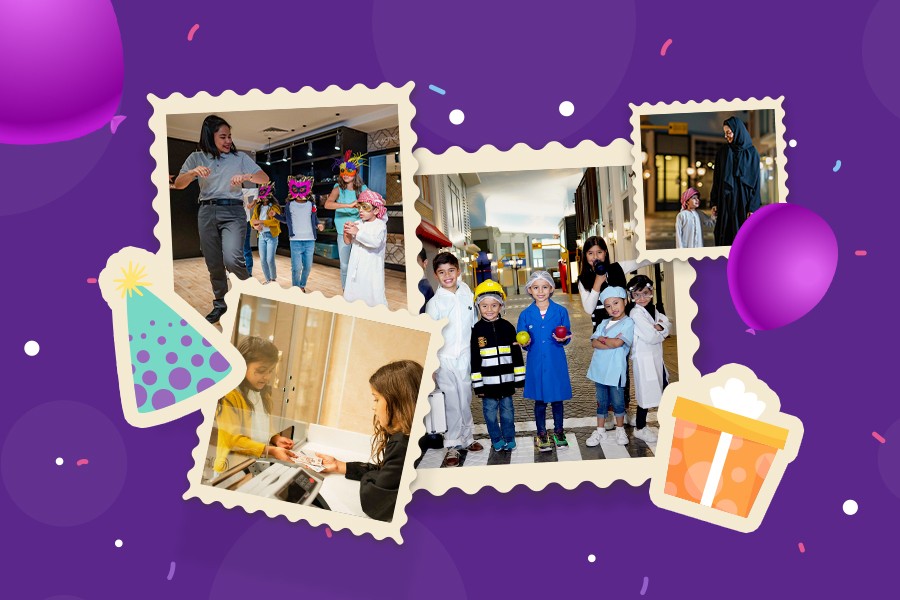 Image Credit: KidZania
Can you imagine a city run by children? Abu Dhabi has one! There is a 55,000 square meter-scaled replica of a real city where children can try their hand at 60 real-life activities - and this is KidZania! 
Here, kids can learn everything about different jobs through role-play and get a unique experience that combines teamwork, creativity, social skills and various activities. They will find out about the processes that keep the city running and thriving, learn the concept of money management, and learn on how to be great global citizens. 
Video Credit: KidZania
Kids can become real KidZanians, with passports and three levels of citizenship, each of which brings additional benefits like savings on kidZos for products and services as or discounts on merchandise. 
And now children can celebrate their birthdays here, with special party packages! This party package includes everything needed for a splendid and unforgettable party! Thus, kids will be able to celebrate the occasion in the private room and then have fun and explore KidZania! Also, parents can order some extras to make the party even more entertaining. For example, a RightZKeeper can take part in Birthday parties (150 AED). 
Bring into the notion that children below 120cm need to be always accompanied by an adult.
Age: 2-16.
Contacts: 054 998 6897.
Socials: Instagram.
Location: Ground Level, Yas Mall, Grand Prix Parking. Yas Island, Abu Dhabi.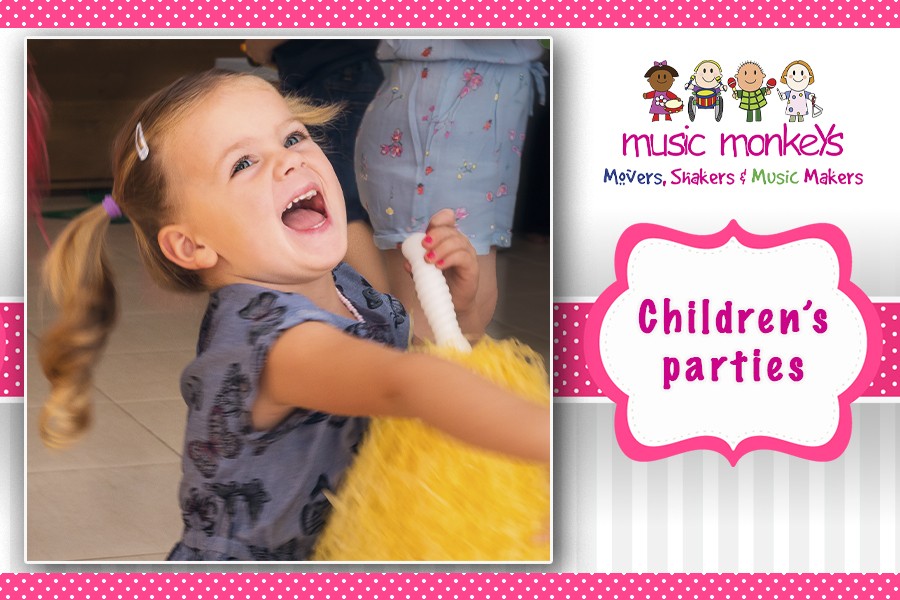 Photo Credit: Music Monkeys


Your little ones will love the chance to have a truly energetic themed birthday party provided by the Music Monkeys team. Catering for kids from one to five years old, Music Monkeys always challenge perfection and think of new ways to embrace your child's personality. With that in mind, each party is individually tailored to fit the birthday kid's personal taste, favourite songs and musical instruments so the day is completely theirs. Up to 30 children can be kept amused by their female party host enjoying singing, dancing and acting along with a diverse range of age-appropriate games, all-time favourite bubbles and parachutes in any location including your home. With a strong focus on bright and bold children's entertainment, Music Monkeys also offers games for older children, as well as face painting & balloon bending at an additional cost. The party packages cover a qualified birthday leader for 45-60 minutes of the theme-related musical activities, a gift and certificate for a birthday kid, prizes for children aged 3 and up when they play games. To guarantee the date and time that you require, it is better to book 6 weeks prior to your party date.
Pricing: from AED 600 for up to 10 children;
Ages: 1-5;
Venues: they can recommend venues if required.
Credit: video by Caboodle Pamper And Play


Caboodle Pamper & Play is a unique and spacious kids' party venue at The Galleria on Al Maryah Island. Enjoy stress-free party planning with creative and interactive birthday parties managed by a friendly and experienced team. Promising plenty of action-packed fun, Caboodle Pamper & Play offers a number of packages – Standard, Themed or Bespoke one. Packages include themed decorations, personalised invitations, age-appropriate crafts & activities, private party room, face painting, access to play areas, plus endless activities to delight the whole family. Party-goers can choose from these themes: Super Me & Super YOU Party, Tu-Tu Cute!, Aristocrat Paw Party, Little Einstein's Lab Experiment Party, Pajamas and Pals Sleepover Party, Swashbuckling Pirate Party, Mad Hatter's Tea Party, Wheely Fun Party, Happily Ever After Fairytale Party, Jammin' Jungle Party, Under the Sea Party, Up, Up and Away Party.
Opening Times: Sunday to Wednesday: 9.00 - 22.00; Thursday to Saturday: 9.00 - 24.00; Friday: 11.00 - 24.00;
For more information call: +971 2 616 6973, mob.: +971 55 800 2652, e-mail: thegalleria@caboodle.ae;
Address: THE GALLERIA, Al Maryah Island.


Credit: video by AlwahdaMallAbuDhabi


Hands down the best place to have a futuristic birthday party. Orange Spin is on point for children who like physical challenges powered by cutting-edge technologies. Each party blasts off with the super latest, most loved and all-time favourite arcade games: race car simulator by Red Bull, 2-lane 'Highway' bowling alleys, and a spy mission-themed Laser Tag Arena, with food and beverage bar and dining area for the whole family! The Laser Tag or Arcades Games packages offer a choice of either three games within 2 hours or Storm Racer, F1 Race, Battle Rider, Bowling, Pump it Up, Time crisis, Mario Sonic, Transformers, Air Hockey, Mustang Pinball. Other perks for guests include e-invitations, access to the party room, and express recharge of AED 45.
Opening Times: Mon–Thu 10:00–22:00, Fri–Sat 10:00–23:00, Sun 10:00–22:00;
Address: Abu Dhabi, 3/F Al Wahda Mall Extension, Al Wahdah.


Credit: video by Orange Wheels


Orange Wheels is truly exciting for the birthday child and your guests – a venue as famous for its thrilling themed parties and excellent all-round games as its hassle-free celebrations and well-trained staff. And rightly so, thanks to its bevy of entertainment options, including playgrounds, climbing walls, a toddler village, arts & crafts studio, salon & spa, an organic cafe, gym and small shop. Best of all, Orange Wheels offers three birthday packages – Totally Orange Party, Pick a Trick (Choose your theme), Over the Rainbow – each is filled to the brim with terrific 2-hour parties, games, access to the play area, face painting or balloon bending, kids meal, invitations, themed decoration, plus endless activities to keep the whole clan happy.
Opening Times: Sunday to Wednesday: 10.00 – 21.00, Thursday to Saturday: 10.00 – 22.00;
Visit its Facebook or Instagram pages for more information about upcoming events;
Address: Al Wahda Mall, Ground Floor Extension, Abu Dhabi.


Credit: video by ACTION ZONE


Action Zone in Abu Dhabi offers all the attractions of the UAE's epic game galaxy of non-stop rides, bowling and thrilling entertainment. It is also known for providing legendary levels of fun for everyone in attendance, and boasting a vibrant atmosphere along with an assortment of cutting-edge gaming technologies. It contains a spacious party hall and a sumptuous disco LED dance floor, offering a pulsating and illuminating setting to lift the mood of any gathering. Choose your theme and play cool games with yummy food to sustain the fun – it's Party Time for all ages and occasions!
The example packages – Play Party, Mega Play Party, VIP Play Party, Jump Up, Rockstar Party, Neon Magic, Bowling Party – include a dedicated party host, 30-minute supervised access to all rides, kidzone, cake cutting with balloon shower, goodie bags including a bowling voucher, non-redemption video games, special themed decoration and personalized transformable magnet wall setup, LED dance floor, themed invitations. Meanwhile, there are optional extras of face painting, a gift for the birthday child, a personal appearance by a costumed character puppet or clown, karaoke, t-shirts, kids' meals etc. Packages are customized with add-on services. A minimum of 20 kids is required to secure a booking on weekends (Thurs-Sat), and 15 kids – on weekdays (Sun-Wed).
The packages offer a choice of themes: Action Birthday, Jump Up Sports, Rockstar, Neon Magic, Princess & Fairytale, Superhero. Pricing starts from DHS 70 per child and depends on the day and package of your choosing.
Opening Times: Saturday to Wednesday: 10.00–22.00, Thursday to Friday: 10.00–23.00;
Address:
Capital Mall, Musaffah, Abu Dhabi;
Shams Boutik Mall, Reem Island, Abu Dhabi.


Credit: video by Warner Bros. World Abu Dhabi


If you are on the hunt for something extremely special, here is a shindig for every type of little party animal. The world's first-ever Warner Bros. branded indoor theme park, Warner Bros. World™ Abu Dhabi, will absolutely tickle your birthday boy or girl. Experience 29 state-of-the-art exhilarating rides, interactive family-friendly attractions and unique live entertainment for memories that will last a lifetime. This venue is packed with fun so that the adults will be nearly as thrilled as the kids.
With the world's most iconic characters, including Batman, Superman and Wonder Woman, Bugs Bunny, Scooby-Doo, Tom and Jerry and modern stone-age family, The Flintstones, you will turn your birthday sweetie's dreams into reality. Even more, partygoers love the food of a variety of authentically themed restaurants.
Opening Times: Monday to Sunday: 10.00 – 20.00;
Address: Warner Bros. World Abu Dhabi, Yas Island.


Credit: video by Yas Waterworld


Ready for some water fun? Make a big splash with little partygoers at Yas Waterworld, UAE's first mega waterpark and winner of TripAdvisor's 2015 Traveler's Choice Award. This birthday spot is a chance to completely immerse into attractions such as the region's longest water coaster, 45 exhilarating rides, 20m-high hydro-magnetic tornado waterslides, Jezebel Drop, the globe's first interactive water and laser rollercoaster, Bandit Bomber, follow a cartoon character Dana on her treasure hunt for a magical pearl alongside with plenty of dining options on offer.
Opening Times: Monday to Sunday: 10.00 – 19.00. Nonstandard opening times: 01.11 2018 – 28.02 2019 from Monday to Sunday: 10:00 –18:00;
Address: Yas Waterworld, Yas Island, Abu Dhabi.
Credit: video by Entertainment Time


Celebrate your child's special day in the most fun-filled way imaginable at the Magic Planet! With multiple, diverse packages to choose from such as a chilled-out session at Yalla! Bowling, visiting the Soft Play Park, or experiencing the white-knuckle thrills of a Magic Planet Rides package.
Catering for large and small groups, children of all ages will love all the fun of the incredible games, rides and other attractions. Your little ones and their guests will be treated to some fantastic party food, decorations, music and special Magic Planet party bags. Meanwhile, there are optional extras of face painting, magicians, and balloon sculpting, making for a truly unique and magical occasion.
Opening Times: Saturday to Wednesday: 10.00 ‒ 22.00, Thursday to Friday: 10.00 ‒ 24.00;
Address: Marina Mall, Ground Floor, Abu Dhabi.
Find Out More




Subscribe to weekly newsletter from "Tickikids"