The UAE's Best Development Kits for Kids
---
Published 15 June 2020 at 19:40
Tickikids Blog Abu Dhabi > The UAE's Best Development Kits for Kids
---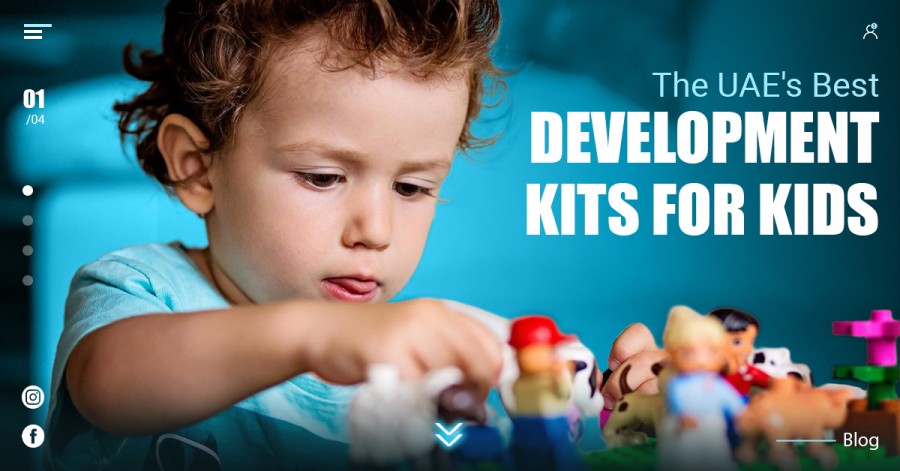 ---
If there is anything parents constantly need, it's a well-deserved minute to themselves. And there is no better idea than opting for a fun activity kit to get different components, colourful toys and a comprehensive guide all in one box. With a variety of options of craft and educational kits on the market, product reviews and customer ratings, we know how hard it can be to come up with ideas to entertain your child. We have tested plenty of kits and rounded up a thoughtfully curated selection of incredibly fun and development kits for kids. There is something for every tiny toddler, little kid or slightly older children, that are as playful as they are educational.






We cannot think of another kit as fun, stimulating and educational as book subscription boxes. For generations it has been the perfect introduction to the world of reading. Being totally committed to keeping storytelling simple and engaging, Peekado set out to treat little people to brand-new books, hand-selected just for them every month. Each subscription box contains three age-appropriate books on a monthly theme to make story time really addictive. Their subscription boxes are available in monthly and quarterly packages and aimed at children aged between 0 to 7. Whatever your child's reading taste, Peekado's experts handpick books every month to suit your voracious reader's development and help you make the most of your reading experience. What sets these boxes apart is that Peekado offers both Book Keepers subscriptions where you can keep the books and build your library and Story Swappers, an eco-friendly option, where you can read your books and afterwards send them back. This makes it perfect if you like variety but don't have enough space at home to store old books.
One of the many reasons why more and more families subscribe to one of the packages, is the fact that Peekado has begun to put into action their support of Indian children living in poverty. In partnership with an Indian charity fund, Peekado donates one new textbook from the proceeds of each sale of 3-month subscription.
Ages: 0 – 7;
Price: from 99 AED.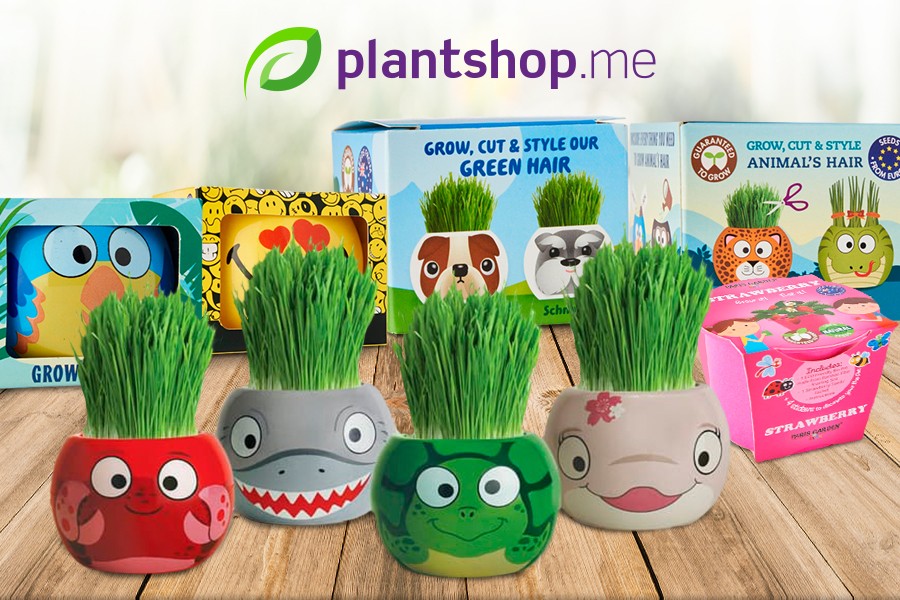 The Plantshop.me grow kits have been doing the rounds on Instagram recently and inspiring a new generation of the UAE's gardeners. Much efforts have been made by this thriving green online store to spark children's curiosity turning their capable hands to gardening. Kids love their plant growing kits which come with everything you need to get started and successfully grow fresh herbs, flowers and vegetables at home. To make this more fun and appealing to children, there is an exciting variety of cute ceramic animal planters featuring grass seed heads. It is an excellent way to introduce little kids to gardening, being involved with planting and watering. Our tester's child was so excited about the French Bulldog kit. And it's no wonder, waiting for the seeds to grow, watching him sprout hair and enjoying the haircut are so engaging and inspiring. You also have a choice of mimosa, sunflower and strawberry starter kits for children. The kits provide a pot, seeds, starting soil and instructions on how often to feed your plants and other and growing tips.
Price: from 32 to 46 AED.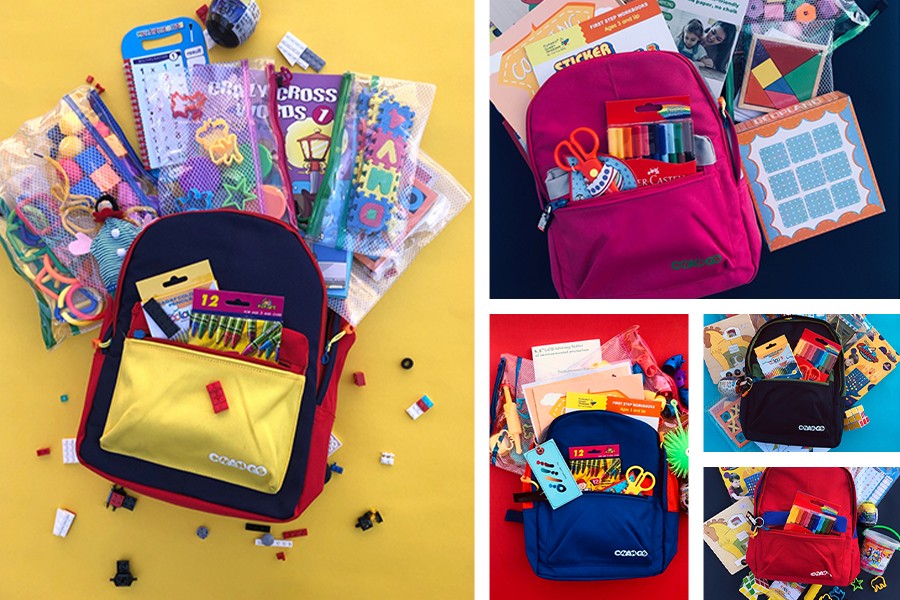 As one of the busiest kits in our round-up, we were blown away by just how much value Teela Bag provides. There is a real mix of items in this one: a collection of various artistic, imaginative, educational and development games. While our team was wowed by the variety of colours of the bags, we particularly liked the contents ranging from drawing, clay, Lego, fun games to stationery, since we know how tricky it can be to come up with ideas to entertain a little child. This bag is great for improving your kid's playtime over travel, picnics, social visits or hospital stay, providing lots of opportunities for interaction. Designed for boys and girls aged from one to 10 years, it aims to match the developmental milestones of your little one's age and gender.
Simply send a direct message via Instagram and select your choice of colour, child's age, gender, and interest. Your bag will be customised and then sent within 48 hours across UAE. Teela Bag is fantastic value for money and a hassle-free way of getting everything your little one needs in one bag.
Ages: 1 – 10;
Price: 220 AED.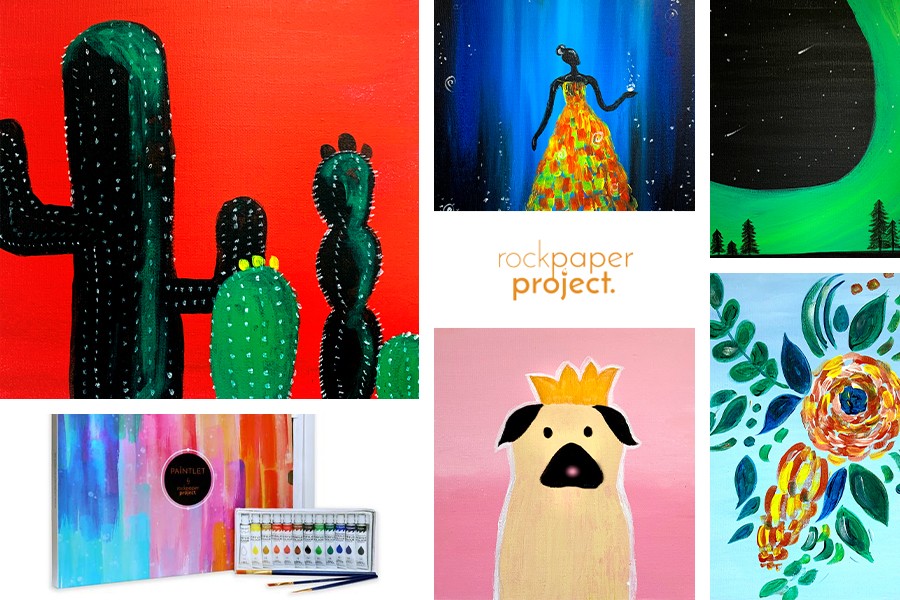 An interesting and engrossing mess-free painting kit has long been the holy grail for busy parents fed up with mess and constant cleaning. So it is truly a eureka moment to discover Paint-It Yourself art kits by RockPaperProject.
Founded by Indrajala in the UAE, their bespoke The Paintlet art kits have already attained legendary status among those who visit their e-commerce shop, browse the video gallery of paintings and choose an ideal little kit. When it comes to letting your kid's art shine bright, the wide collection of The Paintlet kits makes it easy to put your little artist's creativity first. There is so much choice of what to paint – from tropical vibes and the Eiffel Tower to a cute pug. You will have all the necessary tools, materials and clear instructions the kids need for fun paint projects, as The Paintlet kit contains stretched canvas 25cm x 35cm, acrylic paint set (12 x 12ml), three paintbrushes, a step-by-step video guide to follow and paint along, disposable apron, brush rag and wet wipes. You will be hard pressed to find a better gift for children or even adults than The Paintlet. It's a perfect activity to engage in and never be bored again.
Price: 129 AED.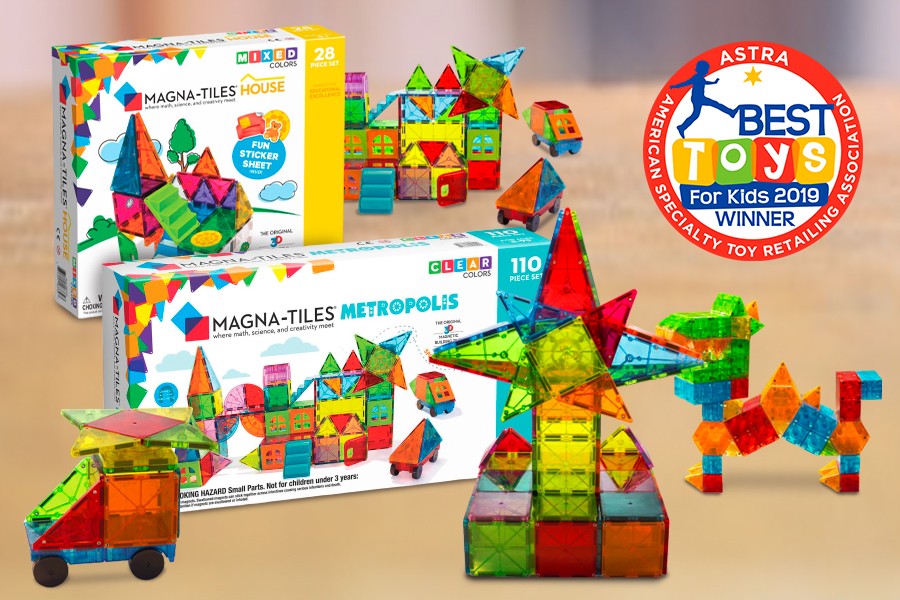 Would you like to build your child's love and curiosity for science, technology, engineering and maths, while having fun and developing their engineering creativity? Well, that sounds like a seriously good idea. Magna-Tiles® magnetic building kit is a way to encourage kids to learn about gravity and magnetism without a school book in sight. Invented by a Japanese Mathematics teacher who wanted to create a better hands-on experience when learning geometric concepts in school and at home, Magna-Tiles® spark hours of imaginative free play in children. Moreover, these kits are relevant for all ages and genders.
So what is it, exactly? From a busy high-rise metropolis and a thriving colony in space to be the architect of your own world, there's no stopping your imagination, as all Magna-Tiles® building sets are compatible. Translucent, colourful 3D shapes including squares, triangles, pyramids,"X" shapes, triangular prisms, cubes, hexagonal and rectangular prisms, not only are Magna-Tiles® building sets fun, but they also help develop fine motor skills as kids stack, build, count, match and "click" together their creations.  Anything your kids can dream, they can create. As people like to say – seeing is believing.
Ages: 3+
Price: from 115 AED.


By Anna Khan
Subscribe to weekly newsletter from "Tickikids"