The 10 Ultimate Birthday Party Venues for Children in Dubai
---
Published 03 October 2018 at 13:02
Tickikids Blog Dubai > The 10 Ultimate Birthday Party Venues for Children in Dubai
---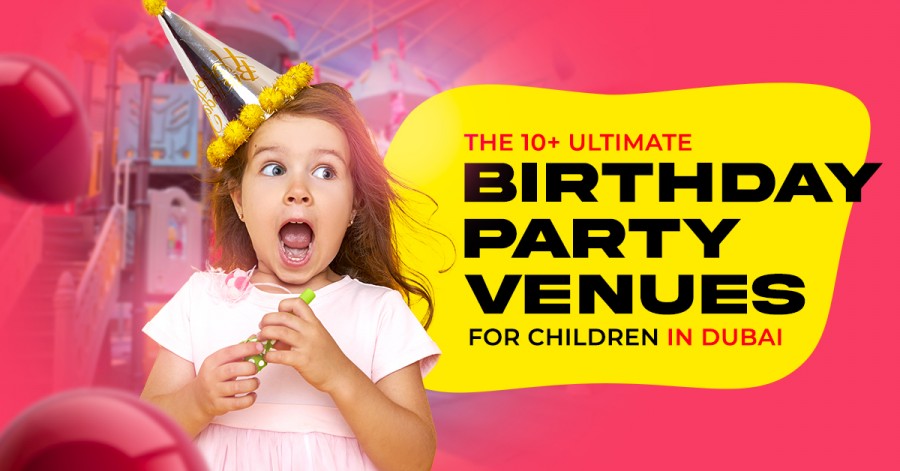 ---
If the planning of your child's birthday bash is firmly on your agenda this year, you'd do well to take note of these 10 most incredible birthday party venues for children in Dubai, whose birthday packages are full of options to help you out – no matter what the request.


Credit: video by Play Dates


With so much on offer, Playdates prides itself on their interactive learning playground, which is ideal for your kid's birthday bash. The ultimate birthday party packages are thoroughly enjoyable for youngsters aged between 6 months to 6 years old. Its variable play areas, safe supervised indoor maze with spectacular slides, passages and winding tunnels are a must-have at every child's birthday party. Playdates did not forget about little kiddos, as it has the soft play area for toddlers up to 2 years old. They also provide birthday party activities in the comfort of your home. From clowns, face painters, animators, balloon benders, cotton candy or popcorn machines to puppet or comedy children's show – your little guests will never be at a loss for things to do.
Opening Times: Sunday to Thursday: 9.30 – 22.00, Friday-Saturday: 9.00 – 22.00
Address: Playdates Palm, RT- 15 Building 5, Golden Mile 1, Palm Jumeirah, Dubai


Credit: video by Brick 4 Kidz Creativity Centre


Situated in Al Barsha, Brick 4 Kidz is the world's most popular provider of birthday parties and the most popular choice in UAE for fun-filled LEGO® bricks children's events. With its abundance of colourful creative-play LEGO® Bricks, LEGO®-based games and activities, BRICKS 4 KIDZ's Creativity Centre is a budding builder's dream. Guests are spoilt for choice when it comes to a range of age-relevant themes: Bricks4Girls, Bat League, Superhero Academy, Spinning Ninjas, Mining & Crafting, Jurassic Brick Land, Transformation Creations, Brick City, Amusement Park and Brick Fusion. 

The three packages – DELUXE, PREMIUM or SUPREME – cover 1 or 2 party hosts, 1-hour fun building activities and plenty of games with LEGO®, creative play with tons of LEGO® bricks, e-invitations and e-thank you cards for your party guests and 30 minutes of food and cake time (you can bring your own food and cake). The SUPREME package also includes KIDZ MEAL (burger + fries + drink + pizza), branded t-shirt for the birthday child, a mini-figure factory and goody bags for all guests. Brick 4 Kidz hosts only one birthday party at a time at the Centre – so a booking with them means you have exclusive run of the Centre for the duration of your party!
Opening Times: Sunday to Thursday: 08.30 – 17.00, Friday – Saturday: 10.00 – 17.00.
Address: BRICKS 4 KIDZ Creativity Centre, Office M01, Al Barsha Building, Hessa Street, Al Barsha 3, Dubai
Credit: video by Just Play


Dedicated to making each child's birthday go smoothly whilst actively engaging children in a wide variety of sports activities, Just Play offers ultimate birthday parties for young daredevils of all ages and abilities. The unique party options pack a powerful punch: Ninja Warrior Party, Trampoline Party, Football Party, Gymnastics Party, Dance Party, Wrestling Party. 

Comprising 2 hours of unlimited play in your chosen sports and in a party room, other perks for groups of kids include a birthday cake with bespoke design, invitations, food, drinks and goody bags for all guests and a qualified coach to ensure the fun safe and fun use of the facilities. A minimum of 10 kids is required to book a party. Pricing starts from AED 99 per child, depending on the day of week and the number of guests.
Opening Times: Monday to Sunday: 08.00 – 23.00
Address: Just Play, 5 15A Street, Al Quoz 1, Dubai (just off the Sheikh Zayed Road Exit 45)
Credit: video by Emaar Entertainment


Famed for a legendary 7,000 m2 scaled replica of a real city packed with over 60 role-playing activities for children aged 4-16, KidZania's well-established reputation continues to ring true. It contains a spacious, well-decorated private party hall with a capacity of 30 kids and about 20 adults. There also is a stunning lounge area for adults to sit and watch their little ones and a seating area for kids to have their meal.
KidZania is jammed with immersive entertainment for offspring, featuring all types of role-play activities throughout the city. The KidZania birthday party package includes an entry to KidZania (birthday child is free of charge), private party room for 1 hour, decorations, party host (and music), 100 KidZos and kids' meal. Meanwhile, there are optional extras of RightZKeeper appearance, birthday cake, face painting, goody bags, video and photo, pinata, balloon bending, magic show, dance performance and marching band. Pricing starts from AED 180 per child and with every 2 kids, one adult goes free.
Opening Times: Sunday to Wednesday: 10.00 – 22:00, Thursday to Saturday: 10.00 – 23:00
Address: Level 2, The Dubai Mall, Financial Centre Road, Downtown Dubai, Dubai


Credit: video by Rashik Zoom


Newly renovated Dubai Bowling Centre (DBC) is a modern and spacious family entertainment centre with three main areas: a professional 16-lane bowling alley, JUMP UP ‒ hip-hop trampoline playground with a mix of activities including slam dunk, airbag, dodgeball and wall-running, and GAMES ARCADE – video gaming entertainment with a big variety of arcade games on offer: from old-school classics to new-age redemption games, rides and virtual reality. Best of all, YAMU eatery, an interactive family-friendly F&B outlet, caters to all DBC events with fun freak shakes, character-themed burgers & snacks to keep you fuelled throughout all the gaming.
Give your child a soaring birthday bash choosing one of the age-appropriate, themed birthday parties complete with a range of activities, decorations, food and entertainment options such as mascots, magic shows and additional trampoline park access or bowling lessons. A dedicated expert team of party hosts takes care of each booking all the way through to ensure an event like no other! Free underground parking is available for all guests.
Opening Times: Monday to Sunday: 10.00 – 24.00. Thursday: 10.00 – 1.00am
Address: Dubai Bowling Center, Al Quoz 1, Meydan Rd
Credit: video by Ski Dubai


Gone are the days when Dubai was known for little more than its endless whirl of summer activities, stunning beaches, water sports and deserts. An amazing mountain-themed wintery birthday party by Ski Dubai is what everybody is talking about – and rightly so: it's sensational for the Middle East! Get a glimpse of what it's like to throw a birthday bash in a real ski resort located in the Mall of the Emirates. At Ski Dubai the kids will get to observe and marvel at skiing, snowboarding, tobogganing, rolling down the Giant Ball run, jumping a 10ft. ramp, spiralling down the tube slides, bobsled, sightseeing in the chairlift, having a hot chocolate at -4°C and playing with a snow penguin.
The vast range of packages here is a delight: Laser Tag, Snowpark, Discovery or Polar Birthday packages. All of them include a 2.5-hour party for a group of 10 and up to 25 kids, equipment and clothing rental (disposable socks, boots, trousers, jackets and helmets, skis or a snowboard), entry to the Snow Park or Arena, unlimited rides in the chairlift, giant ball and mountain thriller. You will also get a complimentary celebrant's photo with special frame, a gift for the birthday child, fleece gloves, invitation cards, goody bags, decorations, hot chocolate, 3 choices of hot food, choice of desserts, one complimentary drink and water. There are also optional extras of a birthday cake, a personal appearance by the frosty and friendly Polar Bear (Ski Dubai's Mascot), face painting, balloon bending, magic show, and a penguin mini-encounter where the birthday child gets a chance to touch the penguin.
Opening Times: Sunday to Wednesday: 10.00 – 23.00; Thursday: 10.00 – 24.00; Friday: 09.00 – 24.00; Saturday: 09.00 – 11.00.
Address: Mall of the Emirates, Sheikh Zayed Road, Interchange 4, Al Barsha, Dubai.
Credit: video by Dubai Aquarium & Underwater Zoo


There is an endless array of possibilities for an oceanic aquarium birthday party at Dubai Aquarium & Underwater Zoo, one of the most engaging attractions in Dubai. Located at The Dubai Mall, it offers an incredible journey to an underwater life. Dubai Aquarium has the capacity to hold 10 million litres of water. It is one of the leading modern indoor aquariums in the world. It reveals the wonder of the deep sea and ocean floor, and features an incredibly diverse collection of aquatic life. The Underwater Zoo with penguins, piranhas, crabs, water rats, seahorses and jellyfish is also available for kids who like to be more hands-on in their approach to activities.
Suitable for a maximum of 20 guests, children's 2-hour birthday parties include an Otter Encounter session and activities as well as a guided tour before or after the session to visit the Aquarium Tunnel, Underwater Zoo, Glass-Bottom Boat and Underwater Observation Deck (fish feeding). Each party also encompasses a chance for the guests to meet and greet with the Otters, assist trainers with animal training behaviours, enrichment activities including making toys for the otters, rainforest and animal care themed games led by a member of the education team; and the option for party bags, kids' meal, juice and ice-cream with balloon decoration at Rainforest Café (The Dubai Mall) for an extra charge. Glass-Bottom Boat rides are not applicable for children under 3 and pregnant women.
Opening Times: Monday to Sunday: 10.00 – 02.00am. It offers daily time slots for birthday parties at 12:00, 14:00, 16:00 and 18:00, excluding Wednesdays.
Address: The Dubai Mall, Doha Street, Off 1st Interchange - Sheikh Zayed Road


Credit: video by Atlantis, The Palm


Atlantis is a majestic and magnificent resort in Dubai located on The Palm, an artificial island that has captured the imagination of the wider world with its supreme scale and ingenuity. From the moment you arrive, you will be immersed in a dazzling world of imagination, pleasure and 5-star luxury.  
The Atlantis Kids Club offers its ever-popular amenities for your child's big day. Sporty, active kids with a flair for adventure will love its themed parties in the Play Zone, Underwater Theatre, Creation Zone and Command Centre.
The Atlantis Kids Club has three generous party packages – Under the Sea, Knights and Princesses, Superheroes – with special recognition for the birthday guest of honour, including 3 hours of customised activities, balloon decorations and birthday banner, snack time or pizza, 1.5 kg 2D birthday cake and a guided tour to The Lost Chamber Aquarium. Upgraded packages can provide even more fun for the birthday child and guests with optional extras of standard or personalised birthday invitations, arts & crafts glitter tattoo, enhanced arts & crafts, goody bags, Atlantis Adopt-a-Pal Red, blue or pink carpet, photo backdrop, large personalised card, 30-minute face painting session, Piñata, balloon arch upon entry, photography service, balloon twister (30 minutes), bouncy castle and magician character meet and greet. Booking a birthday party at this venue is easy. All you need to do is choose a convenient time slot: 10.30 – 13.30 or 15.30 – 18.30.
Opening Times: Monday – Sunday: 10.00 – 18.30.
Address: Crescent Rd The Palm Jumeirah Dubai


Credit: video by  Magic Planet


Celebrate your child's special day in the most fun-filled way imaginable at the Magic Planet! With multiple, diverse packages to choose from, such as a chilled-out session at Yalla! Bowling, visiting the Soft Play Park, or experiencing the white-knuckle thrills of a Magic Planet Rides package.
Catering for large and small groups, children of all ages will love all the fun of the incredible games, rides and other attractions. Your little ones and their guests will be treated to some fantastic party food, decorations, music and special Magic Planet party bags. Meanwhile, there are optional extras of face painting, magicians, and balloon sculpting, making for a truly unique and magical occasion.
Opening Times: Saturday to Wednesday: 10.00 ‒ 22.00, Thursday to Friday: 10.00 ‒ 24.00
Address:
Magic Planet @Mall of The Emirates: Level 2, Mall of the Emirates, Shiekh Zayed Road, Al Barsha ;
Magic Planet @City Centre Mirdif (South): Level 1, South Entrance, Shiek Mohamed bin Zayed Road, Mirdif ;
Magic Planet @City Centre Deira, Magic Planet, Level 1, City Centre Deira, 8th Street.


Credit: video by VOX Cinemas


What better way to celebrate your child's birthday than indulging in the comfort of the cinema? The KIDS by VOX, a unique cinema concept, is a movie-lovers' heaven. Children and adults have access to some pretty impressive perks. Firstly, there are brightly coloured cosy cinema interiors and adjoining private party rooms available to guests, a birthday cake, kids' meal, as well as the latest animation, action and adventure films to amuse even the biggest film aficionados. The KIDS' experienced staff will take care of all themed entertainment and games. Dreams at this cinema will come true!
Address:

VOX CINEMAS Kids @Burjuman, Khalid Bin, Al Waleed Rd, Dubai Located on Level 3;
VOX CINEMAS Kids @City Centre Deira, Port Saeed Road, Deira, Dubai Located on Level 2;
VOX CINEMAS Kids @Mall of the Emirates, Al Barsha 1, Dubai Located on Level 2;
VOX CINEMAS @Mall of the Emirates, Al Barsha 1, Dubai Located on Level 2;
VOX CINEMAS @City Centre Mirdif, VOX Cinemas, Mirdif City Centre, Sheikh Mohammed Bin Zayed Rd, Located on Level 1.
By Anna Liashchenko
Subscribe to weekly newsletter from "Tickikids"