The 10+ Ultimate Birthday Party Venues for Children in Dubai
---
Published 28 February 2023 at 13:02
Tickikids Blog Dubai > The 10+ Ultimate Birthday Party Venues for Children in Dubai
---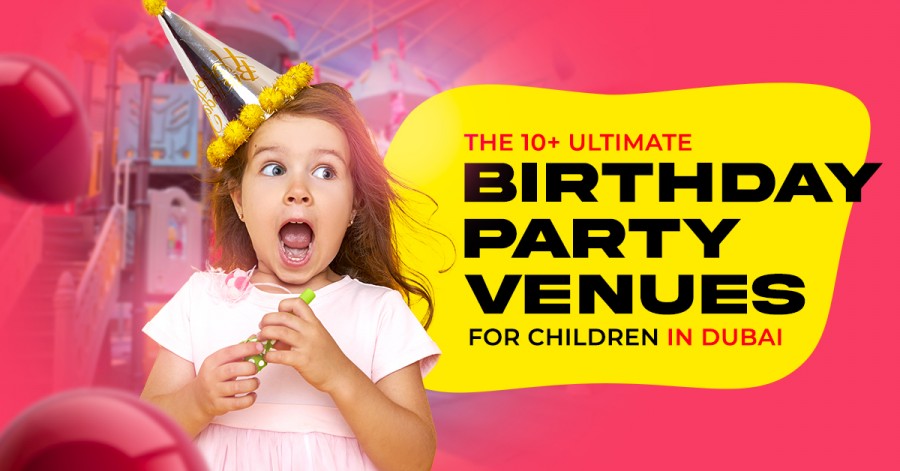 ---
If the planning of your child's birthday bash is firmly on your agenda this year, you'd do well to take note of these 10 most incredible birthday party venues for children in Dubai, whose birthday packages are full of options to help you out – no matter what the request.
Credit: Entermission

Entermission Dubai is a unique place where Escape Room meets Virtual Reality, the first of its kind in the UAE. Merging the fun of physical escape rooms with virtual reality and a full 3D cinematic experience, Entermission Dubai creates an unforgettable birthday party experience!
Entermission Dubai delivers captivating and mind-blowing activities for a birthday party. With environmental and 3D effects, each room is designed to create deep immersion and incredible, memorable moments. Entermission Dubai's priority is to make each child's birthday magical, fun, and engaging while encouraging children to work together and embrace the challenge.
Entermission team offers three flexible birthday packages starting from 95 Dhs and takes on themselves the burden of the entire party from bringing the cake, food, drinks, decoration and more.
By maintaining the party vibe, Entermission guarantees to crack a smile on kids' faces with an unforgettable virtual reality escape experience. Plan a fun, joyful and adventurous kids' birthday party at one of the best places of immersive virtual reality in Dubai!

Pricing: Starts from 95 Dhs
Age Group: from 7 years old and Above
Opening Timings: every day from 11 AM – 11 PM
Address: Al Warsan Building, 9th floor, 905, Al Barsha Heights, Dubai
Phone: +971 54 429 4290
Email: dubai@enterthemission.com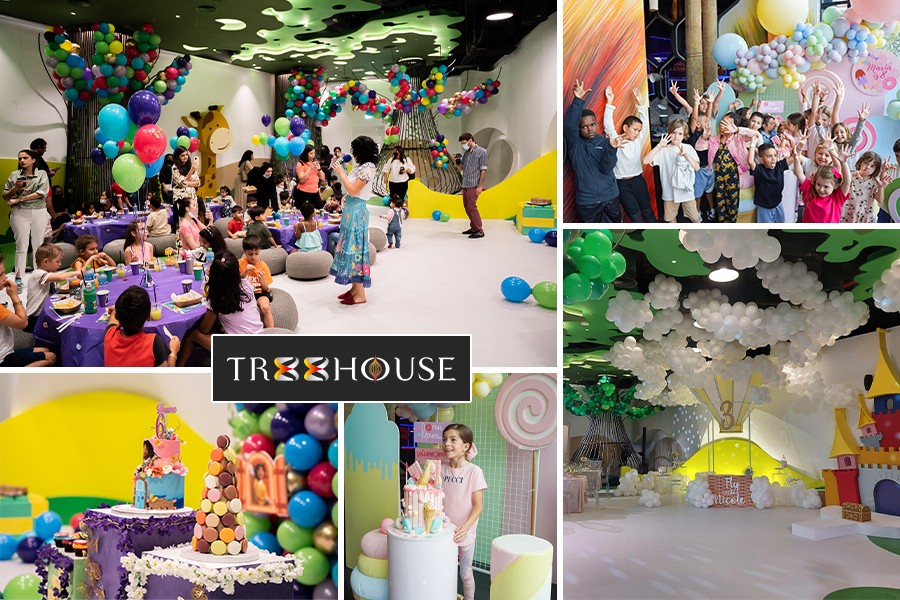 Credit: TR88HOUSE

Searching for a birthday party venue that will make your child's dreams come true? Say hello to
TR88HOUSE
– a magical world brimming with vibrant colours, adventure and wonder! Imagine a place floating somewhere in outer space, full of mystical creatures and fairies.
As you step onto the island, you and your little one will be transported to places where anything is possible:
MysticGolf is a tropical rainforest oasis located on the upper level of the island, where you and your guests will be fully immersed in a glow-in-the-dark miniature golf experience. With innovative technology and 9 challenging holes, you will need all your skills to come out on top – but watch out for the forest dwellers who might try to distract you along the way!
LaserRush is the TR88HOUSE area, filled with mysteriously abandoned technologies and a variety of game options to choose from. Suitable for ages 6 and above (but if your child is under 12, they should be accompanied by a parent to join the fun!), LaserRush offers an unforgettable experience and a thrilling game of laser tag that young guests will enjoy.
A vibrant, lush green world at the Munchkin Monster area is perfectly designed for the youngest adventurers. This is a place where youngsters can let their imagination run wild while exploring the ball pit ocean, race through the jungle in a safe and stimulating environment.
Suitable for anyone over 4 years old, SkyFall is a multi-level area where guests can get as close to flying as a human possibly can! Test your balance on the slack line, unleash your agility in the ninja course, defy gravity on the trampolines, reach for the stars on the climbing wall, aim high with our bouncing court and so much more!
So why not host your child's next birthday party at TR88HOUSE? TR88HOUSE is the ultimate party playground for little guests that will transport them to a world of never-ending happiness and let your child create memories to cherish for a lifetime. Do not miss out on the opportunity to experience the magic of TR88HOUSE - come and discover it for yourself!
Pricing: starting AED 175
Age Group: from 1 year and above
Timings: daily 12pm to 10pm
Phone:  +971 4 355 8888

Email: contact@tr88house.com
Location: TR88HOUSE, No. EB1, Entrance 8 Bluewaters Island
Video Credit: Hip Hop Cardio
Hip Hop Cardio Dubai is a unique place where dancers of all ages can increase their energy level and incorporate hip hop dance in their exercise routine. The instructors of the studio have created a fusion of hip hop and cardio workouts so you can build your muscle tone with fun and ease. Here, students can learn hip hop steps and themes, have fun and enjoy non-stop good vibes.   
And, now it is possible to throw a birthday party at Hip Hop Cardio Studio! The birthday package includes rent of B Hype Studio for 2 hours, festive decorations, birthday cake, a hip hop cardio class (duration 1 hour) and a DJ will entertain the guests during the party. 
In addition, one can order Hip Hop Cardio Kids Show, invite a favorite character (Spider-Man, Batman, etc). You can even order a beatbox show or a singer!
Also, kids can get Hip Hop Cardio t-shirts with a discount (80 AED instead of 100 AED) and get one month offer to attend once a week our classes at B Hype Studio
When: Mon–Fri 16:00–18:00, Sat-Sun 10:00–12:00.
Age: 4–16.
Price: 
Birthday package from 5000 AED;
Additional options from 1500 AED.
Contacts: +971 56 485 2568.
Socials: Facebook, Instagram, YouTube
Location: Dubai, Bhype Studio, Al Quoz 3.
Find Out More
Credit: video by OliOli



Thanks to a winning combination of 8 interactive fun-filled galleries, exhibitions, a world-class experiential playground, La Petite Treehouse Cafe for parents, the OliOli has enjoyed its most successful year yet – so much so that it got the top spot to claim the accolade of the Best Edutainment Venue 2018 in Dubai and also 5-star rating at TripAdvisor. OliOli has become the most talked-about children's entertainment venue to make your child's birthday party a success. From a chance to have an enriching play experience, and tones of fun in a highly creative environment to an extensive kids' and adults' menu, this unique children's museum is offering the ideal space for both parents and your little guests. All the party packages include from 1.5 to 2.5 hours of playtime and 30 minutes for children's healthy yummy food, along with a decorated private party room, personalised electronic invitations, a dedicated party facilitator, plus 30-minute add-on workshops are also available. We would highly recommend a range of workshops for your kid's party from Slim Factory and Epic Superhero to Whimsical Unicorn and Marvellous Masterpiece. All workshops will be led by your party host and an additional educator and will be added to the party package of your choice.
Pricing: packages from AED 126 per child and AED 25 per child for a workshop;
Opening Times: Saturday - Wednesday: 9.00 - 19.00. Thursday - Friday: 9.00 - 21.00;
Address: OliOli Building, Al Quoz 1, Next to Oasis Centre, Dubai.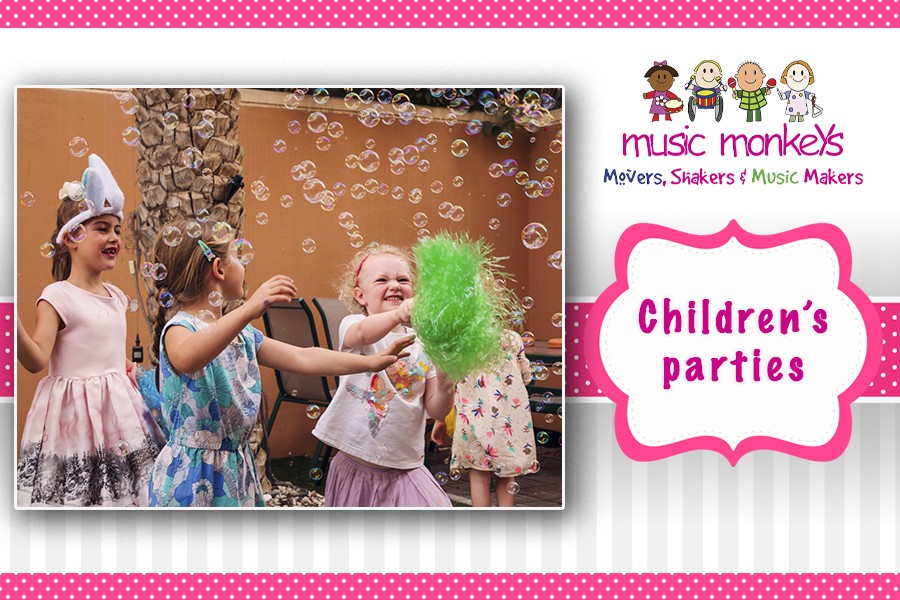 Photo Credit: Music Monkey

Your little ones will love the chance to have a truly energetic themed birthday party provided by the Music Monkeys team. Catering for kids from one to five years old, Music Monkeys always challenge perfection and think of new ways to embrace your child's personality. With that in mind, each party is individually tailored to fit the birthday kid's personal taste, favourite songs and musical instruments so the day is completely theirs. Up to 30 children can be kept amused by their female party host enjoying singing, dancing and acting along with a diverse range of age-appropriate games, all-time favourite bubbles and parachute in any location including your home. With a strong focus on bright and bold children's entertainment, Music Monkeys also offers games for older children, as well as face painting & ballon bending at an additional cost. The party packages cover a qualified birthday leader for 45-60 minutes of the theme-related musical activities, a gift and certificate for a birthday kid, prizes for children aged 3 and up when they play games. To guarantee the date and time that you require, it is better to book 6 weeks prior to your party date.
Pricing: from AED600 for up to 10 children;
Ages: 1-5;
Venues: they can recommend venues if required.


Credit: video by Play Dates


With so much on offer, Playdates prides itself on their interactive learning playground, which is ideal for your kid's birthday bash. The ultimate birthday party packages are thoroughly enjoyable for youngsters aged between 6 months to 6 years old. Its variable play areas, safe supervised indoor maze with spectacular slides, passages and winding tunnels are a must-have at every child's birthday party. Playdates did not forget about little kiddos, as it has the soft play area for toddlers up to 2 years old. They also provide birthday party activities in the comfort of your home. From clowns, face painters, animators, balloon benders, cotton candy or popcorn machines to puppet or comedy children's shows – your little guests will never be at a loss for things to do.
Opening Times: Sunday to Thursday: 9.30 – 22.00, Friday-Saturday: 9.00 – 22.00;
Address: Playdates Palm, RT- 15 Building 5, Golden Mile 1, Palm Jumeirah, Dubai.


Credit: video by Brick 4 Kidz Creativity Centre


Situated in Al Barsha, Brick 4 Kidz is the world's most popular provider of birthday parties and the most popular choice in UAE for fun-filled LEGO® bricks children's events. With its abundance of colourful creative-play LEGO® Bricks, LEGO®-based games and activities, BRICKS 4 KIDZ's Creativity Centre is a budding builder's dream. Guests are spoilt for choice when it comes to a range of age-relevant themes: Bricks4Girls, Bat League, Superhero Academy, Spinning Ninjas, Mining & Crafting, Jurassic Brick Land, Transformation Creations, Brick City, Amusement Park and Brick Fusion. 

The three packages – DELUXE, PREMIUM or SUPREME – cover 1 or 2 party hosts, 1-hour fun building activities and plenty of games with LEGO®, creative play with tons of LEGO® bricks, e-invitations and e-thank you cards for your party guests and 30 minutes of food and cake time (you can bring your own food and cake). The SUPREME package also includes KIDZ MEAL (burger + fries + drink + pizza), branded t-shirt for the birthday child, a mini-figure factory and goody bags for all guests. Brick 4 Kidz hosts only one birthday party at a time at the Centre – so a booking with them means you have an exclusive run of the Centre for the duration of your party!
Opening Times: Sunday to Thursday: 08.30 – 17.00, Friday – Saturday: 10.00 – 17.00;
Address: BRICKS 4 KIDZ Creativity Centre, Office M01, Al Barsha Building, Hessa Street, Al Barsha 3, Dubai.


Credit: video by Just Play


Dedicated to making each child's birthday go smoothly whilst actively engaging children in a wide variety of sports activities, Just Play offers ultimate birthday parties for young daredevils of all ages and abilities. The unique party options pack a powerful punch: Ninja Warrior Party, Trampoline Party, Football Party, Gymnastics Party, Dance Party, Wrestling Party. 

Comprising 2 hours of unlimited play in your chosen sports and in a party room, other perks for groups of kids include a birthday cake with bespoke design, invitations, food, drinks and goody bags for all guests and a qualified coach to ensure the fun safe and fun use of the facilities. A minimum of 10 kids is required to book a party. Pricing starts from AED 99 per child, depending on the day of the week and the number of guests.
Opening Times: Monday to Sunday: 08.00 – 23.00;
Address: Just Play, 5 15A Street, Al Quoz 1, Dubai (just off the Sheikh Zayed Road Exit 45).


Credit: video by Emaar Entertainment


Famed for a legendary 7,000 m2 scaled replica of a real city packed with over 60 role-playing activities for children aged 4-16, KidZania's well-established reputation continues to ring true. It contains a spacious, well-decorated private party hall with a capacity of 30 kids and about 20 adults. There also is a stunning lounge area for adults to sit and watch their little ones and a seating area for kids to have their meal.
KidZania is jammed with immersive entertainment for offspring, featuring all types of role-play activities throughout the city. The KidZania birthday party package includes an entry to KidZania (birthday child is free of charge), a private party room for 1 hour, decorations, a party host (and music), 100 KidZos and kids' meal. Meanwhile, there are optional extras of RightZKeeper appearance, birthday cake, face painting, goody bags, video and photo, pinata, balloon bending, magic show, dance performance and marching band. Pricing starts from AED 180 per child and with every 2 kids, one adult goes free.
Opening Times: Sunday to Wednesday: 10.00 – 22:00, Thursday to Saturday: 10.00 – 23:00;
Address: Level 2, The Dubai Mall, Financial Centre Road, Downtown Dubai, Dubai.


Credit: video by Rashik Zoom


Newly renovated Dubai Bowling Centre (DBC) is a modern and spacious family entertainment centre with three main areas: a professional 16-lane bowling alley, JUMP UP ‒ hip-hop trampoline playground with a mix of activities including slam dunk, airbag, dodgeball and wall-running, and GAMES ARCADE – video gaming entertainment with a big variety of arcade games on offer: from old-school classics to new-age redemption games, rides and virtual reality. Best of all, YAMU eatery, an interactive family-friendly F&B outlet, caters to all DBC events with fun freak shakes, character-themed burgers & snacks to keep you fuelled throughout all the gaming.
Give your child a soaring birthday bash by choosing one of the age-appropriate, themed birthday parties complete with a range of activities, decorations, food and entertainment options such as mascots, magic shows and additional trampoline park access or bowling lessons. A dedicated expert team of party hosts takes care of each booking all the way through to ensure an event like no other! Free underground parking is available for all guests.
Opening Times: Monday to Sunday: 10.00 – 24.00. Thursday: 10.00 – 1.00am;
Address: Dubai Bowling Center, Al Quoz 1, Meydan Rd.
By Anna Khan
Subscribe to weekly newsletter from "Tickikids"