The Very Best Summer Camps in Dubai revealed
---
Published 18 June 2019 at 12:01
Tickikids Blog Dubai > The Very Best Summer Camps in Dubai revealed
---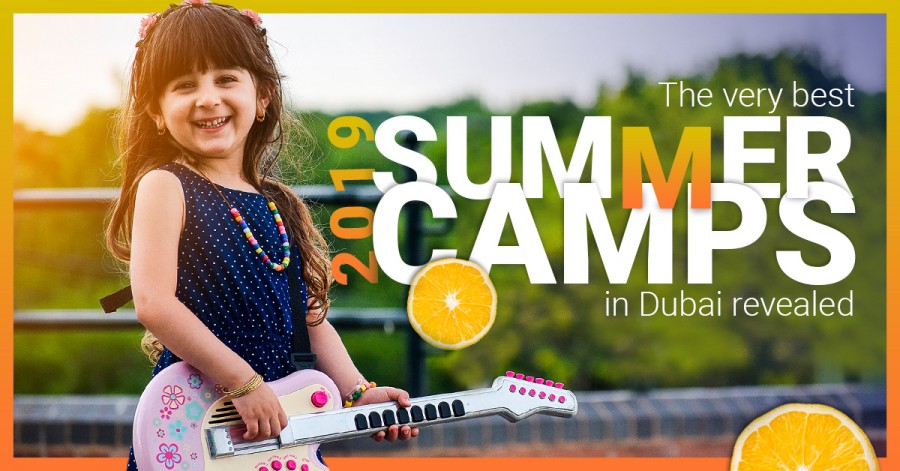 ---
When it comes to the quest for the perfect alternative to children slouching about playing computer games or fiddling with their phones during sweltering Dubai summer holidays, TickiKids has never let parents down. For those seeking to encourage all forms of kids' creativity and experience a wide range of activities with expertly led weekly holiday programmes, Dubai exceeds even the highest level of expectation. So, in no particular order, we've put together a list of some of the very best summer camps in Dubai for 2019.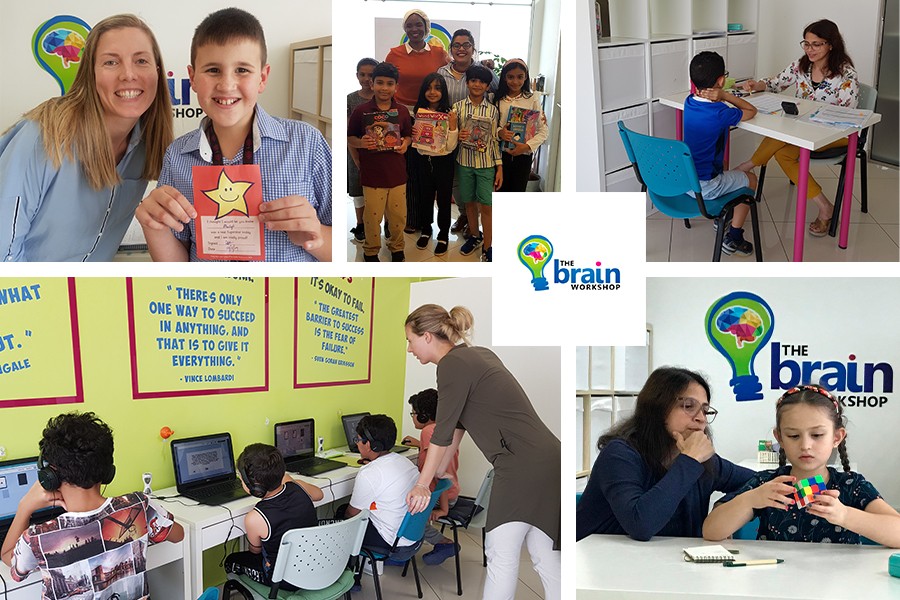 At The Brain Workshop's unique Summer Camp, the focus is clearly on cognitive development. Emphasis is placed on finding emotional and physical balance through an array of brain training and brain stimulation activities geared towards kids and teens from ages 7-16. Based on our own experience of trying to find really engaging and motivating summer holiday programmes that appeal to the vast and varied tastes of children, this feels like an ambitious concept. The children enrolling for these 3- or 5-days a week camps will rotate between a couple of hours of scientifically established brain training sessions (BrainRX), Rubik's cube, creative writing, EQ sessions and visual puzzle building. Most importantly, The Brain Workshop has a stellar line-up of highly-experienced trainers and experts to embark your kids on a journey of success. The centre is not only assuring an efficient brain workout, but also each participating child receives a cognitive skills assessment before the commencement of the camp as part of the package.
Dates: 30th June – 31 August 2019;
Price: weekly pricing;
Age range: 7 – 16;
Contact details: 04 243 4620, 056 353 1896;
Location: Apex Atrium, Motor City, 216.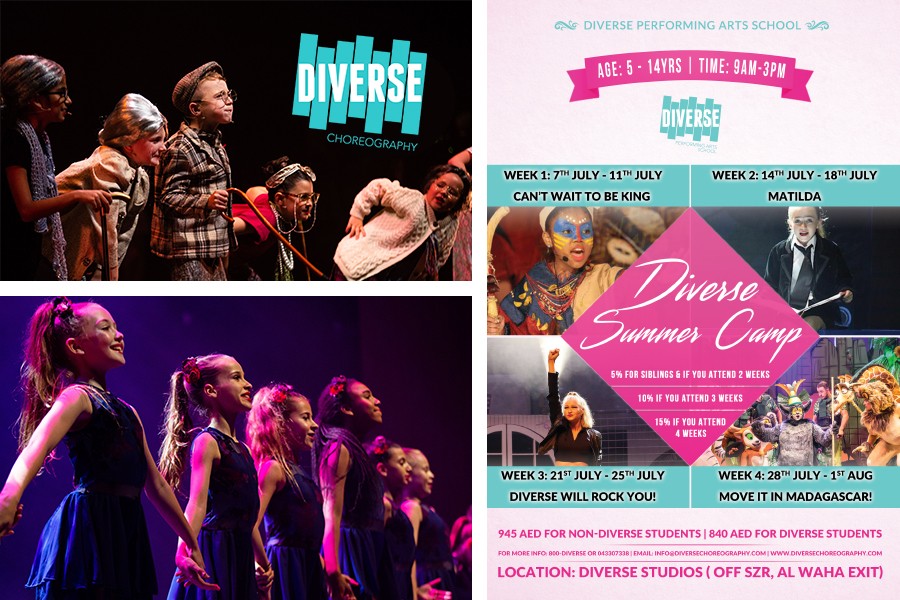 As summer approaches, Diverse Performing Arts Centre has once again thrown open its door to play host to the super cool, joy-inducing summer camps. This place is manna from heaven: the youngsters learn lots of skills such as singing, dancing, acting, drama, hand making costumes and set designing. There is no mistaking its ability to capture the hearts of potential campers aged 5 - 14. "Both of my daughters love Diverse and I highly recommend it to anyone who has a passion for performing arts. The Diverse's team is super talented, supportive and offer a great selection of classes," says Jennifer Simon, mum of two daughters.
The unrivalled choice of the adventure summer camps will leave you green with envy as a parent. The activities are remarkably diverse, from battles between Simba and his wicked uncle Scar on the plains of Africa during Can't Wait To Be King camp to a week with a tiny genius Matilda Wormwood who stands up to nasty Miss Trunchbull over Matilda camp. Want something more bohemian? Enrol in the Diverse Will Rock You! camp – ideal for those who keen to rock out to songs from the smash hit musical "We Will Rock You". For animal-loving kids looking for fun, songs, dances and acting, pop down to Move it in Madagascar! with Marty the Zebra and his friends Alex, Gloria and Melman on their 'Afro Circus' adventure which lands them in Madagascar. 
All parents are invited to watch a presentation of the students' work at the end of each week.
Dates:
7th – 11th July – Can't Wait To Be King camp;
14th – 18th July – Matilda camp;
21st – 25th July – Diverse Will Rock You! camp;
28th July – 1st August – Move it in Madagascar! camp.
Timing: 9am – 3pm;
Age range: 5 – 14;
Price: AED 945 for Non-Diverse students and AED 840 for Diverse students. Get 5% off for siblings and for those attending two weeks, 10% off for those attending 3 weeks and 15% discount for those attending 4 weeks;
Venue: Diverse Studios, The Curve building, M1-6, Dubai.




Non-stop water adventures are combined with luxury at Atlantis, The Palm, the first premium ocean-themed entertainment resort nestled in 46 hectares of the crescent of The Palm in Dubai. With six varied summer camps filled with fun and valuable activities and a wide range of dates to choose from – Atlantis, The Palm is, without question, a great opportunity for children to meet others and for new friendships to be built.
The experience is literally breath-taking: your kids will have lots of fun at the pool, cook mouth-watering culinary delights, participate in a variety of athletic programmes, become pirates or superheroes, go treasure hunting, learn scuba diving, go on a magical boat tour, try to "make friends" with marine mammals at Dolphin Bay, experience a kayaking adventure, step into the Shark Lagoon, hand feed Cownose Rays, and learn to play great sports through fun and energetic game-based practices. Here are the sweetest six camps imaginable for the upcoming summer school holidays: Summer Adventurers for kids aged 3 to 7, Junior Athletes for boys and girls aged 3 to 7 and 8 to 12, Junior Master Chef for children aged 8 to 12, Aquamania for youngsters aged 8 to 12 and 13 to 17, Teen Xtreme for teens aged 13 to 17 and Teen Athletes for teens aged 13 to 17.
To compliment the excellent leisure facilities, Atlantis, The Palm boasts a fine array of catering which includes delicious daily lunch and healthy snacks that meet the high standard required of food. But perhaps most excitingly, all the campers will have complimentary access to Aquaventure Waterpark, Royal Pool and Zero Entry Pool. After all, why not just sit back and put your feet up enjoying free pool & beach access if you are a parent of a camp-participating child?
Dates: 7th July –  29th August 2019;
Timing: Sunday to Thursday from 9:00 - 17:00;
Age range: 3 – 17;
Price: from AED 1,200 for a 5-day camp. 10% discount is available for repeat guests or minimum of two camps booked per family (excluding Aquamania);
Contact details: kidsclub@atlantisthepalm.com, tel: +971 4 426 1387;
Location: Atlantis, The Palm, Crescent Road, The Palm.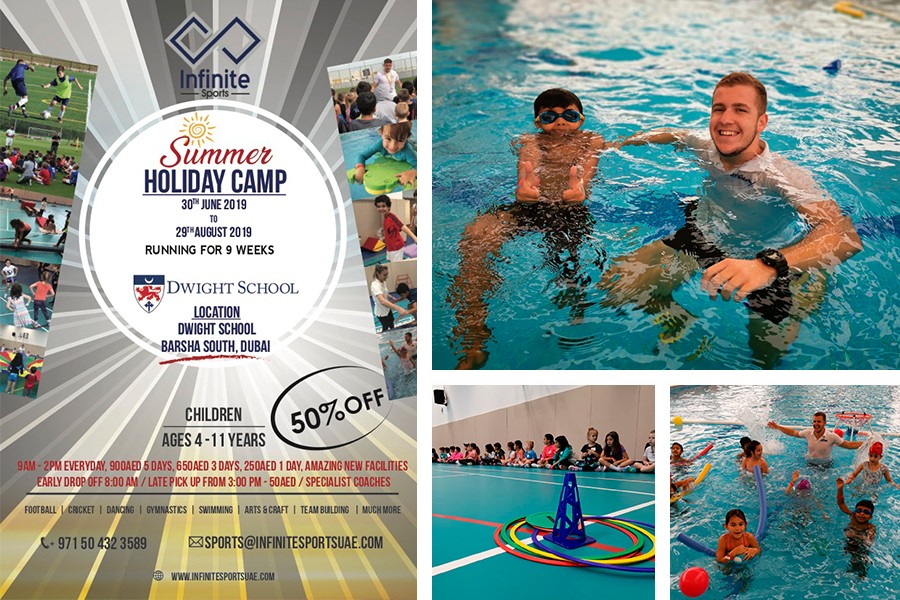 Don't miss a brand new Multi Sports Camp by Infinite Sports, Dubai's most state-of-the-art school located in the Al Barsha South area. Parents commend its top class facilities and roundly praise the highly qualified and super-selective sports coaches. It specialises in sports, so the sports halls, swimming pool, tennis courts, football pitch and dance studios are all top-notch. That is where the magic happens. There is a chunky range of sports on offer this summer – everything from football, gymnastics, dancing, dodgeball, cricket to water sports. The campers are also engaged in team building activities, obstacle courses and much more. 
The camps by Infinite Sports are always great fun and children can learn to play a sport in a relaxed and safe environment with Dubai's leading coaches overseen by lifeguards. All levels are catered for from beginners to competitive players and sessions are tailored according to the abilities of each child.
Dates: 30th June 2019 – 29th August 2019 (9 weeks);
Timing: 9am - 2pm. Early drop off runs from 8am, late pick up at 3pm and will be charged an additional AED 25 per day;
Age range: 4 – 11;
Price: AED 900 for a 5-day camp, AED 650 for 3 days, AED 250 for 1-day camp exclusive of VAT. Use the code "TICKI" for 50% off these prices;
Contact details: +971 504323589, sports@infinitesportsuae.com;
Venue: Dwight School Dubai, Al Barsha South, Dubai.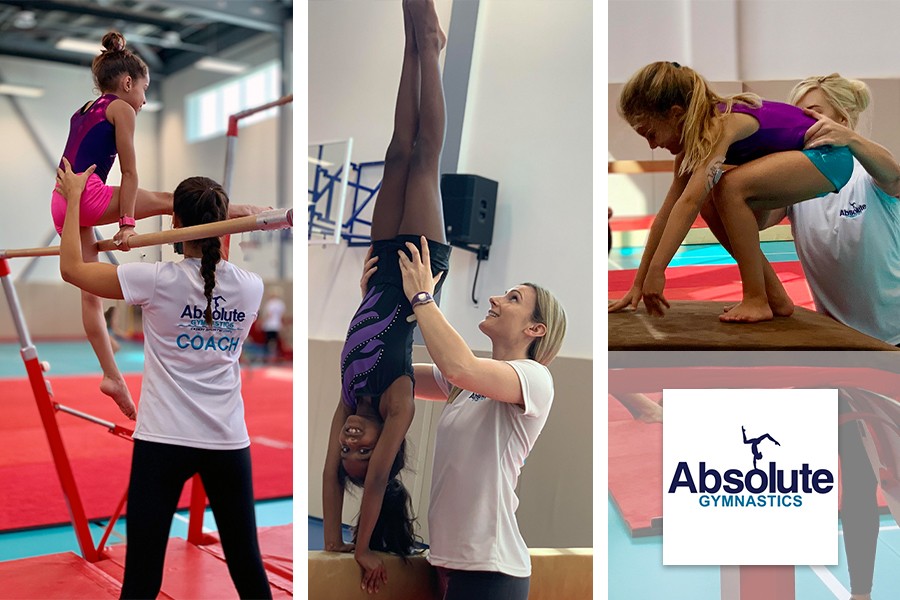 It is a case of love at first sight with this stupendously successful Absolute Gymnastics centre. Parents praise the centre's ambition to provide top quality gymnastics tuition to children through excellent teaching and coaching pedagogy. Their highly qualified coaches are committed in helping your gymnast to truly excel in the sporting arena as well as develop physical, mental and social skills. Absolute Gymnastics makes enjoyment a top priority within their summer programmes, allowing the campers to learn by having fun!
Professional level of their coaches are mega: all of them have a wealth of experience in coaching gymnastics worldwide and delivering gymnastics programmes in a variety of different situations and environments. The coaches pride themselves on being adaptable to all gymnasts to ensure each and every child is nurtured to progress to the best of their ability.
For the upcoming summer school holidays, Absolute Gymnastics has developed a wide range of programmes for children aged 4 up to about the age of 12, ranging from beginner to advanced classes. They offer a small instructor to gymnast ratio allowing all gymnasts to have a chance to practice their skills with the coach multiple times and reach their full potential.
Dates: 30th June – 29th August 2019 (9 weeks);
Timing: 1pm - 4pm;
Age range: 4 – 12;
Price: AED 200 per day, AED 750 for a full week;
Contact details: Holly: 050 1178 227 or Kerstin: 050 4767 145;
Venue: Dwight School Dubai, Al Barsha South, Dubai.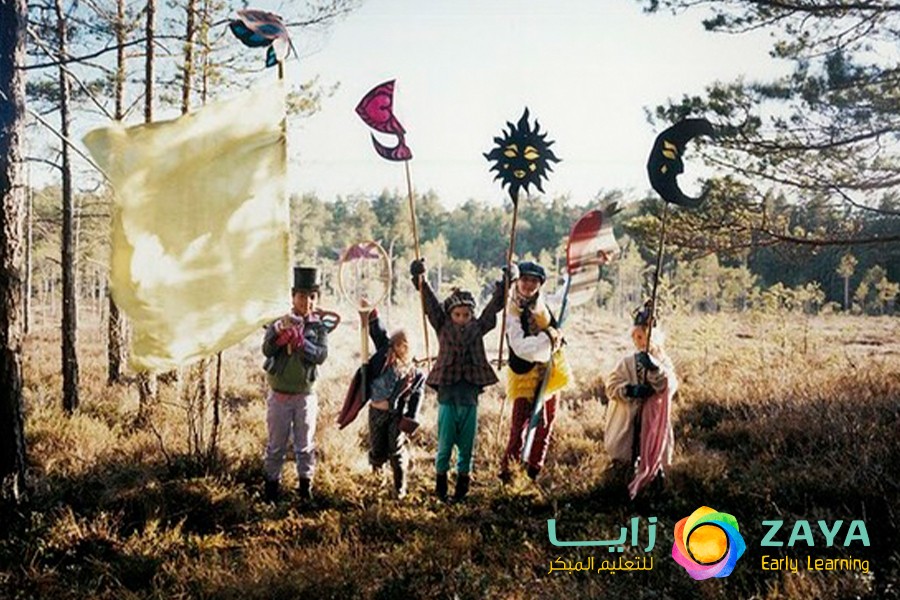 If you agree that adventure is what childhood is about, then a high-energy, action-packed, multi-active holiday camp by Zaya Early Learning centre will perfectly fit your child. Outgoing and energetic kids will be thrilled to climb trees, jump in puddles and walk barefoot over the summer programmes. Further opportunities for blissed-out holidays can be found among an array of art, craft, music, baking, and other creative and immersive activities. This distinctive camp for kids aged 3 to 8 was specially designed to appeal to children's natural sense of creativity and curiosity, as well as to encourage exploration and facilitate self-expression through art, role-playing, various hands-on programmes and invigorating activities.
Dates: 8th – 18th July, 18th – 28th August 2019;
Age range: 3 – 8;
Contact details: +971 4 3231618, admin@zayaearlylearning.com;
Location: Villa 24, Street 10b, Al Manara, Dubai.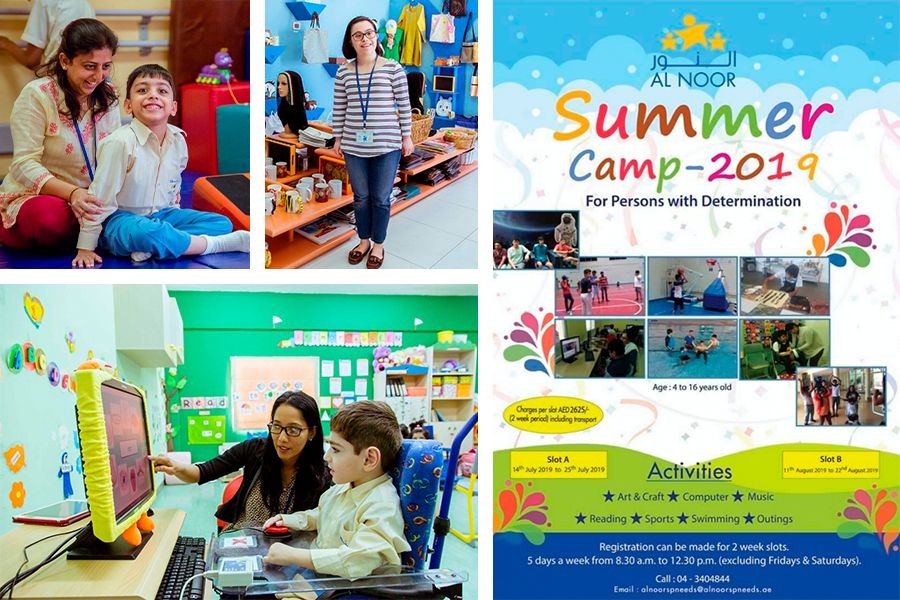 Established in 1981, Al Noor is renowned for its high level of skilled care and innovative professional training for people with special needs such as Down syndrome, cerebral palsy and autism.
Al Noor Training Centre runs high-spirited and arty summer holidays for kids and teens aged 4 to 16 with a wide range of disabilities and special educational needs. The centre enables disabled youngsters to make friends and try lots of fun activities in a safe and supportive environment. The 2-week summer camps come complete with arts & crafts sessions, computer classes, music, reading, multitude of sports, swimming and outings. The children will benefit from time spent in the care of Al Noor's expert team of trainers, therapists and ever-smiling staff plus cutting edge all-purpose facilities – families return here year after year.
Dates:
The 2-week slot A: 14th July to 25th July 2019;
The 2-week slot B: 11th August to 22nd August 2019.
Timing: Sunday to Thursday, 8:30am to 12:30 noon;
Age range: 4 – 16;
Price: AED 2625 per slot (for a 2-week period) including transportation;
Venue: Al Noor Training Centre for Children With Special Needs, 4th interchange, Sheikh Zayd Road, Al Barsha 1, Dubai.
By Anna Khan
Subscribe to weekly newsletter from "Tickikids"