Adventure Cove Waterpark at Resorts World Sentosa: a Day of Splashing Fun
---
Published 20 September 2017 at 15:11
Tickikids Blog Singapore > Reviews > Adventure Cove Waterpark at Resorts World Sentosa: a Day of Splashing Fun
---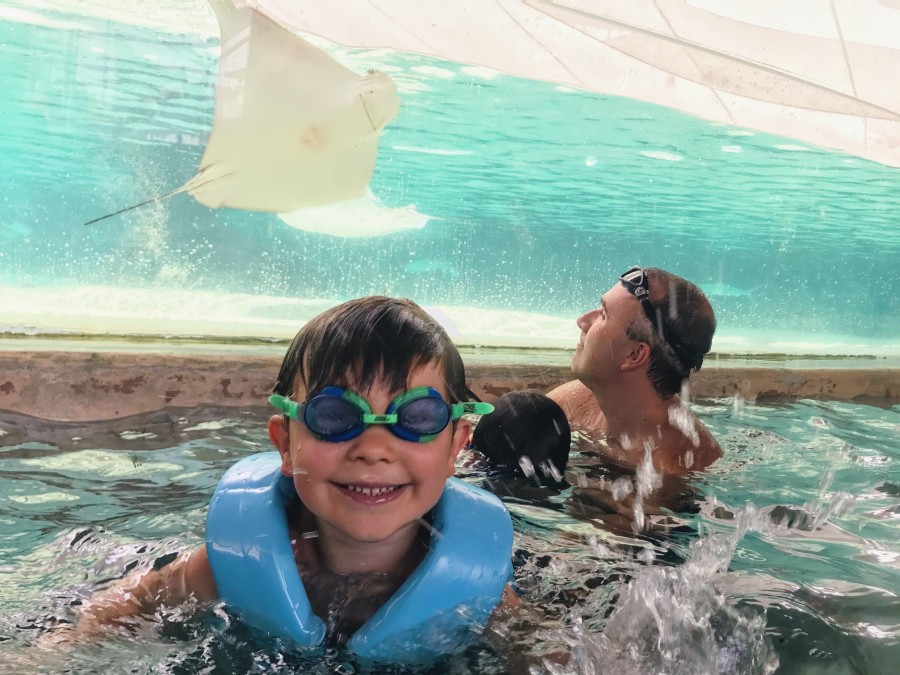 ---
Test Patrol parent that went to try out Adventure Cove Waterpark at Resorts World Sentosa was TickiKids founder, Sergej Belinski, a father of 2 boys aged 7 and 4. Find out how guys spent their time at the famous water playground and check out their tips for making your family's experience at the waterpark the best it can be.

Taking your family to Adventure Cove Waterpark is probably one of the best ideas for cooling down in Singapore. Both kids and adults equally enjoy the fun: relaxing river float, thrilling rides, snorkeling with 20,000 tropical fish – in the waterpark there is something for everyone.
The atmosphere at the venue is very friendly and cheerful, but if you are going there at weekend, be ready for it to be crowded, which means longer waiting time for the rides.  Visiting Adventure Cove Waterpark on weekdays or at off peak times is a good idea to avoid queues.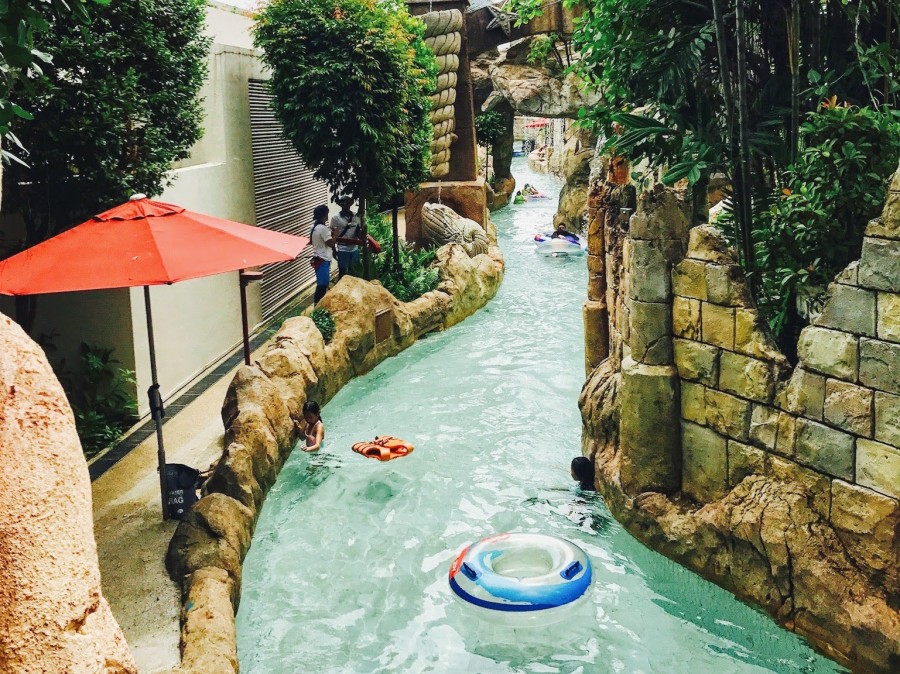 The staff are polite, helpful and entirely professional. Adventure Cove Waterpark is not too big, attractions are well laid out within reasonable walking distances and the design is perfectly thought out.
On a side note, it is a good idea to wear watersport socks in the park if you don't want to think where to leave your shoes every time you go on a slide, as they don't allow shoes/sandals on most rides. Walking around the park barefoot will not solve the problem, because the surface of the floor gets really hot on a sunny day, which may feel very uncomfortable, especially for little kids.
Other than that, any swimwear without buttons, zippers or buckles will do (no jeans or long skirts are allowed). The park has life jackets for kids and adults, as well as snorkel gear, so there is no need to bring these, however, they do not provide beach towels.
For a more comfortable time in the water park try getting a Cabana to base yourself and leave your belongings and just to lounge while watching your kids having fun. The Cabanas can be rented on first-come-first-served basis, but there is a high chance that all of them will be already taken, even if your family arrives early. So it is recommended to book a Cabana online in advance. If you book it for the whole day, you'll get access to a locker (which is S$10 for a small one and S$20 for a big one if booked separately from a Cabana) and get two towels, plus a S$10 meal voucher.
One more thing to do before planning your visit to Adventure Cove Waterpark is checking the weather forecast. Some of the rides may be temporarily closed because of bad weather, and when there is thunder and lightning you will have to get out of the water (for your own safety).
So, after all the useful tips given let's finally get to the attractions! As it has been said above, the park offers rides and activities that both kids and adults will enjoy.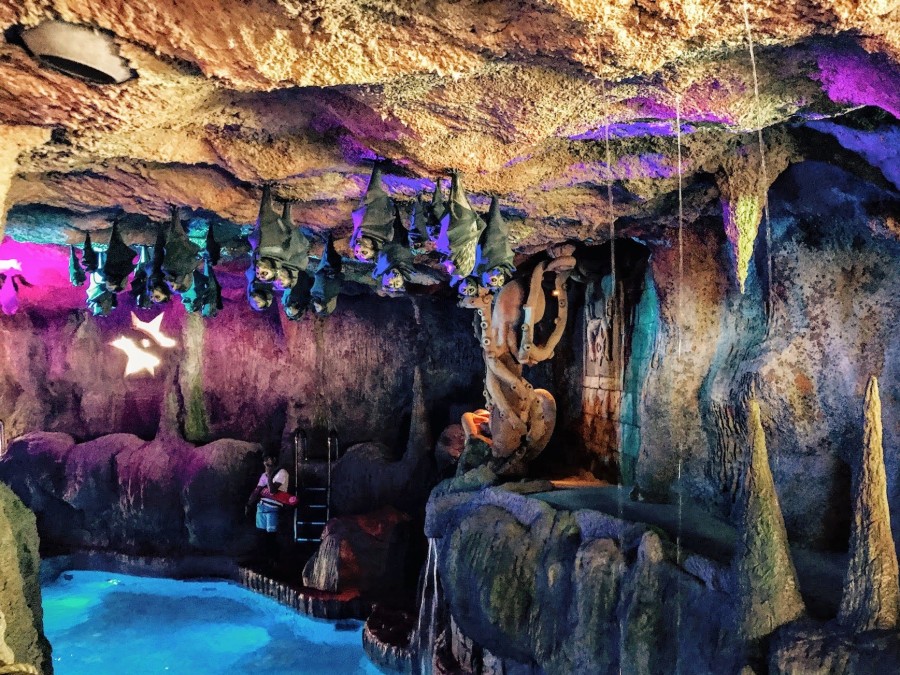 Bat Cave at Adventure River

Small kids will enjoy Big Bucket Treehouse, which is a great water playground full of mischievous fun and unexpected splashes, Adventure River, taking you on a leisurely float through 14 amazing scenes, such as jungle park, bat cave, numerous waterfalls and underwater tunnel where you find yourself surrounded by hundreds kinds of fish, and Bluewater Bay with its artificial waves.
Older kids should not miss Wet Maze, Duelling Racer, where you race your friend on a water slide, and more thrilling rides like Pipeline Plunge, Tidal Twister, Spiral Washout and Riptide Rocket. For most of the rides there are height requirements and kids cannot go on some of them without adult supervision, you can check the requirements here.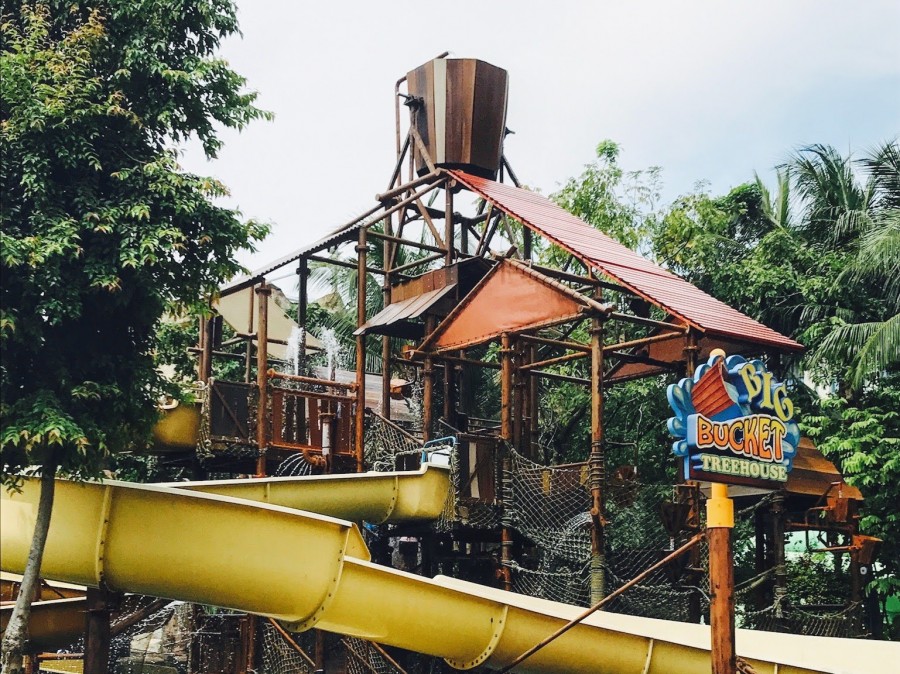 Big Bucket Treehouse will be lots of fun for younger kids 

Parents who don't need to accompany their children on the slides can enjoy their lazy river rides, snorkeling or just chilling in their Cabanas.
However, don't forget that Adventure Cove Waterpark doesn't end at rides and playgrounds. It is a great place to get in touch with marine life, as you can get to see sharks there (through the safety of a glass panel, of course!), learn more about rays and even feed them, discover scuba diving (a short course for beginners) and snorkel over Rainbow Reef with its 20,000 tropical fish!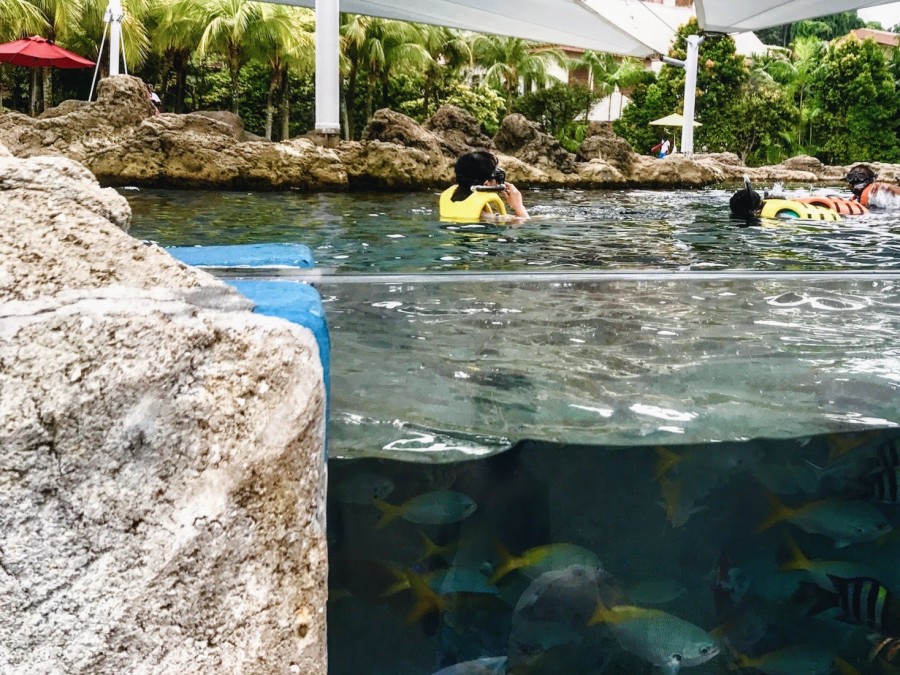 Doesn't it sound like a perfect plan to escape Singapore heat? Plan your visit in advance, and enjoy your day at Adventure Cove Waterpark, which is sure to be full of laughs and water fun!
Subscribe to weekly newsletter from "Tickikids"