The Lee Kong Chian Natural History Museum: TickiKids' review
---
Published 11 June 2018 at 18:07
Tickikids Blog Singapore > Reviews > The Lee Kong Chian Natural History Museum: TickiKids' review
---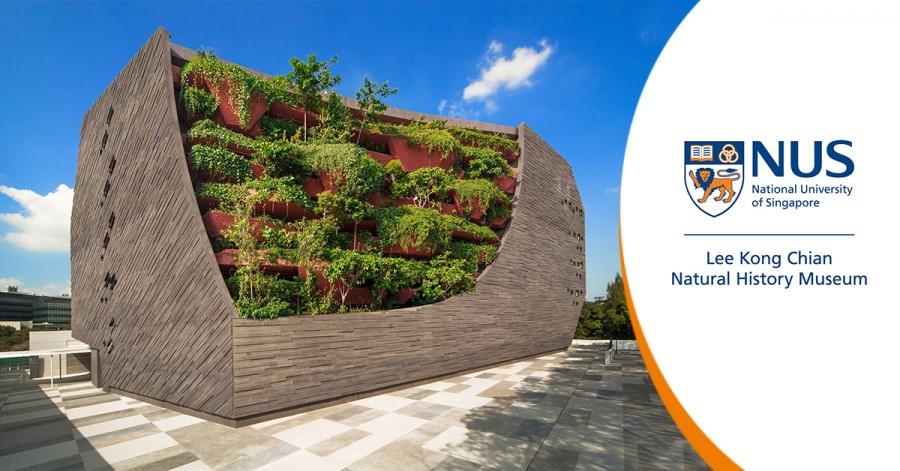 ---
If you saw an American fantasy-comedy film «Night at the Museum», you know that the main character Larry had to wage an incredible battle to save the Museum of Natural History, hoping to become at last the bold, adventurous dad he had always wanted to be in his son Nick's eyes. What do you hope to be getting up to when you go to the Lee Kong Chian Natural History Museum? Fantasy-Adventures versus Story of Evolution! We wondered if there is the same mystical story behind its million scientifically fascinating specimens and were very curious to know what happens within its impressive seven-storey building of 8500 square meters. On 26th and 27th May 2018, TickiKids Test Patrol families experienced at first hand a compelling tale of evolution, the patterns of biodiversity of modern world and our role in a rapidly changing global environment.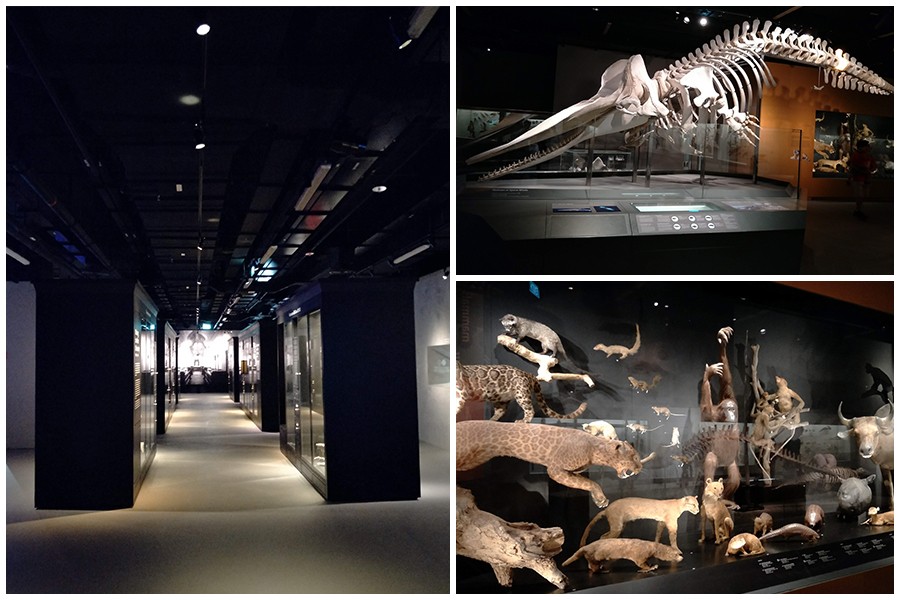 The signature of the Lee Kong Chian Natural History Museum, which was completed and open to public on 28 April 2015, is its contemporary architectural concept and form bear a resemblance to a cliff surrounding by four gardens. Such a stunning conceptualization by a Singaporean architect Mok Wei Wei, the design of the museum's public galleries by GSM Project, public donations made impossible possible! The museum with its long and convoluted history and astonishing collection of over 560,000 catalogued lots is enjoying a new lease of life. Finally, it acquired the brand new building, which immediately became the most visited place in Singapore and one of the greatest Natural History Museums in Asia. It totally reflects the ambition of its creators:
"We did not want to become a zoo attraction. To me, an exhibition design should always leave some space for imagination and contemplation." ‒ Laura Miotto, Exhibition Designer, GSM Project.
Did the message strike home to our three families? You will find out below.
Mrs Sylvia Sang, mother of 4yr old son Lim Yu Jie and 2yr old daughter Lim Yu Xi:  "The moment we stepped into the museum, it felt as if we were surfing through both time and space dimensions in history. The kids were very excited to explore the space and some interactive exhibits and I, in truth, had a lot more fun than I expected. It is literally a "people's museum" and has everything to keep the whole family entertained."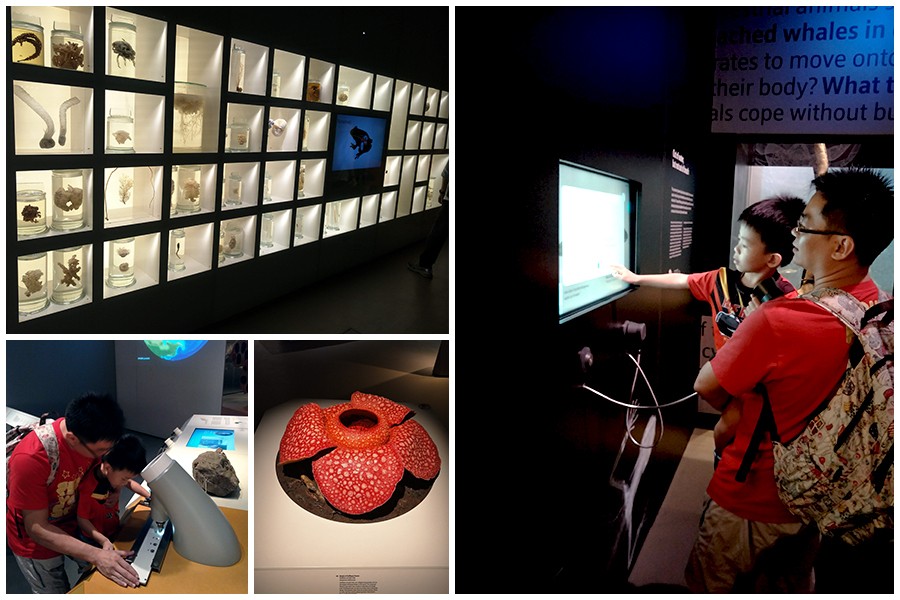 The Public Galleries are arranged over two floors with a total space of about 2500 square meters. The 15 different zones of the biodiversity gallery shine light on the history of life on earth. Other sections are the thematic zones dedicated to scientific knowledge, exploring topics such as how terrestrial vertebrates evolved from life in the water and why birds are actually dinosaurs. Where else in Singapore might you expect to find herbarium and zoological collections repleted with over a million specimens?! It has many original features including a video of microscopic organisms and algae, real microscopes for practical use, models of prehistoric plants, bottled and dried specimens, entrancing skeleton of a 10.6-metre female Sperm Whale, and, the three most talked about dinosaur skeletons, each of them being about 80% complete! The heritage gallery is situated on the second floor, where the history of the Raffles Museum and LKCNHM forms the background to the whole series of past events connected with history in Singapore.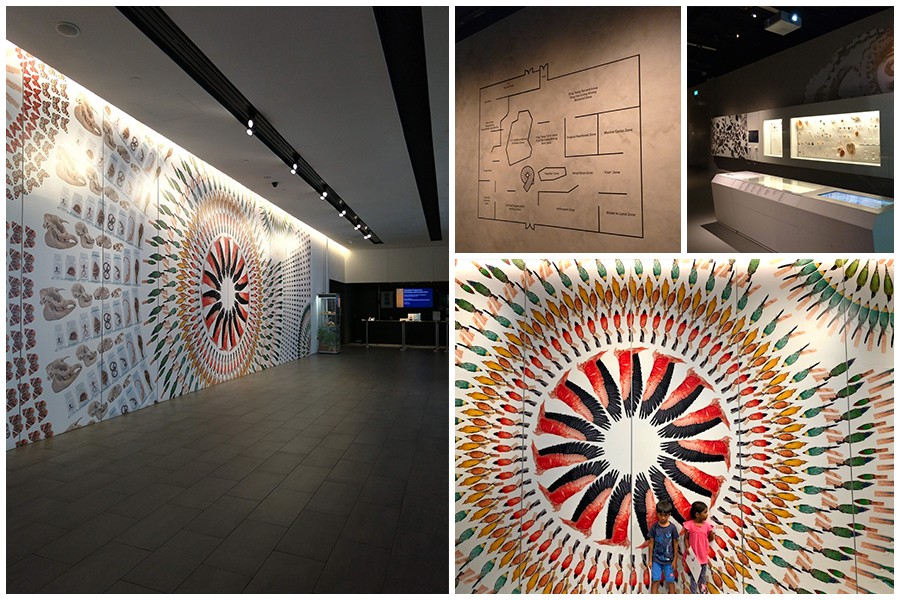 Mrs Aparna Chari Sundar, mother of 5yr old son Aryan and 3yr old daughter Alisha: "The entrance to the museum delightfully amused us by a huge kind of wall, specimens from which are captured in a poster aimed to provide a glimpse behind the closed door of the marvellous museum. Orangutang and red crab specimen were the most surprising thing about visiting the museum to my kids, as well as a miniature of its building".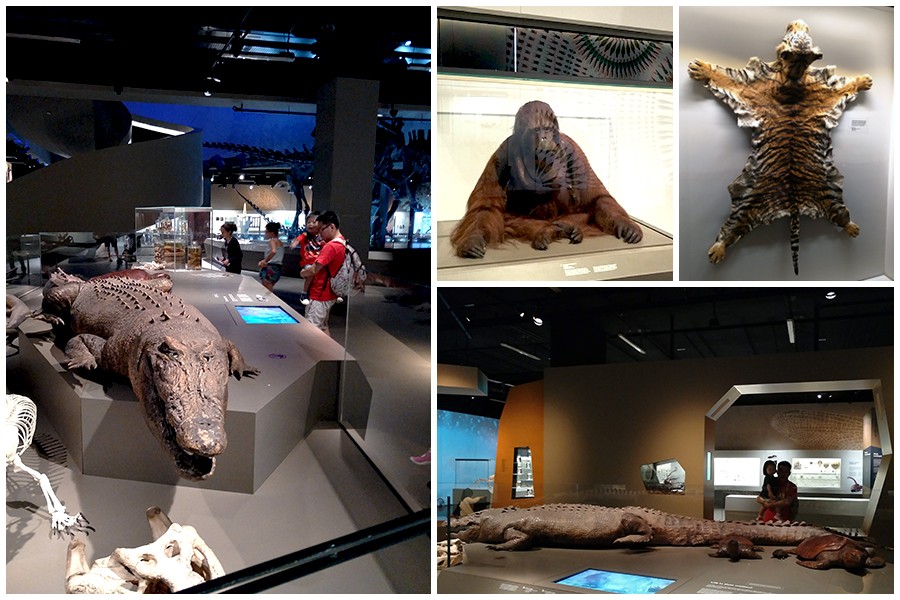 Mrs Agnes Low, mother of 3yr old daughter Hayley Goh and 1.5yr old son Caleb Goh: "I was satisfied that their space is spectacularly extensive and even more ample than I would expect. It was unlike anything we had seen before and entirely kept my kids engaged since they had so much to explore, pointing out all the various animals and birds they already know. Beautiful Raggiana and Lesser Birds of Paradise, absolutely gorgeous Christmas Island Frigatebird, enormous Estuarine Crocodile, captivating Indiana Cobra, very rare Dodo bird, and of course, three huge, breath-taking dinosaurs made our day."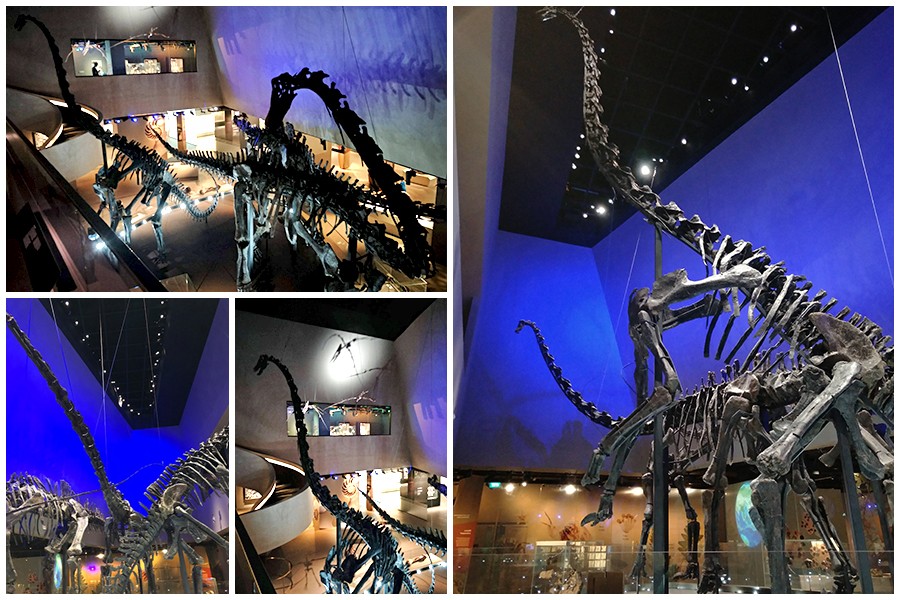 Sylvia Sang: "Although my 2 and 4-year-old kids loved the marines and lifelike exhibits in the Mammals session, they were quite intimidated by the skulls exhibits. The kids' favourite thing was the Dinosaur zone. They were awed by how majestic the dinosaurs' skeletons were. These three, Prince, Apollonia and Twinky, are star attractions of the gallery. There was a change of light and sound effects within a few minutes of each other. The kids were pleasantly surprised and thoroughly enjoyed it.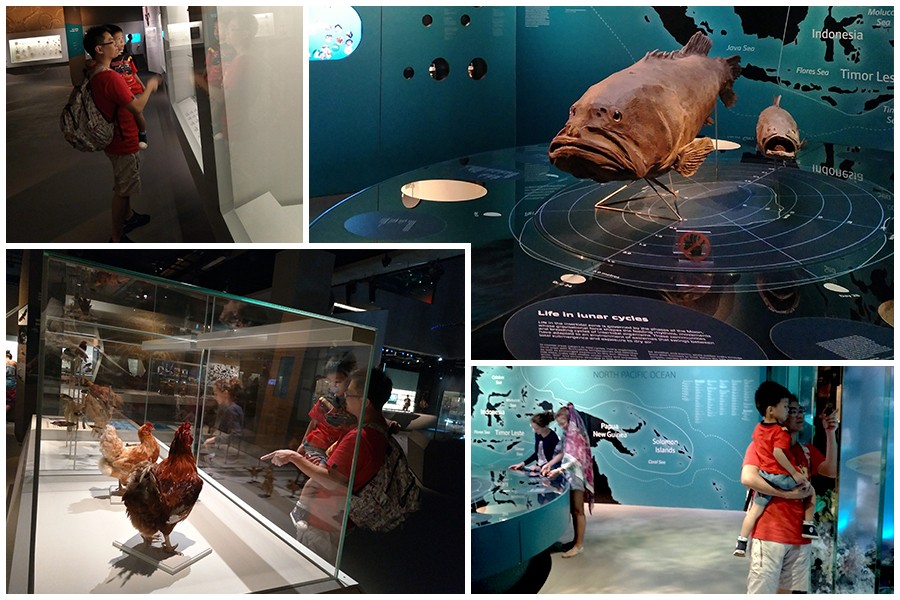 By the way, the museum is very well organised and provides detailed information about the exhibits. There is also a lot of space for the kids to move around. Since the kids are too small yet, we, as parents, read through the information at each exhibit, engaging our little ones by providing information about it."
Aparna Chari Sundar: "The museum can boast about its friendly staff and very clear layout. The museum is unbelievably rich in exhibits alongside the very comprehensive description of their collections.
Do not miss a free guided tour that is run in English twice a day at 11:00 and 13:00. Our guide Ms Kok Oi Yee was just excellent and her storytelling basically made the exhibits come to life!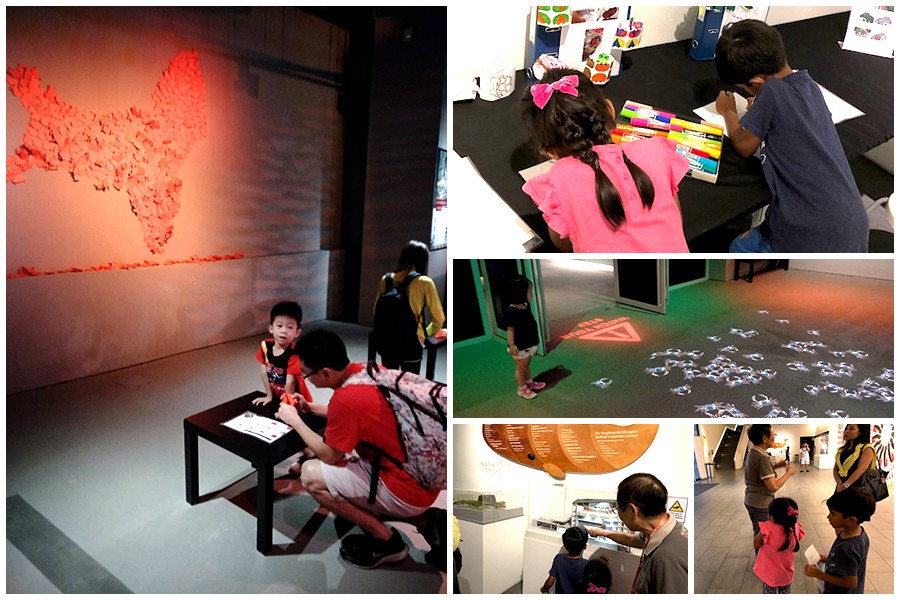 The activities for children are pretty fun and perceptive. The kids loved the crab craft activity (origami) and the virtual "stamping" of the crabs projected onto the floor on the second level of the museum and also making Dino crafts at the entrance. Although the activity booth wasn't manned, there were clear instructions and craft supplies that we helped ourselves to."
Meanwhile, a call for the recycling of all paper carried out with the close attention to the environment of the 21st-century society, was seen and heard throughout the museum (recycling of brochures, the origami paper and also during the storytelling by tour guides).


Tips of the day:
do not miss a free guided tour run in English twice a day at 11:00 and 13:00;
basic amenities including parking space, wheelchair access, nursing room, baby changing table, toilet facilities are provided;
it is prohibited to eat or drink inside the museum, but there are plenty of comfortable tables and chairs outside the building, where you can eat the meal brought from home;
snacks and beverages are available at the Museum Shop. For visitors looking for a more substantial meal, a good mix of food and beverage outlets are within walking distance to the museum;
your ticket allows you to enter and exit the museum many times during the day;
the Lee Kong Chian Natural History Museum Shop by NUS Co-Op offers a variety of souvenirs and products. You can choose among hundreds of museum gifts and reproductions, from reference books focusing on biodiversity of the region to cute and funny T-shirts or toys for little ones;
the Lee Kong Chian Natural History Museum is accessible:
By Bus: Opposite NUS Raffles Halll - SBS Transit: 151, NUS Shuttle Bus: A2, B, C, D1 & D2, NUS Raffles Hall, SBS Transit: 96, 151, 151e, NUS Shuttle Bus: B, C
By MRT: Exit Kent Ridge MRT station. After exiting the gantry, walk straight out of the station and turn right. Turn left before the underpass, up the slope to the bus stop and board NUS Shuttle Bus D2 (5 Stops).
By Car: Limited parking facility is available at the LCKNHM. More parking facilities are available at Yong Siew Toh Conservatory of Music (Carpark 3) and NUS Raffles Hall (Carpark 4).
Thank you to all the families who took part in the TickiKids Test Patrol assignment and provided us with their impressions and photos of the Lee Kong Chian Natural History Museum.
By Anna Khan
Subscribe to weekly newsletter from "Tickikids"