10 Enrichment Classes for Babies and Toddlers in Singapore
---
Published 15 May 2019 at 15:42
Tickikids Blog Singapore > Digest > 10 Enrichment Classes for Babies and Toddlers in Singapore
---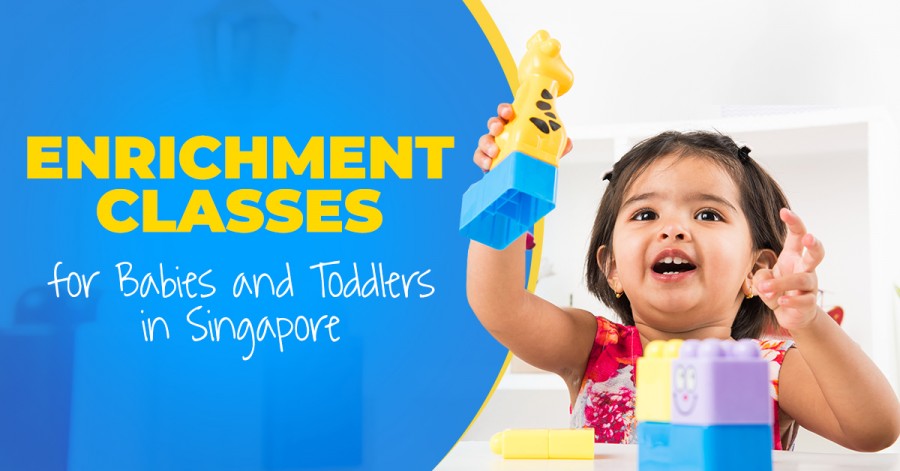 ---
You might be wondering what your little baby could need more than the mom's permanent presence and mom's endless love to her tiny tot? But we all are aware of the fact that this stage of baby's life is essential and there are plenty of ways to enhance your infant's development with the help of various classes from music, dance, art to swimming, yoga, education and play, etc. And needless to say, there are also parent-child bonding classes and workshops you could try with your baby. Check out the list and find the classes that are prepared namely for Singapore babies and toddlers.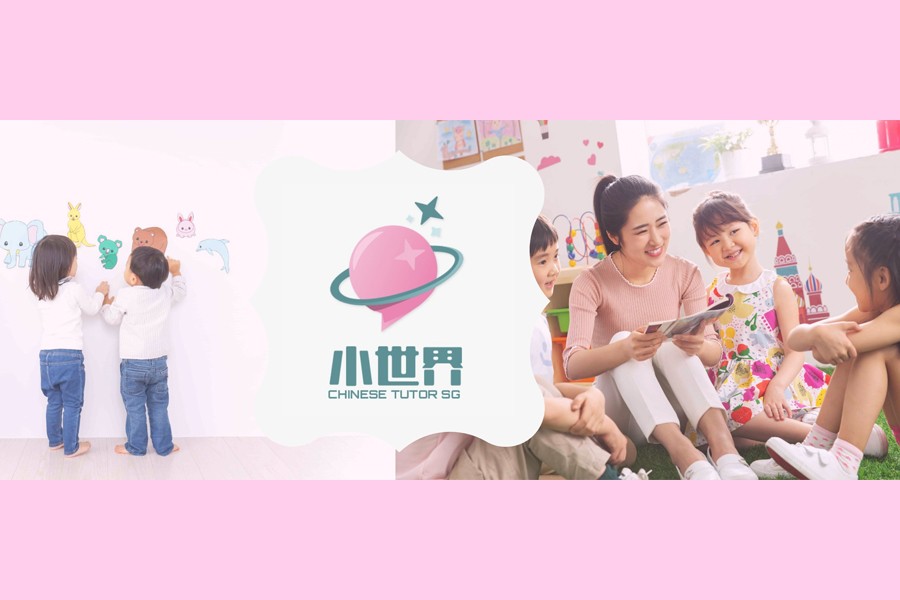 Image Credit: Little World Mandarin Tuition
It is never too early to learn Chinese and a team of Little World Mandarin Tuition proves that! These experienced and passionate educators know perfectly well how to create a safe, welcoming, and enriching environment and engage babies and toddlers in various age- and game-based activities. 
The 1-to-1 format of Chinese lessons is the perfect way to achieve the best results and help kids to learn the language in the most efficient way. Teachers conduct lessons in an environment that is comfortable and familiar to babies and toddlers, and all activities are fun and interesting. Thus, it is easier for the children to focus on the lesson and they learn better. Toddlers have a short attention span (about 5 minutes) and teachers always do their best to fill this time with enriching activities.
Early childhood education (starting as easy as 6 months old!) helps children to develop accurate hearing and interpretation of sounds, become familiarized with the tone and articulation when speaking Mandarin. 
Little World Mandarin Tuition offers Chinese Tutors Sg starter kit where kids can get acquainted with the teacher and the teacher can find out the kid's interests, talents, and ability to learn Chinese. As the result, all lessons will be tailor-made according to the learning pace of a child. 
Age: Preschool - Secondary School.
Timing: Flexible.
Contacts: +65 9752 8721, info@chinesetutor.sg.
Location: Private tuition at your preferred location.
Find Out More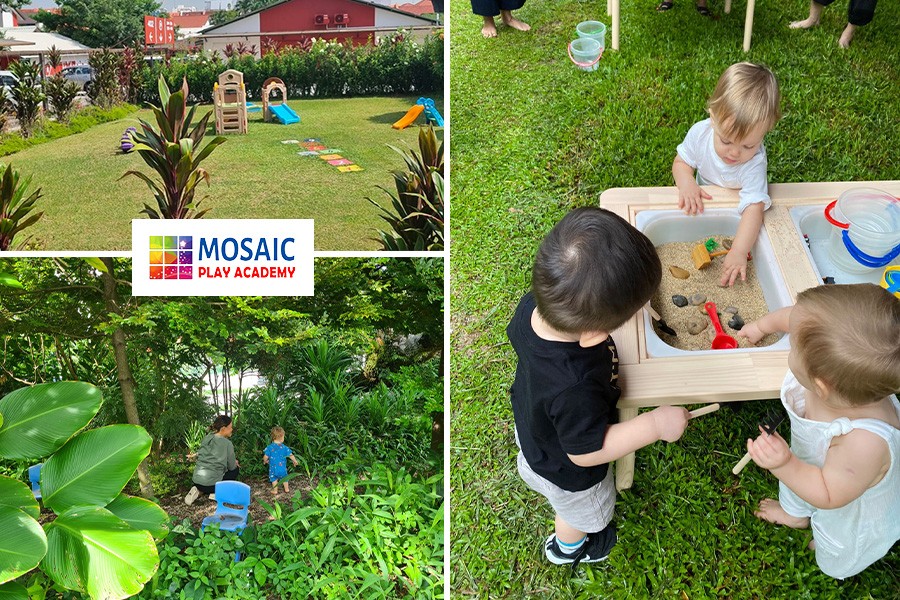 Image Credit: Mosaic Play Academy
The Mosaic Play Academy (MPA) is a place where kids can learn, have fun, and make new friends and its location provides all possibilities for that! Located in the Yards at Joo Chiat, the MPA compound is a sun-lit, light, and creative environment where kids can safely explore their talents and give full reign to their imagination. In addition, this place has many outdoor learning areas filled with beautiful greenery. 
Children's pastime is scheduled according to the well-rounded curriculum that involves all areas of kids' development: intellect, social, emotional, physical, and language. 
The activities here encourage kids to interact with each other thus they make new friends and learn to communicate.   
Highly qualified and experienced teachers thoughtfully select the activities for the children to get the most out of the location and tools provided by the MPA. Thus, kids are involved in a range of hands-on activities that ignite kids' natural curiosity and inspire children to learn something new. One of the key themes of the curriculum is being green. Young explorers will learn how the world around them works and how to treat nature with care and respect. 
Every day at the Playgroup brings something special with unique learning experiences. Attentive and caring teachers know how to engage kids in various dancing, music, sports, and language activities so kids can learn through play, feel comfortable and relaxed and enjoy every minute of the pastime here!
Age: 16-24 months, 2-3 years.
When: 
Mondays, Wednesdays & Fridays (16-24 months);
Mondays - Fridays (2-3 years). 
Timing: 
8.30 - 10.30am (16-24 months);
9.00 am - 11.00 am (2-3 years). 
Contacts: text +65 80312371.
Location: 402 Joo Chiat Place Singapore 428082.
Find Out More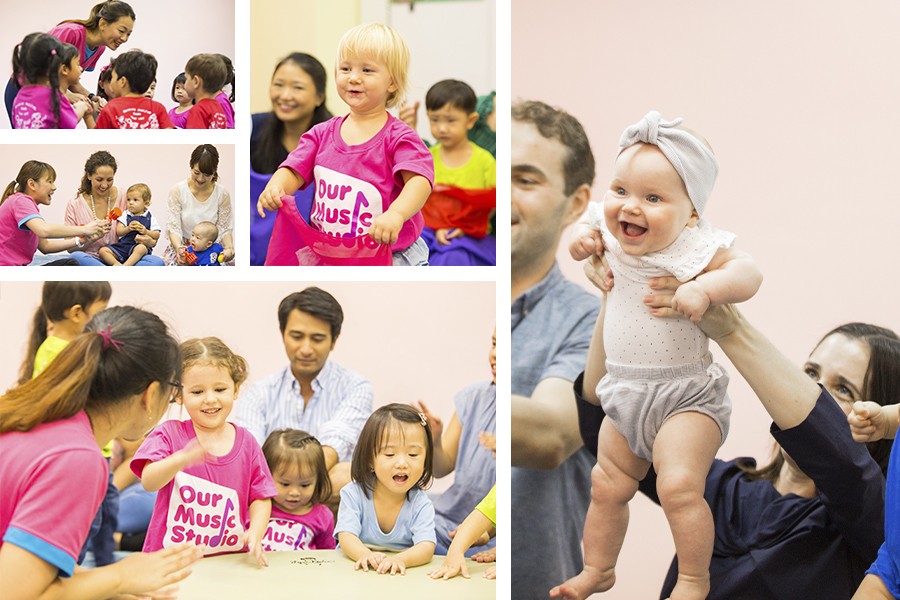 Image Credit: Our Music Studio Pte Ltd (OMS)


Located at the mouth of the prime Orchard Road shopping district, Our Music Studio Pte Ltd (OMS) runs music-and-movement programs for young children in Singapore. It was started in May 2012 by 7 ladies who have a total number of 118 years of experience in teaching music and movement. Their approach is based on Orff Schulwerk, Emile Jacques Dalcroze & Kodaly pedagogies. Many of the OMS teachers are qualified musicians, composers & music arrangers with a passion in imparting the joy of learning music to the young ones.

The music programs offered at the music studio:
Musical Babes (Newborns to 1½ years)
When: (Mon 10 am, Tue 2.15 pm, Wed 2.30 pm, Sat 9.30 am)
Young Musical Babes (4 to 11 months)
When : Thur 9.30 am, Fri10.30 am, Sun 2 pm
Rhythmic Tots (18 months to 3 years old)
When:  (Mon 10 am, Tue 9.30 am, Thurs 10.30 am, Fri 10.30 am, Fri 3 pm, Sat 10.30 am, Sat 4.30 pm)

Melodic Kids (3 to 4.5 years old)
When: (Sat 9.30 am, Sat 11.30 am, Sun 10 am)
Young Musicians (41/2 to 6 years)
When: (Tue 4.30 pm)
The integrated learning approach emphasizes the process rather than the product. It sets the tone for a more disciplined music-learning journey. It also lays the foundation for the kindergarteners to appreciate the arts & to help them prepare for formal musical pursuits, be they instrumental, vocal or dance. Instruments like the glockenspiel, xylophone & the ukulele are explored.
OMS also offers the following programs:
Octaves (Outpost programs for nurseries, kindergartens & child-care centers)
Play Dates (Friends come together with their children for a session of musical activities)

Holiday Camps
Age Group: Newborns to 6 years old
Location: 163 Tanglin Road, #03-11B Tanglin Mall, Singapore 247933
Image Credit: The Tot's Classroom


Learn & pick up skills – the fun way that your child loves! At The Tots' Classroom, they nurture a complete child by maximizing their opportunities to develop the skills as their mind awakens and becomes receptive to each type of ability as they grow. The programme seeks to maximize the child's learning during each developmental stage when they are at the most receptive point.
The teachers at The Tot's Classroom are firm believers in nurturing, developing security, building safe relationships, and of course, play! Every teacher spends time in getting to know you and your child and work towards a great headstart for early learning experiences together with you.
Fees:
Free trial class available
S$150* Monthly (Weekend); S$325* Monthly (Weekday, Twice/Week)
Age group: Start from 15 months old
Location: 531, Bedok North Street 3 #01-704, Singapore 460531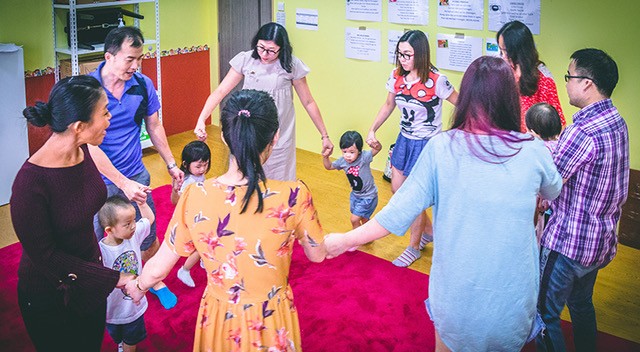 Image Credit: Juzmusic Academy


Juzmusic Academy has been in operation in the Marine Parade area since 2006. This music school is guided by the vision that music can and must be made exciting, enriching and enjoyable. "Every Child Can Learn," and they encourage students to trust in their abilities and help them overcome obstacles in their music lessons. 

The early childhood music curriculum of Juzmusic Academy uses a multi-sensory approach which involves singing, playing, moving, listening and watching. The young musicians are gradually exposed and trained in the areas of performance, theory, aural (i.e. ear training), singing, composition etc. These skills prepare them with a strong foundation for formal music education (e.g. piano, violin, guitar, cello etc).
Junior Discovery (0-4 years old)
Junior Playtime (2.5-4 years old)
Junior Musician (4-6 years old, Learning both piano and violin
Contact details: +65 63444420; info@juzmusic.com
Age Group: 0 - 6 years old
Location: 1 Marine Parade Central, #09-04, Parkway Centre, Singapore 449408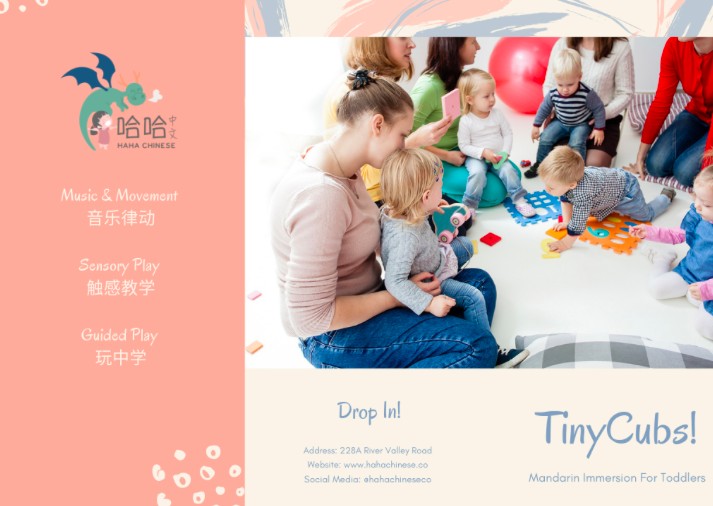 Image Credit: HAHA Chinese


The toddler class at HAHA Chinese is a play-centered, student-centric programme that will let the student learn Mandarin Chinese in a fun and immersive environment. Reggio Emilia inspired, this programme aims to use experiential learning, hands on approach to encourage the child to fully enjoy learning whilst picking up Chinese. Furthermore, the small class with a size of less than 6 children will ensure that every child gets sufficient attention from the teacher. Parents and helpers are welcome to join the class.
A 1-hour class will include: 
Music and movement will encourage children to follow instructions through fun activities.
Sensory play facilitates exploration and naturally encourage children to learn while they play, create, investigate and explore.
Guided Play is where students get to play in a safe space while the teacher speaks to them in Chinese, creating an environment for language acquisition.
Fees: From $45 per hour session

When: Monday to Fridays, 9.30am - 10.30am/ 10.45am to 11.45am
Age group: 12 to 30 months 
Contact details: +65 88144804; admin@hahachinese.co 
Location: 228A River Valley Road, Fort Canning MRT Station Exit B


Image Credit: Centre Stage School of the Arts Pte Ltd


Out of the Box is a play-based learning environment for children aged 2 to 4 years, that runs on Tuesday, Wednesday, Thursday & Friday Mornings at Centre Stage, Portsdown Road, as well as Tuesday and Thursday at the East Coast Centre (Laguna Park, Marine Parade Road) The carefully planned curriculum of the school uses 'play' as its mode of delivery… working at what children do best, the specialised Arts and Early Years teachers utilise Dramatic Play, Dance, Music Making, Singing, Art Making, Puppetry, Free Play and Environmental Play to nurture the development of important life skills.
Perfect for children who are ready for a step into greater independence, but not quite ready for full-time nursery! What is unique about this programme, is that as a Performing & Creative Arts School in it's own right, Centre Stage uses the specialist arts teachers at their disposal to run guest sessions in Drama, Music and Movement each day!
Testimonial: "Both our children have attended Out of the Box; our eldest has been attending since it began. We love the creative play, music and especially drama, all of which give the children all the tools they need for pretend play. The teachers are amazing and use a child-led and discovery-based approach to learning, which we love. We couldn't be happier with Out of the Box and highly recommend it to parents looking for a creative-play-based curriculum." – Josi Langhorne, Australian; Thomas (4) and Hizikias (2)
When: Tue, Wed, Thur & Fri,  9am - 12pm for 3 hours each day
Cost:   $90 for 3 hours 

Age Group: children aged 2 – 4 
Locations:
Main: Portsdown Road: Block 15 Woking Road 
Contact Details: +65 6732 7211

East: #01-32 Laguna Park, 5000G Marine Parade Road
Contact Details: +65 6449 6211




Image Credit: Beila 


Struggling to get your children to speak in Mandarin? You are not alone. Start your child's mandarin learning journey with fun-based activities with Beila. Mandarin can be a playground.
Beila Babies for 0-6 months: through gentle rhymes and songs, experts of Beila will be introducing simple mandarin words to your baby. Developing their gross motor skills using exercise and massage.
Beila Tots for 6 to 18 months: nurturing security and attachment, where babies will stimulate imagination by exposing children to age-appropriate Mandarin language and songs through Story Time and Music Time, build sensory abilities through fun art & craft and discovery activities.
Beila Kids for 18 to 36 months: fostering self-control and independence which catches the eye of parents with its hands-on activities, different environments with Magic box time and work on hand-eye coordination.
Class fees: $45 per child for a single session. The child can be accompanied by 2 adults for free. 
When: Class are available on weekdays and weekends. 
Contact details: Find Beila on Instagram @beilaplaygroup or simply contact on the hotline + 65 8748 8983. 
Age Group: 18 months to 5 years old.
Location: 45 Burghley Drive #01-01, Singapore, 559022.
Subscribe to weekly newsletter from "Tickikids"