Singapore's Best Year-End Holiday Programmes in 2019 that will help your kids get ahead at school
---
Published 16 October 2019 at 19:06
Tickikids Blog Singapore > Digest > Singapore's Best Year-End Holiday Programmes in 2019 that will help your kids get ahead at school
---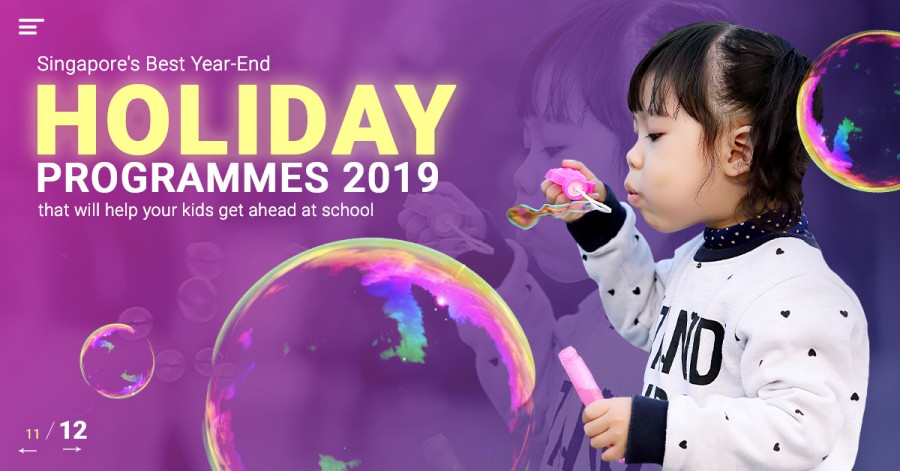 ---
With so many learning centres, incredible and diverse holiday options to choose from, it is all too easy to feel overwhelmed selecting the right holiday course for your child. Particularly when faced with literally hundreds of differing opinions on the best fit for your kids on online resources for parents. However, you are in luck! We have surveyed thousands of local parents and rounded up the very best programmes and camps for November-December 2019. Whether your kid is already preparing for Cambridge GCSEs or still working on phonics and numbers, TickiKids brings you everything you need to know about the enrichment holiday programmes for this season that will help your kids get ahead at school.




This is good news for local and expatriate families. Inspired by the nation's founding father – Lee Kuan Yew's vision of a garden city, this November-December holidays, PlayFACTO School offers an ecology based educational holiday programme to develop children's knowledge of the environmental challenges facing our precious planet. The programme is designed to cater for Primary 1 - 6 pupils with fun environmental activities suitable for each age group that are linked to the academic curriculum. Going beyond reusing plastic bags, at PlayFACTO School your kids will benefit from a thematic learning experience. The School has a broad strategic vision which includes reaching out to the youngsters through multiple holiday activities, such as crafts, experiments, reflections and group tasks to inspire them to work together to create a better environment and a brighter future for both people and nature.
At the end of each week, your kids will have an academic revision, complete the holiday assignments, and tell you loads about the theme and lessons learned during the week. The vibe is very relaxed here and kids enjoy what they are studying over the holiday period. And last but by no means least, parents and their little ones will end off the holidays with a bang at the school's Christmas parties hosted at each centre!
Dates: 18 November – 30 December 2019;
Timing: 9am – 7pm;
Age group: 6 – 13;
Locations:
Bishan: 18 Sin Ming Lane, Midview City #01-10 S(573960);
Serangoon North: 55 Serangoon North Ave 4, #09-05 S(555859);
Tampines: 11 Tampines Street 32, Tampines Mart #02-05 S(529287); 
West Coast: 2 Clementi West Street 2, West Coast CC #01-03 S(129605);
East Coast: 695A East Coast Road, S(459059);
Bukit Timah: 86 Jalan Jurong Kechil, S(598594);
Toa Payoh: Block 83 Lorong 2 Toa Payoh, #01-449 S(310083);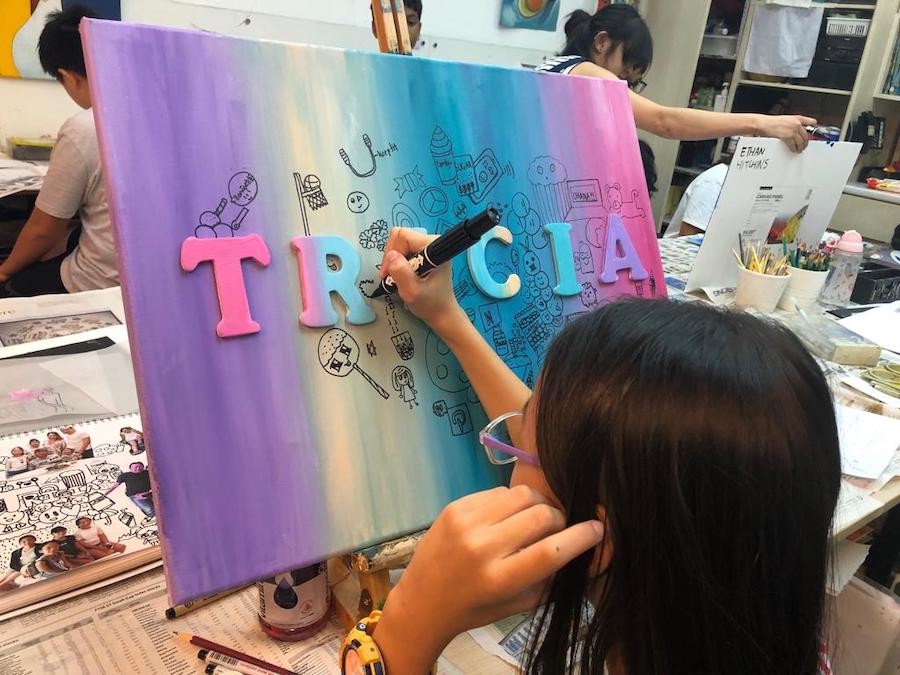 Established in Singapore in 1997, Little Artists Art Studio has been developing young painters, sculptors, sketch artists aged 2.5 – 17 and adults who are excited about art, artists and being creative.
Offering a wide range of 15 different holiday programmes and a tailored art camp for the year-end holiday period, there is a healthy mix of painting, sketching, sculpturing, creating 3D projects and non-classroom opportunities. Its aim is to foster a lifelong love of fine art. These new art courses offer practical training in small groups, taught by experienced tutors from 12 countries who are all professional artists with degrees in Fine Arts or Design.
A popular choice is an array of short Holiday Programmes. These are 1-2-hour classes lasting 4 or 6 days with a focus on studio practice on oil and acrylic painting, charcoal or pastel sketching, pen and ink architecture or white clay and terracotta sculptures. All materials are included.
For those seeking an insight into greatest historical paintings, fancy watching and discussing art movies over the lunch, attending museums, artist studios and galleries, the Art Camp is sure to delight. The programme is made up of half-day (4 hours) or full-day camps (7+ hours) running throughout its 3-5 day duration.
Dates: 18 November 2019 – 5 January 2020;
Timing:
Monday – Thursday: 10am – 12pm / 12:30pm – 2:30pm / 2:45pm-4:45pm / 5pm-7pm;
Saturday & Sunday: 9:45am – 11:45am / 12pm – 2pm / 3pm –5pm / 5:15pm—7:15pm;
On Fridays the Studio is closed.
Age group: 2.5 – 17;
Fees: $140 - $850 per programme;
Contact details: 64490339 / 64490960 / 64444952 / shalini@little-artists.com;
Location:
The Siglap Centre, 55 Siglap Road, #02-18, Singapore 455871;
The Mandarin Gardens, No. 15 Siglap Road, #01-07, Singapore 448912.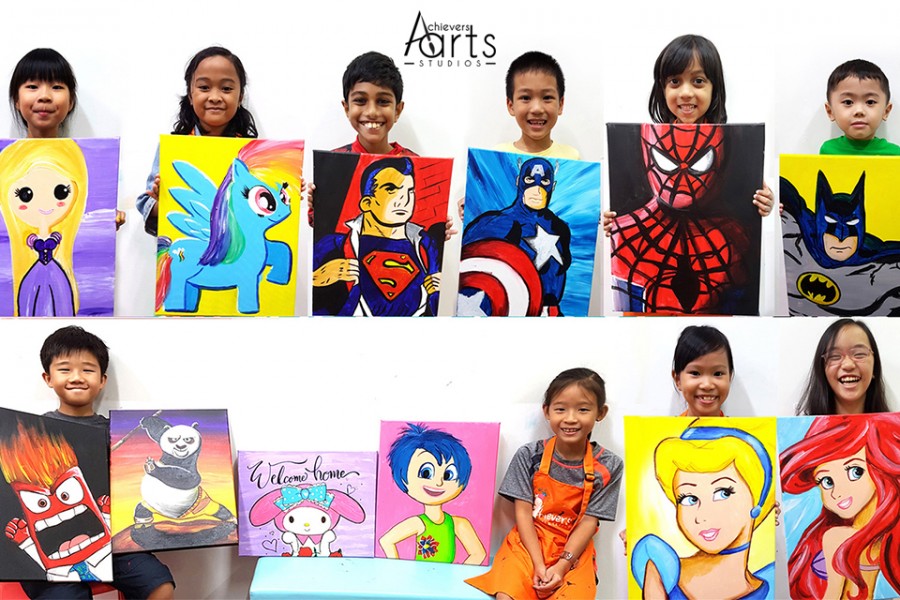 Founded in 2008, Achievers Arts Studio is going from strength to strength, building on its reputation as "an awesome place with passionate teachers" that focuses on a child's creativity and cognitive development through engaging arts and craft sessions. The studio's rapidly growing popularity is in no small part due to the unique programme developed by a group of experienced early childhood educators.
"Many of my friends and relatives praised my son's drawing/painting when they saw it on FB!", says one mother. Parents happily report that Achievers Arts is an amazing studio for children and adults alike. There is no guarantee that you will go on to be one of the greatest painters if you attend the holiday art workshops for kids and adults. However, after seeing the results of the recent students' works we feel that there is certainly a strong possibility.
Dates: 15 November - 22 December 2019;
Timing: 9.30 – 12pm, 1.30pm – 3pm; 1.30pm – 4pm subject to the workshop;
Age group: 4+;
Locations:
Tampines Studio: 1 Tampines Walk, #02-86, Tampines Hub, Singapore 528523;
Pasir Ris Studio: 1 Pasir Ris Close, #03-102 E!HUB @ Downtown East (S) 519599.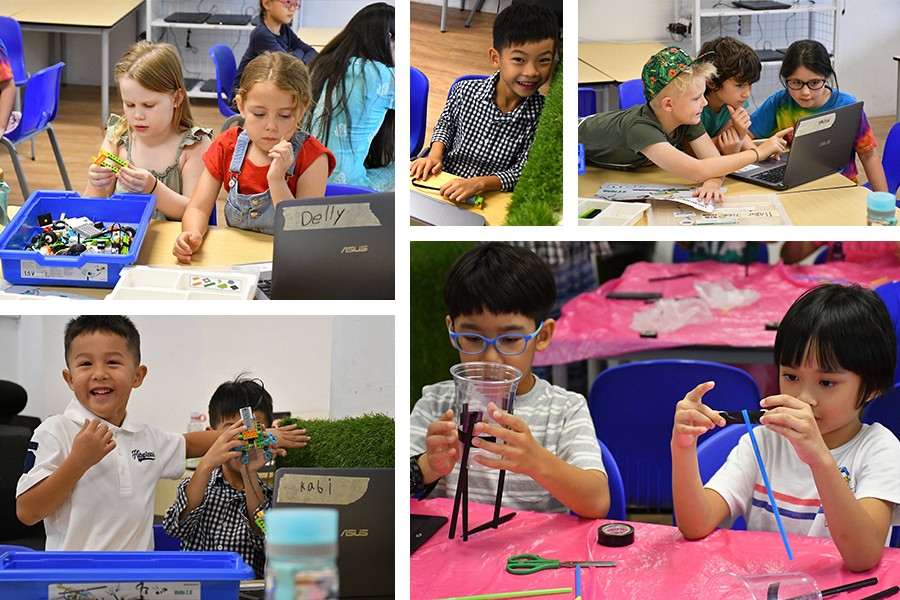 Contact details: camps@whizzkidz.com.sg.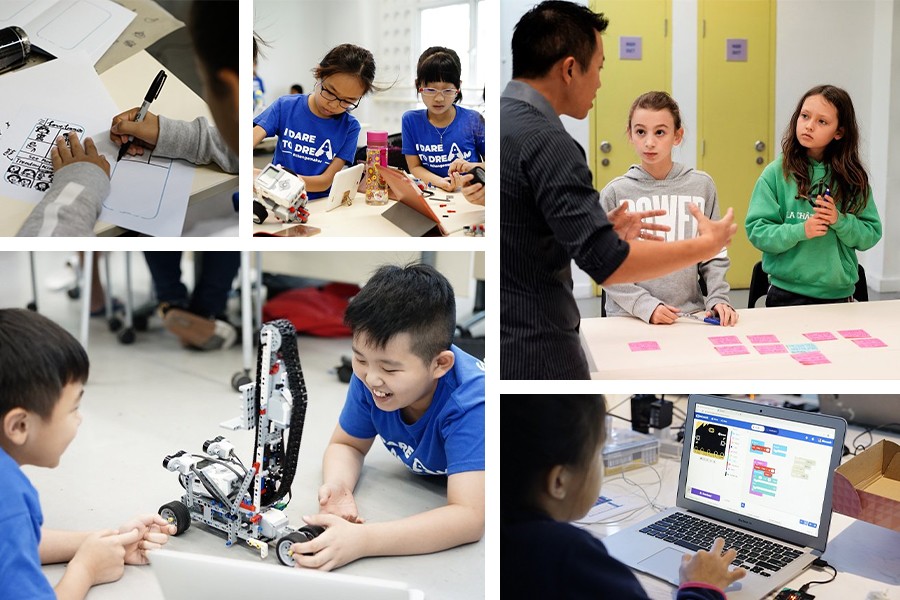 Founded in 2016, this relatively new online-to-offline school ranks in the top 10 tech and entrepreneurship school for kids and teens in Singapore. Their annual holiday camps are jam-packed, with an impressive timetable of activities ending at 4 or 5pm. From financial literacy and entrepreneurship to coding camps, they are of such a high standard that it attracts parents and children from around the whole Singapore. The Smarter Me is genuinely good at preparing young people for the future and the real world.
The curriculum of the year-end holiday camps is reassuringly practical and realistic – kids can either set up a business and sell products or code using Scratch 2.0 or MIT App Inventor, for instance.
Innovation Junior Camp is a 5-day STEAM-based course designed for 6 - 9 year olds. Your little ones will code a game, build a robotic machine, create art & craft pieces, whilst learning to brand, price, market and sell.
Money Matters Camp is a 5-day financial literacy camp for 9 - 14 year olds. The campers will learn how to set up financial goals and calculate personal income, present a business plan, sell products and generate profits.
Change the World is a 5-day camp designed for 10 to 15 year olds. The youngsters will learn to code (either using Scratch 2.0 or MIT App Inventor), build a Lego Mindstorms EV3 robot, use design thinking skills to come up with solutions, work in a team on a business idea.
Young Founders is a 4-day camp specially developed for students aged 10 - 16 with a focus on entrepreneurship and design thinking. The campers will form teams, come up with ideas to solve real-life issues and create a pitch for their start-up ideas.
Dates: 25 November — 30 December 2019;
Timing: 10am — 4pm/5pm; 9am — 4pm, subject to a camp.
Age groups: 6-9, 9-14, 10-15, 10-16;
Camp fees: SGD 525 — 595 for a 4- or 5-day camp. Camp fee includes lunch, official certificate, 1:10 instructor to student ratio. Transportation to the venue can be arranged at additional charge ($100 — $120 for 5 days depending on location).
Locations:
Trehaus Funan, Funan Mall, 109 North Bridge Rd #07-21, Singapore 179097;
Ayer Rajah Crescent.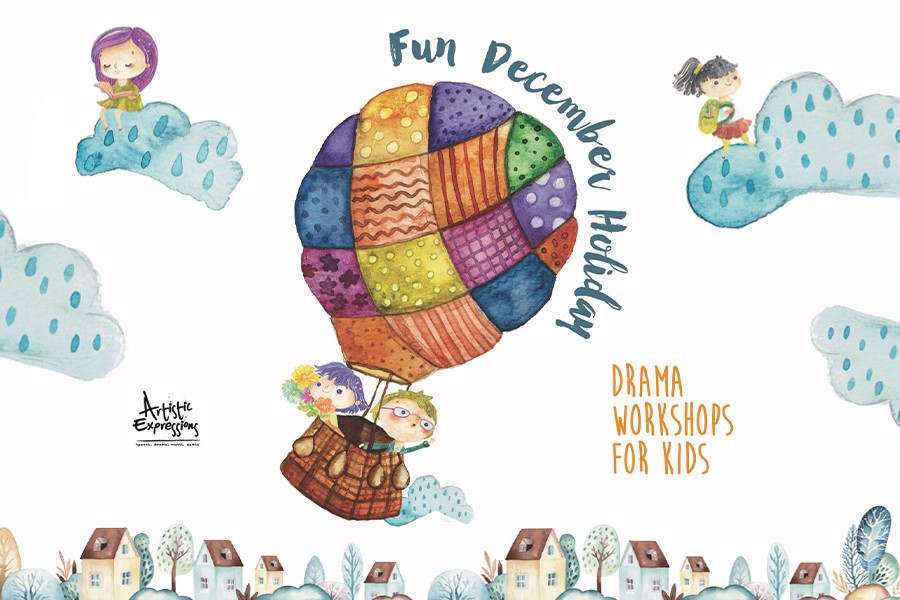 Exciting times at dynamic speech and drama school Artistic Expressions, as it has designed two inspirational and imaginative drama workshops for the upcoming school holidays to set your kids on a stellar path. Through 3-day studio-based learning, Ms Keat Yeng and her team aim to foster a sense of wonder and curiosity which leads youngsters to value the role of theatre and art in this world. Indeed, a focus on character development, improvisation, acting, singing and scene-work drives these courses.
The school has been overwhelmed with positive responses to offers: Tails from the Deep workshop for children aged 4 – 6 and From Rags to Riches workshop for 7 – 12 year olds.
At Tails from the Deep, you can come here and be any character you want. Kids will travel the wonderful watery world exploring what lies beneath the waves. The little participants will create their own mermaid or sea monster, learn songs from popular musicals such as Moana and The Little Mermaid. Don't be surprised, therefore, to see your kids on the stage singing and acting for audiences at the end of this fun introductory course.
At From Rags to Riches, they cover the topics related to performing arts, which include confidence boosting, vocal training and movement practice to hone children's singing, dancing and acting abilities. And the most exciting of all, kids will get to perform in front of family and friends at the end of the 3-day programme. We are sure you will feel proud of your child's ability to sing songs from popular musicals Cinderella and Aladdin, perform a performance piece with course fellows and demonstrate their understanding of performance skills in the space of just three days. Initial expectations won't be just met but exceeded.
Dates: 3 — 5 December 2019;
Timing: Tuesday — Thursday 9am - 12pm, 1pm - 4pm;
Age groups: 4 — 6, 7 — 12;
Location: 77 East Coast Road, #02-01, Singapore 428783.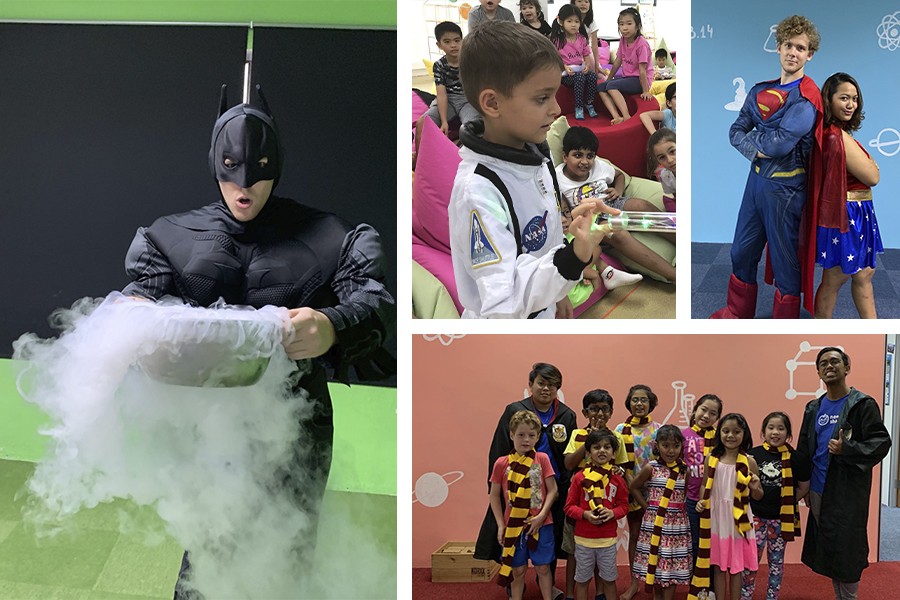 Newton Show ranks among the very best holiday camp in Singapore. Parents and kids rave about its fresh take on science education. It is genuinely and passionately focused on children's development through fun science experiments and games. A multitude of facts may impress parents: 11 years of experience, 5 countries, more than 4,000 happy campers. Equally remarkable is the focus on providing its campers with materials that are sourced and certified in the USA and Canada. On the subject of the quality and safety, all experiments and tests featured within the courses are extensively verified and approved by actual scientists.
This holiday season they offer two science programmes – Superhero Science and Science from the North Pole for children aged 3-13.
Who knows more about polymers than SPIDERMAN? Who can explain Aerodynamics better than Batman? Engineering with Transformers, a Light session with Ironman and a fire/water/air session from Wonder Woman! All these and many more science from Superheros during Superhero Science camp will motivate your little one to study and stay engaged!
What could be more exciting for kids than snow, ice, Aurora and other North Pole wonders this winter? Of course all these wrapped with science! This is a real chance to touch and feel cold experiments, participate in freezing workshops and other hands-on activities over the Science from the North Pole camp.
Dates: 25 November 2019 — 10 January 2020;
Timing: Monday — Friday, 9am - 4pm;
Age group: 3 — 13;
Fees: SGD 630 per child for an all-inclusive 5-day-programme including 2 snacks, lunch, a branded t-shirt, photo, certificate, bus transportation (optional);
Location: East (229 Joo Chiat Road), Centre (9 Mohamed Sultan Road), West (887a Bukit Timah Road).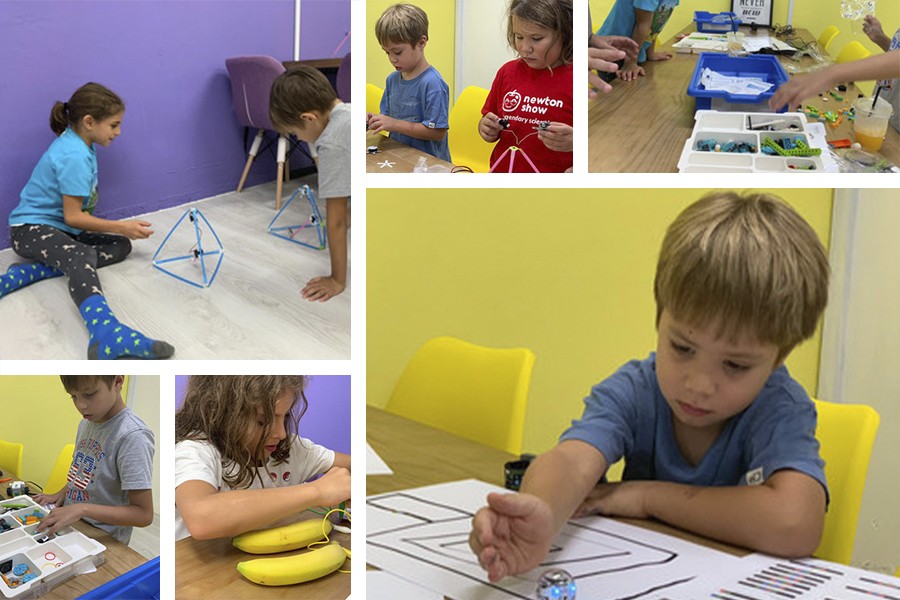 If your child displays interest in invention, then the Robotics, Coding and Me, Who Changed the World camps by the Maker SG will please your little inventors. They have increasingly caught the eye of Singapore parents looking for weekly coding holiday courses for their kids taught in groups with deliberately small number of students. Experienced tutors and a ratio of 2 teachers to 6 students are top priority at this coding club.
For the upcoming Year-End holidays the Maker SG offers three different camps.
At Coding camp younger kids will learn early programming with Scratch Jr and Bee-bot, whilst older children will be provided with proficiency in Scratch and Python.
In Robobattle camp, the youngsters will learn coding and robotics with zero screen time and can later progress to an advanced level using screens. The highlights of the camp are coding and robotics, algorithmic and project thinking, logic and creativity. The young campers will be engrossed by the basics of programming through learning WeDo 2.0, while older ones will program their EV3 robots.
The curriculum of the camp with an ambitious name Me, Who Changed the World is broad. The course encompasses circuit modeling, 3D modeling, inventing, engineering and basic programming. The campers will be equipped with many tools such as 3D pens, Chibitronics, Makey Makey, Squishy Circuit, 3D puzzles, Quibits and others. No one will want to leave!
Dates: 25 November 2019 – 17 January 2020;
Timing: 9am - 12pm, 12 noon - 3pm;
Age groups: 5 – 7, 7 – 10, 8 – 12, 11 – 14; 
Fees: SGD 450 for a 5-day camp including snack, t-shirt, all materials, certificate;
Location: 232A River Valley Road.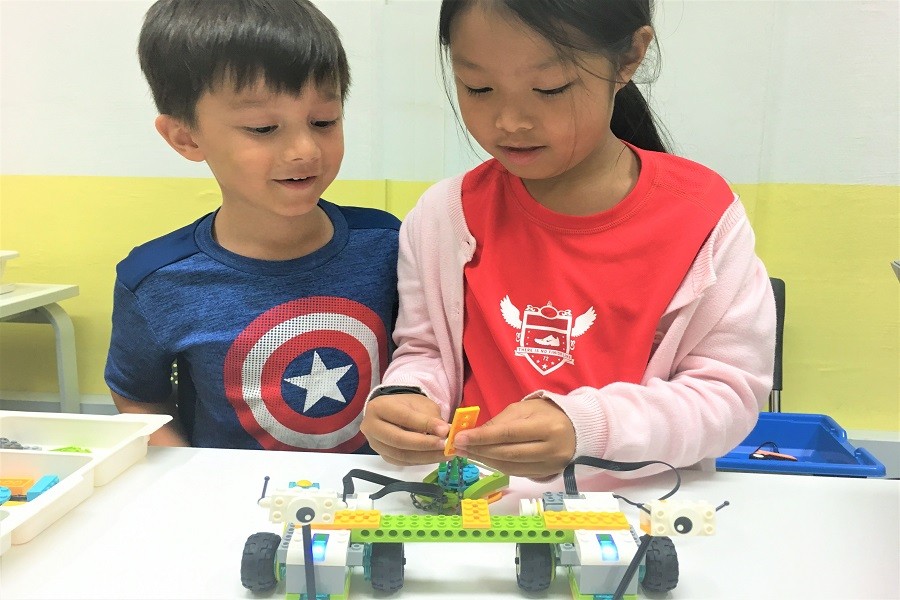 Once the second semester is over, youngsters can get stuck into the extensive tech winter activity programmes by Genius Assembly, which range from Science, Technology, Engineering and Mathematics to chess. There is no denying that this is a children's educational centre where young people thrive – coding is never boring here. The ethos of Genius Assembly is about boosting each individual child's abilities and empowering them to make most of their potential in a small and nurturing environment. The class sizes are very small – from 4 to 6 campers. It means that camps participants get fantastic support, which in turn speeds learning and achievement. Alongside the firm focus on coding and engineering, the kids engage in a huge range of other activities. Interestingly, there is also a keen focus on animal world, natural phenomena, astronomy, chess and related tactics and strategies.
The school is keen to stress that their coaches are not just incredibly good coders, but they are great experienced STEM teachers and, as one satisfied parent noted, "even better role models for camps participants".
At the end of the camp, the youngsters will receive a certificate indicating the level that they have accomplished.
Dates: 18 November – 27 December 2019;
Timing: 9:30am - 11:30am, 12:30pm - 2:30pm, 9:30am - 12:00pm, 1:00pm - 03:30pm, subject to the camp;
Age groups: 6 – 12; 7 – 14;
Fees: Code Easy, Lego Science (10 hrs) from SGD 220; Chess ( 8 hrs) — SGD 160; 2-day Intro Camps (4 hrs) — SGD 99;
Location: Kovan MRT, 212 Hougang Street 21 Hougang, #01-319, 2nd Floor, Singapore.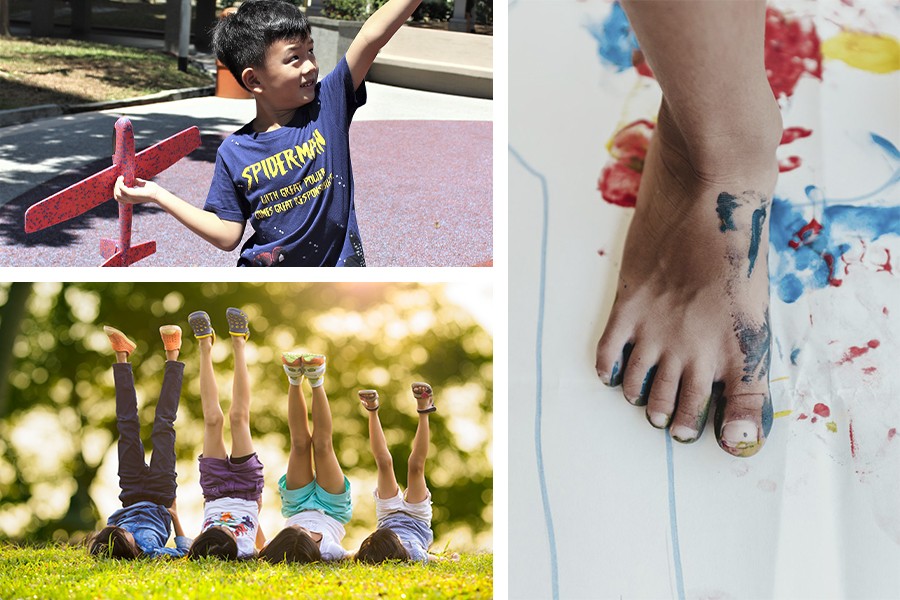 There are million and one reason why parents will opt for the Hopscotch Student Care Centre this school holidays, but the main one is that Hopscotch succeeds at delivering what they promise. Parents know that the values instilled at Hopscotch will hold firm in the years ahead.
The centre also asserts itself as a holiday camps provider with a packed five-day programme of activities. Parents agree, praising the centre's ability to transform kids, encouraging to leave their comfort zones and leap towards opportunities. There is plenty to choose from and the campers are always engaged and delighted. The kids happily throw themselves into everything that's on offer: yoga and movements, relational circle time, social and emotional development activities, reflection and journaling, indoor games at the comfortable and homely centre. In line with this provision, the centre offers healthy and yummy breakfast, lunch and afternoon tea.
I'm Possible! Camp focuses on showing your child the limitless possibilities if they are willing to explore and discover. Through different exciting activities, such as cooking, dance and DIY workshops, Hopscotch campers learn more about their strengths, values, interests and develop a positive sense of self to take on the world. The community exploration theme is environment – understanding our role in saving the planet. The teachers will take kids out into the surrounding area to see sites of interest. Expect Kampung Kampus this holidays.
I'm Empowered! Camp focuses on empowering your child with skills that build their adaptability, confidence and strong relationships with people, so that they can work towards their goals. There are plenty on offer for artier types too: art, martial arts and maker workshops. The community exploration theme is inclusivity. It is instilled in the young people from the start how vital it is to do good for others and understand people with disabilities. Expect the excursion to The Enabling Village.
Dates: 25 — 29 November 2019; 2 — 6 December 2019;
Timing: 8am - 7pm;
Age group: 6 – 12;
Fees: SGD 380 including all materials and excursion. Get 10% discount when you sign up with siblings/cousins/friends or first 10 children to confirm your seat.
Location: 21 Bedok North Street 1, #02-01, Common Ground, Singapore 469659 (Opposite Heartbeat @Bedok).
By Anna Khan
Subscribe to weekly newsletter from "Tickikids"