A Foodies' Guide to Singapore's Best Bakeries
---
Published 03 August 2020 at 19:13
Tickikids Blog Singapore > Digest > A Foodies' Guide to Singapore's Best Bakeries
---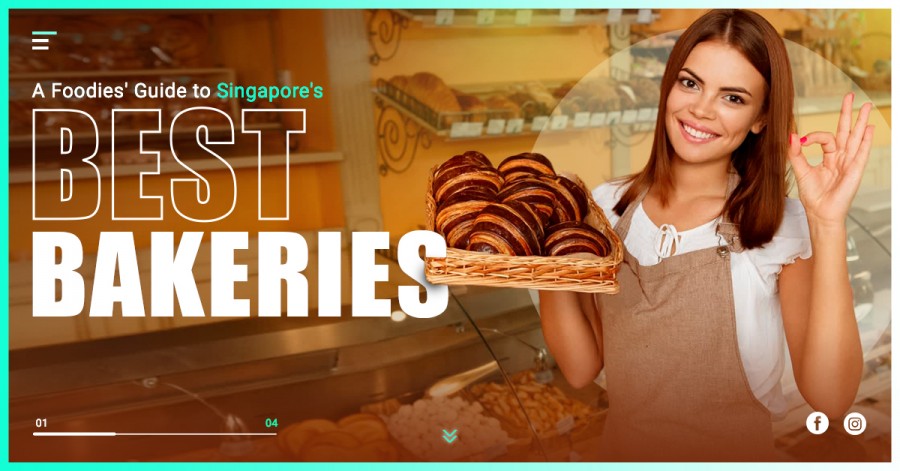 ---
Showstopper desserts are key when composing a menu for a special occasion. If a birthday party or another event is high on the agenda where a cake really is an important meal of the day, then we're keen to help you find a mouth-watering one. Follow your nose to one of these bakeries, because we know it's going to be good.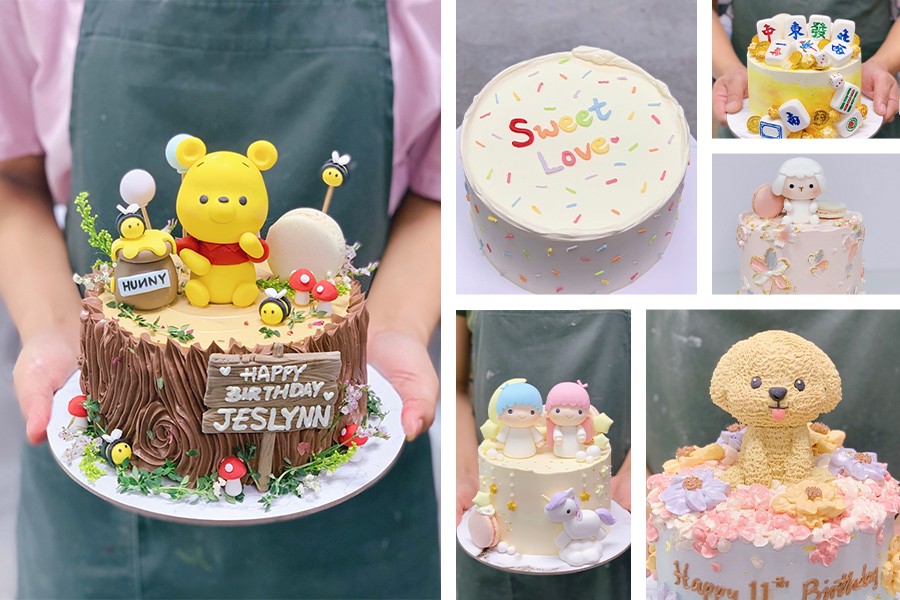 If your sweet tooth is for cake, we would recommend taking your phone for its GPS and navigate your way to the homestyle bakery J Petite Patisserie. This close-knit group of bakers offers an extensive range of hand-crafted artisanal cakes to appease all tastes and inclinations. For the fitness brigade, there's a roster of virtuous sponge cream cakes that are soft, fluffy yet not too sweet, so you can enjoy every mouthful without the guilt. Bridging the gap between healthy ingredients and pleasure, J Petite Patisserie offers a bespoke service, designing you the perfect customised cakes to ensure your event is unique and memorable. Apart from their stunning and delicious cakes, enjoy a selection of mini fruit and lemon meringue tarts which have already become something of an Instagram sensation.
Every occasion deserves a cake from J Petite Patisserie. Ready to be picked up in the bakery or be delivered fresh to your door. Free delivery for orders over $150.
Opening times: 11am – 6pm;
Contact details: 93678308, jpetitecakes@gmail.com;
Address: The Promenade @ Pelikat 183 Jalan Pelikat #B1-57 Singapore 537643.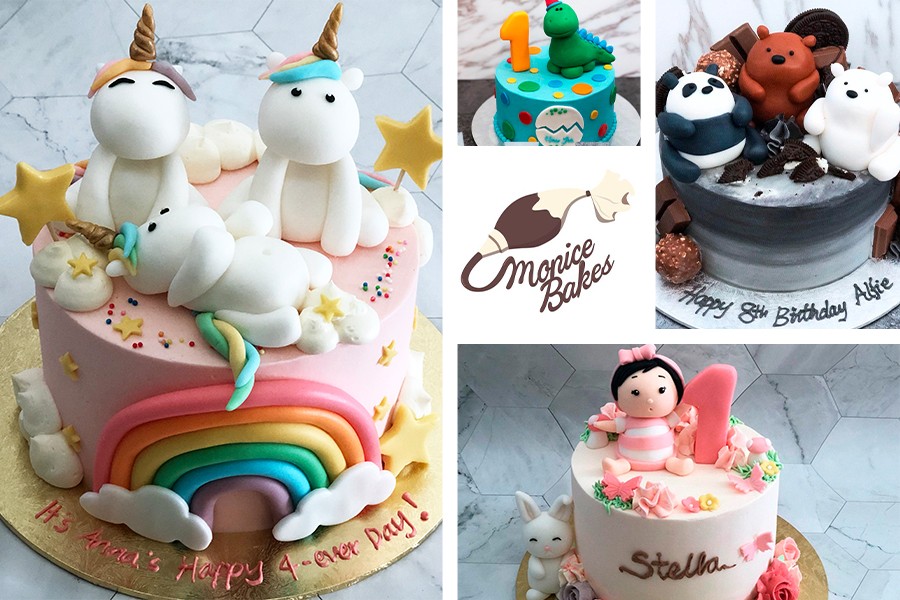 Monice Bakes online bakery is synonymous with variety, choice and quality. No matter what the occasion, you will set the tone for your kid's party with Monice Bakes' customised cakes, cookies and cupcakes perfectly tailored to your event theme like Unicorn, cartoon, hobbies, story book character etc. Using only the freshest and highest quality ingredients, it delivers the perfect combination of a natural sweetness, ultimate deliciousness and visually stunning design. Always freshly baked with no preservatives, artificial flavourings and reduced sugar level, these cakes look fabulous and taste even better.
Their range of customised cakes and cupcakes comes in standard and premium flavours which are chocolate and vanilla versus matcha, mocha or Earl Grey. Each cake or cupcake come with the option to have a different filling. Not only do they play with the flavours, but also filling combinations. Their fresh sliced strawberries, banana, blueberries, can lychee or peach fillings are interesting and completely delicious. If you fancy something filled with Nutella, chocolate Ganache, matcha or coffee cream, we suggest you order some of them. Trust us, you won't regret it.
Oh, it may seem like a strange choice, but if you like surprises their range of 'Surprise Me' cakes are beyond measure. Simply fill in the form and the result won't disappoint you either.
Contact details: WhatsApp: ​+65 98150022 (text only), monice.bakes@gmail.com;
Address: Bedok Reservoir View.




Once you try Zee & Elle cakes, you will never go back to the other ones. Zee & Elle boutique cake shop is designed to cater to the most discerning of taste buds. It is all about fresh handmade cakes and desserts with lush botanical and whimsical decorations that are just made for posting all over Instagram. Always popular for birthdays, wedding anniversaries and other celebrations, at Zee & Elle you will find the most perfect ideas for your customised cake. They've got dedicated cake designers who work around the clock to ensure you receive the dreamiest, freshest, tastiest and prettiest cake of its kind. Being committed to minimalism, the star-experienced chefs take inspiration from nature – among the truly unique designs there are ones inspired by the idea of stopping to notice the sea, trees and gardens.
Long considered as a destination for exceptional cakes at the best value in Singapore, Zee & Elle attracts the ultra-chic clients from the likes of Guerlain, Christian Dior, Marriott International to Coca Cola to serve their special occasions.
If you're not into cakes, why not try their mini cheesecakes, tarts, brownies, cupcakes, donuts, macarons or cookies? To view their mouthwatering range, follow @zeeandellesg on Instagram. You may place an order for a cake online at www.zeeandelle.com.
Address: 2 Jalan Lokam, Kensington Square, #01-18, Singapore 537846.




Petite Joy Bakes is an online patisserie that is the most thrilling catch for Singapore and one that draws families and corporate clients alike. Indeed, with a one-of-a-kind fantastically exquisite range of cakes and desserts, it satiates the appetites of kids and adults. At the commercial cake studio located at Tai Seng area, head pastry chef resides in order to make their small batch of works of art on a daily basis. Their signature creations are the less sweet buttercream cakes ranging from standard, party or customised cakes in a variety of indulgent flavours. It is also worth mentioning their tempting macarons, cupcakes, tartlets and cookies.
Choose between lychee rose, Oreo chocolate, cookie butter latte or berries and cream flavours enhanced with AOP French butter for the cake's lightness. Using an extensive selection of local artisan products like unbleached flour and eggs plus premium goods from reputable brands such as Bob's Red Mill, Valrhona, Nielsen-Massey and Joy Bakes, Petite Joy Bakes guarantees that your cake is made only from the best ingredients avoiding baking additives. Whatever the occasion, the wealth of options, freshly baked cakes and handmade sweet delights from Petite Joy Bakes will be a truly memorable way in which to celebrate your special day and surprise your guests with the stuff of sweet-toothed dreams.
We also like the opportunity to earn reward points on everything you buy at Petite Joy Bakes and redeem them against future purchases. Follow on Instagram and Facebook @petitejoybakes and shop online at their website.
Opening times: Tuesday to Sunday 11am – 5pm;
Address: 1 Irving Place #02-26 The Commerze @ Irving, Singapore 369546.
By Anna Khan
Subscribe to weekly newsletter from "Tickikids"