A Foodies' Guide to Singapore's Best Bakeries
---
Published 03 August 2020 at 19:13
Tickikids Blog Singapore > Digest > A Foodies' Guide to Singapore's Best Bakeries
---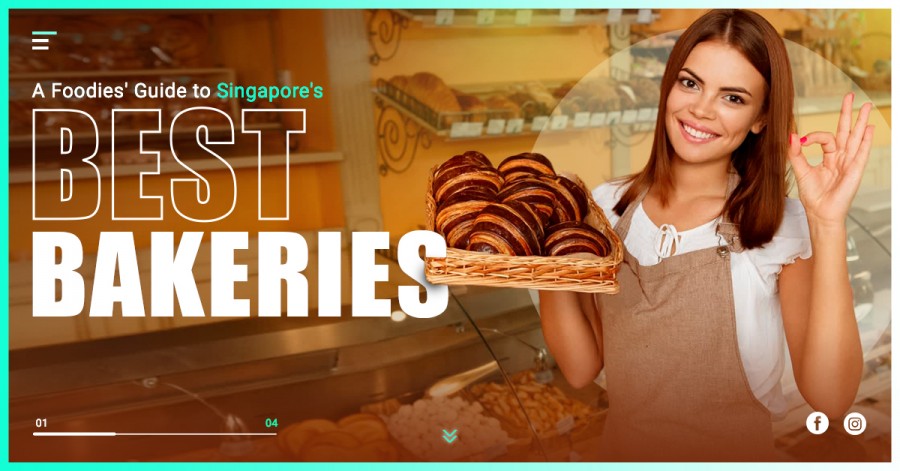 ---
Showstopper desserts are key when composing a menu for a special occasion. If a birthday party or another event is high on the agenda where a cake really is an important meal of the day, then we're keen to help you find a mouth-watering one. Follow your nose to one of these bakeries, because we know it's going to be good.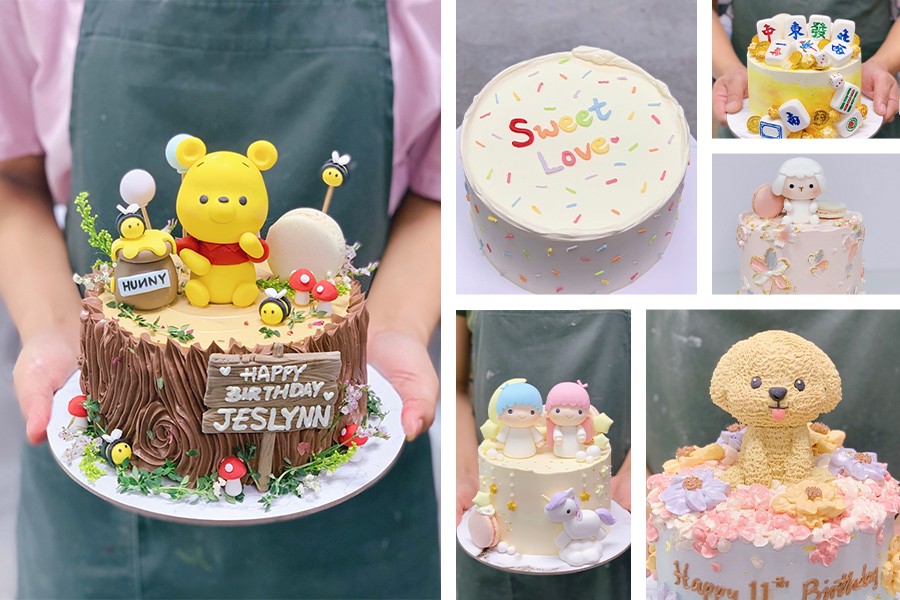 If your sweet tooth is for cake, we would recommend taking your phone for its GPS and navigate your way to the homestyle bakery J Petite Patisserie. This close-knit group of bakers offers an extensive range of hand-crafted artisanal cakes to appease all tastes and inclinations. For the fitness brigade, there's a roster of virtuous sponge cream cakes that are soft, fluffy yet not too sweet, so you can enjoy every mouthful without the guilt. Bridging the gap between healthy ingredients and pleasure, J Petite Patisserie offers a bespoke service, designing you the perfect customised cakes to ensure your event is unique and memorable. Apart from their stunning and delicious cakes, enjoy a selection of mini fruit and lemon meringue tarts which have already become something of an Instagram sensation.
Every occasion deserves a cake from J Petite Patisserie. Ready to be picked up in the bakery or be delivered fresh to your door. Free delivery for orders over $150.
Opening times: 11am – 6pm;
Contact details: 93678308, jpetitecakes@gmail.com;
Address: The Promenade @ Pelikat 183 Jalan Pelikat #B1-57 Singapore 537643.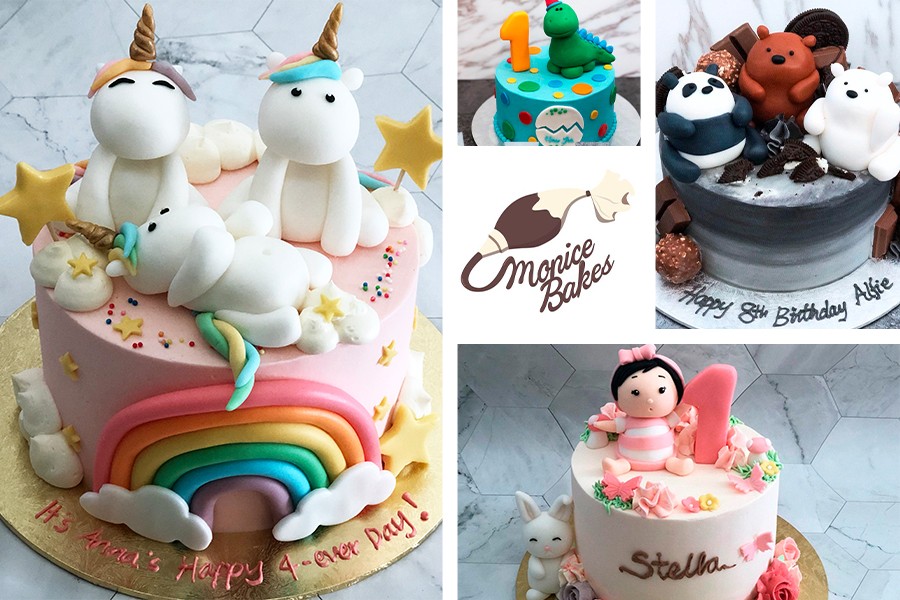 Monice Bakes online bakery is synonymous with variety, choice and quality. No matter what the occasion, you will set the tone for your kid's party with Monice Bakes' customised cakes, cookies and cupcakes perfectly tailored to your event theme like Unicorn, cartoon, hobbies, story book character etc. Using only the freshest and highest quality ingredients, it delivers the perfect combination of a natural sweetness, ultimate deliciousness and visually stunning design. Always freshly baked with no preservatives, artificial flavourings and reduced sugar level, these cakes look fabulous and taste even better.
Their range of customised cakes and cupcakes comes in standard and premium flavours which are chocolate and vanilla versus matcha, mocha or Earl Grey. Each cake or cupcake come with the option to have a different filling. Not only do they play with the flavours, but also filling combinations. Their fresh sliced strawberries, banana, blueberries, can lychee or peach fillings are interesting and completely delicious. If you fancy something filled with Nutella, chocolate Ganache, matcha or coffee cream, we suggest you order some of them. Trust us, you won't regret it.
Oh, it may seem like a strange choice, but if you like surprises their range of 'Surprise Me' cakes are beyond measure. Simply fill in the form and the result won't disappoint you either.
Contact details: WhatsApp: ​+65 98150022 (text only), monice.bakes@gmail.com;
Address: Bedok Reservoir View.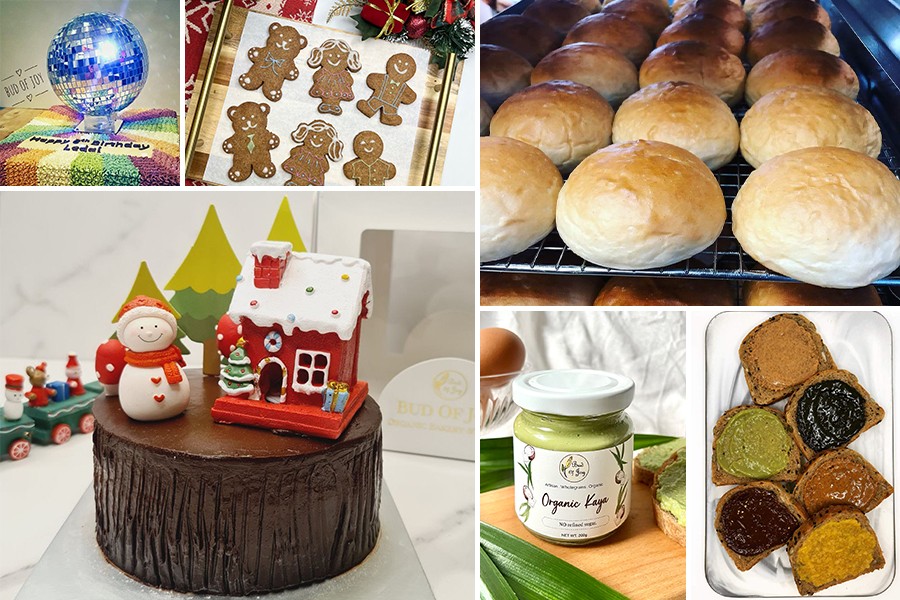 Image Credit: Bud of Joy Organic Bakery


Bud of Joy encourages healthy eating among lovers of baked goodies. Yet, of course, healthy does not mean tasteless. The cakes are baked using only the best natural and certified organic ingredients; rest assured, you will feel the difference when you taste them!
This bakery is well-known for its attention to the quality of its products as the bakers want to ensure that the delicacies they make are safe even for babies, as soon as they are ready for solid food.
So, there are no transfat, no artificial colorings, sweeteners or flavors, no preservatives, and no synthetic hormones, E numbers, and gums.
And, apart from many other bakeries in Singapore, one can find plenty of dairy-free, eggless, vegan, or gluten-free products here, so children with food allergies or intolerances can have a proper celebration. Also, the cakes can be customized for children with G6PD.
All ingredients are listed on the packaging of the products and you can find this information on the website to make sure that all ingredients are appropriate for your kids. 
The cakes, breads and pastries here are handmade from scratch, from clean, filtered water, and sweetened only with organic honey, organic blackstrap molasses, or organic raw sugar.
The baked goods of Bud of Joy are a great choice for healthy and quick breakfast and snack time. And, here you can find many healthy options for Birthdays, Christmas, Good Friday, Chinese New Year and other special occasions. 
Spend $100 and above within 3 months to enjoy free membership with privileges such as 10% off a wide range of products!
Also, the bakery has island-wide delivery to homes and offices available from just $9.50 with no minimum order.
Contacts: email sales@budofjoy.com, Whatsapp: 97623224. 
Location: 71 Circuit Road, #01-31Singapore 370071.
Find Out More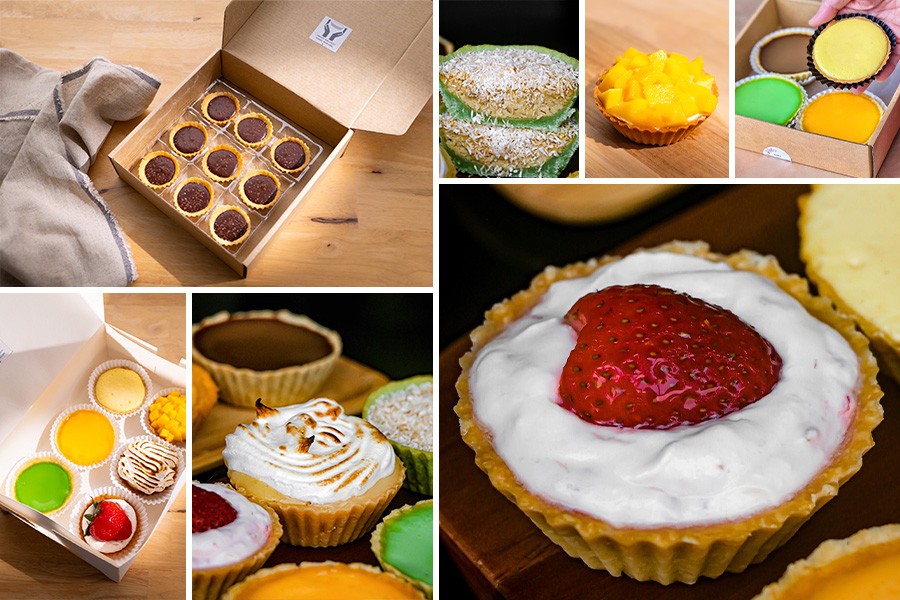 Image Credit: Flash Bakes
This is the one and only place in Singapore where you can indulge in delicious thin crust tarts!
The story of the bakery started from just one type of baked goods - a simple yet mouthwatering tart with rich and smooth egg filling. Today the menu of the bakery includes exotic and local flavours like Pandan, Coffee, Orh Nee and Ondeh Ondeh and new classics -
Lemon Meringue, Strawberry, Mango, Cheese and even Sea Salt Chocolate!
Apart from all-favorite tarts here you can also order finger-licking Strawberry or Chocolate dessert cups filled with a delicious biscuit crumble and topped with a rich and luscious layer of cheese or chocolate ganache.
One of the main reasons for Flash Bake's success is a secret thin crust recipe developed by the mother-daughter duo on the basis of several other recipes. Together with the decision to make small baking batches and use only the freshest finest local ingredients, these tarts are now winning the hearts of locals and foreigners alike!
Here you can order sets of Signature tarts, mini tart sets, and Corporate or Event Party sets that will delight any sweet tooth.
Prices range from a very affordable price of 1.30 to 3.80 SGD per tart! So, do not hesitate and savour the delicacy of fragrant buttery tart with yummy fillings!
Contacts: 98599798.
Socials: Instagram


Image Credit: Fieldnotes Singapore




Once you try Fieldnotes Singapore cakes, you will never go back to the other ones. Fieldnotes Singapore boutique cake shop is designed to cater to the most discerning of taste buds. It is all about fresh handmade cakes and desserts with lush botanical and whimsical decorations that are just made for posting all over Instagram. Always popular for birthdays, wedding anniversaries and other celebrations, at Fieldnotes Singapore you will find the most perfect ideas for your customised cake. They've got dedicated cake designers who work around the clock to ensure you receive the dreamiest, freshest, tastiest and prettiest cake of its kind. Being committed to minimalism, the star-experienced chefs take inspiration from nature – among the truly unique designs there are ones inspired by the idea of stopping to notice the sea, trees and gardens.
Each cake is freshly made upon your order, with unique flavours inspired by Nature.
To view their mouthwatering range, follow @fieldnotessg on Instagram. You may place an order for a cake online at fieldnotes.com.sg
Address: 41 Neil Road, Singapore 088824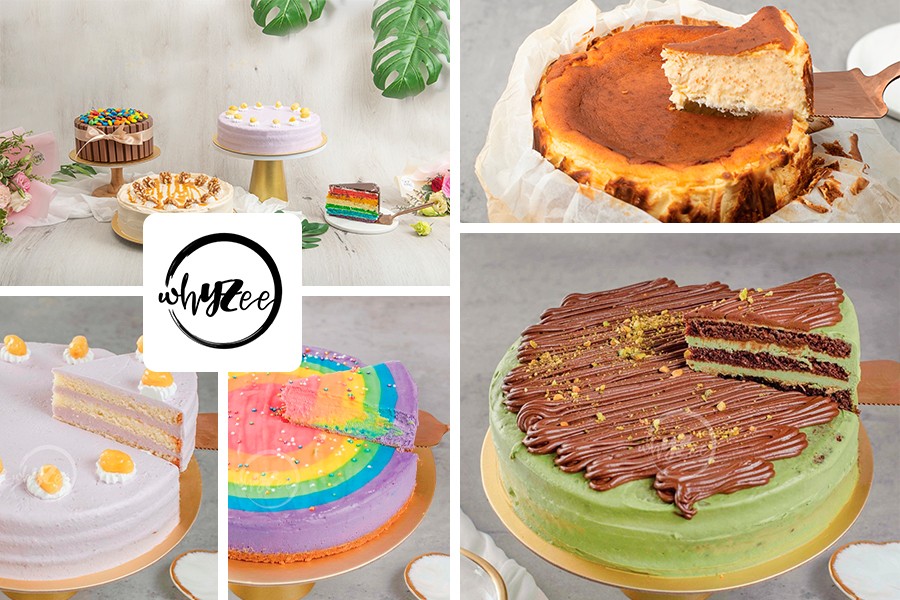 Photo Credit: Whyzee


Yummy, tasty, freshly baked, and affordable cakes - these are the key components of Whyzee's success. And, you can get your favorite cake within one hour as Whyzee offers Same Day 1 Hour Express delivery!
Thousands of satisfied customers have chosen this bakery for a great selection of cakes: vegan, eggless, Classic New York Cheesecakes, chocolate. coffee, brownies, cupcakes etc. Here, you can find a cake for any occasion be it Birthday, Father's Day, Chinese New Year, Christmas, or you just want to delight your nearest and dearest. 
One of the distinguishing features of Whyzee is affordable prices as here prices start from $30 and the cake delivery is with no minimum order.  
No matter what cake you choose, rest assured that it will be made of fresh and finest ingredients and high-quality in-season fruits and berries. Each cake is freshly baked upon order to ensure the highest standards of quality and freshness. 
Also, here you can add a complimentary message card to your order. Just add a message no matter what the size of your order is and your loved one will receive it! And, you can supplement your cake with flowers, balloons, and candles. 
Contacts: info@whyzee.com.sg, WhatsApp 9773 2434.
Location: 11 Sin Ming Road, Thomson V Two, #01-30, Singapore 575629.
Find Out More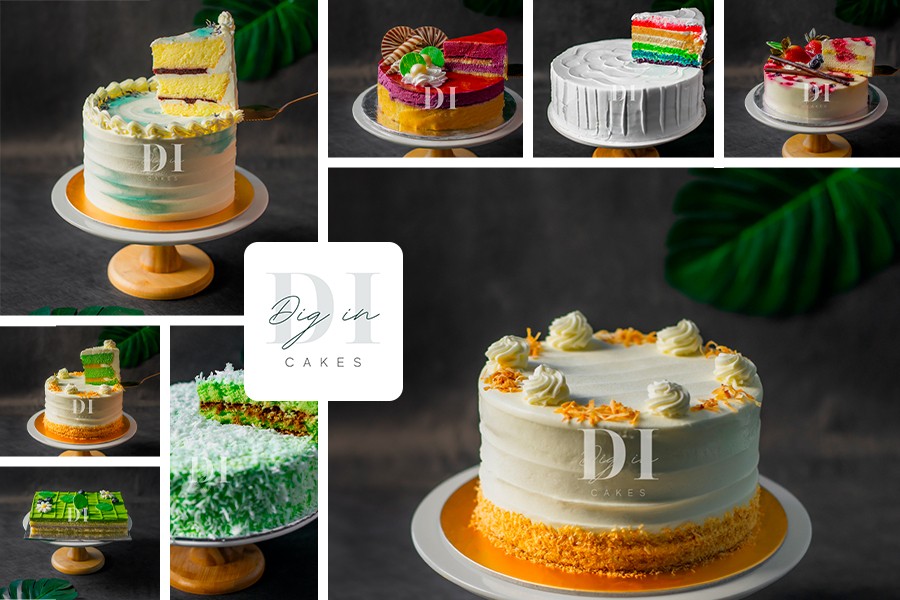 Photo Credit: Dig In Cakes
When most of the shops and bakeries sell "shelf-stable" cakes with tons of marzipan and preservatives, Dig In Cakes is one of the few bakeries that sell freshly baked cakes with same-day cake delivery. So, when you taste a cake made here you will definitely feel the difference! 
Dig In Cakes bakes cakes for all occasions be it seasonal holidays or birthdays and parties. Thanks to a wide selection of flavors, it is possible to order a cake that fits every taste and budget. You can buy a cake here at $29.90 and rest assured, the quality of the cake will be astonishing! The list of available options includes rainbow cakes, cheesecakes, chocolate cakes, vanilla and tea cakes. You can even order local flavor cakes like durian cakes or yam orh nee cakes. 
The bakery offers 1-hour express and midnight cake delivery Singapore for last-minute orders. 
If you order your cake as a present, you can also take advantage of bundles as Dig In Cakes offers cake and flower delivery islandwide. And, you can make your gift even more festive with bright balloons!
Contacts: WhatsApp 8940 8349, info@cakesdelivery.com.sg. 
Find Out More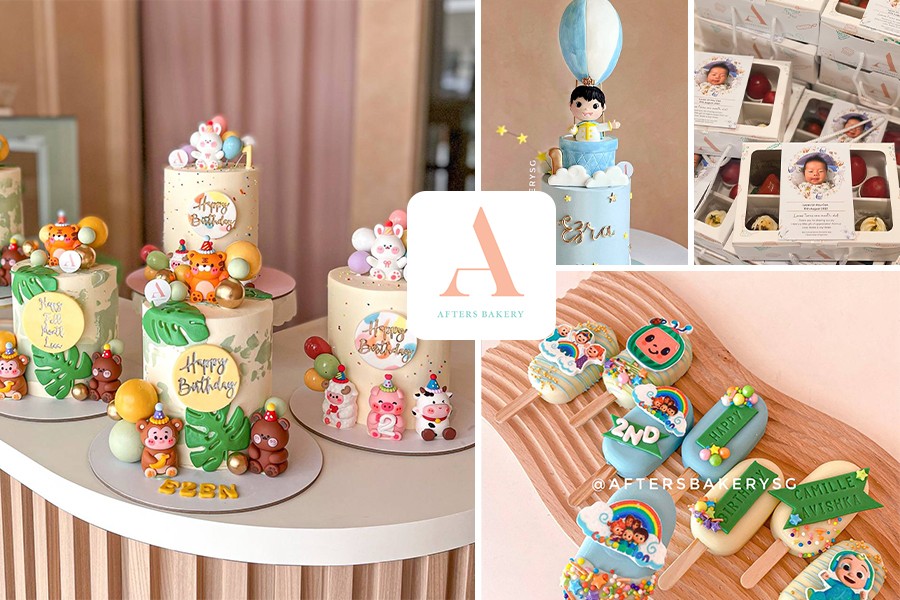 Afters Bakery specialises in amazing children's birthday cakes and can create a tasty centrepiece for your special day personalised with a message of your choice. Afters Bakery prides themselves on an extensive custom selection of cakes, from gender reveal, number cakes to baby full month packages and 1st birthday cakes.
Browse Afters Bakery's gallery and say happy birthday with a cake your little one will never forget! Surprise your child with a bespoke birthday cake modelled on their favourite character, hobby or animal. With the Afters Bakery bestselling interactive pinata cakes, the kids at your birthday party will be jumping for joy. Filled with cake layers and cream, topped with macarons and a variety of chocolate, the pinata cake is the perfect birthday treat your guests have never seen before.
Afters Bakery can also help you add a hidden extra to your gender reveal party, with a gender reveal cake, gender reveal pinata or cupcakes, all hand decorated with pink and blue buttercream. Gender reveal cakes come in a wide range of designs that reveal a pink or blue colour sponge. The gender reveal pinata cake is the shape of an egg and needs to be smashed to reveal a mini cake frosted in either pink or blue.
With brilliant designs and mouth-watering fillings, the Afters Bakery cakes are a delicious hit with children and adults alike!
Address: 28 Cavan Rd, Singapore 209855;
Email: hello@aftersbakery.com;
Whatsapp Enquiries: +65 8742 3895;
Not Taking In Orders For Now


Petite Joy Bakes is an online patisserie that is the most thrilling catch for Singapore and one that draws families and corporate clients alike. Indeed, with a one-of-a-kind fantastically exquisite range of cakes and desserts, it satiates the appetites of kids and adults. At the commercial cake studio located at Tai Seng area, head pastry chef resides in order to make their small batch of works of art on a daily basis. Their signature creations are the less sweet buttercream cakes ranging from standard, party or customised cakes in a variety of indulgent flavours. It is also worth mentioning their tempting macarons, cupcakes, tartlets and cookies.
Choose between lychee rose, Oreo chocolate, cookie butter latte or berries and cream flavours enhanced with AOP French butter for the cake's lightness. Using an extensive selection of local artisan products like unbleached flour and eggs plus premium goods from reputable brands such as Bob's Red Mill, Valrhona, Nielsen-Massey and Joy Bakes, Petite Joy Bakes guarantees that your cake is made only from the best ingredients avoiding baking additives. Whatever the occasion, the wealth of options, freshly baked cakes and handmade sweet delights from Petite Joy Bakes will be a truly memorable way in which to celebrate your special day and surprise your guests with the stuff of sweet-toothed dreams.
We also like the opportunity to earn reward points on everything you buy at Petite Joy Bakes and redeem them against future purchases. Follow on Instagram and Facebook @petitejoybakes and shop online at their website.
Opening times: Tuesday to Sunday 11am – 5pm;
Address: 1 Irving Place #02-26 The Commerze @ Irving, Singapore 369546.
Subscribe to weekly newsletter from "Tickikids"