Best June Holiday Enrichment Programmes in Singapore Your Kids Will Love
---
Published 22 April 2022 at 03:28
Tickikids Blog Singapore > Digest > Best June Holiday Enrichment Programmes in Singapore Your Kids Will Love
---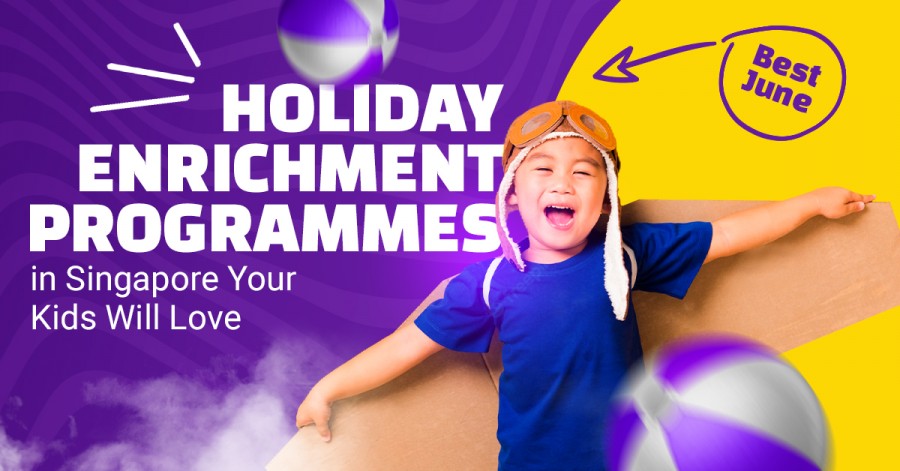 ---
Planning your child's June holiday in Singapore? Thankfully, there is a whole host of fun and enriching holiday programmes! We have shortlisted some of the most exciting and joyful June camps in Singapore that will cater to every interest and keep little minds engaged in learning and busy! With TickiKids' curated camps selection, you are bound to find the perfect June programme for your little darlings and enjoy a stress-free holiday yourself!
This year, the British Council is celebrating 75 years in Singapore. Trusted by millions of students and their parents, the British Council is offering weekly June Holiday Study Camps from the world's leading English language experts for Early Years, Primary and Secondary-aged students. The Study Camps' time-tested curriculum puts a heavy focus on improving the core language skills, such as reading comprehension, writing, listening, and speaking.
Week after week, students will explore a different theme of the British Council's project-based course, designed around fun stories, games and creative activities that will inspire your child. What is more, students will gain an opportunity to explore the world beyond English and develop crucial competencies needed for future success in life. With specific emphasis given to building skills in problem-solving, collaboration, critical thinking, and creativity, the British Council sets little campers on the path towards confidence and fluency in communication.
Book your preferred Holiday Study Camp for your child now with a 25% discount for four weeks, 20% discount for three weeks, 15% discount for two weeks and 10% discount for one week of Study Camp.
Ages: Early Years, Primary and Secondary-aged students
Date: 30 May – 24 June
Duration: 5 Days, Monday to Friday
Time:

Early Years and Primary: 9.00 a.m. to 1.00 p.m.
Secondary: 1.30 p.m. to 5.30 p.m.

Fees:

Study Camp: S$736/week
S$30/two shirts (uniform)

Socials: Facebook, Youtube, Twitter
Locations:

June 2022 Holiday Study Camps at British Council Singapore @Napier Road Centre:
30 Napier Rd, Singapore 258509;

June 2022 Holiday Study Camps at British Council Singapore @Tampines Centre:
11 Tampines Concourse #01-02/03/04, Singapore 528729;
June 2022 Holiday Study Camps at British Council Singapore @Toa Payoh Centre:
480 Lorong 6 Toa Payoh #09-01 HDB Hub East Wing, Singapore 310480.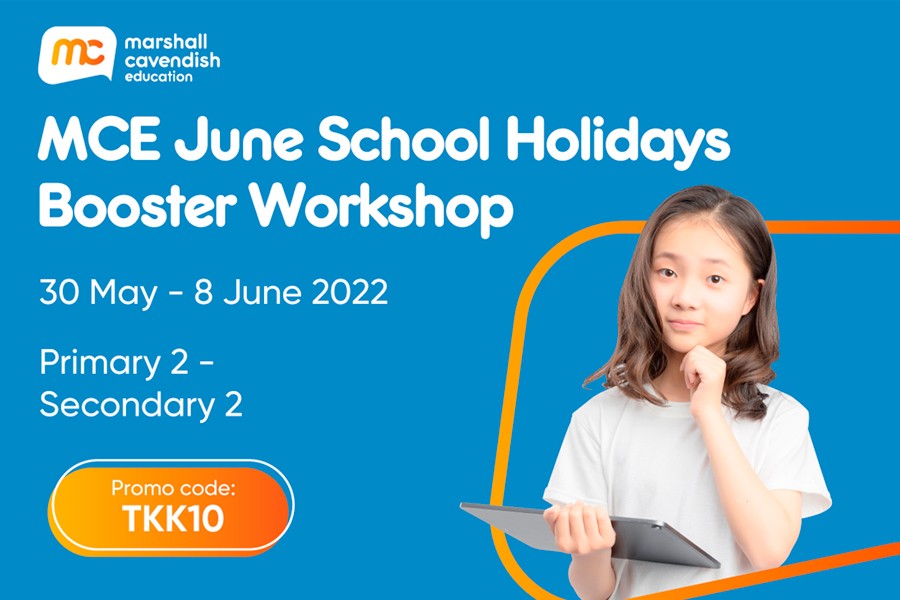 Image credit: Marshall Cavendish Education

Marshall Cavendish Education (MCE) is an award-winning global company that offers holistic educational solutions to nurture the joy of learning and prepare students for the future. This year, MCE is organising the annual June school workshops to give your child a solid head start in Term 3 and equip them with the necessary skills for the new semester.
Designed and conducted by professional educators, MCE's workshops are carefully tailored to primary school students' interests and needs. Aimed to sharpen knowledge and nurture curiosity in various subjects, MCE's curated workshops suit a range of interests: from Chinees, Math and Science, Coding and Game Development to Design and Robotics.
Students in P6 will also be learning exam strategies to help prepare for the upcoming Prelims and PSLE.
And here comes the best bit: MCE are back to physical workshops! These will be held at the Times Centre at No. 1 New Industrial Road, Singapore 536196.
To top it all, by filling in the promo code TKK10 upon checking out, you will receive a 10% discount for the workshops of your choice!
Date: 30 May – 8 June
Duration: 3 hours
Fees: S$98-120 (excluding additional ticketing fees)
Socials: Facebook, Instagram, Youtube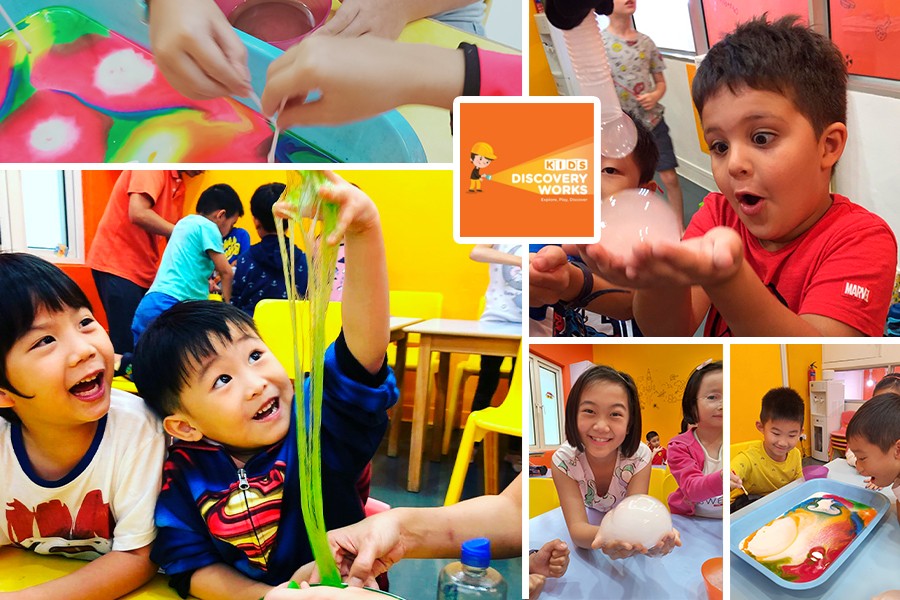 Image credit: Kids DiscoveryWorks

Kids DiscoveryWorks, the leading STEM enrichment provider in Singapore, creates memorable exploratory learning experiences so that kids learn through play, experimentation, investigation, and open-ended discussion. This summer, Kids DiscoveryWorks invites young curious minds to their action-packed and exciting holiday programs.
To one keep your bundle of joy entertained, enrol your child on the enjoyable and enriching adventures from DiscoveryWorks and get a unique learning opportunity for your kid to embark on an exciting exploration of physics and chemistry with Whizz, Pop, Bang! (N2-K2; P1-P6) programme; discover ancient civilizations and the most extraordinary dinosaurs in Jumanji: Lost Kingdoms (P2-P6) and Dinosaur Discovery (K1-K2); try their hand at scientific crime-solving with Junior C.S.I. (Among Us) (P1-P6) camp; learn about non-Newtonian fluids, polymers, Newton's Laws of Motion in SuperHero Science: No Way Home (K1-K2; P1-P6); explore science and engineering concepts with beloved children's stories during Once Upon a Time (K1-K2; P1-P4) programme; undergo training at a unique spy school during Spies & Secret Agents (P1-P6); use the powers of Mathematics to hunt down the villains with Math Detectives: A Race Through Time (P1-P4) camp; explore the culture of countries around the world through their traditional toys with Toys of the World (N2-K2); learn the science of combustion, air pressure and electromagnetism with their favourite Pokémons in Pokémon: Earth&Sky (P1-P5); and even go behind the scenes and learn every part of the filmmaking process with Stop Motion Animation Adventures (P2-P6)!
To give your child a memorable and educational time this June and learn more about the Kids DiscoveryWorks schedule, click here. 

Dates: 30 May – 15 July
Timing: 9am – 3pm; 2-day or 3-day camps available
Age: 4–12
Fees:

2-Day Camp: $304
3-Day Camp: $456
All prices include lunch, snacks and materials.

Contacts: 6931 6989
info@kidsdiscoveryworks.com
Location: 209A Upper Thomson Road, Singapore 574347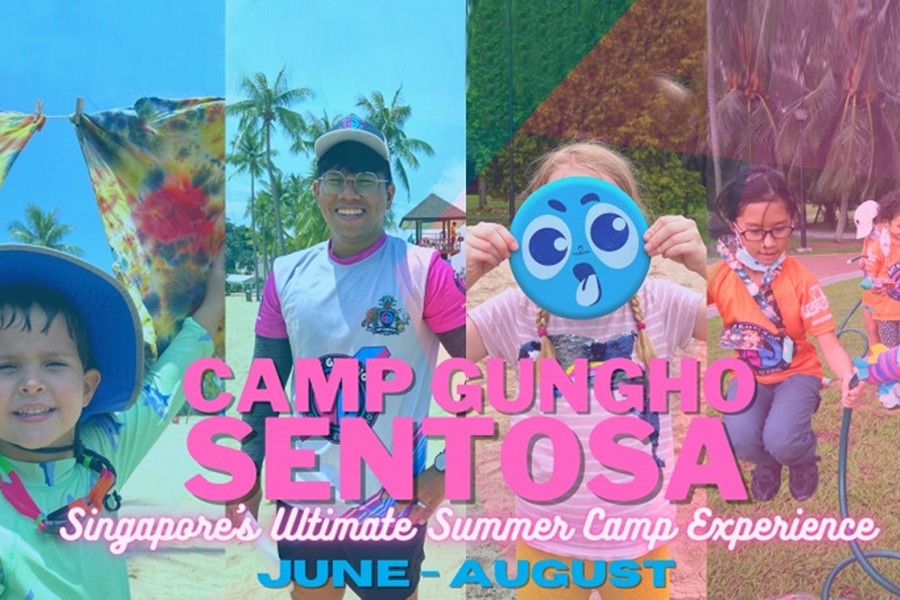 Image credit: GungHo
Are you looking for something fun, engaging, and beneficial to your child's development and socio-emotional growth this summer school break? Get GungHo has the perfect offering! Get GungHo is an enrichment and multisport activities learning provider and professional children's soccer training service. This summer, GungHo welcomes all children, aged 6 to 12 years old to join their holistically designed camp programmes that will be running for over five weeks!
The GungHo Sentosa weekly programmes balance different activities from a variety of interests, including STEM, Arts and Crafts, Mindfulness, Sports and Outdoor play and exploration. The GungHo full of fun and discovery holistic camps offer children the opportunity to enjoy the activities they already love while stretching themselves by taking on new challenges and trying new activities.
This school break, ensure your little darlings get innumerable benefits from such existing holiday experiences as water games and play, Tie-Dye fashion, Multi-Sport games, Trampolining, Outdoor Orienteering, Mad Science, Graffiti Art and Nerf Battle fun!
Timings:
14 June – 16 June, 08:45-15:15

1 August – 4 August, 08:45-15:15

15 August – 18 August, 08:45-15:15
Age: 6–12
Your child has expressed an interest in playing football? Do not miss out and join the Get GungHo Sports and Enrichment Football Fiesta Holiday Camp! Guided by the Get GungHo professional football coaches, young future football superstars will hone their soccer skills, learn how to be team players, and build communicative skills.
Depending on your preference, your child can join a new group of friends or invite their school friends for over 90 minutes of camp for either 3 or 5 days or sign-up for a 1-day camp session!
Register before 9th May to secure EARLY BIRD rates!
Timings:
30 May - 3 June, 09:00-12:00
6 June - 10 June, 09:00-12:00
Age: 6–12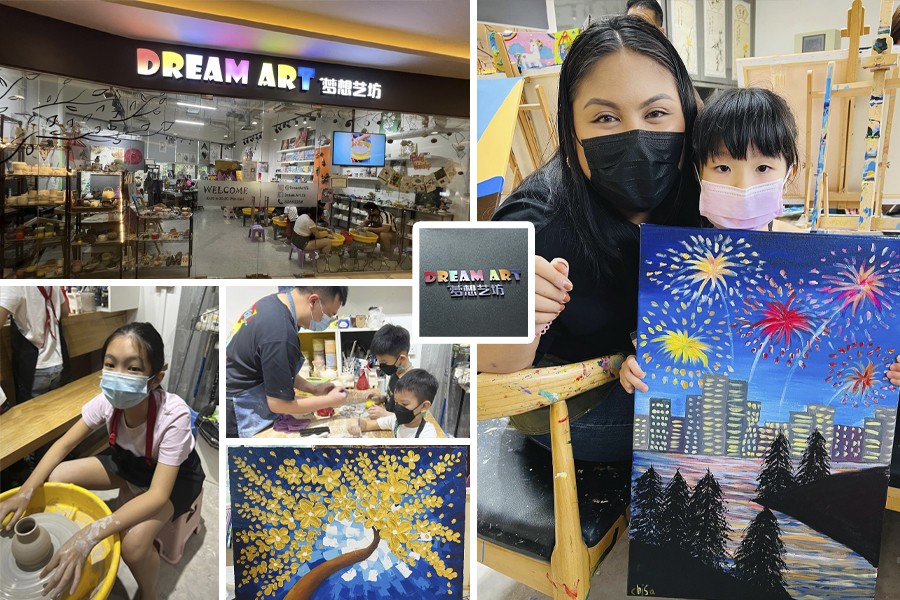 Image Credit: Dream Art

Dream Art is a joyful art studio space where kids of all ages and adults can have fun with various art mediums and pottery! If you are looking for a place where your little darling can explore different materials, learn art in its many forms and unleash their imagination, the Dream art studio can offer all of these. Gently guided by the Dream Art professional tutors, young artists develop their creativity, deepen their engagement and interest in art.
This June holidays, why not spend some family time creating a masterpiece you can keep? Dream Art encourages artists of all ages and levels of experience to come in and join their exciting pottery workshops:
Holiday Pottery Workshop is a 3-day pottery workshop, during which young participants will learn wheel throwing, clay sculpture and pottery painting.
Pottery & Tufting Workshop is an amazing workshop where pottery meets tufting. Joined together, tufting and pottery create a unique fusion of arts and result in masterpiece projects.
Pottery Wheel Throwing with Sculpture is a pottery program conducted in 2 sessions, through which young participants will do wheel throwing, create the shapes like a bowl/cup/vases using electrical wheels and learn pottery painting.
Pottery Wheel Throwing Workshop is a 45-minute pottery workshop. Pick either a cup, bowl, or vase and let professionals guide you in creating your personalised work of art.
Pottery Wheel with Sculpture Workshop is a 1.5-hour pottery wheel session combined with simple sculpture. With step-by-step guidance, you and your child will be able to learn simple sculpture techniques and create 3D decorations of your own design.
Grab a chance to build some special memories that your little ones will take through their lives and make a family piece of art to keep forever! Click here to learn more about the Dream Art diverse offer.
Location: Alexandra Central Mall
321 Alexandra Road, #02-30
Contacts: +65 6265 2258
dream20161001@gmail.com
Socials: Facebook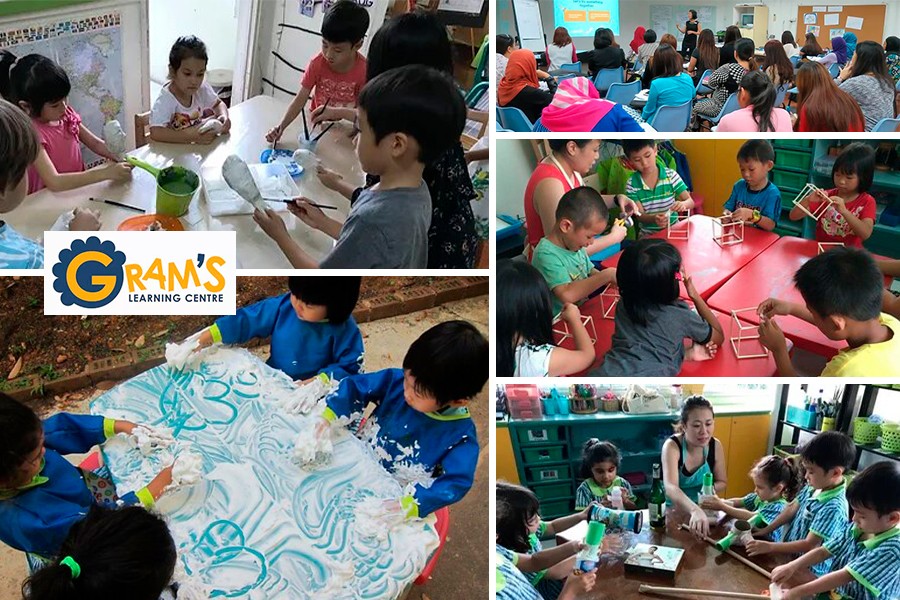 Image credit: GRAM'S Learning Centre

GRAM'S Learning Centre was founded by a group of dedicated educators who believe firmly in holistic education. Through the holistic approach GRAM'S teachers address the emotional, social, ethical, and academic needs of students in an integrated learning format.
The heart of GRAM'S Learning Centre philosophy is a belief that every child is unique and has boundless potential, which can be developed through the meticulously planned programmes. GRAM'S Team not only aims to develop your child's academic excellence, and build their character, skills and talents but also make the process of learning an enjoyable journey.
This June holidays, GRAM'S Team is launching their holistic story-based art workshop "The Day the Crayons Quit". Let your child step into the world of crayons and improve fine motor skills while learning about empathy, values, and kindness. GRAM'S tutors will guide kids through the colourful journey in an entertaining and educational manner.
Age: 5-8

Time:
03 Jun, 1:00 pm – 04 Jun, 3:00 pm
10 Jun, 10:30 am – 12:30 pm
19 Jun, 2:00 pm – 4:00 pm
Price: $52
Location: GRAM'S LEARNING CENTRE, #02-15 Beauty World Centre
Check out GRAM's 1-to-1 English and Chinese intensive classes during this June school break. Sessions are conducted via ZOOM with different time slots available for booking. Each GRAM's language class is tailor-made and designed to take account of individual learners' characteristics or requirements. Just specify the area of your and your child's interest (e.g., Oral Skills, Reading Comprehension, Composition, Current Affairs) and GRAM'S tutors will focus on it during the lesson.
Contacts: +65 64671258
Enquiries@gramslearning.com.sg
Socials: Twitter, Facebook, Instagram, Youtube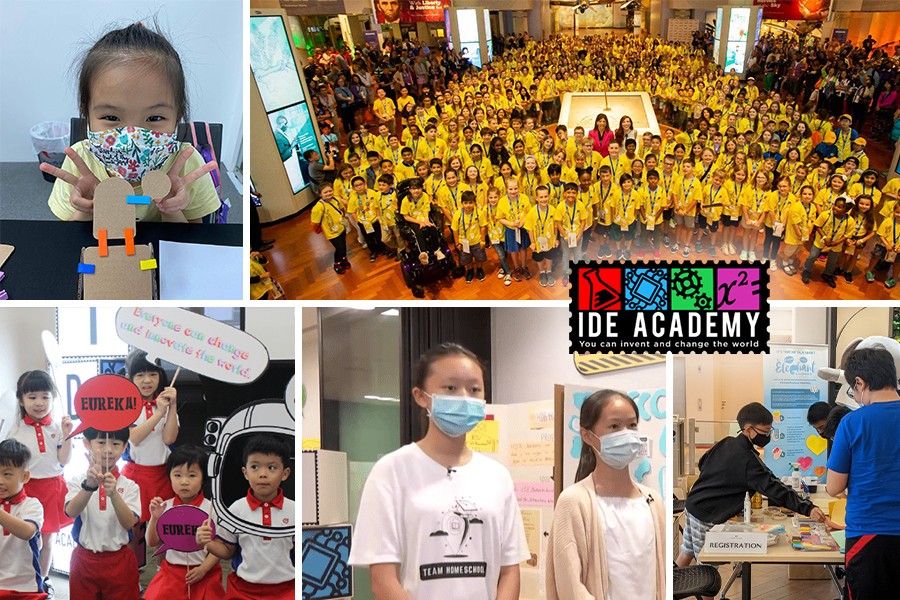 Image Credit: IDE Academy
IDE Academy is a STEMIE (STEM+Innovation+Entrepreneurship) global alliance partner that empowers students to invent for good and helps partner educators advance invention education across Singapore. Providing interactive and interdisciplinary opportunities to create and pitch original solutions at national and global innovation conferences, IDE Academy encourages students to solve real-world problems they care about and acquire top-most 21st-century skills to invent their own future.
This June holidays, IDE Academy has prepared a plethora of holiday programmes for kids' enjoyment and enrichment!
Program 1: Road to Nationals 2022 is a 2-week Invention Camp for students ages 9 – 14. During this camp, young tech enthusiasts will learn and experience the 7-step invention process and will create an invention prototype by the end of the camp. Students will also receive guidance to participate and compete in the 4th Pratt and Whitney Invention Convention Singapore Open Nationals held in November 2022.
Dates: 6 – 17 June 2022 (Mondays to Fridays for 2 weeks)
Time: 2pm – 5pm
Venue: Training Room 1, National Design Centre, 111 Middle Road, S188969
Fees: $960 per student
Registration Fee: $20 (only applicable to new students)
Materials Fee: $40
Program 2: Invention Sprint Workshop is a 2-day Invention Sprint Workshop for students ages 7 – 11. With this workshop, students will identify a problem that they care about, design an innovative solution, and get a taster of the invention process.
Dates: 11 – 12 June 2022 (Saturday and Sunday)
Time: 2pm – 5pm
Venue: Training Room 1, National Design Centre, 111 Middle Road, S188969
Fees: $210 per student
Registration Fee: $20 (only applicable to new students)
Materials Fee: $40
Contact details:
+65 9888 9771 (WhatsApp) or email enquiry@ideacademy.sg
Socials: Facebook, Instagram, Youtube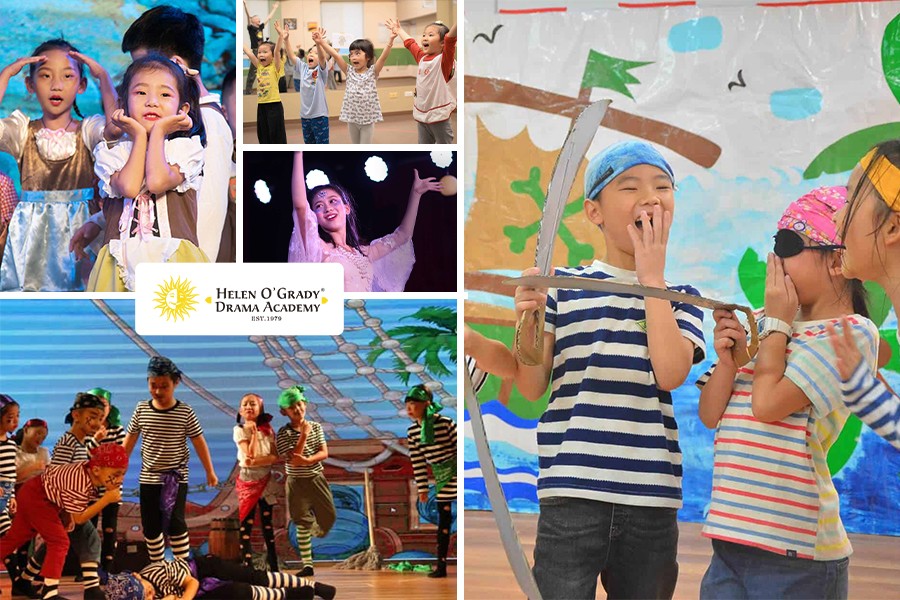 Image Credit: Helen O'Grady Drama Academy

Drama is an expressive art that is incredibly beneficial for growing minds. Not only does drama teach young artists valuable skills for life, but it also supports child's emotional development and builds their confidence and self-esteem.
Founded in 1979 by Helen O'Grady, Helen O'Grady Drama Academy boasts a highly stimulating and globally acclaimed drama curriculum taught by fun and dynamic trainers in a positive social environment.
Whether your little darling loves to sing, dance or perform, there is something for them to enjoy at the Helen O'Grady Drama Academy camp during this holiday season.

Program 1: A Trip in Time is a 3-day Drama Camp for primary schoolers aged 7 – 11. Begin an unforgettable trip to a Science Museum and join a group of friends who was taken back in the past, to Victorian England. Accompany Spiffy, Spike and Silver as they discover themselves in the past times, present and future. During this exciting story, students will get a taste of drama and build their creativity, confidence, communication skills, and teamwork. The camp will end with a performance for which parents and guardians are invited to watch.
Dates: 13 – 15 June 2022

Time: 9.30am – 12.30pm

Venue: Goodman Arts Centre, 90 Goodman Road, Blk B Level 3, S439053

Fees: $405

Group: Max 10 students
Program 2: Drama Trial Classes are free drama trial classes for students aged 3 – 11. During a trial class, young actors will get to experience what a drama class is like and interested parents can opt to join weekly classes in the new term.
Dates: 13 – 15 June 2022

Time: 2.30 – 3.30pm (7 – 11 years) and 4.00 – 5.00pm (3 – 6 years)

Venue: Goodman Arts Centre, 90 Goodman Road, Blk B Level 3, S439053

Fees: FREE
Contact details: +65 9116 2838 or email enquiry@helenogrady.com.sg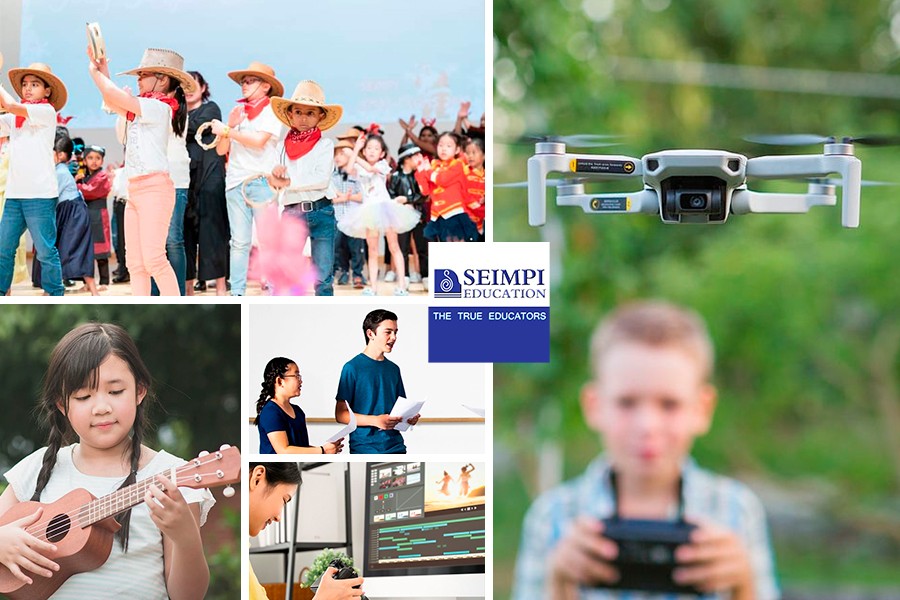 Image Credit: Seimpi Education
Research has proven that enriching programmes have a long-term positive impact on young children's cognitive and social-emotional development. Founded in 2002, Seimpi Education has come a long way to become a pioneering provider of educational programmes in the region. Seimpi Education specializes in inter-disciplinary 'phenomenon based' learning that is based on student inquiry and problem-solving approach. Seimpi has developed a rich curriculum of programmes to create better learning opportunities in a welcoming, fulfilling, and fun environment.
This June, Seimpi has prepared a large variety of courses and activities to cater to all interests:
Drone Flying/Videography: Go on a high-flying adventure in our Drone holiday programme! Learn how to fly an indoor mini drone and be your own videographer through drone filming – no experience necessary! Drones will be provided.
Dates: 4th & 5th June
Time: 1pm - 3pm
Venue: Centrepoint Branch
Dates: 11th & 12th June
Time: 10am - 12pm
Venue: JCube Branch
Fees: $200 per course
Video Editing: This course is designed for everyone who wants to come into the world of video filming and editing. Seimpi will cover everything from basic filming, editing, and trimming to adding text, effects and more.
Dates: 15 - 17th June
Time: 10am - 12pm
Venue: Centrepoint Branch
Fees: $200 per course
Speech and Drama: Throughout this course, your child will immerse in interesting stories and drama plays while boosting their performance, motor and speaking abilities. Students will have a chance to express themselves through imagination and improvisation, and improve their language proficiency in English and Chinese.
Age: 3 - 6 and 6 - 12 years old
Fees: $80 per course
Ukulele: The Seimpi Ukulele Workshop was carefully designed for beginners so that students can follow along easily even with zero music background. Seimpi guarantees that students will be able to play a few songs and will impress their friends by the end of the workshop!
Dates: 1st, 8th, 22nd, 29th June 2022
Time: 2pm - 3pm
Venue: Centrepoint Branch
Dates: 27th May, 3rd June, 10th June & 24th June 2022
Time: 2pm - 3pm
Venue: Hougang Mall Branch
Fees: $120 per course
DSA Interview Preparation: In this course, we will give some tips and techniques on how to better prepare yourself and ace that DSA interview!
Date: 19th June 2022
Time: 10am - 12pm
Venue: Centrepoint Branch
Date: 26th June 2022
Time: 1pm - 3pm
Venue: JCube Branch
Fees: $200 per course
Contacts: 9028 2308
info@seimpi.edu.sg
Socials: Facebook, Youtube, Instagram, TikTok

Looking for more fun-packed summer programmes around Singapore? Check out our latest TickiKids guide to exciting and enriching summer camps here.
Subscribe to weekly newsletter from "Tickikids"