Enriching Winter Camps That Inspire Kids' Curiosity
---
Published 26 August 2022 at 05:21
Tickikids Blog Singapore > Reviews > Enriching Winter Camps That Inspire Kids' Curiosity
---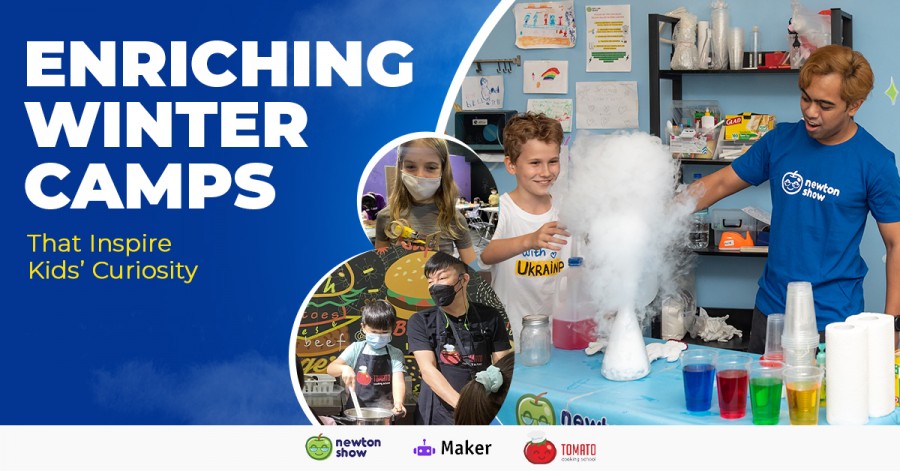 ---
The summer is almost over and if you are anything like us, you are already looking out for ways to organise leisure activities for your boys and girls during the fast-approaching winter break. If you are not sure how to keep your child active and engaged, look no further. Newtonshow is a one-stop place to find the best camps available for your child in Singapore. Keep reading to learn more about Newtonshow's rich offer and the available discount.
Known as one of the most established educational camp companies in Singapore, Newtonshow is famous both for the quality and diversity of their camps. The wide range of Newtonshow camps engages children in new and challenging activities from cooking, science, and robotics to art and crafts. Led by an experienced Team, the Newtonshow camps provide exceptional levels of safety, enjoyment and education.
This Christmas break campers will be spoiled by a choice of amazing science and joyful activities held by Newtonshow and their branches, namely Tomato Cooking School and robotics studio Maker.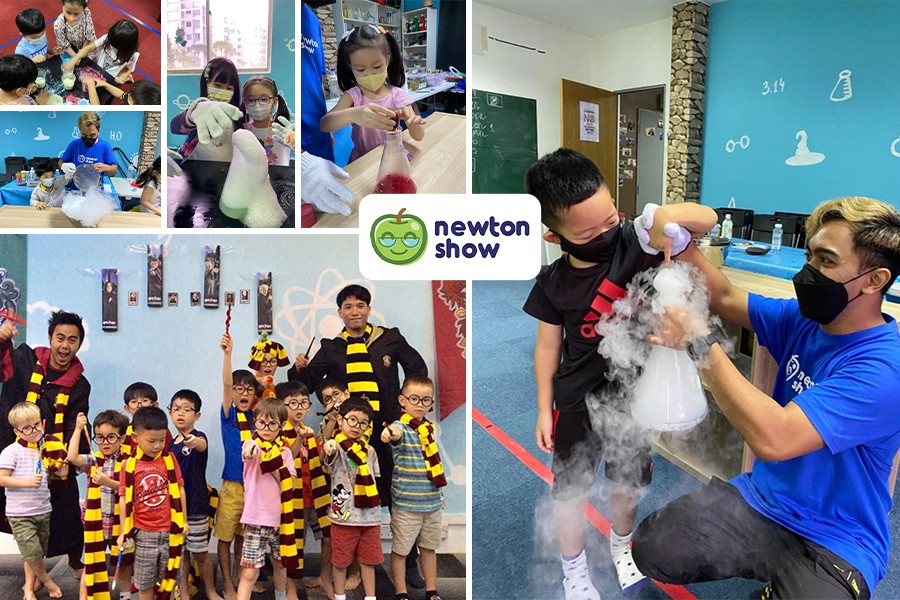 Image Credit: Newtonshow

Multiactivity Christmas Camp offers a great mix of science, robotics, art, making and cooking for those young curious minds who enjoy the variety! Being the ideal option for kids who want to try it all, it is also a perfect solution for parents who are on the fence about which camp to choose.
Meant to spark children's creativity, encourage practical skills and empower them through increasing independence, Multiactivity Christmas Camp allows kids to explore new activities and determine whether they wish to pursue any of them further. From a fully equipped kitchen, a scientific laboratory designed for experiments, to a robotics room jam-packed with technology and an art area where young artists can let their imagination loose, the children will move to a different room each day, each one carefully designed for the day's activities.
Kids will be introduced to the world of science and will conduct numerous experiments under the guidance of the Newtonshow friendly professors, they will design, construct, test, and operate their own robots, learn about great painters and produce art in their favourite manner, unleash their creativity while making various craft projects and cook the delicious receipt together with Newtonshow great master-chefs.
Dates: 21 November - 6 January 2022
Locations:
78 River Valley
1 Goldhill Plaza
Contact details: info@newtonshow.com
+65 82 64 66 55
This season Newtonshow is delighted to invite young explorers to three science programs - Superhero science, Harry Potter Science and Science from the North Pole. Offering the perfect combination of innovative, hands-on science curriculum and fun, each of these camps lets your child's curiosity shine:
Science from the North Pole, Newtonshow's 'coolest' and most festive camp, is back by special demand with all-new content. During the camp, your little one will travel the South Pole and back with Professor Scott and Amundsen, make a fizzy snowman and create their own salty snowflake painting. To add even more thrill to this amazing science journey, the camp includes ice experiments, looking at snowflakes under a microscope, and making a snowball launching machine.
Harry Potter Camp, one of the all-time favourites, brings the magic of Christmas to life! Little wizards will be immersed in the world of Hogwarts while learning astronomy and the science of cold, taking part in a portion class, making Christmas charms and a Hedwig tote bag.
Superhero Science Camp is calling all superheroes! During five themed days covering Superman/Wonderwoman, Transformers, Spider-Man, Ironman, and Batman/Supergirl, the camp will teach eager minds that science is the true hero. Children will join a scientific adventure together with beloved heroes and learn about polymers, superfoods, and aerodynamics, get hands-on with a fire+water challenge, a 3D solar energy puzzle, and a shield project.
Age: from 3 to 11 years old
Dates: 21 November - 6 January 2022
Locations:
Centre: 9 Mohamed Sultan Rd and 221 River Valley Road
West: 887a Bukit Timah Road
East: 229 Joo Chiat Road 02/01
Novena: 175 Thompson Road
Contact details: info@newtonshow.com
+65 82 64 66 55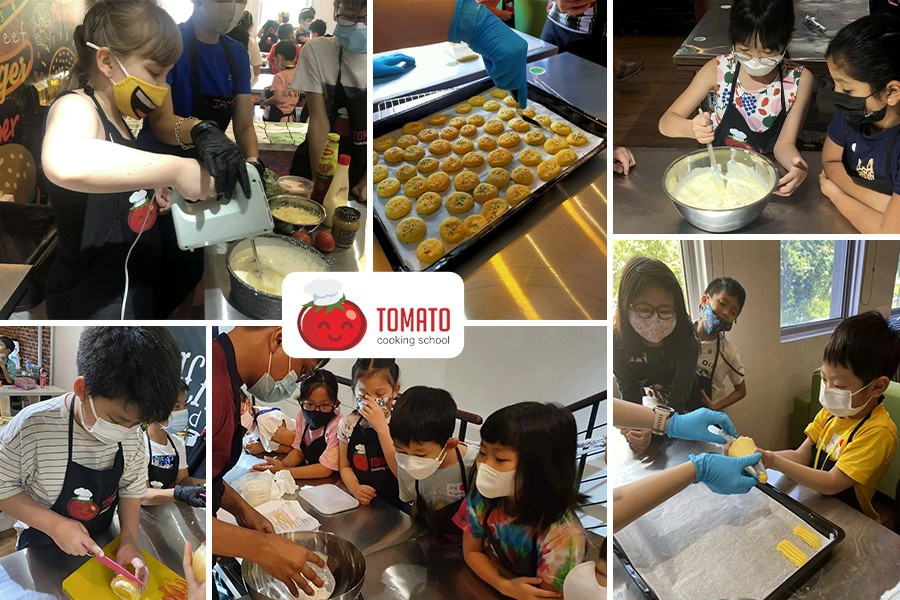 Image credit: Tomato


Professionally equipped for cooking classes, Tomato Cooking School is a great place for kids and teens to get serious about cooking or take the initial steps toward a future career as a chef. Every day during Christmas 2022 Cooking Camp, the children will explore new cuisine and prepare traditional Christmas foods. To collect and save those special moments, parents will receive a daily photo and video after each cooking session.
Age: from 6 - 14 years old
Dates: 21 November 2022 to 6 January 2023
Location: 278 RIVER VALLEY ROAD, 238319, SINGAPORE
Contact details: info@tomatoschool.sg
+65 88 92 46 04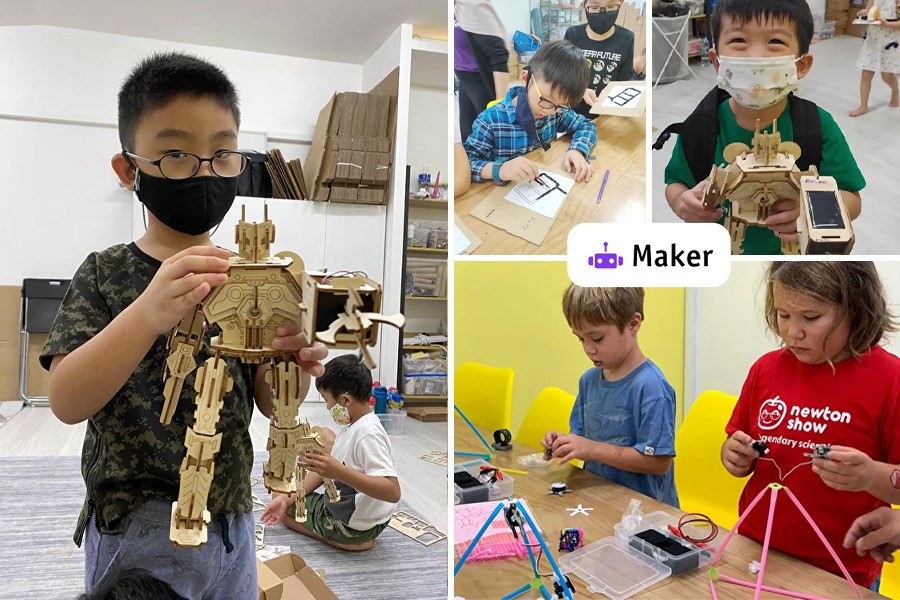 Image Credit: Maker

Maker Christmas camps are all about robotics, coding, and original projects with cutting-edge equipment! This festive season, Maker is proud and ready to invite young inventors and tech enthusiasts to their two Christmas camp programmes - Inventor Lab and Robotics Camp. With Maker camps, kids will get involved in a multitude of project-based activities which go far beyond simply building a robot or creating an invention with instructors. Youngsters will have a blast while learning about robots, solar-powered cities and trams, designing cardboard crafts, and participating in games and competitions. With kids exploring the 7 Wonders of the World, creating their own traffic lights and globe, and even investigating hydraulic excavation, these two camps promise to be the most hands-on Maker experience yet!
Age: from 5 to 13 years old
Dates: 21 November - 6 January 2022
Location:
West: 887A Bukit Timah Road
Novena: 175 Thompson Road
Centre: 232A River Valley Road
Contact details: info@maker.sg
+65 89 21 31 34
Are you ready to register? Hurry up to book your spot before the 10th of September and avail 20% discount on the camp of your choice!

Subscribe to weekly newsletter from "Tickikids"