Winter Camps 2021: Best Year-End Holiday Programmes for Kids in Dubai
---
Published 25 November 2021 at 17:28
Tickikids Blog Dubai > Winter Camps 2021: Best Year-End Holiday Programmes for Kids in Dubai
---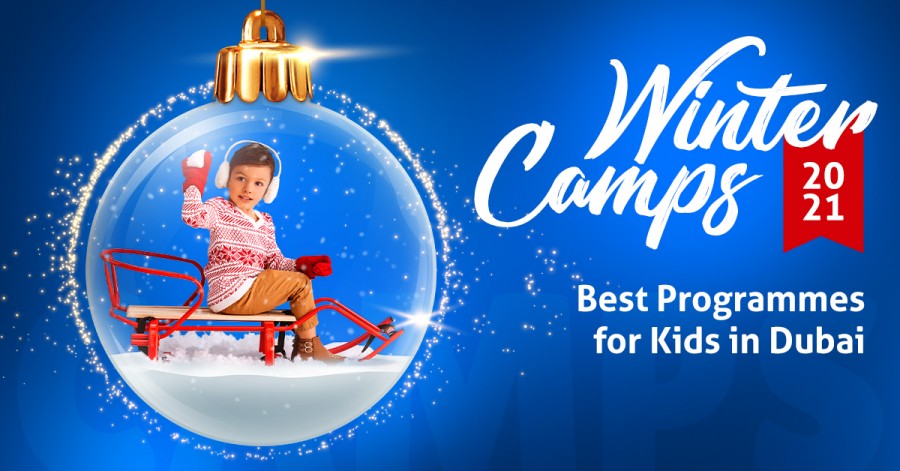 ---
The year-end holidays are almost here! So, it is high time for thoughtful parents to plan kids' holiday activities. TickiKids has got you covered and shortlisted the topmost year-end holiday camps and programmes in Dubai for kids and teenagers. If you want to keep your little ones engaged for the best part of the winter, check out this diverse offer. Make the most of the holiday time and boost your child's talents this winter break!
The Brain & Learning: Winter Accelerated Programme
Since 2011, The Brain & Learning offers scientifically proven training to rewire the brain, improve the cognitive skills of children and make learning, reading, and thinking faster and easier. Brain training targets cognitive weaknesses which are the underlying reasons for your child's struggles with homework and learning. The Brain & Learning's pioneering programmes transform lives by allowing students of all ages and abilities to reach their true potential.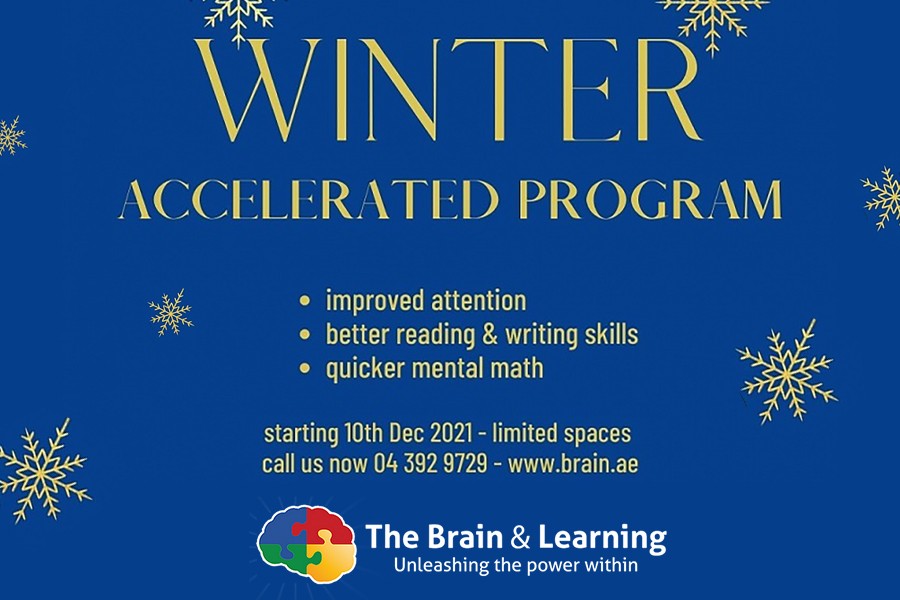 Image credit: The Brain & Learning

This winter, The Brain & Learning prepared a special programme to give your child the edge they need to excel. The Brain & Learning's Accelerated Winter Training can help your little one to develop better attention, faster processing speed, improved math and reading skills.
Date: starting 10th Dec 2021
Contact: 04 3929729
Socials: Instagram
Spark Studio's Winter Wonderfest
Spark Studio is a global online learning platform, which offers high-quality courses across music, communication skills, and visual arts. Operating on the belief that every child is a curious and imaginative learner, Spark Studio helps children turn their natural creativity and interest for new things into results! Spark Studio's online extracurriculars give children a unique opportunity to draw, debate, express themselves, enjoy, sing, communicate with other kids around the world in a supportive and friendly environment created by professional teachers and coaches. Spark Studio delivers real learning outcomes, with real fun, right from the comfort of your home.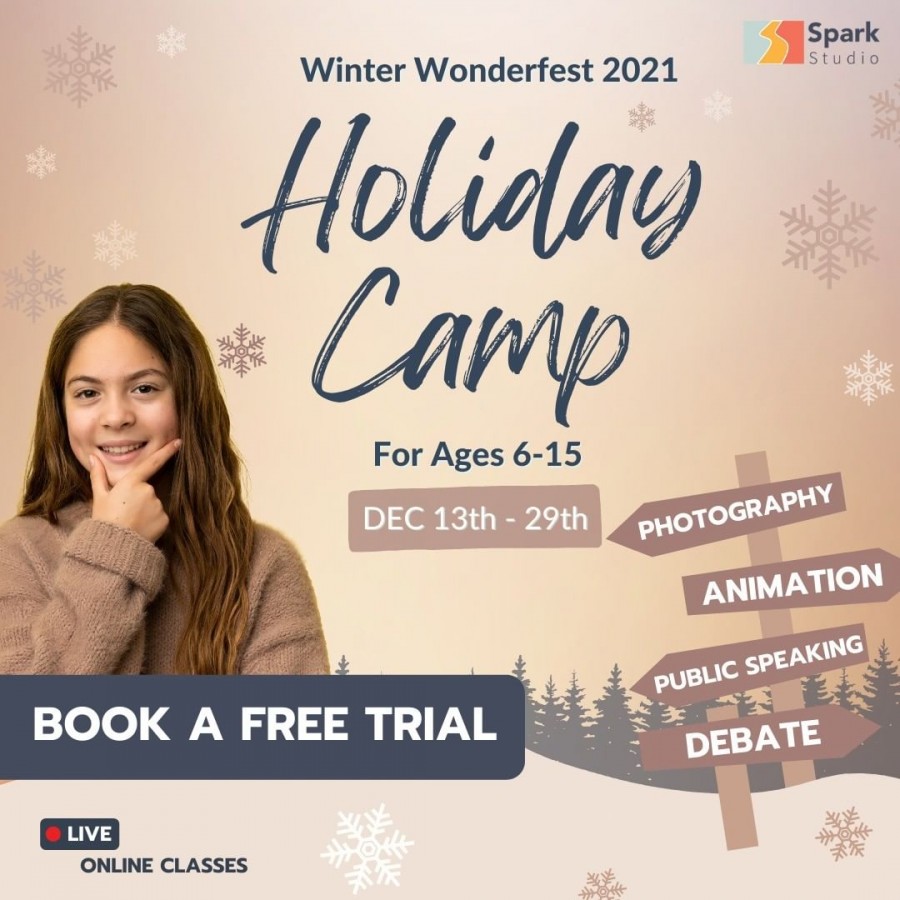 Image credit: Spark Studio

This winter holidays, Spark Studio has prepared a special bundle of live online classes! Pick a program and get a 10% discount with the code WINTER-10.
Podium Pro
With Podium Pro programme children will develop communication skills, the most sought-after skills of the 21st century. Watch your child speak confidently and fluently while participating in various joyful and interactive public speaking activities. Designed to get even shy children to open, this course will level up your children's confidence and foster their critical thinking.
Batch 1

Age: 6-15

Duration: 16 sessions (60 minutes each)
Starts on: 13th Dec, 2021 | Daily (except 25th Dec)
Ends on: 29th Dec, 2021
First Slot: 11 am GST or
Second Slot: 4 pm GST
Batch 2
Age: 6-15
Duration: 16 sessions (60 minutes each)
Starts on: 21th Dec, 2021 | Daily (except 25th Dec)
Ends on: 29th Dec, 2021
First Slot: 11 am GST &
Second Slot: 4 pm GST

Visual Wizardry
Throughout this programme, children will master the art of communicating visually - learn how to make cool animated films and become ace photographers! Young learners will dive into a range of creative techniques and express their ideas through visual art.
Batch 1

Age:
6-15
Duration:
16 sessions (60 minutes each)
Starts on:
13th Dec, 2021 | Daily (except 25th Dec)
Ends on:
29th Dec, 2021
First Slot:
11 am GST or
Second Slot: 4 pm GST
Batch 2
Age: 6-15
Duration: 16 sessions (60 minutes each)
Starts on: 21th Dec, 2021 | Daily (except 25th Dec)
Ends on: 29th Dec, 2021
First Slot: 11 am GST &
Second Slot: 4 pm GST

Diverse Performing Arts Winter Camp
Established in 2008, Diverse is proud to be the leading performing arts school in the Middle East. Having won several awards for an outstanding contribution and expertise in the art field, Diverse caters to children of all abilities, ranging from complete beginners to advanced students. Whether your child loves to sing, dance, or act for fun, Diverse Performing Arts is the best choice for little future superstars!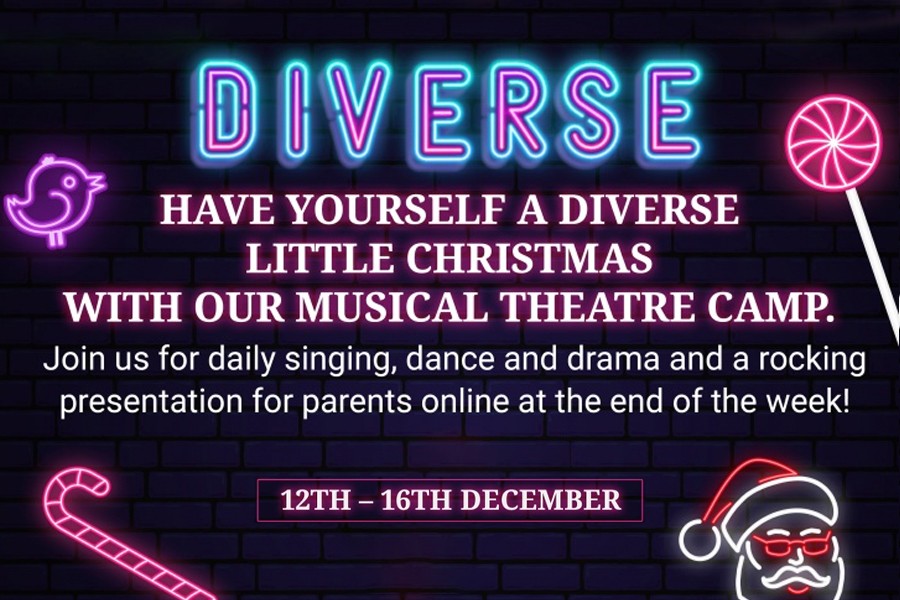 Image credit: Diverse

This winter let your kids join Diverse Performing Arts Winter Camp for art performances and enjoy an online rocking presentation for parents and family members at the end! The camp incorporates singing, dance and drama along with arts crafts, set creation and decoration. Whether your child is looking for a place to start or is already a skilled performer, Diverse classes are a joyful and engaging way to foster a passion for dance, acting, singing, improvisation, and more.
Age/Time: 7 - 14 years old / 9am - 3pm; 5 - 6 years old / 9am - 2pm
Date: 12th - 16th Dec
Prices:
    7 - 14 yo: 945 AED for non-Diverse students, 840 AED for Diverse students
    5 - 6 yo: 850 AED for non-Diverse students, 750 AED for Diverse students
Location: Diverse Studios - Entrance A (Studio M1, M2, M3, M5 & M6), The Curve Building, Off. Sheikh Zayed Rd, Dubai, UAE
Contact details for BOOKING: 800- Diverse (04 3307338)

Winter Camps by The Young Studio
With the vision of nurturing young minds, helping, and encouraging individuals to express themselves creatively, The Young Studio offers a wide range of engaging, interactive, and enriching activities for children and teens. For this year-end holiday, The Young Studio has scheduled 4 camps that cater to all tastes!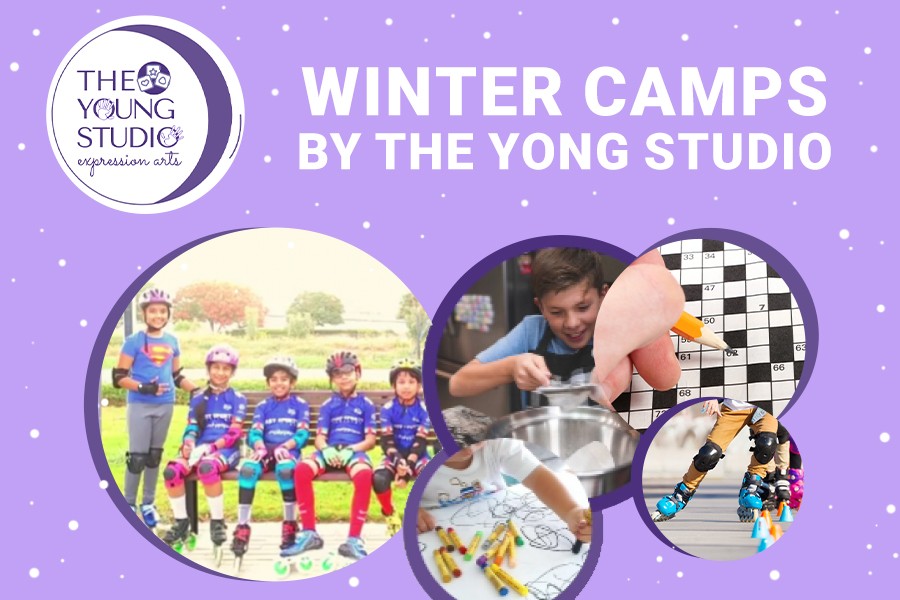 Image credit: The Young Studio

Whimsical Winter Camp
No doubt, many parents would love the thought of their kids unplugging from screens in favor of some fun and enriching activities during a school break. This year-end holiday you do not need to rack your brains about how to entertain children, as The Young Studio did it for you! Their Whimsical Winter Camp offers loads of engaging and entertaining activities every kid will enjoy. This camp gathers it all: from fireless cooking, crafts and art to Lingo Bingo games, speech and drama so that kids will learn a plethora of new skills while having fun!
Age: 5 years and above
Date: 12th-30th Dec
Time: Sunday to Thursday, 10am - 1 pm
Fees: AED 999/- + Vat (for 3 weeks)
 

Futuristic Skills Training Programme: Futuristic Training Tempo
Careers in software development and IT are both high-paying and in-demand. For parents, who want to lay the groundwork for the future success of their children, The Young Studio has developed Futuristic Training Tempo Online Programme. The programme aims to equip students with a futuristic skill set that is taught in the context of engaging technologies, such as Vex VR (Virtual Robotics), Python Turtle Graphics, Android App development, and Arduino with web-based TinkerCad firmware. Futuristic Training Tempo allows your child to learn valuable computer programming concepts and start a joyful adventure in the world of cutting-edge technology!

Date: 12th-30th Dec
Fees: starting from AED 199 per week

The Super Skater Camp
This winter The Young Studio is proving that roller skating is a perfect fitness, fun, and social activity for children of different ages! Beginners and experts, all are welcome at Super Skater Camp organized in collaboration with Easy Sports Training. Introduce your kids to the art of roller skating and watch them learn how to stand, fall, march, glide, and play games.

Date: 12th-30th Dec
Time: Sunday to Thursday, morning and evening batches available
Location: Hosted at Dubai Club for People of Determination, Al Nahda, near Stadium Metro Station
Fees: starting from AED 250 per week

Chess Champs Camp
Unlike other board games, chess challenges the mind and fosters vital analytical, problem-solving, attention, and memory skills. The research discovered that chess accelerates children's intellectual development and boosts their social skills. The year-end holiday is the perfect time to introduce your child to this beloved by millions pastime activity with Chess Champs Camp from The Young Studio! Enrich and develop the lives of children by the benefits of chess participation and education.

Levels: Beginner, Intermediate, Advanced
Date: 12th-30th Dec
Time: every week on Sunday, Tuesday, and Thursday at 10 am
Fees: from AED 199 per week; 3 weeks - AED 329
Blossom & Babilou Winter Camp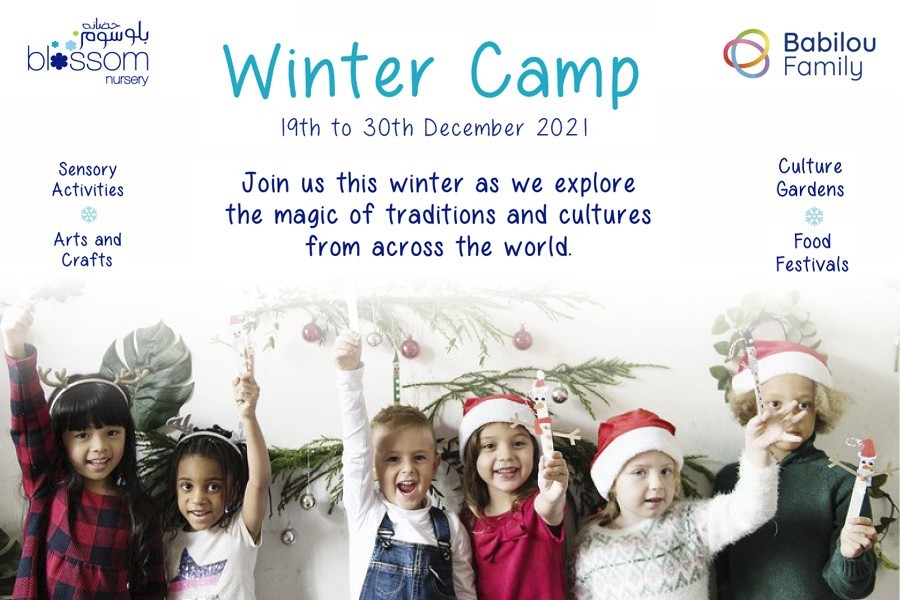 Image credit: Blossom

Blossom is an EYFS British curriculum nursery group, part of the global Babilou Family Early Years Education group, and their nurseries are ranked amongst the best in the UAE. Inspired by values of kindness, diversity, and inclusiveness, the Blossom by Babilou nursery family cherishes children's early years experiences and lays a solid foundation for children's future growth and development.
With fifteen centres in Dubai, two in Abu Dhabi and two in Al Ain, with further branches due to open soon, the Blossom group is a leader in early years' education that has a united educational mission, which strives to maximize children's development opportunities whilst raising environmental awareness and promoting the idea of being happy and grateful.
This year, Blossom by Babilou invites you and your little one to join their winter camp! Inspired by the "Connecting Minds" concept of Expo2020, Blossom will guide little campers through different local festive and winter traditions from around the globe. By linking with Babilou Family nurseries across the world, young explorers will get a chance to celebrate and learn about various cultures while having fun and trying festive food. The camp can be a booster for your child's creativity, cognitive and motor skills as it includes sensory activities, arts and crafts and food festivals.
Don't miss a unique opportunity to open the world for your child by connecting with different countries and cultures – reserve a place now!
Age: 0 - 6
Dates: 19th to 30th December 2021

Timings & Fees:

8:00am – 2:00pm
5 days AED 965
3 days AED 580
2 days AED 410

8:00am – 4:00pm
5 days AED 1,065
3 days AED 640
2 days AED 470

8:00am – 5:00pm
5 days AED 1,165
3 days AED 700
2 days AED 530

Contact: call on 800NURSERY for more details
Socials: Facebook, Instagram, Youtube, Twitter
High Performance Swimming Camps and Lessons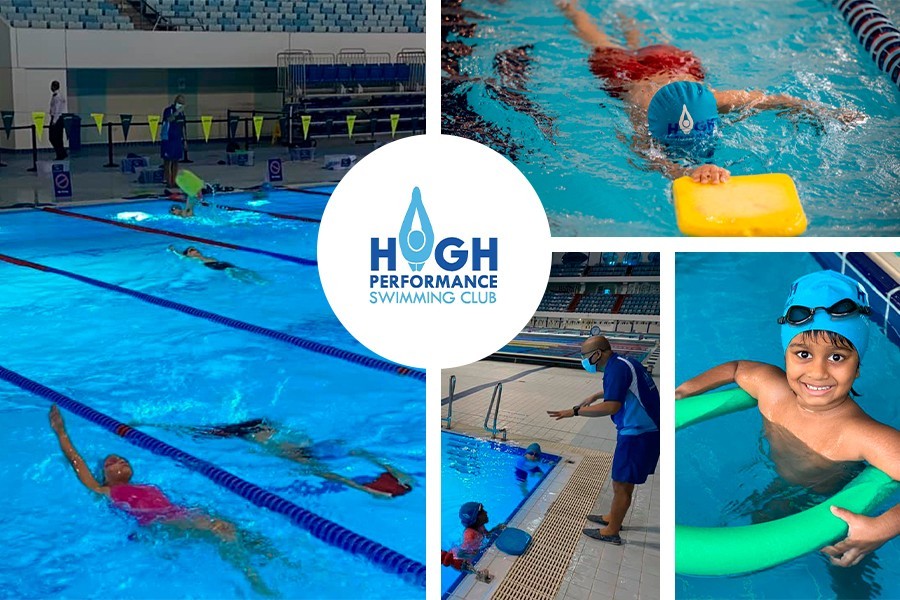 Image credit: High Performance

The benefits of swimming for kids cannot be beaten. It is a perfect way to keep kids active and healthy, improves strength and flexibility, increases stamina and balance. High Performance Swimming Club is prime and ready to introduce your little one to the water in a safe and fun environment This winter break High Performance Swimming is offering swimming lessons every weekday at various locations in Dubai! Check out classes for children of all ages and levels in the afternoon, as well as a Swim Camp every weekday morning.
Dates: Sunday 12th Dec - Thursday 30th Dec 2021
FESTIVE SEASON SWIM CAMP
Held every weekday morning from 9 am to 12 pm, Festive Season Swim Camp will be hosted at the Hamdan Sports Complex. Swimmers need to be able to swim at least 200m by themselves and should be happy in deep water. The Swim Camp includes 1.5-hour swim training followed by 1 hour of dry land exercises held outside.
The camp is available in packages of:
1 session - 201 AED
5 sessions - 787.50 AED
10 sessions - 1,312.50 AED
15 sessions - 1,732.50 AED
To book the camp online click here.
SWIMMING LESSONS
High Performance Swimming Club will be hosting lessons for New Beginners to Swim Squad every weekday afternoon starting from 2 pm onwards. These lessons are held at three different locations, and you can buy packages of swimming lessons depending on your own schedule.
Package fees depend on the number of sessions you would like to book and on the level of the swimmer, as class durations differ.

Price: 30 minutes, 1 class - 84 AED
45 minutes, 1 class - 94.50 AED
90 minutes, 1 class - 150 AED
Swimming Lesson Locations: Sunmarke School, JVT
Regent International School, The Greens
Deira International School, Dubai Festival City
FREE TRIAL LESSON!

What is more, for new swimmers, High Performance Swimming offers a free-swimming assessment to see which level is best suited for you. The assessment needs to be booked in advance here.

EARLY BIRD DISCOUNT: Book online before 10th December and get 15% off your booking, use code; DECSWIM15
Contacts: 050 175 4747 or info@hpsc-dubai.com
STEMSmart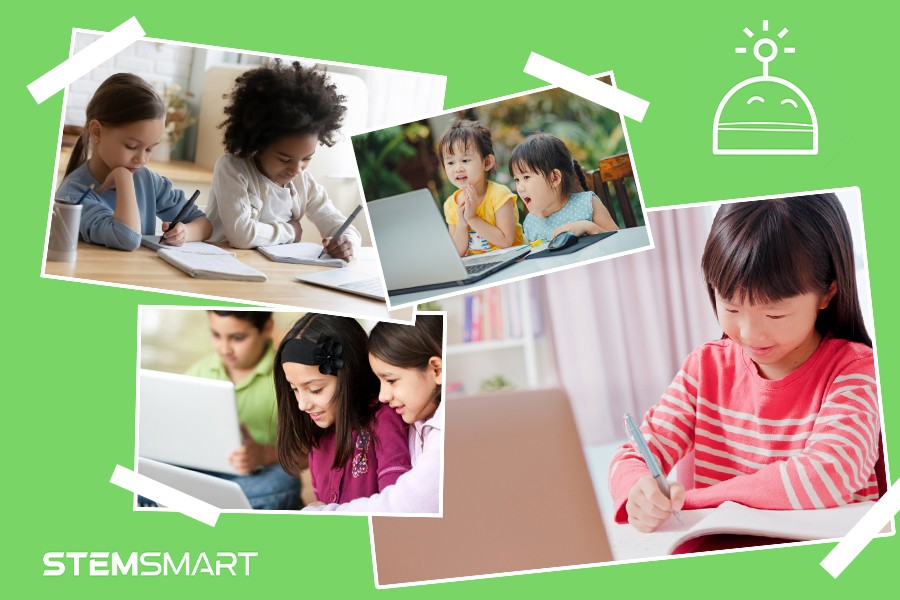 Image credit: STEMSmart

STEMSmart offers a wide range of creative and technical courses designed to help your child excel in any tech field of their choice, be it robotics, game development, data science, or software programming. Their live online sessions are conducted in small groups with an 8:1 student-tutor ratio ensuring all kids get the support, attention, and extra help from instructors. Classes are guided by highly qualified instructors based on STEMSmart's unique curricula that teach students both technical and soft skills while keeping them engaged and inspired. STEMSmart workshops and courses are designed to foster logical thinking, problem-solving, and communication skills. Offering interactive, project-based learning, STEMSmart coaches encourage students to assess situations, explore different perspectives and search for a creative solution. Led by instructors, kids are taught the valuable skill of breaking various complex problems into smaller tasks. STEMSmart ensures that each session not only educates your child but fuels their passion for technology and lifelong learning.
This year-end holiday STEMSmart invites all young tech enthusiasts of Singapore to five courses with small classes and live online tuition from STEMSmart's pros!
MakeCode Coding
MakeCode Coding course is perfect for both beginners and those who want to extend their knowledge. In this course, students will be introduced to coding concepts that tech behemoths like Instagram, Pinterest, and Spotify are all built on. Your child will learn core coding principles, programming design patterns, and the Python programming environment. With a heavy focus on the understanding and application of written Python, the course unlocks the world of programming for young people and sparks a long-time interest in coding.

Age: 8-10 years old
Price: $160
Building Games in ROBLOX
Designed both for beginners and students with some programming experience, Building Games in ROBLOX covers the main principles of practical game design and development, world-building, and Lua programming based on the worldwide popular Roblox platform. What is more, coaches will equip students with the knowledge needed to debug their code and help them master troubleshooting skills. By the end of the course, students will have created their own unique Roblox games and shared them with other Roblox fans on the Internet.

Age: 9-12 years old
Price: $160
Engineering in Minecraft
Minecraft is an admired block-building game, the second most-downloaded game of all times. What can be more exciting than taking control of your Minecraft world? With Engineering in Minecraft course, students will learn how to program basic robot type additions that automatically mine and harvest resources on behalf of a player. Being an intensive mix of creativity, gaming, and engineering, this course was developed for students with no prior experience in coding. Through this course, students will discover the basics of computer programming and then dive deeper into advanced techniques of automation.

Age: 9-12 years old
Price: $160
Exploring GameMaker Studio 2
This course is dedicated to GameMaker Studio 2, a famous industry tool used by developers and tech enthusiasts worldwide! STEMsmart expert tutors will introduce students to the fundamentals of game design and programming in industry-standard tools. By the end of this course, children will learn the fundamentals of game design and the programming behind it, devise and implement personalized game mechanics, features, animations, and create a fully working game from scratch!

Age: 9-12 years old
Price: $160
Python Beginners Coding
Python is one of the most widely used and widely taught programming languages. The course Python Beginners Coding caters to students of all levels of Pythons proficiency: from complete beginners to those who already have started to learn it. Throughout this course, instructors will teach students how to use variables, integers, floats, strings, loops, file I/O's, and data structures. By the end of the course, students will become confident Python programmers.

Age: 9-12 years old
Price: $160
Subscribe to weekly newsletter from "Tickikids"