Top Hands-On Coding Classes to Give Your Child the Best Chance for The Future
---
Published 04 February 2023 at 18:32
Tickikids Blog Dubai > Top Hands-On Coding Classes to Give Your Child the Best Chance for The Future
---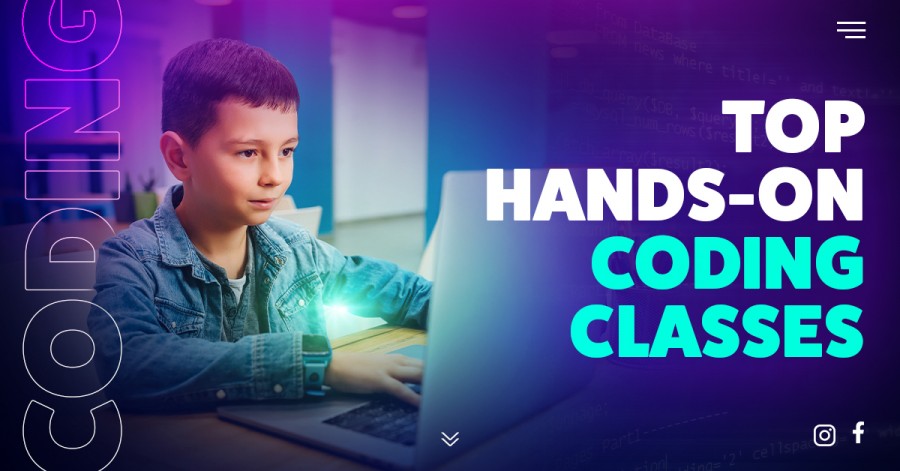 ---
No doubt, there are numerous useful skills that children can learn to get ahead in life, but few are as fascinating and rewarding as the ability to code. There is a lot we can do as parents to introduce coding for kids and ensure their successful head start in the digital age. However, choosing the right classes or coding language can be a bit overwhelming, especially, when parents do not have any experience in programming themselves. Fortunately, TickiKids has rounded up the absolute best, experience-based and fun-filled programming classes to introduce your children to coding, computational thinking and develop their confidence with technologies.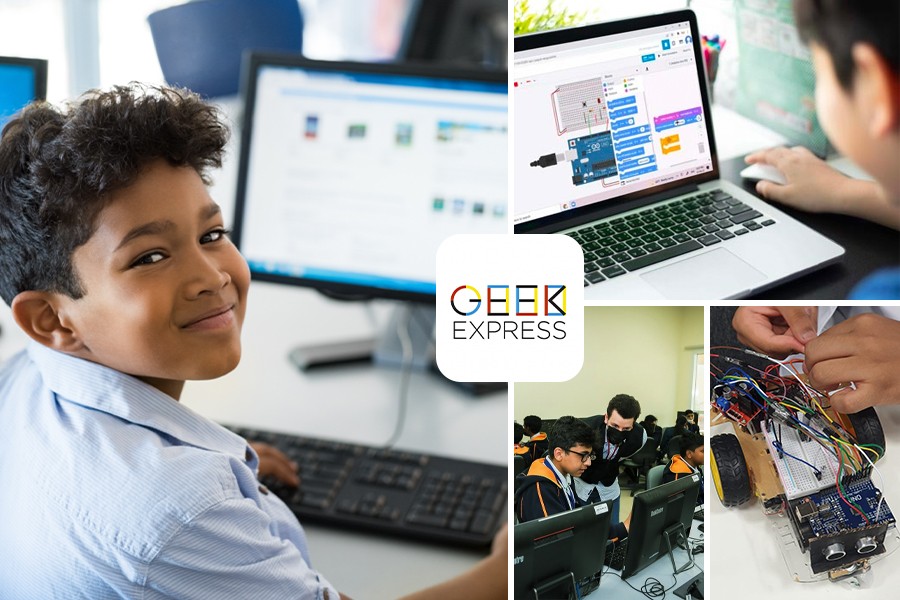 Image credit: Geek Express

Geek Express is an online technology school for children ages 5-17 that offers a Microsoft-certified curriculum to prepare them for their best future. The Geek Express platform works with certified partners like Microsoft, Google CS First, MIT, and Minecraft, with courses offered in three different languages - English, Arabic, and French. While learning coding, app, game development, web development, and exploring AI models, the Geek Express students will enhance their cognitive abilities and prepare for future career opportunities. At Geek Express, the tech journey begins with a free 60-minute class with a Microsoft-certified trainer, followed by a recommended course based on the student's interests.
With the tracks designed for kids of all ages, there is something for everyone!

Ages 5-6:
1) Novice Programmer
2) Novice Game Developer
3) Animator and Story Teller
Ages 7-9:
1) Rookie App Developer
2) Rookie Game Developer
3) Scratch Expert tracks.
Ages 10-13:
1) Master Game Developer
2) Master App Developer
3) Robotics Engineer
Ages 14-17:
1) Guru Game Developer
2) Guru Web Developer,
3) Guru AI Engineer
Ages 18+:
1) Game developer
2) Web developer
3) AI engineer
4) Microsoft Office Specialist

Your children can register for a 3-month course, with 1 hour per week, or benefit from a 40% discount by booking a full track (9-month course covering 3 levels). The tracks enable students to receive a STEM.org-accredited certificate and access to top international coding competitions.
Price:
845 AED for online live group courses - 1 hour per week for 3 months. Group sessions comprise 2 children
1170 AED for online live private courses - 1 hour per week for 3 months
2106 AED for a full track (9 months course covering 3 levels, offered at 40% OFF original price)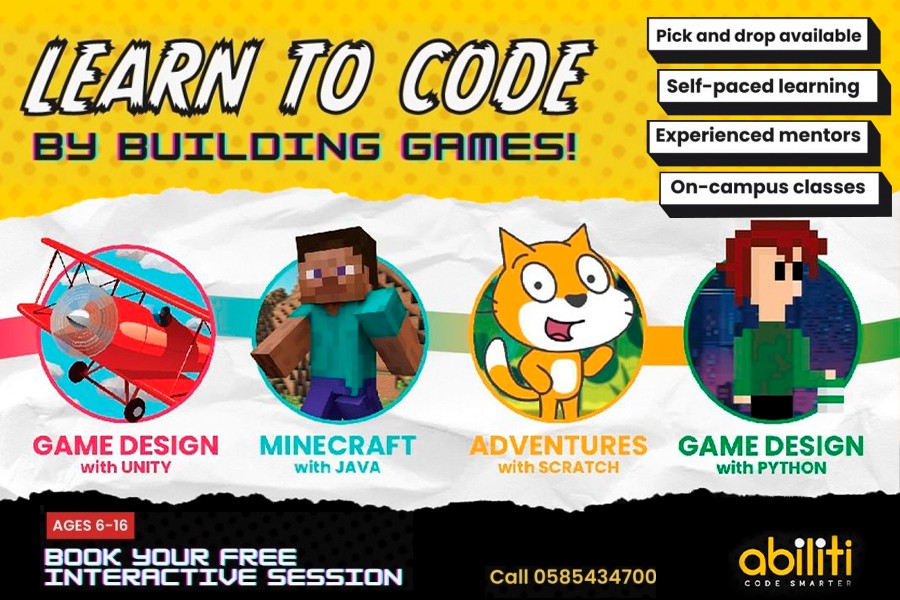 Image credit: Abiliti

Abiliti's team truly believes that well rounded, confident coders are going to change the world. Their highly qualified tutors with over 30 years of educational experience have a way with children and pay close attention to students' needs and skills. The individualised approach and learning in small batches with live one-to-one instructor support allows young coders to take a leap in programming. To unleash the full potential of students, Abiliti teachers ensure that classes are held on-premises for a welcoming and non-pressure learning environment.
Be it game dev, C#, Java, or Python coding, Abiliti's comprehensive curriculum with various fun-based coding programmes has something to suit all tastes.
Scratch: Scratch programme will teach young coders to think through problems using an interactive, block-based programming language. Kids will learn how to approach problems creatively, apply innovative solutions, and create fun games along the way, which they can share and play with family and friends.
Unity: With Unity Programme your little darling will learn C# programming language, one of the most popular languages used to build such world-famous games as Valorant, League of Legends, Ori and the Blind Forest. By building their own virtual environments during Unity classes, your child will hone logical and computing thinking, foster coding skills and push their creativity to the next level.

Minecraft: During this programme, little tech enthusiasts will learn Java programming language, as they build their own custom mods with weapons, items and creatures inside of Minecraft world. Young programmers will create their own challenging Minecraft fantasy world while learning to code along the way.

Python: No secret that Python is the most in-demand programming language in the world. With Abiliti, your child will learn Python through building their own games and become a confident Python programmer by the end of the course.

If your child is interested in a digital world and sharpening their tech skills in a fun and exciting way, this is high time to give them that opportunity and let their fascinating coding journey begin!
Age group: 6-16 years
Dates&Timings: Every Friday (in Knowledge Park) and Saturday (In Bur Dubai)
Location:
Branch 1 - 302, Al Safa C Building, Burjuman Exit 1, Bur Dubai
Branch 2 - Knowledge Quotient, Block 2, Office F03 Knowledge Park - Al Bourooj St, Dubai

Fees:

per month (4 classes, 2 hours each) - AED 500

per term (5 months, 20 classes, 2 hours each) - AED 2000

per year (10 months, 40 classes, 2 hours each) - AED 4000

Contact information: 0585434708 or abiliti@cordobainstitute.com

Socials: Facebook, Instagram, Youtube, Twitter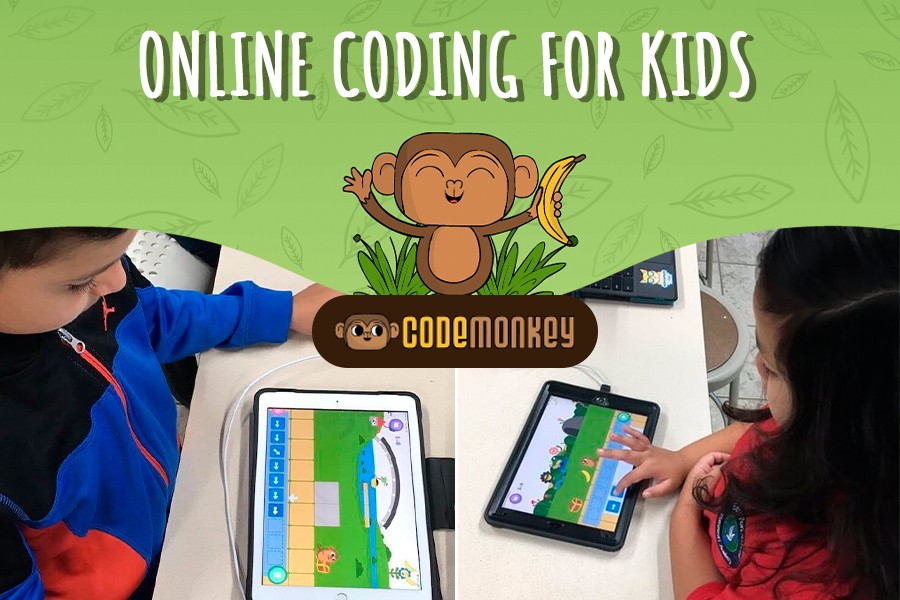 Image credit: CodeMonkey

CodeMonkey is a leading coding program for kids recognized with multiple awards. Beloved by children and their parents all over the world, CodeMonkey's comprehensive and engaging curriculum has already helped millions of students to learn how to code in real-world programming languages. Learning to code with CodeMonkey not only teaches children about IT, but also nurtures logic, critical thinking, creativity, and problem-solving skills needed to be successful now and in the future.
Voted as Skill Development Company of the Year 2020 by EdTech Review, CodeMonkey can offer any parent an opportunity to introduce children to the most cutting-edge computer programming education in a fun way. By introducing and practising coding concepts through entertaining games and puzzles, CodeMonkey ensures that young coders will view learning as a treat instead of homework. What is more, the CodeMonkey platform provides various insights for parents that help monitor their children's progress as well as assess their learning.
CodeMonkey courses create a joyful and educational game-based environment to navigate students of different ages and experience levels through the programming world.
CodeMonkey Jr. is designed for pre-school and kindergarten. It uses block-based coding to simplify the process of computer programming and help students learn computational thinking and basic coding concepts such as sequencing and loops.
With Beaver Achiever course young coders will learn sequencing, loops, if and else statements through fun-packed challenges. Made with 1st and 2nd graders in mind, Beaver Achiever's block-based coding approach and the minimal text throughout the course make it the perfect solution for early readers.
Dodo Does Math is designed for 2-4 grades. Throughout this course, students will solve different math puzzles and use code to help a Dodo bird reach its eggs. By integrating programming in the context of math problems, Dodo Does Math offers an excellent opportunity to practice math.
With a realistic programmer interface and fun challenges, the Coding Adventure course can teach 2nd – 5th graders fundamental and advanced coding concepts. While solving different puzzles and helping the monkey catch bananas, students will explore the programming language of CoffeeScript.
Game Builder is the next stage platform for students to foster their code skills. This is the perfect way to introduce children to fundamental game design concepts, user interface, and game mechanics.
Presented in a form of a joyful coding game, Banana Tales is a game-based Python course for kids aged 11-13. In the game, students need to tackle different coding concepts as they rebuild a baby monkey's pathway back home.
Coding Chatbots course gives young tech enthusiasts a flying start to Python. Students will learn how to code a chatbot by playing the popular game Snowman and will develop problem-solving skills, critical thinking and attend to real-life issues.
To unleash your child's potential and build their core foundation in programming, sign up for an educational journey with CodeMonkey.

Socials: Facebook, Instagram, Youtube, Twitter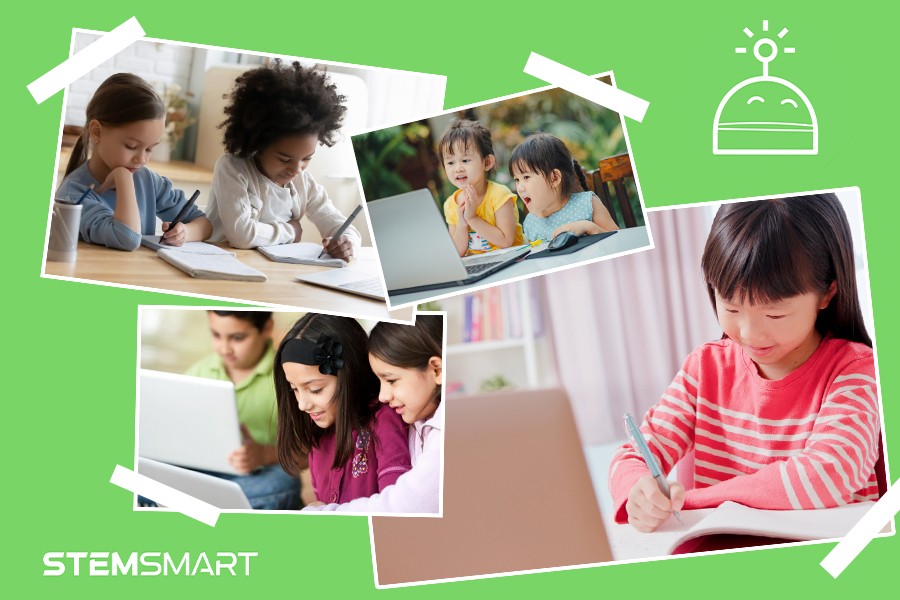 Image Credit: STEMSmart

STEMSmart offers a wide range of creative and technical courses designed to help your child excel in any tech field of their choice, be it robotics, game development, data science, or software programming. Their live online sessions are conducted in small groups with an 8:1 student-tutor ratio ensuring all kids get the support, attention, and extra help from instructors. Classes are guided by highly qualified instructors based on STEMSmart's unique curricula that teach students both technical and soft skills while keeping them engaged and inspired. STEMSmart workshops and courses are designed to foster logical thinking, problem-solving, and communication skills. Offering interactive, project-based learning, STEMSmart coaches encourage students to assess situations, explore different perspectives and search for creative solutions. Led by instructors, kids are taught the valuable skill of breaking various complex problems into smaller tasks. STEMSmart ensures that each session not only educates your child but fuels their passion for technology and lifelong learning.
Continually developing and evolving their curriculum to reflect an essential tech knowledge and skill set, STEMSmart invites all young tech enthusiasts to their courses with small classes and live online tuition from pros!
Age: 8-12 years old
Price: 160 AUD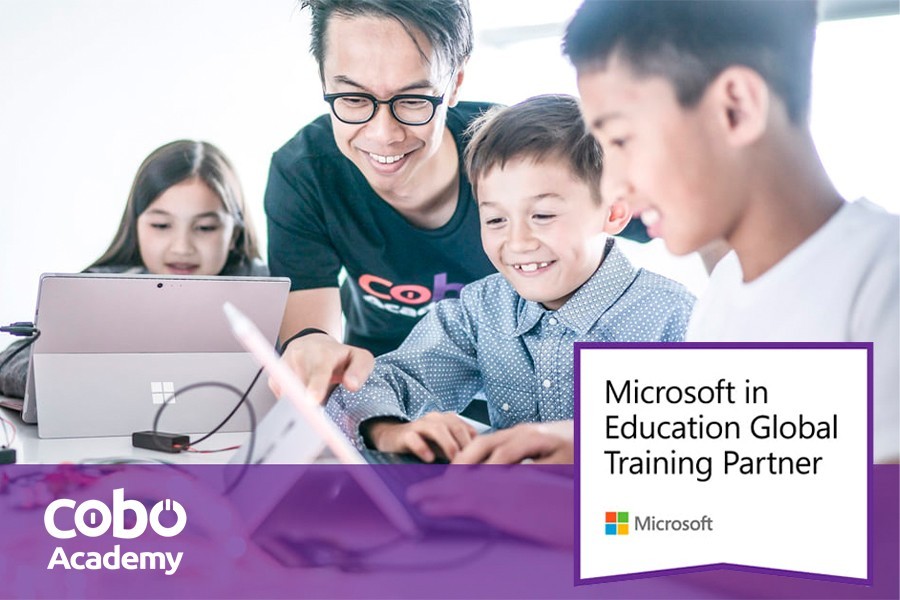 Image Credit: Cobo Academy
Founded by former Microsoft engineer and passionate tech veteran Harris Chan, Cobo Academy is an official Microsoft in Education & Minecraft Global Training Partner. The team developed a reputation as one of the best educational institutions that provide cutting-edge, enriching, and fun coding, robotics, and AI programs and classes. Cobo Academy's live online classes and camps are backed by the time-proven and ingenious curriculum trusted by some of the most reputable schools in Hong Kong. Developed through an extensive study on globally acclaimed Computer Science programs, Cobo Academy's curriculum develops your child's ability to think and solve real-world problems. The classes are between 4:1 to 8:1 so teachers can dedicate attention to every child and adapt the program to the child's studying pace and needs.
Minecraft, Roblox, Python, App Inventor, 3D Modelling, Web Design or Scratch – young tech enthusiasts will be spoiled for choices with reach Cobo Academy's offer. Online weekly classes and coding camps are available at different time slots to cater to your busy schedule. Unsure if your child is ready to learn online? Schedule a 30-minute trial session with Code Academy today.

Age: 7-16 years old
Contacts: info@coboacademy.com

Subscribe to weekly newsletter from "Tickikids"