Winter Camps Guide: Holiday Activities for Kids and Teens in Dubai
---
Published 01 December 2022 at 01:25
Tickikids Blog Dubai > Winter Camps Guide: Holiday Activities for Kids and Teens in Dubai
---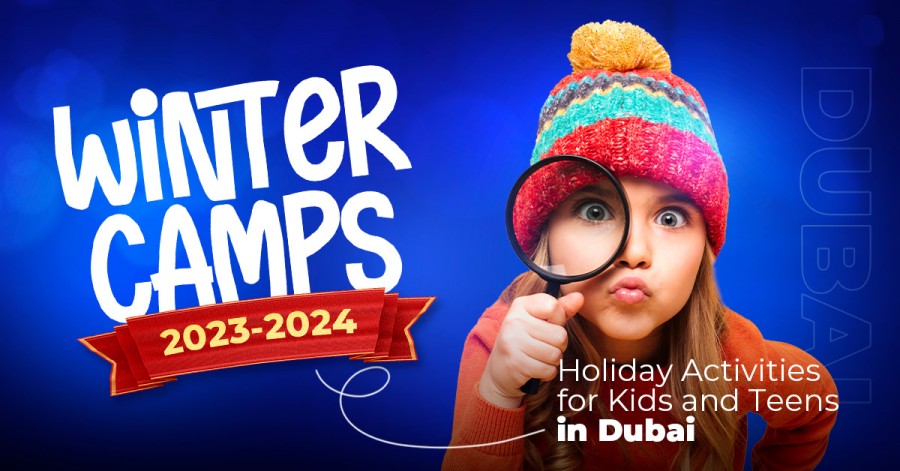 ---
The Holidays are almost here and now it is time to ensure your kiddos have lots of fun! Give them an active winter break, so that your child will go back to school full of exciting new stories for their friends.
To bust boredom during the school holidays, we rounded up holiday programs and camps from the best providers in Dubai. We hope that this guide will provide the insight that you need to plan an exceptional winter break for your little one. Space is limited, so do not wait to sign up!
Image Credit: High Performance Swimming Club
Swimming is rightfully considered to be the best sport for kids of any age. It has a huge positive impact on health, physical and cognitive development and it is really entertaining! This holiday break, High Performance Swimming is offering swimming lessons for kids of all ages and levels at various locations across Dubai.
Children as young as 2 and up to 3 years old will be able to join New Beginner Classes, whilst swimmers who can already swim independently will be able to join Confident Beginner or Improvers Swimming Classes depending on their skills.
If you are unsure about the skill level of your young swimmer, join one of the free assessment slots from High Performance Swimming Club.
Select the location you want to join to find the exact schedule for that pool:
Dates: December 12 - December 31, 2022

EARLY BIRD DISCOUNT: Use code WINTER22 and book your Winter Break Swimming Lessons before 9th December to get 10% off your online booking

Fees:
30 minutes - 84 AED
45 minutes - 94.50 AED
60 minutes - 105 AED
90 minutes - 131.25 AED
The lesson duration depends on the level of the swimmer. The more lessons you purchase, the cheaper each lesson will be.

WhatsApp:  +971 50 175 4747
Email: info@hpsc-dubai.com
Founded in 2008, Diverse is proud to be the Middle East's top-performing arts school. Having won several awards for outstanding contributions and expertise in the art field, Diverse Performing Art School caters to children of all levels, from total beginners to experienced performers.
Does your child enjoy singing, dancing, or acting? Enrol your children in Diverse Musical Theatre Camp this winter break! Take advantage of the opportunity to keep your future superstars entertained and active with daily singing, dancing, and drama activities. Parents will also get the chance to enjoy an online rocking presentation at the end of the camp!

Prices:
7-14 yo: 995 AED for non-Diverse students, 895 AED for Diverse Students
5-6 yo: 895 AED for non-Diverse students, 795 AED for Diverse Students

Contact details for BOOKING: 800- Diverse (04 3307338) / admin@diversechoreography.com

Dates: December 12 - December 16, 2022
Age: 5-14 years old

Telephone number: +971 4 330 7338
Socials: Instagram, Facebook, Twitter, Youtube
Image Credit: Step IT Institute

Since 1999, Step IT Institute has been a leader in the IT education industry. With hundreds of thousands of graduates worldwide, Step IT Institute has unparalleled expertise in teaching kids and teens about IT. The Step IT programs are aligned with the industry and highly focused on practice. Constantly updating their programs, Step IT provides students with the most relevant and in-demand knowledge.
This winter, Step IT Institute is ready to invite your kids to the amazing world of digital technology. With several IT camps on their offer, Step IT will grab the interest of every young tech enthusiast:
IT Start Camp: During this camp, kids aged 6 - 7 years old will assemble a robot from Lego, learn how to program it and hold robot fights! With the guidance of professional coaches, participants will create their own 2D games, cartoons and animations. At the end of the program, children will get a chance to test their skills at the final competition. Participants aged 8 - 9 years old, will program create the 3D games, objects and worlds.
Design Camp: Designed for kids aged 10 - 11, Design Camp will introduce students to the world of 2D graphics, 2D cartoon animation, web design and video production with Filmora.
Web Development Camp: Created for participants aged 10 - 11 years old, this program will introduce young programmers to design and website planning using Wix, teach them algorithms implementation with JavaScript.
Programming and Design Camp: From 3D design, and editing pictures in Adobe Photoshop to Arduino and C++ programming, the camp will cover the latest technologies and equip participants (aged age 12 - 14 years old) with practical skills.
Dates: 12 - 30 December
Time: 10:00 AM - 1:00 PM, once or twice per week depending on the program
Contacts: +971 58 547 8759
dubai@itstep.org
Image Credit: Tappy Toes

Tappy Toes is an EYFS-compliant British curriculum nursery that provides first-class preschool education in Dubai. Giving a relaxed environment with plenty of indoor and outdoor space for children to grow and develop, Tappy Toes deeply believes that laying a strong foundation in their early years leads to children's wholesome growth and shapes them into adults with good morals, integrity and confidence.
This holiday break, Tappy Toes offers a speciality camp that will give your child a chance to be an Explorer, Artist and Scientist. Tappy Toes Winter Camp is jam-packed with activities designed to stimulate inquisitive minds, get children physically active, help them discover new interests and learn new things. Little campers will explore the world through music, hands-on experiments, arts and crafts and a creative play at Tappy Toes. Providing kids with an engaging programme, this camp focuses on boosting their independence and curiosity with fun yet enriching activities. During the camp, Tappy Toes qualified teachers will give individual attention to each child supporting their individual learning and language development. Furthermore, young campers will get an opportunity to join a field trip and experience a memorable adventure with Tappy Toes.
For parents' convenience, Tappy Toes has weekly and full camp payment options and multiple available timings.
Exclusive perk for TickiKids readers: mention TICKIKIDS while inquiring to get a special discount.
Dates: December 12 - December 30, 2022

Timings:

7 AM to 6 PM

8:30 AM to 12:00 PM

12:30 PM to 4 PM
Customised Timings as per requirement
Age: 1-6 years old
Price: starting from 350 AED

Telephone number: 0555228779

Email: info@tappytoesnursery.com
Socials: Twitter, Facebook, Instagram, YouTube
Image Credit: Elite Sports Academy

Elite Sports Academy was founded in November 2012, and since then, Elite has grown to become the country's largest sports provider. Designed by highly qualified and experienced trainers, Elite Sports Academy camps are tailored to bring out the best in each kid. Each day of the camps incorporates different themes such as teamwork, competitions, points and goals and involves children in a variety of sport-specific activities throughout the day.

During this winter holidays, Elite Sports Academy offers:
Multi-Sport Camp: It is a dreamlike pastime for any child! Kids will have fun and take part in different team sports activities. They will play and train with other kids, stay fit and healthy and make new friends.
Intensive Football Camp: It is a great way to supplement weekly coaching sessions and improve technical and tactical skills. The course is intended for young players who desire to participate in a fast-paced learning and intensive learning environment.

Hurry up to secure your space before the 4th of December to gain a 10% early bird discount!

Dates:
Week 1 - 12th-16th December
Week 2 - 19th-23rd December

Ages: 4-14 years old

Pricing: AED 882 per week (20% discount is available for siblings)

Image Credit: Dolphin Sports Academy


Dolphin Sports Academy is a go-to place for learning various types of sports. Children can receive well-rounded training sessions in Swimming, Karate, Aqua Aerobics, Self Defence, Zumba, Gymnastics, and Aerobics. More than 500 athletes train, develop their abilities, and become better selves in the different venues of the Academy in Abu Dhabi, Ajman, and Dubai.
The team of professional coaches conducts training sessions according to well-thought-out curriculums that take into account the individual needs of every student. 
Kids aged 5-12 can get the most out of the holidays this December with Dolphin Sports Academy Winter Camp! The instructors of the Academy have prepared catching training sessions in Swimming, Football, Basketball, Karate, and Badminton. In addition to sports-related activities, kids will be engaged in Arts & Crafts activities and learn the Quran. 
The instructors of the Academy are real experts when it comes to the creation of a warm and welcoming atmosphere where every child feels safe and comfortable. Thus, here they can have fun, develop new skills and make new friends. And, who knows, maybe this camp will become the first step in their lifelong sport-related journey.
There is a 20% discount for the first 20 subscribers
When: 12 December - 30 December, time: 08:00-14:00.
Age: 5–12.
Fees: 
1 week: 450 AED
2 weeks: 800 AED
3 weeks: 1000 AED
Contacts: info@dolphinsportsacademy.com, tel for inquiries 0504406474.
Socials: Instagram, Twitter, Facebook.
Locations: Al Qusais 3, Dubai.
Find Out More
Subscribe to weekly newsletter from "Tickikids"