10 Best Educational Apps for Kids
---
Published 07 August 2019 at 22:51
Tickikids Blog Dubai > 10 Best Educational Apps for Kids
---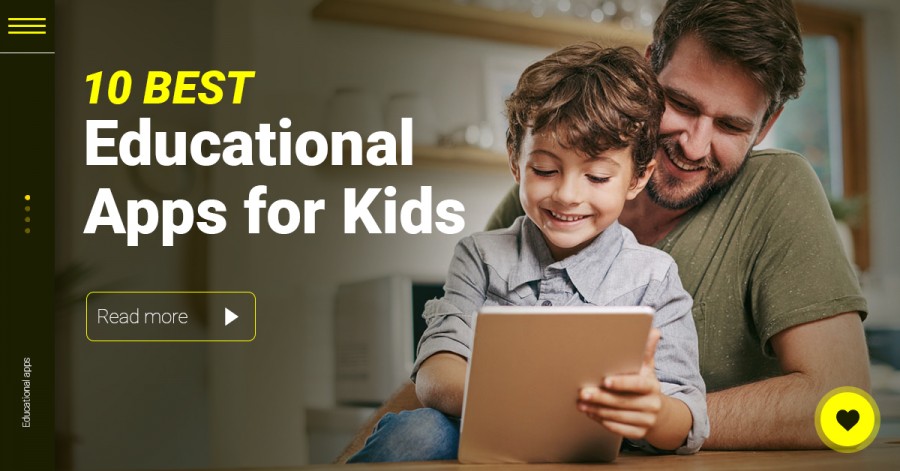 ---
If the prospect of the start of the school term has got your kids dusting off long-forgotten traditional textbooks and you don't know how to engage them with reading, fear not. The art, music, reading, spelling, astronomy, coding, geography and anatomy apps are the perfect solution to help your children progress their education and get ahead. Which ones top the most educationally significant list in 2019?
Credit: video from RVAppStudios YouTube Channel


A Google prize winner many times over, ABC Kids is a free phonics and alphabet teaching app for children from toddlers all the way to preschoolers. A series of ABC tracing games along with a smart colourful interface help kids recognise letter shapes, associate them with phonic sounds, and put their knowledge of the alphabet to use in fun matching exercises. Kids will love to collect stickers and toys as they complete tracing games. Adults can easily access settings to engage Teacher Mode, look at the report cards, or toggle tracing and phonics games to better facilitate learning. Your little ones are in good hands with this app.
Ages: under 5;
Review score: 4.5 out of 5 on Google Play, 4.6/5 on Apple;
Number of downloads: 10M+
Cost: free.


Credit: video from Mzone YouTube Channel


For a bright and colourful interface, different sounds, instruments, songs and games look no further than this fun music app created especially for kids and parents. This app helps to develop musical skills and to explore authentic sounds of varied musical instruments, animals or vehicles. With instruments that range from xylophone, drum kit, piano, saxophone, trumpet, flute to electric guitar, it is great fun for toddlers and kids. Let your child make music on your phone or tablet. But if you and your little one are after something simpler than composing songs, you can't go wrong with other features such as the ability to pronounce the names of colours, flags, geometric figures, numbers and letters of different alphabets.
Ages: 3 - 8;
Review score: 4.6 out of 5;
Number of downloads: 10M+
Cost: free.


Credit: video from iGameplay1337 YouTube channel


Your daughters can expect nothing other than pure perfection from the colouring games. Step inside the enchanting world of princesses, mermaids, unicorns and other fairy tale creatures. This app will delight Princess fans of all ages as they explore over 50 colouring pages packed with fun activities, awesome tools, relaxing children's music and sounds. Kids can also create their own interpretation of a fairy tale by using one of the handy tools. You don't need access to the Internet to start doodling and painting. It's time for an exciting colouring adventure with all your favourite heroes.
Ages: 2-6;
Review score: 4.3 out of 5;
Number of downloads: 10M+
Cost: free. Premium upgrade - $1.99


Credit: video from Livechannel Greysprings YouTube channel


Aimed at kids aged 2-6, this app brings numbers, alphabet, shapes, sizes and colours to life with cute animations that will ensure your child loves the learning process from the start. Apart from basic learning and preschool activities, the app also focuses on hand-eye coordination development and kinesthetic learning. There is a choice of 20 interactive kids games featuring lovely cartoon characters, our favourites are Count 123, Spot the difference, Make your car, Dot to Dot, Tricky maze, Cursive Tracing to name but a few. Adorable stickers can be collected in a box after scoring enough points.
Ages: 2-6;
Review score: 4.3 out of 5;
Number of downloads: 8M+
Cost: free.
Credit: Intellijoy YouTube Channel


If you are looking for an efficient and playful way for preschool and early elementary school children to master basic arithmetic skills, Kids Numbers and Maths could be the one. With its large, easily readable numbers and a bright, simple colour palette, the app promises to keep your child's attention with kid-friendly backgrounds including hot air balloons, orchards, and an old-fashioned black board. The captivating learning experience encourages children to learn, recognise and compare numbers from 1 to 20 by counting up and down, practising addition and subtraction, and trying to find the matching numbers hiding beneath a field of cloud-shaped tiles. Parents can choose to have the numbers spoken in one of the following eight languages: English, German, French, Spanish, Italian, Russian, Chinese or Japanese.
Ages: 4-6;
Review score: 4.2 out of 5;
Number of downloads: 5M+
Cost: free. Premium upgrade - $2.99.
Credit: video from ACKAD Developer YouTube Channel


With lots of different modes to play and achievements to be won, this app gives children English language practice through multi-level spelling games. The app consists of 975 words that match a polished collection of illustrations to help kids improve not only their spelling skills but also vocabulary, pronunciation and memory skills.
Ages: 6-12;
Review score: 4.2 out of 5;
Number of downloads: 1M+
Cost: free.


Credit: video from DuoLingo YouTube Channel


"Far and away the best language-learning app." —The Wall Street Journal. This multi-award winning app is uniquely innovative and has been downloaded more than 100 million times. 34 hours of Duolingo are equivalent to a semester of university-level education. It offers learners a variety of languages including English, Spanish, French, German, Italian, Russian, Ukrainian, Portuguese, Turkish, Dutch, Danish, Swedish, Esperanto, Polish, Greek, Hungarian, Norwegian, Hebrew and many more. Your kids will improve their vocabulary and grammar by answering questions and completing lessons that get increasingly complex as they work through them. Bring endless enjoyment into the palm of your child's hand.
Ages: 3+;
Review score: 4.7 out of 5;
Number of downloads: 100M+
Cost: free.


Credit: video from Stephanie Carls' YouTube channel



Founded by digital leaders from Google, YouTube Kids app is being used by over 100 million children around the world. Almost all parents are worried about the types of content their small children are watching on YouTube. With that in mind, Google created YouTube Kids to make it safer and simpler for kids to explore the world through online video – from popular children's shows to diverse age-appropriate content, delivered in a way that is easy to use for children of any age. There's also a whole suite of parental controls, so you can tailor the experience to your family's needs. For example, you can set a timer to limit how much time a child spends on the app, or choose content, whether a video or a channel, to be available to your children through the YouTube Kids app.
Ages: 3+
Review score: 4.4 out of 5;
Number of downloads: 100M+
Cost: free.


Credit: video from EdTechTeacher YouTube channel


ScratchJr is an introductory programming language that enables young children aged 5 and above to create their own interactive stories and games. Youngsters snap together graphical programming blocks to make characters move, jump, dance and sing. Children can modify characters in the paint editor, add their own voices and sounds, even insert photos of themselves and then use the programming blocks to make their characters come to life.
Ages: 5-8;
Review score: 4.2 out of 5;
Number of downloads: 1M+
Cost: free.


Credit: video from VITOiPhone YouTube channel


Immerse your kids in atmospheric depth with one of the best astronomy applications which will surely ignite their imagination. It combines astronomical data with cutting-edge technology to observe thousands of stars. You have just found the app that is ideal for mapping stars, constellations, planets, satellites, asteroids, comets, ISS, Hubble Space Telescope and other celestial bodies in real time in the sky. Its content can be tailored to your child's level of experience, knowledge and interest. The app allows you to customise the brightness of various deep space objects that are displayed in the sky such as nebulae, galaxies and star clusters with the purpose of focusing more closely on any one of these formations. The developers state that Star Walk 2 is the first app to allow fully 3D exploration of nebulae. If you prefer, you can choose to display just the planets, nebulae, or basically everything. 
Ages: 8+
Review score: 4.5 out of 5;
Number of downloads: 10M+
Cost: free, offers in-app purchases.
By Anna Khan
Subscribe to weekly newsletter from "Tickikids"