Global Village Dubai: TickiKids Test Patrol Review
---
Published 28 March 2018 at 19:02
Tickikids Blog Dubai > Global Village Dubai: TickiKids Test Patrol Review
---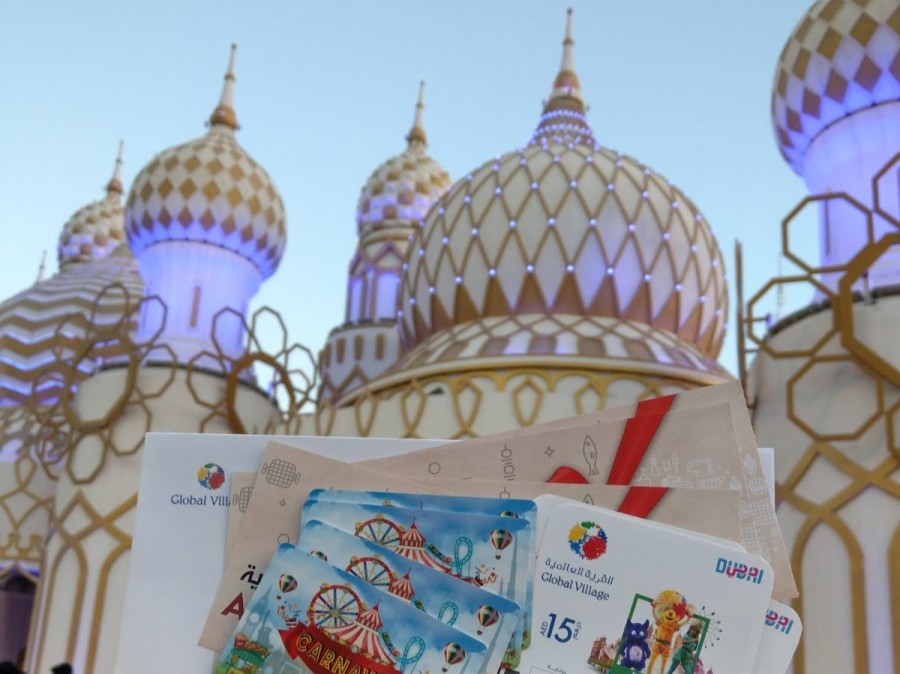 ---
Dear parents, please note that all the information about Global Village Season 23 you can find by checking its website!
The 22nd season in Global Village is coming to its end. TickiKids Dubai Test Patrol Parents got there just on time to check out this incredible destination and share their impressions and tips with the families planning their visit to Global Village, be it this season or the next one! Hope TickiKids Test Patrol's review will help make your family's experience there as exciting and stress-free as possible!
What is Global Village Dubai?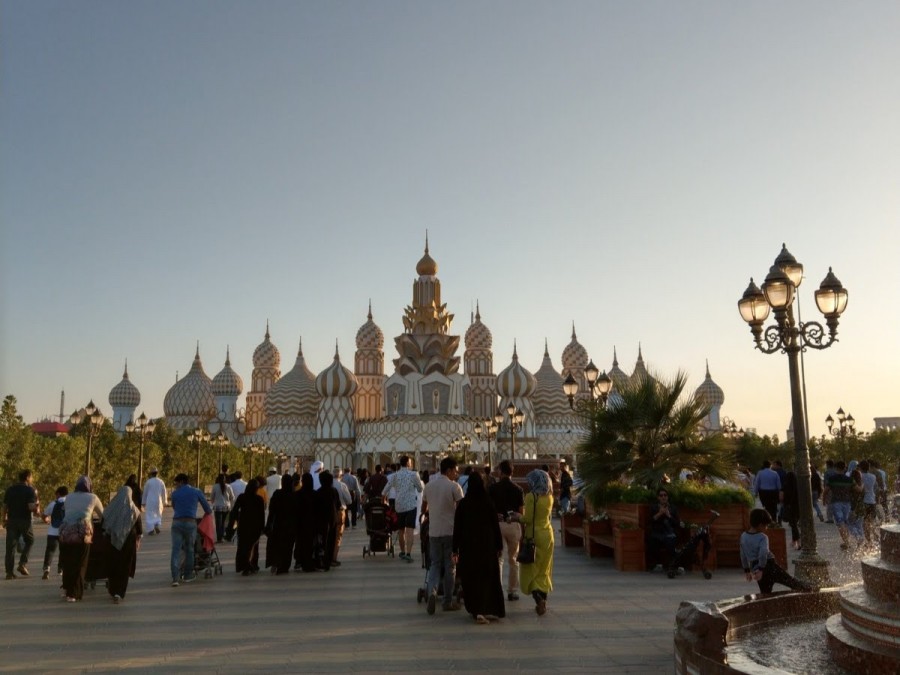 Global Village is an enormous leisure, cultural, entertainment and tourism destination of the region. With the area of about 1,600,000 sq.m this theme park is visited by over 5,000,000 people during a year. Amazing shopping, mouth-watering food options, games and rides make a visit to Global Village a great family-friendly entertainment. 27 brightly lit pavilions representing over 75 cultures from all over the world feature dozens of themed shops selling countries' specialty foods, clothes, accessories and so many other unique things that can hardly be found in regular malls.
Carnival, a brand new attraction that opened this season in Global Village, is an area where all the well-known carnivals from different cultures are brought together, with music, bright lights, over 100 arcade games, more than 30 skill-based games and 28 amazing rides, named after world-famous cities. Carnival is an absolute hit with kids aged 2 and up. For babies below 2 years old, there are lovely indoor games and simple rides at Tokyo Square.
Global Village Atmosphere 
Global Village is suited for all ages, from infants to 99 years of age. Point to consider is that it is a huge space and a lot of walking is involved. Strollers or wheelchairs should be used accordingly.
Keep in mind that at weekend the place is usually really crowded, making it pretty hard to explore the pavilions with a stroller or younger kids, however, the common areas are quite spacious anyway. A weekday visit means less or no crowds and less of jostling for space, so you will be able to move around at your own pace without feeling rushed.
Alifiya Aliasgar, mother of Nisreen, 8 yo: We were blown away by the majestic entrances. The replicas of landmarks are a treat to the eyes. My little one was excited to point out the ones she was familiar with already and where they were located. Fun geography lesson sneaked in! ;)
The atmosphere is the same vibrant, lively and colourful self as always, irrespective of crowds, I guess. If asked to choose for my next visit I'd definitely say visiting on a weekday is better.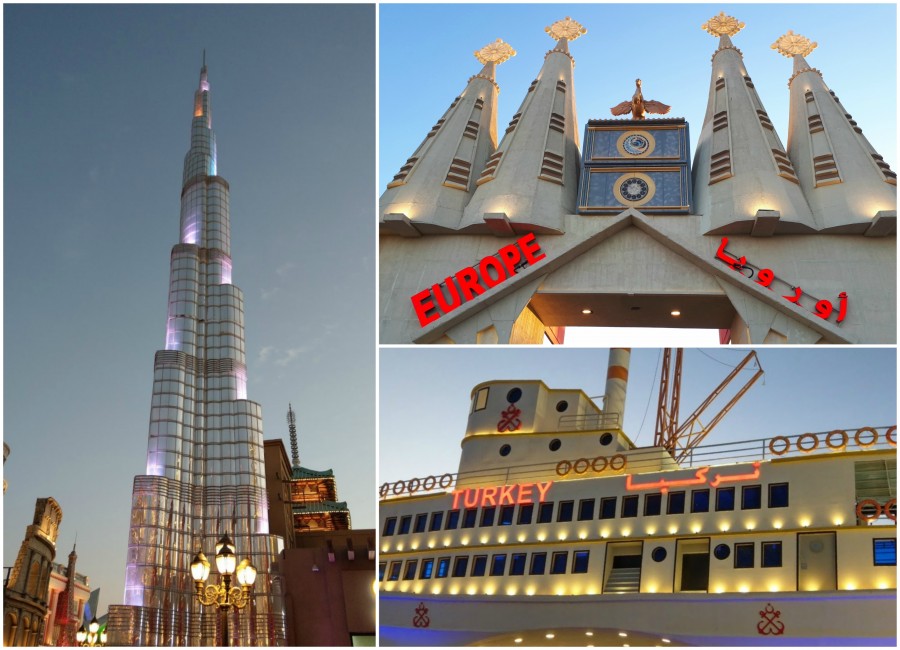 Latika Chawla, mother of Arush Chawla, 5 yo and Purav Chawla, 3 yo: We visited Global Village on a Friday evening. My children were in awe of the architectural structures at the entrance and of each pavilion. They were also taken aback by the huge crowds of people. The whole place had a festive vibe, and people from all over the world were there just to have a good time.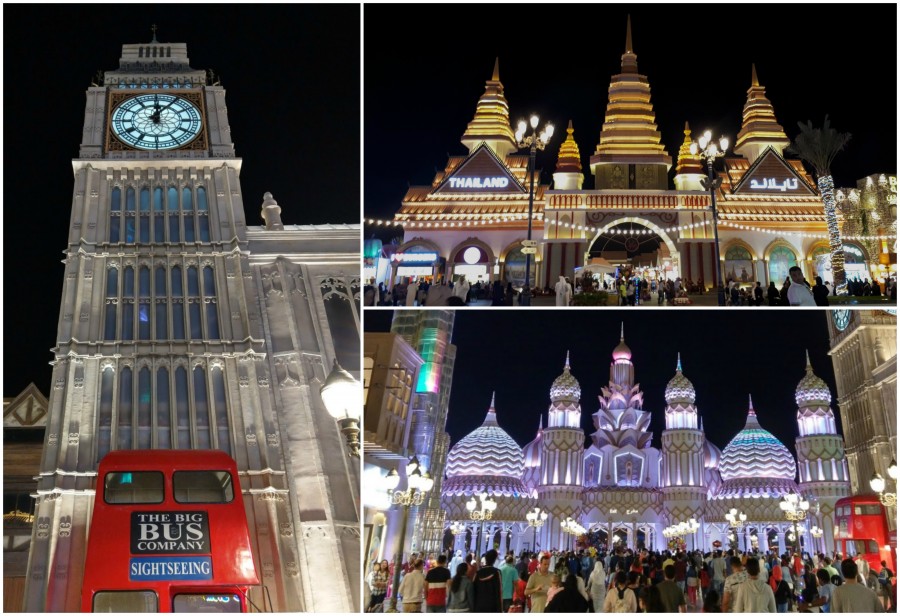 Cheryl Ciudad Saleem, mother of Zaara Ciudad Saleem , 5 yo: The day we went was Friday, so we expected the place to be crowded but manageable, because Global Village is a huge area, which meant people were scattered too. Global Village made us feel like we've travelled to many places by just roaming inside each pavilion. I wish America court had more stalls inside since America is a big country.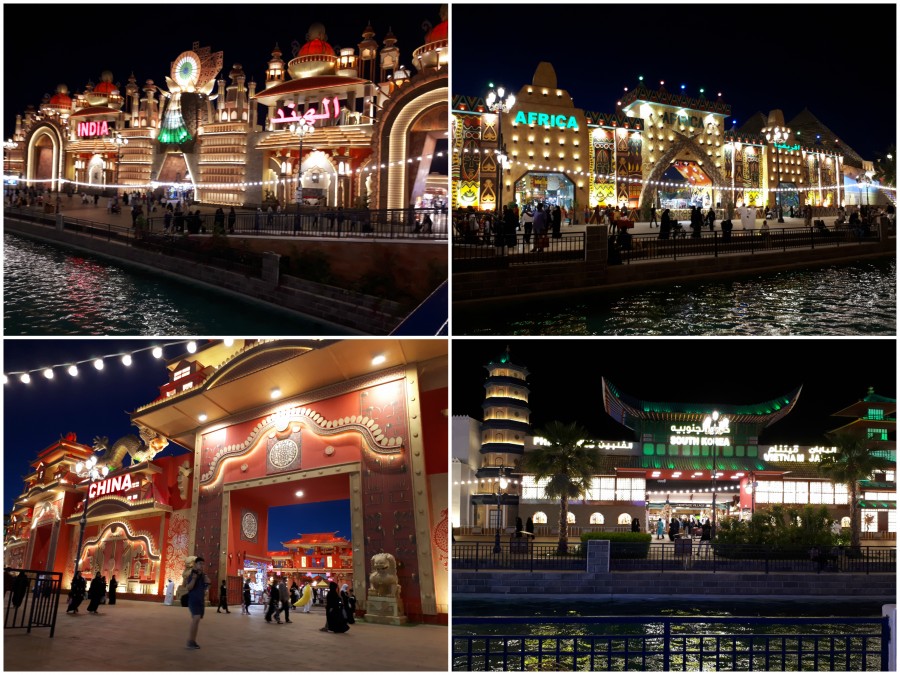 Global Village Highlights
Alifiya: My daughter enjoyed herself to the hilt. Understandably, she wasn't much interested in the shopping/browsing about around the various pavilions but the cultural shows kept her entertained. In the Сarnival area she got on the bungee jumper, the carousel, tried on various VR games, played many carnival games like ringing the bottle, fishing the rubber ducks, Velcro football etc. As a family, we enjoyed the Abra Ride that runs through the canal in Global Village. Also there's a fun splash pad for kids/people to play around in. Of the 5+ hours we spent at Global Village, I think we were at the Carnival area for a good 2 hours approximately. We were taking part in some of the activities with our child, few games required double players in the arcade, we got onto the rides we were allowed to just for fun, plus had a family competition for some of the carnival game stalls. We did observe quite a lot of families doing the same or watching while they waited for their kids to finish.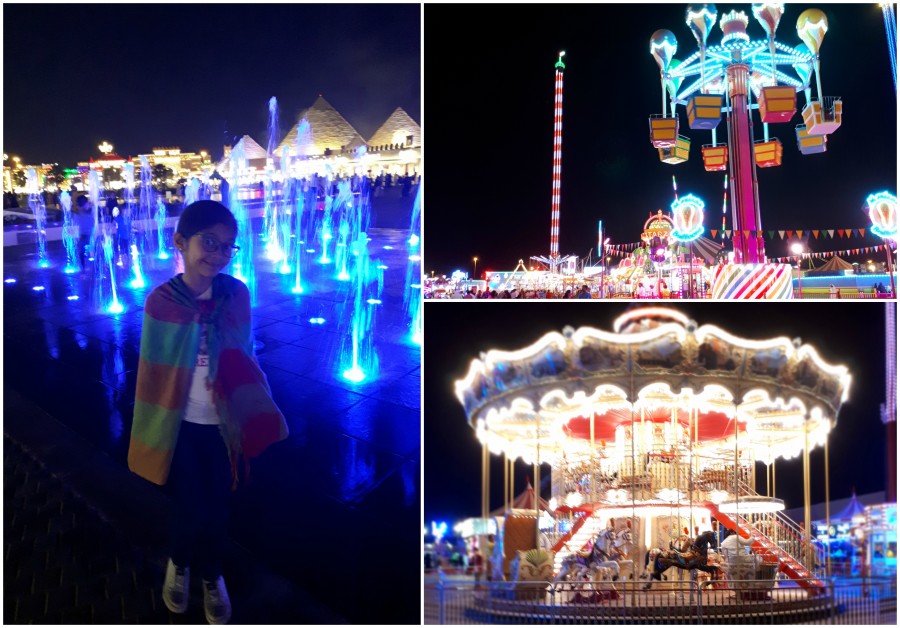 Honestly, if I had visited alone, I wouldn't have ventured into the play area at all and only focussed on the shopping / browsing bit! (You can't blame me). Even the dedicated "food street" deserves a special mention here, I loved the vibes by the vendors and the aromas of the different yummy street food options.
Latika: After a stroll in the Turkey pavilion, we soon realised that shopping is not an activity for the kids. We then had a snack break at one of the cafes and then proceeded to the Carnival area, where the kids had lots of fun playing in the carnival games and sitting on the rides. My elder son was very excited to see the replicate structures of the Burj Khalifa, Big Ben, the London Bus and more.
Both kids loved watching the fireworks display up close and of course, the rides they sat in.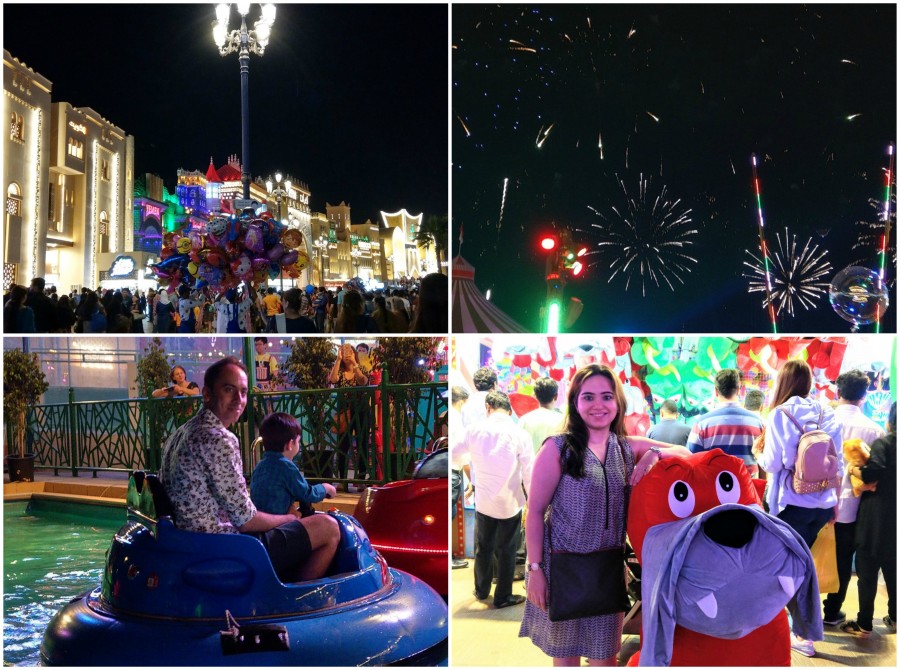 Cheryl: My daughter went to Amazon Boats, Beijing Bungee, Texas Track, Mumbai Xpress and Sydney Slide. There are rides that parents can go along with kids, like Amazon Boats and Mumbai Xpress. I particularly liked Amazon Boats even though it's just a 3-minute activity, as it provides parent-child bonding experience and little exercise by paddling the boat. We even went on that one several times, because my daughter loves water rides with paddling!
She also played games such as Whac-A-Mole, Hook A Duck, Rebound, Spin a Wheel and Roll Down. Playing games with my daughter is so much fun, and I loved to watch my husband & daughter enjoying each game and competing with each other. Our favorite game is Hook A Duck, luckily we won a Large prize - a big gingerbread stuff toy.
India court has many accessories inside, especially we loved earrings. We bought lots of earrings that cost just 1 AED per a pair. It was also the first time I heard about Bosnia, we went to the new pavilion and bought organic honey at a good price. We all love honey.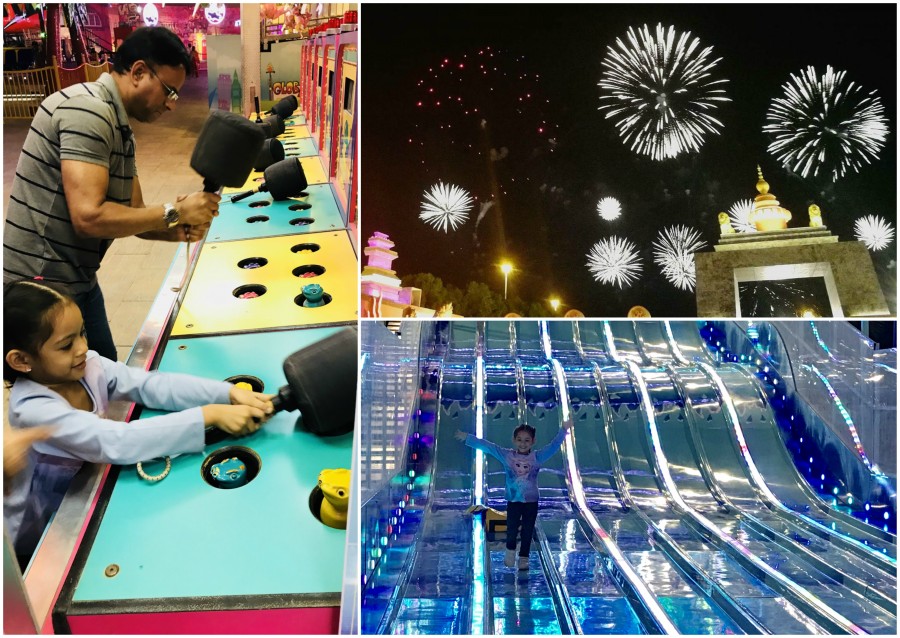 Global Village Food Options:
Latika: From street food in small kiosks - serving grilled corn, tea and Thai fruits and Turkish ice cream - to the restaurants serving a variety of cuisines from all over the world, Global Village has something for everyone when it comes to Food. Most food and drinks are reasonably priced.
Alifiya: We did not find any specific kids cafe. From what I could find out, only the regulars like McDonalds and KFC had their kids meal options there. We did try ice-cream rolls, mini-pancakes & chips on a stick from kiosks though, they're priced average.
Cheryl: We saw a Strawcolate cafe but we didn't go inside. We bought water for just 2 AED from food stalls, that's the average price of water in food stalls. In the restaurant, the water would cost 4 AED. We bought a cotton candy which cost ten AED & Nutella Mini pancakes (10 pieces for 25 AED).
There's a possibility to bring your own water and snacks inside.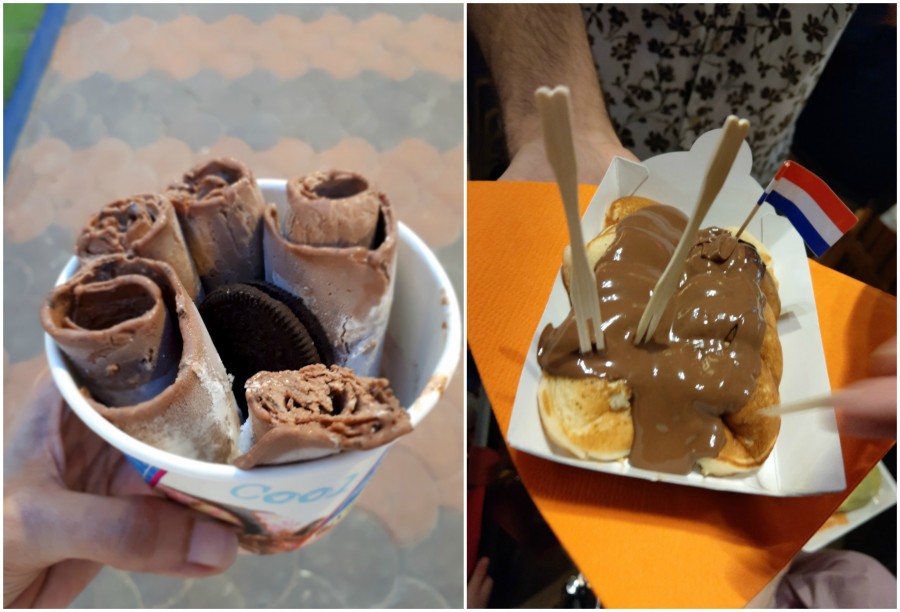 Global Village Facilities:
There is a parking space for cars and taxis, bicycles and strollers. Wheelchair, stroller and trolley rentals are available. Global Village is a huge space and a lot of walking is involved, so strollers or wheelchairs should be used accordingly. The place is wheelchair-friendly.
The washrooms are big and clean and have dedicated space for nursing moms, as well as a diaper changing area.
There are ATMs and also a pharma vendor machine selling Panadol, Adol, Vicks, Strepsils, sanitary napkins, cough syrup and band-aids.
A locker service is available for 5 AED for a small locker, 10 AED for a medium one and 15 AED for a large one for a full day (+VAT)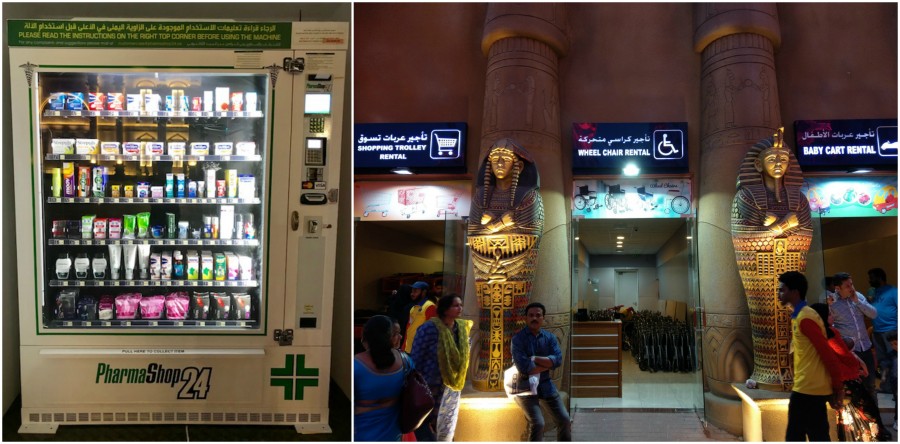 If you want to avoid crowds, plan a visit on a weekday or Saturday if you can.
It is physically impossible to explore the entire place well in 1 day, so try to schedule 2-3 visits per season.
Good walking shoes are a must and carrying a light cover-up might help, since it can get a bit chilly towards the night.
Strollers are a must if you are coming over with kids.
Carry some water and snacks for the kids to keep them busy.
Bringing a picnic mat can also be useful, so that family can sit together while having snacks and watching cultural shows.
Every Friday at 9pm there is a concert by international stars, so check the schedules at Global Village website to see your favorite star.
TickiKids team would like to thank Alifiya Aliasgar , Latika Chawla and Cheryl Ciudad Saleem for providing us with their impressions and photos of their visit to Global Village.
Subscribe to weekly newsletter from "Tickikids"