Dubai's Most Spectacular Holiday Camps for Winter 2019-2020
---
Published 10 December 2019 at 16:53
Tickikids Blog Dubai > Dubai's Most Spectacular Holiday Camps for Winter 2019-2020
---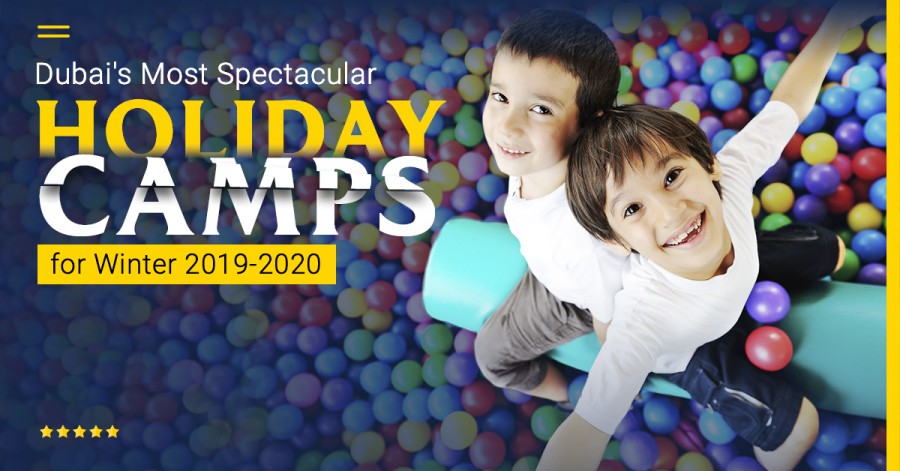 ---
Welcome to the final weeks of this academically intense and emotionally charged year. We hope it has been a challenging yet incredible period for your children and you should give them ten out of ten for everything they have achieved this semester. Finally, the winter holidays are drawing ever closer and there is plenty happening in Dubai. With so many learning centres, incredible and diverse holiday options to choose from, it is all too easy to feel overwhelmed selecting the right holiday camp for your child. Particularly when faced with literally hundreds of differing opinions on the best fit for your kids on online resources for parents. However, you are in luck! We have surveyed thousands of local parents and rounded up Dubai's very best programmes and camps for winter 2019-2020. Whether your kid is already preparing for high school graduation or still working on phonics and numbers, TickiKids brings you everything you need to know about the festive holiday programmes for this winter season that will help your kids get ahead at school.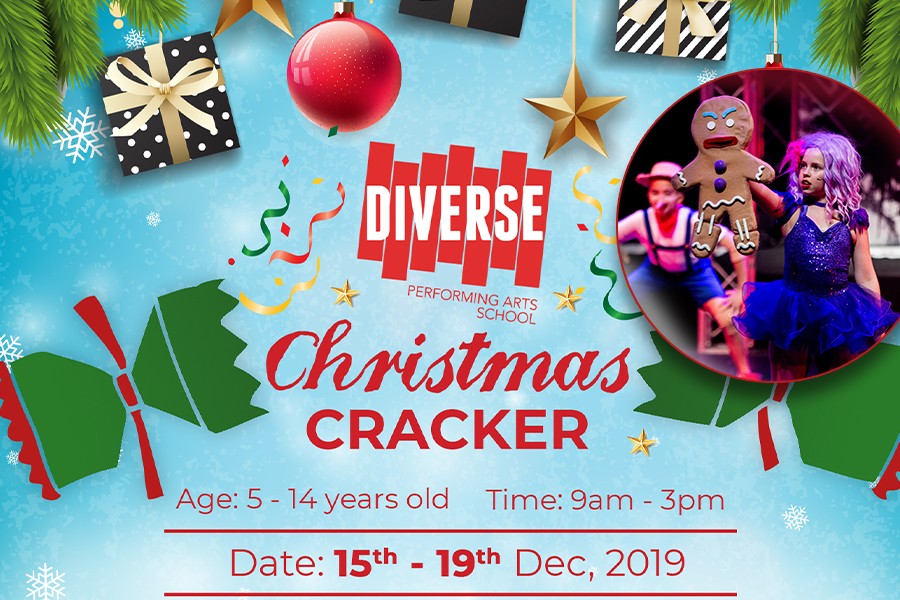 Photo Credit: Diverse Performing Arts Centre


Calling all Santa's little helpers! Diverse Performing Arts Centre is a spectacular destination for kids all year round, but never more so than this winter school holidays. Now in its eleventh year, the 2019 Christmas programme doesn't disappoint. For those really getting into the festive spirit, plenty of arts and crafts, Christmas songs and dances, acting, fun and joyful jubilation will be available at Diverse Performing Arts Centre from 15th until 19th December 2019. To celebrate the magic of Christmas, the kids aged five to 14 will eagerly deck the halls with their awesome arts and crafts, and also work on the 'Diverse Christmas Cracker' performance which parents will be able to watch on Thursday 19th December 2019.
Parents rave about Diverse Performing Arts Centre. Led by a charming English married couple Scott & Lisa Marshall, Diverse is the only performing arts school in the UAE that offers all varieties of dance, drama, singing and theatre classes under one roof. All their professionally qualified teachers have worked in varied dance, film and musical theatre productions around the world – from dancing for pop artists such as Pink, Kylie and Cher to singing in West End smash hit musicals such as Jerry Springer and Beauty and the Beast. It's no wonder that the children emerge from this centre more eloquent, confident and outgoing.
Dates: 15th – 19th December 2019;
Ages: 5 – 14;
Timing: 9am – 3pm;
Fees: 945 AED for non-Diverse students, 840 AED for Diverse students. Get 5% sibling discount;
Contact details: 800- Diverse (04 3307338), info@diversechoreography.com;
Location: Diverse Studios: Entrance A (Studio M1, M2, M3, M5 & M6), The Curve Building, Off. Sheikh Zayed Rd, Dubai.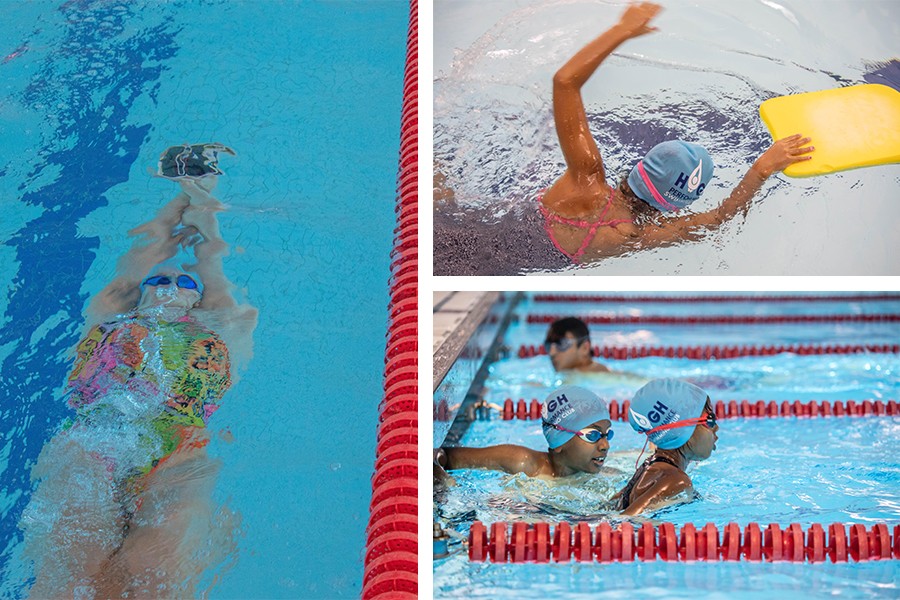 Photo Credit: High Performance Swimming


Join High Performance Swimming this winter! Boasting one of the best temperature controlled eight-lane indoor swimming pools in Dubai, their winter swimming classes and swim holiday camps held at Hamdan Sports Complex are a real hit with children regardless of gender, aspiration or ability. Kids will be placed in the appropriate level during their first swimming session in order to ensure that their technique can be advanced in an optimal way.
The swim camp is developed for competent swimmers who want to improve their swimming techniques and skills, such as turns and dives (all squad level swimmers are welcome too). Run daily from 9am till 11:45am, a regular day at the camp includes 1.5 hour swim training and 1-hour dry land training where the children are engaged in core exercises, stretching and team building activities.
Alongside the holiday camps, there are separate swimming lessons for kids aged three and above. The engaging and enthusiastic coaches of beginner classes are on a mission to teach young swimmers who have never had formal swimming lessons before. At intermediate and stroke correction classes the emphasis is placed on development of proper swimming styles.
You may choose from the following options: one-, two- or three-week camps. You can also opt for single sessions aimed at those who will be travelling or busy during the festive season, so pay attention to the website for details.
Dates: 15th December 2019 – 2nd January 2020 except Wednesday 25th December and Wednesday 1st January;
Timing: Sunday – Thursday, camps: 9am – 11:45am; swimming lessons – Stroke Correction: 9am – 10am; Intermediate: 10am – 10:45am, Beginners: 11am – 11:45am;
Ages: 3+
Contact details: Ms. Gerrie 050 505 7587 (WhatsApp), or email at info@hpsc-dubai.com.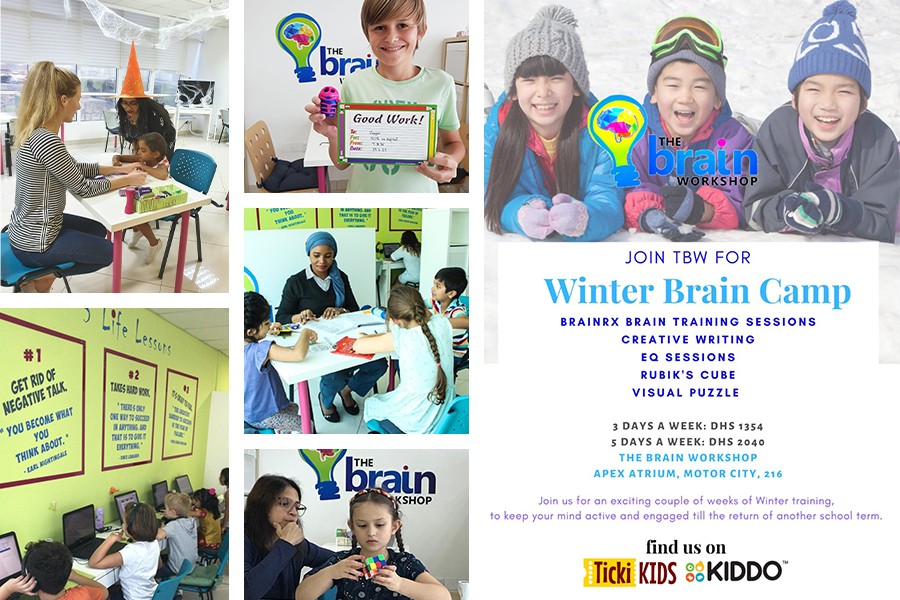 Photo Credit: The Brain Workshop


The first thing to know about The Brain Workshop is that it was founded by Dr Ken Gibson, a passionate education pioneer, after 30 successful years of clinical research that has helped people overcome learning and reading struggles. The second is that his holistic approach to training cognitive learning skills has earned Dr Ken Gibson and The Brain Workshop a place as one of the UAE's leading brain training specialists. And the third is that in tandem with the best experts, The Brain Workshop has developed a unique winter camp combining both brain training and brain stimulation activities to keep the child not only engaged but also motivated to spend their break effectively. The children enrolling for the camp will rotate between a couple of hours of scientifically established brain training sessions (BrainRX), Rubik's cube, creative writing, EQ sessions and visual puzzle building. The Brain Workshop offers 3- or 5-day camps between 15th December 2019 and 2nd January 2020 for youngsters aged 7-16. They are not only assuring an efficient brain workout, but also each participating child receives a cognitive skills assessment before the commencement of the camp as part of the package. 
Dates: 12th December 2019 – 5th January 2020;
Ages: 7-16;
Fees: DHS 1354 for a 3-day camp, DHS 2040 for a 5-day camp;
Contact details: +971 4 243 4620, 056 353 1896, info@thebrainworkshop.com;
Location: Office 216, Apex Atrium Building, Motor City, Dubai.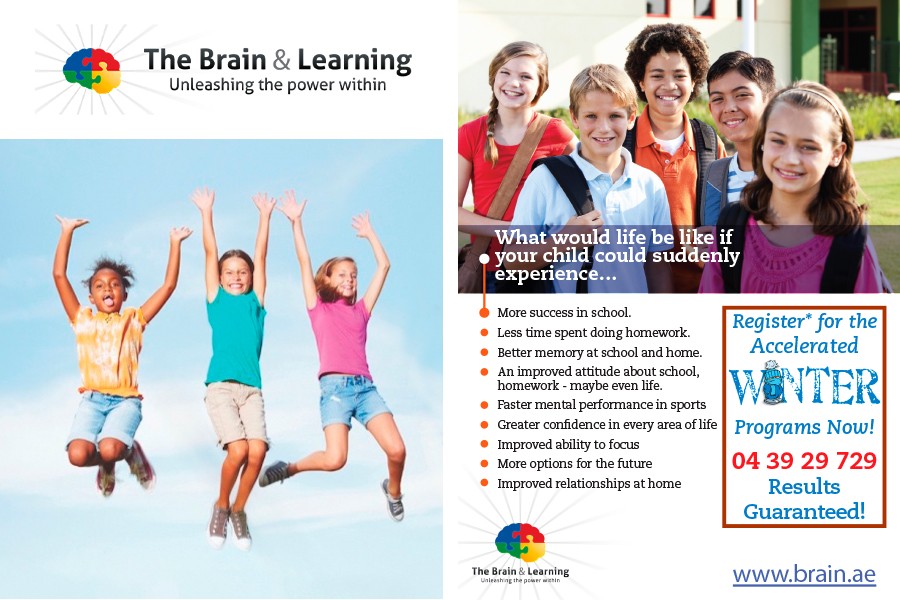 Photo Credit: Brain & Learning


The Brain & Learning is, hands down, the first and best brain training centre in the Middle East offering research-based, personalised, and targeted brain training programmes that improve academic, career, and everyday performance. Since 2011, they have helped change lives of 1,000 students of different ages and abilities. Much like physical exercise, the intense mental exercises keep your mind active and sharp. A stronger brain means better attention, learning, remembering, reading, writing, planning, intelligence and confidence.
This year's winter accelerated programme consists of one-to-one brain training for children aged 6 and above. These personalised brain training sessions target the underlying causes of your child's struggles and can transform their lives in as little as 3 months. The centre prides itself on being unbeatable when it comes to helping children & adults who struggle with Attention Issues, ADHD, Reading Struggles & Dyslexia, Homework & Academic Struggles, Dyscalculia & Autism Spectrum Disorder.
Dates: 15th December 2019 - 10th January 2020;
Fee: Sign up today and use the discount code TICKIKids for 50% off all cognitive skills assessments (expires 15th December 2019);
Ages: 6+
Contact details: 04-3929729;
Location: 702 Barsha Business Square, Al Barsha 1, Dubai.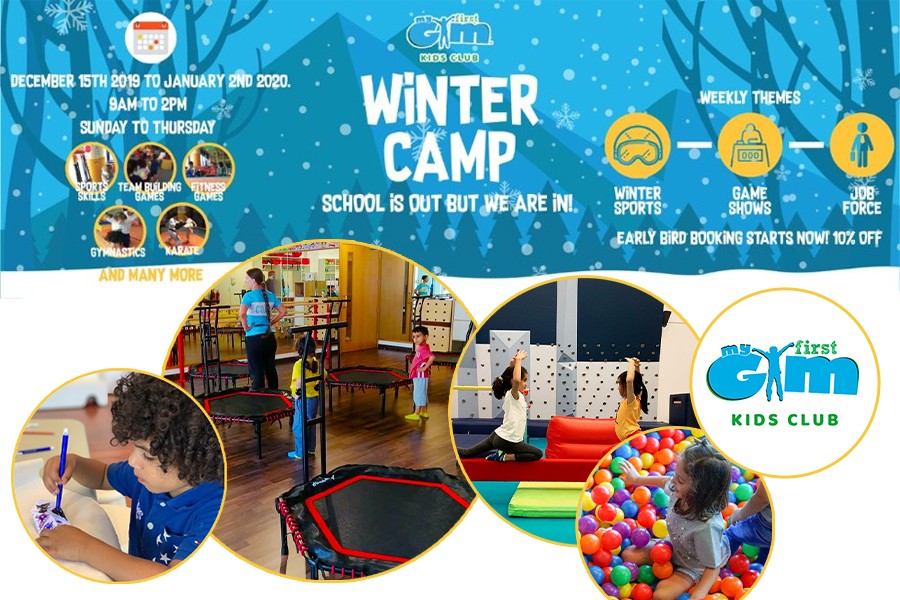 Photo Credit: My First Gym


When you find a children's centre that is raved about by the locals you know it is going to be a part and parcel of the school holiday calendar. For the current winter holiday period, My First Gym has picked three themes – winter sports, game shows and job force – and developed a series of fun team games to develop young pupils mentally and physically. Their facilities and coaches are ace! Your kids will be particularly enamoured of an abundance of engaging holiday activities such as rides, karate, gymnastics, fitness, dance, arts & crafts and loads of winter themed games.
Dates: 15th December 2019 – 2nd January 2020;
Timing: Sunday – Thursday 9am – 2pm;
Ages: 3 – 15;
Fees: AED 200 per day, AED 900 for a 5-day camp, AED 1700 for a 10-day camp;
Contact details: 043855100, contact@myfirstgym.com;
Location: 51 Al Wasl, Dubai.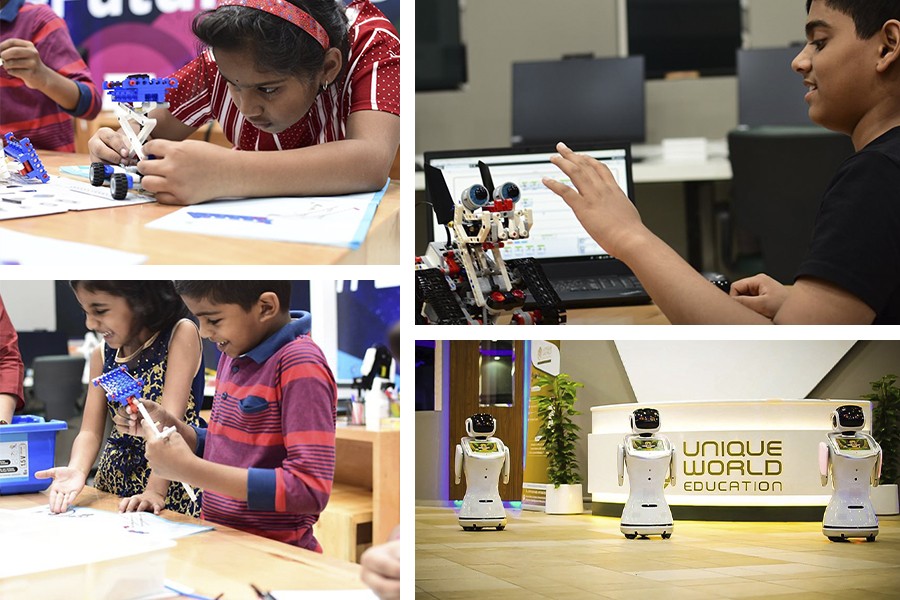 Photo Credit: Unique World Education


The fully functional state-of-the-art Robotics Lab of Unique World Education Group, is opening its doors to 6-10 year olds for an absolutely immersive Robotics winter camp. Known for their hands-on dynamic curriculum in conception, design, manufacturing and operation of robots, your kid is sure to leave with practical knowledge about future technologies. The teaching is evidently top notch here, but the students are by no means glued to their books – all the time of the camp is allotted for practical learning. You will find the youngsters learning coding, humanoid and industrial robots, artificial intelligence, 3D printing and modelling. Speaking of programmes, the youngest students aged 6 to 10 will be placed into the Junior Batches the highlights of which are logical thinking, sensors and applications. There is plenty on offer for teens too: robotics, electronics, micro-controllers, 3D modelling, Raspberry Pi and sensors.
Dates: 15th – 19th December, 22nd – 26th December 2019;
Timing: 8:30am –  12:30pm;
Ages: 6 – 10, 11 – 18;
Locations:
Al Karama, Hamsah A Building, Near Burjuman Metro Exit 2;
Al Qusais School Zone, near Lulu Hypermarket, Dubai.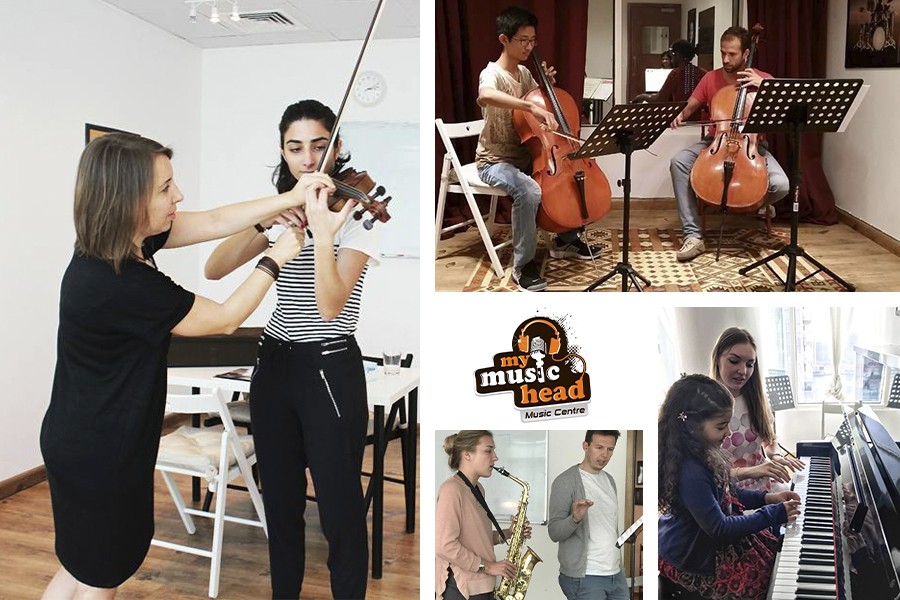 Photo Credit: My Music Head


Driven by sheer determination and true passion for music, director of My Music Head Benjamin Truchi and his team of professional musicians and educationalists aim to be more than just a music school where you can learn to play an instrument. They blend traditional with modern in equal measure and get excited to watch their new students flourish in this stimulating school regardless of age or ability. With piano, violin, saxophone, woodwind instruments and vocal classes, plus masterclasses by a prominent pianist and violinist on offer this winter's holidays, it's easy to see why it's so popular among beginners and advanced students alike.
Dates:
15th – 19th December 2019 – 5-day Beginner Programme and 3- or 5-day Individual Intensive classes;
15th, 16th December 2019 – violin masterclasses;
17th, 18th December 2019 – piano masterclasses;
Timing: 10:00-12:00, 12:30-15:00 subject to the programme.
Age: 5+
Fees: 5-Day Beginner Programme: 850 AED; violin and piano masterclasses: 200 AED per day; individual 5-day intensive classes: 750 AED; individual 3-day intensive classes: 500 AED;
Location: Clover Bay Tower, Al Abraj Street, Business Bay, Dubai.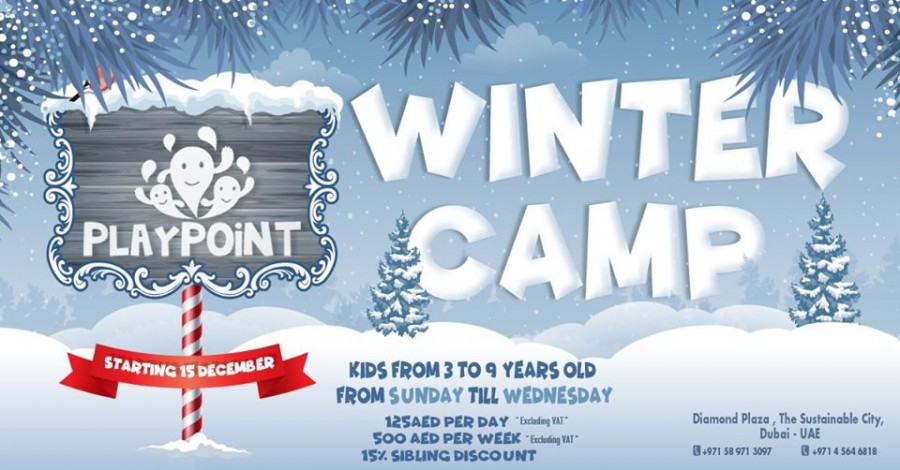 Photo Credit: PlayPoint


For wild adventures and winter festivities, games and animation movies, arts and crafts, the winter camp by PlayPoint kids club located at The Sustainable City is an ultimate backdrop. PlayPoint has developed a solid reputation off the back of its cosy atmosphere at the indoor play area, its super friendly inspirational staff members who work incredibly hard, and an abundance of immersive activities for children aged 6 months to 9 years old.
"Amazing place! PlayPoint at The Sustainable City is our place to go when we want to have fun! Great rides, play area, and super clean too. The staff are fantastic, professional, patient, really fun to be around and they play fabulous music (for kids and adults too). My two kids absolutely love this place and so do I.", enthuses mother Lucia Kennelly.
Dates: 15th – 31st December 2019;
Timing: Sunday – Wednesday from 9am – 2pm;
Ages: 3 – 9;
Fees: AED125 per day (excluding VAT), AED500 per week (excluding VAT). Get 15% Sibling Discount.
Location: Diamond Plaza, The Sustainable City, Dubai.
By Anna Khan
Subscribe to weekly newsletter from "Tickikids"