How to Teach Your Kids Effective Dental Habits?
---
Published 18 February 2020 at 21:52
Tickikids Blog Dubai > How to Teach Your Kids Effective Dental Habits?
---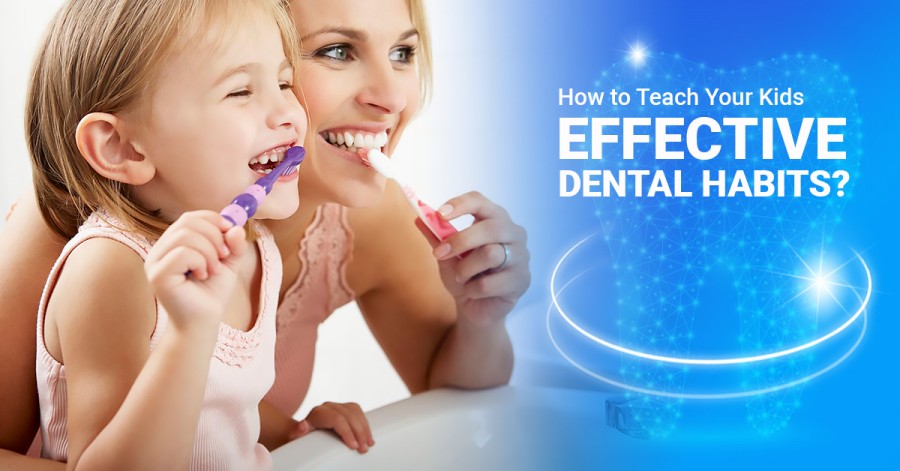 ---
Naturally healthy teeth don't always happen naturally. But it can happen by a habit of brushing your teeth twice a day even if it's a hard habit to form for our kids. The oral health surveys of 0 to 4 year olds found that 58% have experienced dental decay and accessed a dentist. A third of children have tooth decay when they start school. Tooth extraction is the sixth most common procedure in children's hospitals for under 5. It comes with no surprise that it can cause problems with eating, sleeping and socialising. There are two simple ways to approach this frustrating situation and prevent tooth decay. First up, cutting down on sugar and brushing teeth with fluoride toothpaste. That's one approach. The other is to teach your child effective brushing habits. The result follows.


Start as Soon as Your Baby's First Tooth Emerging


Credit: Juergen Faelchle


As breast and formula milk contain sugar which can lead to an increased risk of decay, it is vital to start tooth brushing as soon as your baby's first milk tooth comes through. These days there are toothpastes and baby toothbrushes aplenty. The dental industry is brimming with product innovation. Pick up a silicone baby finger toothbrush which is ideal for infants, and start brushing with a tiny smear of fluoride toothpaste.
Make sure you choose the right toothpaste for your baby. Don't forget to check the label for fluoride levels as this strengthens tooth enamel, helping prevent and control tooth decay. For under-threes, it's important to use a lower-fluoride toothpaste containing no less than 1,000ppm of fluoride. Encourage your toddler to brush teeth twice daily for about 2 minutes, last time before bed, and spit out excess toothpaste, but not to swallow, rinse or gargle. If we're talking about a baby, simply wipe away the excess.


Make Teeth-Cleaning Routine Into a Game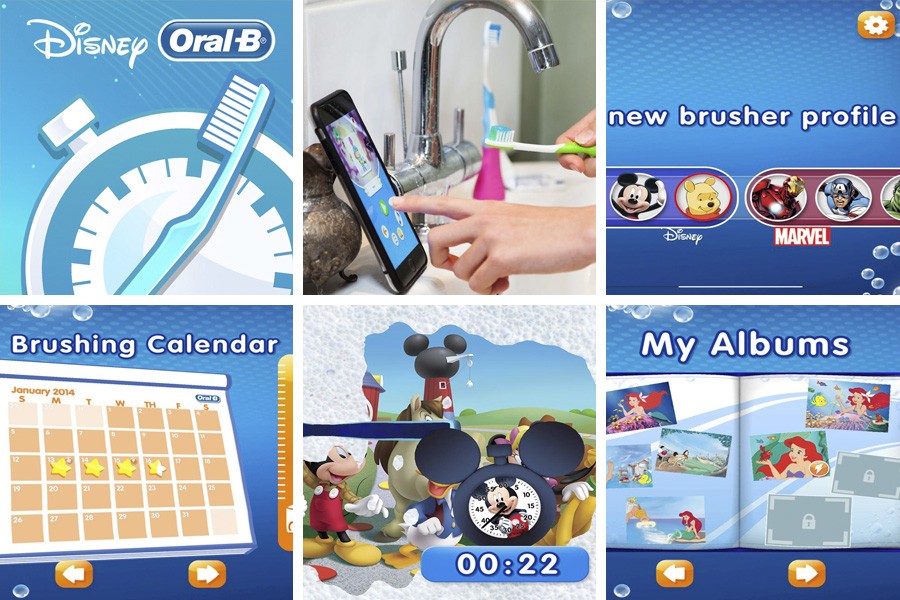 Credit: Oral-B


Rather than explaining the importance of proper dental care to your little one, choose clever diversion tactics and bring playfulness to brushing. With the free Disney Magic Timer™ app by Oral-B, kids are seamlessly encouraged to brush their teeth longer. As a child is doing a good job, the timer counts down the requisite 2 minutes and allows your kid to unveil a secret image of their favourite Disney, Marvel and Star Wars characters. And the fun doesn't stop there: the longer they brush, the more the image is revealed. And it's not just bells-and-whistle. Parents are thrilled: "Wonderful app! It was a battle every day to get our son to brush his teeth and we definitely weren't doing it for 2 minutes once we got him to brush. We've only had the app for a week so far, but he looks forward to brushing his teeth to see what sticker he'll get. So far so good. Love it!", ‒ says one happy parent Becky Welch.


Take Your Child for Regular Dental Check-ups
Credit: Versailles Dental Clinic


The child's future positive attitude to dental health is not achieved by accident, which is why caring for your baby's teeth is one of important responsibilities as you become a parent. Children's dentistry has been changed dramatically in the last 25 years. Carefully considered and meticulous children's dentistry, treatment and preventive care can keep all the teeth healthy for the rest of their lives.
"Never neglect primary teeth when they have decays or cavities, thinking that these teeth don't need treatment as they will be replaced with the permanent ones. A primary tooth infection can contaminate the new permanent tooth during its growth inside the jaw, before it erupts from the gum. In this event the permanent tooth is often already damaged or with defects," ‒ says Dr. Dominique Caron, French dental surgeon, medical director and owner of the Versailles Dental Clinic located in Dubai Healthcare City.




Credit: Versailles Dental Clinic


At Versailles Dental Clinic, the care of paediatric teeth begins as soon as your child has developed baby teeth. They recommend to arrange regular dental checkups every six months. So dentists could carry out a full examination of your child's mouth, teeth and gums, identify and even reverse early cavities, monitor growth of the teeth and give advice on prevention and diet. With over 25 years' experience in the dental industry, Versailles Dental Clinic is a trailblazer, specialising in the latest techniques for core dental care and orthodontic services for the entire family. Bringing together an expert team of European hygienists and dentists, your child's first dental appointment at this clinic will be positive and reassuring. Most children's dental diseases are avoidable, but if the treatment is on the cards, it's exceptionally performed here. That's because being chairman of the Pierre Fauchard Academy of Dental Surgery for Middle East branch, Dr. Dominique Caron is the brains behind many of the gizmos used in the dental industry. The clinic offers the most sought-after services including 24/7 emergency, laser treatment, 3D Scan, Galileos, CEREC, panoramic Xray with a low dose of radiation for kids, teens or even adults.


Teach Brushing Techniques
Credit: video from Versailles Dental Clinic YouTube Channel


Babies and toddlers learn from watching adults, so they are likely to follow suit only if they see their parents and older siblings take care of their teeth. It's important that you supervise brushing until your child is aged six or seven and make sure they are doing it correctly. Below are some effective toothbrushing technique advised by professional dentists:
For very young kids it helps to cradle your child's head in one arm leaving your other arm free to use the toothbrush. Tilt a brush a 45-degree angle against the gum line and brush in small gentle circles. Brush the insides of teeth first, that's where the plaque gathers most. Use the tip of the brush to clean behind each front tooth top and bottom. Then clean the outer surfaces of teeth. Brush the chewing surfaces with a gentle back-and-forth motion. Proper brushing takes at least 2 minutes. Finally, brush the tongue and inside the cheeks. It tickles, but it removes bacteria and freshens breath. To protect your child's smile teach them to brush and floss every day.


Get Children Involved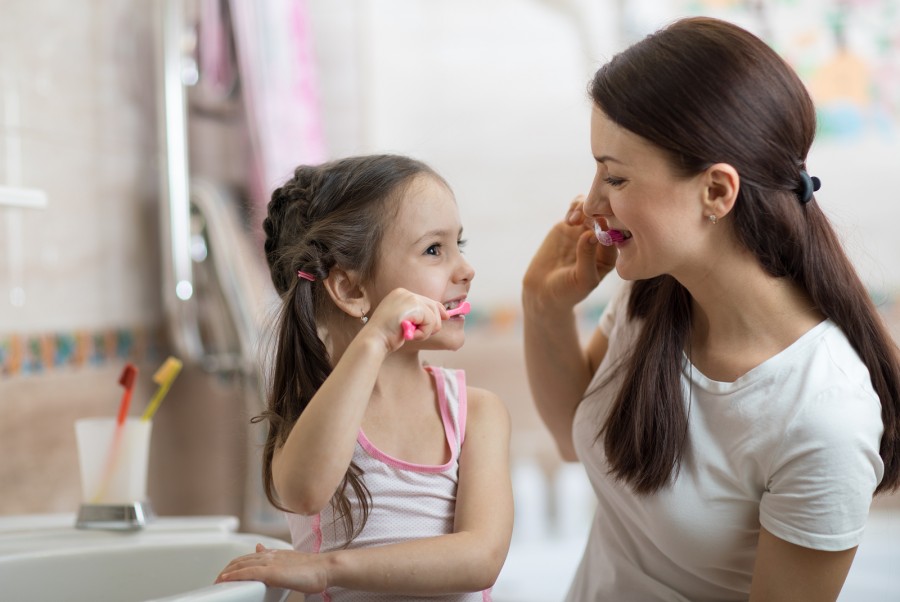 Credit: Oksana Kuzmina


Your child may be particularly excited about a brightly coloured toothbrush with their favourite character on it. While shopping, get your reluctant brusher to pick out his or her own toothbrush with the cartoon buddy they like most. Perhaps Winnie the Pooh for the baby 0-2 years old or Iron Man or Anna and Elsa models for older kids will do the trick. Make brushing fun and easy to help them get the most out of their oral health routine: brush along to a favourite song, let your child brush your teeth, use your toothbrushes as a microphone and pull funny faces at each other in the mirror. Ultimately, if your kids have fun brushing their teeth, they are more likely to make it a part of their everyday routine.
By Anna Khan
Subscribe to weekly newsletter from "Tickikids"