The TickiKids Guide to Dubai's Unmissable Spring Holiday Camps in 2020
---
Published 09 March 2020 at 17:24
Tickikids Blog Dubai > The TickiKids Guide to Dubai's Unmissable Spring Holiday Camps in 2020
---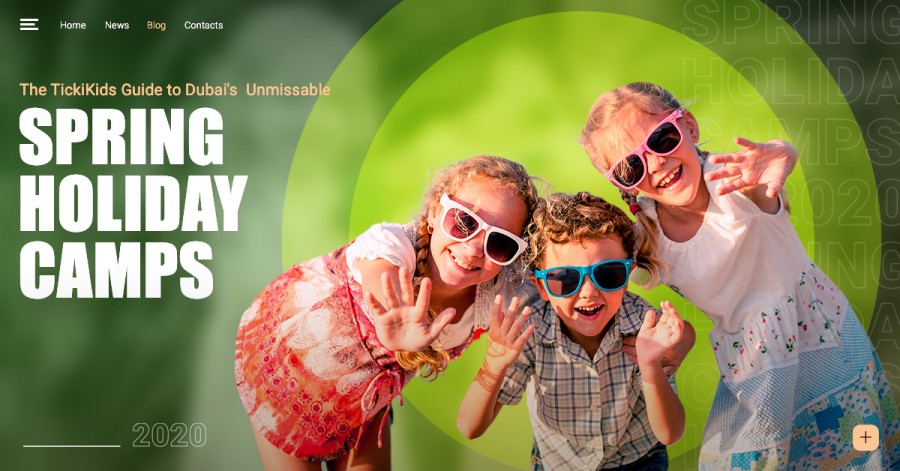 ---
Good news, spring school holidays are around the corner. We know how hard it can be to keep up with highly-rated children's holiday programmes while you're battling through the working days. That's why we have done the hard work for you and handpicked a selection of Dubai's best spring holiday camps in 2020. From adventure camps, motion graphics, coding, DIY workshops, Easter bonnet parade to final exam preparations, you'll enjoy a clear, trustworthy and well-rounded overview of our readers' top picks of this spring.


Photo Credit: Aventura Parks


Driving by sheer determination and a true passion for healthy and active lifestyle, Aventura Parks' highly experienced team goes further to create the ultimate camping experience for children up close with nature at the largest Adventure Ropes Course in the Middle East. Nested in the 35,000 m2 of a natural Ghaf tree forest of Mushrif Park in Mirdif district of north-east Dubai, the Little Explorers Spring Camp at Aventura steers young participants toward less hectic ways of engaging with the surrounding landscape, through walks, climbing, treks, archery and sport games packed with challenges and survival adventures. These outings have a particular objective – fire building, for example, or preserving water, scavenger hunt, shelter building, knot making, learning morse code or how to read maps and navigate with a compass. Inevitably, the Camp Rangers aged 6 to 10 have valuable opportunities to improve their basic physical skills like jumping, throwing, kicking and catching, to develop strategic thinking, character building, life skills, plus get familiar with team building and survival elements. Meanwhile the Camp Explorers (11 – 15 year olds) will soar to new heights, challenge and exceed their limits while having fun in the great outdoors. Every day the children will discover a new circuit/tree-top trails that will engage them both physically and mentally, in a safe and fun environment fully supervised by certified and experienced coaches.
Dates: 8 March – 9 April 2020;
Timing: 9am – 3pm;
Ages: 6 – 10, 11 – 15;
Fees: 200 AED for a 1-day camp, 350 AED for a 2-day camp, 699 AED for a 5-day camp. All prices are inclusive of snacks, lunch, unlimited water and entrance fee to Mushrif Park. Transportation isn't included;
Contact details: +971 52 348 1007, bookings@aventuraparks.com (John Kenneth Nicolas);
Location: Mushrif Park، Gate 1، POB 30929, Dubai.




Photo Credit: Step IT Institute


People often ask us what children enjoy so much about Step IT Institute. We suppose the answer can be many things, including project-based education, a variety of holiday programmes, the fact that topics are taught at an age appropriate level and learning is enhanced by a great deal of practical work. Founded in 1999 as an international educational centre with 83 branches in 20 countries with the purpose of transforming the legacy of education system, Step IT Institute's principal focus will always remain unchanged – developing digital literacy in children and educating future web-developers, designers and system engineers. From 2D and 3D graphics, interior design to motion graphics, Step IT Institute has something to interest just about anybody aged 10 to 14. But undoubtedly one of the best things for youngsters is that there is the opportunity to not only work on exciting assignments, but also to earn their own "academic" currency. Parents can check out the online platform at any time and follow up on their child's progress and success.
The Step IT Institute's expert tutors cater to everyone from total beginners to aspiring developers. The youngest, aged 10 to 12, will have an introduction to Gimp and 123Desgin interface and some of the software features, photo editing, pixel art drawing and interior design. For those who seek some 2D game development courses, there will be programmes aplenty based on GameMaker 2: the young campers will develop good basic skills in game development, create their own Brawl Stars, Undertale and Shooter games, and make a plot for their own game. Are your kiddos interested in creating videos? If so, the teachers will show them essential elements of video making, introduce them to Wondershare Filmora app, some professional equipment and demonstrate how to create their own videoclip.
The teens from 12 – 14 will have plenty of opportunities to learn the basics of game development in Unity or Python: from plotting and creating video games, game programming and designing, to creating their own game. One of the highlights of the camp calendar is Motion Graphics ranging from Adobe After Effects, Adobe Illustrator, Procreate*, *Roughtanimation, basics of drawing on iPadPro, basics of Stop Motion for creating a character and your own animated video.
Dates: 29 March – 10 April 2020;
Timing: 2pm – 5pm;
Ages: 10 – 14;
Fees: 2600 AED for 2 weeks including snacks and refreshments during the breaks. TickiKids readers will receive an exclusive AED 100 discount for a further 3-month course when booking the Spring iCamp 2020. Students will be able to pass a free career aptitude test and the results will be sent over to parents.
Contact details: +971 58 547 8759, dubai@itstep.org;
Locations: office G25, ground floor, block 2A, Dubai Knowledge Park, Dubai.




Photo Credit: Hamleys UAE


Looking for a little more adventure and activities for kids while going shopping at The Dubai Mall and, ideally, a lot more time to enjoy it? The answer – Camp For Kidz by Hamleys, one of the oldest and largest toy shop in the world. With 260 years of experience in bringing smiles and laughter to children, the British multinational toy retailer Hamleys is curating extraordinary array of DIY workshops and taking the more mundane tasks off parents' hands. 
Taking place from 27th February to 9th April 2020 at the idyllic Hamleys shop in The Dubai Mall, the Camp will involve a mix of hands-on craft workshops, immersive educational activities and other fun offerings, wrapped up in a beautiful jungle themed setting. Making the most of this school holiday hotspot, the camp will include oodles of activities ranging from making your own bath bomb, play dough, illuminated aquarium, unicorn nightlight, pizza, dream catcher or even turning clay pots into animals.
Designed for kids aged 3 to 12, there is family fun all day long. Show up anytime between 10am and 12 midnight, and your child will be welcomed into a jungle themed camp with fierce animals and exotic trees. Certain workshops may have a minimum age for participation due to the difficulty involved, but not restricted to that. The workshops are changing regularly, so keep an eye on the website.
Dates: 27 February – 9 April 2020;
Timing: 10am – 4pm;
Ages: 3 – 12;
Fees: 39 AED per workshop, 69 AED for any two workshops run for 2 hours;
Location: Dubai Mall, Downtown Dubai.




Photo Credit: Baby Home Nursery


Following the British Early Years Foundation Stage Curriculum, Baby Home Nursery strives to create a happy atmosphere where learning is fun. This spring they offer more than just a holiday camp. Enjoy a magical break at Baby Home's with a fantastic choice of Easter focussed themed activities. The kids will go wild for all the indoor and outdoor FUN-tastic events which include Easter egg hunt, egg and spoon races, bunny hop relays, animal yoga, Easter bonnet parade, spring gardening, interactive storytelling, spring animal face painting, spring sensory walks and even culinary arts.
One mum called Deirdre Gale summed up their experience well: "My son has been at BabyHome Nursery for 19 months, since he was only three months old!! He absolutely loves it there. He loves the staff, every single lady! With their guidance, he has made exceptional progress. He loves the facilities, particularly the soft-play room. He loves the other children and the activities that he engages in with them. From music to arts & crafts to sport, Baby Home provides him with such a variety of opportunities."
Dates: 29 March – 9 April 2020;
Ages: 1– 5;
Location: Lake Level, Lake Point Tower, Cluster N, Jumeriah Lake Towers, Dubai.




Photo Credit: Tutoring Center Dubai


As a renowned after-school learning centre founded in 1994, the Tutoring Centre offers countless opportunities to excel and students not only improve dramatically in the areas of Reading, Maths or Writing, but do so with a spring in their step and unbounded enthusiasm. The results are are phenomenal. Their unique methods help children foster a love of learning while giving them the tools and confidence to perform at their best. One of the Tutoring Centre's notable strengths is its instructors who are passionate about their subjects and hold bachelor's, master's, or doctoral degrees (many also hold other top professional credentials in a variety of fields), as well as assistant instructors that recognised as top alumnus in their colleges and universities.
Understanding that academic pressure steps up once pupils are back for the second part of the school term, the Tutoring Centre offers holiday programmes for kids whether they are just starting school or preparing for their final exams. Prospective parents are inspired by spring holiday courses, covering topics such as English phonics and sight words, blending and phonics, foundation skills of reading and blending, reading comprehension, handwriting and writing skills, grammar, spelling and creative writing. Invaluable to leavers is the option of Exam Preparation (SAT, SPAG, IB test prep and more) which is vital to getting accepted into the college of your choice. Maths is incredibly popular. In today's competitive environment, this subject is getting more and more difficult for students of all ages. This programme will increase your child's computational and problem-solving skills for long-term success, and will also prepare your children for immediate classroom challenges like daily assignments and chapter tests so they can earn A's and B's.
Dates: 29 March – 9 April 2020;
Timing: 2:30pm – 5.30pm weekdays; 10.30am – 1.30pm on Saturdays;
Ages: 5+
Fees: AED750 per week.
Location: The Tutoring Center Dubai, Knowledge Village, Block 2B, Ground Floor, Dubai.
By Anna Khan
Subscribe to weekly newsletter from "Tickikids"