Amazing Virtual Tours of Parks, Gardens and Natural Areas
---
Published 25 March 2020 at 17:29
Tickikids Blog Dubai > Amazing Virtual Tours of Parks, Gardens and Natural Areas
---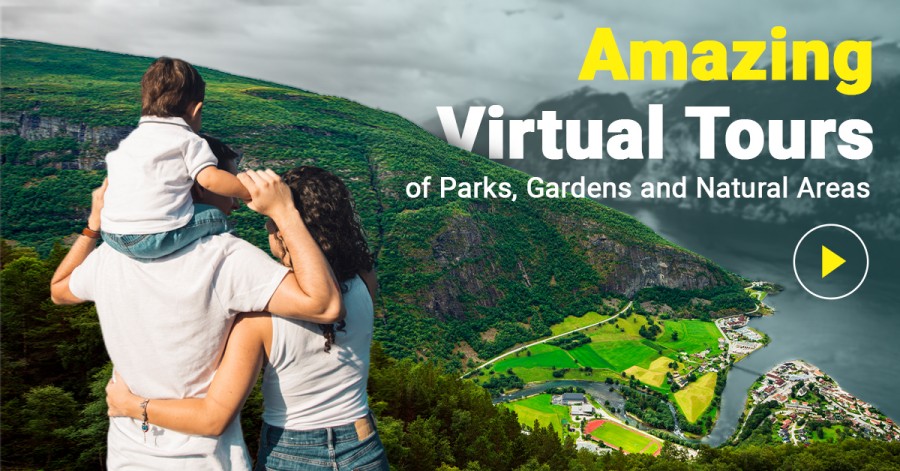 ---
Can't going out and dive into nature? Looking for ways to engage all the family? There is a great way to get a little culture, education and inspiration while you're confined to your home. Many parks and gardens make it possible to visit them without leaving your couch. Here is the list of amazing worldwide natural areas to explore and tour virtually. 


Photo Credit: Alaska Tour and Travel, Cruise Be


Kenai Fjords National Park is a United States National Park established in 1980 by the Alaska National Interest Lands Conservation Act. It is the fifth most-visited park in Alaska. Kenai Fjords covers an area of 669,984 acres (1,046.85 sq mi; 2,711.33 km2). The park is named for the numerous fjords carved by glaciers moving down the mountains from the ice field. The field is the source of at least 38 glaciers, the largest of which is Bear Glacier. This National Parkk protects the icefield, a narrow fringe of forested land between the mountains and the sea, and the deeply indented coastline. The park is home to a variety of terrestrial and marine mammals, including black bears, whales (humpback and killer whales), seals and moose.  


Photo Credit: lonely planet
Hawaiʻi Volcanoes National Park, established on August 1, 1916, encompasses two active volcanoes: Kīlauea, one of the world's most active volcanoes, and Mauna Loa, the world's most massive shield volcano. The park provides scientists with insight into the birth and development of the Hawaiian Islands, and ongoing studies into the processes of volcanism. For visitors, the park offers dramatic volcanic landscapes, as well as glimpses of rare flora and fauna. Over half of the park (130,790 acres (529 km2)) was designated the Hawaii Volcanoes Wilderness area in 1978, providing solitude for hiking and camping. 

Photo Credit: National Park Service
Carlsbad Caverns National Park is an American national park in the Guadalupe Mountains of southeastern New Mexico. Approximately two thirds of the park has been set aside as a wilderness area, helping to ensure no future changes will be made to the habitat. The primary attraction of the park is the show cave, Carlsbad Cavern. Carlsbad Cavern includes a large limestone chamber, named simply the Big Room, which is almost 4,000 feet (1,220 m) long, 625 feet (191 m) wide, and 255 feet (78 m) high at its highest point. The Big Room is the fifth largest chamber in North America and the twenty-eighth largest in the world. Until 1932, visitors to the cavern had to walk down a switchback ramp that took them 750 feet (230 m) below the surface. The walk back up was tiring for some. In 1932 the national park opened up a large visitor center building that contained two elevators that would take visitors in and out of the caverns below. The new center included a cafeteria, waiting room, museum and first aid area.


Photo Credit: Bryce Canyon National Park




Bryce Canyon National Park covers 35,835 acres (55.992 sq mi; 14,502 ha; 145.02 km2). Bryce Canyon. The park is much smaller, and sits at a much higher elevation than nearby Zion National Park. The rim at Bryce varies from 8,000 to 9,000 feet (2,400 to 2,700 m). The major feature of the park is Bryce Canyon, which despite its name, is not a canyon, but a collection of giant natural amphitheaters along the eastern side of the Paunsaugunt Plateau. The red, orange, and white colors of the rocks provide spectacular views for park visitors.

The Bryce Canyon area was settled by Mormon pioneers in the 1850s and was named after Ebenezer Bryce, who homesteaded in the area in 1874. In 2018, Bryce Canyon received 2,679,478 recreational visitors, which was an increase of 107,794 visitors from the prior year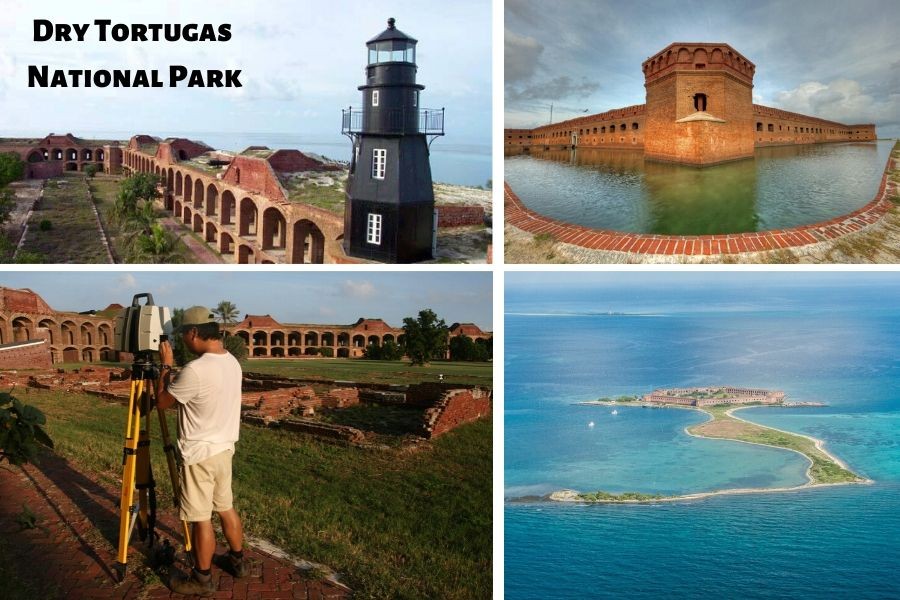 Photo Credit: Dry Tortugas National Park
Dry Tortugas National Park is about 68 miles (109 km) west of Key West in the Gulf of Mexico. It is a part of the Everglades & Dry Tortugas Biosphere Reserve, established by UNESCO in 1976. The park is noted for abundant sea life, tropical bird breeding grounds, colorful coral reefs, and legends of shipwrecks and sunken treasures. The park's centerpiece is Fort Jefferson, a massive but unfinished coastal fortress.
The first European to see the Dry Tortugas was Juan Ponce de León, who visited on June 21, 1513. Ponce de León caught 160 sea turtles there and subsequently referred to the islands as the "Tortugas" (turtles). They are called Dry owing to the absence of surface fresh water on the island.


Photo Credit: Wikipedia


He Garden is recognized as one of the most remarkable private gardens recently created in Yangzhou, China. This heritage site is under state protection and a national AAAA-rated tourist attraction. The He Garden is a large private garden with a residence. The garden covers an area of 14,000 square metres (17,000 sq yd), of which 7,000 square metres (8,400 sq yd) are cultivated. The garden is highly cultivated; however, a visitor does not feel cramped because of the garden's layout. Around the garden there are only buildings, without mountains or running water. Absorbing the essence of traditional Chinese gardening, He Garden introduced western landscape architecture and has established its own style. Chinese experts on ancient gardens have long praised the art employed in building He Garden, calling it "a single case of gardens in South of the Yangtze River area".

The He Garden is a typical residential garden, built in 1883. The garden was built on the old site of the Garden of Double Pagoda Trees. And now there is still one pagoda tree left in He Garden. Its original name is translated "Mountain Villa for Ease of Singing".


Photo Credit: Sigirya
Sigiriya or Sinhagiri is an ancient rock fortress located in the northern Matale District near the town of Dambulla in the Central Province, Sri Lanka. The name refers to a site of historical and archaeological significance that is dominated by a massive column of rock nearly 200 metres (660 ft) high.
The Gardens of the Sigiriya city are one of the most important aspects of the site, as it is among the oldest landscaped gardens in the world. The gardens are divided into three distinct but linked forms: water gardens, cave and boulder gardens, and terraced gardens.



Photo Credit: travel.earth

When it comes to tulips, you can actually see them in Holland. Fields of these gorgeous flowers made Holland so famous. From mid-March to mid-May parts of the country are transformed into a sea of flowers. You can see tulips north of Amsterdam, roughly between Den Helder, Schagen and Medemblik. The soil of the dunes is very fertile and perfect for growing tulips. Tulips basically bloom between 3 and 7 days. So, why is it that you can see fields and fields of them in Holland? Well, first of all: you will also see fields full of other flowers. Second of all, tulips and other Dutch-grown flowers are in high demand, so farmers have planned for this blooming period between March and May to take full advantage.
Information Sources: Wikipedia, Your Dutch Guide


Subscribe to weekly newsletter from "Tickikids"