Dubai's Best Virtual and Real Summer Camps to Discover in 2020
---
Published 23 June 2020 at 17:41
Tickikids Blog Dubai > Dubai's Best Virtual and Real Summer Camps to Discover in 2020
---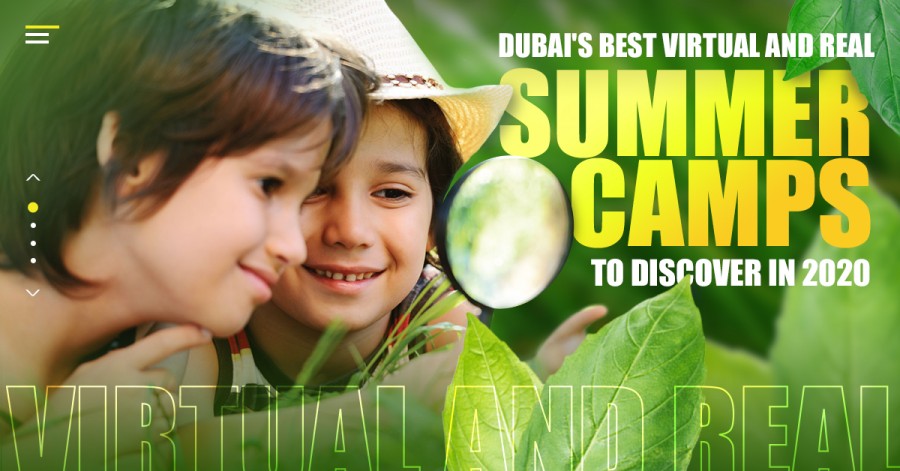 ---
There is nothing better than activity breaks with friends, discovering new places, meeting new people and making memories that last a lifetime. We also know that choosing a decent children's holiday camp in such a big city like Dubai can often be a daunting challenge. With a wide range of school holiday programmes, camps and workshops available, at TickiKids, we have made immense efforts to bring you a carefully handpicked selection of the most exciting summer holiday camps that entertains, educates and ensures children get the best possible experience.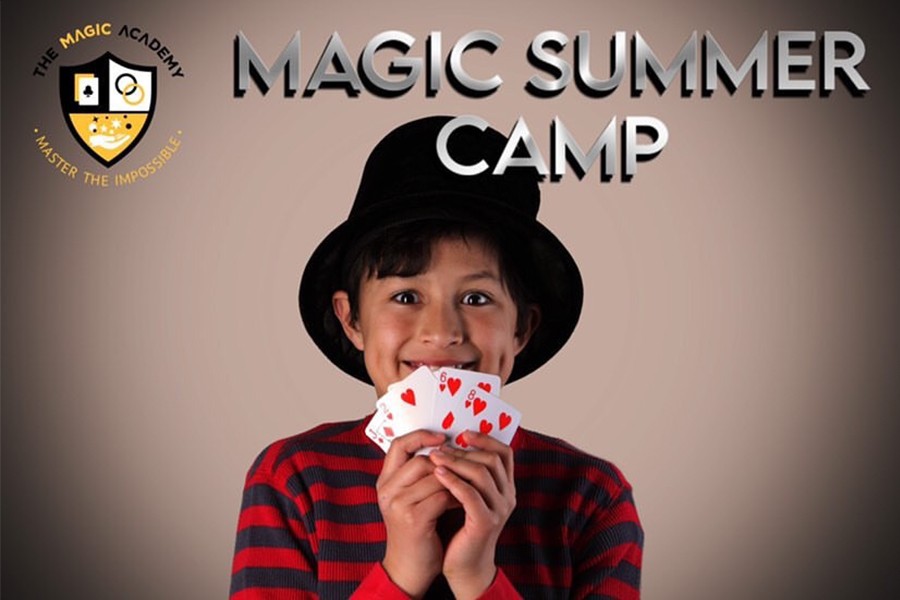 Passionate about illusion and tricks in all its myriad varieties, a professional Dubai-based magician Fred Sharp has founded an online school The Magic Academy to share the secrets of the fascinating art of illusion. The students aged 9 to 15 will benefit from his 20 year's dedication to the world of magic, illusion, mentalism, and a new gain for Fred Sharp – digital magic.
More than just a summer camp, beginner students are immersed in a spectacular realm of fantasy and introduced to a world of new experiences from the moment they join a Zoom session. From learning impressive magical effects, history of magic and famous magicians that have influenced the art to creating a small magic show, all students get the opportunity to master fundamental skills. The weekly camp offers a vast range of varied techniques from card magic, coin magic, rope magic, magic with everyday objects to mentalism. Your budding magicians will have a whale of a time with endless tricks and a jolly good summer.
Dates: 5 July – 27 August 2020;
Timing: Sunday to Thursday 9:30am – 12:30pm via Zoom;
Ages: 9 – 15;
Fees: 750 AED​. Get an Early Bird discount and pay 600 AED​ (expires 1st July 2020) including a magic kit delivered direct to homes.




It's been four months in the making, but Eduscan's new Online Summer Camp is finally open for entries. Twenty six years in educational industry, and Eduscan shows no signs of slowing. Being the award-winning and ranked as one of the Top Holiday Camps in the UAE (KHDA & CA approved), its founder and renowned educational psychologist Dr. Alka Kalra is in constant pursuit of newer, more avantgarde ways to perfect their students. Training young minds in Dubai, Sharjah, Malaysia, Thailand and South Africa, Dr. Alka Kalra and her team of highly-trained instructors understand in depth the pressures that society places on young people. The pre-eminence of Eduscan Online Holiday Camp in all types of personality development and brain mapping has been established over two decades of practice using a variety of unique and carefully selected activities at the most affordable fees. And the proof can be found in more than 30,000 delightful students with a zeal for learning. Dr. Alka Kalra's expertise enables her to offer an extensive repertoire of children's programmes for summer holidays. The main goal of this summer's Leadership Training and Progressive Academic Training is to empower children to overcome the barriers and be the most confident and self-assured version of themselves.
Based on the best-selling book 7 Habits Of Highly Effective People by Stephen R. Covey, Leadership Training focuses on communication skills, self-confidence, creativity, and social-emotional skills. The programme covers a range of activities including public speaking, memory and concentration, creative thinking (games), leadership skills, arts & crafts, brain gym & mindfulness. Progressive Academic Training gives students the chance to enhance their academic performance through practical tasks led by specialist psychologists. During this summer, the campers will grow their linguistic skills, cognitive development memory & concentration, handwriting, arts & crafts, brain gym and mindfulness.
Dates: 28 June – 27 August 2020;
Timing: Sunday to Thursday 10am – 1:30 pm and 2:30pm – 6pm;
Ages: 4 – 19;
Fees: from 299 AED per week.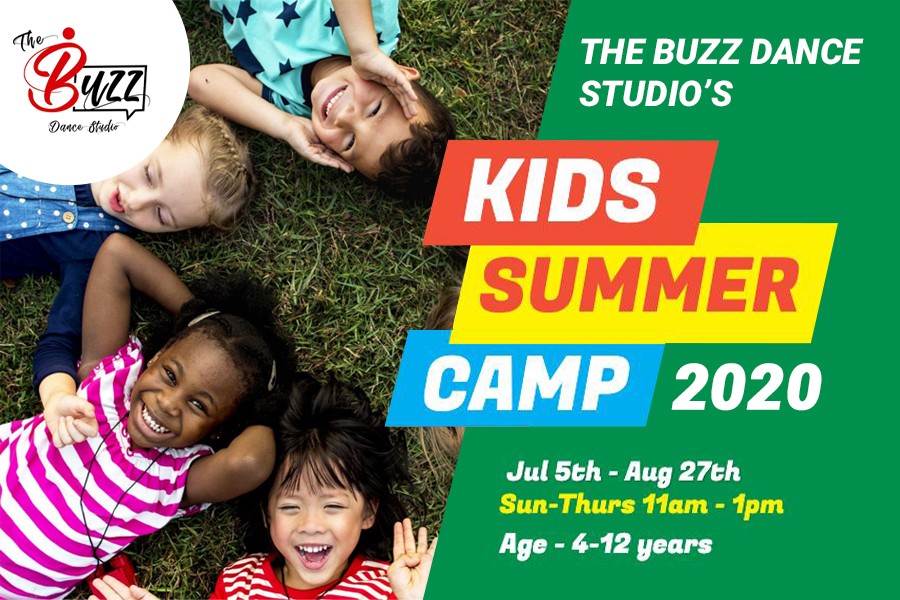 Welcome back! We are thrilled to see and hear that The Buzz Dance Studio reopens continuing social distancing measures to keep little ones safe from COVID-19. There is a definite buzz around the Studio, as their professional dance experts and guest teachers are preparing to open their doors to the young audience over the next few days and host fun-packed Summer Camps. The Buzz Dance Studio is of course not forgetting those kids who are not able to attend real camps in-house and offers virtual sessions on Zoom at the same fees to look forward to as well.
Being skilled and caring professionals in varied areas, they provide activities to suit a plethora of interests. The campers will revel in the sheer variety of fun activities including dance, art & craft, Yoga, STEAM, cold cooking, gift wrapping and other activities that keep their minds occupied throughout the summer.
They also offer ongoing expert teaching in Hip Hop, Bollywood, Jazz, Contemporary and other dance styles for children of all ages and abilities who share a love for dancing.
Dates: 5 July – 27 August 2020; 
Timing: Sunday to Thursday 11am – 1pm;
Ages: 4 – 12;
Fees: 520 AED for 8 weeks or 300 AED for 4 weeks. Enrol now and get an Early Bird discount (500 AED for 8 weeks or 280 AED for 4 weeks).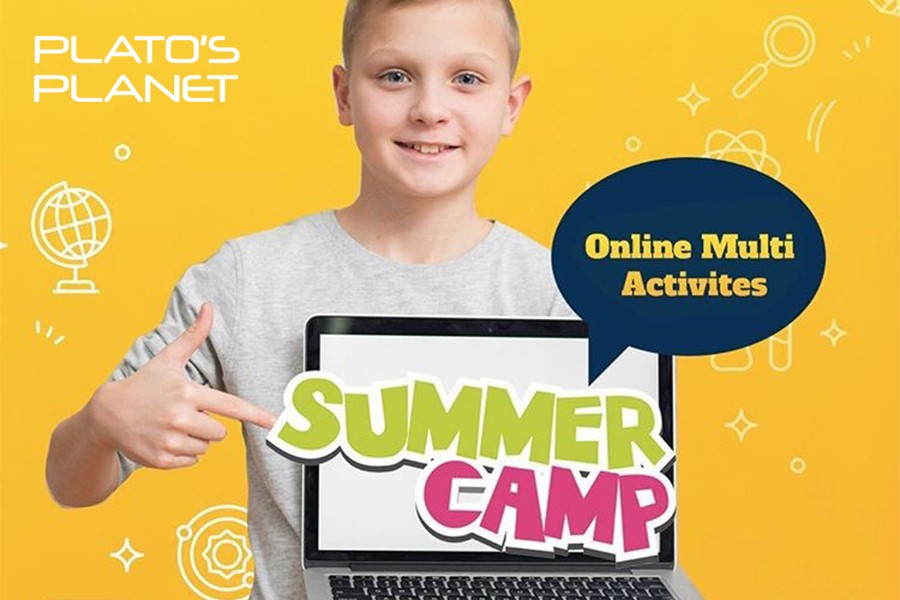 Plato's Planet is one of the most reputable Holiday Camp operators in Dubai, offering summer time opportunities primarily geared towards kids and teens aged 8 to 14. In this unprecedented time, the guys have adapted all their programmes to online tools to help you stay safe. This year's camps are focused on interactive activities as they would have done in a real summer camp. From making new friends, delivering debate speeches, exploring an ancient art, creating their own face masks, getting active with some exercise routines to exploring the world of coding and robotics.
This year, the renowned centre offers two inspiring options – Online Multi-Activities and Online Tech-Pro Robotics summer camps.
Online Multi-Activities Camps is aimed at 8 – 14 year olds and imbued with a spirit of friendship, enthusiasm for learning practical skills in art & craft, DIY projects, oratory & public speaking, coding & robotics and doing sports.
Online Tech-Pro Robotics Camp gives valuable opportunities for children aged 10 to 14 to explore the new developments happening in the world today. There is really something for all tech savvy students: Robotics with Lego simulation, understanding computers using Microbit, creating products with 3D Design, TinkerCAD & Animation, app development & game design. We just love that every activity is themed around the unique subject the camp adopts every week.
Dates: 5 July 2020 onward;
Timing: Camps 1: 10am – 12:45pm, Camp 2: 10am – 12:00pm;
Ages: 8 – 14;
Fees: 199 AED per week.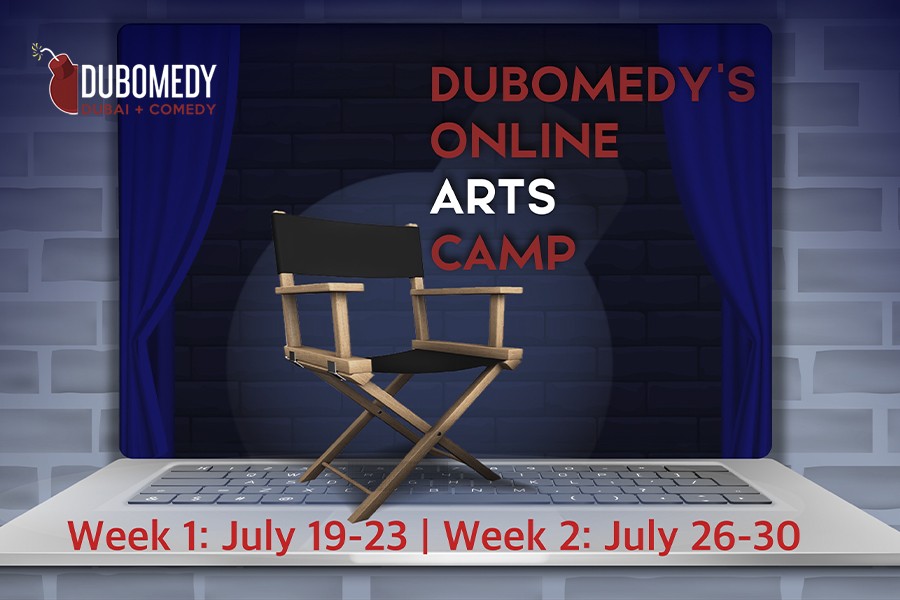 Perhaps you'd like to take advantage of learning from renowned international artists, having fun and making happy holiday memories over the summer without having to leave home. Or practise your performing arts skills and show-off your awesome results in a final Zoom showcase? If your little one has a penchant for performing arts, Online Art Camp and Teen Comedy Workshops offered by Dubomedy Arts School are spot-on for them this summer.
Founded in 2008 by an American multi-award-winning performing artist Mina Liccione and Ali Al Sayed, thousands of budding performers have been trained under them and the alumni have been featured on television, film, Netflix, festivals and international stages. Having years of performing and teaching experience, Dubomedy's coaches emphasise fun as a major part of learning various aspects of performing on stage.
Now, when all the shows around the world are postponed for an uncertain period, we can take some solace in the fact that celebrated coaches with credits spanning from TV, Film, Broadway, Cirque du Soliel and even the winner of Spain's Got Talent will be able to teach our kids online within Dubomedy's summer camps and workshops. There are a huge range of fabulously creative activities on offer. Drama & storytelling, percussion with recycled objects, singing, creative movement, martial arts, juggling, drawing for the youngest kids; theatre, percussion & stomp jam, singing, juggling, improv comedy, hip hop & break dance, martial arts, yoga for the older ones, Dubomedy makes sure that no stone is left unturned.
The Teen Comedy Workshops offered at the camp are delivered by a professional comedian with over 13 years of comedy coaching experience. Each student has the opportunity to learn the basics of improv comedy, classic skits and get individual attention and guidance to create their own unique 3-minute comedy set to perform in a final Zoom showcase.
Dates: 19 July – 5 August 2020;
Timing:
Ages 5 - 7: 10am – 11:30am;
Ages 8 - 11: 10am – 1pm;
Ages: 12 - 14: 10am – 1pm;
Teen Comedy Workshops: 3pm – 4:15pm;
Ages: 5 – 14;
Fees: from 350 to 650 AED per week subject to the age group, including exclusive performances by their coaches, daily challenges, a camp movie night watch party.


If you want to challenge your child with real life experiences and natural curiosity, The Study Room is your place. Here, teachers and expert mentors weave their engaging skill-based programmes to hands-on projects, digital technologies and presentations over the real, offline multi-skill Summer Camp called The All Star Summer Challenge. From information, media and technology literacy to problem solving, communication, collaboration and creativity, the camp aims to inspire participants by giving them freedom and encouragement to challenge themselves.
The challenges are carefully organised by the educators in a mission-like format covering six broad themes: Entrepreneurship and Innovation, Technology, Science and Engineering, Community and Service, Health and Wellness, Expressive Literacy and Sustainability.
The children are enabled to problem solve, so that they can take on challenges where they demonstrate the way in which they approached their challenge and how they succeeded. This is shared with other children to encourage them to also take on challenges. Every challenge is bespoke and every day is unique. Children have access to teacher mentors and expert mentors who will guide the learning process from getting inquiries to planning, participation, presentation, and review. The campers will also get the opportunity to be included in the All Star Hall of Fame as well as be entered into the All Star Summer Competition.
Dates: 5 July – 27 August 2020;
Timing: flexible;
Ages: 5+
Fees: 299 Dhs for 1-2 weeks and 6 hours with a mentor, 384 Dhs for 3-4 weeks and 8 hours with a mentor, 449 Dhs for 5-6 weeks and 10 hours with a mentor.




If your kids have grown bored of staring at four walls during lockdown, then the announcement that The Tutoring Center Dubai is now open will no doubt come as welcome news.
Many parents choose private tutors for their children, but often they have limited success. Unlike other after-school learning classes, The Tutoring Center provides a long-term solution where recognised expert tutors focus on a range of attentional, behavioural and learning problems and specialise in helping children rapidly increase academic skills necessary for long-term success and get better grades. Few Dubai learning centres can claim the legendary status of The Tutoring Center established and developed by educational psychologist Dr Edward Theilheimer in 1994. Immensely likeable and full of enthusiasm, the tutors provide support in writing, reading, comprehension, grammar and maths including computation, applications, algebra and more to get ahead before schools reopen.
The students and their parents can rest assured that in the Centre renowned for its impeccable service and attention to detail, the safety of staff and families has certainly remained paramount. The Tutoring Center has introduced a host of stringent new hygiene and cleaning protocols and social distancing measures, in line with Dubai Municipality advice.
Dates: 5 July – 27 August 2020;
Ages: 5+
Fees:
1500 AED for 10 sessions within 20 days;
2700 AED for 20 sessions within 30 days;
4000 AED for 30 sessions within 40 days;
5300 AED for 40 sessions until the end of August 2020.
Contact details: +9714 558 6211 / 052 349 76 27;
Location: The Tutoring Center, Sustainable City, R06 Diamond Square, Sustainable City.




An exciting initiative from RAELS that offers virtual summer workshops will tick all the boxes for modern parents and their kids. With technologies going so fast, children need to be able to absorb new methods of thinking and to consider new ways of solving problems. Fortunately, RAELS runs a broad spectrum of online courses in Dubai, from theatre, dance, brain mapping, fitness, arts & craft to language, gaming and sports. Headquartered in London and operating in 18 countries around the world, RAELS has seen excellent results using live feeds, video and text material designed by leading industry experts under the RAELS portfolio.
From Art Expression and Drama to Foundation Summer Theatre workshops, undertaking forensic detective investigations to adventure yoga holidays in Kenya, there is truly something for everyone. In the coming days, enjoy colouring activities and origami, a camping trip to the mountains and travel through by-lanes of China to rescue an endangered tiger. Get ready to go for a safari in the jungles of Kenya or beaches of Australia or maybe even on an expedition to Antarctica. There are even theatrical voice and face expression exercises and exploring different cultures.
Dates: 5 July 2020 onward;
Ages: 3 – 11;


By Anna Khan
Subscribe to weekly newsletter from "Tickikids"