TickiKids Guide: Classes for Babies and Toddlers in Dubai
---
Published 24 September 2020 at 17:06
Tickikids Blog Dubai > TickiKids Guide: Classes for Babies and Toddlers in Dubai
---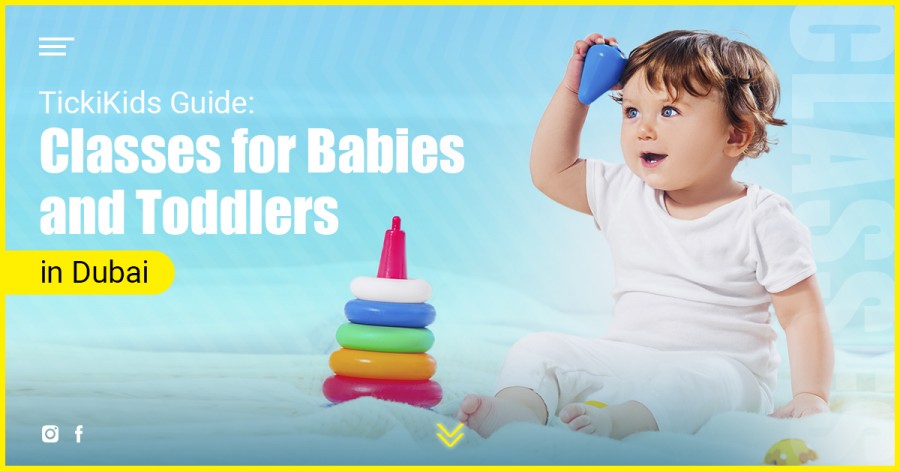 ---
It is never too early to start learning! Introducing your baby to new sounds, colors, tactual sensations is not just a way to keep her entertained. It is a real boost of cognitive, physical, and emotional development for your little genius. And baby classes with light, calm and safe environments are the viable option to start the educational process. 
Apart from many benefits for health and forwardness of a child, baby classes are the places where parents and children can spend some time together without distractions. And the very possibility of getting out of four walls of the house, traveling to new locations, good old human interactions sounds so invitingly. Ah, what can be more refreshing for a new mom than to see and chat with someone older than three months?
In this round-up, we have selected some great baby classes in Dubai. These places can boost the development of your little one and serve as a breath of fresh air to the new parents who often live a secluded life!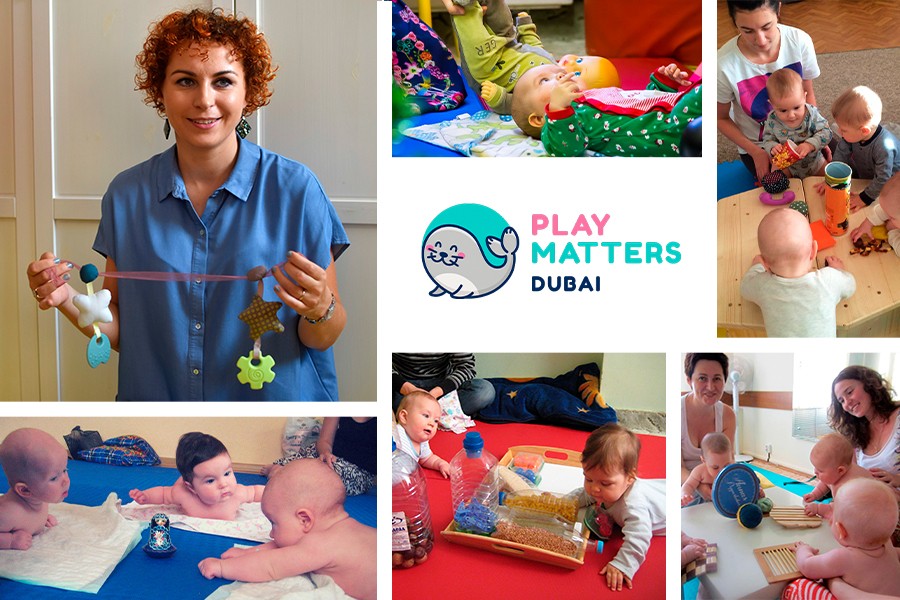 PlayMatters Dubai is the first company in UAE to organize parent-baby activities according to the PEKiP program. PEKiP is the abbreviation for Prager Eltern Kind Programm ("Prague Parent-Child Program") that was developed in Germany in the 1970s. This parent-baby program is widely regarded as the most reliable technology for conducting groups for babies and their parents across the German-speaking countries of Europe.

PlayMatters Dubai currently enrolls families with babies born in January-August 2020 to the PlayMatters Playgroups.
Here, new parents get ten weekly 90-minutes sessions during which their little ones will be engaged in the age-appropriate activities. Each group includes 4-6 families with babies of the same age (2 months of difference max) and the participants do not change during the course.
A certified group leader will offer different parent-child and child-child activities, provide necessary materials, and give useful tips. Each family will get individual attention. And the offered activities are not just for entertainment! These games improve parent-child bonding, encourage cognitive and physical development, and help to express a baby's personality.
Children learn, have fun, and interact with each other and parents in a safe, light, cozy, and calm environment. It is a great place to create perfect memories together with your little one and to find friends for years to come!
Fees: 1200 AED for 10 meetings;
Age group: 6 weeks – 12 months;
Contact details: info@playmattersdubai.ae or find PlayMatters on Facebook and Instagram;
Location: Dubai Marina.


Katie Jane Dubai is real big when it comes to the development of communicational and sensory skills! It is the only company in Dubai that is licensed to teach Baby Sign Language and run a franchise of the UK-based company, the Little Signers Club.
Little Signers Club Dubai classes
Age group: 4 months – 20 months;
The Baby Sign Language class helps new parents to improve a parent-child connection and gives a huge boost to the language development of a child. With help of signs, songs, rhymes, and stories parents learn to understand the signs their babies send them. It is an easy way to get rid of unexpected tantrums and tears, improve communication before the speech begins.
Age group: 6 months – 1 year and for 1 – 3-year-olds.
This class gives free rein to your tot's imagination! Engaging sessions where children can make mess and parents do not have to clean it afterward – what's not to love? And, what is more important, such sensory activities are the perfect way to improve fine and gross motor skills, boost creativity, and learn how to interact with kids of the same age.
Age group: 18 months – 4 years;
It is an outdoor play class with lots of songs, stories, nature activities, and crafts. This class will be beneficial for both parents and children as here you get a chance to explore nature together with your kid. Add here snacks in the open air, and you get the most enriching pastime!
Contact details: hello@katiejanedubai.com or Facebook




These classes were launched by a mother of three in 2017 and today it is a multi-award-winning company with offices in the UK, USA, and UAE. The experts of the company know the importance of the early few months of a baby's development and present well-thought-out classes for babies from newborns to 14 months.
Every session of the classes is theme-based, so it will be interesting to both parents and babies. And, do not forget about the necessity and benefits of social communications (with all COVID precautions) for the visitors of Bloom Baby Classes of all ages!
Age group: 6 weeks – 6 months;
Your little bundle of joy will love these classes! It is a great baby development and massage class that focuses on the improvement of the physical, cognitive, social, and emotional development. And what can be better than a calming massage for a long nap? It is a great bonding time that you can dedicate to your little one without unavoidable distractions that wait for you at home. True quality time!
Age group: 6 months – 14 months;
These enriching sessions offer a wide range of activities for curious toddlers. Bright props, heuristic treasure baskets, music – no wonder that kids adore these classes! It is a great combination to boost imagination, hand/eye coordination, and confidence in your little one.
Contact details: riette@bloombabies.com or Instagram 






What if the nearest baby classes in Dubai are too far but still you want to know how to improve your bonding and communication with your tiny tot? Womb&Beyond is ready to lend you a helping hand! Two great online courses with loads of useful information, tips, and exercises dedicated to baby massage, yoga, and sign language can be a real saving for any new parent!
Baby massage and yoga course
Age group: 0 –12 months;
This two-session online course is accredited by the International Association of Infant Massage and is delivered by Pranjul Tandon, an IAIM Certified instructor and CAPPA certified Childbirth Educator.
During the 60-90 minutes sessions via Zoom new parents will learn the yoga-based exercises and essential elements of the baby massage. These exercises are aimed to improve digestion, muscle tone, sleep patterns, and improve bonding between parent and child.
Baby sign language course
Age group: 6 – 24 months;
Every mom knows the level of frustration when you try to understand what upsets your baby. And when a baby still cannot talk, this is almost impossible! The course of baby sign language can come in handy!
This 6-sessions online course will help you to reach out to your baby. You will find out how your little one expresses needs and feelings, do the groundwork for future speech, and boost the intellectual development of your baby. The duration of each section is 60-90 minutes during which you will learn a variety of signs, rhymes, games, songs, and many other activities.
Contact details: pranjul@wombandbeyond.info or Instagram or Facebook.
Find Out More
Subscribe to weekly newsletter from "Tickikids"