Mattel Play! Town in Dubai: TickiKids' Review
---
Published 31 May 2018 at 19:52
Tickikids Blog Dubai > Mattel Play! Town in Dubai: TickiKids' Review
---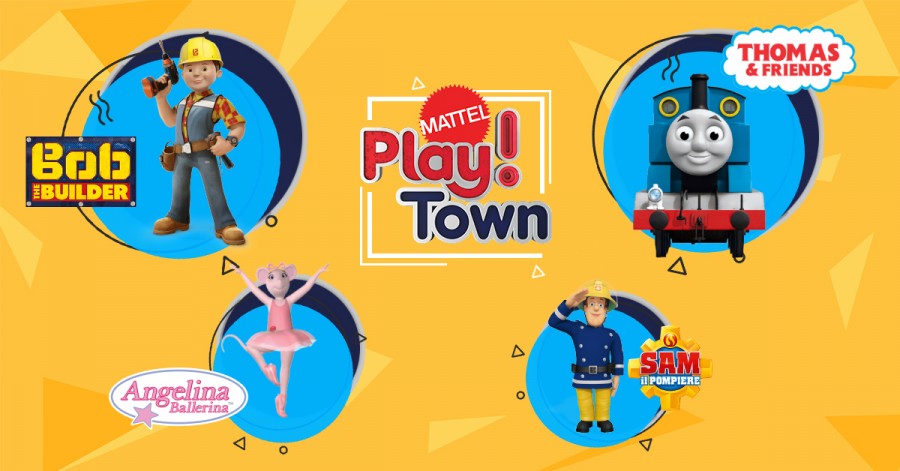 ---
Step into the world of children's favourite animated characters and meet its creatures at Mattel Play! Town in Dubai.


When it comes to sharing first-hand experience, TickiKids Test Patrol families are ready to provide an authentic source of information and feed your imagination. Meanwhile, on 19th May 2018, two families were treated to a weekend of entertainment at the Mattel Play! Town.
These days, in the world of television and video games fandom, it is quite easy to keep our children hooked on their favourite TV series year in and year out. To a great extent, the world's largest American toy company, Mattel, has made an incredible impact in exposing new incarnations of children's TV shows and delighted kids for generations with all-time favourite characters, such as Thomas & Friends, Angelina Ballerina, Bob the Builder, Fireman Sam, Barney & Friend and dozens of others. But, in this review we will concentrate on these five particular TV series. Here is why! Believing in the power of play, the Meraas Leisure & Entertainment division of the Dubai-based Meraas Holding has made connections with the franchise holders and jointly with their Mattel Play! Town in City Walk adapted the storylines into a 5-themed zone play park along with live shows for preschool audiences and families.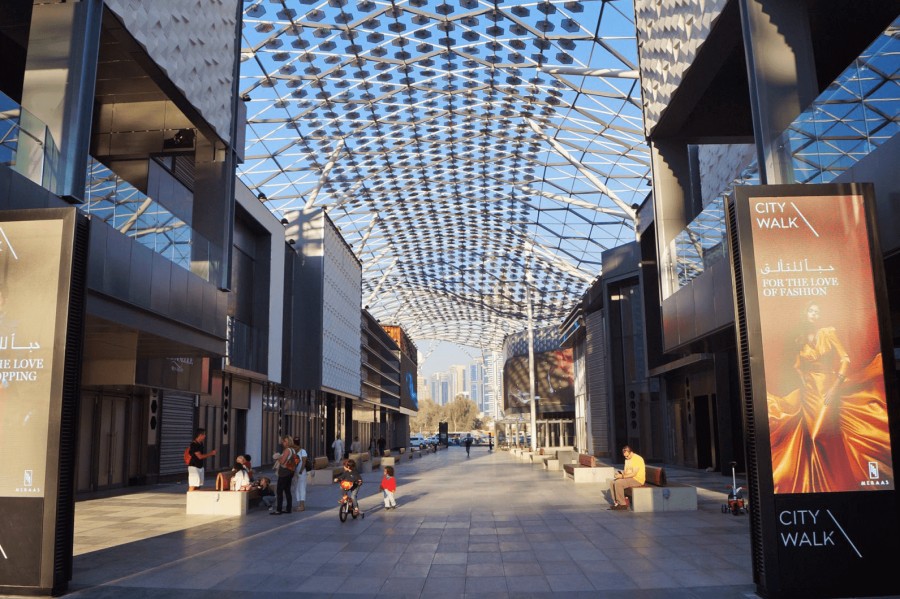 It has been five years since Meraas Holding launched in Dubai its 13,000 sqm outdoor luxury lifestyle concept called City Walk. It features a retail complex, the region's first immersive entertainment park Hub Zero, the region's first bio-dome The Green Planet, 10-screen luxury multiplex cinema Reel Cinemas City Walk, and Mattel Play! Town, a themed 'eduplay' attraction for children. City Walk is situated at the junction of Al Wasl and Al Safa Road. It is accessible from Sheikh Zayed road, via exit D71 towards Jumeirah, and is a mere 15-minute walk from the Burj Khalifa Metro Station. 

Mrs Aktha Jiyas, mother of 4 y.o. son Daniyaal, and 2 y.o. daughter Aayat, kindly shared her experience of attending the play park with her children:

"Honestly, the play park exceeded my highest expectations. I had imagined it as a small studio with some space for each attraction, but in fact, it is huge and astonishing. Greetings from a huge doll Barney brought an incredible range of emotion to children. They were literally bursting with joy and excitement straight at the entrance. The park was fairly crowded, which is predictable at the weekend. Anyway, Mattel Play! Town gives you a big choice of indoor play areas to keep you and your family amused. All zones are different, so you can choose what's fun for your kids".
Mrs Bhavneet Kaur, mother of 7 y. o. son Tanushh Lath, and 3 m.o. daughter Keemaya Lath, said, Thursday 24 May 2018, it seemed like the right day to spend more time on leisure activities at Mattel Play! Town.
"It was not overcrowded. The kids could let off some steam and had lots of fun in the park. Our first impression was awesome. We were enthralled and mesmerised by the bright, colourful area and spacious entrance. The proper provision of souvenirs and toys left us spellbound at the exit. From the moment you enter the Mattel Play! Town park, you are left with an unforgettable experience."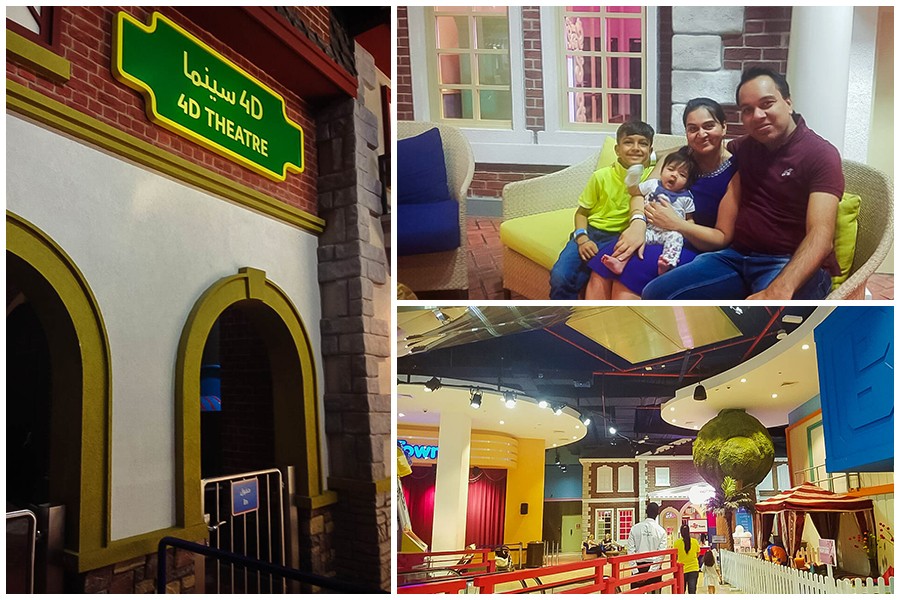 Once you have paid for the entrance you go up a moving staircase to the first level and get into a hall with the stage where you can see a live performance by your kids' favourite character whether it is plush doll Barney, Fireman Sam or Bob the Builder.
Bhavneet Kaur: "There are different live shows features TV show's characters which take place on the stage every 1-1.5 hours. According to our experience, if you check their schedule in advance, what you can do browsing the website or at the entrance, you will have a chance to see at least 2 live shows and enjoy all other activities in between.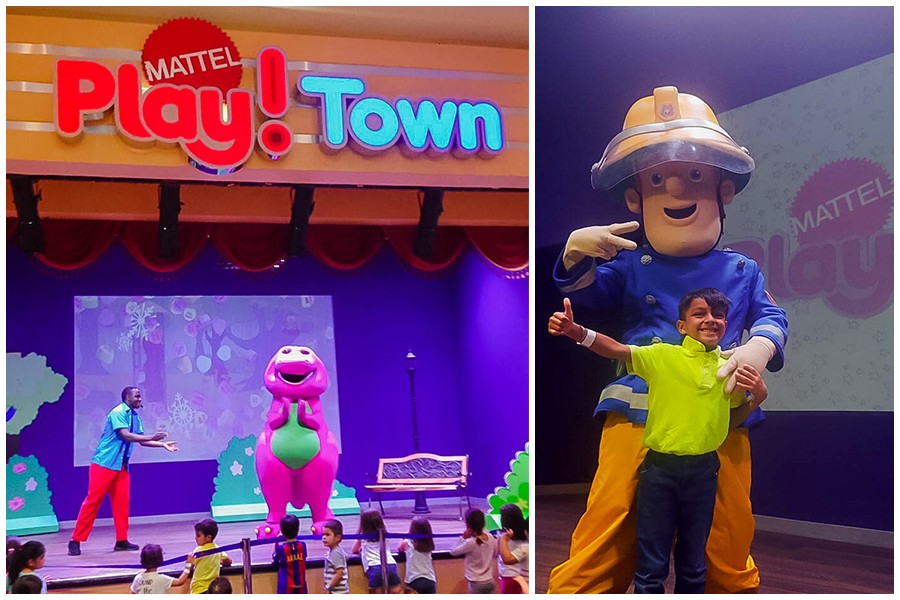 Aktha Jiyas: "The regular live shows are a source of joy wherein your little ones can mingle with the characters on the stage, dance, walk around the space, meanwhile parents can take pictures of their kids in a company of these funny creatures."

Mattel Play! Town has five different play zones arranged over two floors, all carefully designed to challenge and stimulate children aged from 2 to 10 years.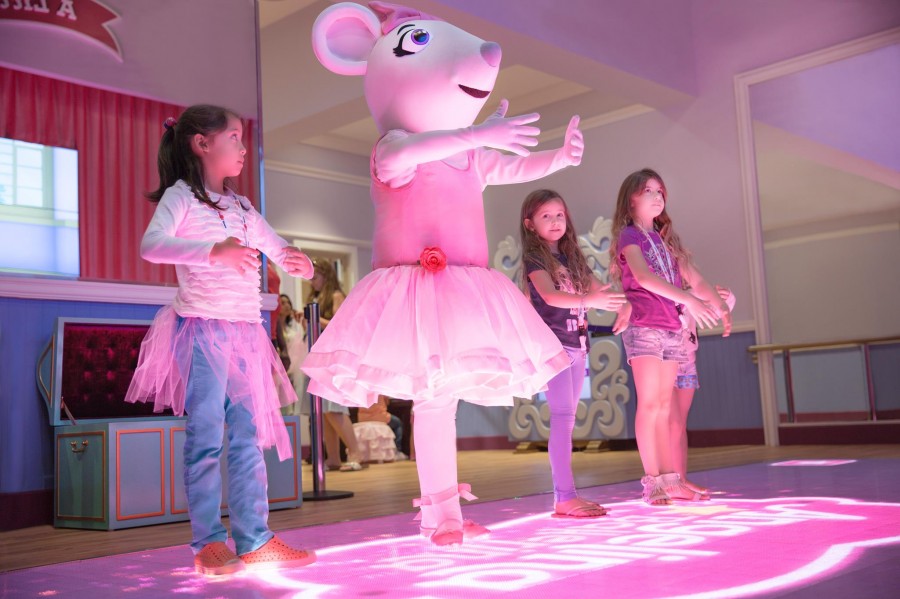 Photo Credit: photo from www.facebook.com/PlayTownDubai
If you have a daughter who is keen on a British animated TV series ANGELINA BALLERINA about a fictional mouse who is training to become a ballerina, this zone will be the most exciting for your child. The sheer thrill and enjoyment children take from the game with Angelina is something that will live with them for a long time.
Bhavneet Kaur: "The space is bursting with pink and mint colours, which is complemented with very girl-ish décor throughout."
It looks like a real ballerina's house: with make-up tables and make-up brushes on it, wardrobes for ballet tutu skirts and tiaras, pointe shoes etc. Girls can try everything on and the support assistants will make a light make-up, bright manicure with nail stickers, make a necklace for your little cuties. All kids will be amused by a touch-sensitive floor and the lessons run by Angelina Ballerina displayed on the big screen at an interval of about 20 minutes.
Bhavneet Kaur: "Their virtual mirror is also quite fun since you can just touch it and dress up in the outfit of your choice, play with your reflection, take pictures and email them directly to you. Unfortunately, we failed several times emailing the pictures. It was challenging even for the staff too."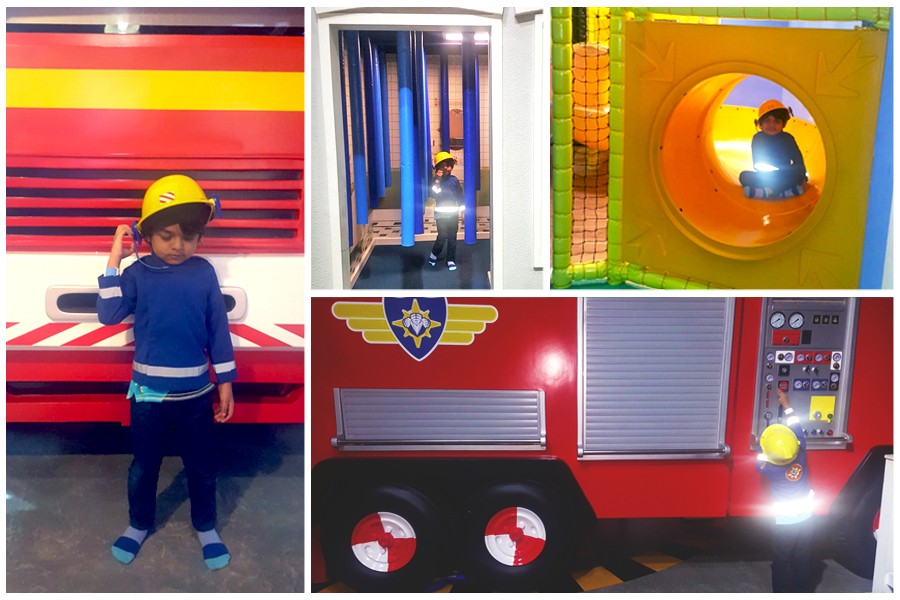 If your child desires to become one of the firefighters of a village of Pontypandy you can easily translate the possibility into action with the FIREMAN SAM. There is so much to do in this zone, so your children will never get bored. Race to the rescue, overcome obstacles such as a climbing structure with slides, tubes and rope walks are the rescue adventures your own Fireman Sam will have to deal with. First and foremost, they jump into action and get the real working fire engine ready. There is a Fire Station with an electronic control desk with lights and sounds.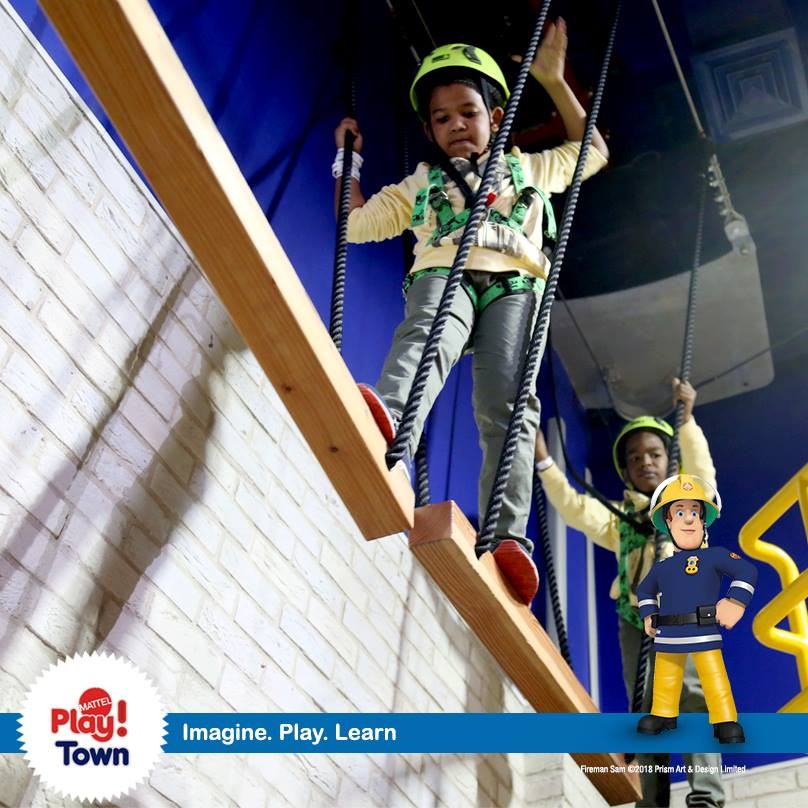 Photo Credit: photo from www.facebook.com/PlayTownDubai
Bhavneet Kaur: "If the height of your child is under 1.2 m, like my 7-year-old son, unfortunately, such kids are not allowed to complete the last aerial adventure maze due to the utility belts which are designed for some particular height. So it was slightly disappointing for my son. If he had been permitted to complete it, then we could have said that the Fireman Sam was the most favourite zone.
Aktha Jiyas: "You will find all sorts of fun at Fireman Sam zone if you have kids above 120 cm. Nevertheless, we had loads of adventures and loved wearing the fire rescuers costumes and fireman's helmet. It is ideal for any little Fireman Sam fans, from my perspective".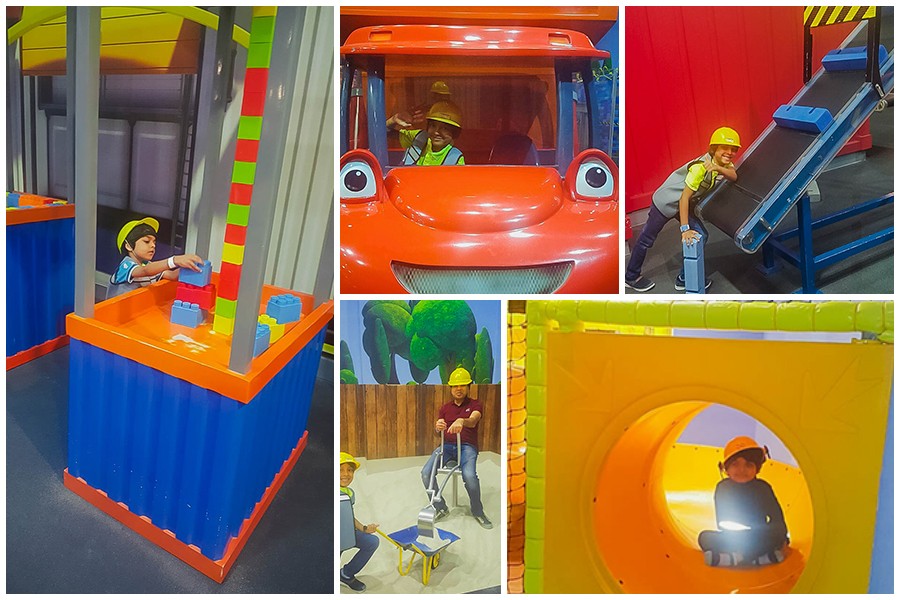 Little fans of a British children's animated television show BOB THE BUILDER will be happy to reveal their inner building contractors. Diggers and dumpers fascinate kids in the same way that they are drawn to dinosaurs. They both have a timeless appeal.
Aktha Jiyas: "My son did some serious, very engaging building work at Bob the Builder. One of the interesting activities is to dig a hole sitting on the armchair with two levers. Parents were actively involved in the process, helping their kids with construction work. We also built a brick wall."
Bhavneet Kaur: "Bob the Builder was just the best activity which requires physical efforts as well as teamwork. For example, some stronger child or a parent turns the wheel of a mechanically moving conveyor and another one puts bricks on it to deliver them to the dumper."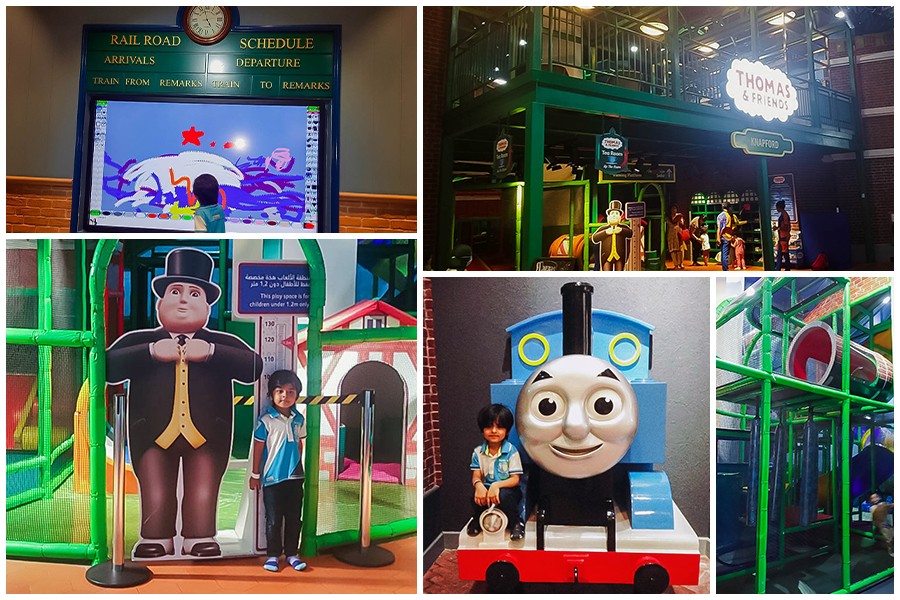 Big World and Big Adventures are waiting for your little ones around every corner at the feature-packed THOMAS AND FRIENDS zone. Being obsessed with this famous British children's television series, your kids will enthusiastically go on a ride through the labyrinths of Island of Sodor and meet their friends Thomas, Percy and James. There is a variety of fun to be gained on the 3-lane wavy big slide, multi-level straight tube slides, ball pool, train tracks, soft shapes, climbing frames.
Aktha Jiyas: "My son went up and down the wavy slides countless times at Thomas and Friends. He loved everything at this park to the core and didn't want to leave it."
How would the Thomas the Tank Engine house be complete without 4DX theatre? Meet the Thomas Engine itself at the entrance as he oversees all of the exciting activities on offer in this zone!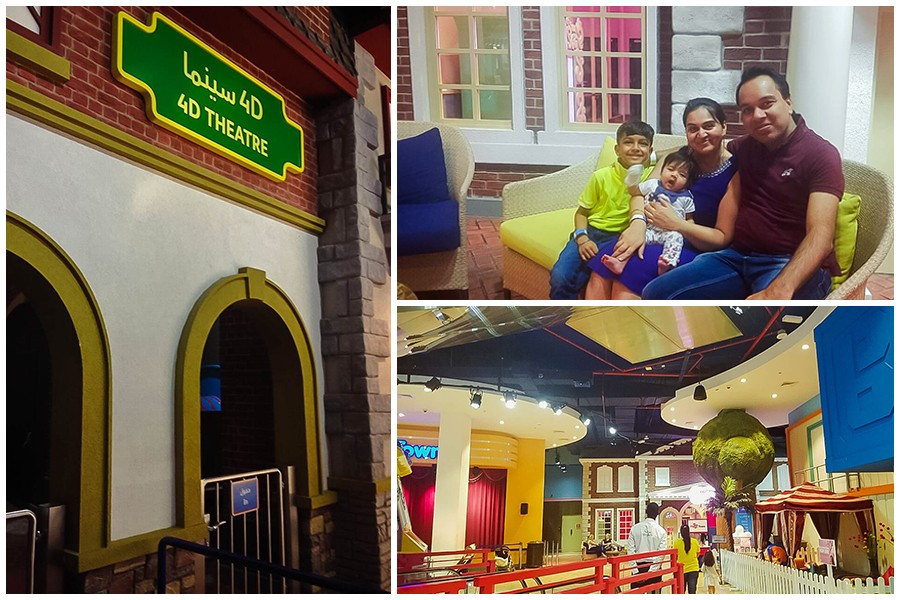 Aktha Jiyas: "Don't miss the 4D film at the mini theatre with cosy blue and pink chairs and 3D glasses. We saw the 5-minute episode based on the railway series by Rev. W. Awdry. Parents can join their kids and enjoy this super fun video. For me, as a parent, it was the most exciting attraction. I also wanted to see how my son responds to 4D movies. Despite that my 2-year-old daughter was a little bit terrified by the water splashing effect it was just an amazing 4D movie."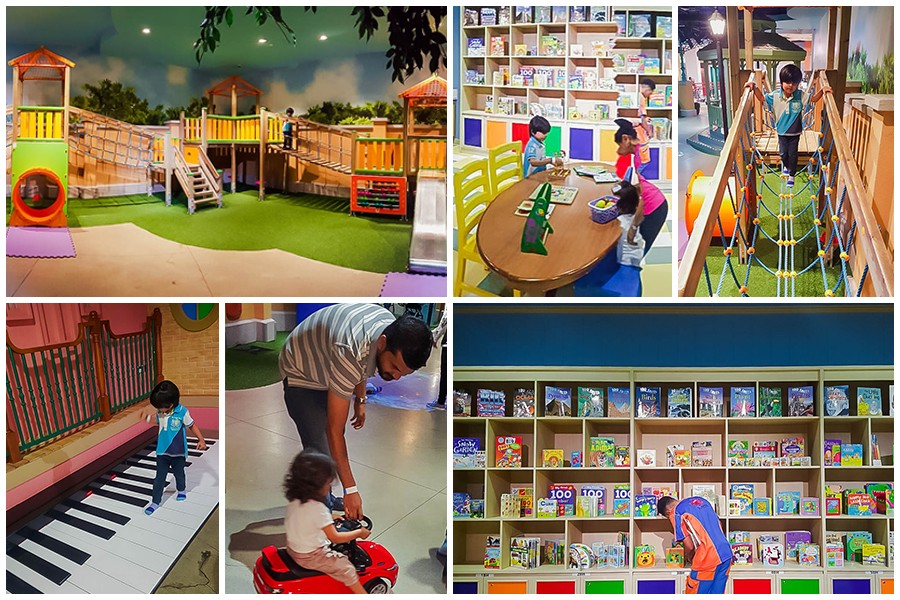 Finally, the cream of the crop is BARNEY'S PLAYHOUSE situated on the second floor. It's a "Super dee-duper" Barney's courtyard looks just like in an American children's television series. Parents can relax on a wide bench under a huge tree, while their kids explore the keyboard ground mat, stepping on which they can play a favourite melody, or two projections of artificial lakes on the floor with fish and leaves, or the book zone. There is also a real drum kit and all children are just obsessed with it. They can drive cars, jump on horses, go down from small slides in the yard, walk along the rope bridge, become a chief cook at the kitchen with all accessories, sink, cupboards etc.
Aktha Jiyas: "My younger child being only 2 years old enjoyed activities at Barney's more than ever before."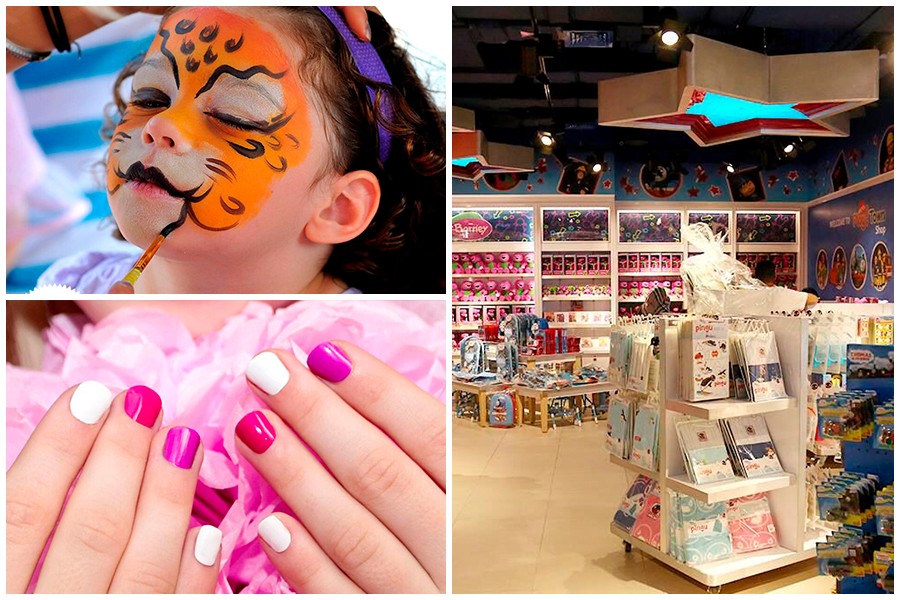 Bhavneet Kaur: "If you are a nursing mum, like I am, you will be happy to use their nice room with individual soft chairs. To be honest, the chairs could have been more comfortable than they looked at the first site. I would highly recommend to replace them with more comfortable ones.
The park offers a wide range of food from burgers and fries to chicken and mashed potatoes, all sorts of pasta, cupcakes, popcorn, juice, coffee, Baskin-Robbins ice cream and so on. We came in Ramadan so could not try food and drink during the daylight hours, but there are some places around for the ones who are not fasting and would like to have a bite."


Tips of the day by the parents who shared their impressions:
Be ready to spend at least 2-3 hours at the Mattel Play! Town to explore all 5 attractions and the shows;
Better to ask guys at the reception all questions, especially about the schedule of live shows. Other staff inside the park very often can't answer your questions;
Some areas required socks for children and adults, so take them from home. It is not permitted to slide and go on play mats in bare feet or shoes;
Be sure you have some cash. Face painting, princess nail polish, making a soap bomb plus your own perfume, and some other activities will result in additional charges;
You can't avoid the huge Toy Shop, because you exit the park through the shop. So be ready for some tantrums if you have a naughty child and won't buy what they want. Let your children get so exhausted that they can be easily led straight through the toy shop;
You cannot bring your own food or snacks, but a bottle of water is allowed. You can also buy it in the park, but then be prepared to pay 6 times more for the same bottle of water (approximately 6 dirhams for 0.33 ml);
Mattel Play! Town has its own underground parking. Utilising a space in the 'J' parking section will bring you up directly outside Mattel Play! Town. 
TickiKids' team would like to thank Mrs Bhavneet Kaur and Mrs Aktha Jiyas for providing us with their impressions and photos of Mattel Play! Town.
By Anna Khan
Subscribe to weekly newsletter from "Tickikids"