11 Relocating Tips for Single Parents from Movers and Packers Dubai
---
Published 24 June 2021 at 15:02
Tickikids Blog Dubai > 11 Relocating Tips for Single Parents from Movers and Packers Dubai
---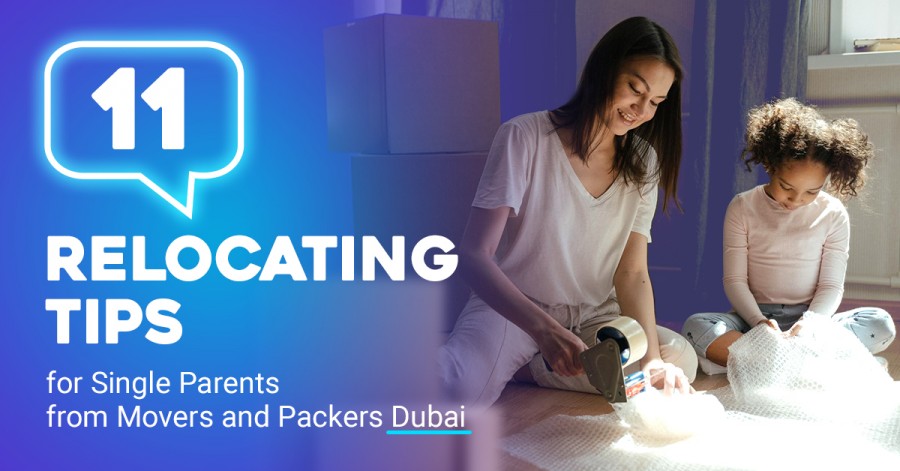 ---
The process of relocating to a new home can be immensely demanding especially for single parents who have a couple of children. However, this challenge can be overcome by taking the process slow and planning ahead of time.
Here are the following tips that can help single parents in their moving journey:
1. Plan Ahead of Time
For single parents who are relocating to a new home, two to three months is ample time to begin packing essential belongings, preparing kids' needs for the move, and looking for the best movers in Dubai to hire for the move. It is important to establish a comprehensive plan beforehand about the things that should be done during and after the process of moving. This can be done by taking down notes in a planner to keep track of everything.
2. Be Optimistic
Optimism is perhaps the most significant aspect of moving for single parents. By being positive, they can influence their kids' attitude towards the relocation process as this will be difficult for them as well. Single parents should make sure that they are comfortable, more so, not doubtful of their move; their positive attitude can make their children's outlook positive too.
3. Communicate and Get the Children Involved
Another important thing for single parents to take note of is to involve their kids, as much as possible, in the relocation process. Not only will this lessen the difficulties for single parents, but it can also be good for the children; they can help with the cleaning, packing their personal belongings, and many more. If done properly, this process can be a fun one for them and they might just forget about the cons of leaving their old home.
Single parents must communicate with their children about the move. Parents should inquire about their children's feelings and express their own as both sides can benefit from open communication. Relocating with older children might be more challenging since they have already developed strong friendships in their old place. The younger ones, on the other hand, are usually more adaptable. With that, single parents need to establish positive communication with them.
4. Ask for Assistance from Friends
Relocating is no piece of cake. Before the actual relocation, there are still many things that should be accomplished. One cannot just hire packers and movers and then leave everything to their care. There should be a concrete plan beforehand, and single parents may ask for assistance from their friends for activities such as cleaning, spearheading a garage sale, and decluttering. This can turn out as a fun and memorable get-together party that can be fun for everybody involved.
5. Donate Unessential Items
Single parents need to let their children know that by donating their old toys and other belongings, they are helping those who are less privileged than they are. Moreover, the decluttering process can be a great opportunity to teach children the significance of donating. These items can be donated to hospitals, neighborhoods, schools, and parks.
6. Establish Positive Connections
For single parents, it is imperative to establish new connections. This can be done by interacting with other parents during PTA meetings or other school activities, especially those with the same interests. They can also socialize with the people in their new neighborhood.
7. Keep Costs Low
For single parents who need to save money, keeping the expenses minimal is extremely important. This can be done through numerous things such as doing all the packing, donating items that are no longer needed to reduce volume of items to be moved, resourcing free packing materials, and others. For those who plan to hire movers in Dubai, it is recommended to relocate from September to April since movers usually offer lower rates during this time.
8. Hire Trustworthy Movers and Packers Dubai
For single parents who have to do everything for the relocation, it is recommended to hire movers and packers to lighten the work. Moving companies can either make or break the relocation process. Thus, it is important to select a company with positive evaluation and industry experience. It is advisable to gather at least three quotes to have a good range to choose from. Check what each quote includes and make sure to read reviews to properly gauge which moving company in Dubai to hire. Remember to not just look for cheap movers and packers in Dubai, make sure they are reliable and trustworthy too.
9. Unpack Slowly
For single parents who are balancing being a parent and relocating, there is no need to rush the unpacking stage or feel obligated to complete everything in a matter of days. It is advisable to take things slowly and unpack one item at a time. It will be more convenient to unpack when the boxes are placed into the appropriate room where they belong. Also, parents can allow their children to participate in decorating their rooms.
10. Take a Breather
Not every task has to be completed at once. Single parents should allow themselves to take a breather as the moving process can be utterly exhausting. Taking time can help them to be more effective in terms of accomplishing the tasks at hand.
Conclusion
Moving with kids is no easy feat -- especially that you're the only adult in the family. Thus, before you make a decision to move, think long and hard enough. If this will benefit the kids, create a solid plan to make the move easier not only for you but for your kids too.
Subscribe to weekly newsletter from "Tickikids"