Unmissable Summer Holiday Camps to Add to Your Diary for 2021 Part 2
---
Published 01 July 2021 at 23:03
Tickikids Blog Dubai > Unmissable Summer Holiday Camps to Add to Your Diary for 2021 Part 2
---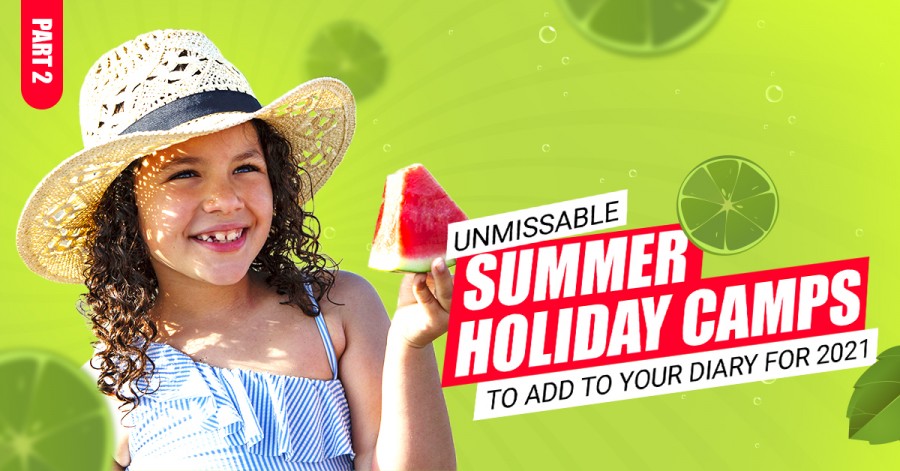 ---
The summer is in a full swing and it is time to plan kids' holiday pastime! There is no need to rack your brains about how to entertain children for two months so they won't destroy the house. Dubai offers a plethora of summer activities! We've rounded up some enriching, catching, and fun summer camps with detailed information about fees, early-bird discounts, and activities that these camps offer.
Upiopi is the expert of fun education, meaning that all their activities are aimed to educate children in the most creative, entertaining, and enriching way making both parents and children happy. 
The experts of Upiopi boost the possibilities of online education to the max as they have created the most well-rounded, catching, and interesting programs in Finnish educational style. For this summer, they offer your children:
Creative Adventures Summer Camp 
Boost the imagination and creativity to the max! Creative Adventures Camp will provide the most detailed information on how to create stories and make storyboards, how to create animations with help of stop motion techniques and how to make movies. Kids will learn how to make their own songs using music-making apps and will create real masterpieces using the knowledge they received during the camp. 
Dates: 22nd- 26th August (5-day camp)
Age: 7-8; 9-10
Fees: $190 (AED 700)
Mysteries of the Glittering Cave Camp 
This is the place where young explorers will help Hoseli the Robot to get out from the underground cave where everything bubbles, makes foam and spreads slime. During the camp, kids will find out the concept of different chemical reactions, make their own slime, experiment and have fun. And, most importantly, they will learn the basics of coding and practice commands while playing.
Dates: 12th - 26th August (5-day camp)
Age: 5-10
Fees: $98 (AED 360)
Mrs' Noblegas's Floury Dilemma 1 
Hoseli the Robot to the rescue! Mrs Noblegas plans to organize a party but meets too many obstacles to remove on her own. Stains, inaccurate recipes, slimy blob soups - all these need to be corrected and Hoseli the Robot with help of the scientists will make experiments remove stains and invent other helping machines.
This camp will help kids to polish their skills with measuring, interpreting the recipes, and stain removal.
Dates: 9th - 23d August (5-day camp)
Age: 5-10
Fees: $98 (AED 360)
Contacts: ​​learn@upiopi.com, WhatsApp +358 45 126 7026.
Socials: Facebook.
Location: online.
Find Out More


FitRepublik is a unique mixed-use fitness center in the heart of Dubai Sports City. Here, everyone can find an activity for any age and of any level of difficulty. This summer, FitRepublik has prepared something special for the kids – a Multi-Activity Summer Camp!
The activities of the camp include dancing, aquatics, Gymnastics, Fitness Fun, and Martial Arts. During the dance classes, kids will learn different dance styles and movement techniques. Also, they are going to love the inflatable Wibit obstacle course in the indoor pool and Water Basketball under the supervision of experienced and highly qualified lifeguards.
Children will learn the basics of Self Defense and Beat-the-Bully tactics and they will take part in fitness and Martial Arts style games. And they will definitely adore trampolining and tumbling track activities in their Gymnastics classes!
The camp offers sibling discounts – 5% for 2 kids, 10% for 3 or more.
Dates: 4 July – 26 August
Timing: 08:30 am -14:30 pm.
Age: 5-14.
Fees: Per Day: 220 AED, 1 Week: 975 AED, 2 Weeks: 1700 AED.
Contacts: tel. +971 4 556 1800.
Socials: Facebook, Instagram, LinkedIn.
Location: FitRepublik Fitness Center The Academies, Dubai Sports City Dubai.
Find Out More
StudioRepublik has prepared the most engaging and entertaining set of activities aimed to boost your kids' creativity, confidence, and performing skills. Instructors of StudioRepublik know well how to create a warm and welcoming environment for all children so kids will have a great pastime, guaranteed!

Here, children will learn to dance in different dance styles and fun movement techniques thus improving their sense of rhythm, coordination, and toning up their muscles. During the Drama classes, kids will try their hands at improvisation, drama games developing their communicational and performing skills. Also, they will play rhythm and music games, sing songs, do crafts and arts and have loads of physical activities i.e. Martial Arts and Fitness fun.
Sibling discounts—5% for 2 kids, 10% for 3 or more.
Dates: 4 July – 26 August.
Timing: 08:30 am -14:30 pm.
Age: 5-14.
Fees: Per Day: 220 AED, 1 Week: 975 AED, 2 Weeks: 1700 AED.
Contacts: tel. +971 800 235664.
Socials: Facebook.
Location: Eiffel Building 1, Sheikh Zayed Road, Exit 41, Dubai.
Find Out More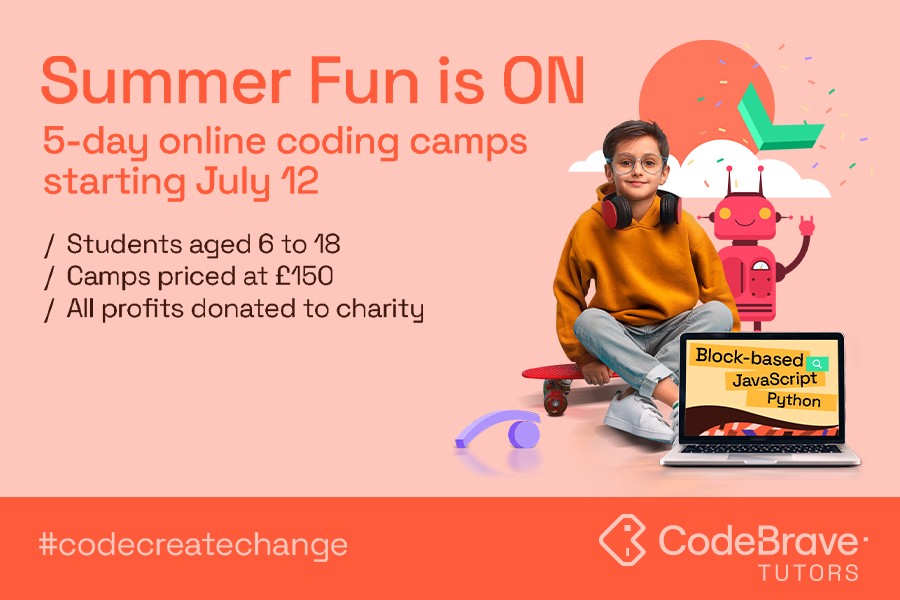 Code Brave Tutors is offering online learning coding camps designed for students aged 6 to 18. These online summer camps feature creative coding and hands-on robotic sessions. They are led by experts in technology and child psychology to deliver learning experiences of the highest quality. Pick your child's favorite classes, and watch their imagination, skills, and future expand with the booming opportunities of the digital world. For every session you purchase, you are donating a session to a child from a disadvantaged background in Lebanon who can't pay for one.
Code Brave Tutors has 7 different camps:
Junior Coder – this camp allows younger students to learn the fundamentals of coding and create their own interactive stories and games (Beginner course)
Play Maker – this camp is perfect for younger future game developers as they will be able to build their first game (Beginner course)
Game Developer – students will create their first game using a physical game controller and receive an introduction to JavaScript (Beginner course)
Meet Python – this camp allows students to explore the basics of Python by creating their own retro text-based video game (Intermediate course)
Python Player – this camp offers more sophisticated concepts and algorithms of Python for students already familiar with Python (Intermediate course)
Python Pro – Python coders will get more challenging coding tasks and master Python as a coding language (Intermediate course)
Machines With Brains – Teens will learn the basics of AI and create their first smart algorithms (Intermediate course)
Dates: Camps start every Monday starting 12 July, (12 Jul, 19 July, 26 July, 2 August, 9 August, 16 August, 23 August.) Camps can last 5 to 10-days.
Timing BST: 12PM – 1PM, 1PM – 2PM, 5PM – 6PM, 6PM – 7PM, 7PM – 8PM for all camps and dates
Ages: from 6 to 18.
Fees: 760 AED for the 5-day camp and 1520 for the 1-day camp
Contacts: +44 7375 119179, info@codebrave.org.
Socials: Instagram, LinkedIn, Facebook.
Location: online
Find Out More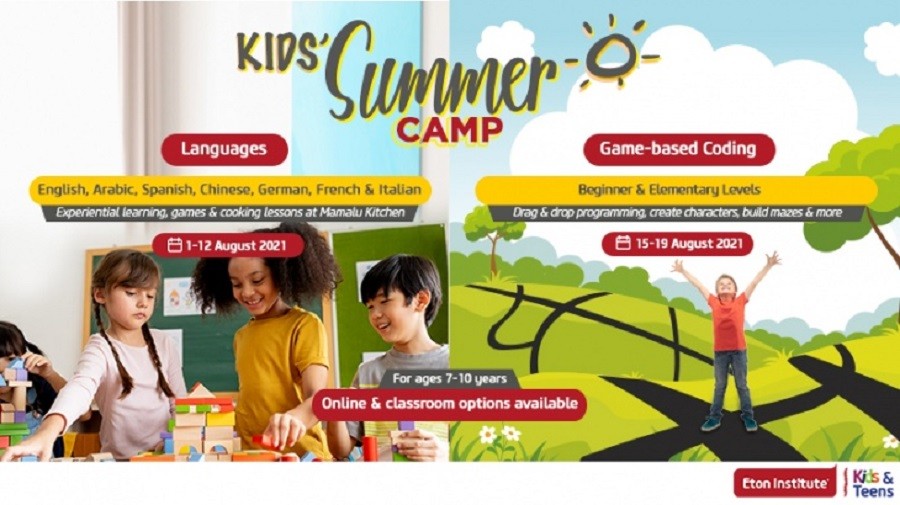 This Summer break, Eton Institute offers Kids' Summer Camp for Languages & Game-based Coding.
When it comes to teaching languages, Eton Institute always offers something original and unique. Forget about dull classes with drill'n'kill! Here, a 20-hour languages program offers multiple engaging activities like character roleplays, creative challenges, vocabulary, and expression-building videos and songs, etc. During this edutainment journey kids will learn not just language, but a cultural background of the chosen country: landmarks, meals, seasons, greetings and so much more!
The list of the languages that kids can study in the Summer Camp includes Arabic, Chinese, English, French, German, Italian, and Spanish. All teachers are native speakers and they are able to ignite the interest in the language and studying in kids. And here is the icing on the cake: kids will have a field trip and visit Mamalu Kitchen! There, they will turn into real chefs and try their hand at cooking popular national dishes from scratch. And to immerse them even deeper in the atmosphere of the chosen country, all instructions will be given in the target language.
Also, Eton Institute offers a 10-hour Game-based Coding Program. This program is well-rounded guidance for beginners in the world of coding where children can learn the essential coding concepts through drag&drop coding, creating games, characters, and building mazes. Experienced instructors will make these classes really interesting, enriching, and creative, so kids will study and have fun!
Sibling discount available.
Age: 7-10 years
Dates:
Language Camp: 1 – 12 August 2021
Game-based Coding Camp: 15-19 August 2021
Timing: 10:00 am to 12:00 pm (Sunday-Thursday)
Mode: Classroom/ Online
Booking & more info: DM at Instagram Page
Contacts: tel. 800-3866
Socials: Instagram
Location: Block 3, Dubai Knowledge Park, Dubai
Find Out More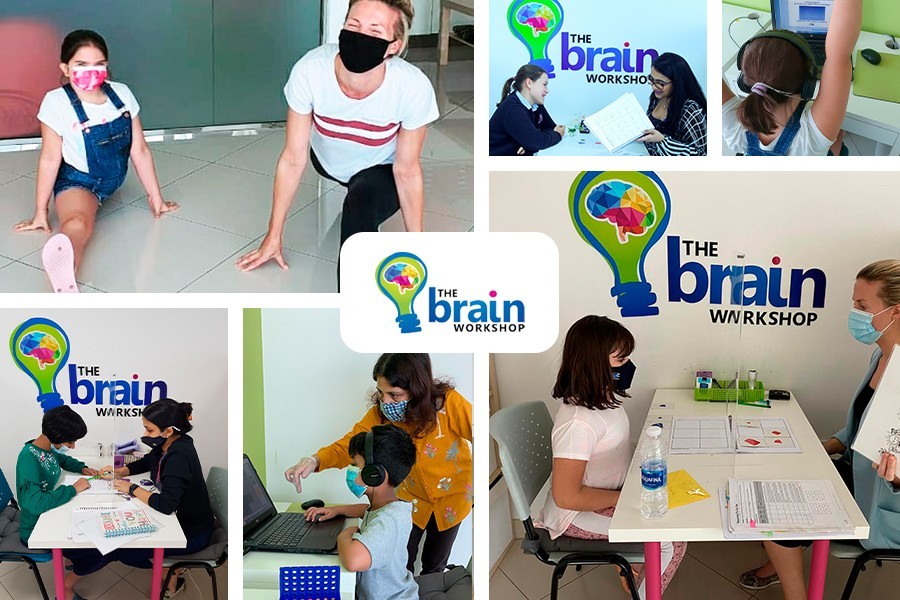 When the school days are over, kids forget about lessons and stop practicing reading and writing. For two months they rest, have fun, play, do everything except learning. And this ends up with a Summer Brain Drain phenomenon - a situation when children lose some knowledge and skills, so during the first school semester teachers repeat the core information of the previous year instead of teaching a new program. 
The Brain Booster Camp by the Brain Workshop offers a possibility not just to eliminate the consequences of this 'summer slide' but to improve children's skills and get the most out of the possibility to learn something new and interesting.
The Brain Workshop is well-known for the team of dedicated experts who apply an individual approach to each student and know how to turn learning weaknesses into strengths. Here, specialists utilize cutting-edge training and testing tools and find the most efficient ways to boost students' learning skills to the max!
During Brain Booster Camp kids will take part in different fun, challenging, and enriching activities like:
brainy sessions
maths skills
calligraphy
visual puzzles
creative writing
mandala art
communication
terracotta art 
Special Offer: Buy 1 get 1 free Cognitive Assessment.
Dates: 27 July - 31 August, see the website for the opening hours.
Age: 4-16
Contacts: Info@thebrainworkshop.com, +971 4 243 4620.
Socials: Instagram
Location: Office 216, Apex Atrium Building, Motor City, Dubai.
Find Out More
Since 2008, Diverse Performing Arts Center is the leading performing arts school in the Middle East with several awards for its contribution to performing arts in the region. The classes of Diverse Studios include Dance Fusion, Musical Theatre, Rad Ballet, Hip Hop, Jazz-Funk, Singing, Drama, Acro\Tricks, etc. The Diverse experts are award-winning actors, professional dancers, and choreographers with years of experience and knowledge on how to engage children in fun and creative activities. 
This summer, Diverse offers several camps for children aged 5-14 filled with different engaging activities. At the camp kids will have lessons in singing, dance, and drama every day so your little superstars will be able to express themselves and boost their creativity to the max. At the end of the week, they will perform in a spectacular show in front of their parents to show their new skills. 
Parents can retrench with a 5% Sibling Discount; 5% Discount for 2 weeks taken; or 10% Discount for 3 weeks taken.
Dates: 4th – 8th July, 11th – 15th July, 25th - 29th July;
Age: 5-6;
Timing: 9 am – 2 pm;
Fees: Non Diverse students 850 AED, Diverse students 750 AED.
Age: 7 - 14;
Time: 9 am – 3pm;
Price: Non Diverse students 945 AED, Diverse students 840 AED.
Contacts: info@diversechoreography.com;
Socials: Instagram;
Location: Diverse Studios, M1 – M6, (Entrance A) The Curve Building, Al Quoz 3, Dubai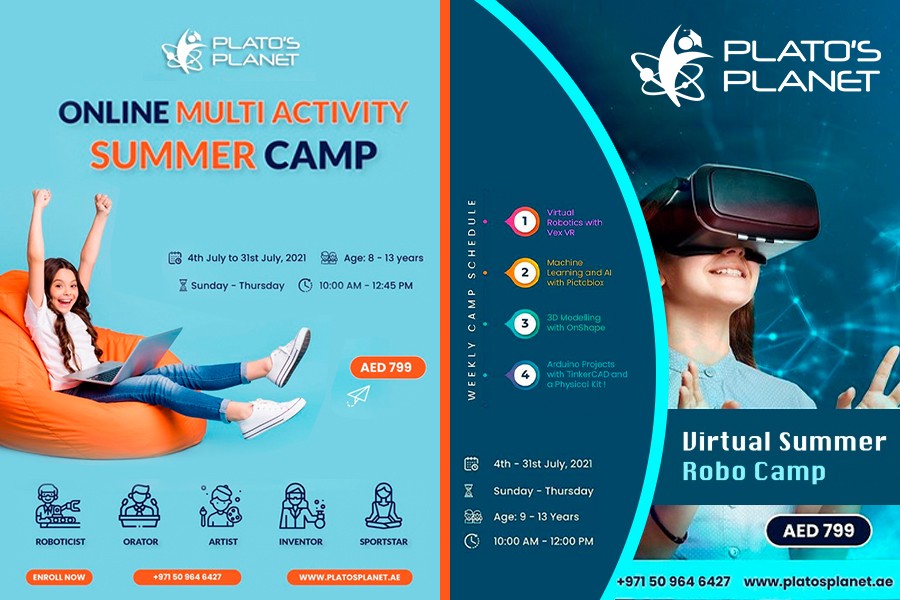 Plato's Planet online summer camps offer a plethora of exciting online activities for young researchers! The instructors of Plato's Planet are real big in edutainment so kids will never forget these four weeks filled with fun and interesting classes! Top experts will provide lots of group discussions, collaborations, so kids will be able to find new friends and learn something new.
Online Multi Activity Summer Camp
This camp includes several types of activities: Robotics, Orator, Artist, Inventor, and SportStar. Here, kids will learn the fundamentals of coding, different speaking techniques to improve communicational skills. The Inventor activity will engage children in experimenting and exploring the world around them. The Artist's direction will encourage young artists to create their masterpieces and develop creative skills and Sports Star will take care of kids' physical activity.
Age: 8-13.
Timing: 10 am – 12.45 pm
Virtual Summer Robo Camp
The schedule of the camp includes Virtual Robotics with Vex VR, Machine Learning and AI with Pictoblox, 3D Modelling with OnShape, Arduino Projects with TinkerCAD, and a Physical Kit.
Kids will learn to create virtual simulations of robots using block-style coding or a Python interface, explore the concepts of AI like computer vision, face detection, optical character recognition, etc. In the 3D Modelling lessons, kids will learn to convert 2D into a 3D design, understand basic engineering principles and find out how to design parts and assemblies.
Arduino projects are another cool stuff that kids will learn: they will design circuits using microcontrollers, so they will find out how to create traffic lights, gate automation, and so on.
Age Group: 9 - 13 Years.
Timings: 10:00 am - 12:00 pm.
Dates: 4th July – 31st July, Sunday-Thursday.
Fees: 799 AED.
Contacts: +971509646427 / +971527271581.
Location: online
Find Out More
Subscribe to weekly newsletter from "Tickikids"