The 10 Best Birthday Party Venues for Children in Singapore
---
Published 10 June 2019 at 11:15
Tickikids Blog Singapore > Digest > The 10 Best Birthday Party Venues for Children in Singapore
---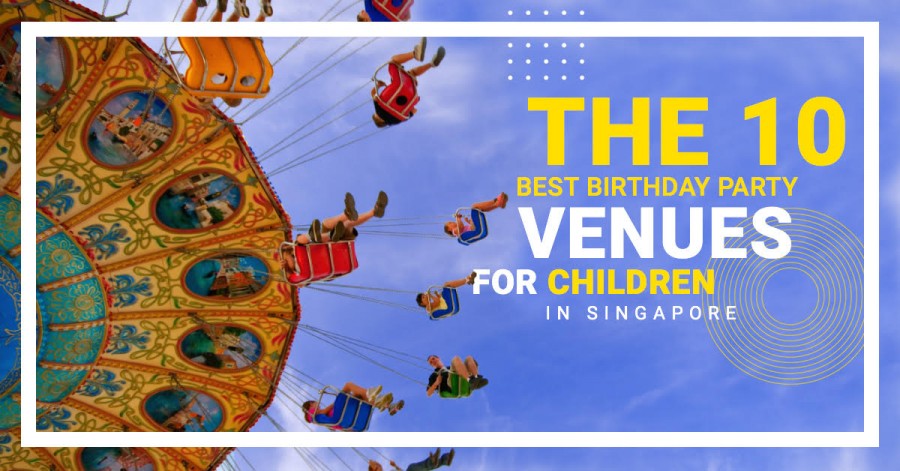 ---
Aim high with these top birthday party venues for children in Singapore!


Welcome to the 2nd article about kids' birthday celebration, as we've rounded up the best birthday party venues for children – the guide you can trust to give you the inside track on the top-notch events for your birthday boys and girls taking place up and down Singapore. Drawing on our hands-on experience in the children's entertainment industry, we know what you want to know and we think like you think. TickiKids' team of super-sleuths has put their detective skills to good use by thoroughly inspecting the best of the bunch from all angles. Just take our pieces of advice and do yourself a favour: check out the previous article on How to throw the best child's birthday party and then browse through this one again and again. And hurry: book a venue before it is packed to full capacity. If your mission is to find the best place for your child's birthday party, these venues might hit the spot.


Related reading: How to throw the best child's birthday party 



Photo Credit: Little Artists Art Studio


For something not totally trad, look no further than multi-award winning Little Artists Art Studio which is hosting their signature Arty Parties in both its main The Mandarin Gardens studio and The Siglap Centre. Not all birthday parties need to go heavy on the food front, especially children's ones. Could this be the time to actualise your fantasy through wondrous fine arts and the process of pure creation? If you want to take home some painting skills and a masterpiece of your own, then book in to one of its Arty Party packages with an added benefit of two or three professional art instructors.
The Little Artists Art Studio is offering two special packages for birthday guests, Very Van Gogh Party and Distinctly Dali Party, that are particularly appealing to children. Think: 1.5 or 2 hours of art fun, one huge open plan studio with separate space for food and art, welcoming drinks, a gift for the birthday child, and colourful birthday banners. But to really absorb all the festive pleasures you can opt for the Distinctly Dali Party. Guests can expect all the above mentioned complete with cupcakes for the kids and goody bags for all of the birthday child's friends. For extra special impact,  there are themes tailored to the birthday child, a large piñata and amazing face painting at an additional cost. With such entertainment and generosity, the only danger is that your guests may never want to leave.
Age Range: 3+
Prices: $600 for the Very Van Gogh package; $750 for the Distinctly Dali package;
Contact details: 6449 0960 / 6449 0339, shalini@little-artists.com;
Locations:
The Siglap Centre - #02-18 (Little Artists Art Studio) 55 Siglap Road, Singapore 455871;
The Mandarin Gardens - ARTY PARTY, #01-07 (Little Artists Art Studio) No 15, Siglap Road, Singapore 448912.
Parking is available at both locations.



Photo Credit: The Rink


Dreaming of a children's party that is out of this world and looking for an unconventional way to throw it? Then an ice skating event at The Rink is ideally suited for your kid's birthday bash. The Rink hosts international competitions, conducts ice skating lessons and offers a wide range of events and activities for recreational ice skating!
With the Rink's exclusive party packages offering a 2-hour celebration, children can bring their friends and enjoy a round of adventure ice skating at JCube – Singapore's first and only Olympic-size ice skating rink – along with a dedicated party host that familiarises kids with basic skating techniques, rental of ice skates, usage of a party room. Rent the skating aids to help the adults and kids balance on ice if you plan to go solo.
Booking of the party package is seamless through The Rink's online platform. All you have to do is round up at least 10 guests, choose a convenient time slot starting from 10.30am and make an online booking at a minimum 1 week prior to the event.
The Rink is undoubtedly one of the city's most incredible birthday venues, which provides an abundance of energetic fun, to ensure that your little ones are entertained and amused with ease.
Age Range: Suitable for children aged 4 and above;
Price: from $35 per skater. Minimum booking for a party is 10 skaters;
Opening Times: Monday, Thursday: 10:00 – 21:30, Tuesday, Sunday: 10:00 – 19.30, Wednesday: 10:00 – 17:00. Friday, Saturday and Eve of Public Holidays: 10:00 – 23.45; For a more accurate opening hour, please visit the public skating session calendar.
For more information, contact The Rink on 6684 2374 / 5;
Location: 2 Jurong East Central 1, #03-11, JCube, Singapore.




Photo Credit: Newton Show


Miracles and science go hand in hand. The Newton Show, one of the most experienced scientific show groups in Singapore, promises children and teens a birthday to remember. 10 years of experience, more than 50000 satisfied clients across 4 European countries plus Singapore provides ample evidence of their well-established international reputation! The ultimate birthday party packages are ideal for an unlimited number of inquisitive youngsters aged between 3 and 16, who can enjoy an exciting journey through scientific discoveries by undertaking many experiments, not just watching the spectacular tests and amazing miracles, but actively participating in the process themselves, feeling fully immersed in the experience, like real scientists. Meanwhile, a watchful Professor or even two of them carefully ensure your kids' safety. Birthday parties can be held either at home or at the Newton Show's studios.
The "Discoverer" scientific show-themed birthday party features Magic freezing (as if guests of the Snow Queen), a lot of smoke out of nothing (Much Smoke About Nothing), or getting acquainted with dry ice, a real roar of thunder, dancing coloured worms, magic levitation with a magic wand, summoning a genie from a bottle etc. Meanwhile, there are optional extras of a science-themed birthday cake and photographer to boot.
All the materials are sourced and certified in the USA and Canada. All experiments and tests featured within the shows are extensively verified and approved by actual scientists.
Age Range: for children aged 3 to 16 years old;
Price: from 599 SGD per hour;
Opening Times: 10:00 – 20:00;
Locations:
West: 887a Bukit Timah Road ;
East: 229 Joo Chiat Road ;
Center: 9 Mohamed Sultan Road.
Find Out More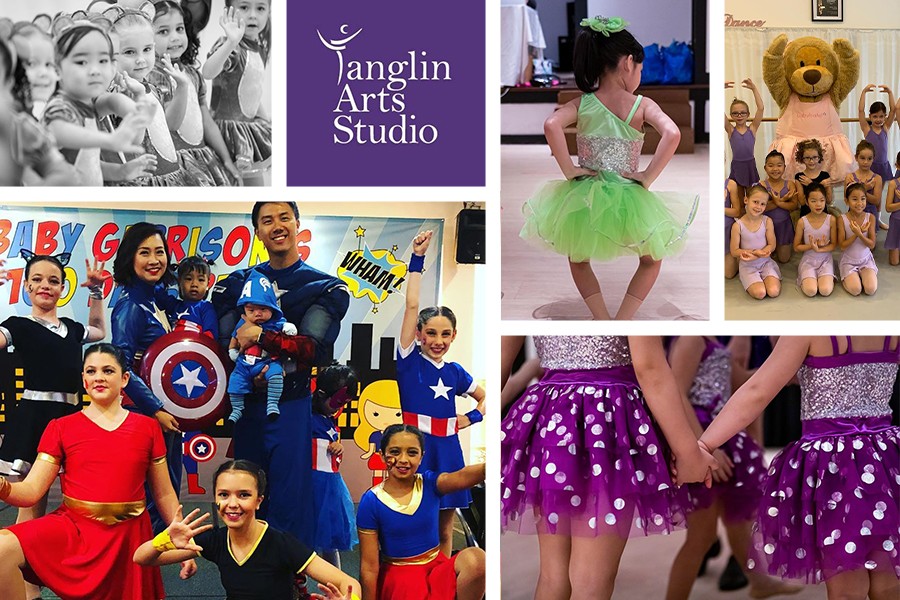 Photo Credit: Tanglin Arts Studio 
Drum roll, please... The legendary children's dance school Tanglin Arts Studio has assembled a dream team of highly qualified dance teachers and entertainers to create bespoke dynamic birthday parties. Available on Sundays, each one of their three stellar birthday packages guarantees to bring lots of sparkle, bags of fun and plenty of pizzazz. With a wide and growing choice of themes on offer, now the Studio boasts its most sought-after options including Ballet, Jazz, Hip Hop, Disco, Disney and Princess. One of the Studio's most frequently requested offer is to incorporate your child's favourite song and/or artist into the birthday party.
Among the most beneficial features of their packages are exclusive use of the studio for two or three hours, a dance class run by one of the highly energetic dance teachers with a proven track record to take care of the entertainment for your little guests (two teachers for more than 20 kids). They also supply extra items to make your party extra special like balloons or other decorations and full catering by Camden Hill Bar and Restaurant. You are welcome to bring your own cake or cupcakes free of charge. Alternatively, a bespoke cake or cupcakes can also be arranged by the Studio for an additional price.
Price: package 1 – from 300 SGD, package 2 – from 450 SGD, package 3 – from 600 SGD;
Contact details: +65 8123 6770;
Location: Hollandse Club 22, Camden Park, Singapore 299814.


Photo Credit: Expat Kitchen


Celebrate birthdays at Expat Kitchen and watch as your budding chef whips up a variety of tasty treats in a jam-packed 2-hour experience cooking up three recipes. Expat Kitchen is a culinary playground designed for children of all ages. Their classes provide an opportunity to be hands-on in the kitchen – chopping, mixing, measuring, kneading and most importantly tasting. You can opt for a Cupcake & Crafting birthday party for younger kids aged 4 to 8, where they have the opportunity to frost, sprinkle and decorate to the fullest extent. Or choose the more challenging Masterchef party for 9 to 13 year olds who will have a blast competing with one another to create the most tantalising dish.
Providing a unique party venue suitable for groups of up to 30 children in the company of qualified instructors, all relevant ingredients and utensils, e-invitations, decorations, recipe booklets for all guests, tea, coffee, juice, ice water and potato chips plus plenty of hands-on cookery activities to keep kiddies entertained, Expat Kitchen's facilities are ideal for a culinary themed celebration. Optional extras include the Cooking packs filled with candies and mini kids' utensils valued at $19.95 per pack. Expat Kitchen's team takes care of all the party organisation, washing up and clearing away, leaving you free to enjoy the event with your little guests.
Age Range: 4 - 8, 9-13;
Price: $1000 for 10 kids. Minimum booking for a party is 10 children;
Opening Times: Monday - Sunday, from 9am - 5pm;
Location: 9 Norris Road, #02-01, Little India, Singapore, 208252.


Photo Credit: MuzArt 


It's a rare and glorious thing when your local children's learning centre happens to throw the very best birthday parties. Passionate about art and creativity, at multi-award winning MuzArt Learning Centre they are big believers that no children's birthday should go uncelebrated. And that level of cheer extends to their art party packages full of fun games, painting and craft activities. MuzArt @East Coast provides a decorated party room and reception area for hire arranged by theme to enhance your fabulous and unique experience. Their professional party host will trigger children's imagination with group art activities for crafting, learning and having fun. Complete with gift giving for the guests and a special gift for the birthday child, MuzArt's birthday party will please even the most choosy parents. Just remember that catering is not included in the package rate, but you are permitted to provide your own food and drinks within the reception area.
Age Range: 2 – 17;
Price: $40 per child for a 3-hour-party. Minimum booking for a party is 10 children;
Opening Times: Wednesday – Friday 1pm to 9.30pm, Saturday – Sunday 10am to 8pm;
Contact details: 9188 2700, eastcoast@muzart.com.sg;
Location: The Yards, 406 Joo Chiat Place #03-21/22, Singapore 428084.


Photo Credit: Rhythm In Me


Whether you wish to embark on high-energy Superhero adventures, experience a spectacular range of engaging musical games or give your guests the special rock star treatment, Rhythm In Me goes further to create an epic birthday party for children. Such adventures will capture the imagination of all the kids in attendance and plunge them into a world of superheros and rockstars. A major dilemma faces those booking their parties. Do you plump for a Disco party, Diva party, Zumba, Superhero, Rockstar or for Makeover party? Impossible to advise. You name it – they do it! Once that decision is made, however, the rest is plain sailing. The team will set everything up: e-invitations, a private party room for 2 hours, themed decorations, 20 non-helium balloons, colour-matched tableware, freshly made party snacks and a cake-cutting ceremony. For a more exclusive experience, there is also the Deluxe Party Package complete with goody bags for 20 kids. Rhythm In Me can offer a variety of optional extras to suit your particular needs. With beautiful delights such as ice-cream, free-flow popcorn, sausage platters or milkshakes and a wonderful selection of personalised autograph posters, helium balloons, piñata fillers or photography, Rhythm In Me can tick all the boxes when it comes to exclusive birthday parties for your kids and teens.
Prices: $ 888 for the Premium Party package including food and beverage. $1088 for the Deluxe Party package including food, beverages and goody bags for 20 kids.
Contact details: +65-9325-6653, celebrate@rhythminme.com;
Location: Depot Heights Shopping Centre, 108, Depot Road, #02-01 Singapore 100108.




Photo Credit: Swish Swimming


Nestled in the lush surroundings of Dempsey Hill, SWISH Swimming offers a variety of Aquatic Enrichment children's birthday parties for children aged 4 months and above. Those seeking more of a thrill will enjoy two private pools safely equipped with lifeguards. The temperature in the salt-chlorinated pools is controlled. 
Book one of SWISH's magical birthday party packages and enjoy an hour of music, games and mermaid-themed fun with a choice of:
Mermaid package - Immerse the little ones in a fantasy world of mermaids. Luau package ‒ Aloha wee o' Aloha wee~ Bringing Hawaii to you at SWISH! Princess package ‒ Bibbidi Bobbidi Boo~ Two beautiful pools fit for a magical princess. Shark package ‒ AWE? But a children-friendly version… Hollywood package ‒ Lights, Camera, Action! Movie in the pool? Be the star of your party. Pirate package ‒ SHIPS AHOY! Being a pirate is no longer limited to living only in the imagination.
Age Range: 4 months and above;
Price: from $1200 to $2140;
Opening Times: Monday – Sunday from 09:00 to 18:00;
Location: 72 Loewen Road, #01-08, Dempsey Hill, Singapore.
Find Out More


Credit: photo from www.pexels.com


Resorts World Sentosa is a multi-function resort situated on the island of Sentosa, which is located off the southern coast of Singapore. It is considered to be a high-quality deluxe lifestyle destination. It is home to 6 distinctive hotels, a flagship spa, an exclusive casino, plus 4 attractions of the highest order of excellence: Universal Studios Singapore, S.E.A. Aquarium, Dolphin Island and Adventure Cove Waterpark.
Universal Studios Singapore. Fancy a birthday celebration with characters from another time and place? Now you can at Universal Studios Singapore. Party Slots are available at 10.30, 14.00, 17.00.
Adventure Cove Waterpark. Al-fresco dining in the midst of all sorts of water rides. Perfect for a birthday party that shouts water fun. Party Slots are available at 11.00, 14.30
S.E.A. Aquarium. Take your party under the sea. Let your little one and friends experience the wonders of the marine world, as well as meet the cute Manta Mascot and go on a rare back-of-house tour that comes with an opportunity to feed the marine animals! Party Slots are available at 8.30, 12:30, 16.00.
Dolphin Island. For a unique birthday celebration, let your little one and friends interact with these fascinating marine animals... Party Slots are available at 8.30, 12:30, 16.00
Locations: Universal Studios Singapore® with 4 themed locations (Loui's NY Pizza Parlor® / Casa Del Wild Food Court / Princess Fiona Royal Parlor / KT's Grill), Adventure Cove Waterpark, S.E.A. Aquarium and Dolphin Island.
Find Out More


By Anna Khan
Subscribe to weekly newsletter from "Tickikids"