The 10 Best Birthday Party Venues for Children in Singapore
---
Published 06 December 2021 at 11:15
Tickikids Blog Singapore > Digest > The 10 Best Birthday Party Venues for Children in Singapore
---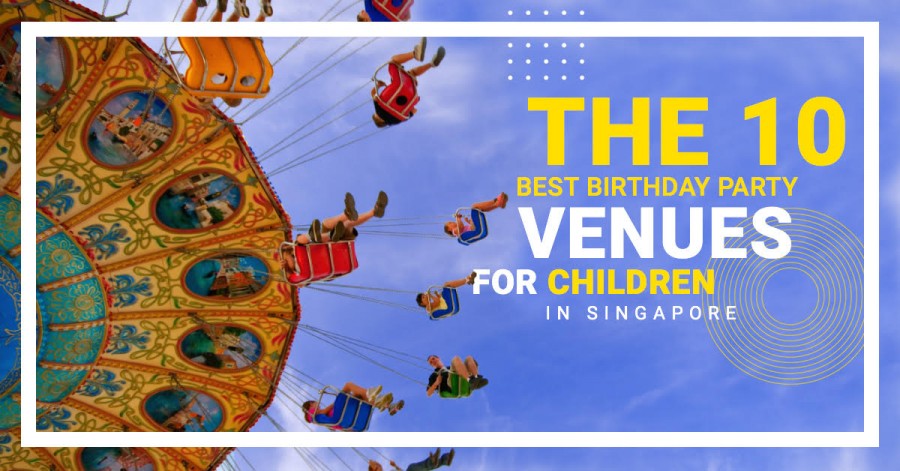 ---
Aim high with these top birthday party venues for children in Singapore!


Welcome to the 2nd article about kids' birthday celebration, as we've rounded up the best birthday party venues for children – the guide you can trust to give you the inside track on the top-notch events for your birthday boys and girls taking place up and down Singapore. Drawing on our hands-on experience in the children's entertainment industry, we know what you want to know and we think like you think. TickiKids' team of super-sleuths has put their detective skills to good use by thoroughly inspecting the best of the bunch from all angles. Just take our pieces of advice and do yourself a favour: check out the previous article on How to throw the best child's birthday party and then browse through this one again and again. And hurry: book a venue before it is packed to full capacity. If your mission is to find the best place for your child's birthday party, these venues might hit the spot.


Related reading: How to throw the best child's birthday party 



Photo Credit: Proactiv Sports
Prodigy by Proactiv Sports is Singapore's first Fundamental Movement Skills and Sports Skills Venue. Three zones: The Movement, Sports, and Climbing zones cover all essential physical skills for kids of all ages. There, children learn to move better and more efficiently, develop coordination and motor skills, bounce, roll around, and have fun!
A sports-themed Prodigy birthday party hits the spot when you have to entertain a group of bundles of energy! Exclusive 120-minute access to their 2,500sqm space for up to 10 kids promises to be among the most memorable events of the year!  The party includes 90 minutes of various activities and 30 minutes of photo sessions and cake cutting. All activities are conducted under the supervision of experienced and qualified coaches. They know how to engage children in the different activities and make sure that kids have fun and enjoy this pastime.
The possible content of the customized party activities is based on your chosen theme. It includes team-building games, rock climbing, gymnastics, fun games, races and so much more! The participants of the party will receive personalized e-invites.  
Experts of Proactiv Sports know how to make splendid and unforgettable birthday parties and take this burden off parents' backs!  
Age range: up to 12 (yet the activities can be tailored to any age group).
Fees: starting from $599.
Contacts: info@proactivsports.com, +65 9807 6827.
Location: 451 Joo Chiat Road, Level 3 Katong Point.
Find Out More
Photo Credit: Abrakadoodle
Abrakadoodle is an unusual art school in Singapore. Here, children do not just learn the ropes of drawing, they explore the styles of painting of famous artists and try to replicate them. The experienced and expert art teachers are real big on edutainment, as they know how to engage children and make any activity interesting and enriching. 
Art parties at Abrakadoodle are a real salvation for busy parents! Everything will be prepared, organized, and conducted under the supervision of the attentive and creative art teachers. A cozy, light studio has two rooms that can be combined so large parties can accommodate up to 15, and party decor is supplied by the studio.
There are two birthday packages, My BFF and Deluxe Birthday. 2-hour-long parties include ice-breaking activities that will lift everyone's spirits. Then, an hour-long art lesson takes place where children learn a chosen art style and create their own masterpieces. All pieces of art will be framed and kids will be able to take them home! And the high point of the party here is cake cutting! Party hosts are allowed to bring in a cake and simple finger food (i.e. macarons, cupcakes, pizza, etc). What's great about these parties, is that these are not just pleasant and fun pastimes, they are educative and kids learn something new and interesting through fun and play! 
Bring into the notion, you can even invite a Mobile Arty Party to come to you! It is advisable to book a party 3 months in advance 
Fees: $200 deposit to book a date. Check out the My BFF Party Package (5pax) and Deluxe Birthday Package (10pax).
Contacts: +65 8668 6457.
Location: Jurong | River Valley | Punggol.
Find Out More
Photo Credit: Kid-zy-Way
Kid-zy-Way is a safe indoor party venue that will not leave a single child indifferent and make their special day memorable!
Kid-zy-Way hosts action-packed birthday celebrations and offers flexible and customized to your needs party packages - weekday and weekend packages. Treat your little darling to a bespoke party with a range of Kid-zy-Way deluxe party features like balloons, themed decorations, a party host with a pinata, and little goody bags for young guests. All parties include exclusive use of the play area for your friends and family for 2 hours and up to 20 celebrants (10 children and 10 adults). To top it all off, Kid-zy-Way can design any party theme of your kids' choice. From a roleplay station with a toy kitchen and playhouse, a book zone, ball pits, building blocks, a trampoline, an obstacle course, and climbing zones, to swings and slides, the Kid-zy-Way playroom includes numerous attractions the youngest will enjoy.
Added to that, Kid-zy-Way provides a party host to serve you during party time and keep young celebrants engaged and entertained through fantabulous party games organized according to the children's age.

The generously sized play space combined with various custom options makes Kid-zy-Way a top birthday party venue to pick. Take the stress out of hosting your child's birthday party and secure tons of fun for young guests by booking your celebration at Kid-zy-Way.
Age: 1yo+

Fees:
Basic weekday package - $275 onwards
Basic weekend package - $320 onwards
Contacts: for bookings and more information contact Kid-zy-Way via WhatsApp on +65 8860 1611

kidzyway@gmail.com
Address: 11 Unity Street, #02-17, Robertson Walk Singapore, Singapore 237995
Socials: Facebook
Photo Credit: Newton Show


Miracles and science go hand in hand. The Newton Show, one of the most experienced scientific show groups in Singapore, promises children and teens a birthday to remember. The family business in Europe with the only client - the son of the founders has turned into a real empire with branches all over the world! Now, there are 7 branches in Singapore only with more than 10,000 satisfied customers. The main aim of the company is to popularize science among kids and give them skills and knowledge that they can use all life long. And the enriching, entertaining, and amazing birthday party packages are the perfect tool for that!
There are several directions to choose from:
Science Party
More than 150 experiments and tests from the world of chemistry and physics are waiting for curious scientists! Kids can make slimes, elephant's toothpaste, and crazy worms at The Polymers Party, make dry ice, colorful snow, and super lava at the Dry Ice show and so much more! All interactive experiments are conducted under the supervision of the experienced, attentive, and expertized Professor!
Themed Party
There are 13 themed parties featuring kids' most popular characters: transformers, trolls, mermaids, Paw Patrol, My Little Pony, Harry Potter, and so on. And, of course, experts of the Newton Show have prepared themed experiments for each party! 
Quest Party
Real crime investigations, training in a spy school, and searching for a real spy - a detective and a spy quests have prepared many mysteries and tasks for the participants! Kids will find out about ciphers, dead-drops, and surveillance techniques or work as a team to find out the real criminal.
Bubble Show
The breathtaking bubble show by the Newton Show promises to be a day to remember! You will be stunned, guaranteed! 
All the materials are sourced and certified in the USA and Canada. All experiments and tests featured within the shows are extensively verified and approved by actual scientists.

Age Range: 2+ years old.
Price: from $599 per hour.
Opening Times: 10:00 am – 8:00 pm.
Contacts: +65 8264 6655.
Locations:
Center: 6 and 9 Mohamed Sultan Rd, 238959 Singapore, and 221 River Valley Road;
East: 229 Joo Chiat Road;
West: 887a Bukit Timah Road;
Novena: 175 Thompson Road 03/01.
Find Out More
Photo Credit: Little Artists Art Studio


For something not totally trad, look no further than the multi-award-winning Little Artists Art Studio which is hosting their signature Arty Parties in both its main The Mandarin Gardens studio and The Siglap Centre. Not all birthday parties need to go heavy on the food front, especially children's ones. Could this be the time to actualize your fantasy through wondrous fine arts and the process of pure creation? If you want to take home some painting skills and a masterpiece of your own, then book into one of its Arty Party packages with the added benefit of two or three professional art instructors.
The Little Artists Art Studio is offering two special packages for birthday guests, Very Van Gogh Party and Distinctly Dali Party, that are particularly appealing to children. Think 1.5 or 2 hours of art fun, one huge open-plan studio with separate space for food and art, welcoming drinks, a gift for the birthday child, and colorful birthday banners. But to really absorb all the festive pleasures you can opt for the Distinctly Dali Party. Guests can expect all the above-mentioned complete with cupcakes for the kids and goody bags for all of the birthday child's friends. For extra special impact,  there are themes tailored to the birthday child, a large piñata, and amazing face painting at an additional cost. With such entertainment and generosity, the only danger is that your guests may never want to leave.
Age Range: 3+
Prices: $600 for the Very Van Gogh package; $750 for the Distinctly Dali package;
Contact details: +65 6449 0960 / +65 6449 0339, shalini@little-artists.com;
Locations:
The Siglap Centre - #02-18 (Little Artists Art Studio) 55 Siglap Road, Singapore 455871;
The Mandarin Gardens - ARTY PARTY, #01-07 (Little Artists Art Studio) No 15, Siglap Road, Singapore 448912.
Parking is available at both locations.


Photo Credit: The Rink


Dreaming of a children's party that is out of this world and looking for an unconventional way to throw it? Then an ice skating event at The Rink is ideally suited for your kid's birthday bash. The Rink hosts international competitions, conducts ice skating lessons, and offers a wide range of events and activities for recreational ice skating!
With the Rink's exclusive party packages offering a 2-hour celebration, children can bring their friends and enjoy a round of adventure ice skating at JCube – Singapore's first and only Olympic-size ice skating rink – along with a dedicated party host that familiarises kids with basic skating techniques, rental of ice skates, usage of a party room. Rent the skating aids to help the adults and kids balance on ice if you plan to go solo.
Booking of the party package is seamless through The Rink's online platform. All you have to do is round up at least 10 guests, choose a convenient time slot starting from 10.30 am, and make an online booking at a minimum 1 week prior to the event.
The Rink is undoubtedly one of the city's most incredible birthday venues, which provides an abundance of energetic fun, to ensure that your little ones are entertained and amused with an ease.
Age Range: Suitable for children aged 4 and above;
Price: from $35 per skater. Minimum booking for a party is 10 skaters;
Opening Times: Monday, Thursday: 10:00 am – 9:30 pm, Tuesday, Sunday: 10:00 am – 7.30 pm, Wednesday: 10:00 am – 5:00 pm. Friday, Saturday, and Eve of Public Holidays: 10:00 am – 11:45 pm; For a more accurate opening hour, please visit the public skating session calendar.
For more information, contact The Rink on  +65 6684 2374 / 5;
Location: 2 Jurong East Central 1, #03-11, JCube, Singapore.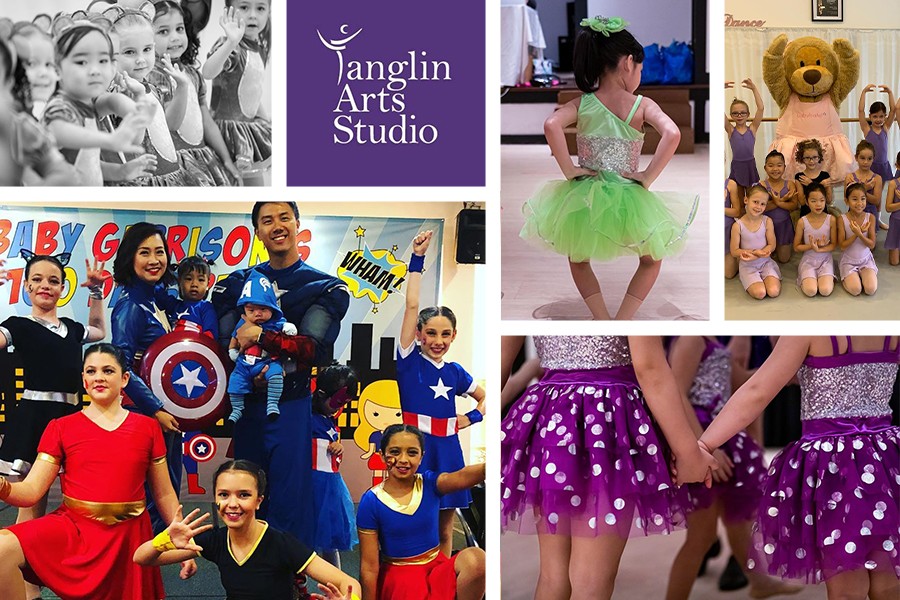 Photo Credit: Tanglin Arts Studio 
Drum roll, please... The legendary children's dance school Tanglin Arts Studio has assembled a dream team of highly qualified dance teachers and entertainers to create bespoke dynamic birthday parties. Available on Sundays, each one of their three stellar birthday packages guarantees to bring lots of sparkle, bags of fun, and plenty of pizzazz. With a wide and growing choice of themes on offer, now the Studio boasts its most sought-after options including Ballet, Jazz, Hip Hop, Disco, Disney, and Princess. One of the Studio's most frequently requested offer is to incorporate your child's favourite song and/or artist into the birthday party.
Among the most beneficial features of their packages are exclusive use of the studio for two or three hours, a dance class run by one of the highly energetic dance teachers with a proven track record to take care of the entertainment for your little guests (two teachers for more than 20 kids). They also supply extra items to make your party extra special like balloons or other decorations and full catering by Camden Hill Bar and Restaurant. You are welcome to bring your own cake or cupcakes free of charge. Alternatively, a bespoke cake or cupcakes can also be arranged by the Studio for an additional price.
Price: package 1 – from $300, package 2 – from $450, package 3 – from $600;
Contact details: +65 8123 6770;
Location: Hollandse Club 22, Camden Park, Singapore 299814.
Photo Credit: MuzArt 


It's a rare and glorious thing when your local children's learning center happens to throw the very best birthday parties. Passionate about art and creativity, at the multi-award-winning MuzArt Learning Centre they are big believers that no children's birthday should go uncelebrated. And that level of cheer extends to their art party packages full of fun games, painting, and craft activities. MuzArt @East Coast provides a decorated party room and reception area for hire arranged by theme to enhance your fabulous and unique experience. Their professional party host will trigger children's imagination with group art activities for crafting, learning and having fun. Complete with gift-giving for the guests and a special gift for the birthday child, MuzArt's birthday party will please even the most choosy parents. Just remember that catering is not included in the package rate, but you are permitted to provide your own food and drinks within the reception area.
Age Range: 2 – 17;
Price: $40 per child for a 3-hour-party. Minimum booking for a party is 10 children;
Opening Times: Wednesday – Friday 1:00 pm - 9:30 pm, Saturday – Sunday 10:00 am - 8:00 pm;
Contact details: +65 9188 2700, eastcoast@muzart.com.sg;
Location: The Yards, 406 Joo Chiat Place #03-21/22, Singapore 428084.
By Anna Khan
Subscribe to weekly newsletter from "Tickikids"