Review of Us – the compelling story of a powerful friendship
---
Published 13 August 2019 at 04:14
Tickikids Blog Singapore > Reviews > Review of Us – the compelling story of a powerful friendship
---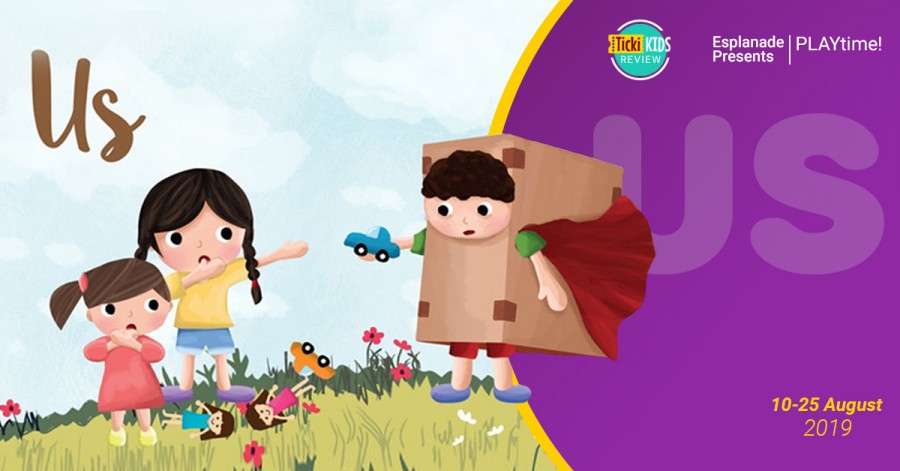 ---
One of the most crucial things we can teach our children is how to be a good friend. Reading related books, watching cartoons or, even better, setting aside a few days for attending theatre every month over the year is a great way to teach kids about the importance of firm friendship. Work it into your family tradition so afterwards you can discuss what they've watched, talk to them about the story and principles of right and wrong behaviour. From interactive shows with fun characters to noisy entertainment with unexpected surprises, PLAYtime! interactive theatre series by Esplanade gives a little helping hand on this occasion. The nation's best-loved children's entertainers, Esplanade Theatre Studio always delivers stunning performances and along with their fantastic directors and cast, guarantees to bring the young audience to their feet during its new musical adventure "Us" packed full of games, songs and laughter.
At TickiKids, we aim to encourage and support families with kids to become involved in the many and varied cultural experiences which extend and complement their children's learning and upbringing beyond the family and school environment. Following on from the hugely successful production Bunny Finds the Right Stuff by director Daniel Jenkins, TickiKids' Test Patrol families are delighted to turn the spotlight on a premiere of his warm, witty and wise show "Us" for children aged 2-6.




This 40-minute show – brought to the stage by director Daniel Jenkins and set designer Wong Chee Wai – features a local youth cast of Tan Rui Shan, Victoria Chen and Andrew Mark Ong. At the heart of the plot lies the wonderful friendship that is forged between Molly and her friend Alice who are always side by side, playing, having fun, joking and giggling together. But one day, a new boy, Henry, turns up hoping to make friends. Alice isn't sure that she wants Henry to join them. Will two best friends manage to accept someone new? Covering timeless themes including childhood friendship, the misery of being isolated and excluded, empathy and love, this touching story teaches children that everyone deserves friendship and how simple acts of kindness can change the world.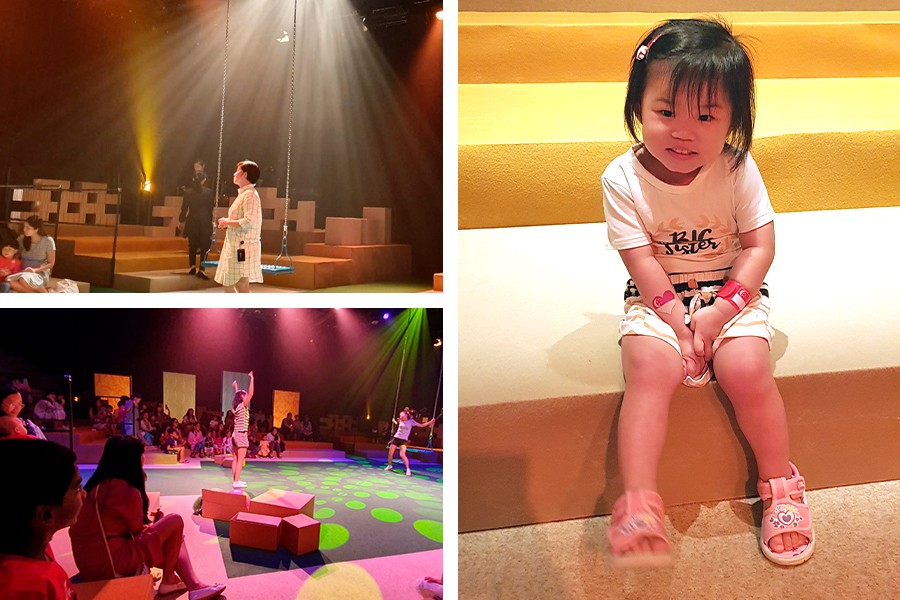 Did you enjoy the show? Is there anything in this production that sets it apart from other children's shows you've ever seen in Singapore. If so, what would you say makes this play unique?
Ivy Low, mother of a daughter Erica, 2:
"Yes! It was a visual treat and a very delightful performance incorporating catchy songs, infectious rhythms, comic monologues, movements, dances, acting and sensory fun! The audience was encouraged to take part in certain segments of the show, but I wish there were more! All credit to the set designer. A lot of effort was put in the exquisite sets, where boxes related to the main theme of the story formed the backdrop of the stunning set. It was impressive as most props are used with the boxes placed on the set! The audience were seated on levelled platforms all around the stage, which was at the centre of the studio. It was a thoughtful arrangement as no one got blocked, and children were free to walk around the perimeters of the stage. I was impressed with the fabulous sets even before the show had begun!"
Kavitha Amara Joyce S R, mother of a son Aegan Veera Sarkunan , 5:
"It was our first time at Esplanade Theatre Studio. I definitely enjoyed the show. What pleased me the most was the show's understanding of the kids attention span and the production were clearly sympathetic to this. The surroundings were very interesting with a creative layout of the stage and seating area. The audience were very comfortable. It was very unlike traditional theatre. The surrounding layout allowed the cast to share the same space as the audience. The seating arrangements were very comfortable, and the kids had a clear and unblocked view of the show. As the play was very interactive, my son thoroughly enjoyed the show and he appeared to be immersed in the flow."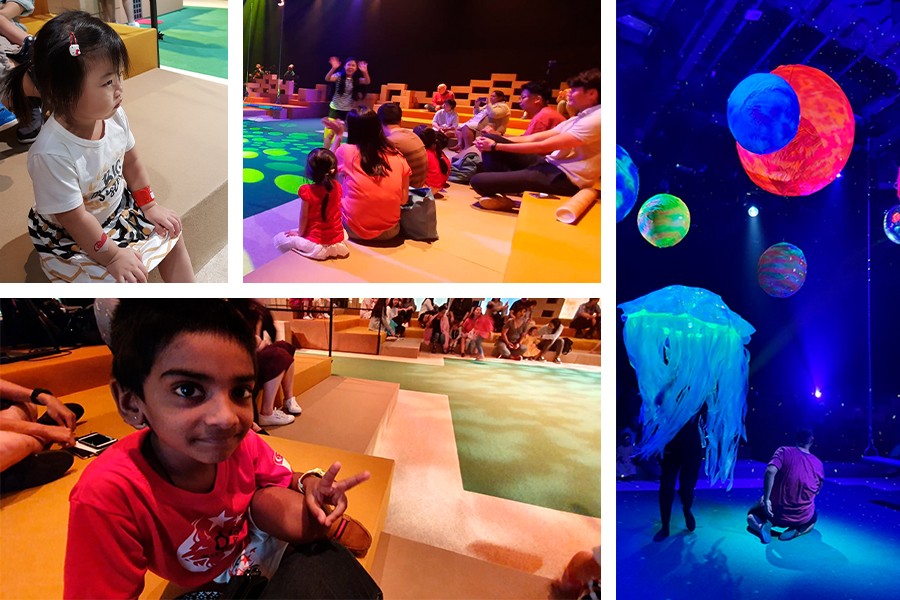 Tell us a bit about the characters of the performance. Who was your child's favourite character in the play and why? Did the children actively participate in the show?
Ivy Low, "The tale is about friendship and empathy revolving around three friends, and how their lives change with the appearing of a new friend. My 2-year-old daughter could not quite articulate yet on her favourite character, but at one point she was brimming with tears because one of the characters, Henry, got upset as he was lonely and friendless. There was a moment when coloured balls were given to the children and they were encouraged to put it in a box on the stage. They soon found themselves dancing and singing along to the uplifting and delightful songs. I wished there was more of this, as the attention span of children can be relatively short."
Kavitha Amara Joyce S R, "My son identified very well with the male character who was playing a superhero role, of whom girls don't really like to play. The kids had great fun throughout the play. Kids were called upon to shout out and give good vocal support and were called to throw balls into a box in an interactive manner. There were live musicians and my child was intrigued by the instant play of music."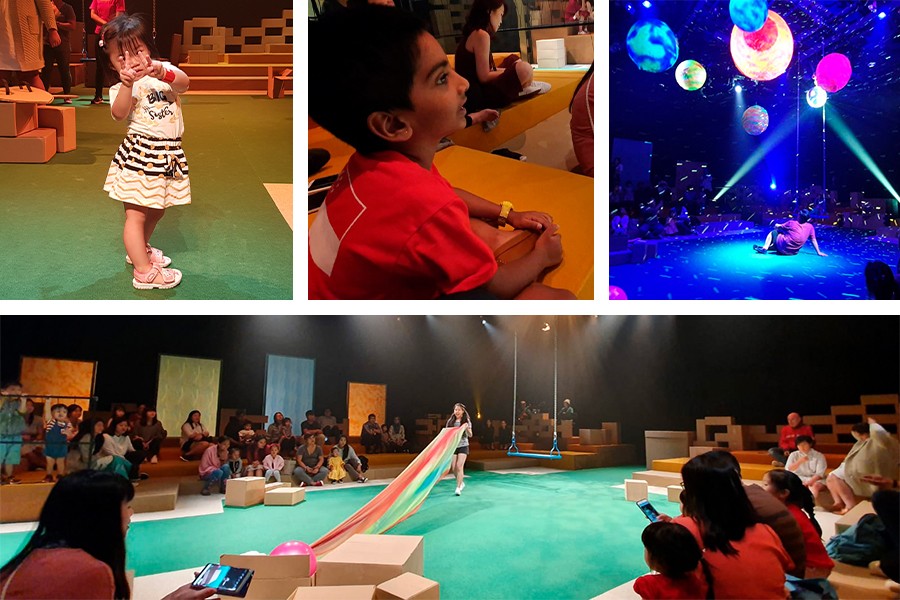 Was the plot-line of the play comprehensible for your child? Was there any need to explain the events taking place on the stage?
Ivy Low, "Even my 2-year-old daughter got the message and was upset when she saw one of the characters left alone."
Kavitha Amara Joyce S R, "As my son is more English spoken than our mother tongue, he clearly understood the plot as it was easily comprehensible. Little explanation needed."
Why do you think this play is so timely for your kids? If you had to convince someone to come and see the performance, what would you say? What exactly can other families with kids expect from it?
Kavitha Amara Joyce S R, "This play came in very timely for my 5-year-old as he is currently struggling to understand why some girls don't want to play with him, so I used the plot to try and explain reality to him. I think the play is very current, interactive and engaging for our kids. Thoroughly enjoyable, whilst teaching values in a light hearted and comic way."
Ivy Low, "Do not miss out on having fun with your child over a delightful performance. It is a great chance to teach your kids the importance of empathy and kindness. The cast is superb too and they inject emotions into their characters. My 2-year-old was transfixed throughout the 40-minute show and I am sure you will enjoy it too!"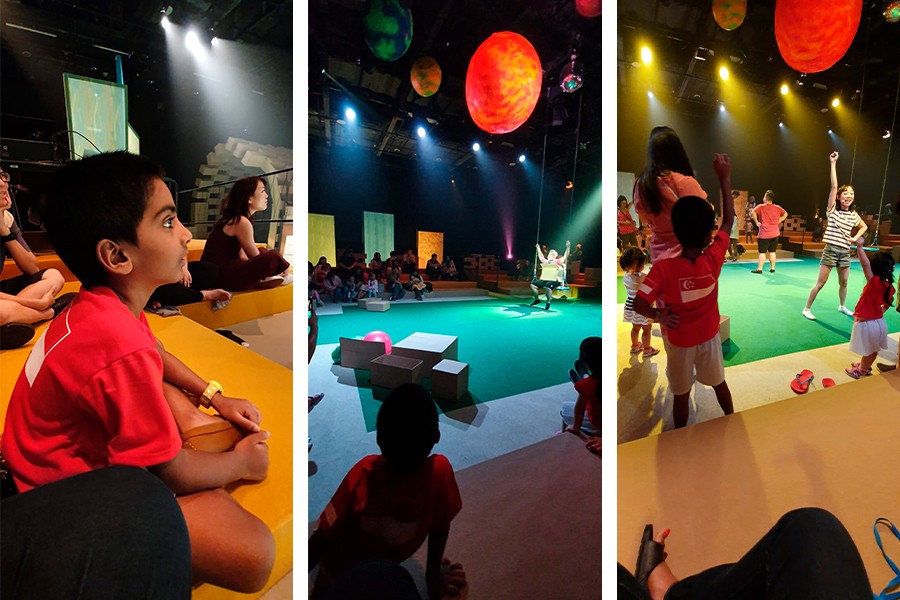 The performance Us is at the Esplanade Theatre Studio until 25th August 2019. A few tickets are available to purchase now. A sensory-friendly version of this production will be available on Friday 23rd August and Saturday 24th August 2019.
Why not arrange your visit to the Esplanade Theatre Studio to treat your family to a children's festival Octoburst which will take place from 4th to 6th October 2019? Check out their website for the full range of events and book tickets online.
The TickiKids' team would like to say thank you to Mrs Ivy Low and Mrs Kavitha Amara Joyce S R for providing us with their impressions and photos of the performance.
By Anna Khan
Subscribe to weekly newsletter from "Tickikids"