A Look Inside Multi-Activity Sports Camps by ProActiv Sports
---
Published 05 October 2020 at 19:35
Tickikids Blog Singapore > Digest > A Look Inside Multi-Activity Sports Camps by ProActiv Sports
---
---
The advent of October always reminds parents and their children of the upcoming school holidays. Giving you our take on one of the finest multi-sports camps with honesty and integrity couldn't be more timely.
As we gradually emerge from lockdown, physical wellbeing has never been more important. Fitness has come to the fore. Even the notion of health benefits of being more active has taken on new meaning since the quarantine. School holidays are certainly the time to raise your kids' activity levels and reduce the amount of time they spend sitting down. And while many families struggle to find an ultimate sport to suit every concern, those in the know are opting for various sporting disciplines. Well, thanks to the Multi-Activity Sports Camps by ProActiv Sports (formerly known as Sport4kids) it's possible without breaking the bank. "The reason we signed up our son Jayden for the Multi-Activity Sports programme was to give him exposure to a variety of different sports, to improve his coordination and build his confidence," says Emily May.
Present in more than 50 different locations across Singapore, ProActiv Sports' expert coaches perform thousands of sport sessions for children, meaning that wherever you are on the island, your kids are in the very best hands. Better still, if the offered venues don't work for you, they can organise a camp at your preferred location.




A pioneering coaching curriculum, ProActiv Sports brings together a team of the top sportsmen and coaches to create a bespoke approach to wellbeing of your kids and memorable sporting experience. All new team members complete the ProActiv Sports training and first aid course, regardless of their experience and qualifications.
From the 5-day Multi-Activity Sports Camps with an unusually broad selection of sporting activities to the most anticipated full-day camp at the OCBC Arena, Singapore Sports Hub, ProActiv Sports condos have become the most exciting place to be this October school holidays. And why wouldn't it? Whether you want your kids to run, jump or throw, here you can find an activity that suits you. Soccer, kickball, athletics, rugby, frisbee, basketball, karate, tae kwon do, dodgeball, floorball, baseball, tennis, swimming – an incredible opportunity for children to be physically active. But apart from learning, practicing and mastering fundamental sport skills, the concept of the camps is to boost young campers' essential values like respect and discipline through every element of their holidays, from team building, arts & crafts, science and dances to fun games.
As the insiders reveal details of a typical day at the camp, we are unpacking every activity that awaits for boys and girls aged 4 to 12.




Children can arrive at the venue at 9am. The kids are always greeted at the door by professional and friendly staff. Particularly impressive that washing your worries away does not seem so difficult here. The smiley camp leader gives your child a branded t-shirt in a colour of their age group with a team name for the week. This makes it easy for coaches to identify groups and also makes the children feel part of a team. The safety of kids and staff has of course remained paramount. In line with government advice, there will be a maximum of five in each group. Children then join their group and have a chance to catch up with new campers.
At 9.15 first activities start and then it's up to you whether to stay around to watch how your child is settled or head home knowing they are in good hands. The first sessions are usually dedicated to learning new skills, taking part in a range of drills and completing challenges which bring the first session to an end.
The snack time starts at about 10.50. Followed by a member of staff, children go off to wash their hands, have their snack and chill out. All children bring their own packed snacks and a water bottle, which the coaches ask to be of a healthy nature.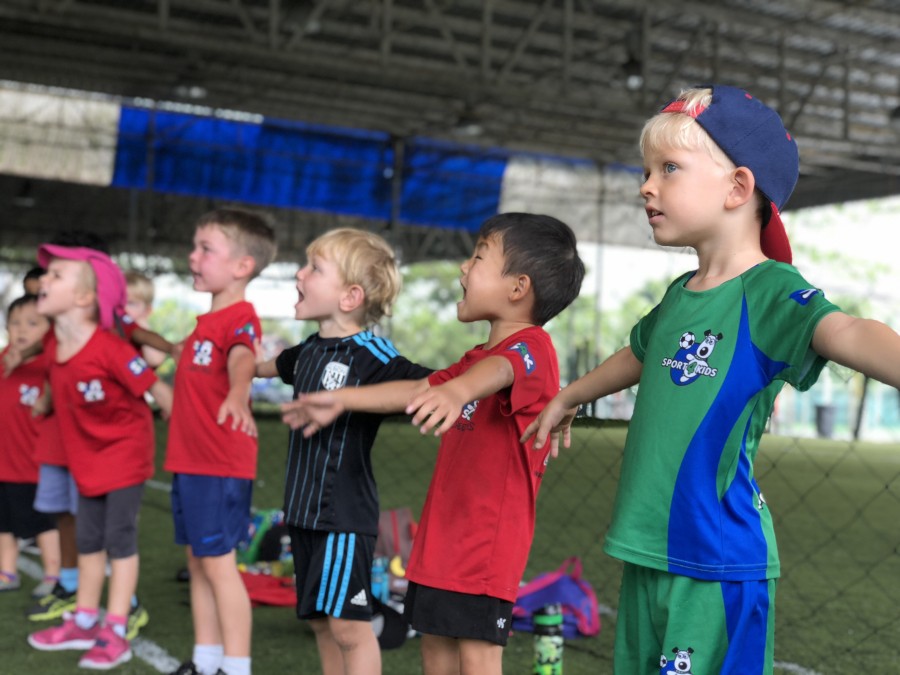 When the snack break is over, the campers go straight to their designated area. At around 11.00 activities start again and continue until 11.50am. With an hour for the next sporting session, the coach explains the rules, breaks down the basics ensuring that everyone takes part in the activity. They also play fun games which do not have a specific sport focus, but assist in developing skills such as teamwork, confidence and problem-solving. Parents are always pleasantly surprised to find out that their little one enjoys all the exercises and makes impressive improvements.




Home time is staggered between 11.50 and 12.00. Your child's coach will be at the door as each child leaves to tell you what a superstar they have been today, give them a high five and tell them that they are looking forward to seeing them tomorrow.
Having already amassed a devoted following in Singapore Sports Hub, ProActiv Sports is bringing its signature full-day camps to the OCBC Arena. Here, children benefit from a wider choice of different sporting activities. Mondays are dedicated to soccer, frisbee, athletics and team building, Tuesdays - to tennis, rugby, floorball and arts & crafts. There are tae kwon do, dodgeball, basketball and dance on offer on Wednesdays. Expect tennis, baseball, kickball and science on Thursdays. Campers complete the week with karate, soccer and dodgeball sessions plus Sport Day celebration. These provide youngsters with new and different opportunities to engage with less familiar concepts and with one another.
All in all, it's a magnificent and fun experience.
Christmas holidays may be a few months away, but places at their camps for December promise to be booked out fast. There is less room for spontaneity as slots are fewer, so pre-booking is key. To book a place visit their website and follow @ProActivSportsSG on FB or @proactivsports_sg on Instagram.
Dates: 5th – 23rd October 2020; 23rd November – 31st December 2020 (Only October camps are open for booking at the moment).
Timing: 9am – 12pm or 9am – 3pm;
Ages: 4 – 12;
Fees: from $299 to $465;
Contact details: +65 9807 6827, info@proactivsports.com.




By Anna Khan
Subscribe to weekly newsletter from "Tickikids"