The Best Language Classes and Courses for Kids in Singapore
---
Published 01 April 2023 at 09:43
Tickikids Blog Singapore > Digest > The Best Language Classes and Courses for Kids in Singapore
---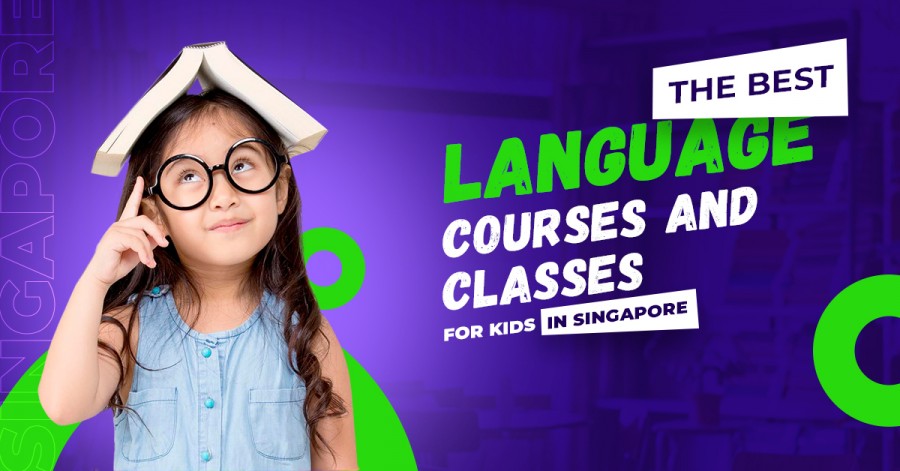 ---
Learning many languages in Singapore is inevitable. After all, the city has 4 official languages! This unique lingua melting pot creates many possibilities to become a polyglot. And imagine the benefits of this knowledge! Various studies prove that when a person knows and uses two languages it has a positive impact on the memory and focus of a bilingual. They can easily switch between tasks without losing attention and have better problem-solving and critical-thinking skills. 
Proficiency in a foreign language is a huge bonus to any CV. More than that, it is a chance to boost your communicational skills and break up new grounds. The ability to talk to locals when you travel abroad is priceless, as that is the real chance to get the feel of the country, its culture, traditions, and people.
And, if there is a possibility for kids to study a new language, you must give full play to it! It is so much easier to learn foreign languages at an early age than in adulthood! And, knowledge of one language simplifies the process of learning the other language to the max. So, the more languages your kids will learn, the easier it will be for them to learn the next language!
Luckily for us, parents, Singapore offers many top language classes and courses for children! We've rounded up some of the best places where kids can learn foreign languages in an interactive, fun, and entertaining manner!






With more than 70 years of experience, Alliance Française de Singapour is undoubtedly the reference in terms of language schools in Singapore!

Alliance Française offers French classes for children of all ages: teens, kids, and even toddlers from as young as one-year-old, and whatever their level of proficiency. Children will get to learn French in a fun yet structured way, and the fully-immersive classes encourage interactions with one another. Alliance Française also offers focus courses that target specific learning objectives as well as courses for bilingual children.
Depending on the needs and level of knowledge, you may choose different directions of the classes, be it a conversation, grammar, DELF\DALF exam preparation courses, and more.
Another great way to delve into the French atmosphere is attending holiday camps for kids and teens. Enriching workshops and creative activities will create an impression of visiting France on holidays!
At Alliance Française where learning meets play, other programmes to enrich children's knowledge of the French language and culture include storytelling sessions at the library, screenings of child-friendly films at their in-house theatre, twice-yearly holiday camps… the list goes on!
And don't forget to enjoy some delicious French delicacies at their café!
Age groups: 1-5, 6-9, 10-15, adults.
Contacts: courses@alliancefrancaise.org.sg; tel.+(65) 6737 8422.
Social Media: Instagram.
Location: Alliance Française de Singapour, 1 Sarkies Road, Singapore 258130.
Find Out More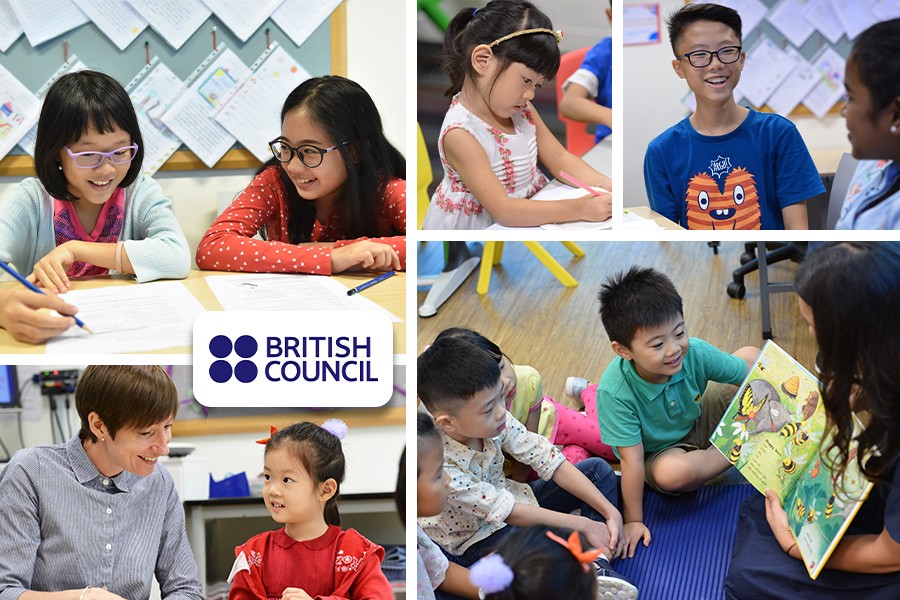 Meet another heavyweight in the realm of teaching foreign languages! For more than 80 years the British Council helps citizens of Singapore to learn English. Every year more than 20,000 students attend classes and improve their knowledge here!

The British Council offers a well-thought-out mix of experience, up-to-date methodology, and professional approach to every student. Here, teachers know how to make learning an enjoyable experience!
English courses for young learners offer a wide range of activities aimed to ignite the passion for learning this language. Students will read, discuss up-to-date topics, communicate with each other, and have fun! The teachers constantly search for new enriching and catching ways to hold classes so kids are always interested in lessons. The courses are designed to be in line with the syllabus set by the Ministry of Education so they will be of huge help to any kid!

In addition, all students can participate in complementary myClub Explorer sessions. These weekly, live online events will help kids to boost their English skills even further.
Age groups: 3-6, 7-9, 10-12, 13-18 years.
Fees: fees start from 795 SGD for one term.
Locations:
Napier Road Centre, 30 Napier Rd, Singapore 258509;
Toa Payoh Centre, 480 Lorong 6 Toa Payoh #09-01 HDB Hub East Wing, Singapore 310480;
Tampines Centre, 11 Tampines, Concourse #01-02/03/04, Singapore 04528729.


Spring Holiday Study Camps

Say No! to dull repetitive grammar exercises! Holiday Study Camps have nothing in common with plain cramming of English words and word structures as campers here explore the world beyond the English language. Kids learn to communicate and work together, polish problem-solving skills and critical thinking. Altogether, kids constantly practice the main language skills: reading, writing, listening, and speaking in the most exciting and entertaining way. Experienced and knowledgeable teachers motivate campers to participate in various group research projects, hands-on experiments, presentations, and drama games. 
Age Groups: Kindergarten 1 to Primary 4 students.
Weekly fee: 736 SGD. The price includes materials, certificate, and 7% GST. 10% discount for new students and 15% discount for current Young Learner students.
Locations:
Napier Road Centre, 30 Napier Rd, Singapore 258509;
Toa Payoh Centre, 480 Lorong 6 Toa Payoh #09-01 HDB Hub East Wing, Singapore 310480.


Year-Round Study Camps

There is no need to wait for a holiday to study English! A year-round study camp hosted by British Council engages kids in creative and entertaining activities. What's great, every week is a stand-alone themed camp and children can register for as many camps as they want.
What to expect from these camps? Teachers use unique British Council materials designed especially for the specific age groups. Students will take part in hands-on activities and interactive learning, exploring language and developing the skills they need for academic success. 
Highly qualified teachers sail with every wind to show campers something new and exciting! During the lessons, kids explore new subjects, notions, situations using English ensuring deep language immersion.
Parents can keep track of kids' success by communicating with teachers during parent-teacher meetings. And, here much prominence is given to the personalized approach to every student to make sure that kids get the most out of every lesson. 

Age groups: 4-17 years.
Social Media: Facebook; YouTube.
Weekly fee: 736 SGD. The price includes materials, certificate, and 7% GST. 10% discount for new students and 15% discount for current Young Learner students.
Location:
Napier Road Centre, 30 Napier Rd, Singapore 258509.
Find Out More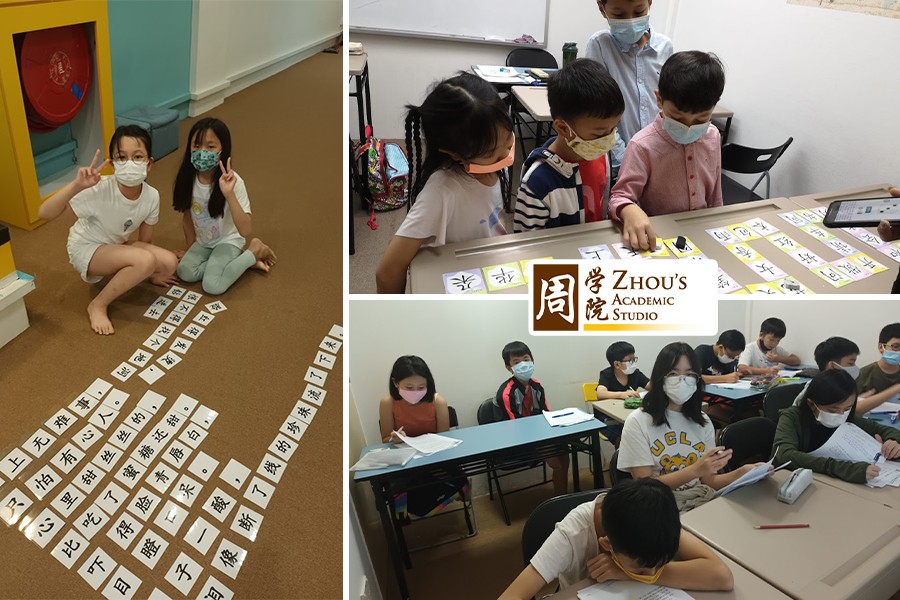 Image Credit: Zhou's Academic Studio
For over a decade, Zhou's Academic Studio (ZAS) has been dedicated to instilling a love for the Chinese language in its students by honing their writing and speaking skills, vocabulary and comprehension abilities. With native-level fluency in Chinese and a wealth of language education experience, ZAS teachers create a warm and welcoming environment that encourages learning and growth.
At ZAS, small class sizes ensure a personalised and focused learning experience. With lessons tailored to each student's needs, it is no wonder that students show significant improvement in their Chinese language within just 3 to 6 months. The curriculum, aligned with the Singapore Ministry of Education's Syllabus, keeps students ahead of their peers and leads to impressive results - over 90% of ZAS students have earned AL1 to AL3 distinctions in the PSLE Chinese Oral Exam.
Over the years, Zhou's Academic Studio has earned the trust of parents and students. With numerous positive testimonials, ZAS is the go-to choice for those seeking to enhance their child's Chinese mastery. If you are ready to help your child achieve their best grades, sign them up for one of Zhou's Academic Studio Chinese courses today.
Address:
Novena Branch:  1 Goldhill Plaza #03-03 S308899
Upper Bukit Timah Branch:144 Upper Bukit Timah Road, #02-10  Singapore 588177
Contact details: zhousacademicstudio@gmail.com
Tel: 65 - 8886 1856 (Whatsapp and Call)
Email: zhousacademicstudio@gmail.com
Website: www.zas.sg
Socials: Facebook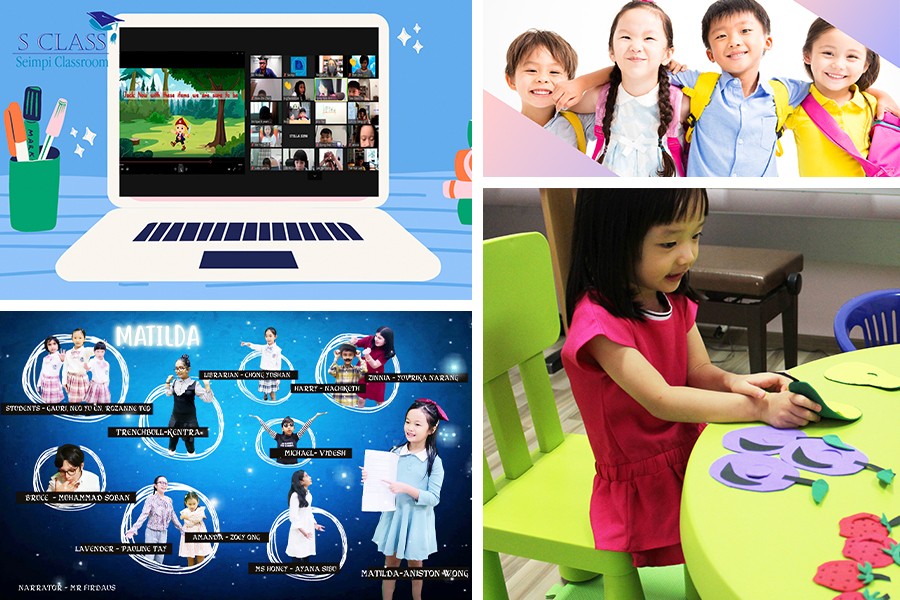 Language is the very foundation on which we interact and communicate with others. Not only does language play a part in daily interactions, but it also reflects one's own development and upbringing. A child's language development capabilities are greatly influenced by being in an environment that is rich with many different words, rhythms, and sounds. Language skill is therefore a carefully cultivated craft, instead of just a naturally-endowed talent.
Learning languages effectively can be a lifelong skill that will open doors and create opportunities for children if it is cultivated properly from a young age. Seimpi Education's Language program primes students for academic excellence, aiming to provide a solid foundation in aural comprehension, phonemic awareness, verbal presentation, and penmanship skills. In addition to teaching students speaking, reading, listening, and writing skills, teachers here also cultivate thinking, reflecting, and presentation skills as well. Through engaging students on a wide range of general and global issues, classes stimulate their thirst for knowledge and cultivate their phonemic awareness as they discuss topics carefully selected by Seimpi Education's teachers. Carefully selected teaching materials will immerse students in English/Chinese literature and culture, and they will be guided holistically to appreciate and apply their language skills in many contexts.
Students can attend classes in our Seimpi Education centres or online.
Contacts: Tel: 6737 6731; Whatsapp: 9028 2308; email: info@seimpi.edu.sg.
Social Media: Instagram, YouTube, Facebook.
Locations:
#03-16/17 The Centrepoint;
#05-04/05 Hougang Mall;
#04-13/14 JCube;
Find Out More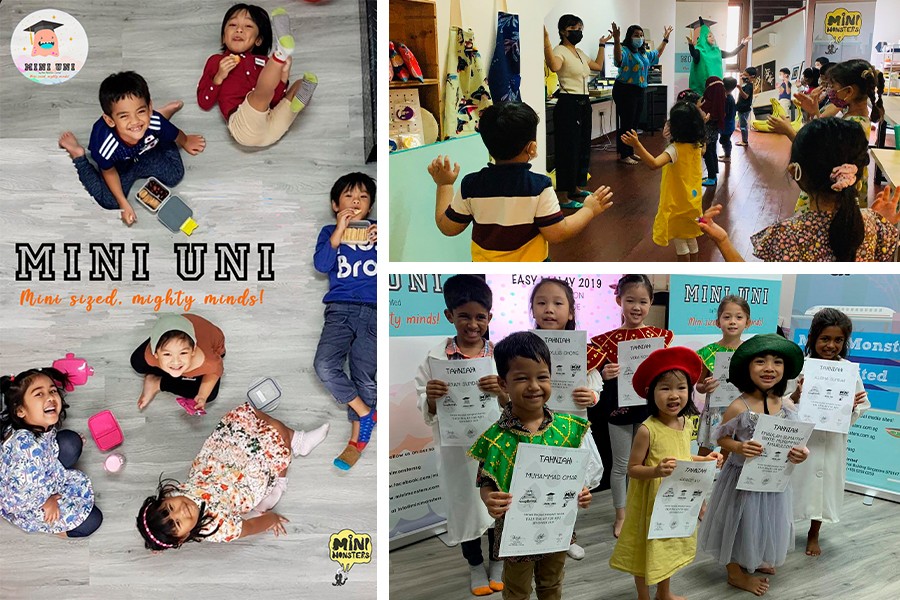 Mini Uni is a bilingual enrichment center dedicated to growing inquisitive, confident, and eloquent Malay-English speakers. It is equipped to teach students from non-Malay households and students looking to learn Malay as a third language.
This center is mini in size but major in ideas making language-learning come alive through a myriad of interactive, innovative, and engaging teaching techniques.
Armed with a team of qualified teachers, Mini Uni hopes to empower students to achieve their full potential whilst nurturing the love for the Malay Language!
Mini Uni is a subsidiary of Mini Monsters Limited, an education company dedicated to developing original Singapore-made educational materials, courses, and syllabus that are relevant to today's generation of children. Mini Uni offers several courses:
Fonik Ria – Cepat Membaca
The main objectives of the course are to prepare children to read confidently and understand the Malay Language. After the course kids can recognize alphabets and Malay phonics, read and understand words and sentences.
Drama Ria
This course uses drama, role-playing, improvisation, and language games to teach kids Malay literacy, usage of the Malay language, and boost their communication skills. Here, well-trained teachers bring skills and experiences from being in the current theatre and TV industry.
At the end of the course, parents will be invited to watch a mini performance with costumes and props.
Easy Malay
Meet the course that is specially designed for children from non-Malay-speaking households. It is an introductory Malay conversational program where kids can learn basic words and selected phrases.
Age Range: 4 to 9 years old.
Locations: 3 Pemimpin Drive, #03-04 (Unit A); Lip Hing Industrial Building Singapore 576147.
Social Media: Instagram, Facebook.
Find Out More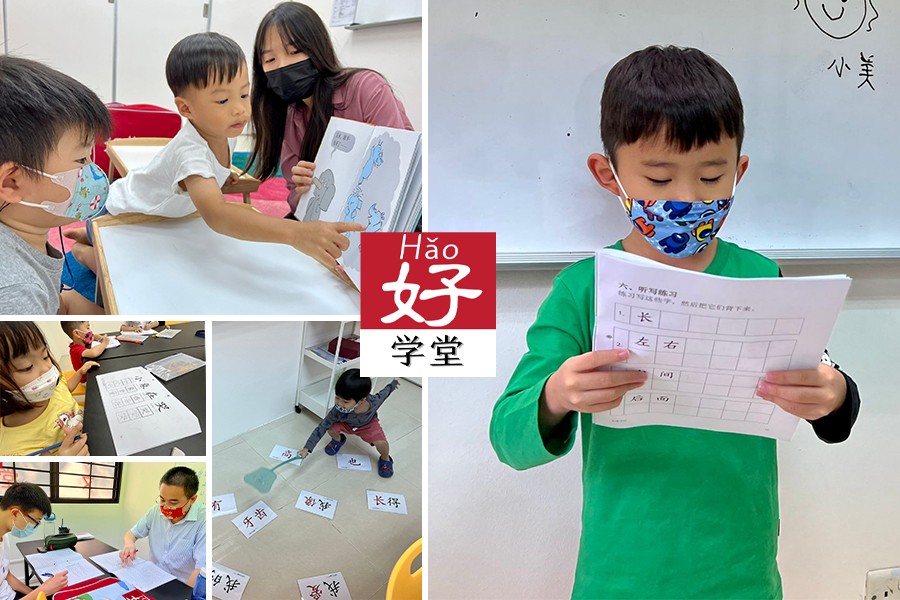 Image Credit: HAO Chinese Tuition
HAO Chinese Tuition is Singapore's only Chinese language centre that focuses on building speech confidence by incorporating Presentation and Mind-mapping skills into the classroom. Starting with N1 (3yrs old), every student at HAO Chinese Tuition has the opportunity to give a presentation using a mind-map in every class. The Presentation allows students to develop narrative skills, such as the ability to tell stories and describe things and events, as well as overcome stage fright and expand their Chinese vocabulary. 
A well-rounded and well-thought-out curriculum is based on the ELF (Early Literacy Focus) Method and it helps children to get ready for Singapore Primary education. Engaging, interesting, and enriching Chinese enrichment class helps kids to build a strong vocabulary along with reading and recognition skills, build a strong writing foundation and boost communication skills.
The Primary school program has an All-in-5 curriculum that includes the latest MOE Chinese syllabus, Chinese comprehension, Composition, Oral, and Listening. Thus, with the help of this program kids will easily keep up with the Chinese assessments at school and prepare for the PSLE exams.
The Secondary curriculum covers five major subject areas: the most recent MOE Chinese syllabus, Cloze Passage, Comprehension, Oral, and Listening. The competently selected activities and exercises of this Toa Payoh Chinese Tuition will help students to prepare for Chinese exams and GCE 'O' Level.
One of the main reasons for the students' splendid academic achievements is the expertise and experience of HAO Chinese Tuition teachers. They are MOE-registered instructors with advanced degrees with years of teaching experience. They know how to create a warm, safe and welcoming environment at Novena Chinese Tuition classes where kids can learn at their pace, make new friends and have fun.
Age: 3-16.
Contacts: info@haochinesetuition.com, +65 8626 7300.
Location: 501 Balestier Road, #02-01, Wai Wing Centre, Singapore 329844.
Find Out More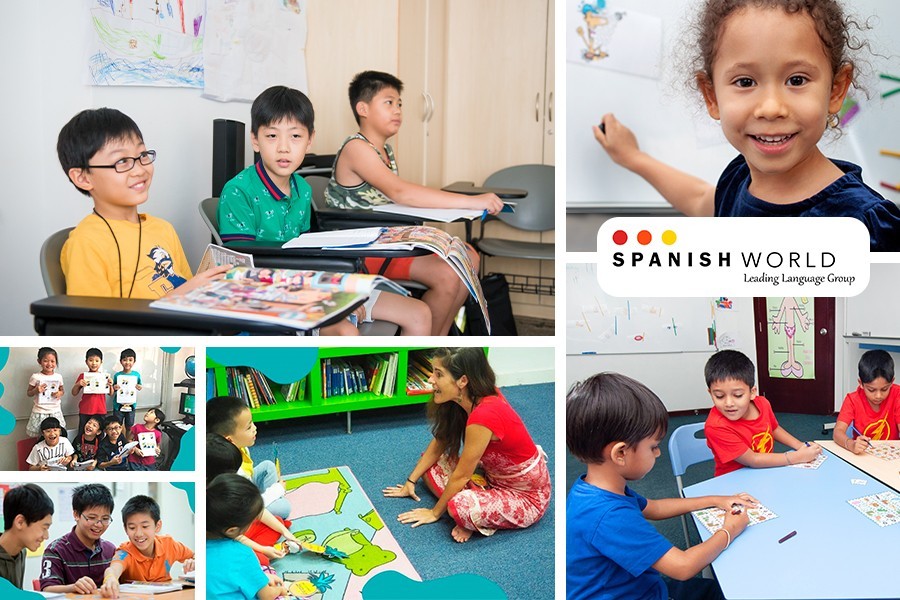 Spanish World nurtures children to learn Spanish in a dynamic, fun, and joyful way through songs, activities, and games. Professional native teachers are the best at ensuring learning while making the experience delightful for your children. They organize cultural activities to immerse kids in the unique culture & way of life of the Hispanic Universe – gastronomy, music, dances, festivities, customs... all while also learning a new language! The only goal is to guarantee every family that their children learn and enjoy themselves in a natural and fun way. And every family can choose the most convenient curriculum and way of learning:
Spanish for Toddlers 18-24 months
Here the language is introduced in a slow but constant way and kids learn while playing. The perfect way to start learning!
Playgroup 2-5 years
Children learn in small groups and comprehend the foundation of the language in a fun and interactive way.
Kids 6-12 years
This course creates the perfect base for later secondary school Spanish learning.
Online
There are several online activities: your kid can participate in online group activities or take online private lessons. In addition, kids can learn to read with online storytelling activities!
Without a doubt, the level of teachers' professionalism here can pass any test as Spanish World Singapore is the only official DELE examination centre in Singapore with Cervantes Institute Quality Seal.
¡Os esperamos, amigos!
Contacts: +(65)63333484/ +(65)91590668.
Social Media: Instagram; Facebook.
Location: 180B Bencoolen Street 08-01, Singapore 189648.
Subscribe to weekly newsletter from "Tickikids"