Singapore's Engaging March and Easter Camps 2023. Part 2
---
Published 06 February 2023 at 19:23
Tickikids Blog Singapore > Digest > Singapore's Engaging March and Easter Camps 2023. Part 2
---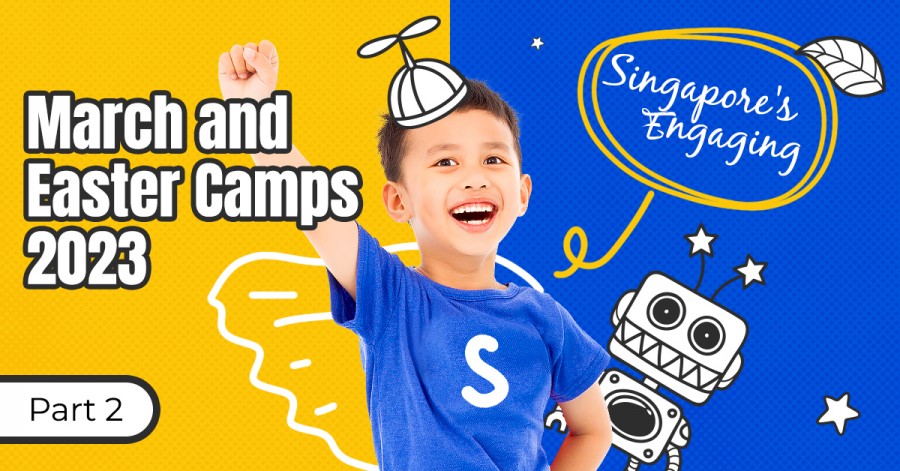 ---
Let's not miss the opportunity to turn your children's spring break into a chance to learn something new and useful and make new friends! In this regard, Singapore is one of the best places, because there are a huge number of camps, workshops, and training sessions for those who want to have a good time.  We've rounded up some of the top activities for March and April, so rest assured, you will find a camp that will catch the fancy of your little one!
Take a look at Singapore's Engaging March and Easter Camps 2023. Part 1 for more activities!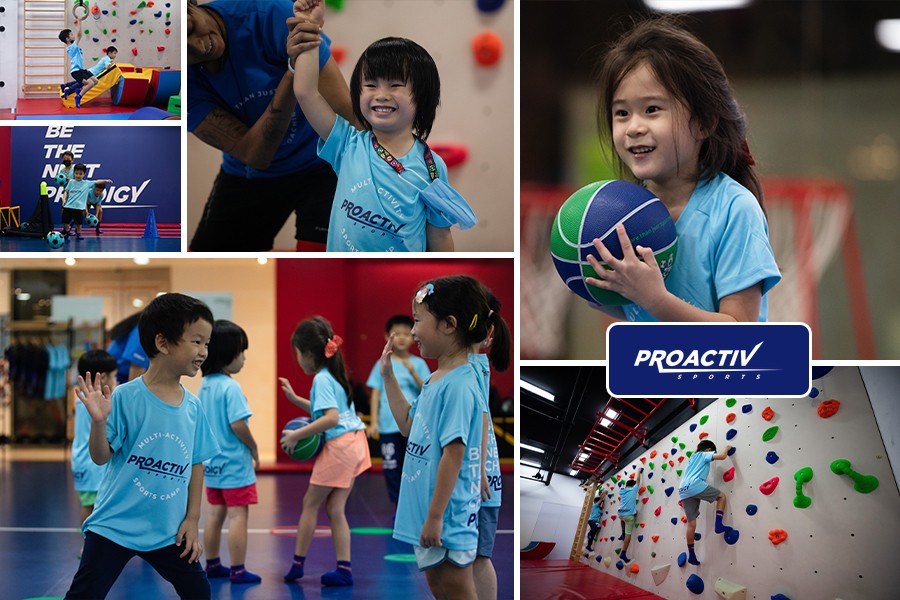 Image Credit: Proactiv Sports
New camp themes, awesome new S.T.E.M. activities, a variety of sports, outdoor excursions and a chance to play Singapore's first and only MULTIBALL interactive wall - sounds like fun, isn't it? The fun experts at Prodigy have been hard at work preparing for yet another excellent holiday experience for children this Spring, so don't miss out. A jam-packed schedule full of exciting activities awaits!
From popular video games to a special Easter camp, not to mention a limited edition Avatar experience camp, Prodigy definitely has something for everyone. Check out their upcoming camp themes these March - April Holidays and register your child for an experience that they won't forget!
Pokemon Camp
Here, kids will learn new sports and develop new skills, hatch and catch Pokémons, and collect rare cards from every challenge. Kids will take part in various Pokemon-themed games and activities and, without a doubt, make new friends.
When: March 13 - 17.
Among Us
The curriculum of this camp is filled with activities inspired by the famous game. Thus, kids will learn special strategies, play Among Us-inspired games and learn to work in a team.
When: March 20 - 24.
Minecraft
If your child likes to spend hours of screentime in Minecraft, this camp will definitely catch their fancy. A week packed with exciting Minecraft-inspired games will make so many happy memories for them!
When: March 27 - 31.
Prodigy Easter Special (3-5 y.o.)

This Easter Special has prepared 2 camps for different age groups in one week with egg-stra special activities and eggs-treme fun! All activities are age-based to make sure that all kids enjoy their time at the camps.
When: April 3 - 7. 
Prodigy Easter Special (5-12 y.o.)
This Easter-themed camp is packed with egg-selent activities, fun games, and challenges. Prodigy always knows how to surprise campers!  
When: April 3 - 7. 
The Avatar Experience
It takes so much skills, agility, and knowledge to become a real Na'vi! The campers will take part in various Avatar-inspired activities where their strength, stealth and wit will be challenged.
When: April 10 - 14.
All campers will get Dri-fit Prodigy Camp T-shirt, Grip Socks, camp certificate and amazing prizes throughout the whole week.
When: 13 March - 14 April.
Timing: 9.00 am - 2.00 pm.
Age: 4-12 years.
Fees: 120 SGD for drop-in & 525 SGD for 5 days. (Morning and afternoon snacks will be provided)
Location: Prodigy by ProActiv Sports, Level 3 Katong Point, 451 Joo Chiat Rd.
Find Out More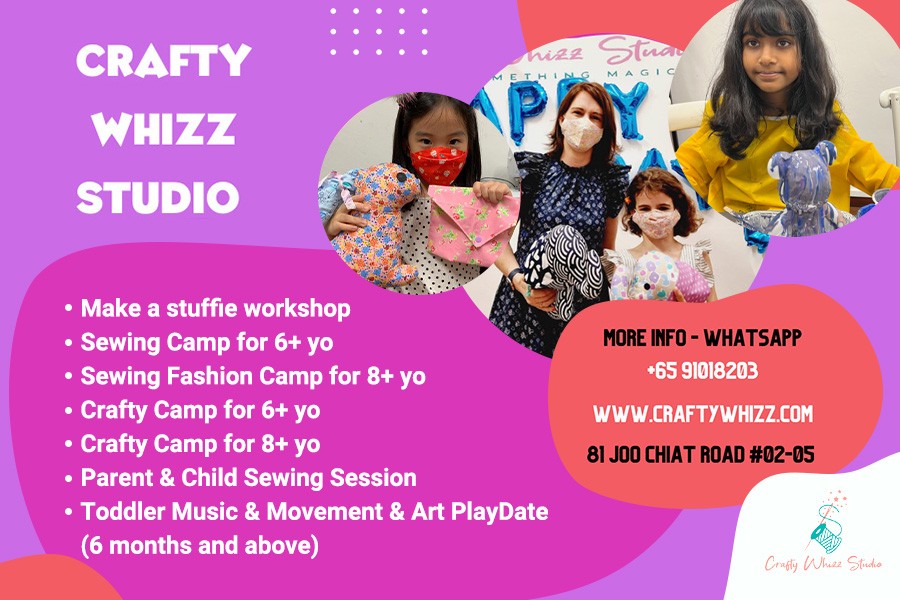 Image Credit: Crafty Whizz
Crafty Whizz is the perfect place to learn new hobbies, make real masterpieces, and develop new skills. It is the place where you and your kids can give reign to the imagination and create something unique and extraordinary and here you will be provided with all the necessary tools and instructions on how to complete the task. 
This Spring, Crafty Whizz offers plenty of workshops and camps to learn and craft something new and fun!
Make a Stuffie Workshop
During this workshop kids will learn how to operate a sewing machine and practice sewing. And when they are a little more hands-on, they can make a stuffie themselves!
When: Mon-Fri 10.00 am, 2.00 pm, 3.30 pm, Sun 9.00 am, 2.00 pm.
Price: $59.90
Sewing Camp

During this camp, kids will choose two projects to sew from the list: a Monogram pillow, a Fabric basket, a stuffie pencil case, a Tote bag, a Bucket bag, a Drawstring bag, Hat, Scrunchie, a Pouch bag, or 6 letters bunting. Kids will be provided with detailed instructions, and experienced and knowledgeable instructors will show them how to complete the task. 
Price: $59.90 
Sewing Fashion Camp

Who knows, maybe this camp will become the beginning of a life-long journey for you or your kid! The artisanship of creating elegant, comfortable, refined pieces of clothing can come in handy anytime! During the camp sessions, kids will learn to create sophisticated projects like Kimono jackets, Skirts, Shorts, Aprons, Bucket hats, Bucket bags, PJ pants, and Messenger bags.
Price: $99.90
Crafty Camp 1
During this camp kids will explore slime making, marble and texture painting. Also, they will test their creativity with art jamming sessions and try their hand at the bear acrylic pour.
Price: $99.90
Crafty Camp 2
The schedule of the camp includes sophisticated activities like dream catcher making, macrame and crochet keychain, canvas painting, and sewing project. 
Price: $99.90
Build a Doll Workshop
During 4 hours of this workshop, kids will be able to create a doll from scratch using a sewing machine, make hand embroidery doll faces, choose fabrics and cutting, and make accessories for it.
Price: $99.90
And these are only a scratch on the surface of the workshops that are offered by Crafty Whizz! Take a look at their website and choose!
When: 1 March - 30 April.
Timing: 9.00 am - 1.00 pm; 2.00 pm - 6.00 pm.
Contacts: +65 9101 8203 ( WhatsApp ), hello@craftywhizz.com.
Location: 81 Joo Chiat Road, Singapore 427725.
Find Out More
SWAGA's fundamental principles of work are excellence, quality, world-class coaches, and equipment. Here, you can find a program for anyone, from a complete novice to competitive elite gymnasts, from babies to adults.
SWAGA Gym transforms the concept of a sports center as it's not just a gym, it's a place where the whole family can find recreation, entertainment, and useful activities.
Parents here can have a cup of coffee in the clubhouse and connect with other families (or take part in the Adult Fitness Program!), and little ones can have fun in the fully functioning jungle gym area, while kids attend Gymnastics Academy or one of the camps, created by SWAGA instructors.
And this Spring, new camps are waiting for you!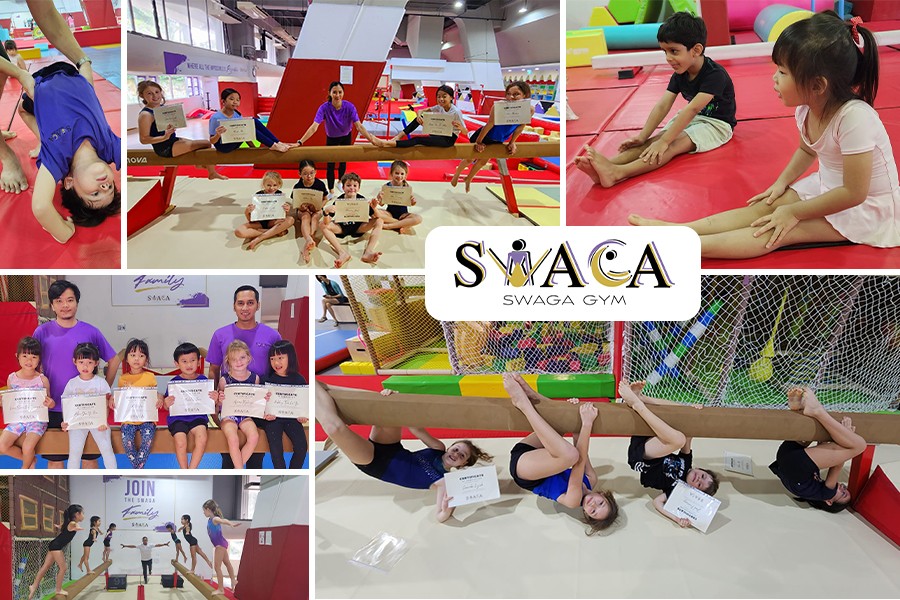 Image Credit: SWAGA Gym
March and Easter Camps
There are camps for kids of all ages:
KINDERGYM (4-5 y.o.) This camp is specially designed for younger children to have a lot of fun climbing, running, tumbling, and overcoming obstacle courses. The program of exercises is specially designed to keep kids interested, and develop coordination, flexibility and endurance. And, of course, they will make new friends there and take part in different group activities.
RECREATIONAL GYMNASTICS (6-13 y. o.) is aimed for the kids who are at the very beginning of the journey in gymnastics or for those who want to try their hand at this graceful and elegant sport. Here, knowledgeable coaches will teach kids the basics of gymnastics and start building necessary skills for practicing on all apparatus.
ADVANCE GYMNASTICS (6-15 y.o.)
This camp offers additional training hours for girls who enjoy weekly gymnastics sessions. Here, athletes will be able to boost their skills and polish techniques.
When: 20 - 24 March (5 days), 27 - 30 March ( 4 days), 3 - 6 April (4 days)
Timing: 9.00 am - 12.00 pm.
Fees: 288 SGD per 4 days; 360 SGD per 5 days.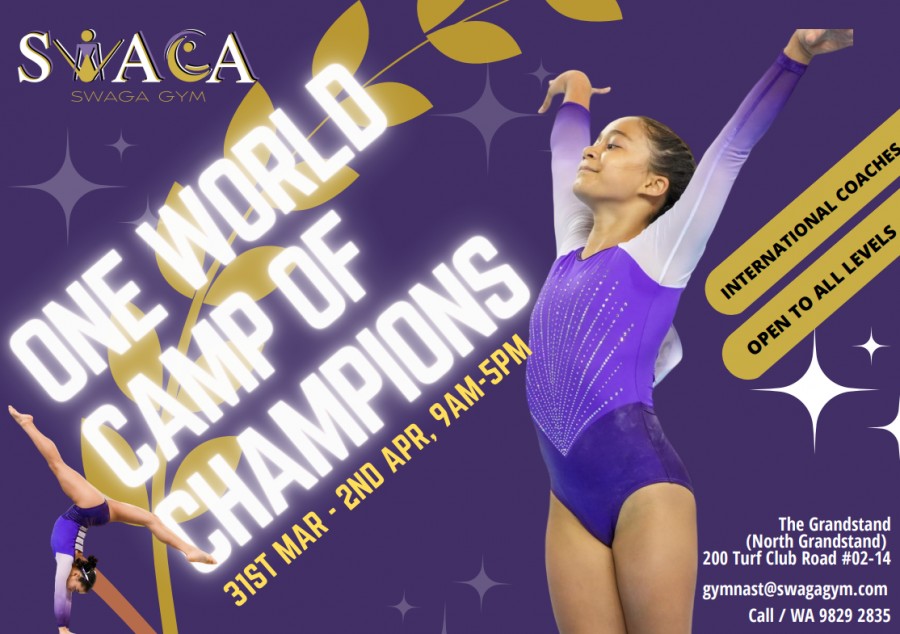 Image Credit: SWAGA GYM
One World Camp of Champions (6+ y.o.)
SWAGA has prepared a true gift for Singapore's competitive and aspiring gymnasts - it is a possibility to work with some of the best coaches in this sport. Here. much prominence is given not just to the perfection of the physical aspects of sports, but also to the emotional and motivational aspects. Thus, this camp offers intense training for gymnasts and refresher courses for the accompanying coaches, as here International Elite and Olympic-level coaches are going to share their knowledge and vision on how to improve sportsmen's techniques and coaching styles.
Meet the coaches:
Cliff Parks - 2 times Western Ohio League AA Champion, Former Head Coach at Lyons Gymnastics Academy California and East Bay Sports Academy North California, 2010 Compulsory Coach of the Year, Coaching staff for the US Men's National Gymnastics Team for Rio Olympics.
Mary Wright- Olympic Coach for Canada, New Zealand, and the USA, 2021 USAG Hall of Fame Awardee, Awarded an Honor by Queen Elizabeth II for Gymnastics Contribution.
Bob Peterson - Coached Olympic Silver Medalist Mykayla Skinner along with many other State, Regional, and National Champions, Former Owner of American Gymnastics Centre, Starfires gymnastics team.
Simone (Sim) Greig - 2012 Victorian State and Australian Coach of the Year, Development coach for 5 Australian Olympians.
Daniel McCarty-as an athlete was a two-time member of the Junior National Development Team, qualifying twice to train at the US Olympic Training Centre in Colorado Springs.
Kerry Huston - 10 years Junior and Senior USA Gymnastics National Team Member, USA Gymnastics National Champion, Ironman Certified Coach, 3 x Ironman, Certified strength and conditioning specialist with National Strength and Conditioning Association.
When: 31 March - 2 April.
Timing: 9.00 am - 5.00 pm.
Contacts: gymnast@swagagym.com, Whatsapp 98292835.
Fees: 750 SGD (early bird before 1st March 650 SGD), Coaches Clinic 250 SGD
 *Register 5 gymnast and coach pays 50% OFF
Location: SWAGA Gym, The Grandstand 200 Turf Club Road #02-14.
Find Out More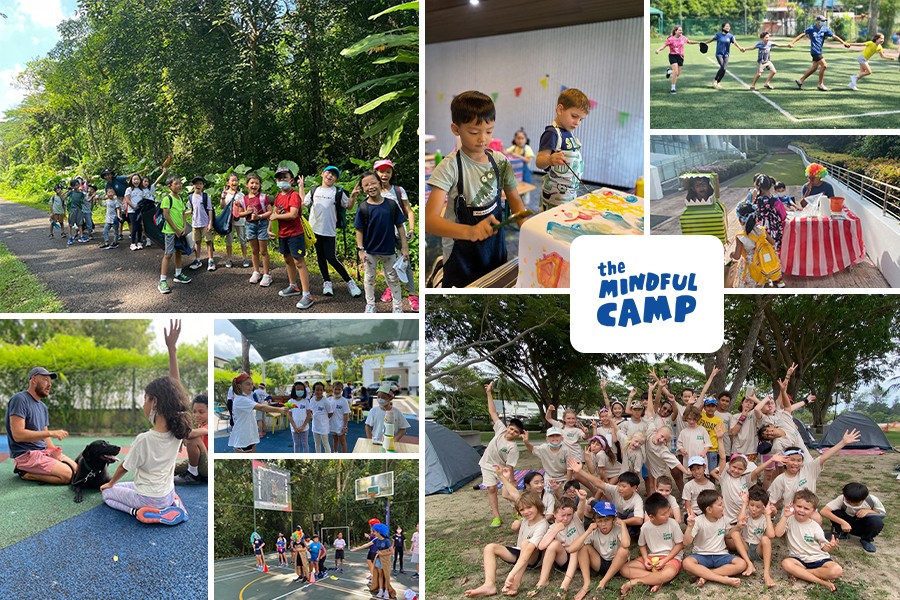 Image Credit: The Mindful Camp
Kids always look forward to the camps by The Mindful Camp as the camp leaders devote a lot of time to planning and preparing for the activities. Here, campers can build confidence to explore new things and overcome challenges.  
Experienced, creative, and highly qualified camp leaders know how to ignite a passion for learning, engage everyone in fun and enriching activities and create a warm and welcoming atmosphere. 
The Mindful Camp is a member of the American Camp Association that establishes the highest standards of camp facilitation and, without a doubt, this organization meets and exceeds the expectations of this Association. 
This Spring, a 5-day program, aimed at kids aged 5-12 years old, will bring a lot of fun and new knowledge! Two camps, Camp River (5-7 y.o) and Camp Mountain (8-12 y.o) provide age-specific activities that help to unlock the child's full potential and satisfy their urge to learn. 
It is the perfect place to create some bright and catching memories, make new friends, and learn something new. Well-chosen activities allow children to give reign to their imagination, develop vital life skills, and gain core knowledge about the world around us. 
For example, kids will be involved in craft-making, team sports, farm-to-table cooking, and nature exploration among other things. They will boost their creativity to the max with activities like movie-making and art murals. And at the end of the camp campers will take part in a fun and engaging carnival madness. It is nothing like the same boring daily routine and children are always looking forward to the school break as they expect something unusual and entertaining. And the camp leaders never let them down!
Built on four pillars: mindfulness and social-emotional skills, arts, nature, and play, these camps always pleasantly surprise kids. And one such surprise is free merchandise (T-shirts, tote bags and others).
When: March/April Season: 13 - 17 March, 20 - 24 March, 27 - 31 March, 3 - 7 April, 10 - 14 April.
Price: $720 (5-day camp including healthy snacks & lunches, field trips, and official merchandise). 
Age: 5 - 7 years old (Camp River @Swiss Club), 8 -12 years old (CampMountain@City Sprouts). 
Contacts: info@themindfulcamp.com, +65 97970091.
Find Out More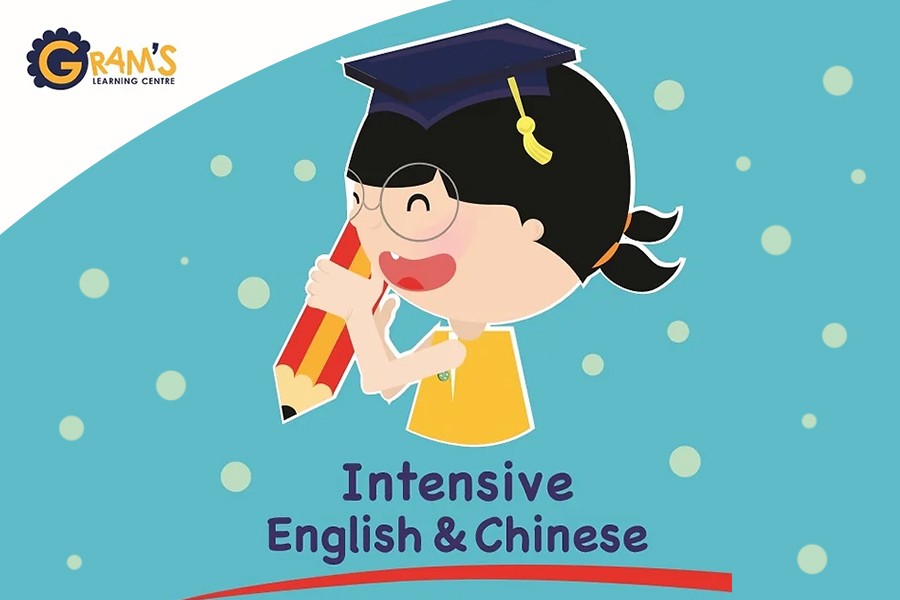 Image Credit: Gram's Learning Centre
Gram's Learning Centre is well-known for its holistic approach to education. Here, every child is believed to be unique with boundless potential that can be unlocked through thoroughly planned customized programs.
Here, the academic excellence of your child is not the only aim of studies, as teachers make every effort to instill love in the very process of learning.
Much prominence is given to the development of one's language, creativity, and character as the learning program focuses on the ability to express oneself, discover new facets of character and talents, and develop solid language skills.
This Spring, Gram's offers 1-on-1 Intensive English and Chinese lessons to boost skills and fill in the gaps of knowledge.
Chinese (1-to-1) Primary 1 to Primary 6
English (1-to-1) Primary 1 to Primary 2
English (1-to-1) Primary 3 to Primary 6, Secondary level
During these learning sessions, the teacher will adjust the program to the areas you've specified as the ones that require improvement, e.g Oral, Comprehension, Composition, Current Affairs, or Topic of Interest.
Due to the individual and customized approach and undivided attention of the teacher dedicated to one student, the results will not be long in coming.
The developers of the learning programs here have more than a decade of experience in the educational field so they have both hands-on and theoretical knowledge that allows them to create the most efficient courses. They make sure that kids are always interested during the lesson, have fun, and feel motivated to learn.
Timing: check the website for the slots available.
Fees: 95 SGD per session.
Contacts: tel. +65 6467 1258, gramslearning@gmail.com.
Location: #02-15 Beauty World Centre, Singapore 588177.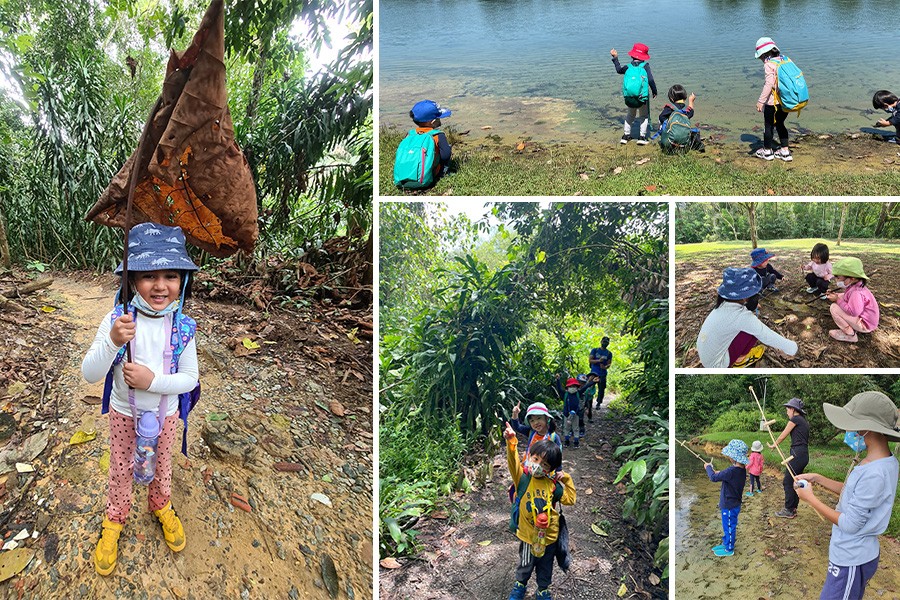 Image Credit: Outdoor School Singapore
Outdoor School Singapore by NTUC First Campus, is well-known for its unique offering of concept-based learning and skills development, using the great outdoors as the learning environment.
The instructors know the importance of learning, and that it is not limited by the walls of the classroom. Every learning session here turns into an enjoyable, creative, and adventurous enriching journey that helps children understand the importance of the natural environment. Our young ones are led by professionally-trained instructors that allow them to experience 'risky-play' under their watchful eye and at the same time, allow opportunities to visit several nature parks like Lower Peirce Reservoir, Windsor Park and Bishan-AMK Park in one camp.
This March and April school break, several 1-day and 3-day drop off camps are available for young explorers to enjoy that promises full days of learning, adventure and grit-building
Young Hikers Lite (1 day, 4-7 y.o.)
This introductory outdoor program created by experienced and knowledgeable instructors will definitely boost your child's curiosity and observation! Kids will go on an expedition around the neighborhood and investigate who else besides humans live around us. They will also get acquainted with basic outdoor survival skills and etiquette to better prepare themselves when they go outdoors! 
Young Hikers (3 days, 4-7 y.o.)
This outdoor nature program promises a lot of fun and adventure at two different parks - Mountbatten Square and Windsor Nature Park/ Lower Peirce Reservoir. Little hikers will meet the residents of the park like drongos, macaques and even wild boars. It is a great possibility to boost confidence in your little ones as they will challenge themselves and develop an "I Can Do IT"-spirit.  
Young Investigators (1 day, 6-8 y.o.)
The team is on a quest for adventures - and this time we are going to learn everything about our water systems. The camp will be filled with new exciting information, experiments and lots of great discoveries!
Water Trekkers (3 days, 7-9 y.o.)
This camp focuses on the investigation of the water systems like water canals, streams and drains. Young researchers will visit Mountbatten Square and Local Catchments, conduct experiments and learn to make simple tools to take part in water activities and explore the interrelationships between water, wildlife, and other living things on earth. 
All instructors are experienced and know how to channel kids' energy in a positive way to learn more about the world around us. Under their attentive supervision, kids will hone life-skills like resilience, communication and problem-solving through age-appropriate activities throughout the programs.
When: 
1-day camp: 13 March;
3-day camps: 13-15, 15-17 March, 3-5 April.
Age: 4-9 years. 
Fees: 
1-Day camp: 110 SGD (before GST);
3-Day camp: 330 SGD (before GST).
Find Out More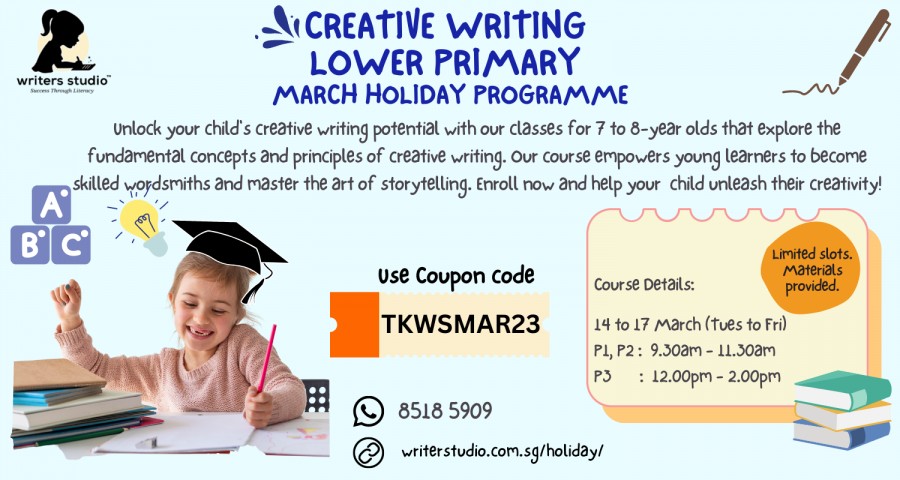 Image Credit: Writers Studio
The tutors at Writers Studio know everything (and even more) about creative writing! For them, the learning process is evolving and never ending, and there is no limit to perfection. From the simple to the complex, they teach students to express themselves, to let their imagination run free, and to be persuasive and informative.
As they do not believe in a one size fits all approach, their full-fledged curriculum for Starbright Creative Writing is developed for each student individually, after a thorough assessment of their knowledge and skills to ensure fast and steady progress. To provide a taster course for new students not familiar with Starbright, Writers Studio is running a holiday camp at a very reasonable price.
This March, a 4-day Lower Primary Creative Writing holiday camp is launched to boost the writing skills of kids aged 7-9 years, not just limited to Singaporeans but they welcome international school students too. This intensive workshop offers structured information about the fundamentals of creative writing in simple ways about complicated writing elements. This workshop will create a solid foundation for the early PSLE preparation and enriching of students' creative writing. 
The tasks of the training sessions are age-base, so as to make sure that kids are interested and involved in the learning process and get the most out of it. 
Experienced and knowledgeable teachers will instill good writing habits and correct writing issues that kids have. They make sure that students have fun, feel comfortable, and relaxed so they can unleash their imagination. After all, it is through a freer environment that kids can write better. The curriculum of the camp includes activities aimed to boost the vocabulary across a variety of topics and learn how to create more captivating plots. 
What to expect from the camp?
Rectification of the writing issues faced in school
Lots of practice in creative writing
Reignited interest in writing
Instilling good writing habits
Boosting your child's creativity and imagination for storymaking
Creating stories with an impact and a central learning value
When: 14-17 March
Timing: 9.30 - 11.30 am (Primary 1 and 2), 12.00 - 2.00 pm (Primary 3). 
Age: 7 to 9 years 
Fees: From 252 SGD per course (single-day options are available).
Contact: WhatsApp 85185909
Subscribe to weekly newsletter from "Tickikids"