Singapore's Engaging March and Easter Camps 2023. Part 1
---
Published 02 February 2023 at 22:33
Tickikids Blog Singapore > Digest > Singapore's Engaging March and Easter Camps 2023. Part 1
---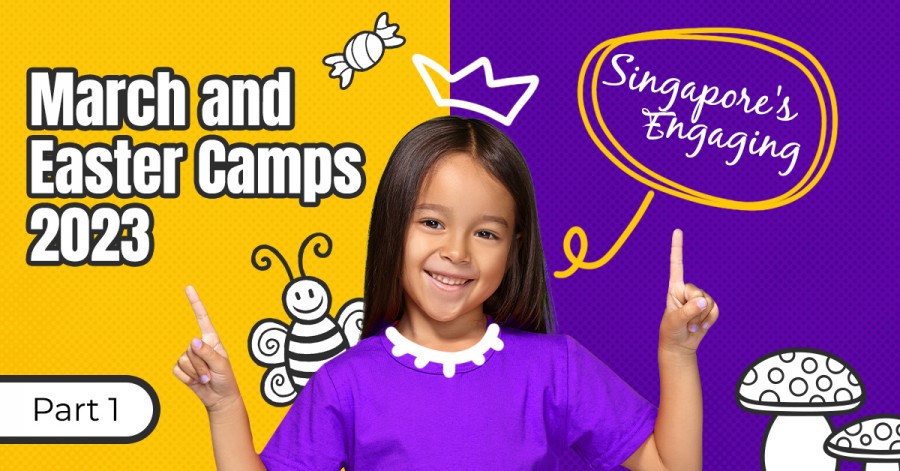 ---
Spring is around the corner and it is about time to plan exciting and enriching pastimes for your kids during the spring holidays! With Easter approaching, many educational organizations are offering themed camps and activities. We have compiled some of the most interesting offers for you to choose from.
Take a look at Singapore's Engaging March and Easter Camps 2023. Part 2 for more camps!
Image Credit: Kids Play Sports
Kids Play Sports Camps are the perfect place for kids to try their hands at sports they have never heard of. And, who knows, it may be the start of a lifelong hobby! 
Attentive and experienced coaches know how to engage everyone in group activities, teach proper techniques, and make sure that everyone gets enough attention and complies with safety rules. 
No two camps are the same! Each camp will have its own set of activities, allowing everyone a chance to discover the sport they enjoy! Do not miss out on the chance to find your fun! Look forward to the character-building games from the Teamwork values -
working Together to reach the goals
Excellence - to give our best and have pride in what we do
Adaptability - to be ready and adjust to different challenges
Motivation - the ability to keep on going
On February 20-24th, the camp will take place in Bishan Park in the morning (9.30 am - 12.30 pm). The schedule of the camp includes Rugby, Netball, Frisbee, Tchoukball, and Kinball.
On February 27th - March 3rd, the morning sessions in Bishan Park will bring Rugby, Floorball, Handball, Football, and Trampoline training sessions. 
On March 6th-10th, kids will train in Baseball, Kinball, Football, Dodgeball, and Capoeira in the mornings, location - Bishan Park.
On March 13-17th, morning sessions in Bishan Park promise a lot of fun with Rugby, Netball, Frisbee, Tchoukball, and Handball. And those who will attend West Coast Park will train in Frisbee, Baseball, Kinball, Football, and Dodgeball. 
On March 20-24th, campers will learn to play Rugby, Netball, Frisbee, Tchoukball, and Handball in Bishan Park and Frisbee, Baseball, Kinball, Football, and Dodgeball in West Coast Park. Timings: 9.30 am - 12.30 pm.
On March 27th-31st, the curriculum of the camp includes Baseball, Kinball, Football, Dodgeball, and Floorball for Bishan Park campers and Handball, Rugby, Netball, Athletics, and Tchoukball in West Coast Park.
New sets of age groups are now available - 4-6-year-olds for play program (more individual based challenges) and 7-11 for games program (team-based Challenges)
Upon parents joining free membership on the website, they will have play points to redeem their discount coupons.
Apart from these multi-sports camps, Kids Play Sports offers condo camps, meaning that you can get a fun and exciting programme with more than 50 activities for the kids to enjoy in the comfort of your condo. Just drop in, the instructors will make sure that it is possible to have a camp at your condo and after receiving a confirmation they will arrange a super fun and enriching camp for your kids! 
​
Age: 4 - 6 years, 7 - 11 years old.
Fees: $375.
Contacts: +65 8660 8331, admin@kidsplaysports.sg
Locations:
Bishan Park
West Coast Park
Find Out More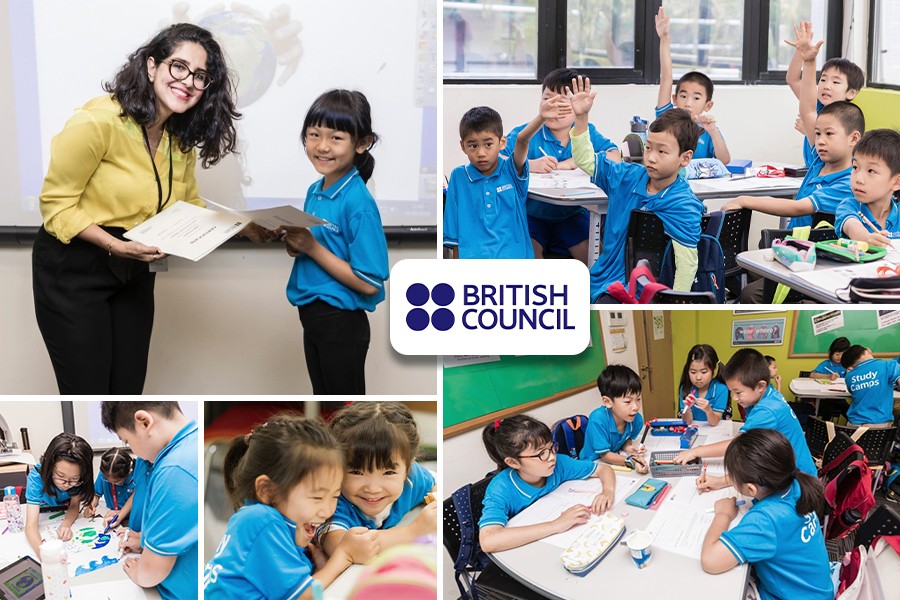 Image Credit: The British Council
The British Council is a time-honored organization, and the quality of its training is beyond praise. Decades of success in over 100 countries speak for themselves!
Specialists here go the extra mile to provide top-quality education for children and adults so they can learn one of the world's main languages for communication, prepare for exams, improve their language skills, prepare for university or college, and improve their writing and communication skills.
Holiday Study Camps for children are an integral part of the educational process here as they provide a boost for knowledge not only of the English language but also of the world around us. 
Knowledge of English here is not an aim but a tool to explore the world, develop problem-solving and critical-thinking skills, learn to collaborate, get creative, and express oneself.
Early Years March Holiday Camp: Farmyard Commotion
Kids will learn to describe farm animals, jobs on the farm, routines, actions, and consequences. They will learn the necessary vocabulary and grammar to do so and also get acquainted with onomatopoeia as well as have fun with rhyming words, leading to stronger phonics and reading skills. The learning process will not be limited by learning words by heart as classes are always filled with experiments, crafts, interactive games, and role plays making every class a unique learning experience.
Age: K1-K2
Primary March Holiday Camp Writing Champions: Creative Writing
This camp aims to increase child's comprehension and composition skills, as well as their confidence as they learn to write stories and fact files. Students will work together doing research and offering feedback polishing their literacy skills. 
Children will be given real-life tasks, work in groups and brainstorm innovative solutions to the offered problems. The tasks are specially designed to match their developmental age.
Age: P1-P2
Holiday Study Camps have smaller class sizes so every student will get enough individual attention and support from internationally qualified and experienced teachers.  
When: 13 March - 17 March.
Timing: Monday to Friday, 9.00 am. - 1.00 pm.
Age: 5-8 years old.
Fees: 742.9 SGD.
Location: 
Early Years and Primary - Napier Road Centre, 30 Napier Rd, Singapore 258509;
Primary - Toa Payoh Centre, 480 Lorong 6 Toa Payoh #09-01 HDB Hub West Wing 310480.
Find Out More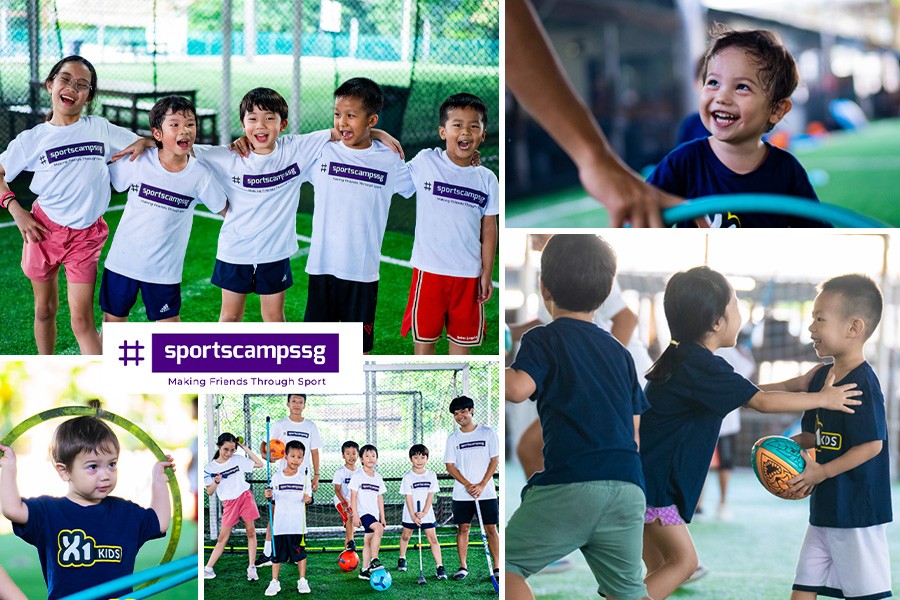 Image Credit: Sports Camps Singapore 


Sports Camps Singapore specializes in fun-filled and interesting multi-sports camps during school holidays throughout the year. The instructors of the organization provide a structured and fun program that focuses on skill development and game understanding for many different sports. 
And, of course, they know how to ensure that all campers have fun!
X1 Kids (age 3 and 4-5.5 years old)
The program here includes the learning of the basics of tennis, soccer, rugby, athletics, and more. The camp timetable alternates between sports and fun and exciting games so kids will definitely not be bored and will be interested in every minute of the camp! For example, kids will take part in relay races apart from other fun activities.
Multi-Sport Kids (5.5 & 6-11.5 years old)
The curriculum of the camp is more complex here and delves into the essentials of tennis, soccer, golf, cricket, tee-ball, athletics & P.E., basketball, rugby, netball, archery(soft), floorball (new), and more. And the activities include in between, dodgeball, relay racing, tag, capture the flag, competitions, and more.
Teens Zone (11.5 - 15.5 years old) 
The main focus of this camp is match play, competitions, and gaming (sporting) activities. Kids will have training sessions and competitions in tennis, soccer, golf, cricket, tee-ball, athletics & P.E., basketball, rugby, netball, archery (soft), floorball (new), and more (the list of sports is constantly growing!)
All camps are focused on the development of agility, balance, and coordination, so the curriculum is based on the exercises that boost these skills. The groups are small and age-based, as the instructors here are more interested in quality and safety rather than in the quantity of the campers. All camps are sheltered.
When: 13 - 17 March, time: 9.00 am - 2.00 pm.
Age: 3–15.
Fees: from 262.5 SGD to 675 SGD.
Contacts:  WhatsApp or WeChat +65 8129 1059.
Location: Premier Pitch @TurfCity.
Find Out More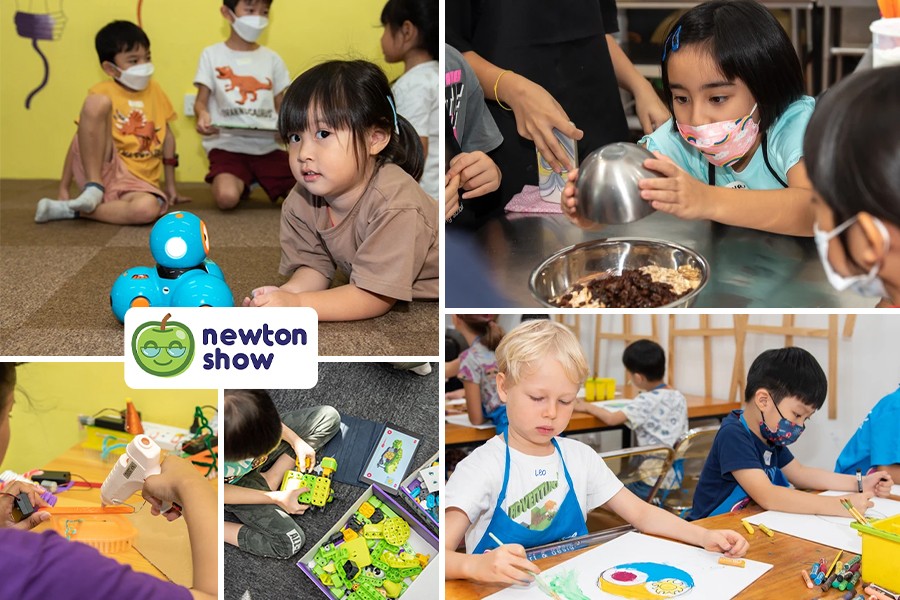 Image Credit: Newton Show
Newton Show is the most well-known science show with 7 branches in Singapore, with more than 10000 happy customers.
This spring promises something special with two Easter camps created by the specialists of one of the largest edutaining organizations in Singapore!
As always, every day of the camp will be dedicated to a specific theme:
Science day will bring a TEGGnology competition, Egg-speriment session, and a fizzy egg project. Also, they will explore the depths of Slimology and find out how do Pufferfiah look like balloons.
During Cooking Day kids will learn to bake bunny ears cupcakes, make egg and cucumber sandwiches, enjoy Vanilla milkshakes, and make delicious Chocolate pudding cups. All cooking preparations will be conducted under the attentive supervision of experienced chefs.
Robotics Day offers a lot of fun with the Robo challenge, the creation of My own wiggly robot, exploration of the Ozobot world, and the Kamigami maze.
Art Day will allow kids to give reign to their imagination with big canvas Easter painting, Faberge eggs, tape art, and cup sculpting. And, kids will create their own adorable sock bunnies.
Maker Day will challenge kids with the creation of the Easter egg topiary tree, lego forest project, popsicle stick bunnies, and building of the highest tower. And the eggroll kevaplank competition will bring a lot of fun!
When: 25 February - 14 April.
Timing: 9.00 am - 4.00 pm.
Age: 3-13 years old.
Location: 
278 River Valley;
121 Joo Chiat Road; 
1 Goldhill Plaza;
Find Out More
There are two options to choose from: 
Egg-speriment Easter Science Camp
It is a week filled with science, fun, experiments, and adventures! 
On Monday, Kids will test their senses, imagine what would alien life look like, make egg crush tests, craft ugly pots (and take these masterpieces home!). On Tuesday, campers will have eggs as teeth workshop, explore volcano eruptions and find out how rainbows are made. Wednesday will bring an egg drop science challenge among other activities. On Thursday, they will have Faberge hands-on, create a storm, rain, and tornado in a jar. And on Friday, kids will have eggy bath bomb hands-on, walk on raw eggs and, finally, receive awards.
Easter in Harry Potter School
Welcome to the wizarding school of Harry Potter! A week full of magic, mysteries, science, and fun awaits!
On Monday young wizards will have an astronomy lesson, egg rolling quidditch, and learn the levitation spell Wingardium Leviossa. On Tuesday, students will have a Potions lesson, create a new universe and conduct magic ice experiments. On Wednesday, kids will make a simple circuit wand (and take it home), attend a Transfiguration lesson with oobleck, and decipher arithmancy math code. Thursday offers fizzy egg science, a bubbling brew workshop, and a magic 3D puzzle. And Friday brings Golden Snitch catapult and optical illusions fun. 
At the end of the camp, campers will receive prizes.
When: 13 March - 14 April.
Timing: 9.00 - 4.00 pm.
Age: 3 - 12 years.
Fees: 685 SGD.
Location: 
9 Mohamed Sultan Rd, Singapore 238959;
229 Joo Chiat Rd, Singapore;
175 Thomson Rd, Singapore;
887a Bukit Timah Road, Singapore.
Find Out More
Newton is the first edutainment organization in Singapore that offers real lab experience! It's a fully hands-on science in real lab where each child has all equipment and their own science station. On Monday, kids will conduct chemical reactions, learn about molecules and atoms and explore life under a microscope. On Tuesday, young scientists will learn about acids and bases, make scientific cottage cheese and take part in a baking soda challenge. On Wednesday, children will learn the states of water, make a water purifier, and magic jar workshop among other things. Thursday brings a perfume workshop and an artificial snow challenge. And on Friday kids will do east experiments, learn the notion of density and will build a tower from liquids.
When: 13 March - 14 April.
Timing: 9.00 - 12.00 noon and 1.00 pm - 4.00 pm, full day available.
Age: 3 - 12 years.
Fees: from 400 SGD.
Location: 230 River Valley Road, Singapore.
Find Out More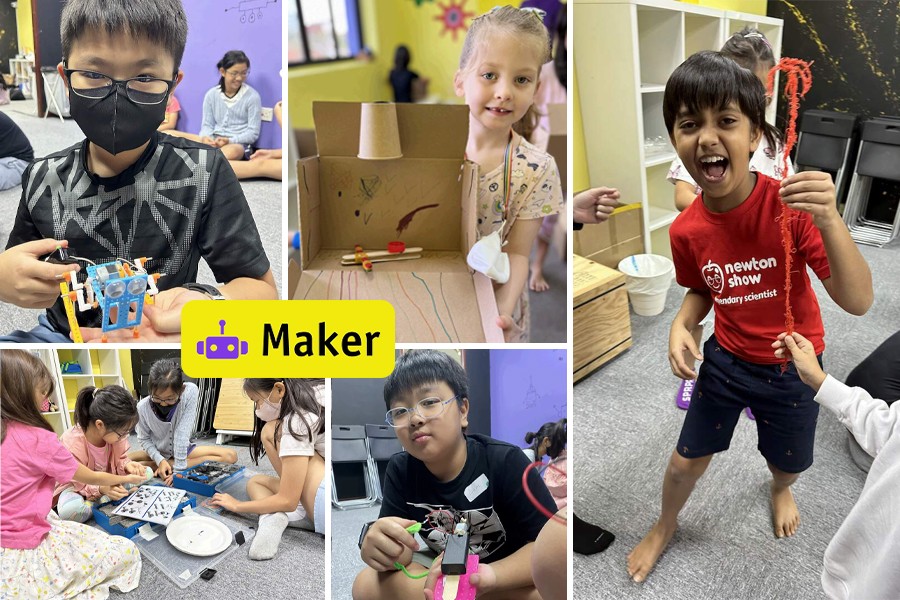 Image Credit: Maker SG
Maker SG is a place where young inventors polish their creative and innovative skills using cutting-edge tools and technologies. Knowledgeable and experienced instructors here know how to explain complex things in simple terms and choose activities that help kids to learn new things in a fun and entertaining way.
A new program for Easter camp is not an exception!
Kids will learn Robotics, Circuit Modelling, Inventing, Creativity, Imagination, Engineering, and Making. The course involves hands-on activities using many tools, such as 3D pens, Chibitronics, Makey Makey, Squishy Circuit, 3D puzzles, Quibits, and others.
On Monday, kids will have a kevaplank competition, and an Easter egg rolling game and they will light up Singapore. On Tuesday, they will make a wooden 3D project that they will take home, play an egg basket game, explore Ozobots Easter world, and play mind football. Wednesday will bring catapult and kamigami challenges, Makey Makey banana piano play and kids will make a DIY T-shirt. Thursday is all about making: 3D wooden project, an Easter basket project, an easy moving robot, and a ball track competition. And on Friday kids will create their projects using 3D pens, make jumping robots and participate in the Robo challenge. 
At the end of the camp, students will receive awards.
Kids will be in small groups of 5 children of similar ages.
When: 13 March - 14 April.
Timing: 9.00 am - 4.00 pm.
Age: 5-13 years old.
Fees: 685 SGD (includes lunch and 2 snacks, photo, T-shirt, water bottle).
Location: 
232A River Valley Road;
175 Thompson Road - 03/02;
887A Bukit Timah - 03/02;
229 Joo Chiat Road.
Find Out More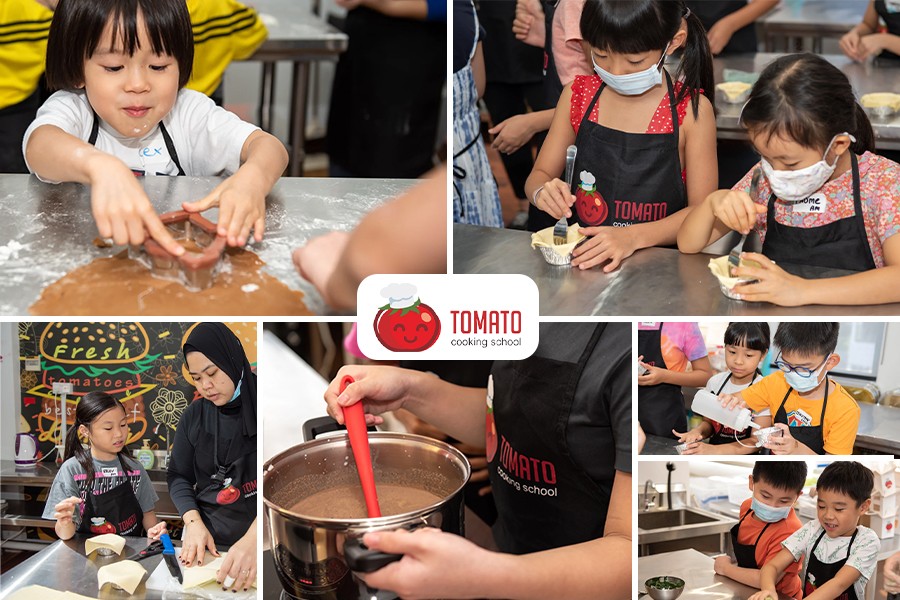 Image Credit: Tomato Cooking School
Tomato Cooking School is a go-to place for creating the foundation of one of the vital life skills - cooking. Here, attentive, knowledgeable, and inspiring chefs are ready to guide kids through every step of the cooking process of their favorite dishes, explain the safety rules, teach essential cooking skills, and show how to choose proper ingredients. 
This Easter, Tomato Cooking School offers a "Picnic basket" cooking camp, and each day kids will explore different dishes that they will cook and take home to taste with their parents. Here are some of the dishes that kids are going to learn:
On Monday, kids will learn to cook Chicken Yakitori skewers, Chicken Ham Club Sandwiches with homemade bread, chocolate chip cookies, and homemade iced teas. 
Tuesday will be about Mini Quiche with Spinach and Feta Cheese and Chicken and Scallions Wontons with Sesame Dipping Sauce.
Wednesday's star dishes will be Cold Pasta Salad with Canned Tuna and White Chocolate Blondies Cookie bars.
On Thursday, children will learn to make Teriyaki Chicken Onigiri, chocolate granola bars, and Matcha Green Tea Moti.
Friday will bring such delicacies as Chicken and Cheddar Quesadilla, Chicken Sausage Stuffed Puff Pastry, and Lemon Bar Cookies.
The school is professionally equipped for classes: each student has their own cooking equipment plus a complete set of utensils and ingredients
When: 13 March - 14 April.

Timing: Mon-Fr, 9.00 am -12.00 pm, 1.00 pm - 4.00 pm.
Age: 6-14 years old.
Fees: from 400 SGD per week (including lunch and 2 snacks).
Location: 
278 River Valley Road;
229 Joo Chiat Road;
273 Thomson road.
Find Out More
Subscribe to weekly newsletter from "Tickikids"