Best Gyms For Kids to Train Muay Thai and BJJ in Singapore
---
Published 16 March 2023 at 04:19
Tickikids Blog Singapore > Digest > Best Gyms For Kids to Train Muay Thai and BJJ in Singapore
---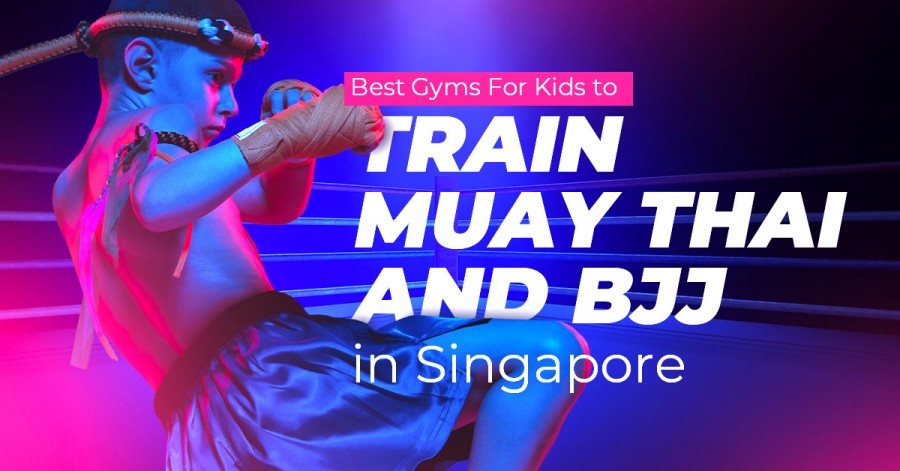 ---
Looking for an efficient way to channel your kids' energy in the most productive way? Search no further! 

Martial arts classes are the perfect way to spend energy and instill discipline, mental strength, focus, persistence, integrity, perseverance, confidence, and teamwork. Add here increased self-esteem, ability to protect oneself from bullies, boosted confidence, and understanding of the value of respect and rules, and you will get the perfect activity for your kids. And Singapore is the best place to enroll your kid in martial arts training as here as it is home to the best martial arts schools in Asia!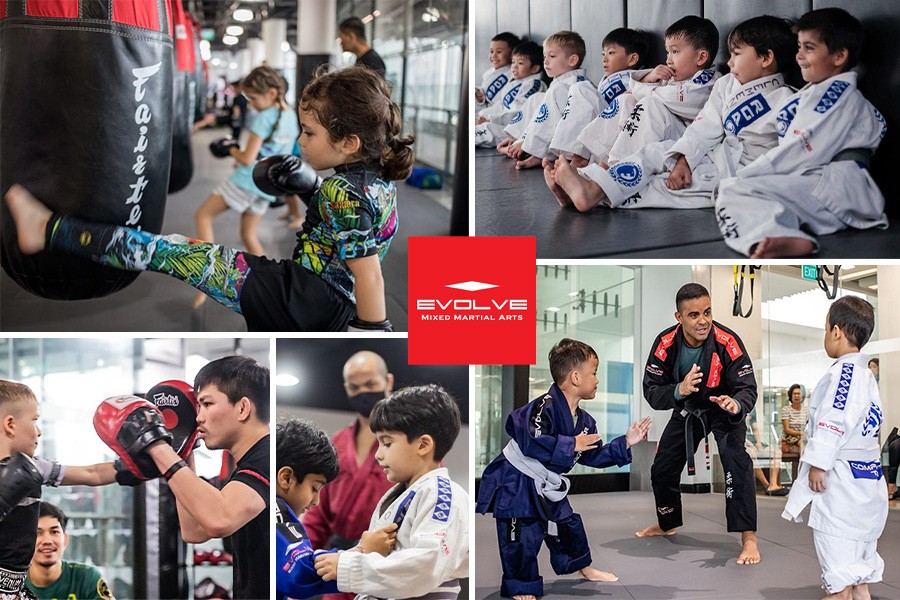 Evolve MMA is the best martial art organization in Asia, with the largest and most experienced team of coaches. And you will not find any other organization with the same number of World Champions involved - they have over 1,000 years of accumulated world championship experience! 
Martial arts for kids can help build life skills for your child through the power of martial arts and to bully-proof, your child against bullies at the same time, and Evolve MMA, Little Samurai Children's Program does just that. The program was designed by a Harvard University graduate and it is a 360-degree approach to your child's overall wellness. There are more than 1000 classes per week and Muay Thai and Brazilian Jiu-Jitsu are an integral part of the curriculum.
Brazilian Jiu-Jitsu (BJJ) For Kids
BJJ is a highly technical and demanding martial art, and yet the coaches at Evolve know how to make every training session fun and exciting so children don't even realize the level of complexity and energy consumption of the movements. 
The BJJ For Kids program was specifically developed to help children protect themselves against bullying. The curriculum of the classes includes real-life combat situations where children are taught to escape an uncomfortable and compromising position and control their opponents without the need to punch them. 
In addition to the regular program, Evolve MMA offers a Children's Program Competition Team. This advanced program helps kids to prepare themselves for competitions of different levels. The participants compete on the local BJJ circuit and get ready for the World Championships and top BJJ tournaments. Also, the instructors of Evolve organize trips to world championship events around the world.
There are three age groups: 4 to 6 years old, 7 to 9 years old, and 10 to 13 years old. The curriculum is tailored to the respective age group to help enhance their learning potential.
Muay Thai for Kids
Muay Thai is a tough, demanding but highly entertaining sport. The blows, stances, and movement patterns of this martial art require great endurance, strength, precision, and agility. And with a well-rounded system of training in a safe and controlled environment, children can gradually raise their level and build confidence in their abilities.
The coaches know how to organize the sessions honing your child's athleticism and agility while teaching them safety. Thus, children boost their self-esteem and become more self-confident, reducing the likelihood that he or she will be the victim of bullying. 
Trust the professionals to develop your children's talents! Do not hesitate and enroll your kids to the trial introductory training session!  
Age: 4+. 
Contacts: freetrial@evolve-mma.com, tel. 6536 4525
Location: Orchard Central, Clarke Quay, Kinex, and Star Vista.
Find Out More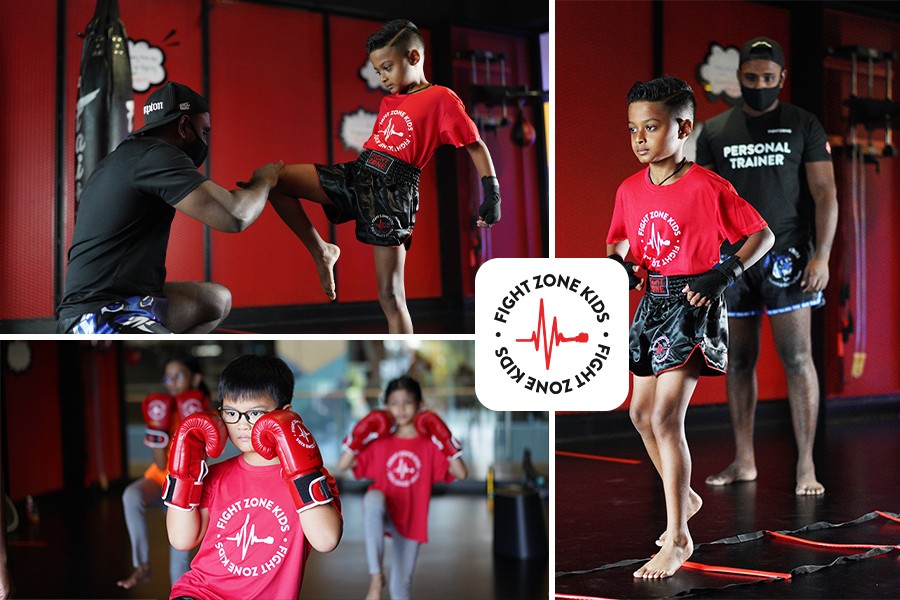 Image Credit: Fight Zone
Fight Zone is an innovative solution to fitness and health needs that uses cutting-edge technologies together with Muay Thai and HIIT to ensure fast and efficient results. The instructors of Fight Zone have created a 30-minute program that brings proven results in no time. 
Here, the training sessions use a heart-rate-based system that utilizes wireless and cloud technology to monitor training in real time. The customized heart rate indicators help monitor the efficiency of the exercise thus you can get the most out of every training. 
And the same efficient approach is applied to the program for kids!
Muay Thai program for kids aged 6-11 years old
This package offers 6 or 10 lessons of engaging and fun activities that help children develop agility and strength, build resilience and learn discipline. 
Experienced instructors know how to create a safe and comfortable environment where kids can train, have fun and make new friends.
There are two options: you can enroll your kids in group classes or take one-to-one private lessons. The groups here are small, with 2 trainers to 10 children, so coaches can keep an eye on all kids and ensure safety during the training session. 
Do not miss an opportunity to enroll kids in a complimentary introductory class - and you can also try it out, as the classes are suitable for all skill levels and genders and there are family packages. 
Age: 6+.
Contacts: 
AMK Hub tel./WhatsApp +65 8353 0561;
Suntec City tel. +65 6904 5612;
Velocity@Novena Square tel/WhatsApp +65 6908 3181, +65 9483 0213.
Location:
AMK Hub: 53 Ang Mo Kio Ave 3, AMK Hub 03-14,Singapore 569933;
Suntec City: Suntec City 02-462, Singapore 038983;
Velocity@Novena Square: 238 Thomson Road, Velocity@Novena Square (03-57), Singapore 307683.
Find Out More
Subscribe to weekly newsletter from "Tickikids"