June 2023 Holiday Camps for Kids and Youth in Singapore. Part 1
---
Published 17 April 2023 at 22:56
Tickikids Blog Singapore > Digest > June 2023 Holiday Camps for Kids and Youth in Singapore. Part 1
---
---
It's never too early to start planning a fun and fulfilling summer holiday for your children! Especially if you don't want them stuck in their smartphone screens all summer long.
Luckily for us parents, Singapore has plenty of educational options. No matter what your child's interests or hobbies are, Singapore always has something to surprise you! From cooking Italian food to exploring space to picking up English, every day in June promises to be an adventure!
We've picked out a few options to help you save time and decide on the camp that's best for your child.
And here is the next part of our selection of the top June 2023 camps in Singapore: 
June 2023 Holiday Camps for Kids and Youth in Singapore. Part 2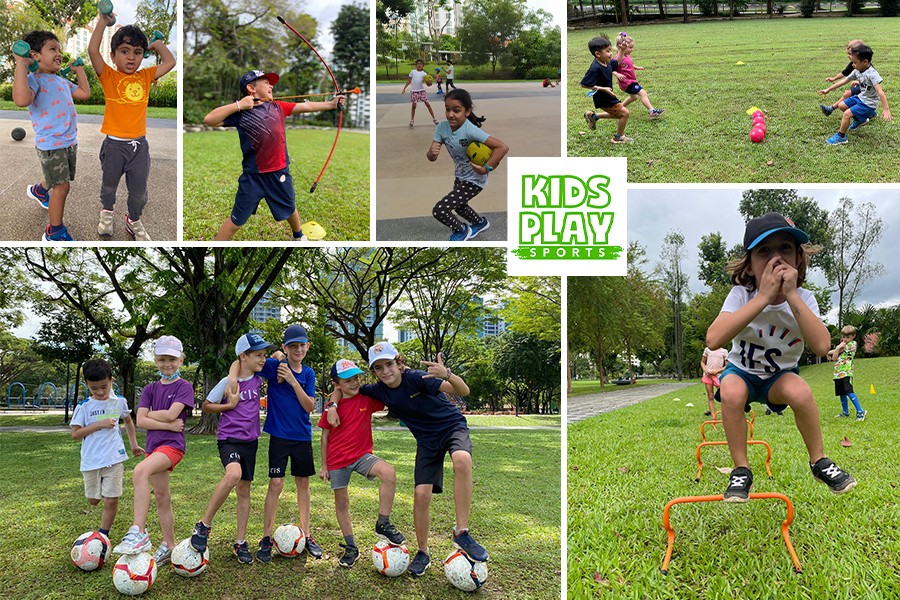 Image Credit: Kids Play Sports
There is nothing better than an action-packed day with friends at one of the most beautiful locations in Singapore! Kids Play Sports knows everything and more about how to turn an ordinary day in June into a real adventure! Challenges, competitions, fun activities, team building, and lots of fun - that's what every day of camp looks like here.
Kids Play Sports is renowned for the fact that you won't find so many unusual kinds of sports anywhere else. Here, kids will be able to try their hand at new activities they have never tried before. Experienced and attentive instructors know how to engage kids in various activities so no one will be bored!
All camps' programs are unique with their own set of activities, so everyone will have a chance to try something new. Every day kids will learn new sports and participate in various competitions. The list of the sports that your kid can get acquainted with at this camp is extensive, including sports like dodgeball, tchoukball, kinball and games like petanque, feint games, dodgeball, disc golf, crocodile, brooms and brushes, and so on.
Kids will be divided into age-based groups to make sure that the competitions are fair.
To make attendance at the camp even more convenient, Kids Play Sports has its own transportation team. Upon registering with transportation, the team will take down the address and take the kids to the park from their homes.
Sign up before May 5th for 1 week of camp registration, use promo 'Teamwork' and get 100 SGD.  
When:
29 May - 2 June;
5-9 June;
12-16 June;
19-23 June;
26-30 June.
Timing: 
Half day: 9.30 am - 12.30 pm;
Full day: 9.30 am - 3.00 pm.
Age: 4-6, 7-11.
Fees:
Half Day: 375 SGD;
Full Day: 525 SGD.
Contacts: tel/WhatsApp +6586608331, admin@kidsplaysports.sg.
Locations: 
Bishan Park
West Coast Park
Find Out More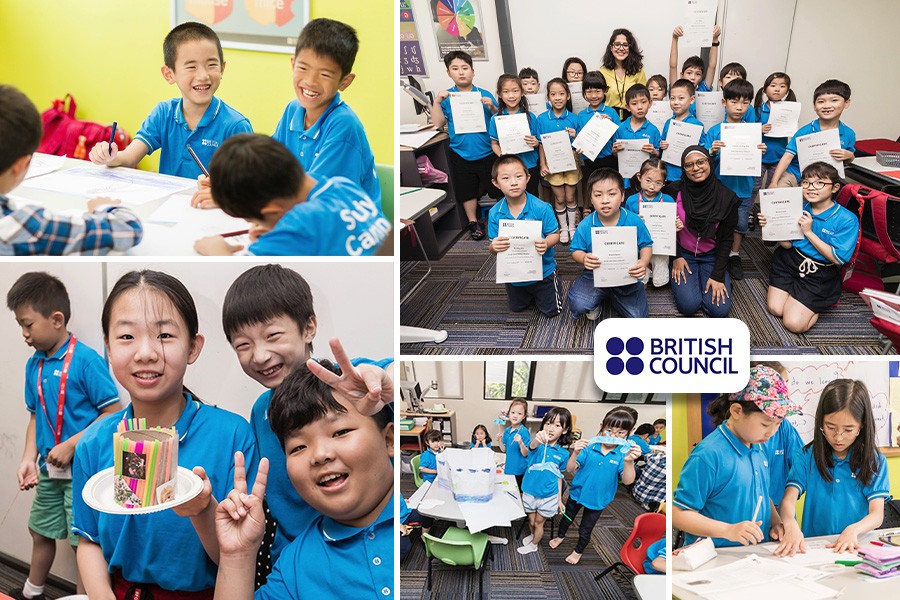 Image Credit: The British Council
Every season the British Council prepares new intensive holiday programs, and this June is no exception.
Every such program is a result of over 80 years of experience, the latest methodology, and the work of highly qualified teachers so every week of studies based on these programs is a great boost to the knowledge of English.
The programs are aimed at Early Years, Primary and Secondary students aged 4 to 15.
Each week of every program is a complete, stand-alone camp so it is possible to enroll your kid in different camps and they will learn something new and interesting.
Week 1 is dedicated to the development of presentation skills. The list of activities in the camps depends on the level of knowledge and the age of the pupils in order to make the activities interesting and informative. For example, P1-P2 students will learn the basics of characterization, playwriting, puppets, and performance whereas Secondary students will explore famous speeches, data and visuals, and current affairs, and develop informative skills.
Week 2 is all about writing. From mini dictionaries and short stories to essay writing, this week is packed with activities that boost students' writing skills.
The activities of Week 3 provide for the development of communication skills. Younger students will explore story plots, and characters and learn the basics of performance. Secondary students will try their hand at debating, studying the foundations of persuasive speech, and building an argument.
Week 4 is dedicated to the development of writing skills. Students will learn how to write presentations, develop note-taking and drafting skills, and get acquainted with digital literacy and non-fiction texts.
Here, everything is aimed at creating a safe and positive environment where students can express themselves and engage in collaborative tasks, make new friends, and have fun.
Due to the small student-teacher ratio, students will get more individual attention. Also, parents will be able to discuss the progress of their children through parent-teacher meetings.
Enroll your kids in several weekly camps to get tiered discounts:
1 week of camp: 10%
2 weeks of camp: 15%
3 weeks of camp: 20%
4 weeks of camp: 25%  
When:
29 May - 1 June;
5 June - 9 June;
12 June - 16 June;
19 June - 23 June.
Timing: 9.00 am - 1.00 pm.
Age: 4–15.
Fees from: 594.3 SGD to 742.9 SGD/week. Uniform: 30.30 SGD/two shirts. All prices include materials, certificate, and 8% GST.
Locations:
30 Napier Rd, Singapore 258509;
480 Lorong 6 Toa Payoh #09-01 HDB Hub East Wing, Singapore 310480.
Find Out More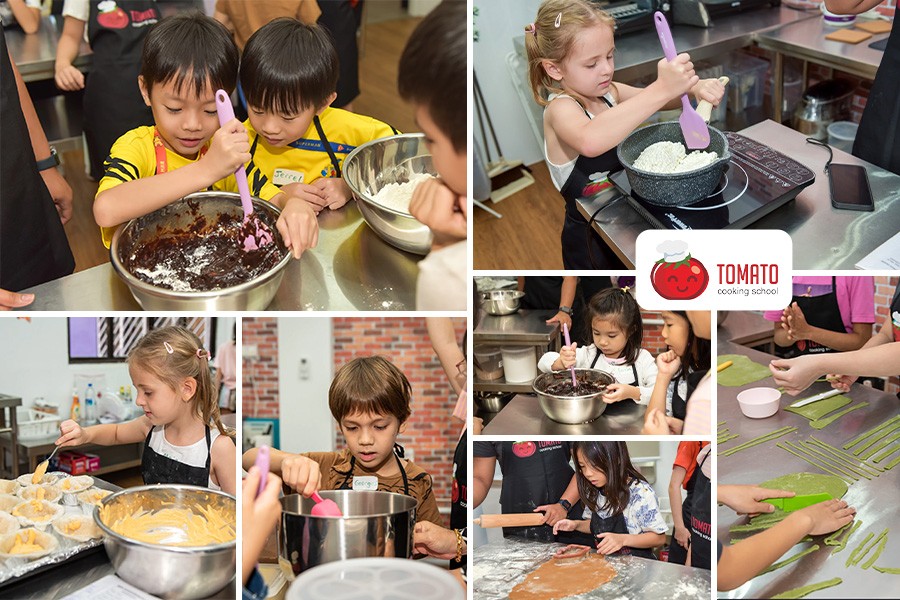 Image Credit: Tomato Cooking School
Do you want to bring a little bit of an Italian vibe to your kids' summer holidays? Then a new program of Tomato Cooking school is just the thing you are looking for!
Every day young chefs will learn to cook 4 delicious restaurant-level Italian dishes under the attentive supervision of experienced chefs.
This camp can become the first step towards a career as a chef as the instructors here know how to ignite a passion for cooking in kids! And, of course, cooking is one of the vital skills so everyone needs to learn how to cook. One of the great advantages of this camp is here much prominence is given to the instilling of healthy eating habits.
The school is professionally equipped for classes: each student has their own cooking station and a full set of utensils and ingredients.
On Monday students will learn to cook a Meatball Marinara sandwich, baked pasta with minced chicken, sauce, and mozzarella, and Italian Budino custard with bananas and chocolate.
Tuesday brings the joys of creamy soups, homemade pasta with caramelized pesto sauce, homemade ice cream, and vanilla panna cotta.
On Wednesday students will learn to cook breakfast pizza, minestrone soup, canestrelly, and Cheesecake Tiramisu dessert.
Thursday is all about risotto, cupcakes, pizzas, and chocolate drinks.
And on Friday students will learn to cook Bambolone donuts with pastry cream, spaghetti bolognese, potato and onion pizza, and mini lemon and ricotta cakes.
Parents will receive daily photo and video reports of the cooking sessions. And kids will take their tasty creations home so they can share the delicious results of their work with their parents!
When: 29 May - 25 August.
Timing: 9.00 am - 4.00 pm (with half-day option 9.00 am - 12.00 pm or 1.00 pm - 4.00 pm available).
Age: 6-14.
​Fees: from 400 SGD per week (lunch and two snacks included)
Location: 278 River Valley Road, 238319, Singapore.
Find Out More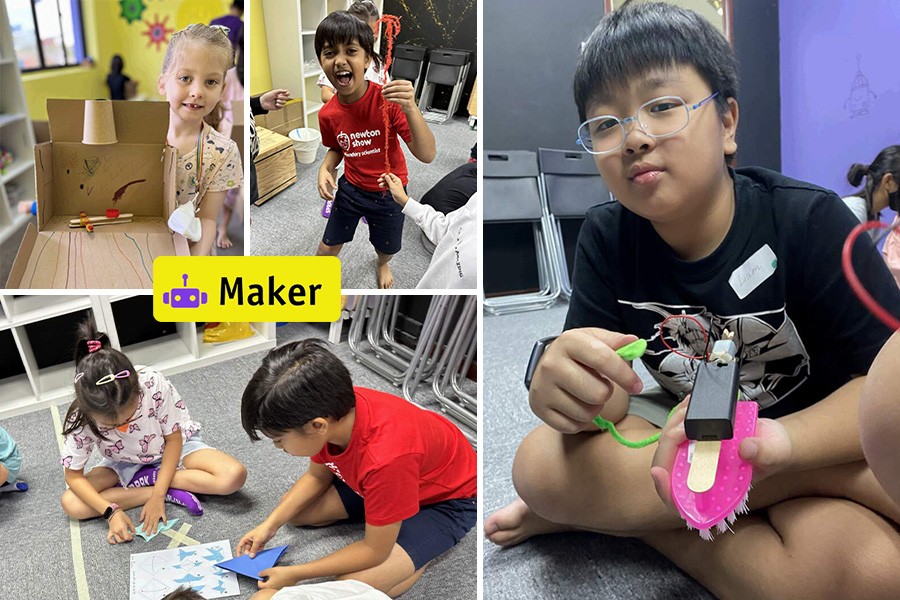 Image Credit: Maker SG
When it comes to hands-on activities like designing, constructing, programming, and experiments, Maker SG is a go-to place! With more than 10,000 students in Singapore, this organization knows all the ins and outs of edutainment and how to inspire young inventors to be creative and love to learn!
The two new summer programs promise a lot of fun, experiments, and new knowledge, and, rest assured, kids will get the most out of every minute of the camp sessions!
The programs summer camps provide a unique mixture of Robotics, Basic Programming, Circuit Modelling, Coding, Engineering, Lego EV3 and WeDo, and many other future-proof skills.
Inventors Camp
This camp is a pass to a world of new technology, innovations, and creativity. It combines science, hands-on activities, a lot of fun, and the possibility to make new friends.
Here, kids will be able to build their own inventions like transformers, windmills, excavators, spectroscopes, and so on. They will learn more about lives of the great inventors such as Archimedes, Nikola Tesla, Thomas Edison, and Steve Jobs. Also, kids will participate in competitions like Lego, keva plank, and Domino competitions.
Robotics Camp
This camp is perfect for young engineers, coders, and creators as it lays the foundation of future-proof skills and knowledge.
Here every day is dedicated to one of the robotics technologies. Kids will learn Robotics, Coding, Lego EV3, Lego WeDo, Circuit Modelling, 3D Modelling, Engineering, Basic Programming, and Making. The course involves hands-on activities using many tools, such as 3D pens, Chibitronics, Makey Makey, Squishy Circuit, 3D puzzles, Quibits, and others.
There will be no more than 6 kids in a group to ensure that each and every student receives enough personal attention.
When: 29 May to 25 August 2023.
Timing: 9.00 am - 4.00 pm.
Age: 5-14.
Fees: 685 SGD (2 snacks, healthy lunch, t-shirt, all materials, and certificate included).
Early bird offer: first 150 registrations get 10% off.
Location:
West: 887A Bukit Timah Road;
Novena: 175 Thompson Road;
Center: 232A River Valley Road;
East: 229 Joo Chiat Road.
Find Out More
Newton Show is the most established holiday camp in Singapore and a host of the one-of-a-kind real lab experience camp. Such regalia always makes you hold the bar high, and Newton Show never disappoints. The new camp programs for this summer are already ready and they promise to be one of the most unforgettable experiences for your children over the holidays.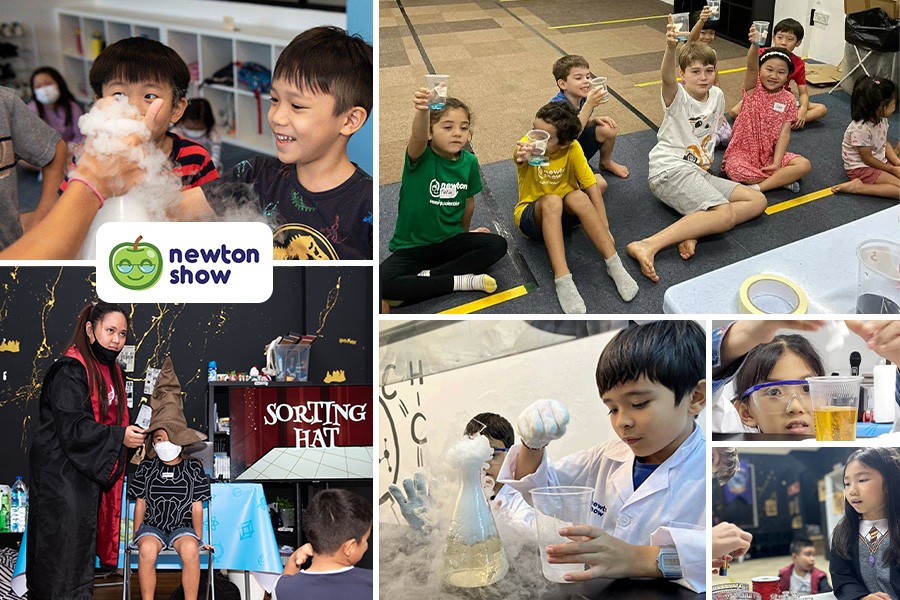 Image Credit: Newton Show
This season offers three science programs - "Unbelievable Science", "Space Explorer" and "Harry Potter science school".
Unbelievable Science is packed with hands-on activities like bubble workshops, skeleton workshops, learning about Leonardo's inventions, and so on.
At Space Explorer camp kids will create star bath bombs, make Mars soil and Galaxy moon dough, take part in a Saturn ring competition, and complete various challenges.
And Harry Potter science school is an absolute favorite of all young witches and wizards. Students will make their own Daily Prophet project, magic wand, Nimbus 2023, and create their own amulets. They'll learn about alchemy, divination, astronomy, and even how animals communicate. And after attending various classes like Potions and Herbology, students will do the final O.W.L exam!
When: from 29 May to 25 August 2023.
Timing: 9.00 am - 4.00 pm.
Age: 3-13.
Fees: 685 SGD, all materials, t-shirt, photos, certificate, water bottle, and Newtonshow magazine included, bus - optional.
Location:
Center: 9 Mohamed Sultan Road, 238959 Singapore
West: 887a Bukit Timah Road
East: 229 Joo Chiat Road
Novena: 175 Thompson Road (new)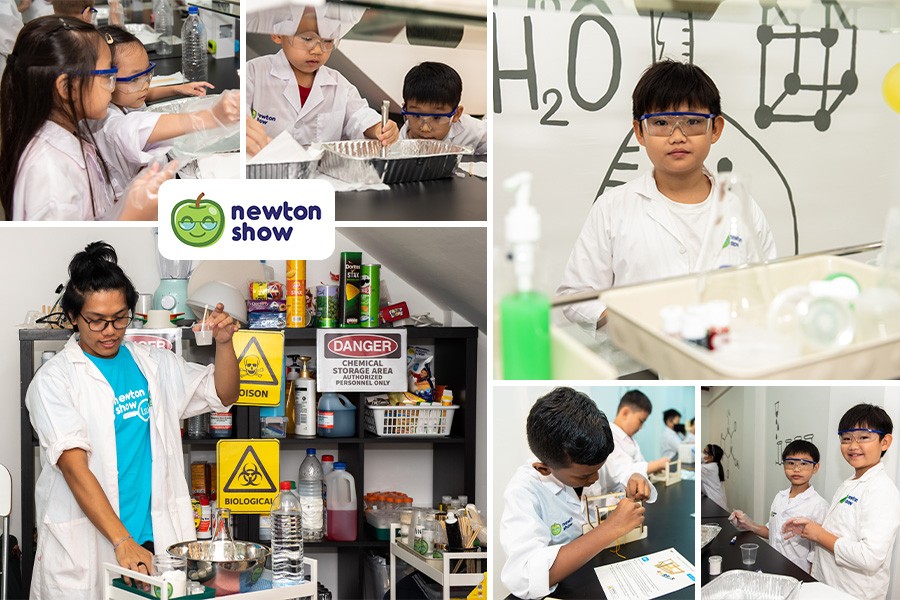 In this camp, children will not only be introduced to the workings of a real science laboratory but will also be able to do real experiments themselves. Each camper will have their own equipment and science station and they will explore different scientific phenomena under the supervision of knowledgeable professors.
Thus, kids will research life under the microscope, learn about molecules and atoms, explore different chemical reactions, and take part in various masterclasses like perfume workshops, baking soda challenges, magic jar workshops, etc.
When: from 29 May to 25 August 2023.
Timing: 9.00 am - 12.00 pm or 1.00 pm - 4.00 pm, full day available.
Age: 6-12.
Fees: from 400 SGD, 3 healthy snacks included.
Location: 230 River Valley Road.
Find Out More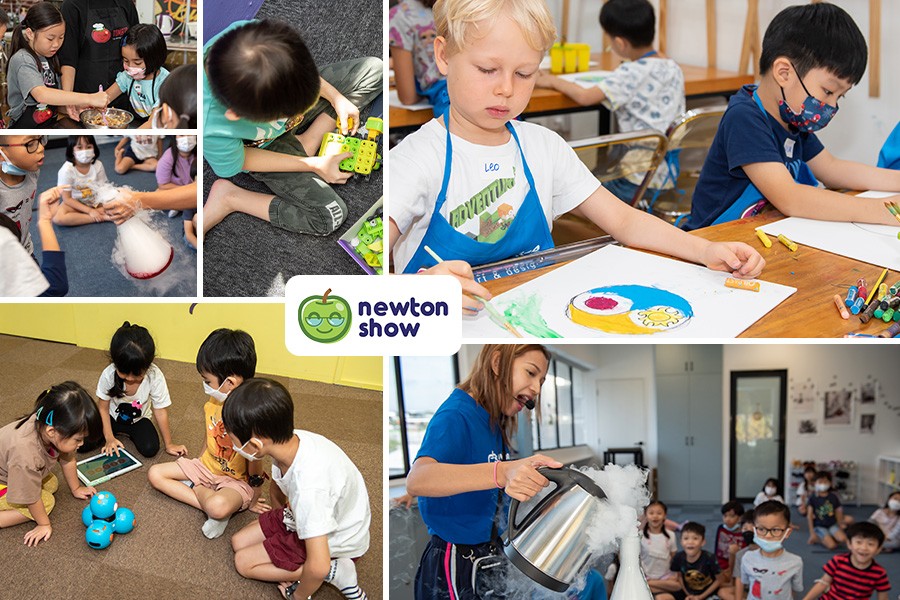 Image Credit: Newton Show
It's an ideal camp for children who have many interests and want to try different activities. Here, the program includes Science, Art, Robotics, Making, and Cooking, so kids won't have a chance to get bored.
Science day is packed with hands-on experiments, kids will try their hand at chemical battle color competition, build the highest building from straws, do periscope projects and explore science all around us.
Art day will bring a lot of joy and challenge kids' creativity. They will learn a lot about famous artists and techniques, create Picasso collage art, do big canvas art projects, make Venice masc, sculptures and doodle with markers.
Cooking day promises to be really delicious with all those goodies such as pizza, pasta, cupcakes and lemonade - all made by campers in the fully-equipped kitchen.
During Robotics Day kids will build a didi bot, rex, and titan robots and even take part in the turbo competition.
Maker Day will bring keva plank and Lego competitions, a Graphite maze, and popsicle wonder.
When: from 29 May to 25 August 2023.
Timing: 9.00 am - 12.00 pm or 1.00 pm - 4.00 pm, full day available.
Age: 6-12.
Fees: from 400 SGD, 3 healthy snacks included.
Location:
278 River Valley;
1 Goldhill Plaza;
121 Joo Chiat Road;
Bukit Timah Road.
Find Out More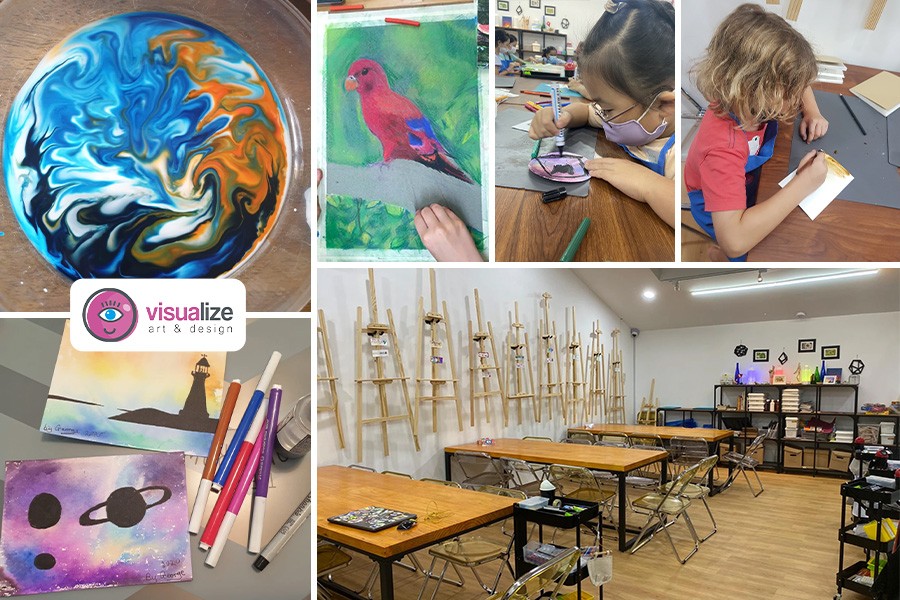 Image Credit: Visualize Art & Design
Ernst Kirchner, Sally Allen, Henry Matisse, Georgia O'Keeffe - it is hard to find artists with more unique and showcase styles. And, exploring the details of their styles and techniques can give a real boost to the development of the style and creative skills of you or your young artist. 
And Visualize Art & Design provides such a possibility! This June will be packed with art-related activities here and kids can get the most out of every minute of the creative session. A New subject: Large canvas camp promises a lot of interesting information about artists and their techniques, various tasks aimed to unleash one's creativity, and lots of fun! 
As the name of the camp suggests, the program will be focused on the creation of themed large canvas art. Thus, kids will create dream animals canvas art, acrylic canvas city paintings, Matisse-inspired art, night drawing and so much more! 
Visualize is led by a highly experienced art director with an extensive experience in Art and Design and a team of thoughtful and knowledgeable instructors.
That is why this school is well-known for its innovative approach to teaching arts and design and for utilizing the latest available materials and techniques to use in world-class lessons from expert art teachers. 
When: 29 May - 30 June.
Timing: 9.00 am - 4.00 pm.
Age: 6–13.
Fees per week: 685 SGD.
Contacts: +65 8264 6655, +65 8784 2801.
Location: 278 River Valley Road at OMG building, Singapore 238319.
Find Out More
Subscribe to weekly newsletter from "Tickikids"