Top-Rated 2023 Spring Camps for Kids in Dubai
---
Published 13 March 2023 at 14:00
Tickikids Blog Dubai > Top-Rated 2023 Spring Camps for Kids in Dubai
---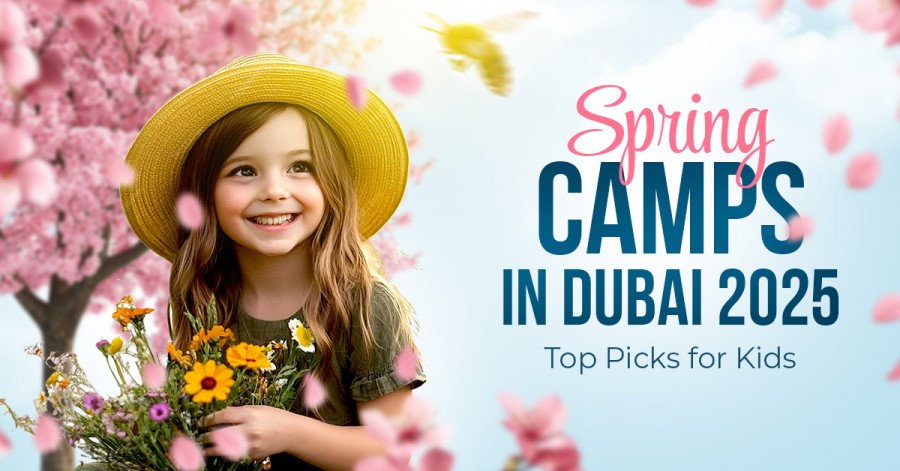 ---
The Spring holidays are approaching and that means that kids are at a loose end. This doesn't have to mean hours and hours in front of a screen or running around the house and making a mess and if you enrol your child at a great spring camp they can have great fun there and enjoy activities that are also educational. And as summer approaches it's definitely time to get the most out of the upcoming holidays and spend as much time outdoors as possible!
There is a wide range of camps and activities to choose from in Dubai, so the selection process may be challenging, but we are here to lend a helping hand!
Here is our round-up of the most popular spring camps your little ones will love!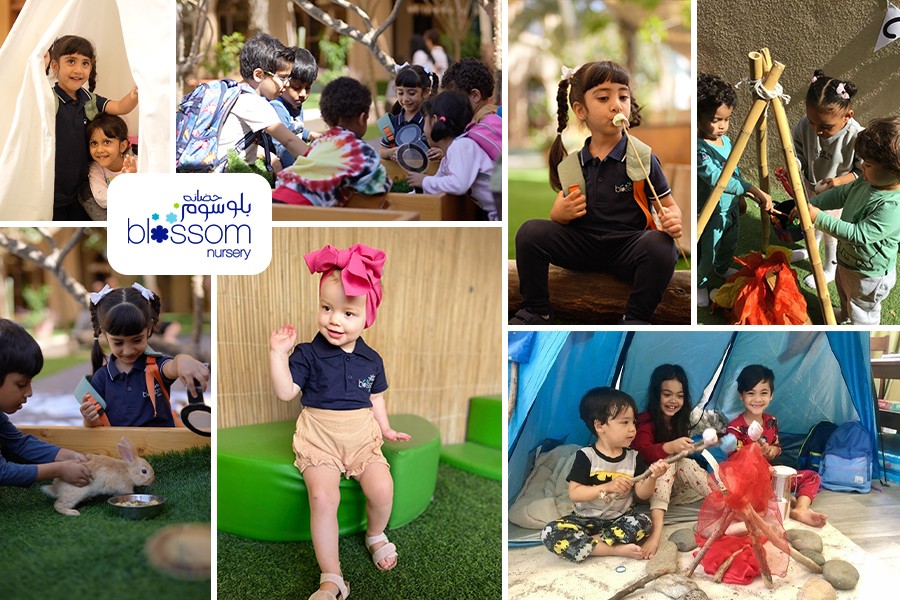 Image Credit: Blossom Nursery
Blossom Nursery, a Nursery Group following the Early Years Foundation Stage British curriculum, stands proudly among the top-rated nurseries in Dubai. Guided by the principles of sustainability, diversity, and inclusion, Blossom Nursery maximizes the development of children during the early years and builds a firm base for their future growth and development.
Let your little one step into a world of adventure and exploration with Blossom Nursery's Spring Camp! With the theme "Around the Campfire", campers will immerse themselves in all things camping and nature.
Imagine your child's excitement as they learn to pitch a tent, build a campfire, and toast marshmallows to perfection. As the children sing campfire songs their imaginations will run wild with wonder and excitement. But that's not all - children will discover the wonders of nature through water play, bug hunts, animal sightings, and collecting natural materials for crafting activities, such as making sun catchers, wind chimes, and sound shakers.
The Blossom Nursery Spring Camp welcomes children from 45 days to 6 years old in Dubai and 5 years old in Abu Dhabi, with flexible attendance options and multiple locations.
Don't miss out on this incredible opportunity to give your child an unforgettable experience in nature!
Visit the Blossom Nursery Spring Camp webpage for more information and to book your child's place.
Age: 45 days – 6 years
Dates: 27th March – 7th April (2, 3 and 5-day options per week)
Timing: 8 am to 2 or 4 pm
Contact: 800NURSERY (8006877379)
Socials: Facebook, Instagram, Youtube

Image Credit: High Performance Sports Club

This Spring Break, discover an exhilarating Sports Camp from High Performance Sports Club! The camp promises an unforgettable experience that will leave your child entertained, educated and inspired! The Camp offers an exciting range of activities, from key sports like Swimming, Football, Basketball and Badminton to creative pursuits such as Arts/Crafts, Baking, Cinema and Treasure Hunts. With professional facilities and equipment, the High Performance experienced team of coaches will keep your child engaged and stimulated throughout the day. What is more, at Sports Camp, your child will have a blast participating in four different activities each day, including a refreshing swim lesson. Make sure to pack their swimwear for a splashing good time in the pool!
Do not forget to pack a delicious lunch for your child to savour during the camp, and if you select our 10-day package, your child will receive a FREE TEAM KIT from High Performance Sports Club!
Give your child the chance to unleash their potential, acquire new skills, and create lifelong memories. Enrol them today and embark on an unforgettable adventure!

Dates:
Week 1: Monday 27th March - Friday 31st March 2023
Week 2: Monday 3rd April - Friday 7th April 2023
Time: 8:30 AM - 2:45 PM
Locations:
Vernus International School, DSO
Fifth Dimension School, Nad al Sheba
Ages: 4 - 12 Years Old
EARLY BIRD OFFER: Book online before 20th March 2023 and get 10% OFF your online booking - use code SPRING23
Fees:
1 Day - AED 262.5
3 Days - AED 630
5 Days - AED 840
Full Camp (10 Days) - AED 1470
Image Credit: Diverse Performing Arts School

Since 2008, Diverse has been the unrivalled leader in performing arts education throughout the Middle East. With a reputation for excellence and numerous awards, Diverse Performing Art School caters to students of all skill levels, from beginners to advanced performers. The Diverse Team deeply believes that every child has the potential to become a superstar, whether they love to sing, dance, or act for fun.
This spring, give your kids the gift of entertainment and activity by enrolling them in an exciting Diverse Spring Camp! Featuring daily sessions in singing, dancing, and drama, your child will enjoy a fun-filled week of creativity and self-expression. The camp curriculum includes a wide range of activities, from arts and crafts to set design and decoration. And with experienced educators leading the way, your child will receive the best possible instruction, developing their skills and nurturing their natural talent.
Whether your child is just starting out or already a seasoned performer, Diverse is the perfect place for them to explore their passion for dance, acting, singing, and improvisation. So why wait? Enrol your child today and watch them soar to new heights at Diverse Performing Arts School!
Dates: 27 March - 7 April
Age/Time:
For 5 -7 years old: 9 am - 2 pm
For 7 - 14 years old: 9 am - 3 pm
Location: Diverse Studios, Entrance A, Level M, The Curve Building, Sheikh Zayed Road
Fees:
5 - 7 years old: non Diverse students - AED 895 per week; Diverse students - AED 795 per week
7 - 14 years old: non Diverse students - AED 995 per week; Diverse students - AED 895 per week
Contacts to book space:
800Diverse
admissions@diversechoreography.com
Socials: Facebook, Instagram, YouTube

Image Credit: Spark Studio

Spring breaks are often a time for relaxation and fun, but they can also be an opportunity for learning and growth. If you are looking for an exciting way to spend spring break for your child, look no further than Spring Fest, brought to you by Spark Studio and Unique World Robotics.
At Spring Fest, participants will have the chance to learn 21st-century skills like programming, robotics, game development, public speaking, stop-motion animation, AI, and photography. These are all valuable skills that can help your child succeed in today's fast-paced, technology-driven world.
What sets Spring Fest apart from other learning experiences is the engaging, hands-on and friendly approach. With such an approach, children will be able to expand their knowledge and explore new interests in a supportive environment, surrounded by like-minded individuals.
So why not make the most of this spring break? Let Spring Fest be a new beginning for your child's versatile learning experience.
Age: 6-15 years
Mode: Live Online Sessions
Dates: Daily from 27th March to 1st April

Timing options: 11-12 PM, 5-6 PM GST
Fees: AED 60
Contacts: connect@sparkstudio.co
+971565484725
Image Credit: EliteSports

Formed in November 2012, Elite Sports Academy has become the largest provider of sports training for children in the country. Highly qualified and experienced trainers know how to give rise to every child's talent and always create a safe and welcoming environment during training. This year do not miss fantastic Spring Holiday Camps from the best sports educators in Dubai!
During this spring holidays, take a chance to enrol your child on Multi-Sport or Intensive Football Camps.
Multi-Sport Camp
Keep your child active during the school holidays and treat them with a dreamlike pastime! During Multi-Sport Camp, kids will have fun and take part in different sporting and sport-specific activities designed by highly qualified and experienced coaches. Little participants will play and train with peers so they can make new friends and go all out.
Each day incorporates a different theme and involves children in various sports. Be it Teamwork, Competitions, Action Sports, Adventure Day, American Sports, Points, or Goals&Olympics, your child will definitely enjoy fun-filled multi-sport activities!
Intensive Football Camp
Elite's Intensive Football Camps are the perfect addition to the weekly coaching sessions and are aimed to boost technical and tactical skills. The course has been designed for players who want to take part in an intensive learning environment. The training sessions will educate players on key developmental areas and learning points will be reinforced within competitive matches.
Elite Sports Academy offers a great possibility to boost football skills by participating in competitive matches. Thus, even during the break players can stay active and keep practising. Players will train with children of the same age group throughout the week with members of our full-time coaching team.
Age Groups:
Multi-Sport Camp 4-14 years
Football Camp 7-14 years
Dates:
Week 1 – Monday 27th – Friday 31st March

Week 2 – Monday 3rd – Friday 7th April
Timing: 8:30 am - 3:30 pm, Monday to Friday
Fees:
AED 882 Full Week
AED 262.50 Full Day
Discounts: 10% EARLY BIRD DISCOUNT - Available for full week registration only and payment must be made BY SUNDAY 19th MARCH 2023
Football Venues available:
Jumeirah Golf Estates
JESS Arabian Ranches (Arabian Ranches 1)
JESS Jumeirah (Al Safa)
Multi Sports Venues available:
West Yas Academy (Abu Dhabi)

Raha Khalifa City (Abu Dhabi)
Victory Heights Primary School (Sports City)
Regent International School (The Greens)
JESS Arabian Ranches (Arabian Ranches 1)
JESS Jumeirah (Al Safa)
Horizon English School (Al Safa)
Contacts: info@elitesports.ae
Image Credit: Street Maniax

Looking for a unique way to keep your kids engaged and entertained this upcoming Spring Break? Street Maniax has got you covered! Their next camp is packed with top-notch entertainment that your kids will absolutely love.
Street Maniax truly believes that every moment should be filled with fun and excitement, and their famous camps are no exception. From arts and crafts to exciting games and activities, Street Maniax Spring Camp is designed to give your kids a jam-packed day full of endless fun. And that is not all - Street Maniax also got a fabulous magic show that is sure to leave your kids spellbound and wanting more! Do not wait too long to book your spot - pre-booking is essential, and Street Maniax is offering an early bird discount of 10% off for those who book now.
So, what are you waiting for? Treat your kids to a Spring Break holiday camp they will never forget at Street Maniax!
Age: 4+
Dates: 27 March - 7 April
Time: 8.30 am - 2 pm
Fees:
per day - AED 153
per week - AED 674
Contact: WhatsApp 050 770 2491
Location: 19 / 1st Al Khail Street, Al Quoz Ind. 3, Dubai
Socials: Facebook, Instagram, Youtube
Subscribe to weekly newsletter from "Tickikids"