Fun Awaits at Admiralty Park Playground!
---
Published 03 November 2017 at 13:09
Tickikids Blog Singapore > Reviews > Fun Awaits at Admiralty Park Playground!
---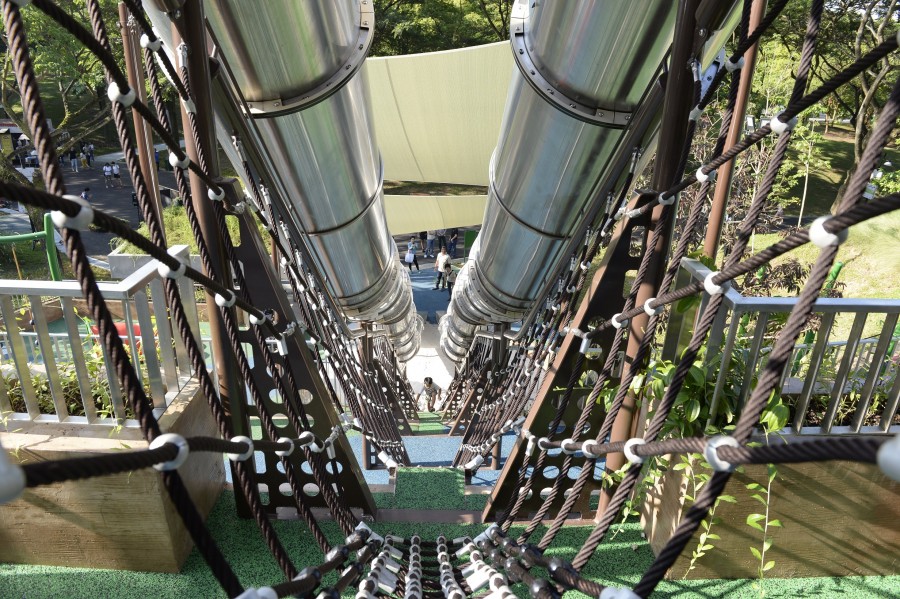 ---
Admiralty Park Playground is open for young visitors after two years of re-development! Boasting the largest number of slides in Singapore, the playground offers exciting experience for the whole family. The park occupies 27-ha, comprising 20-ha of natural area that serves as a home to more than 100 species of flora and fauna. The play areas are spread within the urban section of the park, making it an easily-accessed oasis of fun and joy.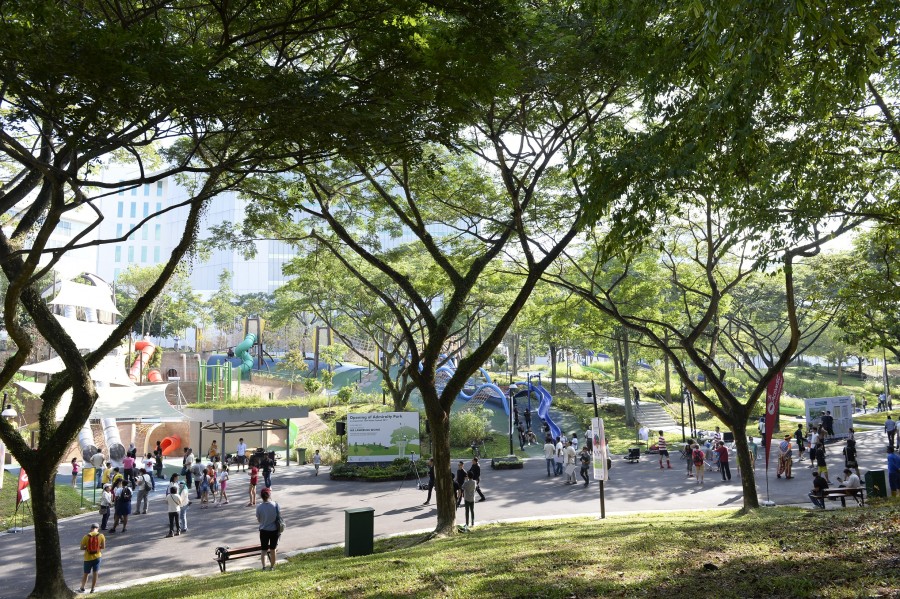 The newly opened playground located in the largest park in the north features three main playing areas: Junior Play, Adventure Play and Family Terracing, catering for kids of all ages, as well as for children with special needs making it a perfect destination for recreation and family-bonding activities.You can choose between the widest family slide, the longest open slide, the swings for parents and kids to enjoy and other mind-blowing play equipment, that are finely integrated into the hilly landscape.
Junior Play is designed to match developmental needs of children between two to five. There are plenty of options to keep your little ones busy and thrilled all day: multiple slides, cargo nets, a sand play area and the hills and slopes to climb.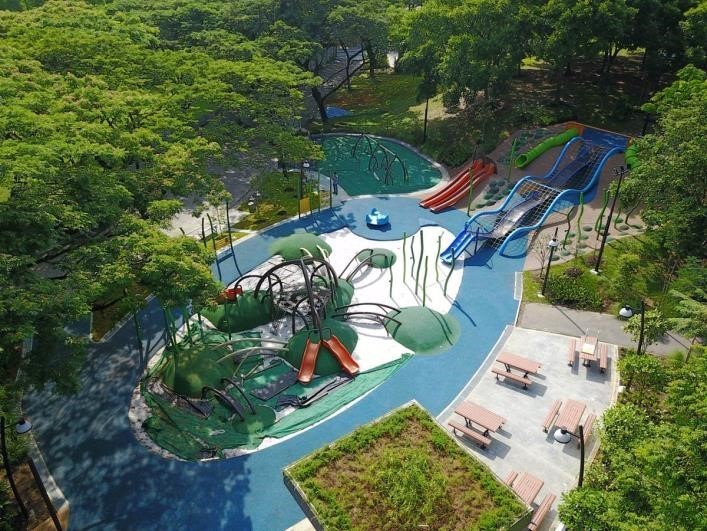 Just think of the excitement your children will get riding down a slide on the gentle slopes or while exploring the tube tunnels specifically designed for their age. Feel like joining the fun? Take a try with the Expression Swing: first swing in Singapore that allows parents and toddlers to swing together. Or join a fun ride down the one of a kind family slide in Singapore, wide enough for four!
Junior Play features an inclusive play area for kids with special needs, that allow them to play together with their peers fostering confidence and friendships!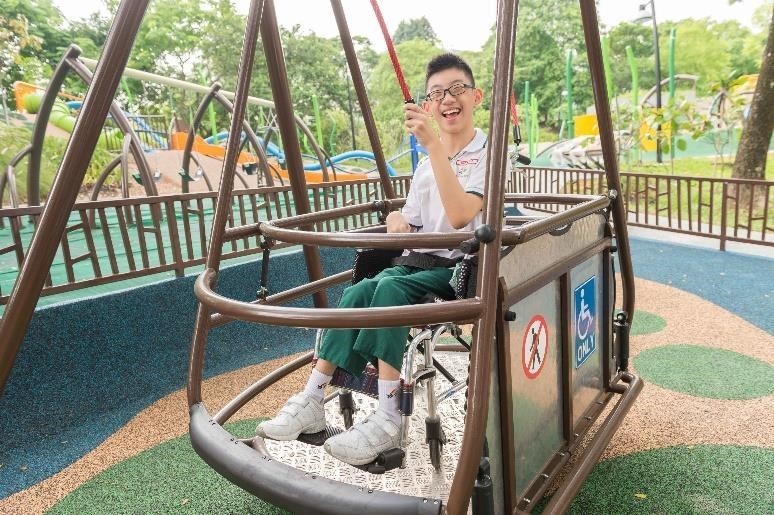 Family Terracing Play Area is a great place to enjoy for kids from five up to twelve years old.
The most outstanding feature here is a 23-meter long Double Barrel Slide. Kids will climb their way up to the top (9-meter tall!) using the net climber between the slides and will glide down this longest and tallest tube slide in a public park!
Waterfall Climber follows the outline of the existing terrain and serves an example of bewildering amusement integrated into the beautiful natural surroundings.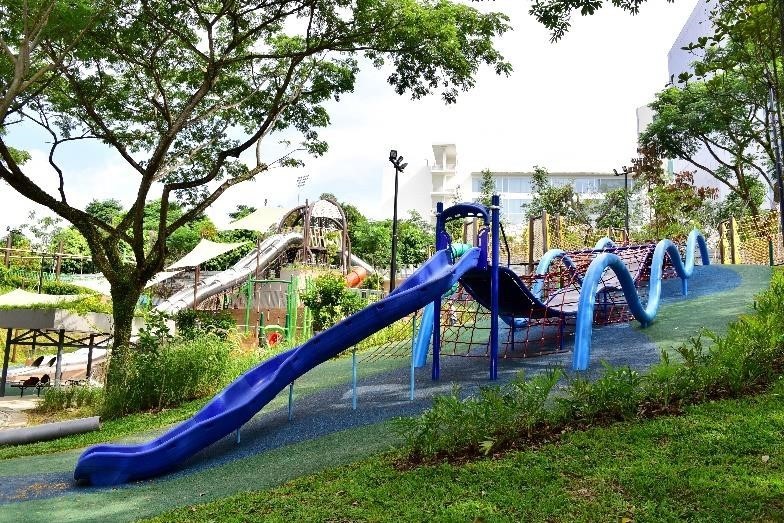 Apart from that, Family Terracing Play Area is fitted with the only outdoor closed circuit roller ride in Singapore.
Adventure Play is a perfect location for a mixed age group play. Let your children run off some of their energy on the longest 34m outdoor slide in a public park as well as 32m High Adventure Roller Slide with LED lights. It's was created with the entertainment from the point of view of kids in mind and can easily become the truly family favorite. For kids it can be simply summed up as an adventure-filled blast of pure fun!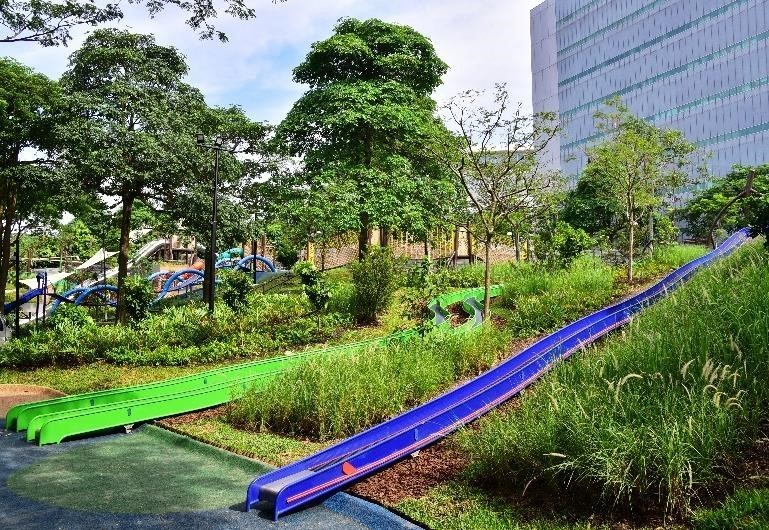 The only difficult thing might be to convince your kids to leave! This exhilarating playground with 26 different slides goes beyond your expectations and meets the demands of diverse youngsters of Singapore. Admiralty Park Playgrounds take outdoor play to the new level with equipment that maximises physical fitness and help to increase kids' awareness of the natural world around them. Get ready for hours of fun for guests of all ages!

Notice:
A part of Admiralty Park is closed for upgrading until end December 2017. Please use the entrances along Riverside Road to access the park. Click
here
for further details.
Photo credit: National Parks Board
Subscribe to weekly newsletter from "Tickikids"