The Most Exciting Swimming Lessons for Kids in Singapore
---
Published 19 July 2019 at 20:00
Tickikids Blog Singapore > Digest > The Most Exciting Swimming Lessons for Kids in Singapore
---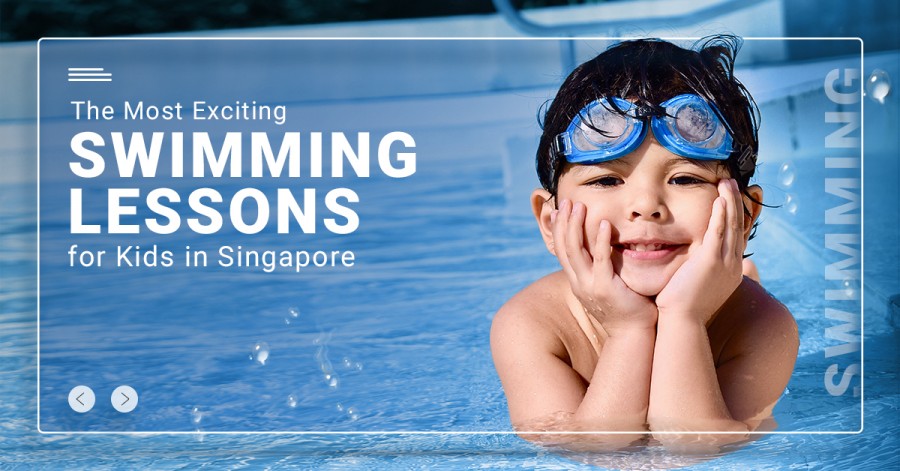 ---
Everyone knows that growing up with a fear of the water may manifest itself into a deeper phobia. It is always much better to begin swimming lessons early – the earlier the better! Whether you are a parent of a child looking for swimming lessons to learn basic water safety skills, or have fun in the water with family and friends, or even become an elite-level swimmer, you have come to the right place. We have found the best possible swimming schools in Singapore with excellent facilities on-site, and first-class swimming coaching, teaching and supervision. And it is going to be hard to beat. From babies upwards whatever their level of ability – time to jump into these iconic swimming pools.


Photo Credit: SwimRay


SwimRay welcomes children and adults of any age and ability wanting to learn to swim. Specialising in private swimming lessons, their pioneering teaching methods firmly encourage, inspire and support children to overcome water phobia, develop water safety and survival skills, as well as improve competent swimming strokes and other techniques. The team of excellent, qualified and knowledgeable swimming coaches is also a crucial part of running the swimming school. Presenting a professional presence, on every level, is absolutely vital for SwimRay, so they choose only those instructors who have had an on-the-ground experience of working or competing in stressful water environments. We have no doubt about its leadership: from former naval divers, triathletes, competitive swimmers to rescue divers, they are surely equipped for providing expert swimming tuition, individualised training delivery and, if needed, for an emergency situation. Although the emphasis is firmly placed on the qualitative achievements and swimming techniques, variety and fun are central to their teaching approach.
Ages: toddlers below 3, children aged 4 – 16;
Timing: flexible;
Tel.: +65 9660 1991;
Location: at your preferred condo's pools or private pools.


Photo Credit: aquaDucks


Established in 1989, aquaDucks Swim School is one of the pioneers of baby swimming in Singapore. They are one of the most recognised and trusted names for water safety and swimming programmes for all age groups including babies, pre-schoolers, adults and seniors. Today, a bubbly group of 40 swim experts from all over the world, teaches 2500 students at their nine venues across the island. So you can be sure to find the most convenient school just near your home. Adopting a unique blend of European, American and Australian teaching techniques with an Asian flavour, their unique and innovative child-centred programme is comprised of 19 different levels. Their teaching staff possess a wealth of experience and are all fully qualified. All aquaDucks schools feature covered, heated and salt-chlorinated pools making them ideal for baby and toddler swimming. We are most excited by the games-based approach for the youngest kids which aims to provide fun and enjoyment of the water through games, songs and play combined with simple instructions. It enables your little ones to gain water confidence. The older kids focus on stroke perfection and progress at their own pace and comfort.
Tel.: 6463 5554;
Locations:
Dempsey, 29 Harding Road, Singapore 249537 (next to St. James' Church Kindergarten), dempsey@aquaducks.com.sg;
Turf City, 2 Turf Club Road, Singapore 287988 (next to Blue House International), turfcity@aquaducks.com.sg;
Newton, 25 Gilstead Road, Singapore 309070 (inside St. James' Church Kindergarten), newton@aquaducks.com.sg;
Nexus, 201 Ulu Pandan Road, Singapore 596468 (inside Nexus International School), nexus@aquaducks.com.sg;
Queenstown, 58 Jalan Penjara, 149382 (next to Children's Cove Preschool), queenstown@aquaducks.com.sg;
Kent Ridge, 87 Science Park Drive, The Oasis, Singapore 118260 (in collaboration with Fit Bloc), kentridge@aquaducks.com.sg;
Hollandse Club, 22 Camden Park, Singapore 299814, Tel: (+65) 9225 7310. For any enquiries, please email hollandse@aquaducks.com.sg;
Swiss Club, 36 Swiss Club Road, Singapore 288139, Tel: (+65) 9487 5183, swiss@aquaducks.com.sg;
Singapore Island Country Club, 240 Sime Road, Singapore 288303 (Bukit Location), david@aquaducks.com.sg.


Photo Credit: Little Splashes Aquatics


If there is a swimming school in Singapore to make you bond with your baby in the water, it has to be the Little Splashes Aquatics. Their system is more focussed and specific than the majority of other swim schools. At Little Splashes, infants & toddlers are placed in groups according to their physical, psychological, social and emotional milestones rather than on a wide age scale. Based on more than 20 years of consistent teaching experience, early childhood studies & psychology, Little Splashes has developed an individual-focused curriculum to ensure holistic learning, maximum participation time, constant engagement and cognitive development of infants & toddlers in swimming. With a ratio of 1 instructor to 5 swimmers, these 30-minute sessions are designed to help little swimmers perfect their water safety and awareness, arm & water movements, strokes and self-rescue skills, as well as develop their psychomotor skills, confidence and self-esteem. Through progressive teaching methodology based on sensory water play, gradual skill-building practice and milestone-paced tuition, children get the attention they need to thrive. 
Please note, parents should accompany and assist their kids aged from 3 to 36 months. There is also a 2-Layer Diaper Policy for children that are not toilet-trained.
Ages: infants aged 3 – 18 months, toddlers aged 19 – 36 months, children aged 3 years and above;
Opening times: 9.30am – 6.30pm daily;
Locations:
East: 300 Bedok South Ave 3, S 469 299;
Northeast: 36 Yio Chu Kang Rd, S 545 553.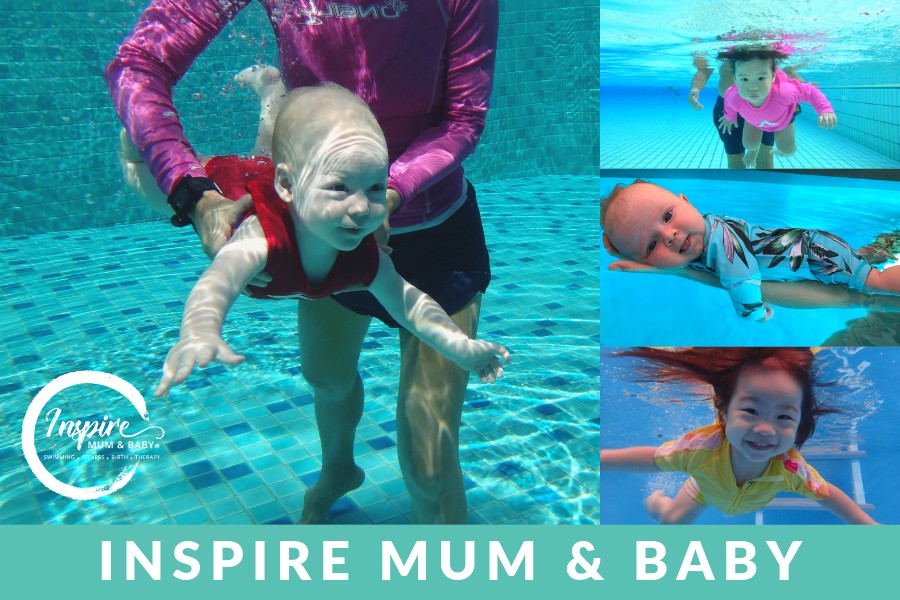 Photo Credit: Inspire Mum & Baby


Inspire Mum & Baby offers swimming lessons for babies, toddlers and kids from 2 months up to 7 years of age led by fully qualified and certified teachers. Established 12 years ago, the specialist swimming centre runs classes at a well maintained indoor heated pool in the East Coast area. What makes Inspire Mum & Baby unique in comparison to other Singapore swimming schools is the Birth-light Philosophy. It is a kind and effective approach, promoting happy interactions between parents and kids for a wonderful bonding experience plus a gentle introduction to baby swim classes in a playful, safe and enjoyable environment. Little swimmers are placed in small groups according to their age and level of ability. You can also opt for private classes. Inspire Mum & Baby programme is based on the STA levels for kids certification, so the children progress in accordance with the STA standard.
Use code TICKI15OFF and enjoy your First Trial at only $30 (valid for the first 100 registrants only).
Ages: Infant Swimming (2 – 6 months), Baby Swimming (6 – 12 months), Toddler Swimming (1 – 2 years old), Toddler Swimming (2 – 4 years old), Kids Swimming (4 – 7 years old);
Opening Times: Monday to Saturday from 9am to 6pm;
Contact details: 9234 1866 (SMS/Whatsapp/Call);
Location: 188-2 Tanjong Katong Road, Singapore, 436990.




Photo Credit: Swimwerks
Swimwerks is well-known for "Learn to Swim" and Life Saving programs. Thus, everyone here can learn to swim, educate oneself about the essentials of water safety and even get the MOE recognized SwimSafer Awards and Singapore Life Saving Society's lifeguard certifications.
In Swimwerks, highly qualified and experienced teachers adjust the lessons to the age, competency, and abilities of the children. They make sure that kids get the best possible results, develop their skills at a steady pace, and progress constantly. 
The lessons are conducted at the Private Pools of Swimwerks or in the pool of your condominium. Students learn in small groups (size of max 4 students to a teacher). 
The youngest age of swimmers here is 3 years old as the early start is crucial. The earlier children start to learn, the easier it will be for them to swim. And there is no need to worry, the teachers know perfectly well how to work with toddlers and safety is a top priority in Swimwerks.
Apart from the swimming lessons, Swimwerks offer kids pool parties, Aqua fitness programs, and adult swimming lessons. Swimwerks also conducts internationally certified swim teacher courses and offers lifeguard services when needed at private pools or pool-side events.
Age: 3 years old onwards.
Contact details: +65 8727 2458, sales@swimwerks.com.sg, or use a contact form on the website. 

Location: Nordcom 1 & 2 @ Sembawang 
Find Out More
Photo Credit: Sharkies
Experts of Sharkies know fully well how to teach everyone how to swim! Experienced and expertised coaches have conducted private swimming lessons in Singapore for several years already and each year the number of grateful students grows. 
A lot is said about the benefits of this physical activity for children, and coaches of Sharkies have a strong belief that the early start is essential for the building of confidence in learning swimming and progress with ease. That is why they work with babies starting with 6-month-olds. 
The safety of the children is the utmost priority here. Thanks to the high qualification, safeguard certification, and years of experience, coaches create a safe and fun environment where kids can learn and have a great pastime altogether. 
For this very reason, the preferred type of sessions here is a small group swimming lesson or 1 to 1 private lesson. Thus, coaches can dedicate enough material to the kids, correct the kid's strokes and prevent kids from picking up bad habits. And, what's more important, there is no need to travel to the swim school to take lessons as a coach can come to you at any place of your convenience, including condominiums!
Sharkies also provide an SSI syllabus - the international certification for the children that includes 15 levels depending on the skills and age of the swimmer. Every week coaches make an assessment of each child's progress to identify weak and strong points and prompt parents how to improve weaknesses.
Also, Sharkies have courses from SSI for coaches, so here people can find out how to become a swimming coach and get certified!
Ages: 6+ months.
Fees: starting from $280 for 4 lessons per child.
Contact details: +65 91159676, Sharkiesswimschoolsg@gmail.com.
Photo Credit: FINS Swim School


Established in 2012, FINS Swim School has a proven record of success and is one of Singapore's leading swimming schools in which every child is challenged and supported. Roughly 1,800 students attend their swimming lessons across all SAFRA clubs and children come from all over Singapore. With inspiring training in small and caring teaching groups, children can develop technique and physical stamina to the greatest extent possible whilst having fun during their weekly lessons. The school's dedicated, professional and internationally certified coaches from the UK and Australia are united in their desire to create an ambitious and positive Learn to Swim programme. Its well-structured curriculum has been designed to progress young children through the pathway aged five to 12 years. Having a wealth of experience, the coaches of FINS focus on raising water safety awareness in children, building their confidence in the water and developing a strong foundation in the swimming strokes.
FINS Swim School has teamed up with Pacer Water Polo Academy and Pacer Academy to offer other aquatic programmes such as Junior Water Polo, Junior Synchronised Swimming and The Swim Team for students who have completed their Learn to Swim programme and are looking for something new and challenging.
Ages: 5 – 12 (FINS Swim School is Exclusive to SAFRA Members only).
Timing: weekdays & weekends subjected to location;
Fees: $240 on weekdays & $270 at the weekends for 12 lessons, one hour a week. Receive a FREE gift with every new sign-up for the new term.
Terms: January – March, April – June, July – September, October – December;
Contact details: fins@safra.sg, 6377 0186/ 6254 5129;
Locations:
SAFRA Toa Payoh;
SAFRA Mount Faber;
SAFRA Yishun;
SAFRA Jurong.


Photo Credit: Ace Dolphin Swim School


"My son has been taking swimming lessons from a coach Larry and has overcome the phobia of water. Coach Larry seemed to have infinite patience with his students. I would highly recommend Ace Dolphin Swim School to anyone from beginners to advanced who thinking of swimming lessons." – says mother Catherine Chen. 
Swimming classes for kids aged 4 to 12 can be found at four venues of Ace Dolphin Swim School where families can choose from a 3-month-long course, 4 lessons in a small group or private sessions to gain confidence in the water. The school prides itself on Singapore's top instructions with a solid background in swimming teaching, specifically trained in the unique proven teaching method. They hire only those who registered under the National Registry of Coaches.
Ages: 4 – 12;
Locations: Bishan, Pasir Ris, Tampines, Yio Chu Kang.


Photo Credit: Singapore Swim School


This is the ideal school to opt for if proper swim training is top of the agenda. Thanks to an impressive number of professional, certified and result-driven swimming instructors (over 200, fancy that!), the swim sessions are quite something here: one-to-one, semi-private and group classes will guide your children to excel in swimming and master proper techniques. Their swimming lessons are geared towards your child's current level of proficiency and designed to help them develop – and there's nowhere better for first-timers. This allows you to choose from either beginner, intermediate, advanced or competitive levels of swim training. What's particularly special about this school, is that their coaches can conduct swimming lessons at the time and place you prefer.
Ages: 4 – 16;
Fees: from SG$70 per month including a complimentary gift upon signing up;
Contact details: +65 96191627.


Subscribe to weekly newsletter from "Tickikids"