TickiKids' Educational Guide: Top International Schools in Singapore
---
Published 30 August 2019 at 23:25
Tickikids Blog Singapore > Digest > TickiKids' Educational Guide: Top International Schools in Singapore
---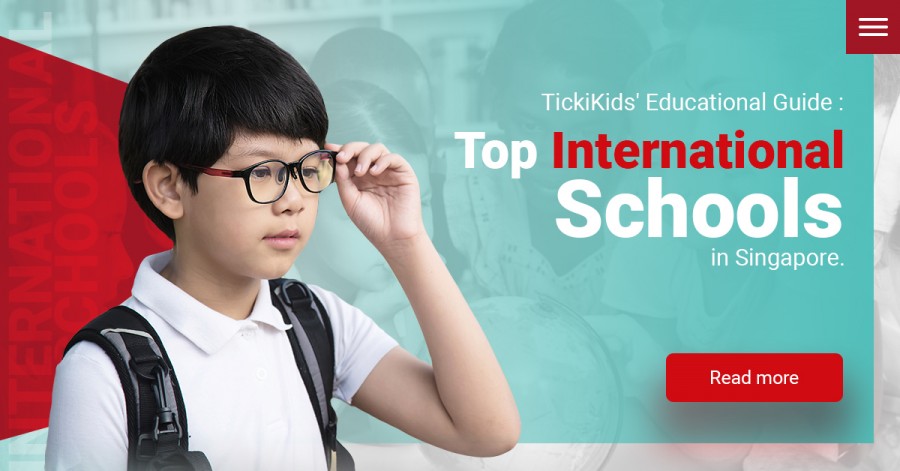 ---
What makes a school exceptional? A friendly and supportive atmosphere, teachers and staff who love their subject, ambitious and innovative approach to teaching, dedicated modern facilities, and the best possible pastoral care that makes every pupil feel respected and secure in their environment. And, of course, a variety of extra curricular activities that enhance the student's development. While preparing this article, it was necessary to ensure that all of the above criteria were considered and preferably exceeded. As a result of our diligence to this task, we are pleased to present you with a carefully crafted list of the highest achieving international schools in Singapore. For many years, these schools have been leading lights in co-educational system which qualify domestic and international students to study at universities around the world. Whether your kids join one of these schools aged 5 or 15, they will be supported at every turn, having a lot of fun along the way. We hope our article gives you a sense of what purposeful and ambitious schools are available, and a deeper understanding of their values, rules and standards.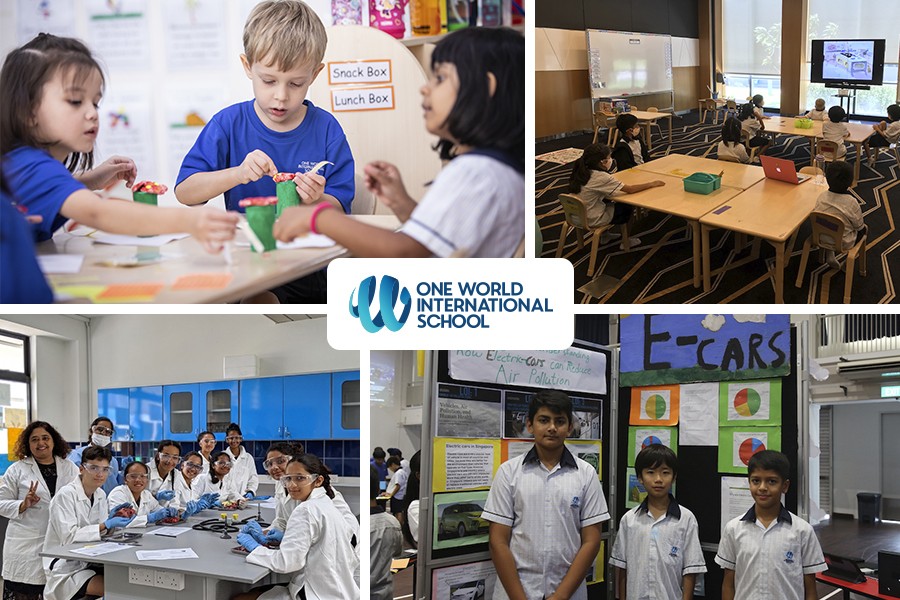 The story of the One World International School (OWIS) began in 2008. Since that time the School has established a reputation as a provider of multicultural, values-driven learning environments where learners from all nationalities can thrive.
There are two learning locations in Singapore, one of which is located in the very heart of Central Singapore. In Nanyang, OWIS has a Kindergarten to Grade 12 all-through school and at Suntec, children can attend a Kindergarten to Grade 5 campus. The third location at Punggol is planned to be opened in 2023 and kids will attend an Early Childhood to Grade 10 campus.
The curriculum of OWIS is based on the IB Primary Years Programme (IB PYP) for Early Childhood to Grade 5; Modified Cambridge for Grades 6-8 and Cambridge IGCSE for Grades 9-10; and the IB Diploma Programme for Grades 11-12. 
All teachers of the School are IB-trained, experienced, and highly qualified. They know how to nurture the natural curiosity of children and have a way with kids. The classes include the arts, physical education, and language studies apart from other essential subjects. Thus, children can develop skills that will be in high demand in the future: critical thinking, collaboration, scientific inquiry, creativity, leadership, research and analysis, resilience, international-mindedness, and more.
Another benefit of OWIS is a special Chinese-English Bilingual Programme for students who are interested in improving their proficiency in both languages. In addition, students can also get English as Additional Language support in case they need to polish their English. 
Academic success is not the only aim of studying here. OWIS puts an emphasis on the well-rounded development of the personality with respect for diversity and core human values. 
The Kindness Leaders program is one of the ways of achieving this goal as here students take part in house activities, class projects, and other special events that emphasize the importance of these values. Thus, the OWIS students are going to be the global citizens of tomorrow, who have genuine empathy, a sense of responsibility and they act with social awareness.
Age group: 3 – 19.
Number of students: 1500.
Annual fees:
Nanyang Campus
S$ 17,970 for Early Childhood & Primary;
S$ 20,661 for Secondary;
S$ 19,293 for Bilingual Programme (Grades 1-5);
Suntec campus 
The fee starts at S$ 18,860 for Early Childhood onwards.
Head: Mrs. Michelle Dickinson (OWIS); Mr. Mark Renie (OWIS Suntec).
Contact details: 
Nanyang: +65 6914 6700;
Suntec: +65 69147240;
Email: admissions@owis.org.
Locations: 
Nanyang - 21 Jurong West Street 81, Singapore 649075;
Suntec - 1 Raffles Blvd, Suntec City, Level 3, Singapore 039593.
Find Out More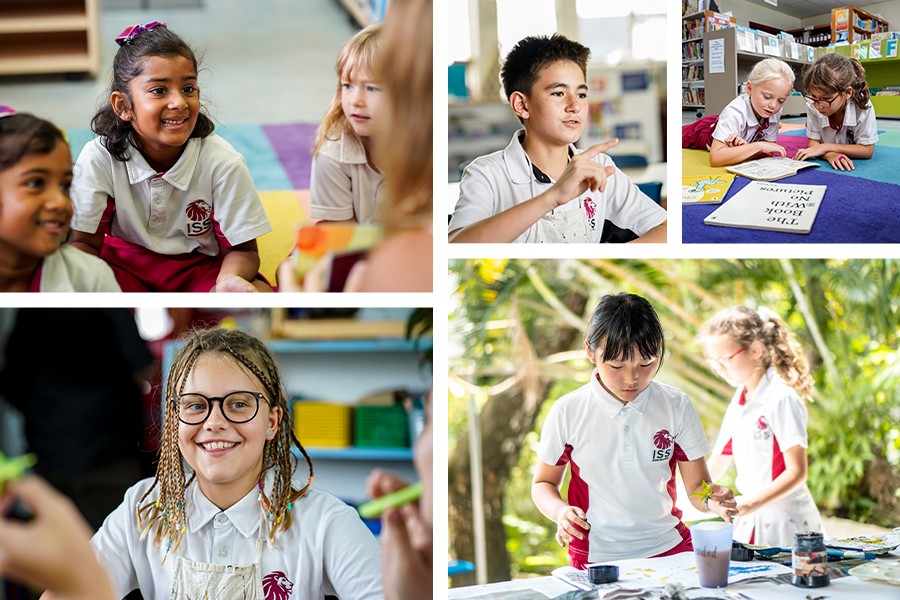 ISS International School is a non-profit IB Continuum School, representing over 40 different nationalities in a student body of about 600 students aged between 4 and 18. Founded in 1981, the school has grown to two campuses and quickly established a truly global reputation. The school is committed to providing a holistic, multicultural learning environment which values the unique contributions of individual students. Students are nurtured to thrive in a diverse environment, mirroring what they will face in the outside world. The inclusive learning environment at ISS is highly differentiated, ensuring that each student is supported optimally. ISS teachers develop academic plans for each student to cater to individual learning needs.
ISS follows the International Baccalaureate (IB) framework from Primary Years programme through to Middle Years  programme and leading to the Diploma programme. As one of the longest established IB Continuum International Schools in Singapore, ISS continues its nearly 40-year history of providing education for pupils from a wide range of backgrounds and offering IB programmes for almost 20 years. The School appears to have succeeded in passing bilingual learners through the IB Diploma Programme. In addition, ISS also offers a comprehensive English as an Additional Language programme. Co-curricular activities play a key role in a student's life at ISS. This is reflected by a comprehensive range of activities from archery to martial arts, as well as several performing music groups.
Age group: 4 – 18;
Number of students: 500;
Annual fees: SGD 22,577 for kindergarten and SGD 29,820 for primary school;
Head: Dr. Margaret Alvarez;
Contact details: +65 6475 4188, email: admissions@iss.edu.sg;
Locations: 21 Preston Road, Singapore 109355;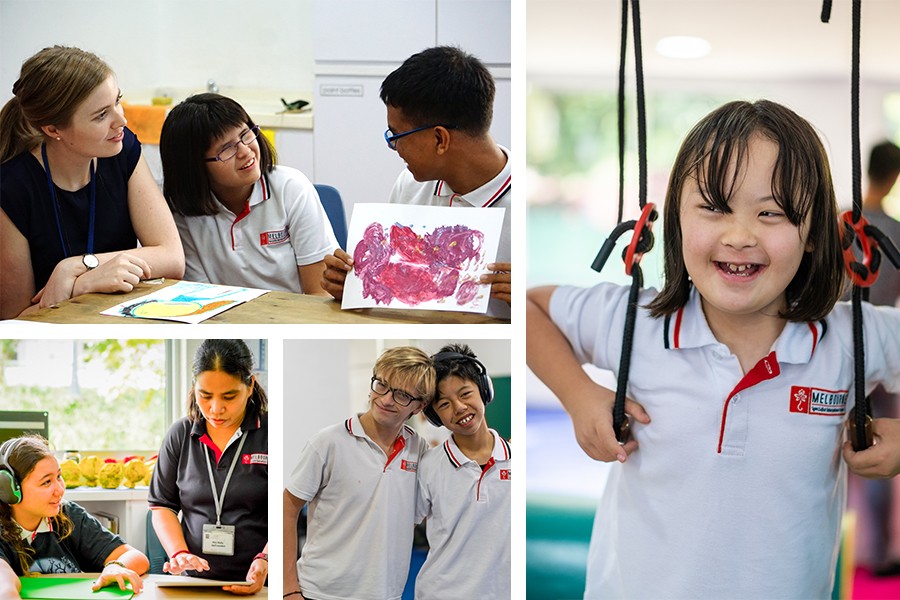 As a leader in innovative teaching, with a specially qualified and diverse group of teachers, Melbourne Specialist International School strives to offer a unique and inclusive learning experience for international students within one of the Singapore's most vibrant learning environments. Based on a proven fact that innovative teaching techniques enable more effective learning and increase children's sense of personal identity, MSIS fosters and promotes creativity through dancing, musical, art and drama activities which are offered as part of the Visual and Performing Arts Programme. This child-centred approach enables pupils to improve their literacy, numeracy and life skills which helps the teachers in facilitating each student's development.
Beyond the curriculum, students' lives are enriched by a wide range of services delivered by the therapy team. This includes specially trained members of staff such as Art, Music, Occupational and Speech & Language Therapists. All of them play a vital role in making MSIS the wonderful place it is, addressing the highly individualised needs of the students.
Recent additions include the Early Intervention Programme for children aged 2,5 to 7 which has been launched in collaboration with White Lodge International Preschool. This incredible programme provides a quality inclusive learning environment for children with additional needs and disabilities. Small class sizes, experienced teachers, coaches and caregivers with a specialist qualification will help nurture each child enrolled in the EISP.
Age group: 3 – 21;
Staff /Student Ratio: 1:4 and 1:1 for children with special needs;
Average class size: 12 students;
Annual fees: from $9617.16;
Principal: Daryl Duane Van Hale;
Contact details: +65 6634 8891; admissions@msis.edu.sg;
Location: 75 C Loewen Road, Singapore 248853.




Established in 1995, Chatsworth International School is a diverse and internationally-minded school in Singapore that offers an exceptional and balanced education to students from Kindergarten through Year 13 (Grade 12). As an IB World School offering the three programmes, the international curriculum offered encourages students to question, collaborate, problem solve and lead investigations to develop essential learning skills. Chatsworth is dedicated to providing a nurturing and trusting environment where every student feels valued and respected. The school is fortunate to have the support of its Chatsworth Parent Group (CPG) whose deep involvement with the school and social events help forge a welcoming Chatsworth community.
The small class sizes ensure that students are heard and receive the nurturing support and attention from their teachers. From vibrant arts and inspiring athletics to interesting co-curricular activities offered under their dedicated team of internationally-experienced teachers, there are abundant opportunities for students to discover and hone their talents and interests, beyond academics. Strategically located next to Singapore's Bukit Timah Nature Reserve, the campus offers a serene yet vibrant environment and is just a short ride on their shuttle bus from nearby Sixth Avenue MRT station.
Age group: 3 – 18;
Number of students: 800;
Teacher to Student Ratio: 2:22 (K1 - K2); 2: 24 (Y1 - Y2); 1:24 (Y3 - Y13);
Annual fees: SG$ 23,819.40 to 32,788.80;
Head of School: Tyler Sherwood;
Contact details: +65 64633201, admissions.bt@chatsworth.com.sg;
Locations:
Bukit Timah Campus (K1 - Y13): 72 Bukit Tinggi Road, Singapore 289760;
Orchard Campus (K1 -Y6): 37 Emerald Hill, Singapore 229313 (campus is closing and merging with Bukit Timah campus in June 2020).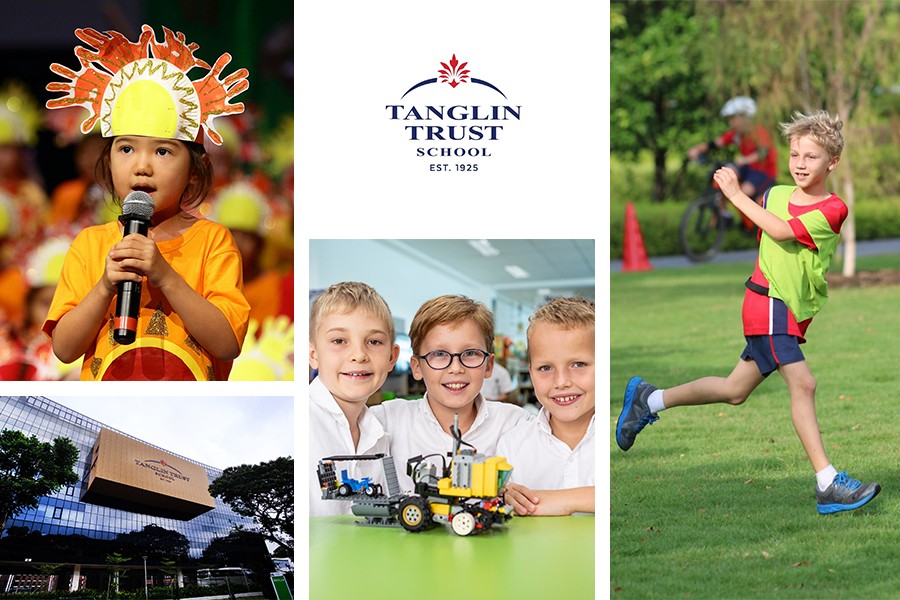 Tanglin Trust School (TTS) is an international school in Singapore that provides British-based schooling for nearly 2,700 girls & boys from the ages of 3 through to 18 years. Established in 1925 as a primary school, Tanglin quickly gained a reputation for academic and facility excellence. In the mid-90s, the school expanded and today it provides an exceptional education with a variety of pathways to qualifications, including A Level and IB. It is primarily intended to serve the expatriate community in Singapore. Though the majority of students come from the United Kingdom, around 50 nationalities are represented among the student body. In 2006, The Guardian newspaper named Tanglin Trust School as one of the best UK-curriculum international schools in the world. Both A Level and IB pathways allow the students to make international applications and both are recognised and highly regarded by all universities across the globe. Students wishing to enrol in the school must be proficient speakers of English and display the intellectual capacity to excel academically and develop the qualities to succeed.
The pupils excel academically, but there is so much more to life there. Part of what gives Tanglin its unique character is the diverse range of extra-curricular activities on offer. On leaving Tanglin, students and their families consistently comment on the tremendous help and encouragement they received from their peers and dedicated teachers.
Please note, that there are waitlists for most year groups. Parents are encouraged to apply early to secure a position on the waitlist and can contact the admissions team for estimated place availability by a year group.
Age group: 3 – 18;
Number of students: 2700 students;
Term fees: up to $15,276;
Principal: Craig Considine;
Contact details: +65 6778 0771, admissions@tts.edu.sg;
Location: 95 Portsdown Road Singapore 139299.




Stamford American International School was founded in 2009 and today it is one of the leading co-educational international schools in Singapore with around 2,600 pupils from more than 70 countries. The majority of its pupils join at age 1 and continue through until they are 18. Situated just 10 minutes from popular Orchard Road, the Woodleigh Campus and Chuan Lane Campus welcome students from Nursery level to Grade 12. Few, if any, Singapore schools enjoy such outstanding space and quality of modern buildings. The campuses are conveniently linked by a shuttle bus service, making their unique facilities accessible to both parents and students. At the core of the academic programme is the International Baccalaureate (IB) curriculum, built into the framework of the rigorous American Education Reaches Out (AERO) standard. For their students, this means a first-class education in a stimulating and nurturing environment.
The performing arts, sports, varied clubs and societies are central to the lives of many pupils at Stamford American and there is a wealth of opportunities to explore their unique talents. Stamford's Co-Curricular Activities Programme encompasses over 350 choices of co-curricular activities throughout the year for students from Pre-K in Early Years to Grade 12. The School's extensive campuses provide stunning facilities for sporting pursuits. In total there are 4 swimming pools, 2 air-conditioned indoor sports arenas, an air-conditioned multipurpose gymnasium, rooftop tennis courts, dance studios, rock-climbing walls, multipurpose sports field and a golf academy.
Age group: 1 – 18;
Number of students: 2,600;
Average class size: 24 students;
Annual fees: SG$ 40,802;
Superintendent: Dr. Eric Sands
Contact details: +65 6602 7247, admissions@sais.edu.sg;
Location:
Elementary and Secondary Campus: 1 Woodleigh Lane (Off Upper Serangoon Road) Singapore 357684;
Early Learning Village: 3 Chuan Lane, Gate 4, Singapore 554350.




With over 25 years of teaching experience, Australian International School is the only southern-hemisphere school in Singapore that has led the way in providing an Australian curriculum-based global education for students from the age of 2 months to 18 years. Today the student body is made of over 50 different nationalities, with 66% coming from Australia and New Zealand. This truly international education begins with the International Baccalaureate Primary Years Program (IB PYP) from Preschool to Year 5, Australian Curriculum for Years 6 to 8, Cambridge IGCSE in Years 9 and 10, and the Higher School Certificate (HSC) or International Baccalaureate Diploma Program (IB DP) for Years 11 and 12. Australian International School has a vision to be known internationally as an institution which represents educational excellence in all aspects of its operation. It aims to be an international school that cherishes the arts and sports as well as academics as essential dimensions of each student's education.
Age group: 2 months to 18 years;
Number of students: 2,696;
Average class size: 25 students;
Annual fees: up to SG$ $42,432;
Principal: Dr Edward Groughan;
Contact details: +65 6653 2958 (admissions), +65 6664 8127 (general enquiries), admissions@ais.com.sg;
Location: 1 Lorong Chuan Singapore 556 818.



Swiss School in Singapore is one of the 18 Swiss Schools currently operating abroad which is officially recognised by "Bundesamt für Kultur" (BAK) as "Swiss Government Approved School". The School provides education according to Swiss standards and criteria. Located in a tropical environment far away from busy Singapore streets, this small family-oriented school provides an inspiring pathway for boys and girls aged 2 to 12. Its campus is a sufficient space for exploring the world around them, learning through play and sports whilst preparing pupils for a fast-paced and ever-changing world. Swiss School's pupils excel in many areas – academically, in the performing arts and sports. The pupils are taught in German and English or French and English. In addition, the school prepares its students for a smooth transition to the United World College of South East Asia (UWCSEA), one of the school's affiliates, where they can obtain the International Baccalaureate Diploma and head to universities worldwide.
Age group: 2 – 12;
Number of students: 250;
Annual fees: up to SG $24,230;
Principal: Marc Schumacher;
Contact details: +65 6468 2117, info@swiss-school.edu.sg;
Location: 38 Swiss Club Road, Singapore 288140.




GEMS World Academy enjoys a well-established reputation for being one of Singapore's leading co-educational international schools through its provision of an outstanding education. With the pupil body numbering approximately 975, comprising girls and boys from over 60 countries, the school delivers an IB continuum of education (PYP, MYP, DP, CP) from Nursery to Grade 12 (2-18 years). Blending a caring, child-focused environment, cutting-edge facilities, low student-teacher ratio and globally experienced and passionate teaching faculty, GEMS provides diverse extracurricular activities and outstanding learning opportunities for the international student community in Singapore.
Guided by global Education Leaders as part of the GEMS Education group of schools, world leaders in K-12 education for over 60 years, GEMS (Singapore) offers an environment where creative, entrepreneurial and innovation skills are at the foundation of the taught curriculum. Their teachers nurture core human values and build real-life skills to enhance students' academic achievements. Highly competitive exam results are only one indicator of the success of their students and faculty. GEMS education puts students at the heart of creative discovery. They explore, make mistakes, have fun, and learn to be truly creative. Sport is a key element of its balanced educational approach.
Age group: 2 – 18;
Number of students: 975;
Annual fees: up to $40,640;
Head of School: Richard Henry;
Contact details: +65 6808 7321 / +65 6808 7393, info@gwa.edu.sg;
Location: 2 Yishun Street 42, Singapore 768039.
By Anna Khan
Subscribe to weekly newsletter from "Tickikids"