The Best Music Classes for Kids in Singapore
---
Published 04 July 2022 at 10:00
Tickikids Blog Singapore > Digest > The Best Music Classes for Kids in Singapore
---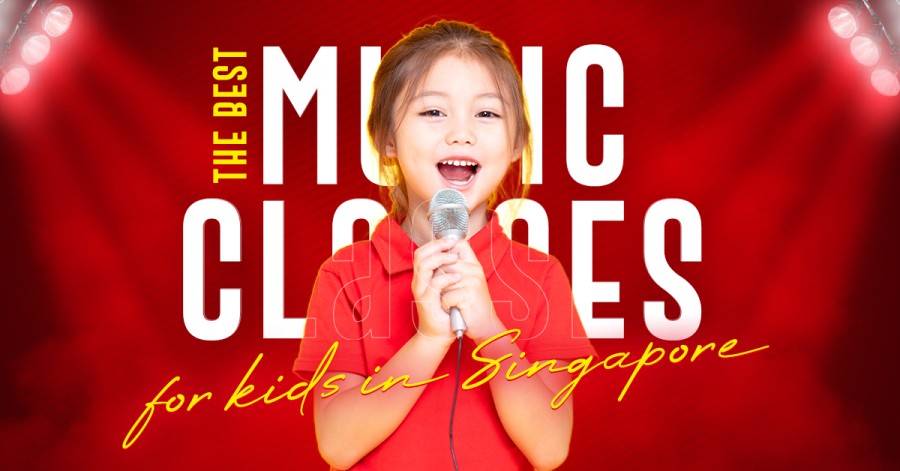 ---
Whether you are looking for lessons designed for babies to teach them music appreciation or you have a little baby rock star at home, or you simply want to expose your child to the joy of music, then your search ends here.
At TickiKids, we have rounded-up the most highly respected music schools and music classes in Singapore. Here's a look at the best music classes near you!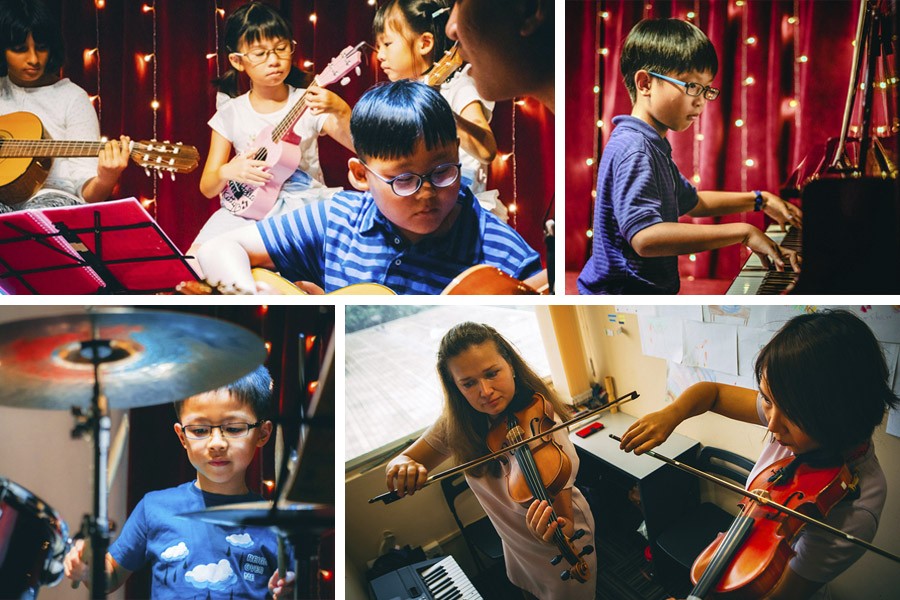 Image Credit: Juzmusic Academy


Since 2006, Juzmusic Academy has offered both Instrumental lessons and the Early Childhood programme (from birth to 6 years old). Instrumental lessons for all ages are offered for piano, violin, cello, voice, guitar, drums, flute, clarinet, ukulele etc. They also offer Suzuki classes in piano and violin. A free trial class is available for new students.
Early Childhood program progression levels
Junior Discovery (Birth - 2.5 years old)
Junior Playtime (2.5 - 4 years old)
Junior Musician (4 - 6 years old) - Students will learn both the piano and violin in the class
Juzmusic Academy continues to be guided by the vision that music can and must be made exciting, enriching and enjoyable.
Age:  from birth to all ages.
Contact Details: +65 63444420, nfo@juzmusic.com.
Social Media: Facebook, Instagram.
Location: 1 Marine Parade Central, #09-04, Parkway Centre, S 449408.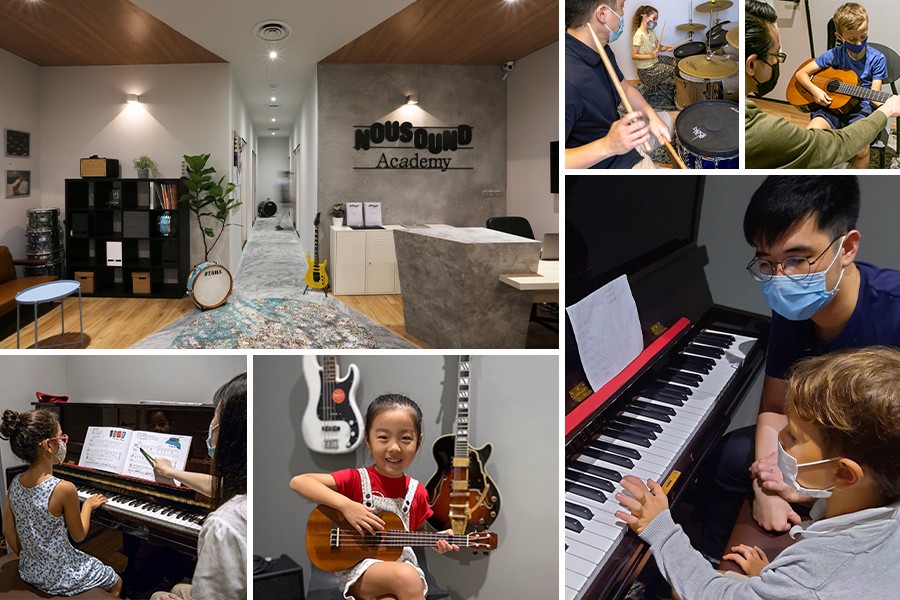 Image Credit: Nousound Academy
Located in the town of Singapore at River Valley, Nousound Academy is just a few stops away from Orchard Road. The modern and comfortable premise has a waiting area and professional instruments, providing the best instruments and learning experience.
Nousound has a tagline - Community of Sound, where they aim to promote synergies between all our musicians at the Academy. They have a special class - Ensemble Class where selected students are formed into a band and learn the dynamics and roles of playing in a band! 
With a student-led approach, classes are conducted in a fun and open environment. Students as young as 3+ years old all the way to adults are welcomed.
They provide 1-to-1 music classes, with 6 specializations:
Piano 
Drums
Ukulele
Guitar
Bass
Vocals 
Nousound Academy provides preparation for exams such as Trinity, ABRSM, and Rock school as well. 
Book your FREE trial via the website now!
Age: 3+ years old to adults.
Contacts: +65 9863 9953 (Whats'App) , hello@nousound.com.
Socials: Instagram | Facebook.
Website: www.nousound.com
Location: 81 Clemenceau Avenue, UE Square, #03-12.
Find Out More


Image Credit: Seimpi MIM


Music training enhances brain function. Studies have shown that early experiences of childhood determine how well brain cells (neurons) will connect with other brain cells. If stimulated correctly during early childhood, these neuron connectors develop rapidly, and at Seimpi they are thus looking at ways to develop the whole brain.
Music for the Intelligent Mind (MIM®) programs aims to do just that. With the proprietary and carefully planned syllabus, at SEIMPI MIM they gradually guide students from a tender age of 12 mths to the age of 7 to explore the richness and excitement of music through interesting play, activities and musical games. Unlike other early childhood music courses that only emphasize listening and music movement, at Seimpi they also incorporate eye and ear training, speed reading, pitch training, memorizing techniques, concentration training, proper playing techniques, music theory. All activities at Seimpi MIM involve stimulating the inter-connectivity between the two hemispheres of the brain by engaging in holistic and all-rounded music training. MIM ® provides a seamless transition into music graded studies.
MIM ® progression levels:
MIM ® Jumpstart (12 to 23 mths)
MIM ® Playtime (2 years old)
MIM ® In Me (3 years old)
MIM ® Encore (4-7 years old) (pre-Grade 1 level)
In Seimpi, they also conduct individual lessons (for all ages) in piano (classical/pop/jazz), violin, guitar, ukulele, vocal, musical theatre, performance diplomas. In addition, Seimpi also conducts an accelerated music program SMART & Teaching Diplomas (including Early Childhood Music) under Seimpi Academy.
Age Group (for MIM classes):  from 12 mths to 7 years old.
When: classes on weekdays and weekends in 4 centres.
Email: info@seimpi.edu.sg.
Social Media: Facebook, Instagram.
Locations: #03-26 The Centrepoint, #05-04/05 Hougang Mall, #04-13/14 JCube, #05-02 Loyang Point.
Image Credit: Berakah Music Drum School
The Central Business District is literally blessed to have Berakah Music Drum School as the very name of the School means 'Blessing' in Hebrew. Here, everything strives for perfection. The studio is professionally equipped, acoustically treated, and is conducted within a luxuriously furnished place. All Drum Teachers here have at least 10 years of teaching experience be it conducting private lessons or previously teaching at other reputable schools such as Yamaha, Cristofori, and School of Music Clef (Suntec City). 
For Berakah Music Drum School quality is better than quantity. So, instead of stuffing in many drum sets in the shoebox-sized rooms, they have only one studio (250 sqft) with 2 acoustic drum sets. The room is acoustically treated in order to create a sonically comfortable environment to learn the Drums. 
A well-rounded Drum Lesson syllabus that covers the basic techniques and the ways of applying these techniques to music. And, what is more important, students learn to play drums by playing along to their favorite songs, so the learning sessions are always exciting and enriching! At the same time, this innovative approach helps students to pass graded examinations by Rockschool Singapore as Berakah Music Drum School partners with them.
The age groups of students vary from 7 to 70 years of age. However, it is possible to enroll a younger student on a case-by-case basis if a student is really interested in Drums.
Age: 7-70.
When: check the booking options on the website. 
Fees: starting from $60 for weekdays and $65 for weekends.
Contacts: Whatsapp +65 9380 3135, admin@berakahgroup.com.
Location: 531 Upper Cross Street #02-46 Singapore 050531.
Image Credit: Groove Music School
Groove Music School is an expert when it comes to teaching music lessons. Here, every lesson is not just a possibility to polish skills, it is a memorable experience. The music lessons are conducted in a thoughtfully designed and creative environment that helps students give full swing to self-expression, creativity, and passion for music. 
Dedicated and experienced teachers plant love for learning various musical instruments: Drums/percussions, Piano/Keyboard, Bass, Electric, Acoustic Guitar, Ukulele, Vocal, and songwriting. Classes are mostly 1-on-1 however, they cater to classes for 2 pax and above upon request.
Individual approach to the students ensures that they can achieve their goal in learning, be it a preparation for graded examinations, personal growth, unique experience, leisure, or to improve musical skills. Mastering the techniques is not the only purpose of the lessons - here you will have fun, learn in a relaxed manner and derive enjoyment from every moment in the class! 
And, Groove Music School proves that it is never too late to learn as their students' age range is from 5 to 70 years! 
For those who want to spend some quality time with friends, colleagues, or family, Groove Music School plans seasonal workshops for all ages so you can get an educational experience in just a short time. Call or Email to enquire about private workshops or customized corporate events.
Age: 4.5yo to Adults.
When: 12pm to 9pm (Tues to Fri), 10am to 9pm (Sat & Sun), Monday - Closed.
Fees: Starting from $210/month per 4 lessons
Contacts: +65 88744079, info@groovemusic.com.sg.
Location: 177B Thomson Road. Goldhill Shopping Centre, Level 3, Singapore 307625
Image Credit: Our Music Studio
Did you know that many geniuses such as Mozart and Alexander Graham Bell have music backgrounds?
As Albert Einstein puts it,
 "If I were not a physicist, I would probably be a musician. I often think in music. I live my daydreams in music. I see my life in terms of music."
Benefits of Music & Movement
Through music and movement, young children are able to develop coordination and social skills, learn to express themselves. Music stimulates the part of the brain that learns; develops and promotes creative thinking; provides opportunities for problem-solving and decision-making. It is a means of communication, expression and helps to develop motor skills.
Hence, children are encouraged to attend classes regularly instead of hopping from one enrichment to the other. Routines are important to children especially in their early years as they need to be secure in their environment. Once they are familiar, children will be more positive to the learning process.
Enrichment hopping will not allow children to grasp routines and reap benefits of the respective enrichment programmes that they are in. Children may lose their interest in the programme. They too will be unable to bond with their friends and teacher of the programme.
Music teaches discipline which may translate to a positive habit into adulthood. In piano lessons, a child learns to set aside a specific time each day to practice usually for a minimum of 30 minutes, and to follow instructions. They learn to use their time responsibly and take care of their instrument. The downside of not being disciplined in the long run is that one loses focus. As a result, things are done slower and not on time.
Music teaches children delayed gratification, even at an early age. As a child, in class, they get to learn about turn-taking. As they get older, they will need to practice on a piece of music before they are able to play it well. The rigour and discipline is definitely the process before the performance.
Through spontaneous play, children learn how to increase their imagination, self-regulate their emotions. This contributes to their cognitive development and helps them learn how to handle different situations with a variety of different people.
Parents are able to see their children grow and have fun. A happy child also results in happy parents.
Age: for newborns to 6 years old.
Contact Details:  +65 6467 1789,  +65 9824 0198, enquiry@ourmusicstudio.com.sg.
Social Media: Facebook, Instagram.
Location: 163 Tanglin Road, #03-11B Tanglin Mall, Singapore 247933.

Image Credit: Little Stars Music School 
As a premier school for children as young as a newborn, Little Stars Music School offers an original and unique approach to music education. Given the diverse and multi-cultural society of Singapore; directors, specialists, and support staff of Little Stars Music School ensure that every child that comes through their doors experiences a fun, safe, respectful and child-oriented environment. 
From learning different genres of music to exciting musicals to awesome group piano classes and performances, Little Stars Music School has a lot of surprises at hand!
Drop-Off Class
Musical Theatre 1 (3- 4yr old)
Musical Theatre 2 (4 - 5 yrs old)
Musical Theatre 3 (5 - 6 yrs old)
Musical Theatre Tweenies (6 - 15 yrs old)
Adult Musical Theatre (15 yrs old and up)
Adult-Accompanied Class
Baby Music (6 - 12 mos)
Toddler Music (12 - 18mos)
Jr. Toddler Music (18 mos - 2 ½ yrs old )
Junior Music (2 ½ - 3 yrs old);
Group Piano (5yrs old and up)
Beginner
Intermediate
Advanced 
Fees:
$50.00 trial class;
$450.00/10 classes.
Contact Details: +65 8814 0323.
Email: info@littlestarsmusic.school. 
Social Media:
Facebook, Instagram.
Location: 428 River Valley Road #01-12 Loft @ Nathan Singapore 248327.


Image Credit: Mandeville Junior (Mandeville Conservatory)


For the young ones from newborns to children up to 6 years old, Mandeville Junior (MJr) curricula, including Baby Stars (Suzuki ECE certified), Baby Violin, Preschooler Music, and Keyboard Group, are specially designed to go beyond imparting musical knowledge. The programmes provide a fun and loving environment for learning, encourage parental involvement to foster stronger parent-child bonding, and coach a child in life skills that would help him or her fully appreciate music and its beauty in connecting people.

Age Group: from newborns to children up to 6 years old.
Locations:
United Square 
Operating Hours: Mon – Fri: 9:00 AM – 9:00 PM; Sat: 8:30 AM – 9:00 PM; Sun: 9:00 AM – 8:00 PM (closed on public holidays)
Contact Details: +65 6250 1911
Email: mandeville@mandevilleconservatory.com
Address: 101 Thomson Road #03-21 United Square Singapore 307591
Parkway Parade 
Operating Hours: Mon – Fri: 10:00 AM – 8:00 PM, Sat & Sun: 9:00 AM – 6:00 PM (closed on public holidays)
Contact Details: +65 6440 3383
Email: info@mandeville-east.com
Address: 80 Marine Parade Road #11-05 Parkway Parade Singapore 449269
Social Media: Facebook, Instagram.
Find Out More


 Image Credit: Rave Harps Academy
Everyone can play the harp, children, adults, and even seniors! Everyone is welcome to learn how to play the harp at Rave Harps Academy. The staff and faculty are eager to help you embark on your very own unique musical journey.
Bébé Harp Programme
Ever wanted your child to learn a musical instrument? 

Why not start them off at a young age, playing the harp! At Rave Harps Academy they start teaching children at early ages, groom them into young musicians, performers and teach them how to have fun with music! 
Age: 3 - 5 years old.
Contact Details: +65 6702213, info@raveharps.com.
Location: 73 Ubi Road 1 (Oxley Bizhub), #10-63 Singapore 408733. 
Subscribe to weekly newsletter from "Tickikids"