The TickiKids' Guide to 2020's Best March School Holiday Camps
---
Published 25 February 2020 at 07:37
Tickikids Blog Singapore > Digest > The TickiKids' Guide to 2020's Best March School Holiday Camps
---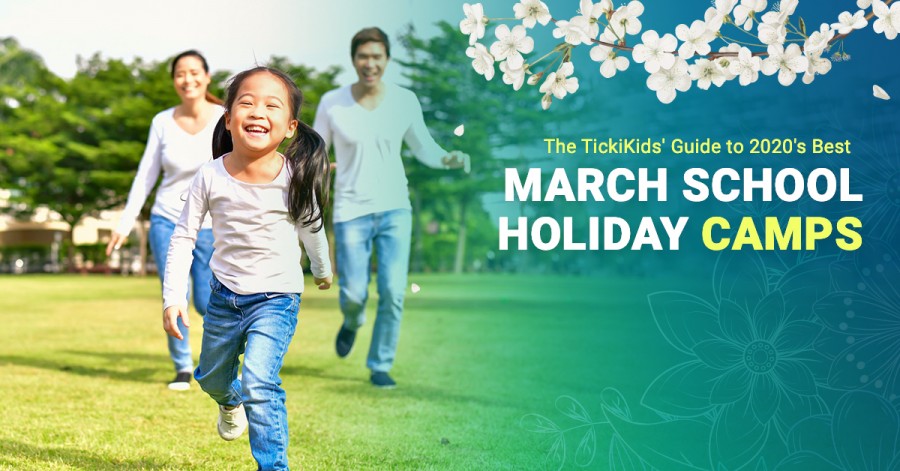 ---
As we come out of the dog days of winter, what better way to herald spring than searching for the ultimate children's camp to fully immerse your little one in a particular activity during the upcoming holidays. Our annual guide, which reveals this year's best March holiday programmes in Singapore is out today.


Photo Credit: ISS International School


Named as the best international school in Singapore for its extensive experience in providing education for bilingual learners from over 50 countries, ISS is pretty much leading the way. Its truly global reputation is being stepped up to a significant degree through a wide range of school holiday programmes. The solutions to pressing environmental challenges or the art of drama? Maybe fine arts or dancing? With a mission to improve your children's English skills by applying creative techniques to grammar practice, ISS Spring School 2020 is hailed as the perfect spot to make a typical language-learning into something novel and exciting during this school break. With a creative approach to language teaching in mind, ISS has developed countless activities, tools and games for the upcoming spring holidays that certainly have potential to enhance language learning.
The Kindergarten 1 and 2 children will be engaged in creative situations through the art of drama, developing simple English language patterns and speaking skills. But the real joy of doing the drama course comes from performing their play in front of an audience made up of their teachers, parents and relatives at the end of the week. Taking inspiration from visual arts, the Grade 1 and 2 students will be immersed in a 5-day English language programme that combines the language development and hands-on creative fun. There is also an unbelievable two-week intensive course for Grade 6-10 students of all levels who would like to improve their English and want extra speaking and listening practice in a friendly environment.
Dates: 23 March – 03 April 2020;
Timing: 09:00-12:00 or 09:00-16:00 (intensive course);
Ages: 4 and 16;
Fees: Week 1 (23 March – 27 March) - $451, Week 2 (30 March – 3 April) - $451, Week 1 & 2 (intensive course 23 March – 3 April) - $1804. Lunch for the full-day campers for 2 weeks – $100.
Contact details: +65 6939 6120, springschool@iss.edu.sg;
Location: 25 Paterson Rd, Singapore 238510.




Photo Credit: Our Music Studio


Which childhood memory captures your heart? The events we remember from the first years of our lives are often our most treasured. To go on safari is to take part in one of life's greatest adventures, especially when paired with new friends.
When Our Music Studio – the children's studio known for its music-and-movement programmes based on the Orff Schulwerk, Emile Jacques Dalcroze & Kodaly developmental approach – launches a new holiday programme for young children under 5, parents are tempted.
Safari is the theme of this spring's 3-day holiday camp. Here, the Animal Safari camp with songs, expressive movements, creative drama, interesting crafts and ensemble play alongside dense jungles and tropical forests – together they offer an unbeatable feast of big-play participation and sensational musical experience that will leave your kids longing to return. Led by friendly educators with impeccable training credentials and teaching experience, this brand-new holiday camp takes the joys of learning music to another level. Interacting with friendly elephants and playful monkeys in the midst of lush jungles, the little campers will be introduced to important rudiments of music, such as musical notation, pitch, melodic and rhythmic patterns, steady beat and more.
Dates: Wednesday 18th March to Friday 20th March 2020;
Timing: 9.30am – 10.15am;
Ages: 2 – 5;
Fees: $19.90 per day, $39.80 for 2 days and $59.70 for 3 days;
Contact details: +65 6467 1789, enquiry@ourmusicstudio.com.sg;
Location: 163 Tanglin Road #03 - 11B Tanglin Mall S247933.




Photo Credit: Chantilly Culinary Studio 


A new foodie experience is coming to Singapore over the March school holidays, as a celebrity chef Cecilia Hough from Chantilly Culinary Studio will host a number of her signature interactive classes for parents with their budding chefs aged 4 and above.
Chantilly Culinary Studio is a vibrant, Halal-friendly and neat cookery school on a mission to equip participants with basic skills and knowledge to turn a recipe into incomparably gorgeous, delicious and full of flavours food. With the key tagline of "bake better, cook better, eat better" in mind, Cecilia Hough has developed and carefully planned a slew of hands-on cooking and baking classes to pique your child's culinary interest. From chicken pot pies and Oreo cheesecake, Hokkaido cupcakes and chicken veg yakitori, baked rice and whoopie pies, handmade pasta and chocolate chip cookies to pizza and Unicorn cupcakes – everything the gourmet heart desires! Covering a wide range of cooking techniques and recipes free from artificial additives and packed with fresh ingredients, you will complete the day class with bags of confidence in the kitchen and move your cooking to the next level. And, as the classes are run by Chantilly Culinary Studio, you'll be cooking with their fresh ingredients. The best bit? Sure to wow and amaze, afterwards you'll be able to take your new culinary creations home as a perfect one-of-a-kind treat for family and friends.
Dates: 14, 17, 19, 20, 21 March 2020;
Timing: 10am - 1.30pm;
Ages: 4+;
Fees: $80 per a parent & child pair. $15 per an additional child, $20 per an additional parent. There is an option for two children to work as a pair, instead of with a parent. Children aged 10 years and up can participate without parents.
Contact details: +65 9679 6607, cecilia@chantilly.com.sg;
Location: 21 Simon Road, Singapore, 545907 (5 minutes walk from Kovan MTR station).




Photo Credit: Artistic Expressions


The success of Artistic Expressions school in offering a tempting selection of creative workshops across different genres of performing arts for both young children and teenagers is built on Ms Keat Yeng and her team's vision of creating unique programmes tailored to their specific needs. Only the most effective methods are selected to help youngsters develop character, improvise, act and sing. And success is not long in coming. Unpicking children's motivation for coming to the drama school, they show students what it takes to become a musical theatre star! The Artistic Expressions' positive can-do approach enables each and every child to pursue their individual talents. Everyone gets a chance at this vibrant "Star Factory".
At Mini Pop Stars! children aged 4 to 6 will discover all the moves that make a pop star: from creating a character, learning a dance routine to participating in games and exercises, and inventing their own lyrics to a funky tune.
At Smells Like Tween Spirit workshop children aged 7 to 12 will unleash their inner rockstar and guitar-hero, study selected scenes and songs from School of Rock and bring them to life in a rock-sensation like no other. All this is complemented by learning musical performance stagecraft and staging techniques, acting, singing and movement practice to a short scripted musical presentation.
At Musical Theatre Boot Camp teens aged 13 to 16 will create a short song and story presentation for stage! With the emphasis on improvisation and performance craft, the youngsters will experiment with fundamental acting, participate in improvised scene work and singing exercises to develop improvisation technique.
Dates:
Mini Pop Stars! and Smells Like Tween Spirit: 16 – 18 March 2020, Monday to Wednesday;
Musical Theatre Boot Camp: 19 – 22 March 2020, Thursday to Saturday;
Timing: 9am – 11am (Mini Pop Stars!), 1pm – 4pm (Smells Like Tween Spirit), 9am – 12pm (Musical Theatre Boot Camp)
Ages: 4 – 6, 7 – 12, 13 – 16;
Fees: $170, $250, $330 subject to a camp;
Location: 77 East Coast Road, #02-01, Singapore 428783.




Photo Credit: Sports Camps Singapore


Encompassing eight sports from rugby, soccer, cricket, netball, tennis and squash, Sports Camps Singapore has something for everyone. They take place at the iconic Singapore Cricket Club (SCC) Padang field in the centre of the city throughout the school holidays. Their objective is clear – to promote all sports and give children exposure to learn and experience more sports than usual. The highly experienced and qualified coaches provide a structured and fun programme that focuses on skill development and game understanding for 8 different sports as well making sure the kids have heaps of fun!
"Great opportunities for kids to experience different sports at a top class facility with professional coaches," says one parent.
Each child who attends a full week of the camp will receive a certificate of achievement.
Dates: 16 – 20 March, 23 – 27 March, 30 March – 3 April 2020;
Timing: 9am – 3pm;
Ages: 6 – 12;
Fees: $550 including lunch, branded t-short and certificate;
Location: SCC PADANG, Connaught Dr, Singapore.


Photo Credit: Forest School


At its best, recreational and educational camps by Forest School have a great power that enriches children's lives. Going on an overnight adventure, taking a long journey from dusk to dawn with a varied terrain involving long distances; connecting with nature to get up-close to incredible views; exploring your inner emotion over one-day or three-day camps in the forest – there are moments that shape our kids and test every ounce of them both physically and mentally whilst engaging in a genuine team work. Helping children to fully connect with nature and feel a sense of freedom and responsibility is the guiding principle of Forest School Holiday Camps.
Dates and timings:
29 February 2020 – One-Day Camp, 9am – 12pm;
13 – 14 March 2020 – Overnight Adventure HikeCamp, 20pm – 8am;
16 – 18 March 2020 – Forest School Holiday Camp: March Mania 2020, 9am –12pm;
Ages: 5 – 12; 6 – 12, 7-14;
Fees: Special: One-Day Camp – $58, Overnight Adventure HikeCamp – $ 208, Forest School Holiday Camp: March Mania 2020 – $185 for 3 days;
Location:
Marang Trail Entrance @Marang Road;
Mayfair Park, 30 Jalan Gaharu Singapore 588856;
Dairy Farm Nature Park - 2 Dairy Farm Rd, Singapore 679034.
By Anna Khan
Subscribe to weekly newsletter from "Tickikids"