Children's Learning: Top Online Programmes in Singapore
---
Published 03 April 2020 at 03:54
Tickikids Blog Singapore > Digest > Children's Learning: Top Online Programmes in Singapore
---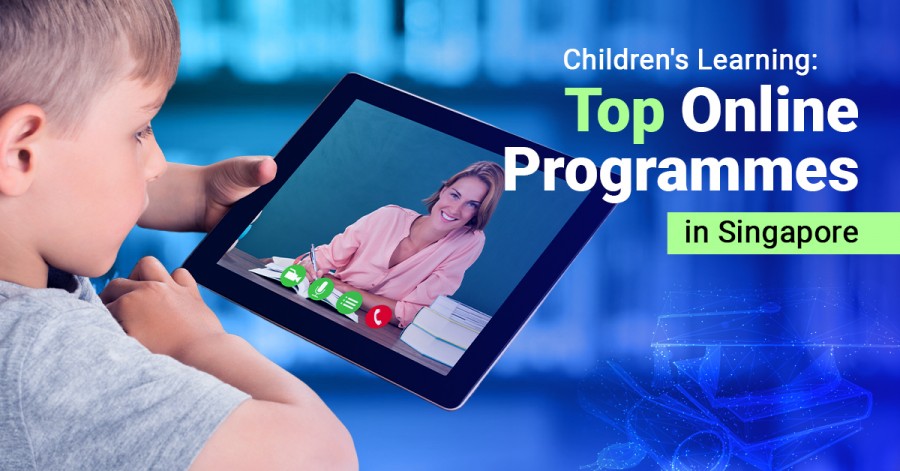 ---
In Singapore, the lockdown has certainly changed our lives. In these unsettling times, it would be all too easy to succumb to the temptation to reduce time for learning and give yourself over to housebound lethargy. For our children at different stages of lockdown, now it's more important than ever to stay occupied and active at home. If your kids are starting to go a little stir crazy, these online educational programmes are the perfect antidote. Equally engaging and fun, your little ones' minds will be in a better place in no time.


Playing the ukulele is still big news, but this year you don't even need to leave your house to get lessons with professional music tutors. Chord Hero knows that life doesn't begin and end in school and offers a plethora of opportunities for learning music remotely. It combines all the fun of virtual reality pairing with real offline coursework allowing your child to assemble and then actually play their very own ukulele. The offline coursework will keep your kids busy through the mobile app Monster Chords, a fun game that helps kids learn and practise playing the ukulele. Partnering with professional STEAM tutors, they demonstrate an inclusive assistance to all members of the group. We are particularly taken with an opportunity for fun, friendship and a strong sense of community, where everyone can interact and share ideas with other kids.
Just imagine the possibilities! Once your child completes the course, they'll have assembled their own ukulele since the first lesson with the workshop instructor, have a fundamental knowledge to begin playing the ukulele and an introductory understanding of the fretboard. This paves the way for a greater understanding of playing the ukulele and the guitar. The children throughout the course have an exceptionally good comprehension of tablature and standard notations, distinguish between different types of rhythm patterns. With all the essential knowledge, they will be able to play all major and minor chords and transitions, will be equipped with plucking techniques, play over 5 famous classics for beginners and practise chords by playing a fun video game. Follow @chordhero on FB, Insta, Twitter or Tiktok.
Ages: 9+
One-Time Fee: $100 USD. The package includes one Maker Ukulele Set (valued at $45 USD), 11 one-hour live online classes in a group of maximum 20;


Since its inception over 20 year ago, iD Tech has swiftly become a renowned Silicon Valley-based in-person and online educational company that's a cut above the rest. The students can't fail to be affected by the finest all-adult educators retained from the company's worldwide programmes to teach online. Stanford, Caltech, NYU: their 1,500 tech instructors come from the top universities and sought by companies like Google, EA, Tesla, and Disney. By combining the innovative teaching methods, superb online programmes, the highest quality remote instructions and a flexible structured schedule, each child is encouraged to achieve their full potential and sharpen tech skills from the comfort of home.
This year, iD Tech welcomes Virtual Tech Camps and Online Private Lessons for all skill levels adored by youngsters far and wide. Every day, more than 50,000 children aged 7 to 19 join Online iD Tech programmes to build in-demand skills, collaborate with friends online, and gain confidence.
Virtual Tech Camps offer structured, weeklong sessions available now in multiple time zones (5 consecutive days, Monday-Friday), a balanced schedule including 2 hours of live instruction + 2 hours of self-paced project development per day. At the heart of Virtual Tech Camps is a broad and exciting curriculum in Python, Java, Minecraft, Roblox, AI, Unreal Engine, Adobe, 3D modelling, and more. The instructors are also committed in blending personalised learning and time to socialise, so the campers benefit from the 5-to-1 student-teacher ratio. Personalised instructor feedback is delivered via email so you can track your child's success.
If you fancy Online Private Lessons, opt for single lessons, 5-packs, or 12-packs which consist of 60-minute sessions with ultimate scheduling flexibility. Your child can choose one of the themes on offer or customise their own, and learn to code, discover AI Mod Minecraft, create with Roblox or develop a video game with Unreal. There's also the rare opportunity to bring a sibling (or friend) to their sessions for free.
Ages: 7 – 19;
Fees: Use code TOGETHER for $100 off your Virtual Tech Camp and enjoy it for $399. Online Private Lessons: $245 for 5 one-hour lessons, $560 for 12 one-hour lessons.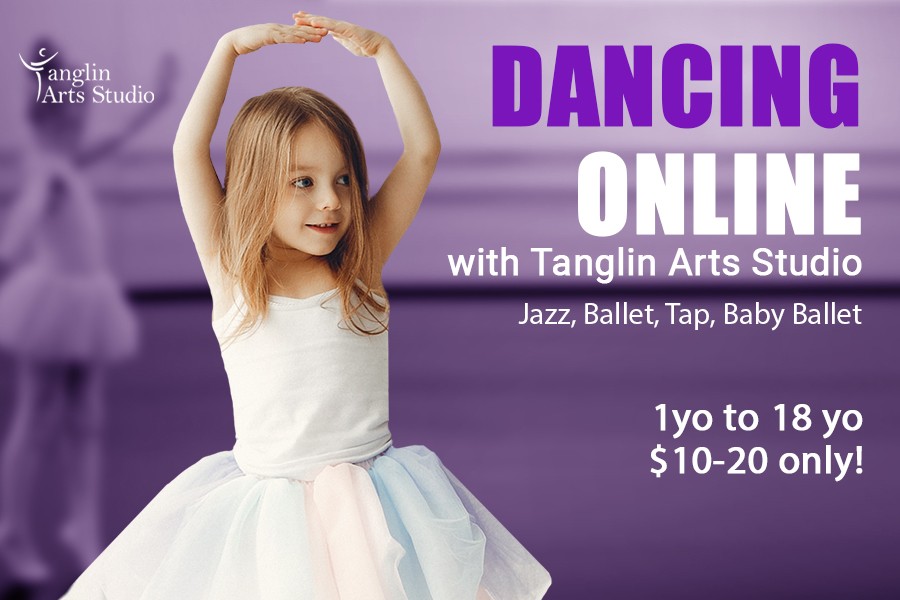 Online dance classes are booming at the legendary children's dance school Tanglin Arts Studio which is moving its lessons online due to the social isolation rules. With a plethora of live class options ranging from Ballet, Pointe, Contemporary, Jazz, Tap to musical theatre your tiny ballerinas can practise their steps in the comfort of your home and try something new. Each week, their dream team of highly qualified dance teachers will be delivering an exciting and enjoyable series of online dance classes for kids with as much passion and energy as ever. As they commission different guest teachers, Tanglin Arts Studio also has plans to create more online content, a new timetable, pre-record masterclasses and release them throughout each week.
Ages: 1 – 18;
Fees: 10 SGD per class (for all babyballet classes); 20 SGD for all other classes;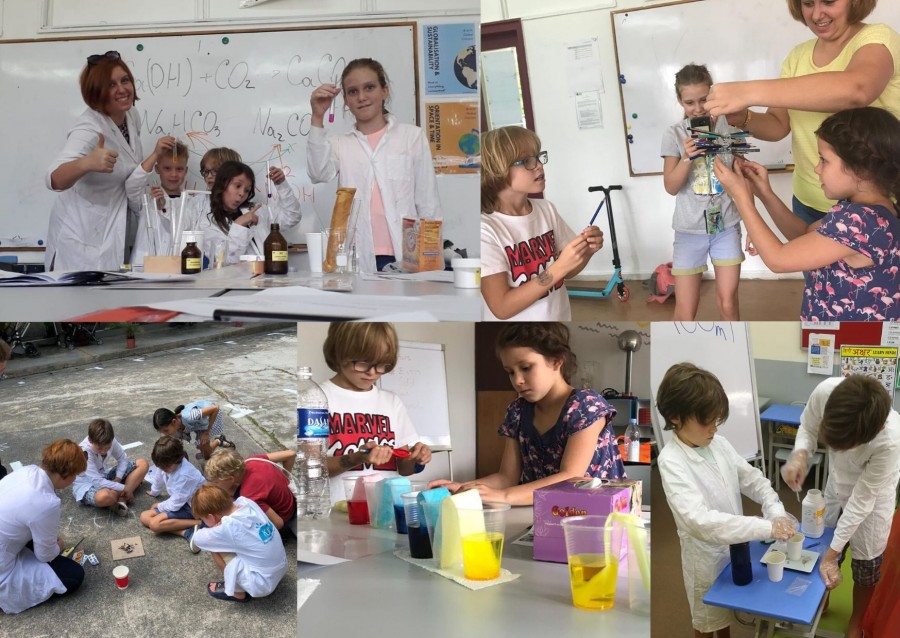 ONLINE CAMP KIT (Knowledge Intellect Talent) is a unique programme designed for the kids to interact with friends, learn new subjects and study Maths and Science from home. Their experienced teachers know how to communicate with kids even remotely. Face-to-face live stream learning with a teacher allows kids to ask questions, collaborate with kids, and build team-bonding skills. The Maths programme is developed for kids to improve their logical thinking and problem-solving. Science is the most exciting subject in the school programme. The Art and Creativity programme includes basic principles of the visual arts, methods of transmitting ideas, the use of various techniques and materials. Over the camp, the students will develop capability to initiate and express new ideas, confidence to try new things, experiment with the unknown, risk-taking, awareness of non-verbal communication.
The camp will immerse children in the world of nature and encourage their natural curiosity. Through hands-on science experiments, children will learn natural phenomena using all the five senses and fall in love with science. You can choose from 1:1 or group tuition options.
Dates: 1st – 30th April 2020;
Schedule: Monday - Friday 9:00 – 12:00 or 14:00 – 17:00;
Fees: 300 SGD per week or 80 SGD per day;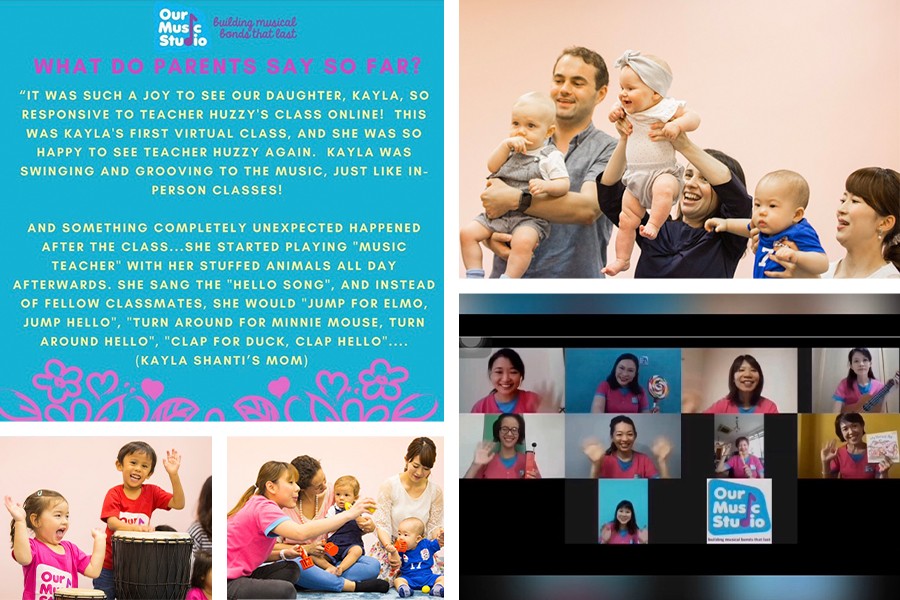 As the situation around Coronavirus continues to develop, Our Music Studio runs an array of Online Music & Movement classes with an unrivalled blend of enthusiasm and perception. The same content, same educators, same wonderful music making opportunities are just as good as usual, but in the warm and secure environment of your living room the child will learn with confidence, creativity and focus. Classes are available for babies, toddlers and prep school-aged children up to 7 years old.
Families can participate in music every day and use daily house items like home-made shakers, drums (containers or any recyclables, for example, empty ice-cream tubs/milk tins with wooden ladles as mallets) and a face towel or scarf. Simply download ZOOM from your App Store or Android Google Store. When you register and receive an invitation for Zoom Link from the staff of the Studio, click on that link and enjoy your ZOOM session. Register online and follow them on Facebook @OurMusicStudioSG.
Dates: 14th May 2020 - 31st May 2020;
Ages: 4 months – 7 y.o.;
Fees: Online Music & Movement Classes – SG$15.55 per 25-minute session; first trial – $5; an unlimited package – $48. Upon signing up for the package, trial fee will be offset. Only a payment of $43 for the 1st child or $23 per sibling will apply.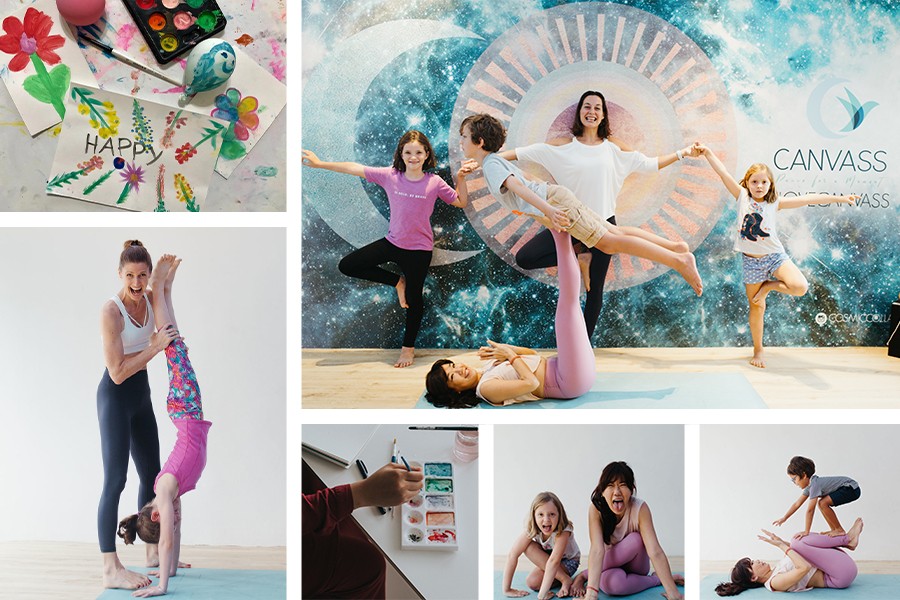 Canvass Mindfulness Training Centre has developed their unique, inclusive and empowering platform Enhanced Wellbeing Support for all ages which quickly amassed a dedicated following. Networking highly experienced and nurturing yoga teachers, artists, coaches and health care professionals, they virtually continue to sculpt and shape bodies, promote good health, creativity and well-being during the lockdown. And their online offering is true to form. The coaches will keep you motivated throughout, as they weekly create online materials that are customised to the needs of the community. Sign up to the online platform and enjoy endless art, story-telling and movement exercises over the Kids Yoga+Art lessons, master Art Techniques, explore doodling, painting and mark-making whilst learning patterns, textures and colours during the Therapeutic Art lessons. The hot-in-demand Family Bonding and Manage Family Stress Description sessions are a focused way to strengthen your family bonds through holistic activities and exercises, be it Yoga, Art, Meditation, Story-telling or Dancing together.
Ages: 4+
Fees:
Adults: drop-in – $15, monthly unlimited lessons (from the date of registration) – $96;
Kids: drop-in – $25, monthly unlimited lessons (from the date of registration) – $140.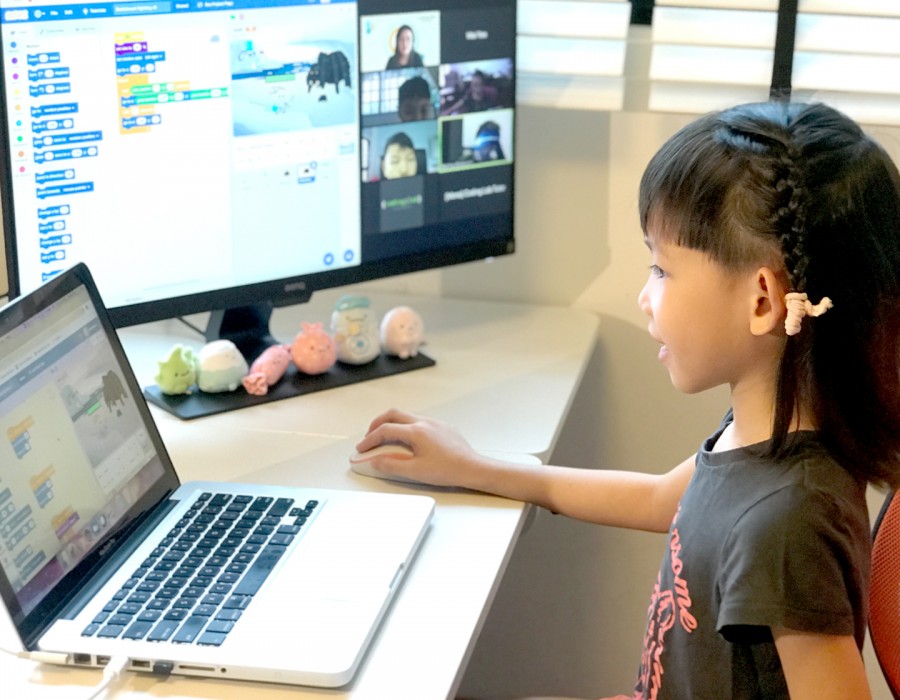 Coding Lab believes in lighting the way for children to bring their imaginations to life through coding. Whether this involves tinkering with programmes, coding games or making animations, learn from the school whose alumni include some of Singapore's top coders, for instance the Youngest Medallist at the National Olympiad of Informatics. The classes are guided by passionate tutors who have been handpicked and meticulously trained to impart the award-winning curriculum (2016-2019) via LIVE online classes since February. The sessions cover visual programming of simple games and animations for ages 7 to 9 to app design for ages 10 to 12, and the Mathematics-infused Python courses for the more advanced and older ones aged 10 to 12 and 13 to 18.
Their complimentary Online Concierge Service offers 30-minute consultations and regularly keeps an eye on students in classes, should any hiccups arise. Their LIVE online classes also harnesses the same technology and teaching strategies that clinched their Japan-Singapore team the Best Coding Award at the Microsoft Minecraft Cup competition – and your child gets to experience it from the comfort of home. Follow @CodingLabAsia on Instagram and FB.
Ages: 7 – 18.


Photo Credit: Romrodphoto


While your kids may not be able to attend these hotly-anticipated chess camps and training courses in person, Genius Assembly has gone online in light of the crisis, enabling chess playing children to check-mate from home. Genius Assembly has come up with an exciting new online interactive chess camp and regular weekly courses that offer the beginner and intermediate level students a chance to develop a new skill-set entirely. If your kids have always fancied themselves as a grandmaster but have never explored the structure and routine of chess, these virtual experiences from Genius Assembly could be just the opportunity they've been waiting for. Whatever your child's level of chess experience, the coaches will carefully structure activities to support their improvement. From basic check mates, check notations, double attacks, online puzzles to tactics like fork, pin, discovered check, batterie and skewer, there is plenty to get excited about. As a reputable educational centre, they are providing certificates for those who complete the whole course or camps.
"My daughter joined the chess holiday programme at Genius Assembly and she is very happy and keen to continue the weekly course. She has mastered game rules and enjoyed it very much. I will enrol her in the next course," says one enamoured parent Winnie Winston, which isn't hard to believe. Why not invest in a mental boost during this pandemic?
Dates: Holiday Camps: 11 – 15 May, 18 – 22 May 2020;
Timing: 9.30am – 11am or 2.30pm – 4pm;
Ages: 6 – 12;
Fees:
Online Chess Camp: S$ 139 for a 5-day camp from Monday to Friday;
Chess Course: S$ 119 for 4 sessions once a week (1.5-hour sessions).




When it comes to languages, plenty of schools are offering effective, on-screen solutions – but Hanziland has gone one step further. The array of online Chinese lessons for students of different ages means that those at home can turn their room into a veritable language learning centre, with complimentary access to the learning resources on Hanziland's FB page. Their Facebook is also bursting with fun weekly storytelling and craft sessions to spark joy whilst confined at home. The immersive programmes range from 25-minute Story & Art Mandarin lessons for children aged 3 to 4, Cool Panda Mandarin lessons for 4 to 6 year olds, to 45-minute lessons for ages 5 – 7 and 7 – 11 with a student–teacher ratio of 2:1. The Storybook Reading & Comprehension Chinese lessons and Conversational Mandarin sessions for these age groups enable students to develop speaking and listening elements each week. Meanwhile, for targeted support with exam preparation look no further than the 60-minute YCT/ HSK Preparation and Exam Boost programmes for ages 7-15. Sometimes there is a silver lining to staying at home. Stay tuned for more information on their virtual Chinese lessons following @HanzilandMandarin on FB.
Ages 3 – 15.
Fees: from $18 to $40. Book now to get 15% off the classes, expires 30th June 2020.




In a city where the level of expectation from English learning centres is sky-high, United Language Centre is creating a buzz. Thanks to ULC, there is now a unique operation in Singapore to ensure that you can find a perfect programme online for your children aged 5 to 11.
What makes ULC truly valuable to children and their parents is the centre's focus on language usage and application as well as on creative thinking. Small group sizes and exceptionally dedicated teachers mean that children are challenged, every child has enough speaking time whilst improving vocabulary and reading comprehension skills in a natural and fun way. English lessons are more than simply teaching English well, here teachers deliver a certain atmosphere and a variety of interesting topics, injecting energy and enthusiasm into the subject.
Ages: 5 – 11;
Fees: 12 lessons during 1 month (1 term) – $360, 24 lessons during 2 months (2 terms) – $660, 36 lessons during 3 months (3 terms) – $898.


By Anna Khan
Subscribe to weekly newsletter from "Tickikids"