Fun & Educational Kits for Kids
---
Published 05 June 2020 at 03:54
Tickikids Blog Singapore > Digest > Fun & Educational Kits for Kids
---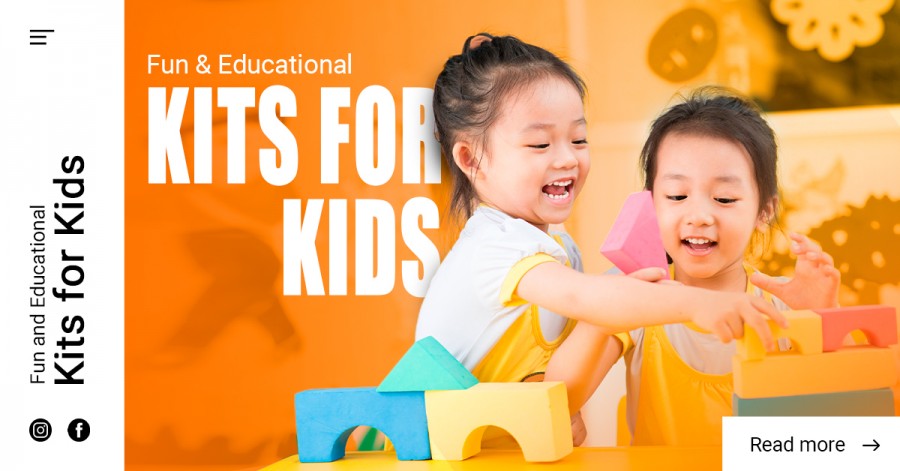 ---
If there is anything parents constantly need, it's a well-deserved minute to themselves. And there is no better idea than opting for a fun activity kit to get different components, colourful toys and a comprehensive guide all in one box. With a variety of options of craft and educational kits on the market, product reviews and customer ratings, we know how hard it can be to come up with ideas to entertain your child. We have tested plenty of kits and rounded up a thoughtfully curated selection of incredibly fun and captivating kits for kids. There is something for every tiny toddler, little kid or slightly older children, that are as playful as they are educational.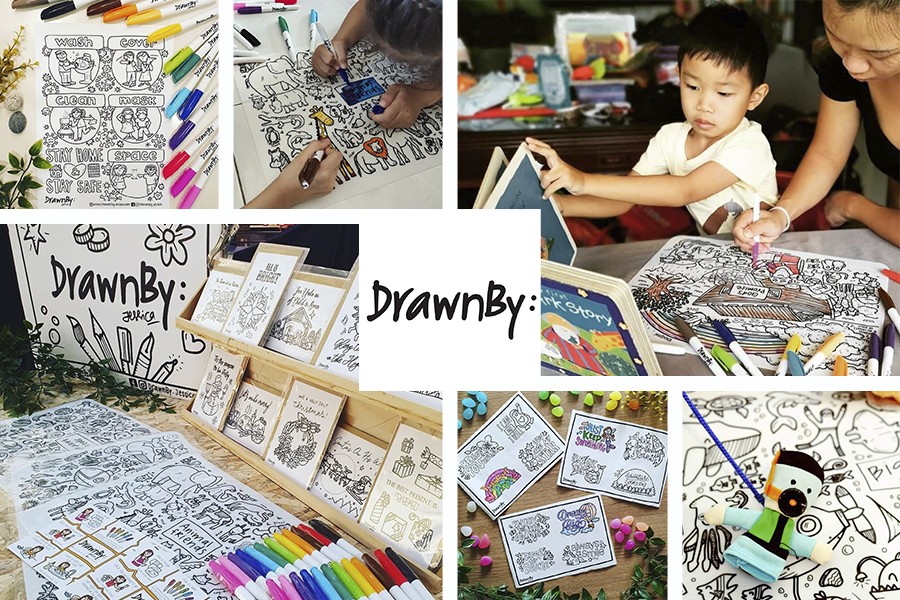 DrawnBy: gives you a creative take on children's traditional colouring sheets. Striving to make beloved colouring books reusable, child-safe and environmentally conscious for tomorrow's original thinkers, their pieces encompass timeless themes. From Animal Friends, Big Blue, Dino World, Fairy Garden, Space Adventures, Castles & Dragons to Counting 123 and Learning ABC, there is plenty to love about the range of silicone washable colouring & learning mats. Inspired by a wish to spark young imaginations and embrace their love of drawing, DrawnBy: growing collection of lovely mats are complimented by a wide choice of eye-popping colourful markers, colouring stickers and cards to entertain kids for hours on end. Simply wipe the mat clean and colour a new masterpiece again, trying different colour combinations and giving your character a totally different look. Not only are they good for play time, but they also provide a much-needed platform for little artists exploring the joy and beauty of the visual experience.
This incredible company also prides itself on being eco-friendly, as all the mats are ethically made from 100% food grade silicone, certified to international and EU standards.
Price: mats start from SG$ 17.9.


One of the pros of staying at home is completing your own Busy Box by The Party Elves delivered directly to your door. While we were wowed by this limited range of boxes, our testers particularly have been blown away by just how much value Busy Boxes provide. Covering the three to eight year age range, the collection features Enchanted Garden, Slime Time, Dino-Rawr, Wizard in Training and Eid Busy Boxes. Each Busy Box – containing instruction booklets, all the tools, templates and craft materials your little human needs to complete the masterpiece – is great for encouraging craft activity to keep your energetic little ones entertained for hours. Simply select your choice of craft activities: making enchanted wings and wands and building magical elfin doors for your garden; creating and styling three different slime types; creating exploding filibusters, magic mud and giant potion; creating three Eid themed crafts (painted Eid bauble, Eid coaster and paper bag mosques) or creating a frozen clay dinosaur fossil, fizzing dinosaur egg and dino track stamps to re-create historical life on Earth. What a fantastic range of learning activities for little busy hands!
Ages: 3 – 8;
Price: SG$ 25.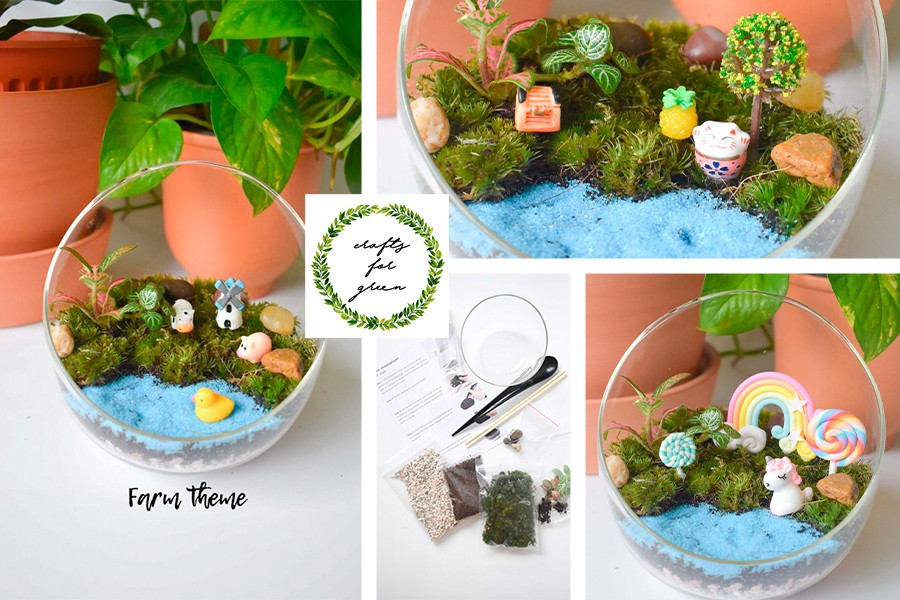 While playing with kids in the soil and growing some herbs in an elegant patio planter is all very well – or if you live in a flat and have no garden at all – why not dabble in the plethora of out-of-the-box, ultra stylish mini indoor gardens with DIY Open Mossarium Kits by Craftsforgreen. The ever-expanding range of themes – Couples – Elderly, Couples – Porcelain Rabbit, Rianbow, Farm, Fortune and Totor – it's a mighty original way to spruce up one's abode. The sets of 10 items are designed for green fingered children to dip them into a stunning and unique botanical living art. Each DIY kit contains a wide selection of materials that help your little ones build their own mini garden: an open top glass container, 2 stalks of fittonia / fern / pilea / bubble plant, cushion moss, tiny and large pebbles, potting soil, 50ml watering spray, figurines of your selected theme and blue sand, a plastic spoon, detailed instruction and plant care guide. It's never been easier to excite your kids by the prospect of a new creative project. Brilliantly, they are so easy to make! Really – anyone can make them following the instructions.
Ages: 7+
Price: SG$40 inclusive of deliver or SG$35 exclusive of delivery.




Being holed up at home doesn't have to mean leaving kids without intellectual games and quests. Newton Show is dedicating itself to keeping families well entertained in these turbulent times. And with a new addition from Newton Show now offering free delivery across Singapore, their Quest in the Box set is a great boredom buster that's sure to liven up days at home. Combining a detective story with elements of immersion, a real-life quest and board game, Quest in the Box is a new genre in the world of intellectual games for families. "Professor Brain Mystery", "Harry Potter", "Walking with Dinosaurs" and "Sherlock Holmes", these four exciting themes will transport your child out of the boredom of staying at home. With a parcel featuring real documents, physical objects, clues, mathematical and logical tasks, science experiments and prizes in the end, the quest will immerse your little detectives in the story as they try to solve it. The result? Expect a minimum of two hours to yourself while the Quest in the Box works its magic.
Ages: 3+ and 8+
Price: SG$99.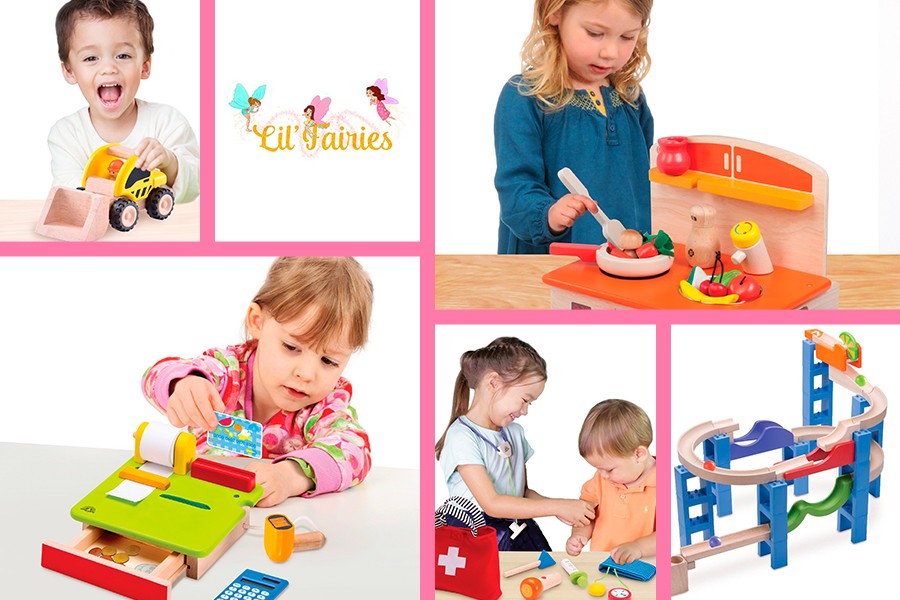 It should come as no surprise that a small Thailand-based company Wonderworld Toys twinned with local child-centred shop Lil Fairies might be proud of its collaboration, and rightly so. It would be hard to find more planet-friendly, sustainable and very reasonably priced wooden toys. Never compromising on quality, they're made in an environmentally friendly production process from 100% rubber wood (instead of beech or hardwood), vegetable dyes, non-toxic paints and formaldehyde-free glue, which make all the toys safe for children of all ages. What's more, Wonderworld has set up their own Tree Plus Programme and replanted two trees for every one tree that they harvest.
Their vibrant collection of well-made and built to last sets features kitchen, cooking, make-up and medical sets, walkers and pull-along toys, wooden vehicular toys, ball runs and building tracks. Our team was delighted to discover the Trix Track Playclass Set and The Upstairs Track from the Wonder Trix Track series. They come with an array of Trix Track pieces, a play board and exercise sheets all in a handy keep-safe container. Best of all, the tracks in this series are modular and can be combined with other sets. The pieces are interlocking which provides more stability and durability especially for little hands. Each set comes with a special feature that challenges the usual notions of gravity and form. Expect hours of fun and constructive play.
Ages: 1+
Price: from SG$ 16.


By Anna Khan
Subscribe to weekly newsletter from "Tickikids"