Fun & Educational Kits for Kids
---
Published 05 June 2020 at 03:54
Tickikids Blog Singapore > Digest > Fun & Educational Kits for Kids
---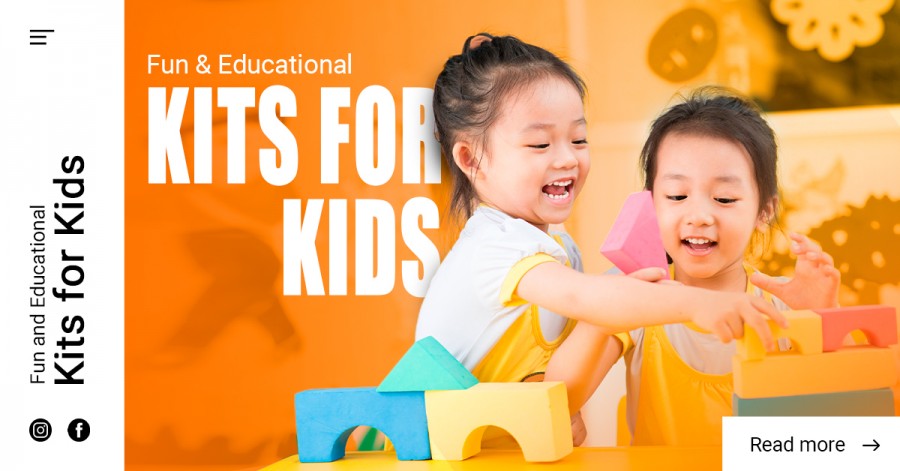 ---
If there is anything parents constantly need, it's a well-deserved minute to themselves. And there is no better idea than opting for a fun activity kit to get different components, colourful toys and a comprehensive guide all in one box. With a variety of options of craft and educational kits on the market, product reviews and customer ratings, we know how hard it can be to come up with ideas to entertain your child. We have tested plenty of kits and rounded up a thoughtfully curated selection of incredibly fun and captivating kits for kids. There is something for every tiny toddler, little kid or slightly older children, that are as playful as they are educational.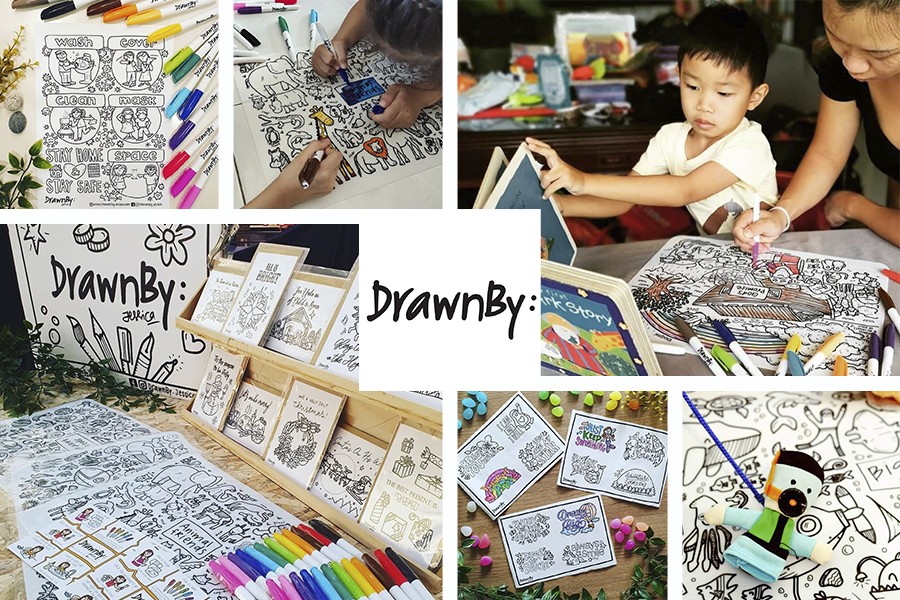 DrawnBy: gives you a creative take on children's traditional colouring sheets. Striving to make beloved colouring books reusable, child-safe and environmentally conscious for tomorrow's original thinkers, their pieces encompass timeless themes. From Animal Friends, Big Blue, Dino World, Fairy Garden, Space Adventures, Castles & Dragons to Counting 123 and Learning ABC, there is plenty to love about the range of silicone washable colouring & learning mats. Inspired by a wish to spark young imaginations and embrace their love of drawing, DrawnBy: growing collection of lovely mats are complimented by a wide choice of eye-popping colourful markers, colouring stickers and cards to entertain kids for hours on end. Simply wipe the mat clean and colour a new masterpiece again, trying different colour combinations and giving your character a totally different look. Not only are they good for play time, but they also provide a much-needed platform for little artists exploring the joy and beauty of the visual experience.
This incredible company also prides itself on being eco-friendly, as all the mats are ethically made from 100% food grade silicone, certified to international and EU standards.
Price: mats start from SG$ 17.9.


One of the pros of staying at home is completing your own Busy Box by The Party Elves delivered directly to your door. While we were wowed by this limited range of boxes, our testers particularly have been blown away by just how much value Busy Boxes provide. Covering the three to eight year age range, the collection features Enchanted Garden, Slime Time, Dino-Rawr, Wizard in Training, Lost in Space and Bountiful Busy Box. Each Busy Box – containing instruction booklets, all the tools, templates and craft materials your little human needs to complete the masterpiece – is great for encouraging craft activity to keep your energetic little ones entertained for hours. Simply select your choice of craft activities: making enchanted wings and wands and building magical elfin doors for your garden; creating and styling three different slime types; creating exploding filibusters, magic mud and giant potion; making exploding planets and rockets, creating pirate-themed crafts or creating a frozen clay dinosaur fossil, fizzing dinosaur egg and dino track stamps to re-create historical life on Earth. What a fantastic range of learning activities for little busy hands!
Enjoy a 6 box promo - get 6 boxes for $165.00 (RRP $180.00) including Free delivery. Use promo code 6boxfun.
Age: 3 – 8;

Price: SG$ 25.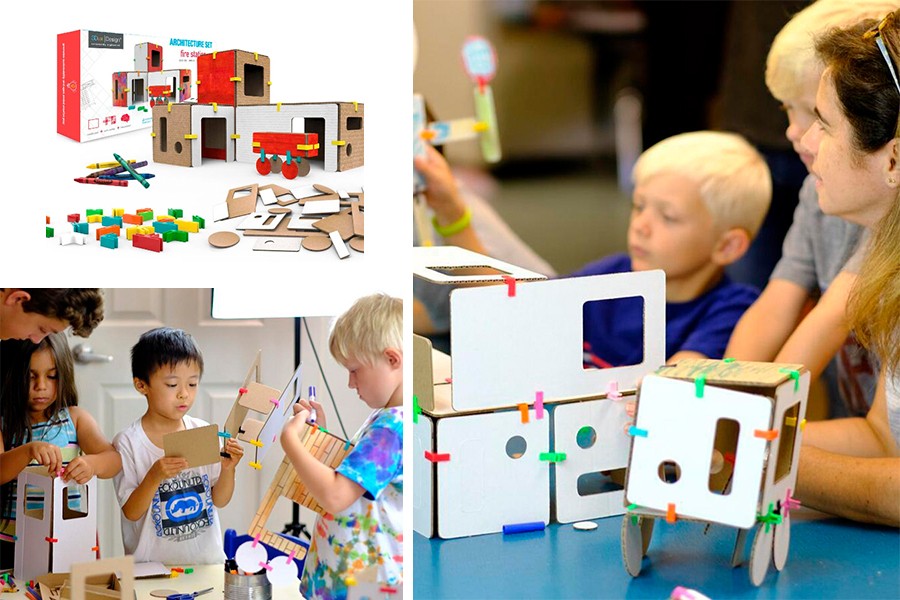 "Get kids thinking outside the box"
Imagine a situation when you order many toys and educational products but children prefer to play with the cardboard box those toys were delivered in. And they can play with it for hours! Sounds familiar, isn't it? The explanation is simple: according to the pediatrician, Dr. Marci Klein, 
"Most toys and building sets on the market limit young creative minds with pre-formed, rigidly designed and costly kits that have complex rules and single 'right' solution. Cardboard, on the other hand, is free, sustainable, and limitless in form, making it the perfect tool to expand the imagination and let creativity take over".
And that's why she developed the 3DuxDesign modeling system: the cardboard-based construction kits that give kids a possibility to boost imagination, creativity, and ability to design and build whatever they want. 
For example, the Fire Station set is provided with all necessary cardboard pieces, connectors and crayons to design, build and paint the offered design, yet, kids are free to reshape it or create something completely different out of these materials. 
Also, Stemie offers award-winning Classroom Kits that contain enough materials for the creative activities of 25 children! They are perfect for schools, after-school STEM/STEAM programs, inventor clubs, and more. 
Age: 5+
Price: starting from $38.50
Find Out More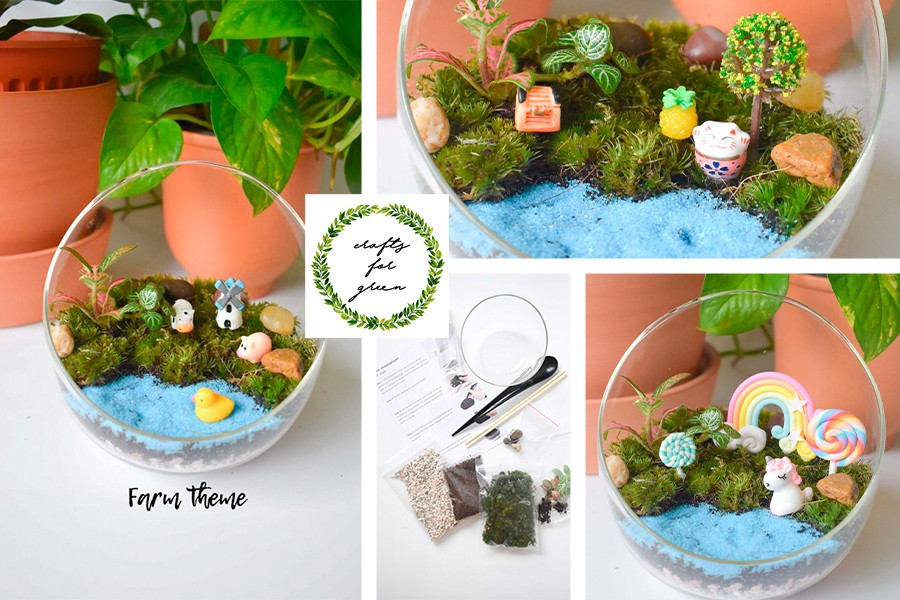 While playing with kids in the soil and growing some herbs in an elegant patio planter is all very well – or if you live in a flat and have no garden at all – why not dabble in the plethora of out-of-the-box, ultra stylish mini indoor gardens with DIY Open Mossarium Kits by Craftsforgreen. The ever-expanding range of themes – Couples – Elderly, Couples – Porcelain Rabbit, Rianbow, Farm, Fortune and Totor – it's a mighty original way to spruce up one's abode. The sets of 10 items are designed for green fingered children to dip them into a stunning and unique botanical living art. Each DIY kit contains a wide selection of materials that help your little ones build their own mini garden: an open top glass container, 2 stalks of fittonia / fern / pilea / bubble plant, cushion moss, tiny and large pebbles, potting soil, 50ml watering spray, figurines of your selected theme and blue sand, a plastic spoon, detailed instruction and plant care guide. It's never been easier to excite your kids by the prospect of a new creative project. Brilliantly, they are so easy to make! Really – anyone can make them following the instructions.
Age: 7+
Price: SG$40 inclusive of deliver or SG$35 exclusive of delivery.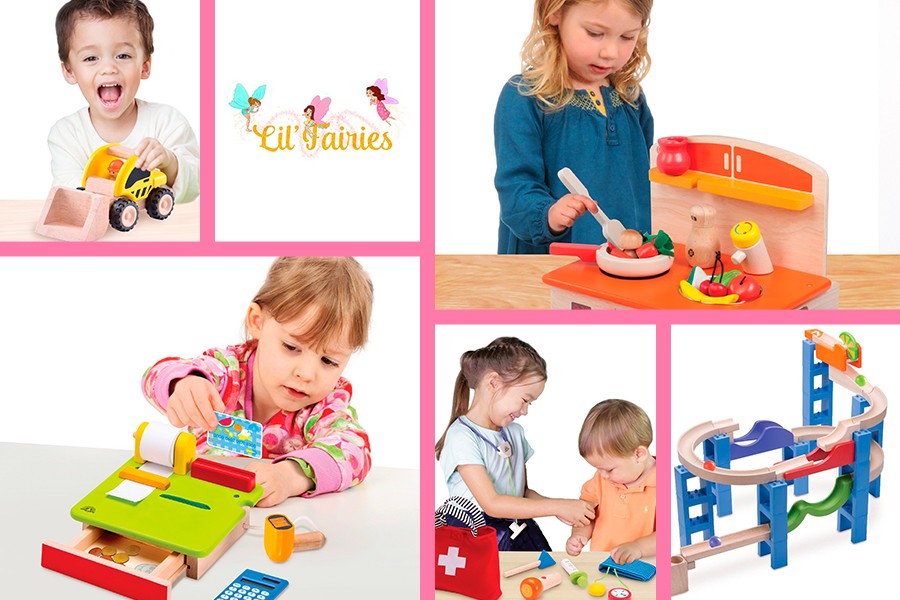 It should come as no surprise that a small Thailand-based company Wonderworld Toys twinned with local child-centred shop Lil Fairies might be proud of its collaboration, and rightly so. It would be hard to find more planet-friendly, sustainable and very reasonably priced wooden toys. Never compromising on quality, they're made in an environmentally friendly production process from 100% rubber wood (instead of beech or hardwood), vegetable dyes, non-toxic paints and formaldehyde-free glue, which make all the toys safe for children of all ages. What's more, Wonderworld has set up their own Tree Plus Programme and replanted two trees for every one tree that they harvest.
Their vibrant collection of well-made and built to last sets features kitchen, cooking, make-up and medical sets, walkers and pull-along toys, wooden vehicular toys, ball runs and building tracks. Our team was delighted to discover the Trix Track Playclass Set and The Upstairs Track from the Wonder Trix Track series. They come with an array of Trix Track pieces, a play board and exercise sheets all in a handy keep-safe container. Best of all, the tracks in this series are modular and can be combined with other sets. The pieces are interlocking which provides more stability and durability especially for little hands. Each set comes with a special feature that challenges the usual notions of gravity and form. Expect hours of fun and constructive play.
Age: 1+
Price: from SG$ 16.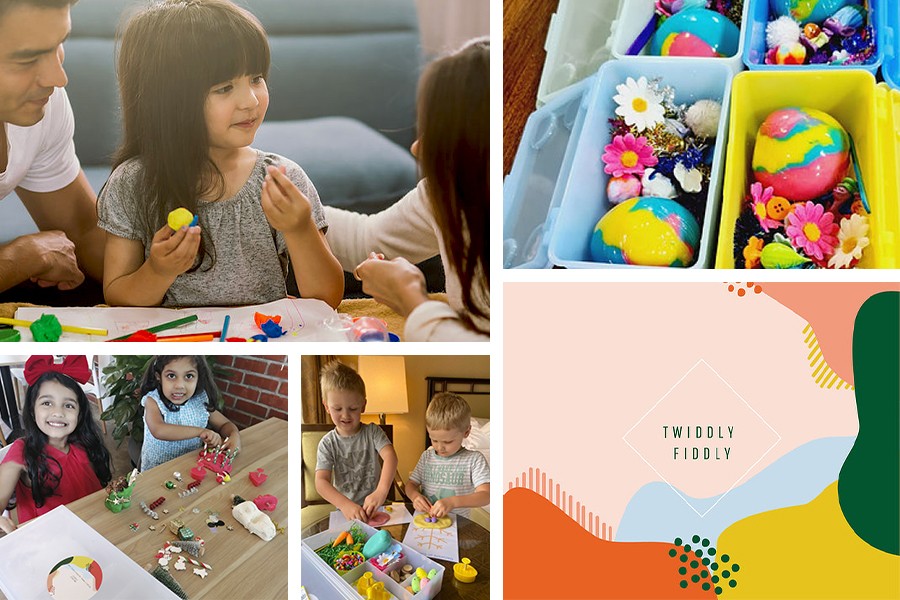 Twiddly Fiddly is a mummy-owned business that creates unique and affordable play dough kits to satisfy your little one's never-ending imagination. Designed with beautiful aesthetics in mind, their sensory kits encourage development and growth in a fun way involving kids in the small world play. Being an Early Years teacher, the founder of Twiddly Fiddly knows that children naturally love small world play. Given kids the freedom to enjoy modelling clay, pick up different materials and tools, they can benefit a great deal from squishing, rolling, flattening and getting into character, and acting out scenarios whilst using their wild imagination. Children can learn almost anything through their play with Twiddly Fiddly's themed kits.
Conceived with her own kids in mind, all of the Twiddly Fiddly's kits are handmade with love from non-toxic play dough to matching cute accessories. The high-quality products are carefully hand-picked, taking inspiration from local cultural traditions and lifestyle. These make a perfect gift and not only will the child love it but parents will be thrilled with how their kids are kept entertained for hours. It's no wonder these playful kits sell out in minutes! Explore their gorgeous collection of popular themed play dough kits ranging from Hop Little Bunny Play Dough, Play on the Go Spring Time, Spring Time Play Dough to Christmas Mini Packs. Discover the full range by following @twiddlyfiddly.sg on Instagram.
Age: 3+
Price: from SD$ 10.5.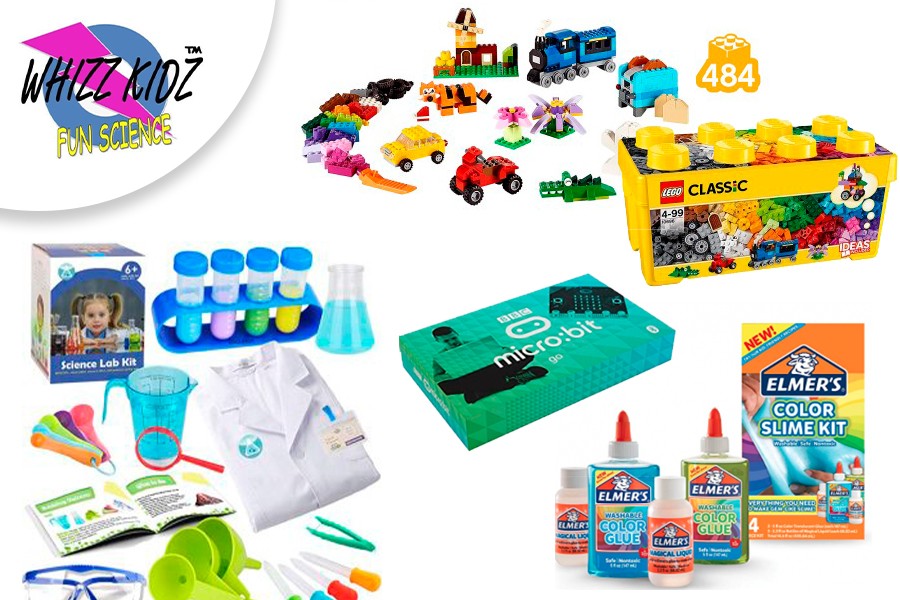 Since Whizz Kidz began in 2009, they've offered a series of unique STEAM enrichment programmes to take your kids' after-school time to a whole new level. With the vision to provide children with a fun well-rounded education outside of the classroom, their experts and qualified teachers in various fields go all out to find original and smart educational kits to spark creativity and engage little minds. All the children's kits in the Whizz Kidz collection are completely safe and designed for home use, catering for 5- to 12-year-olds. No matter what you choose – BBC micro:bit Go Kit, Elmer's Colour Slime Kit, LEGO Classic Brick Box, UNGLINGA Kids Science Experiment Kit or Enviro Battery – all the kits are selected with great care and prepared to our meticulous specifications. Whizz Kidz experts are keen to put a strong emphasis on offering a wide range of activities and encouraging children to try new things.
For this reason, the Kids Science Experiment Kit offers kids a science lab coat for dressing up as a scientist and customise their own scientist badge. With large test tubes with stand, eyedropper, funnels, measuring spoons, a measuring cup, plastic beaker, magnifier, safety glasses and a double-sided activity cards book, it has just about everything your little science could possibly wish for.
LEGO Classic Brick Box is one of the most sought-after kits and it's not hard to see why. These sets are an ideal supplement to any existing LEGO collection and courage imaginative building. A large number of wheels facilitate vehicle creation and play.
By choosing Elmer's Colour Slime Kit, you gain two bottles of washable colour glue and two bottles of magical liquid that add a gem-like, translucent colour to your arts, crafts and slime.
If we were to design the ultimate environmentally friendly kit for science experience, the Enviro Battery would be it! The kit includes a detailed instruction that enables you to create many unusual batteries with fruit juices, vegetables, coins, utensils and more.
BBC micro:bit Go Kit has hit the mark on its pocket-sized, programmable computer with cable and battery pack. Now you can learn computer coding with Scratch, Microsoft MakeCode, Python, Swift Playgrounds and other programming languages whilst the edge connector enables expansion for robotics, electronics, gaming and more.
Age: 5+
Price: from SG$ 12.04.


By Anna Khan
Subscribe to weekly newsletter from "Tickikids"