All the Best Year-End Holiday Camps to Get Excited About in 2020. Part 2
---
Published 21 October 2020 at 16:40
Tickikids Blog Singapore > Digest > All the Best Year-End Holiday Camps to Get Excited About in 2020. Part 2
---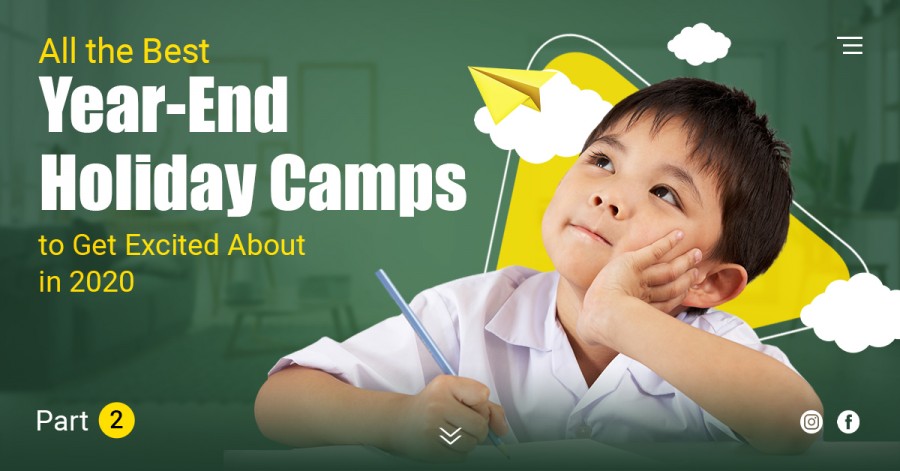 ---
While the final school term may already be peeking up from behind the last red and yellow leaves on ketapang trees, we have a few things to look forward to, namely, some lavish Year-End school holiday camps heading our way. Ones that are worth shouting about? Read on for receiving the second part of the balanced and trusted coverage of all the best November-December holidays camps in Singapore for 2020.


Related reading: All the Best Year-End Holiday Camps to Get Excited About in 2020. Part 1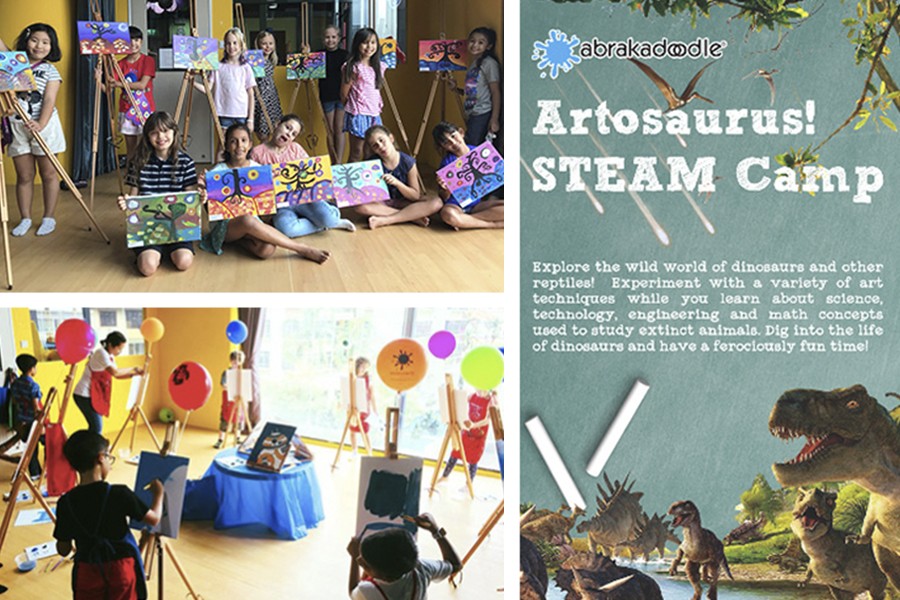 Founded in the US in 2002, Abrakadoodle is renowned for its visual arts classes, art camps, art parties and art events which have delighted over one million kids around the world. This Year-End programme proves exactly why. Among the diverse spread of holiday offerings on its current menu are two standout 2-day Field Trips – a visit to the Art Science Museum and Asian Civilisations Museum and a journey to Marina Barrage and MacRitchie Reservoirs. With a focus on bringing learning to life, Abrakadoodle combines the studio practice of broad-based art projects with sketching & colouring at Merlion Park, MBS Event Plaza and Marina Barrage Green Roof, games and activities, visiting inspiring places, exploring iconic landmarks, having picnics and learning historical and environmental facts whilst expanding their creativity.
As well as offering 2-day Field Trips, Abrakadoodle is always finding new ways to inspire children to learn more about themselves through arts. The result? Kids on Canvas and Artosaurus STEAM camps offer an abundance of engaging activities: from learning different brush strokes to mixing and layering colours, learning about prehistoric animals to making dinosaur eggs, creating fossils and habitats. These art-based camps are aimed towards children aged 3+ and run across multiple days (3, 4 or 5 days).
Dates:
Where Art Meets Science: 12 and 13 November, 26 and 27 November, 10 and 11 December 2020;
Paint a Water Story: A Journey to Marina Barrage and Reservoir: 5 and 6 November, 19 and 20 November, 3 and 4 December, 17 and 18 December 2020;
Kids on Canvas: 16 November – 24 December 2020;
Artosaurus STEAM Camp: 4 November – 18 December 2020.
Ages: 3+, 6 – 12 for Field Trips.
Fees: $350 for a 3-Day Art Camp, $415 for 4 days and $470 for 5 days. $580 for a 2-day Field Trip or $490 with an Early Bird discount for the first 5 kids registrants only.
Contact details: Abrakadoodle JEM: +65 9871 7594, Abrakadoodle River Valley: +65 8668 6457
Locations:
50 Jurong Gateway Road, JEM #03-19, Singapore 608549;
1 Kim Seng Promenade #03-104 Great World City, Singapore 237994.
Find Out More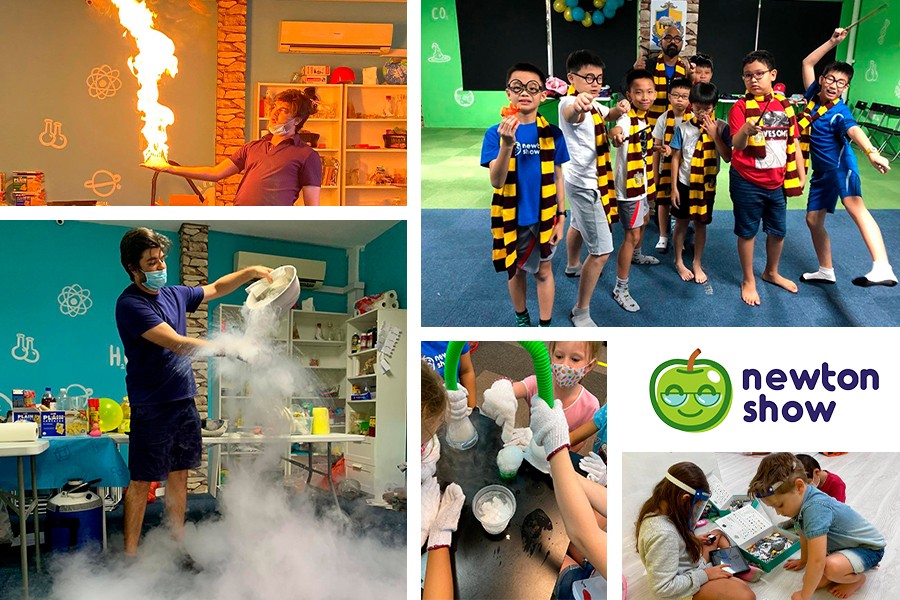 By all accounts, the acclaimed Newton Show is going from strength to strength and demands we place on their programmes are becoming greater than ever. Last year their holiday camps saw the highest number of children in Singapore, when two popular new science programmes have been introduced to ages 3 to 13 – Science from the North Pole and Harry Potter Science School. It's no wonder parents and their budding scientists are very excited to see what Newton Show will offer to its campers in the coming holiday season. Despite being renowned for its science programmes, parents describe their bespoke approach as a display of fun chemical reactions through hands-on investigations, awesome science experiments, group work and games explicitly focusing on learning to question rather than accept received wisdom.
For children who need a bit of magic during the school holidays, Newton Show is offering three science programmes – Science Mythbusters, Santa Science and Harry Potter Science School.
At Mythbusters Science School, kids are inspired to broaden their horizons by busting the biggest science myths and view the world around them curiously and critically asking how and why.
The new Santa Science camp couldn't have arrived at a better time – just when children most excited about snow, ice, Aurora and other North Pole wonders. Here, they feel that they are encouraged to do much more than simply follow the school curriculum: spectacular experiments with cold, freezing workshops and a lot of hands-on experimental projects with new friends.
A glance at last year's smash camp Harry Potter Science School proves that it is the place to head to for a plethora of science, magic and fun in an only version of Hogwarts in Singapore. There is no need to be a huge Harry Potter fun or devour books about him to be impressed by lessons in this science school!
Dates: 23 November 2020 – 8 January 2021;
Timing: 9am – 4 pm;
Ages: 3 – 13;
Fees: SGD 630 per child for an all-inclusive 5-day-programme including 2 snacks, lunch, a branded t-shirt, photo, certificate, bus transportation (optional);
Locations: East (229 Joo Chiat Road), Centre (6 and 9 Mohamed Sultan Road), West (887a Bukit Timah Road).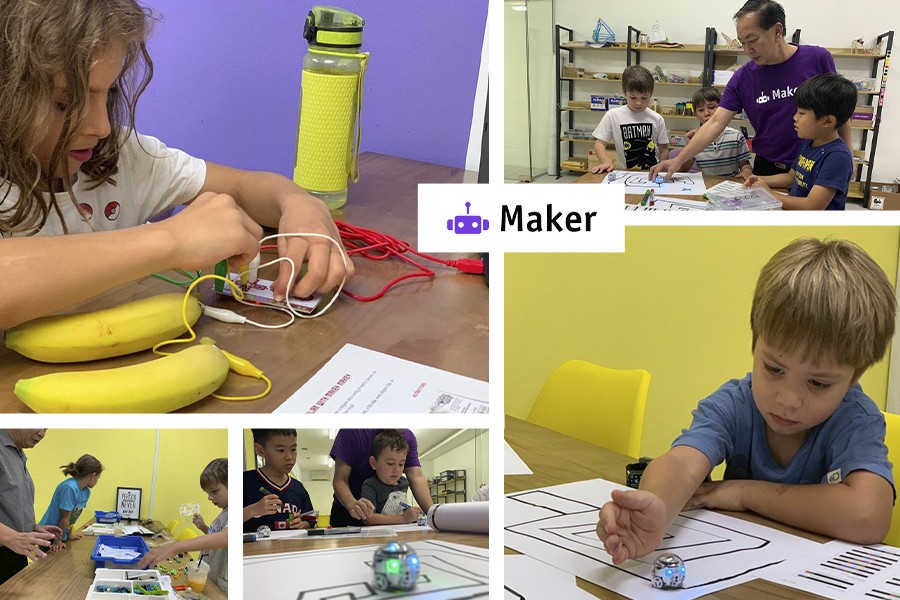 You could never be bored at Maker SG, which is good considering they have developed two new Christmas programmes for the upcoming holidays – Merry Maker and Create, Make, Invent!
It is a popular choice with little inventors, and it's love at first sight for parents visiting their refreshingly modern venue that prizes innovation. Equipped to the highest standards with original licensed programmes, cutting-edge equipment and tools such as 3D pens, Chibitronics, Makey Makey, Squishy Circuit, 3D puzzles and Quibits, parents know that Maker SG will inspire their kid's curiosity, intellect, creativity and passion. Children are busy here – robotics, coding, circuit modelling, inventing, 3D modelling, engineering, basic programming, Lego EV3, Lego WeDo – the list goes on.
Experienced tutors and a ratio of one teacher to five students are top priority at these Christmas camps.
Dates: 23 November 2020 – 8 January 2021;
Timing: 9am – 4pm;
Ages: 5 – 14
Fees: 630 SGD including 2 snacks, healthy lunch, a t-shirt, certificate, all relevant supplies and materials;
Location: 232A River Valley Road.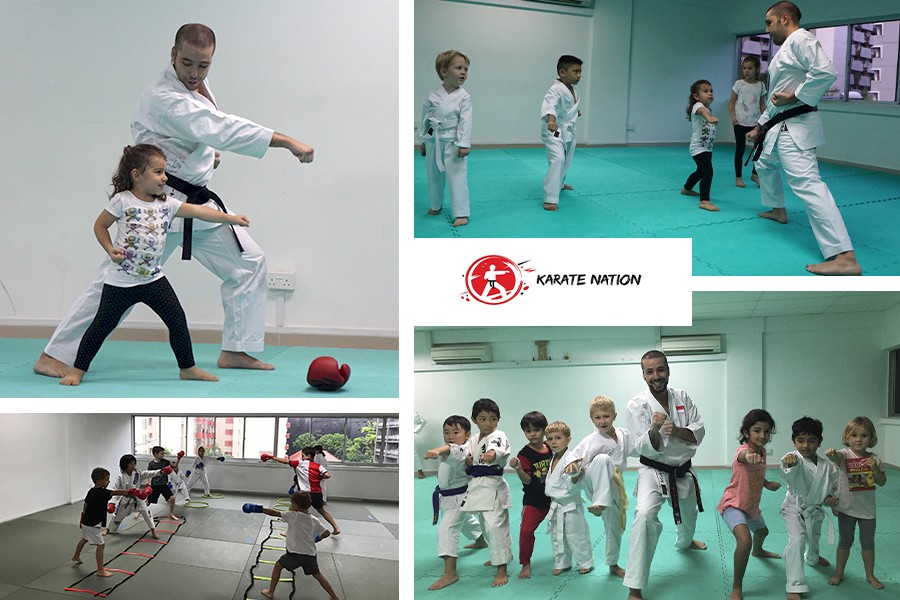 Karate offers varied challenges to suit every child – and across the 5-day holiday camps Karate Nation aims to encourage and develop individual excellence, positive mental attitude and indomitable spirit for a healthier, happier life. For children who wish to compete in their chosen martial art, there are ample opportunities to have competitive training on a regular basis.
Dynamic and charming founder Cyril Martins has worked tirelessly to ensure that their karate programme is comprehensive throughout the age groups and instructors are all certified black belts, qualified, and professionally trained to teach martial arts. Years of training, participation in competitions in Singapore, Malaysia, World Championship in Japan, seven different awards in Kata and Kumite, his Black Belt and 2nd DAN have gone into opening Karate Nation centre.
Children who would like to practice karate can take advantage of one of its amazing camps which will be run from Monday to Friday till 25 December 2020. The holiday programme is as diverse as you would expect: it is a perfect alternative to a boring gym routine, as karate helps kids develop into their maximum potential both physically and mentally. The campers will benefit from a new carefully crafted curriculum that encourages them to see the links between different sections of karate training – Kata and Kumite. And, most importantly, the programme is bringing onboard techniques such as punching, kicking, blocks and stances plus patterns of movement in karate. At the end of the camp, the children will receive a certificate for their hard work and effort as well as lots of group photos to cherish the memories.
Dates: 30 November – 25 December 2020;
Timing: 9am – 12pm;
Ages: 5 – 7 and 8 – 10;
Fees: 150 SGD for a 1-day camp, 240 SGD for 2 day, 350 SGD for 3 days, 450 SGD for 4 days, 560 SGD for a 5-day camp;
Location: 149C Selegie Road, 188314 Singapore.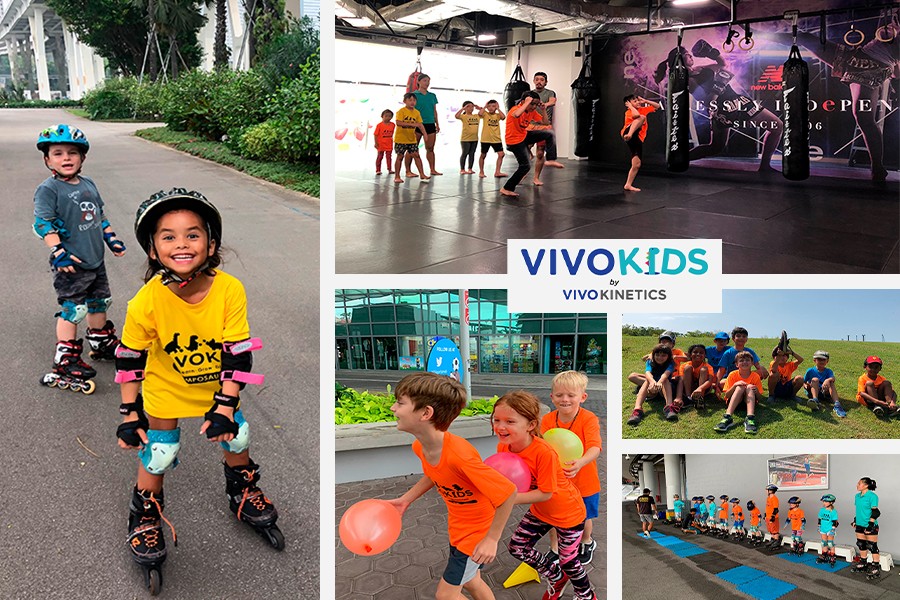 "Creative thinking, character and strong body" are not just words to raise your kids by – they also happen to be the core principals of VivoKids. Over the Year-End holiday camps, it fuses multi-sports with team-building games, robotics, arts and craft in small, expert-led groups that result in very personal attention.
Camposaur was the hottest adventure camp run back in 2018, with its signature Camposaur Amazing Race, focused multi-sports sessions and a team dedicated to making children's sporting activities fun. And this year, VivoKids continues to push kids to new heights as much physically, as it does mentally.
Commit your child to three- or five-day camps (you can always opt for one day) and you will reap the rewards – stamina and sky-high energy levels. Prepare to strengthen every muscle in your body through a series of sporting activities like soccer, rugby, baseball, floorball, boxing/muay thai, rollerblading and archery. Better still, VivoKids' approach is holistic and to inculcate a powerful sense of team spirit, the games range from relays, Tug O War, jump sack race, limbo rock, amazing race and pool games. And everything is double in the most immersive arts & craft or STEM activities such as robotics, a recycled materials project and sensory play. Yet nothing can beat Camposaur Amazing Race! Last but not least, two light snacks will be served every day that will help your child get the most out of their sport and leisure activities.
Dates: 23 November – 23 December 2020;
Timing: Monday to Friday 9am – 1pm;
Ages: 3.5 – 12;
Fees: $100 a day or $398 for a full 5-day package, $250 for a 3-day package, including two snacks (granola bar, milk, juice, fruits and cookies) and a branded t-shirt.
Location: 4 Stadium Walk, Singapore 397697.




Sports Camps SG has a reputation for having starry results in a wide range of sports. This year's Year-End holiday programmes for the youngest campers aged three to five will be run in partnership with Teddy Sports Club offering excellent coaching in three different sports – soccer, tennis and cricket. A camp of character, a camp of serious fun – an emphasis on these elements indicate the "Visual, Audio, Kinaesthetic" multi-sensory learning approach to all sports sessions. Special mention must go to an interactive side of this approach: a combination of music, pictures and Teddy Bear characters integrated into the multi-sports holiday programme helps them to bear fruits. Their 5-day multi-sports camps are offering your child sufficient time to get to know each sport and enjoy a diverse range of activities and games over a course of a week. In the early stages, little campers are introduced to fundamental skills and develop agility, balance and co-ordination, while imparting a lifelong love of sport to all of them.
If The Cage Sports Park is too far away from you, fret not. Teddy Sport private classes can be held at your condominium. All you need is an open space (preferably a tennis court), and the coaches will handle the rest. Pick a day and time that works best for you, gather a maximum of five friends of your child to enjoy 10 weeks of sports and games with Teddy Sports coaches. Trial sessions start at $60 per group.
Dates: 30 November – 31 December 2020;
Timing: Monday to Friday 9am – 12pm;
Ages: 3 – 5;
Contact details: + 65 9816747, asean@teddysportsclub.sg;
Location: The Cage Sports Park, 220 Turf Club Rd, Singapore 288001.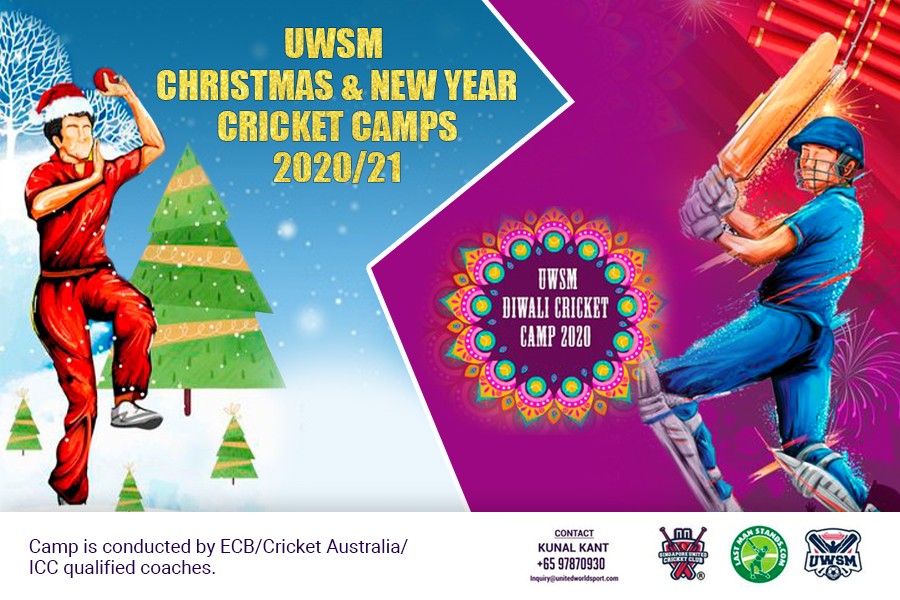 For the ultimate school holidays, UWSM launches first-class cricket camps at Bukit Timah, striving for excellence in sporting pursuits, giving every child the confidence to discover all aspects of the game and enjoy their talents.
During the Year-End and Christmas holidays, the children's focus will turn to participating in batting, bowling and fielding. Special thought and care are applied to fitness and healthy nutrition discussions, as a fit and strong body is most definitely among the attributes needed to play cricket. Much effort is made to keep the children and staff safe, forming small groups of a maximum of 5 campers. High standards of training and good facilities enable the children to develop impressive skills. Improving running and catching skills, hand-eye coordination, and pace – these are just some of the benefits that come from the enjoyment of cricket and exercise.
The Basic Cricket camp is specifically tailored for children up to the age of 13 where the emphasis is on participation and enjoyment. UWSM also seeks to offer opportunities for children aged 9 to 17 to become skilful and intelligent cricket performers developing Advanced Cricket Camp. While the Basic Cricket campers use pro softball equipment, the Advanced Cricket campers play hardball. In addition to coaching sessions, the campers will learn the theory of cricket, watch cricket videos, review video footage of training practices to improve performance, set a specific scenario to get them thinking about the game intelligently.
To reserve your place at Diwali Advanced or Basic cricket camps, please fill the form. If you would like to attend Christmas & New Year Basic or Advanced cricket camps, please fill this form.
Dates and timing:
Diwali Basic & Advanced Cricket Camp: 18 – 20 November 2020, Wednesday to Friday 4pm – 7pm;
Christmas & New Year Basic and Advanced Cricket Camps: 21 December 2020 – 6 January 2020, Monday to Wednesday 9am – 12noon;
Age groups: 5 – 13 and 9 – 17;
Fees: $210 for a 3-day Basic camp; $270 for a 3-day Advanced camp;
Contact details: +65 97870930, inquiry@unitedworldsport.com;
Location: Bukit Timah (Dunearn Road).




By Anna Khan
Subscribe to weekly newsletter from "Tickikids"