Dance, Drum, Draw and More at Santa's Holiday Academy @ KINEX
---
Published 30 October 2020 at 05:35
Tickikids Blog Singapore > Digest > Dance, Drum, Draw and More at Santa's Holiday Academy @ KINEX
---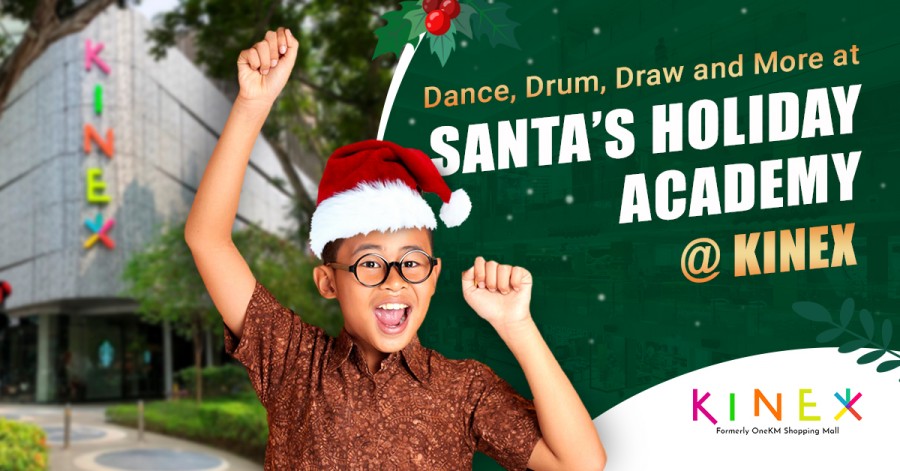 ---
School's Out! And holidays are just around the corner so it is time to plan your kids' fling!
Easier said, than done, right? Children want to relax after daunting lessons, parents don't want kids to get stuck in smartphones or video games all day. And no one wants to turn holidays into another school term time! Luckily, there is a place where learning is always fun and entertaining, kids get new skills, make new friends, and find new exciting hobbies!
KINEX has prepared something special for this Christmas vacation to make it a holiday to remember.
Santa's Holiday Academy at KINEX is a 3 Days' of (fun) classes with lunch included. Participants will learn new musical instruments, have a bash at dances or martial arts, get creative, and make models from clay all in the name of FUN!
Participating enrichment brands include Aureus Academy, Distinctive Creative Arts, Drum Tutor, Evolve MMA, First Step Education, and Yan Ballet Academy. Lunch during the 3 days is also included with kids meals from Ice Yodo, Fatburger & Buffalo's, Rocky Master, and The Hungry Bear. 

When:
Session 1: 30 November to 2 December 2020 (Monday to Wednesday) for children 6 to 8 years old;
Session 2: 14 to 16 December 2020 (Monday to Wednesday) for children 9 to 11 years old.
Fees: $250 per pax (U.P. $550);
Timing: 10am – 3pm daily;
Duration: 3 days;
Do not hesitate, as this offer is limited to the first 30 sign-ups per category!
Let's not forget, it's Christmas time! We have got so much to do and so little time! So when kids are having fun, parents have a great possibility to get ready for the holiday. Here, at KINEX, one will find everything and then some to be prepared for Christmas!


Where to buy tickets?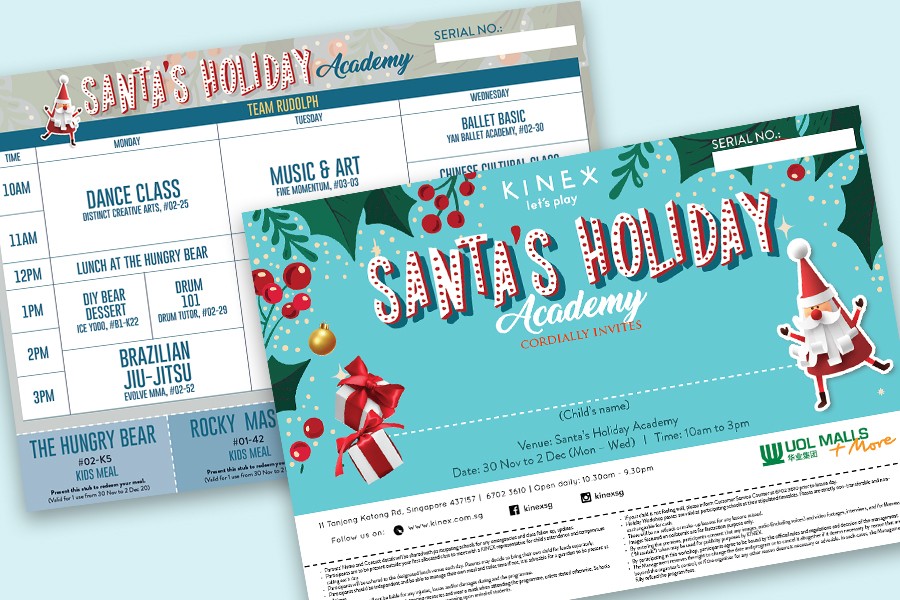 Customer Service Counter on level 2 (cash only)
www.kinex.com.sg (via PayPal)
KINEX LazMall Flagship Store
Registration closes on 25 November for Session 1, and on 9 December for Session 2.
Let's take a closer look at the activities that 3-day KINEX Santa's Holiday Academy offers!


Band Instruments @ Aureus Academy #B1-23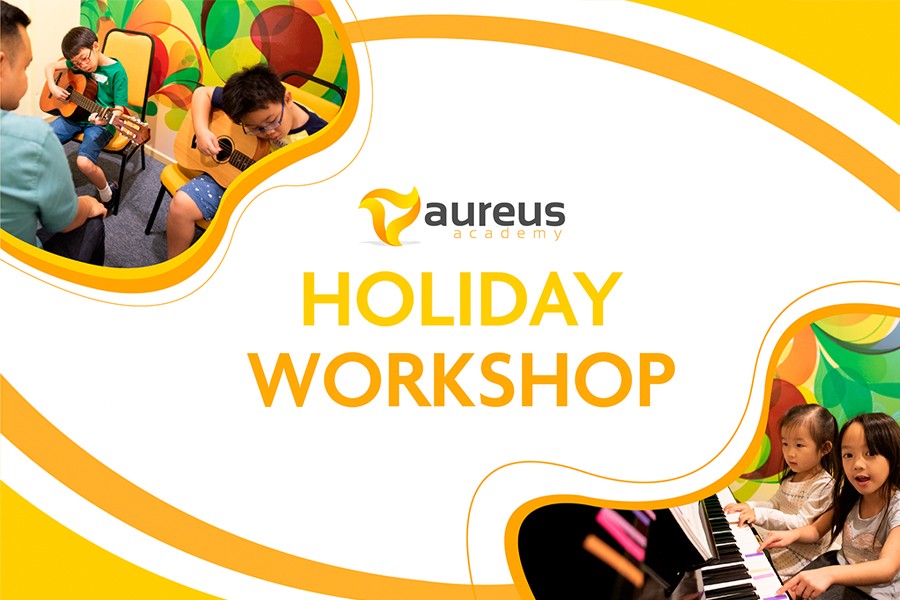 Aureus Academy has more than 10,000 students enrolled in different locations so the teachers here know how to reach out to every kid. Here young musicians will learn how to play the piano, violin, guitar, and other instruments in a manner that perfectly suits their learning style. 
The teachers here are knowledgeable, attentive, and inspiring! They help children boost their confidence and inspire them to be curious, eager to learn more, and express themselves through music.
For the participants of KINEX's Santa's Holiday Academy teachers have prepared interesting and fun Drums, Guitar, Piano, or Keyboard lessons. During these classes, kids will learn how to play one or two tunes on these instruments. And, who knows, maybe it will become a life-long love of playing music!
For enquiries on other available classes at Aureus Academy:
Contacts: Tel: 3165 5072.


Dance Class @ Distinct Creative Arts #02-25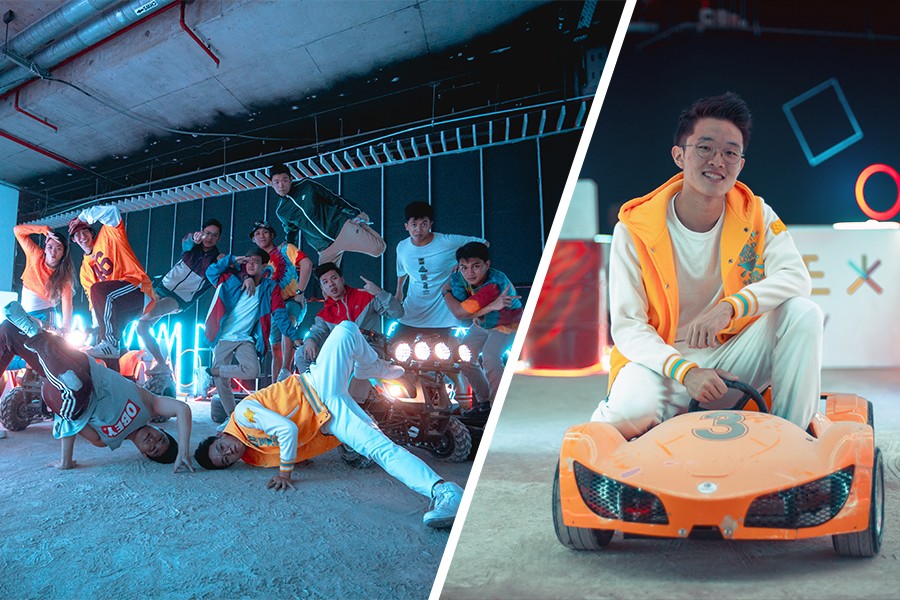 Distinct Creative Arts (DCA) is a dance studio that uses dance as a powerful tool to educate, engage, and empower students. Through dance, students develop character; learn the importance of teamwork, respect, and perseverance. Here, much prominence is given to social responsibilities. The studio opens many opportunities to youngsters including those with special needs – from creating a supportive environment to express themselves to providing the possibility to start a career based on dance education. DCA offers dance classes for students of all ages – from kids to elderly people.
The class for KINEX's Santa's Holiday Academy will be customized to meet the abilities of the participants. The DCA instructors know well how to find students' voices! They are masters of creating the perfect surroundings for letting loose kids' inner dancer. Thus, rest assured, kids will have fun! 
For enquiries on other dance classes available at DCA:
Contacts: Tel: 6909 9753
Find Out More


Drum 101 @ Drum Tutor #02-29




Helmed by an award-winning drummer, Er Chow Kiat, Drum Tutor offers tailored programmes for students with no experience, to avid drummers to hone their skills effectively. Formerly from the reputable Musicians Institute in Hollywood, Chow Kiat applied his knowledge and skills to create a well-thought-out engaging drumming programme.  As the result, the curriculum of the classes fully corresponds to student's learning style and the online portal allows students to monitor progress, return to previous lessons, and check homework. They even record students' performances in 4K UHD after every song learned!
If your kid has no experience handling drums, there is no need to worry. In KINEX's Santa Holiday Academy, participants need not have any prior experience handling drums. Students will start from the basics: introduction to a drum set, learning some basic grooves, and finally, jamming to some popular songs. But don't let the word 'basics' trick you! The instructors of Drum Tutor know how to make every minute of the classes enriching and entertaining! No doubt, your kids gonna love them!
For enquiries on other classes available at Drum Tutor:
Contacts: Tel: 9666 4979


Brazillian Jiu-Jitsu @ Evolve MMA #02-52




It is difficult to recite all sources that name Evolve Mixed Martial Arts® #1 martial art organization in Asia. This martial arts school has raised authentic World Champions in Muay Thai, Brazilian Jiu-Jitsu, Mixed Martial Arts, Boxing, Wrestling, Submission Grappling, etc. No other school can boast such achievements as Evolve MMA is the best Champion foundry in the world!
The Instructor Team of Evolve is famous for training World Champions and for being trained by World Champions. All instructors are not just proven competitors at the highest levels in the world, they have instructor certifications obtained from the foremost authorities.
At KINEX's Santa's Holiday Academy the instructors of Evolve MMA proudly present Evolve Little Samurai Children's Program. The program includes physical education, self-defense techniques, and cardiovascular conditioning. Through boosting coordination, motor skills, and agility, kids will develop confidence, mental strength, discipline, and focus. 
For further enquiries on the full Evolve Little Samurai Children's Program at Evolve MMA:
Contacts: Tel: 6288 2293
Christmas Music & Craft by Fine Momentum Academy #03-03




Why should one focus on only music or arts if there is a possibility to participate in activities that include both music, arts, and dance? Fine Momentum Academy combines these activities with masterly skill helping kids develop creativity, imagination, and encourage self-expression. Teachers of the Academy know how to ignite joy in learning in a fun, safe, and supportive environment for young artists.
Participants of Santa's Holiday Academy will try their hands at Christmas clay modelling and learning to play the ukulele, drums or piano. 
For enquiries on other available classes at Fine Momentum:
Contacts: Tel: 6341 6088


Chinese Cultural Craft Class @ First-Step Education #02-05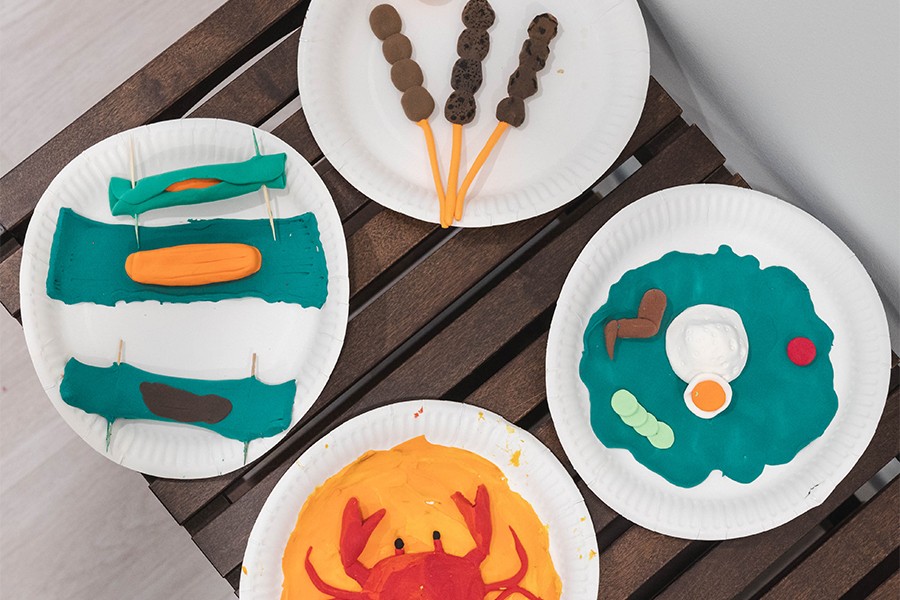 Lessons of the First Step Education are customized to fit students' talents, strengths and personality. The process of learning is not limited to textbooks and boring exercises as here children are involved in different interactions and learning experiences. 
Teachers of the First Step Academy have lined-up an engaging and informative programme for the participants of Santa's Holiday Academy. Kids will delve deep into the realm of Chinese cultures infused with Singapore's local heritage through handicraft, art, and games. If you are looking to improve on Mandarin and learn more about Chinese culture First-Step Education is the place to be!
For enquiries on other cultural classes at First-Step Education:
Contacts: Tel: 6241 5178


Make Your Own Colourful Snow Bear Ice @ Ice Yodo #B1-K22




Ice Yodo is a well-known Taiwanese dessert shop that offers a wide range of Snow Bear Ice made of fresh milk and fresh fruits, entirely natural, with no preservatives or artificial flavourings.
Participants of Santa's Holiday Academy will take a crack at creating their very own Snow Bear Ice, (sounds like fun, huh?) and finally savouring your own creations! Participants have an option of three flavours: fresh milk, chocolate, or watermelon.
Ice Yodo's menu also extends to a wide range of waffles and hot desserts to suit every fancy.
 Art Jamming at Tree Art #02-07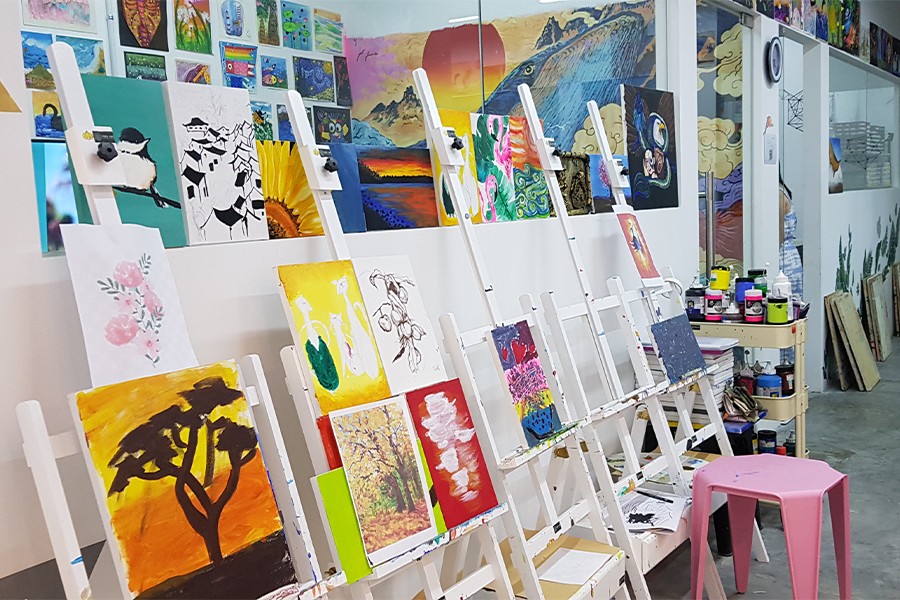 Tree Art is a great place to uncover kids' inner talent! This school uses "creative art" as a tool for children to express themselves. Every lesson and every painting is not just skill training but a whole new story and a possibility to explore student's inner world. Here, much prominence is given to the interactions between a teacher and student as teachers are specially trained to help guide students through their thought processes, develop creativity, and express themselves through Art.
During the classes in KINEX's Santa's Holiday Academy, kids will participate in an exclusive Christmas-themed art jamming session. Here they will learn different art techniques, have fun, and create their masterpieces! Participants are advised not to wear white clothes to avoid staining.
For enquiries on other art classes at Tree Art:
Contacts: Tel: 9649 7716


Ballet Basics @ Yan Ballet Academy #02-30




Yan Ballet Academy is a premiere ballet school in Singapore, named after its founder, Ms. Yan who had been a leading soloist performer for the Shanghai Ballet Company for 10 years. This school has been certified by the world's most influential dance education and training organization – the Royal Academy of Dance (RAD) and all teachers are also certified by RAD. A combination of the classical ballet program and the famous Vaganova Method of training resulted in students' 116 gold medals in only 4 years. 
The Santa's Holiday Academy participants ages 6 to 8 years old will be exposed to the fundamentals of ballet, develop spatial awareness, and how it is possible to express oneself through dance and music. During these classes, children will learn basic ballet movements and terminology.
As for participants 9 to 11 years old, they will be taught the six basic foot positions of ballet, various jumps, turns, steps, and a series of steps and leaps. These classes can become a great foundation for learning ballet, build strength, coordination, and thinking.
For enquiries on other classes at Yan Ballet Academy:

Contacts: Tel: 6514 5175
Find Out More


It's The Season of Gifting!




From 6th November onwards, The Season of Gifting kick starts at UOL Malls. You can redeem exclusively designed premiums when you shop at KINEX.
From 6 November
• Spend $60* ($50* for U-POPP Members) and redeem exclusively designed gift wrappers (Max. 3 same-day combined receipts)
From 20 November
• Spend $180* ($150* for U-POPP Members) and redeem a Cheese Cutlery Set (Max. 3 same-day combined receipts)
• Spend $360* ($250* for U-POPP Members) and redeem a Cheese Rotary & Cheeseboard Set (Max. 4 same-day combined receipts)
*Terms & Conditions apply. While stocks last.
UOL Malls partnered Extra•Ordinary People - a registered charity and Institute of Public Character that supports children and youth with special needs.
UOL Malls' Christmas premiums will feature art series by trainees from GROW Sheltered Workshop by Cerebral Palsy Alliance Singapore. As a token of appreciation, the trainees will receive a royalty fee from UOL Malls in support of their continued learning and developmental journey.
For more details on the upcoming promotions & events, visit www.kinex.com.sg
More information on what Santa's Holiday Programme consists of: 

Find Out More
#kinexsg #holiday #holidayclasses #uolmalls
Subscribe to weekly newsletter from "Tickikids"