Creative Christmas Gifts for Kids
---
Published 19 November 2020 at 21:08
Tickikids Blog Singapore > Digest > Creative Christmas Gifts for Kids
---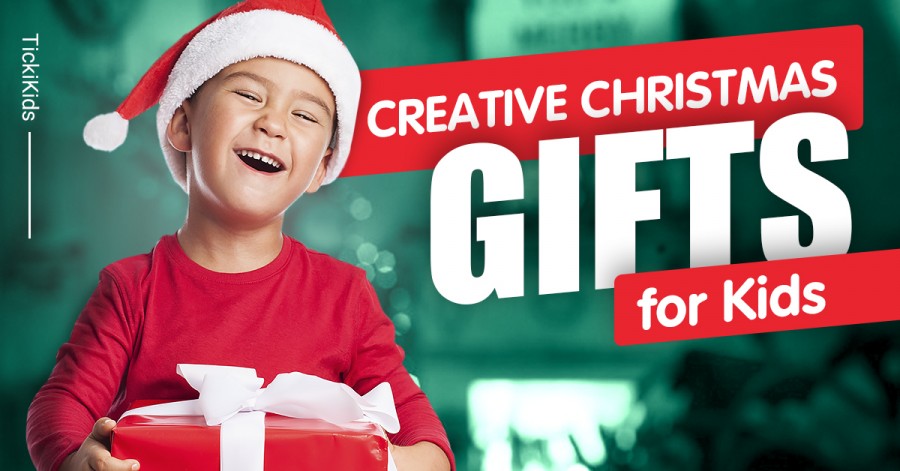 ---
It is never too early to start shopping! Especially now, when shipping delays caused by pandemics complicate the delivery of online purchases, it is crucial to make a choice in advance.  
And the very process of choosing may be daunting and time-consuming! Kids today seem to have everything and even more they could want and need, so the quest of searching for the best Christmas gift 2020 is a real challenge. 
We've lined up some popular, interesting, and useful gifts for kids that won't end up gathering dust on the shelf. Be it a busy book, DIY kit, or a healthy snack, each and every present is worth its place under your Christmas tree!  

Knackey is famous for well-thought-out DIY Craft Kits and Creative Toys. Here, you won't find dull and plain kits as they offer different creative activities that everyone in the family can have fun crafting together!!
This December, the Knackey team offers something special: Crafty Gift Boxes that are full of winter holiday vibes! They are the perfect Christmas present for young creators and investigators.
Christmas Themed Gift Box Magical Playtime
This Premium Special kit includes creative and entertaining toys, crafts, and Christmas accessories to create the ultimate holiday mood! Kids will enjoy limited-edition hot favorites: DITTY BIRD Song Book and Disney Themed Magic Ink Activity Book. In addition, the gift box includes three fun and creative DIY kits that will win your little artist's heart. It is possible to customize them to make the gift more personal!
Want more variety? Check out their website for the different combinations of Gift Boxes available!
DIY Doodle Elephant and Giraffe Kit
This set looks amazing in a Classy Gift Wrapping and it has already become a star of many blogs with many raving reviews on Instagram! Mummy Influencers duly appreciate this all-in-one creative kit as it offers different activities and boosts kids' motor and artistic skills. Thus, kids can put the figures of Ellie the Elephant & George the Giraffe together and then color them.
Do not forget to write the recipient's name in the Notes, as the kits come with festive Xmas gift tags.
Social Media: Facebook and Instagram

Toddlers are real explorers! And they are true experts when it comes to utilizing all senses to learn something new. The tactual sense is one of the major sources of new experience and knowledge for them. So, an elaborate busy book can occupy your little investigator for a long time. Bright but not irritating colors, different textures of materials, capturing activities, and new knowledge – that's what makes a busy book a real must-have!
The Busy Tots offers handmade entertaining and educatory busy books for toddlers and kids. Each book has 10 pages with engaging themed learning activities. For example, "Little Chef" tells a story of how to do farming, how to prepare food, and what's inside the refrigerator. With "Animal Series" kids can build a home for the spider, play peek-a-boo with a crab, and brush the teeth of a hippo! No wonder that tots love these busy books!
"Christmas Series": this busy book is exclusively available during the festive season November-December. There, kids can decorate a Christmas tree, find Santa's gift, build a snowman, and enjoy other holiday activities. And a Bible Busy Book is the best way to explain to your kids the whole concept of the Christmas holiday. It showcases 10 Bible stories in an age-appropriate manner: Creation Day and Night, Noah's Ark, Jesus Born and Wise Men.
All books are made of eco- and baby-friendly materials. They are soft, pleasant to touch, safe, and really interesting to both kids and parents. It is possible to customize your busy book by selecting the cover material and putting a baby's name on the cover.
Social Media: Facebook and Instagram
Find Out More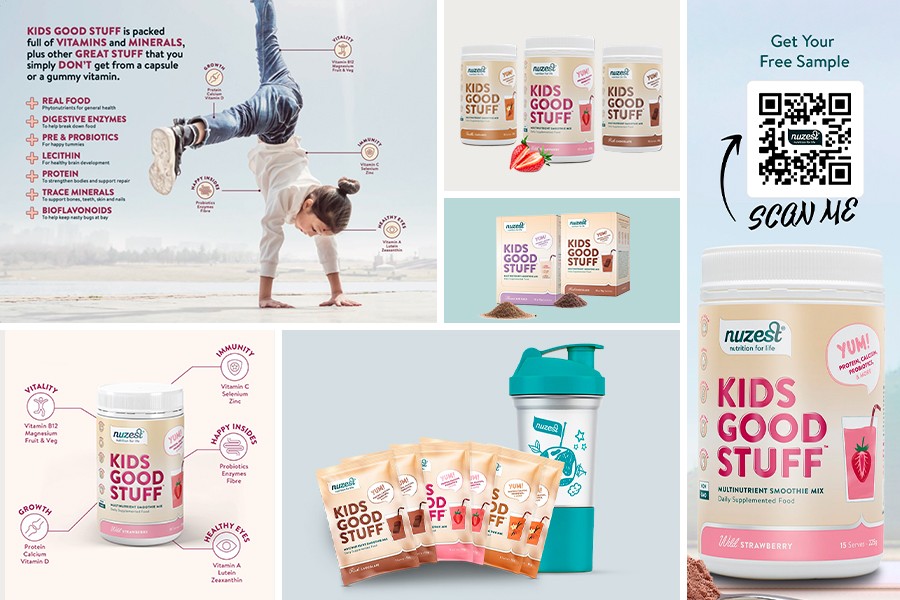 Kids are what they eat! And the team of Nuzest – Nutrition for Life understands that more than anyone else. Nuzest combines the achievements of nutritional science and natural medicine. As the result, Nuzest offers some of the most advanced nutritional products on the market. Here, every ingredient, and every form of ingredient is backed by a sound scientific rationale, to achieve the best possible results.
Kids Good Stuff can be a great present for kids or become a star guest of a Christmas party. This multi-nutrient smoothie mix is made of real fruit and veg, with protein, calcium, probiotics, and minerals. Kids Good Stuff can replace vitamin capsules and gummy vitamins as it contains a daily norm of vitamins and micronutrient elements. And more than that, it is much better than multivitamins as, apart from vitamins, it has protein, probiotics, and digestive enzymes.
Kids Good Stuff is free from all common allergens; has a super-low level of sugar, it is vegan and non-GMO. It is possible to make a milkshake out of it, blend it in the kids' dishes or even make some dishes out of it. By the way, check out the Recipes section of Nuzest - Choc-Nut Butter Cups or smoothies made of Kids Good Stuff are finger-licking!
This all-in-one nutritional support helps to fill any nutritional gaps in kids' diet, supports healthy bones, and provides brain-supportive nutrients.
Social Media: Facebook  and Instagram 

Location: Nuzest

Find Out More


Christmas is the time to think BIG. It is a holiday on a grandiose scale and it is the best time to make big presents! Besides, it is a great solution when a family has two or more kids, as it is possible to make one big and useful present instead of several minor ones. And Edupod offers the best possible solution for big families: Jungle Gym!
Edupod is a leading distributor of children's furniture, playgrounds, protection guards, and locks to early childhood and primary education institutions in Singapore and the Southeast Asia Region. The Edupod team is a real big in creating children's spaces! All furniture, room designs, tools, and frames are certified, tested, and safe for children, and experts of the company make sure that everything is made of high quality and durable materials. 
Jungle Gym is the collection of bridges, climbs, playhouses, PlayParadises, play towers, swings, playgrounds shaped in form of boats and trains. They are designed and type-tested according to European standard EN 71. 
Here, one can find playgrounds that suit every taste and budget. What is great, Jungle Gym collection has modules to make playgrounds from. So, you can decide what modules should be in your playground! They can turn your background into a magic tower, marketplace, open-air gym, picnic zone, climbing wall, and many more. Here, children train while playing! And, it is the perfect place to boost imagination, coordination, and communications skills! 
Contact:  WhatsApp: +65 9236 1005, enquiry@edupod.com.sg
Social Media: Facebook and Instagram
Location: 998 Toa Payoh North, #02-08/09  
Singapore 318993
Find Out More


Jamie, the founder of the brand, named the company after her son Noah, and this brand celebrates Noah's love to play and Jamie's love for the versatility of wooden toys. Here, you will find heirloom-quality handmade wooden toys from around the globe! These toys are perfect for hours of open-ended play without getting bored. And, as parents, founders of Noah's Toys & Games give full attention to the quality and safety of the toys: all products undergo rigorous safety testing and they are made of eco- and baby-friendly materials.
These are not just simple fancy toys: they are powerful tools for boosting creativity, imagination, and learning. Mandala trees and stones, sets of sensory and loose parts help kids to create their small worlds and also can be used in different learning activities. One of the great examples is Ocamora's signature Teniques inspired by an ancient Japanese game called "Tumi Ishi". Here, kids train a sense of balance, creativity, and patience using different wooden "rocks" and "stones". These stones are of different colors and shapes and kids learn to stack, sort, and classify them.
To simplify the search for the best present, Noah's Toys & Games team created a Gift Guide with the sets of presents at different price tiers. Thus, you will find a present that meets your taste and budget with ease!
Contact: noahstoysandgames@gmail.com
Social Media: Facebook and Instagram
Find Out More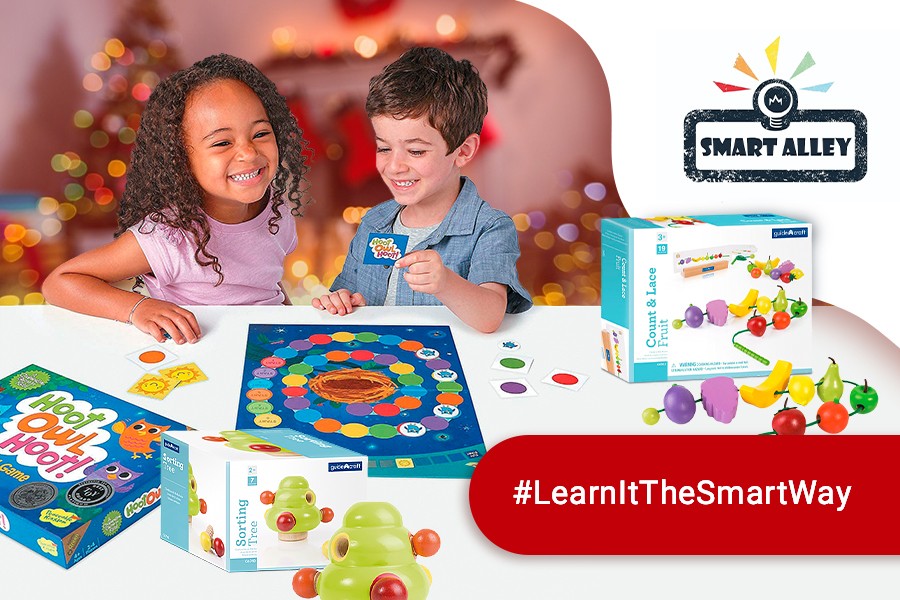 Smart Alley is an online shop with a wide range of top-quality educational toys and games from recognized and established toy makers. Also, Smart Alley is the authorised distributor of many toys listed in the store so you can be sure that they are from legitimate sources with great quality!
As parents themselves, all toys at Smart Alley are educational, entertaining, and boost creativity, curiosity, and imagination. They also serve as the perfect tool for family bonding as they turn the process of playing into a wonderful memory!
Here are some recommended toys and games that can make your Christmas the time to remember for many years to come!
Cooperative board games by Peaceable Kingdom are specially designed to help children understand the importance of teamwork and cooperation. As there are no single winner in the game, kids learn to work together to achieve the result instead of competing against each other. Thus, you won't find the treasure in the Maze, or won't make a delicious Stone Soup, or break an evil spell without a friend's help! Check out the Gnomes at Night demo to see how it works!
Award-winning toys by Learning Resources are a great choice if you want to introduce your kid to the early STEM concepts. For example, with the Coding Critters series, kids learn how to code without screen! Kids can program their toys with help of coding cards and arrows on the toy's back, and the toy remembers up to 30 steps! You can watch the demo to find out more about it and even get them pets to add to the fun! 
Smart Alley is offering 10% off regular-priced items from now till 31 Dec so it is the perfect time to stock up on presents!
Contact: info@smartalley.com.sg, tel. +65 64409195 
Social Media: Facebook and Instagram
Webstore: www.smartalley.com.sg
Find Out More
Subscribe to weekly newsletter from "Tickikids"