The Benefits of Martial Arts Training for Children
---
Published 23 December 2020 at 08:39
Tickikids Blog Singapore > Digest > The Benefits of Martial Arts Training for Children
---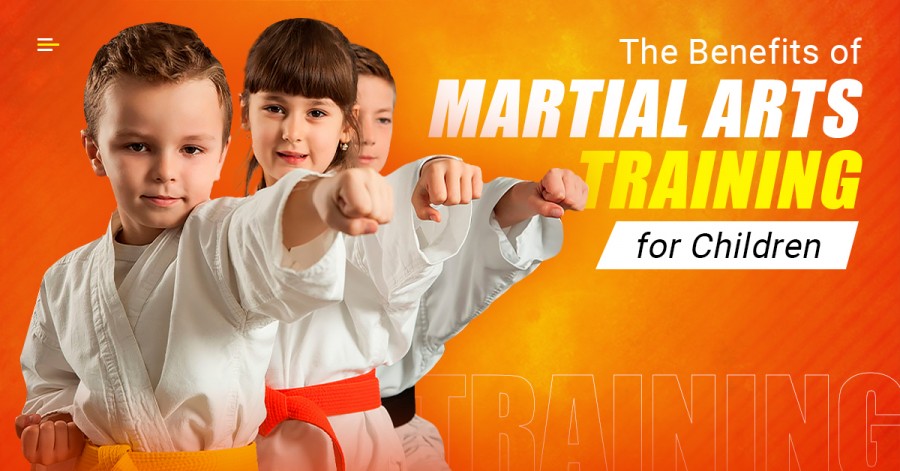 ---
Martial arts classes are the most in-demand after school activity for kids in Singapore among both expats and locals – and for good reason. As you will all know, practitioners of martial arts are encouraged to learn not just how to defend themselves or improve their fighting techniques, but to learn about styles and philosophical systems of traditional martial arts that are deeply pacifistic in nature. The main concern of some parents that put off considering martial arts practice is that such training may promote violence. Unfortunately, profound misconceptions and falsehoods were widespread in modern society through films and videogames as to what traditional martial arts are. Mindfulness and moral discipline are widely practised in martial arts. It cultivates good qualities and self-discipline which go far beyond self‐defence. It is imperative for children to mould their characters and mentality right from early on. The good news is that there is always something new that you can learn in martial arts, no matter what your current level is. It is open to all age groups, though the recommended age to start martial arts training is still between four to seven.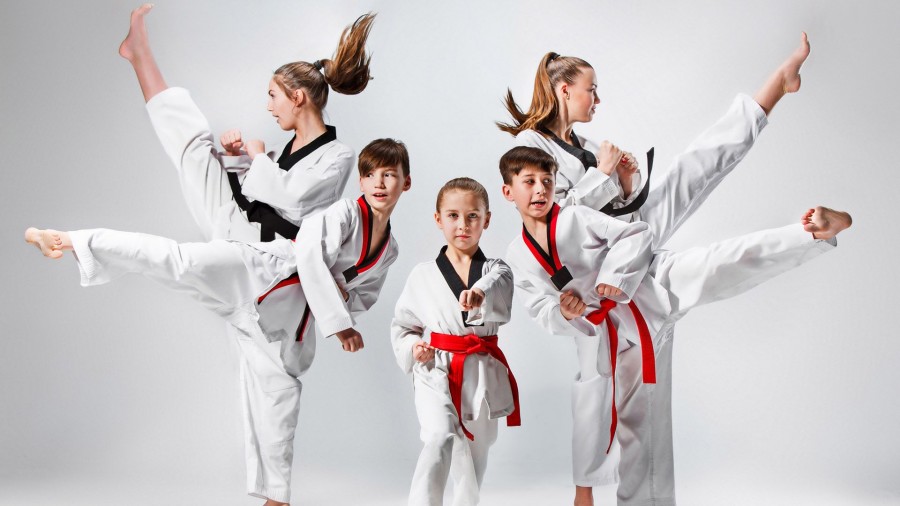 Photo Credit: Master1305


Martial arts are Asia's "cultural treasure" and Singapore, in particular, is renowned for its martial arts achievements. Due to its increasing popularity, Singapore now boasts a rich and diverse range of classes in mixed martial arts, special events and competitions including Asia's largest MMA promotion's ONE Championship.
What is one looking for in a good martial arts club? We all want our kids to be smart and applaud success at every level of their education. However, these days young people and their parents need to remember that it will often take more than just high grades at school and impressive degrees to open doors. Courage, discipline, respect, passion, commitment, lateral thinking and adaptability may well be the keys to fulfilment in tomorrow's world. And parents should see the nurturing of such qualities as far more than an optional extra. Martial arts is probably the best sport that develops all these distinctive attributes and strong character.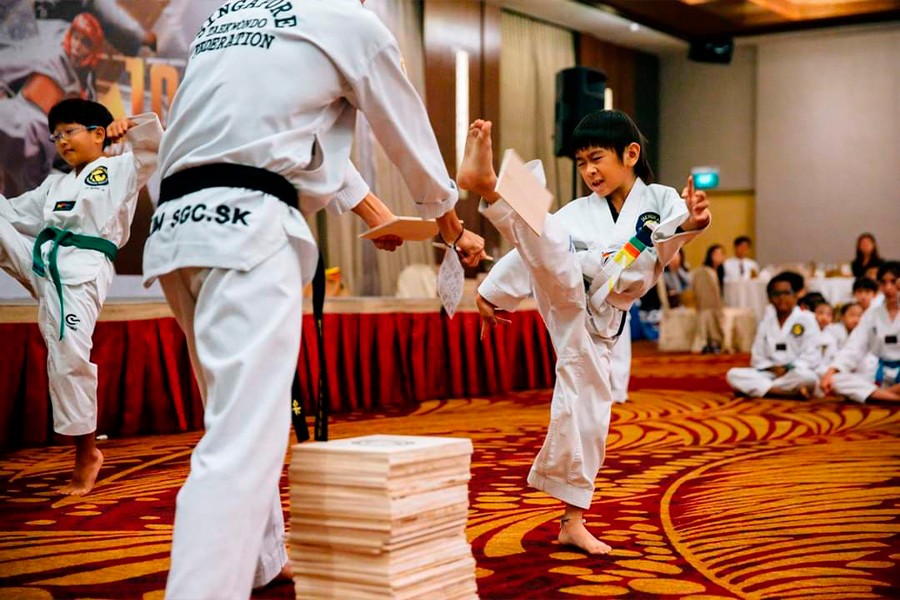 Photo Credit: JH Kim Taekwondo Institute


Many pieces of research have been carried out and according to the scientists, the benefits of training in martial arts come not only from the physical exercise and self-defence techniques but from the building of an ethical, non‐violent and respectful personality as well. There are many types of martial arts: Taekwondo, Karate, Aikido, Judo, Boxing, Shaolin Kung Fu, Wing Chun, BodyCombat, Mixed Martial Arts and others. But which style is right for you? If you are going to step onto the mat for the first time, one major consideration for any parent is choosing the one that best suits your child's needs.
Meanwhile, Taekwondo-loving locals find their spiritual home at JH Kim Taekwondo Institute, where toddlers, young kids, teens and parents strengthen their bodies and improve health through isometric and dynamic tension exercises plus breathing and concentration techniques. Taekwondo has long been celebrated for its dazzling holistic advantages. Originating in Korea over 2000 years ago, it encompasses high-level athletic activities, develops physical coordination, flexibility, balance and mental acumen. Who wouldn't want to sign up for positive, buzzy and busy sessions featuring a variety of simple, fun, and engaging training exercises? One parent recalled how their little one began practising basic patterns and forms, kicking, blocking, striking, and punching techniques at JH Kim Taekwondo Institute. When parents tell us that children are encouraged to get involved in everything and spur to new heights, they aren't exaggerating. Their staff at the Serangoon, Sengkang and Kovan branches are not only experts at coaching Taekwondo players, but at seeking out a child's strengths and identifying possible gaps to provide extra help and support.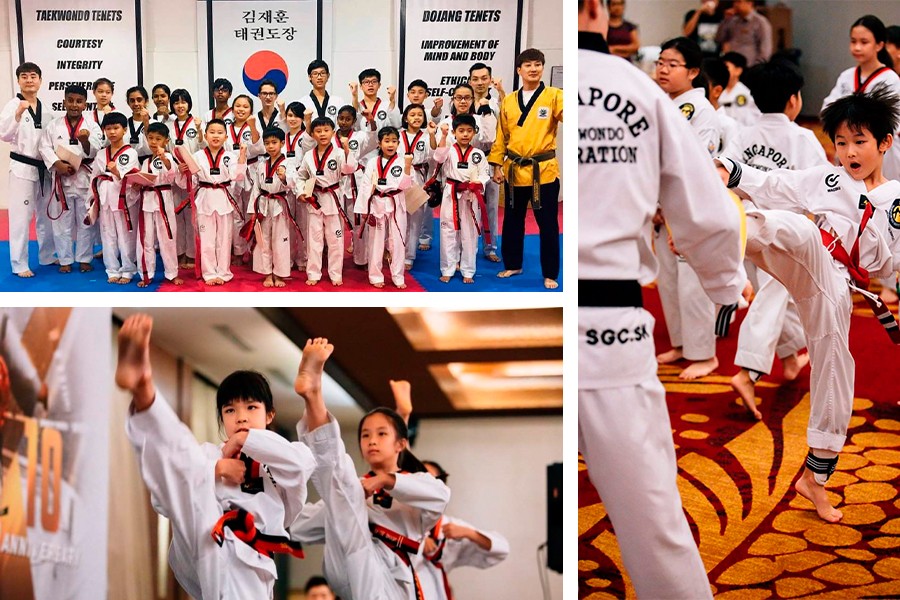 Photo Credit: JH Kim Taekwondo Institute


Here is why the potential rewards and benefits are immeasurable:
Discipline and Self-Restraint. Living a disciplined life can't be learned overnight. But what is it that makes the students patient, hard-working and self-disciplined? The aim of martial arts training is to gradually achieve proficiency and instil in you a motivation to achieve higher ranks. Defining a regular regime of practice and tutored classes enables the student to achieve these goals.
Respect for Others and Self-Control. As many researchers found the links between traditional martial arts training and emotional wellbeing, it's important to note some interesting facts. Children who train in all forms of martial arts are less violent, more sympathetic and kind. The students also learn to use their skills to defuse potentially hostile situations by avoiding aggressive and impulsive actions. A key requirement of martial arts is showing respect for their instructors and fellow students.
Self-Esteem. As the child progresses through the levels of martial arts, their self-esteem grows. This is because they realise their success is purely attributable to their own effort and self-discipline.
Self-Defence. Martial arts provides young people with a sense of confidence and visual presence that helps them to avoid the attention of bullies and trouble-makers. The club will help them to avoid and get out of unpleasant situations, but if the conflict cannot be avoided these skills can provide defence and also be used for an attack.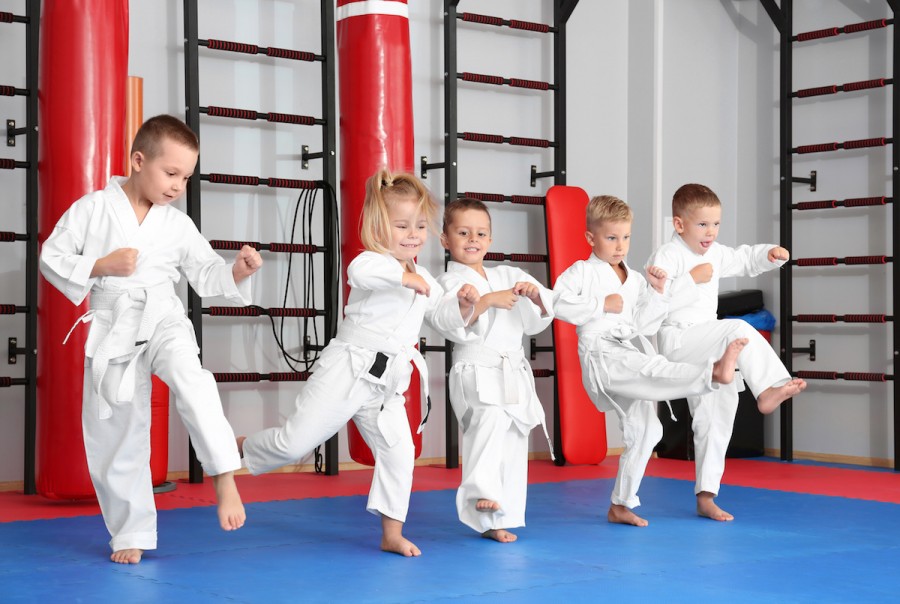 Photo Credit: Africa Studio


Confidence. The martial arts differ from most team sports which usually focus on purely physical training. This sport teaches children with low self-esteem on how to cope with anxieties and respond to daily challenges. By collaborating with their peers and instructors, performing the requested techniques, mastering their skills and receiving new belts as recognition of their effort, youngsters gain more confidence and personal improvement.
Cardiovascular Fitness, Muscle Strength and Stamina. Most of the 200 distinct disciplines of martial arts are well-studied and most found a positive effect on health and children's competitive abilities. It appears to be an effective enhancer of the muscular‐skeletal system and posture control for young people. Through practice, children learn how to better use their body and synchronise their moves, improving their balance and flexibility.
Healthy Eating Habits. Martial arts training encourages the adaptation of a balanced stable diet, so parents should oversee their children's nutrition plan and make a few simple changes to it. In a very short time, you will make dramatic improvements in your diet and consequently in your health.
By Anna Khan
Subscribe to weekly newsletter from "Tickikids"