I NAK FLY (I Want to Fly) Production Made its Debut at Esplanade Theatre Studio
---
Published 05 March 2021 at 22:34
Tickikids Blog Singapore > Reviews > I NAK FLY (I Want to Fly) Production Made its Debut at Esplanade Theatre Studio
---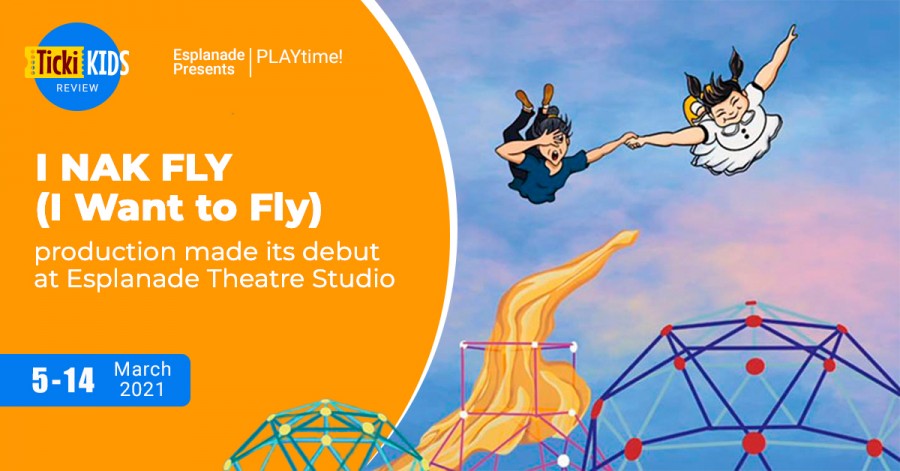 ---
It's going to be another bumper year of PLAYtime! children's theatrical productions at Esplanade Theatre Studio. From performances about adventures of hilarious Deonn who wants to fly like a bird, Alice's adventures in Wonderland to a touching, emotional story of a loss and celebration of family life, add these unmissable performances to your dairy this March. What a pity they are only on at Esplanade for nine days, but it's going to make so many little hearts so full.
A new production I NAK FLY (I Want to Fly) will restart children's relationships with live performances after almost a year spent at home. At Esplanade, children are visibly at ease with their surroundings, and as usual, the production connects so directly with young audiences. Created and directed by Farah Ong for the interactive PLAYtime! theatre series, it is full of clever ideas and holds children's attention during the play. The show that captivates the audience with modern set design by Suryani Asan, original fun music composed by Ada Adhiyatma and warm performances by two actresses Deonn Yang and Chng Xin Xuan, leaves you with a smile on your face. Adding a handful of dancing activities to keep young ones involved in the motion lines of the production truly helps them feel part of the story. In one of the interviews, Farah Ong admitted that she is always a child at heart. She believes that if we look at this world through the eyes of a child, there would be magic in everything.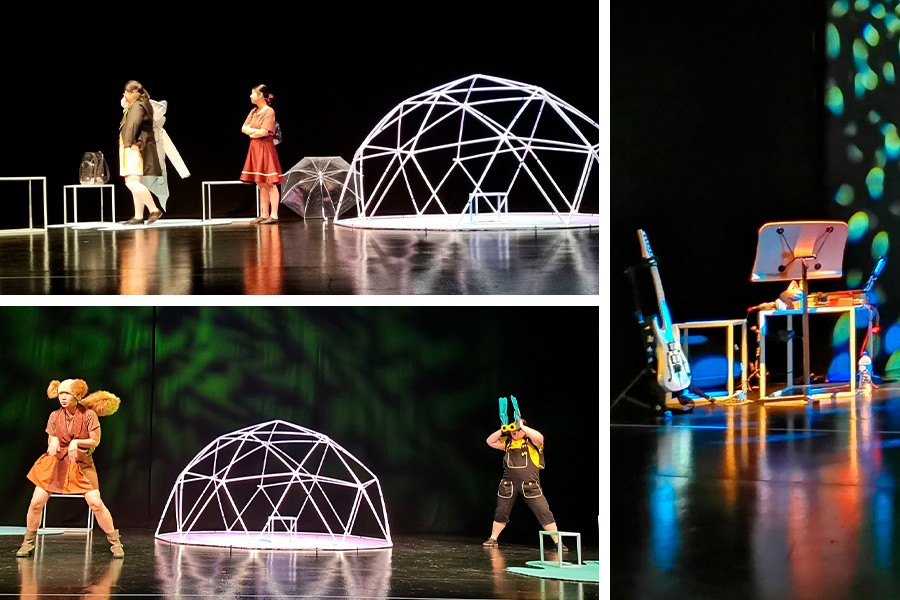 In this fabulous new performance, we meet the girl Deonn who dreams of being able to fly like a bird soaring over their house, as well as her overprotective mum. But wait, that doesn't seem right, does it? Humans can't fly! Inspired by penguins and other colourful birds that come in different shapes, sizes and patterns, Deonn tries everything she can think of to fly but nothing works. Will Deonn ever be able to fly? This enchanting story of courage will help teach young theatregoers about the importance of always being true to yourself. We can't always do everything we want to do but we can try, fail and learn lessons until one day, a failure facilitates finding your true calling. There is a lot to be learned and not just for children.
Stage shows can be problematic for those on the spectrum, but Esplanade aims to bring great art to everyone. There are calming huts in the theatre studio catered for children with sensory needs, space for themselves to calm down full of sensory toys, cards and charts.
We rounded up two Test Patrol Families – Joys Lin with her two sons, 8-year-old Alston Ho and 5-year-old Aldrich Ho, and Lynnice Ng, mum of three daughters, Shirlene, 9, Estelle, 6, and Kelene, 5, though the performance is really designed for those aged two to six. On Thursday 4th March 2021 they walked to Esplanade for the opening night – I NAK FLY (I Want to Fly) stage debut.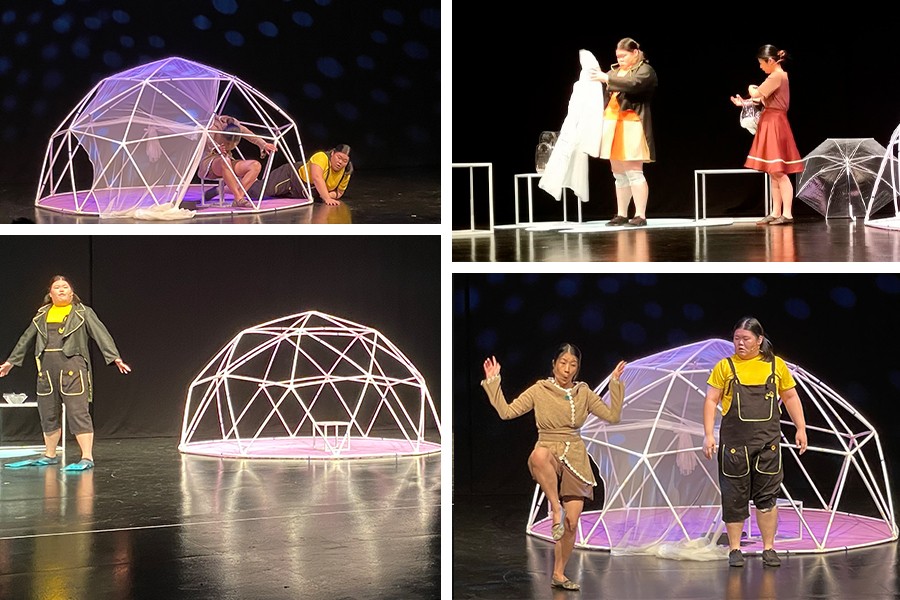 Describing their experience and first impressions, Joys Lin says:
"Everyone in our family really appreciated being in such comfortable and cosy surroundings. We were very excited to be back at Esplanade, as a visit to this modern atmospheric theatre studio never disappoints. I was pleased with the seating arrangements that give a genuine feeling of being close to the stage and the action, as well as having a clear view of the stage wherever you are seated. Floor cushions are a great seating option that works well for young audiences. My 8-year-old Alston was contented and eagerly awaited for the show to start. For my 5-year-old Aldrich, it took a little while to adapt to the nature of this show. Initially, he got scared when we just sat down. Maybe the loud noises and music or fast tempo caused these fears. But the rest of the performance went down well."
For Lynnice Ng and her daughters it was the very first time at Esplanade:
"It was welcoming as we were seated on the floor. My children felt as if we were having a picnic while watching the show. It was dark, but not scarily dark. Cushions were comfortable enough. It seemed to me that it would be better if the seats were on steps so as not to block the people seated just behind."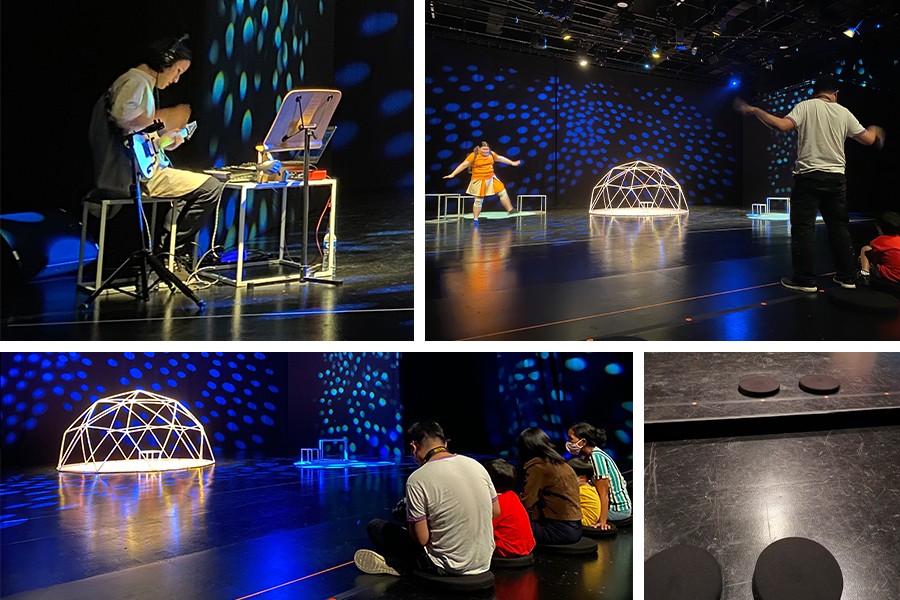 Did you enjoy the show?
Joys Lin: "Pretty much. It has a good storyline and the actors are very engaging. They are quite similar to other PLAYtime! shows that we have watched in the sense that they incorporated song and dance as well, and the live music was really good. The show also had a part on kinship: Didi leaving her mum for adventure after which she felt that she missed her mum, which I enjoyed."
Lynnice Ng: "It was interactive right from the beginning, teaching the audience a simple flying dance. Also one of the great things in the play is that the conversations between mother and daughter resonate with families with young children like us."


Tell us a bit about the characters of the performance. Who was your kids' favourite character in the play and why?
Joys Lin: "Alston liked the flying machine bird, as it is very interesting and something new in a children's play. I believe kids are usually attracted to technology and innovative items.
Lynnice Ng: "A favourite seemed to be Squirrel. They think the squirrel dance was very cute and joyous, as they could move their hands and butts."






Did the children actively participate in the show? How did your kids like the music and dances?
Joys Lin: "The actresses are excellent with the children, gently encouraging them to dance and sing. My kids did not really take part in the dancing although they enjoyed the music and dances. Unfortunately, my boys are quite reserved despite being encouraged to participate. However, I personally believe that it is good that they were in a safe zone, that they could choose not to participate if they didn't want to."
Lynnice Ng: "The play is enhanced by wonderfully atmospheric live music, helping to move the storyline along at a good pace. My young critics liked the squirrel dance and actively sang and danced, which gave them an enormous amount of fun."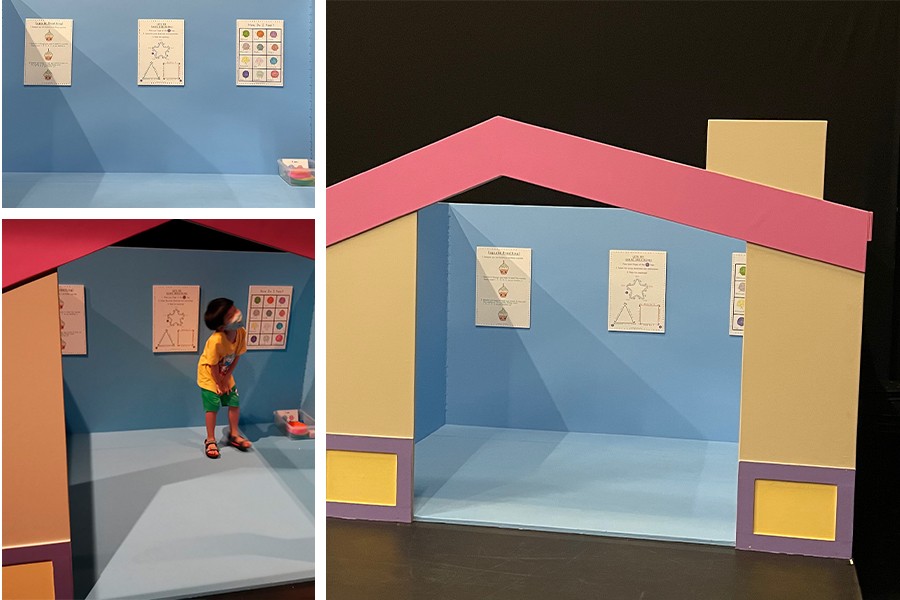 Was the plot-line of the play comprehensible for your kids? Was there any need to explain the events taking place on the stage?
Joys Lin: "Yes, the storyline was comprehensible. In fact, I find that it's really relevant, it depicts the way many parents talk to their children, and the inquisitiveness of children. The part when Didi said let's play the game to step on the white tiles only really speaks to me and the children. There was no need to explain the events. I also liked that the conclusion was that humans cannot fly and that it's OK we can't. In my opinion, this saves me from having to explain not to try flying since the show said it's OK to try and fall. I think the idea that children should explore and question things is good. Also, the fact that kinship is important and they know they will always have a safe place to return to no matter how they fail."
Lynnice Ng: "The plot is easy to understand and even my 5-year-old actually understood more than I expected. The play's themes and the questions that arise are particularly pertinent to the three of them."
The TickiKids' team would like to say thank you to Mrs Joys Lin and Lynnice Ng for providing us with their impressions and photos of the performance.
By Anna Khan
Subscribe to weekly newsletter from "Tickikids"