The Test Patrol Family Visits the Premiere of Alice's Topsy Turvy Tea Party at Esplanade Annexe Studio
---
Published 13 March 2021 at 03:07
Tickikids Blog Singapore > Reviews > The Test Patrol Family Visits the Premiere of Alice's Topsy Turvy Tea Party at Esplanade Annexe Studio
---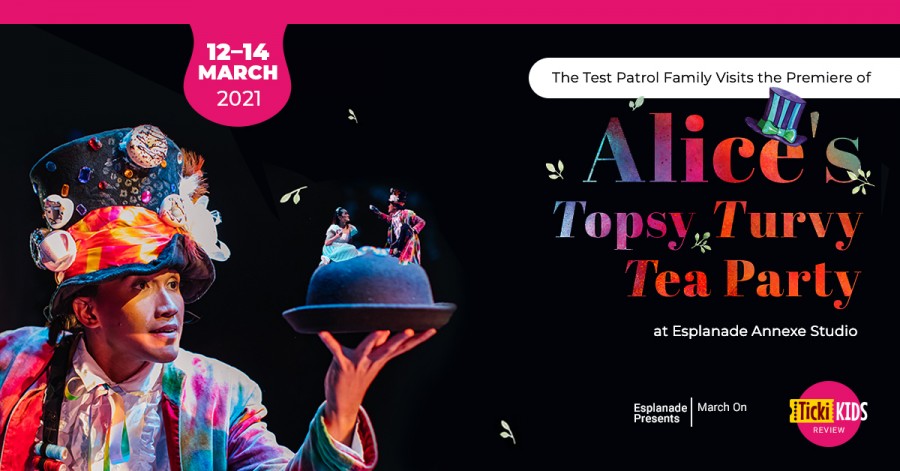 ---
"Curiouser and curiouser!" said Alice, and if you are like many of us, you have probably felt this way about the premiere of Alice's Topsy Turvy Tea Party at Esplanade Annexe Studio. Generations of readers and theatregoers have been intrigued by Alice's Adventures in Wonderland, its theatrical adaptations and reinventions over 156 years. What happens when one of the smoothest talents on the Singapore children's dance scene The Kueh Tutus joins forces with the city's most iconic theatre, Esplanade – Theatre on the Bay? Both are specialist makers of children's performances, one – dance performances for the youngest, the other – organisers of the new children's festival March On 2021.
Now, from this Friday, the twinkling lights, balloons, and colourful festive interiors of Esplanade Annexe Studio will be a backdrop for three days to choreographer Melissa Quek and performers Marcus Foo, Yarra Ileto and Zhuo Zihao of The Kueh Tutus team. In the magical world of Wonderland, created firmly and purely for the amusement of children, time is abandoned at a tea-party.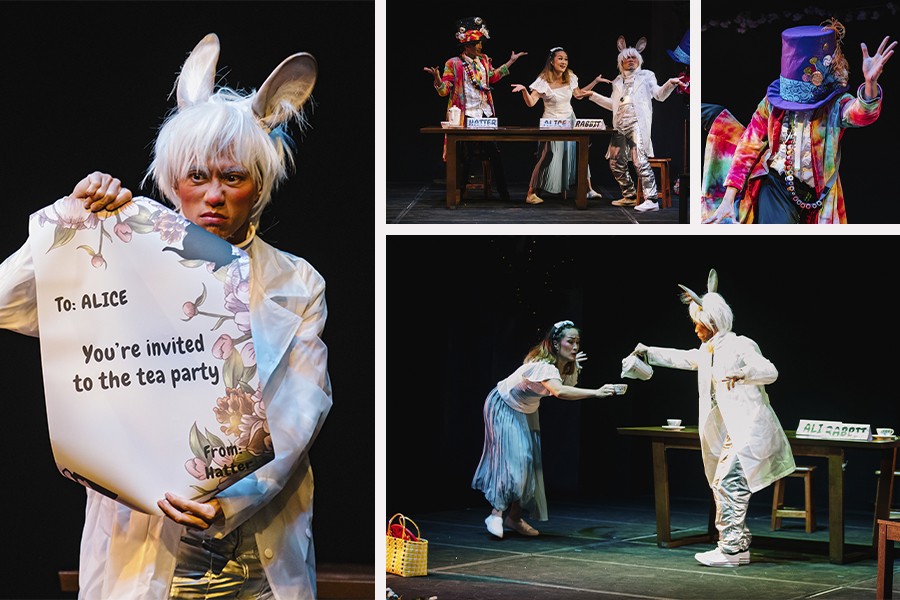 Photo Credit: Esplanade —Theatres on the Bay


Alice's Topsy Turvy Tea Party is a musical stage adaptation of Lewis Carroll's global phenomenon Alice's Adventures in Wonderland beloved by all ages. Featuring a host of Lewis Carroll's most famous characters, Alice, Mad Hatter and the White Rabbit, the cast is portraying each character in their own inimitable fashion. Their delightfully expressive dances, songs, costumes and immersive games with the young audiences perfectly capture the sparkling humour, charm, magic and nonsense of the original story. The duration of the adaptation could not be better: the plotline is carefully abridged for younger audiences supposedly between the ages of 4 and 9.
Yesterday, TickiKids' Test Patrol family of Isha Chaudhari and her two kids, daughter Kyra, 7, and son Kian, 4, were sent to Esplanade on a juicy assignment – to take a trip down the rabbit hole and share their impressions of the Alice-inspired dance show Alice's Topsy Turvy Tea Party. Here is their review to whet appetites ahead of Saturday and Sunday.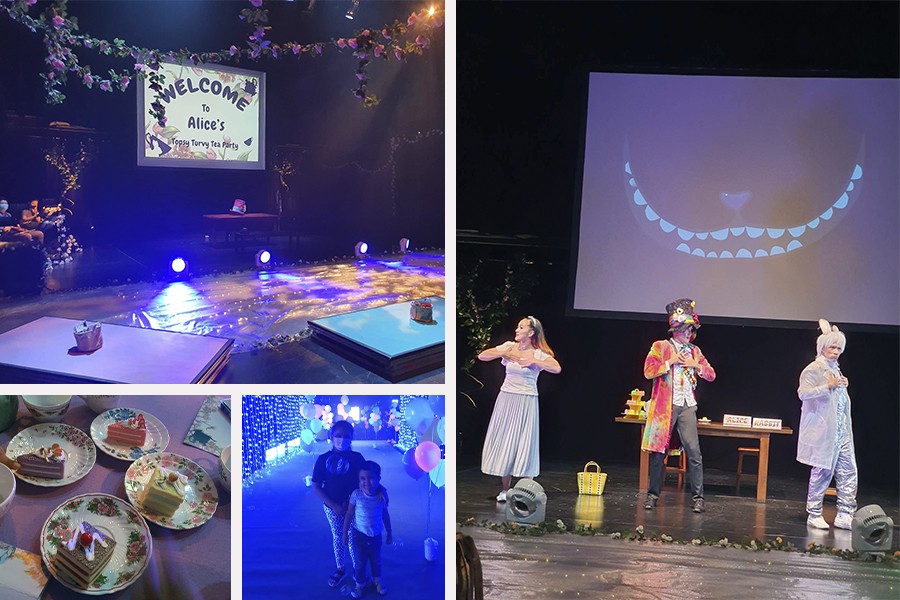 Photo Credit: TickiKids Test Patrol Family


"Having never been to Esplanade before, we weren't sure what to expect and were looking forward to this show," says Mrs Chaudhari. "And we weren't disappointed. The venue was superbly decorated with the clever use of the available seating area and the theatre itself was completely enchanting with a friendly feel. When we entered the balloon pathway with bubbles, the kids were absolutely amazed and overjoyed. A huge thank you to everyone involved in decoration and set design and for making us feel in Wonderland. The seats were brilliant: there were picnic mats placed on the floor about two meters apart from one another, apparently, in check with social distancing guidelines. The mats were close to the stage and we enjoyed being fully immersed in the experience. The kids immediately got curious about the baskets, little fake decorative cakes and tea-sets on the mats prepared for playing with during the show."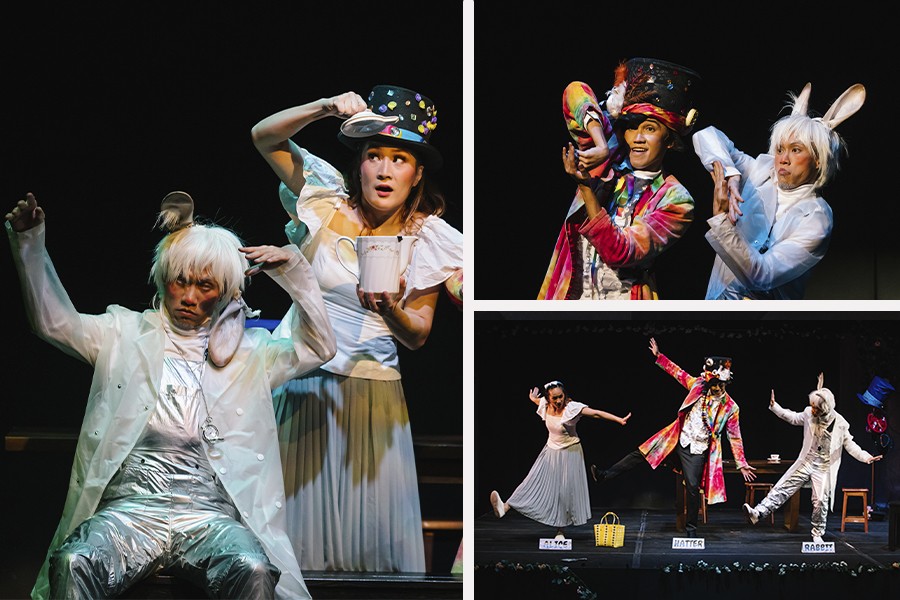 Photo Credit: Esplanade —Theatres on the Bay


"Everyone from kids to adults thoroughly enjoyed this fantastic musical show," she continues. "The acting and dancing surpassed all expectations. The music was so hard not to join in and the tunes were really catchy. All the cast were brilliant – enthusiastic, professional and well-coordinated. My elder child liked Alice simply because of her dancing skills. It's also my daughter's favourite character as she has read a lot of stories about her.
The kids were actively engaged in the show dancing along with Alice, taking part in some questionnaires and child-friendly dance routines. It feels as if you're with the cast every step of the way. The kids did enjoy the activity parts when they were being involved. However, I feel there was quite a stretch of Hatter and rabbit dance drama in between which was leaving the kids not very occupied. The show is carefully narrated so that the children can easily follow along. No whispering from parents to children required!"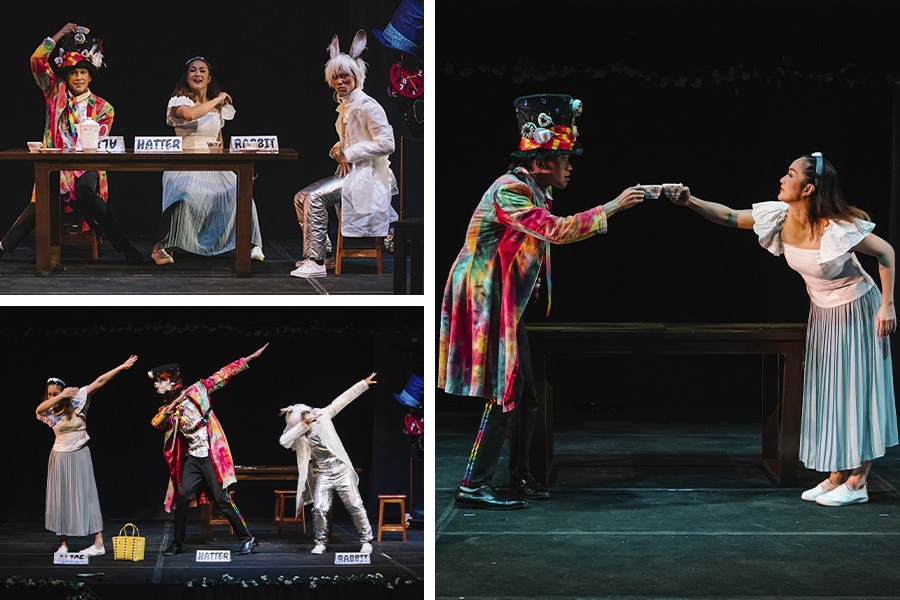 Photo Credit: Esplanade —Theatres on the Bay


If you had to convince someone to come and see the performance, what would you say? What exactly can other families with kids expect from it?
"On the way home, we were buzzing and felt like we had experienced a real treat! If your family wants to have a good laugh and marvel at brilliant actors who can perform and dance all in one, make a point of seeing this one-hour show."




The TickiKids' team would like to say thank you to Mrs Isha Chaudhari and her kids Kyra and Kian Saxena for providing us with their impressions and photos of the performance.


By Anna Khan
Subscribe to weekly newsletter from "Tickikids"