Where to Buy the Best Mooncakes in Singapore
---
Published 25 August 2021 at 16:35
Tickikids Blog Singapore > Digest > Where to Buy the Best Mooncakes in Singapore
---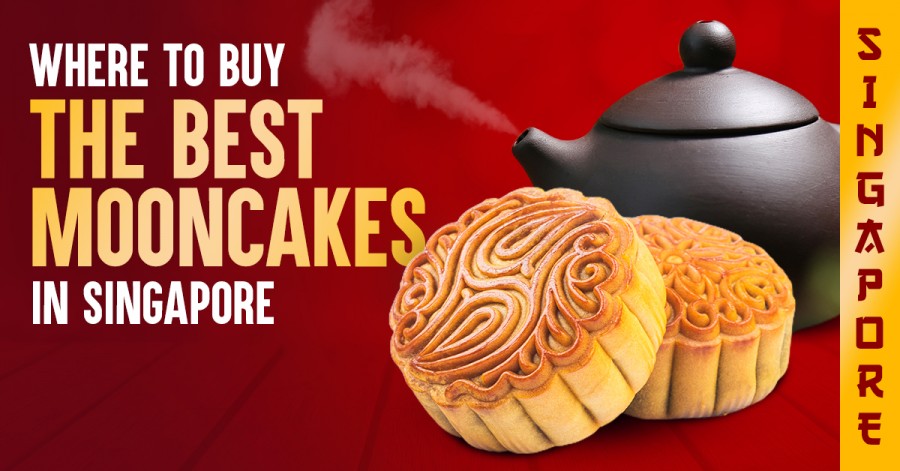 ---
Mooncakes are an essential part of the Mid-Autumn Festival, a holiday that falls on the fifteenth day of the eighth lunar month. It is a traditional Chinese pastry made from wheat flour and sweet stuffing and it symbolizes family reunion as it is cut into pieces that equal the number of people in the family.  
There are several traditional tastes of mooncakes:
Traditional ones, filled with lotus paste or red bean paste. Sometimes they have one or two salted egg yolks in the center of the filling. 
Snowskin mooncakes. These are not baked as the crust is made with glutinous rice and they are filled with fruits
Teochew mooncakes are made of filo pastry and the filling is made with yam, green or red bean paste. 
However, today bakeries, hotels, and restaurants go above and beyond to amuse eaters with unique and original tastes of this traditional delicacy. And despite the fact that this year the physical mooncake fairs or roadshows are unlikely to take place, there is no need to worry! There will be plenty of online fairs and mooncake deliveries will work like a charm.
And we have rounded up some of the best places to buy the best mooncakes in Singapore! 
Scoopz is well-known for its delicious ice cream as the first scoop of handmade ice cream was made here in 1996. Since that time Scoopz has gained a reputation as the provider of high-quality, natural, and affordable ice cream, cookies, pastries, mooncakes, and party bundles. All the delicacies here are handmade from scratch using seasonal fruits and ingredients. And, all products here are made in small batches to ensure freshness and consistency in quality.
The sets of mooncakes by Scoopz offer different mixes of traditional and original flavors, yet, all of them are low sugar. In addition, some flavors such as Lava black sesame and Coco tiramisu are eggless. Bring into the notion that for your convenience and safety the allergens are listed in the description of the products. 
The available flavors are Cranberry dragonfruit, Coco tiramisu, Lava black sesame, White lotus, Golden pandan, lava salted egg, double yolk white lotus. And meet this year's novelty: Tangy pineapple!
Price: $33-$69.
Website: Scoopz.
Special offers: 25% off, while stock lasts.
Socials: Facebook.
Find Out More
This Mid-Autumn Festival, InterContinental Singapore has prepared something special: a collection of snowskin mooncakes with different flavors featuring traditional and floral tea infusions with chocolate truffle centers and six varieties of handmade baked mooncakes. 
All mooncakes are delivered in rose gold or gold keepsake tin decorated with a garden motif of flowers and birds with a two-tiered stand inside.
The Snow Skin Mooncakes: Secret Garden flavors include Japanese Matcha Green Tea with Osmanthus Truffle, Oolong Peach with Black Sesame Truffle. Earl Grey Baileys Cream Truffle, and Rose Flower Tea Truffle with Pistachio.
The baked mooncakes are White Lotus Paste with single or double yolks; Assorted Nuts – a wholesome blend of almonds, walnuts, macadamia, and sesame seeds; and Low-sugar White Lotus Paste Mooncake with macadamia nuts.
This year's novelty - Red Bean Tangerine Paste Mooncakes crafted by Executive Chef Eric Neo.
Price: $48.45 - $54.15.
Website: InterContinental Singapore.
Special offers: Enjoy 25+5% savings till 19th September.
Find Out More
Meet the selection of ten handcrafted baked and snowskin mooncakes created by Hai Tien Lo at Pan Pacific! These delicacies will be delivered in a posh ruby leather-esque box decorated with birds and flowers, so they will look like a stylish present. 
Signature mooncakes Mao Shan Wang durian, matcha black sesame, and Gianduja yuzu snowskin have a corner in the heart of any sweet tooth, yet, if this year you want to try something less in calories, then you can try out jade panda paste with melon seeds, white lotus paste with macadamia nuts and pu er lotus paste. 
And this year's novelties - mango passion fruit snowskin and virgin Singapore Sling snowskin. 
Price: $82.18 - $105.72.
Website: Pan Pacific Singapore.
Special offers: Use promo code EBMA25 to enjoy 25% early bird savings (excluding Mao Shan Wang Durian Snowskin) when you place your orders before 6 September. Use promo code EBMSW to enjoy 15% savings on Mao Shan Wang Durian Snowskin. More offers you can find here.
Find Out More
The Fullerton Hotel Singapore is well-known for the finger-licking mooncakes! This year, The Fullerton has prepared two collections of the famous sweets: Jade Signatures Mooncake Collection 2021 from The Fullerton Hotel Singapore and The Clifford Pier Mooncake Tingkat from The Fullerton Bay Hotel. The first one includes raspberry Hokkaido milk, rose green tea with pistachio, and osmanthus with wolfberry snowskin flavors, as well as rose coconut and oolong tea with dried cranberries baked mooncakes. The other one includes baked mixed nuts with satay sauce, baked salted lotus with hae bee hiam, baked Assam lotus with mango, and baked pandan coconut with chendol.
All mooncakes are low sugar and extremely delicious!
Price: $72 - $86
Website: The Fullerton.
Special offers: 
20% off Selected Baked Mooncakes in Classic Box
15% off Selected Snow Skin Mooncakes in Classic Box
Find Out More
The festive delicacies created by the culinary team of the Goodwood Park Hotel are presented in beautiful boxes with gold floral motifs. And they taste amazing too! They are made without the use of preservatives and have the flavors to please every palate!
Baked mooncakes flavors include White Lotus Seed Paste with Melon Seeds, Lotus Seed Paste with Double Yolk or even Four Yolks, White Lotus Seed Paste with Assorted Nuts with Ham ('Kum Toy'), Chicky Duo, and Traditional Piglet Biscuits. 
Snow skin collection includes Goodwood Park Hotel's signature Durian snow skin, Mango with Pomelo, Cempedak, Blue Pea Flower with White Lotus Seed Paste and Melon Seeds.
This year's novelty - Tropicana mooncake with pineapple, passion fruit, and coconut. 
Price: $9.80 - $76.
Website: Goodwood Park Hotel.
Socials: Instagram.
Special offers:
15% off for CITI, DBS/POSB, HSBC, UOB Cards. 
20% off for Hotel Gourmet Cardmembers. Apply promo code 20GXXXX (first 4 digits of your gourmet card number) in pop-up box upon checkout.
Find Out More
Subscribe to weekly newsletter from "Tickikids"